Web hosting is a service that allows your website to be accessed on the internet. It's usually provided either by companies that specialize in providing space on their servers for customer websites or by site builder platforms that include it in their monthly cost. Understanding hosting and finding the right host is something every company should have in place when building a small business website.
What Is Web Hosting?
Web hosting is a service that enables websites to be available on the internet. In other words, since websites need to be connected to servers in order to be accessed by the public, think of web hosting as a service where you can rent space on an existing server. It may sound complex, but web hosting companies make it simple for anyone to get and connect web hosting to their website. It's affordable with an average cost of around $3 to $15 per month.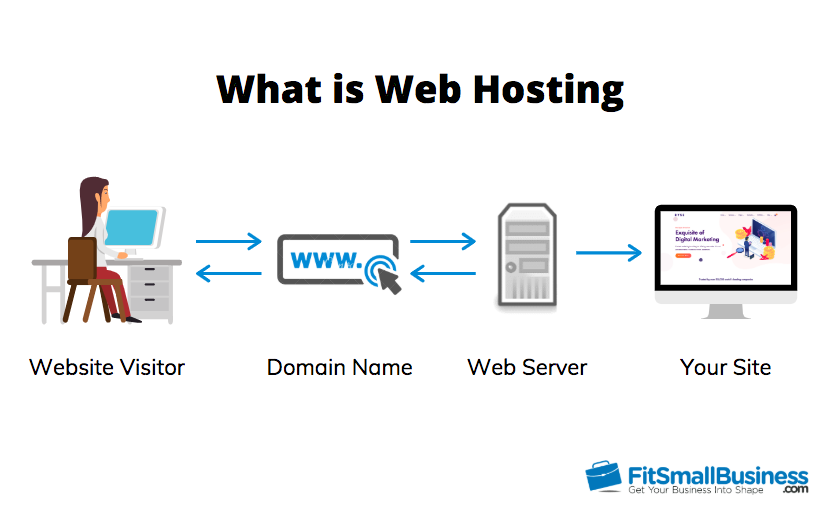 How Does Web Hosting Work?
Web hosting services work by connecting web pages (which collectively are websites) to servers where these web pages are stored and uploaded to the internet, making websites accessible on the web. In more technical terms, servers not only store web pages, but they also communicate with and respond to requests. This means that when a user types in a web address, or URL, servers locate and display the corresponding website.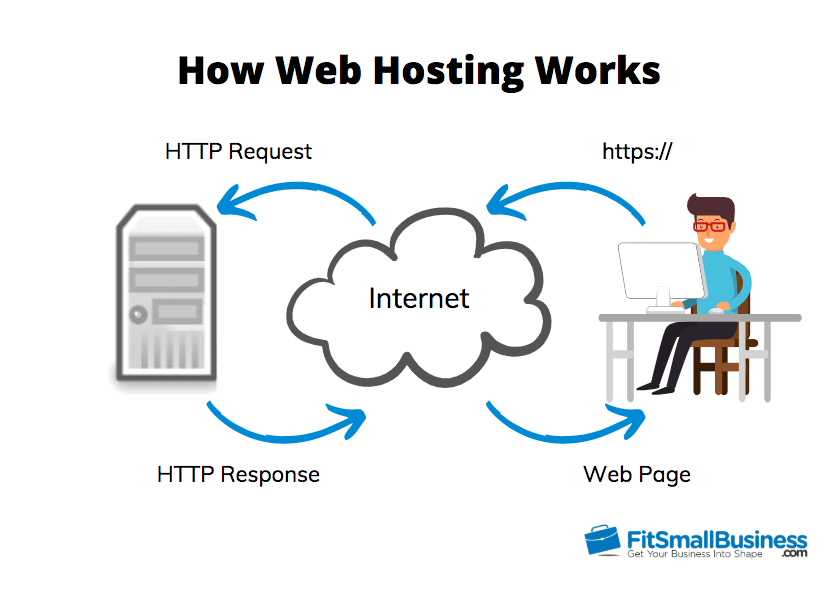 Types of Web Hosting
When choosing a web hosting plan, you'll quickly find that there are a number of different options: shared, virtual private server (VPS), and dedicated to managed and reseller. If you're like most small businesses, you'll likely be left with some questions. Are the low-cost shared plans a great value or too good to be true? What exactly is VPS and is dedicated hosting worth it or an unnecessary splurge? Shared hosting will suit most business' needs, but get the breakdown below.
Here are the three primary types of web hosting for businesses:
Shared: (Price: $3 to $10 per month) Shared web hosting is the lowest cost type of web hosting. As the name implies, websites using shared hosting will share a server as opposed to each having their own server. This makes it very affordable, but it may also make it more susceptible to a security breach and it may yield a slower site speed.
VPS: (Price: $15 to $120 per month) Short for "virtual private server," VPS hosting is similar to shared hosting as it shares a server with others, but with the difference that the websites that share the server cannot affect one another in terms of speed or security.
Dedicated: (Price: $70 to $250 per month) As the name states, a dedicated server entails having your site on its own private server. It's one of the most expensive types of web hosting and requires users to manage their own server, but it's also the most secure and has the highest site speed. The average small business does not need dedicated hosting, though it is ideal for large ecommerce websites.
While shared, VPS, and dedicated are the primary options for hosting a business website, you'll also notice other types of web hosting, such as reseller hosting. Small businesses will generally find shared and VPS hosting plans to be sufficient for their needs and well within their budget, given pricing as low as $3 per month with top providers such as Bluehost.
How to Choose a Web Hosting Plan
With so many web hosting companies, each with a number of different plans, it can be difficult to figure out which is best for your business website. When choosing a web hosting plan, consider things such as reliability, speed, uptime guarantees, contract lengths available, the type of hosting that suits your needs (including the amount of storage and bandwidth you need), as well as extras such as a domain name and business email.
Here are 10 things to look for when choosing a web hosting plan:
Hosting type: Shared vs dedicated
Storage and bandwidth limits
Free domain name
Free SSL certificate
Business email
Speed
Contract length
Uptime guarantees
Availability of customer support:
Already have web hosting and looking to switch to a new provider? Check with your new web hosting provider for instructions on how to change web hosts.
Recommended Web Hosts
There's no shortage of web hosting companies and, as they are all competing for your attention, it can be a challenge to decipher which is the best. To help, we recommend the following web hosting providers for small businesses as they are all reliable with low-cost, feature-rich plans: Bluehost, HostGator, Dreamhost, InMotion, SiteGround, and GoDaddy.
Want to learn more about our recommended web hosts? Get the full breakdown of the best web hosting companies, including features, pricing and plans, and customer reviews.
How to Host a Website
It might sound complicated to set up web hosting, but it's actually pretty simple. Start by deciding which type of hosting plan you need and then choose a web hosting provider. Choose the plan that matches your needs and purchase it. If you don't already own a domain name, choose one through your web host, and then connect web hosting to your website using your web host's one-click installation tool.
Here's how to host a website in five steps:
Step 1: Decide which type of hosting plan you need
Step 2: Choose a web hosting company
Step 3: Purchase a plan
Step 4: Choose a new domain (optional)
Step 5: Connect web hosting to your website
Want more guidance? Follow the step-by-step instructions on how to host a website.
Bottom Line: What Is Web Hosting?
Web hosting is required for websites to be available on the web and accessible to the public. Those using a site builder, such as Squarespace or Weebly, will have web hosting included, though those using a content management system (CMS) such as WordPress will need to purchase a web hosting plan for around $3 to $15 per month.
With a dizzying number of web hosting providers and plans to choose from, it can be difficult to determine which the right one is. While they all appear to offer more or less the same features and inclusions, plans do vary. We recommend Bluehost as one of the best values given its feature-rich, low-cost plans for as little as $2.95 per month. Plans include many extras businesses need, such as a free domain, a free SSL certificate, and free business email.