The GoDaddy website builder is an affordable, easy-to-use site builder that can help you get a website up and running quickly. It has a suite of marketing tools, and customer reviews show it to be a great, all-around site builder for beginners. The GoDaddy website builder is a good choice for small businesses on a budget and novice designers, especially if you need online appointment booking and chatbots.

Pros
Free-forever plan
Starts at $11.99 per month
Beginner-friendly
Change themes easily
Appointment booking & chatbots--even in the free version
Build a site in just a few hours
Cons
Template selection limited
Themes aren't diverse
Limited design customization
Limited support
No third-party app store
No revision history
Site limit of 50 pages total
Based on our expert GoDaddy review, we recommend it for:
Service-based & sales-forward businesses
Web design beginners
Restaurants
Nonprofits and charities
Real estate agencies
Event venues (ticket sales)
Photographers and designers
Any business on a budget
There are instances where the best GoDaddy alternatives offer more:
| | | | |
| --- | --- | --- | --- |
| Best for custom site design and SEO | Membership and subscription based sales | Online stores | Unlimited blogging |
| Free plan | Free plan | Free plan | No free plan |
| Paid plans from $16 | Paid plans from $4 | Paid plans from $12 | Paid plans from $2.99 |
| | | | |
When To Use GoDaddy Web Builder
Beginners who need to create a business website quickly: GoDaddy is one of the simplest section-based website builders we've tested. It makes building brand presence online easy.
Those with service-based businesses: All plans include appointment booking, even the free plan. But for recurring appointments or to accept payments, get the Standard plan.
You operate a restaurant: This is one of our top recommended restaurant website builders. It has dedicated restaurant templates and integrates with ChowNow and OpenTable.
Running nonprofits: Starting from the base paid plan, nonprofits can quickly create a website that includes a PayPal donation button.
You're a real estate agent: GoDaddy is a solid website builder for realtors, offering templates for real estate agents, Internet Data Exchange (IDX) integration, and online appointment booking.
Handling event venues: Starting with the Premium plan, GoDaddy website builder users can sell and track ticket sales for multiple events.
Those in the creative industries: Photographers and designers will appreciate having unlimited storage and bandwidth in paid plans, with easy-to-use tools for showcasing a gallery or portfolio.
Startups and businesses on a budget: While a free website on GoDaddy detracts from brand credibility (on a subdomain with ads), it's a cost-effective way to make a small business website if your budget simply won't allow a paid plan yet. Plus, GoDaddy includes a slew of marketing tools, including email marketing, GoDaddy Studio, and Google business page integration.
When To Use an Alternative
How Much GoDaddy Websites Cost
To get a feel of what you can do with GoDaddy, head over and create a site for free. While the free plan isn't credible for business use, it gives you a feel for the site editor and what you can do if you subscribe to one of the four paid plans.
The cost to build a site on GoDaddy is fairly affordable, depending on the features you need. Plus, you can opt to pay monthly or save with a 12-, 24-, or 36-month contract. Paid plans are ad-free, with unlimited storage and bandwidth and a free SSL certificate. You will have to buy a domain separately. Then, to get any ecommerce capabilities, you'll need the Commerce plan or higher.
Monthly cost: $0, free forever
Plan includes:
Free secure sockets layer (SSL)
One-time appointment booking
Hello and Order chatbots
Social profile integration
Google and Yelp listings integrations
Basic site and page-level SEO
GoDaddy Studio to create branded content
$11.99 per month with an annual contract or $16.99 month to month
Plan includes everything in the Free plan, plus:
Unlimited storage and bandwidth
Connect your own domain
Analytics dashboard
100 marketing emails per month
Sales tracking dashboard
GoDaddy Payments
PayPal button and Pay Links (invoicing)
Video creation
Social profile integration and scheduled posts (1 channel)
Built-in optimizer (SEO)
$24.99 per month with an annual contract or $16.99 month to month
Plan includes everything in the Basic and Premium plans plus:
Ecommerce (5,000 products)
Recurring classes and appointments
Recurring payments and online deposits
Email and text appointment reminders
Marketplace and social selling (50 orders per month)
Auto inventory and product syncing
Discounts and promotions
Real-time shipping rates
25,000 marketing emails per month
GoDaddy Site Builder Features & Capabilities
GoDaddy's site editing capabilities lean towards the simple side, which isn't necessarily a negative. Simplicity makes it easy for beginners to create and publish a professional-looking site quickly. GoDaddy sites also include unlimited storage and bandwidth with paid plans and some unique capabilities alongside essential marketing and SEO tools to help you grow your business.
Expand the tabs below to take a closer look at what you get with the GoDaddy website builder.
If GoDaddy has a failure, it's the combined lack of template selection and design customization. GoDaddy chooses the template you will use, and the site builder lacks the design capabilities of a true, drag-and-drop editor. You can make some changes, but your choices are limited to the predesigned content blocks it chose for your template.
Theme diversity also suffers. The templates GoDaddy offers are relatively similar and, while not rudimentary, they're not at the design level of Squarespace or Wix. While you can't choose from a vast library of templates, you can update the layout of your website within the options provided without losing any content, which is nice.
None of this is to say GoDaddy's designs are outdated. Compared to Weebly, GoDaddy's templates are more modern, although not as modern as those of Squarespace or Wix. As you become more adept at designing your site, you may become frustrated by the lack of freedom inherent in GoDaddy's website builder. But the restrictive nature of the builder is one of its strengths as it makes it harder for novice designers to create a design mistake.
---
Aside from the site builder's ease of use, GoDaddy is known for its sophisticated online booking system. This feature is available on every single one of its plans, although recurring appointments and online payments require at least the Premium plan. Still, not many site builders have an advanced booking system in base paid plans, let alone in a free website builder.
With the online booking system, you can list multiple services, dates, times, and service providers, arrange payments, and gather customer information. You can even sell tickets for group events (300 people maximum)—a feature that even the lowest tier plan can access.
---
If your business can't provide live chat support around the clock, GoDaddy has you covered during those downtimes. The website builder includes two chatbots in all plans, even the free version. By default, the chatbots are always on. Still, you also have the option to configure hours to provide live chat support during your hours of operation and automated responses when you're away.
The first chatbot, Hello Bot, engages visitors and asks questions to collect information so you or a staff member can follow up later. Order Bot, the second chatbot, detects order-related queries and responds with status updates concerning the visitor's order.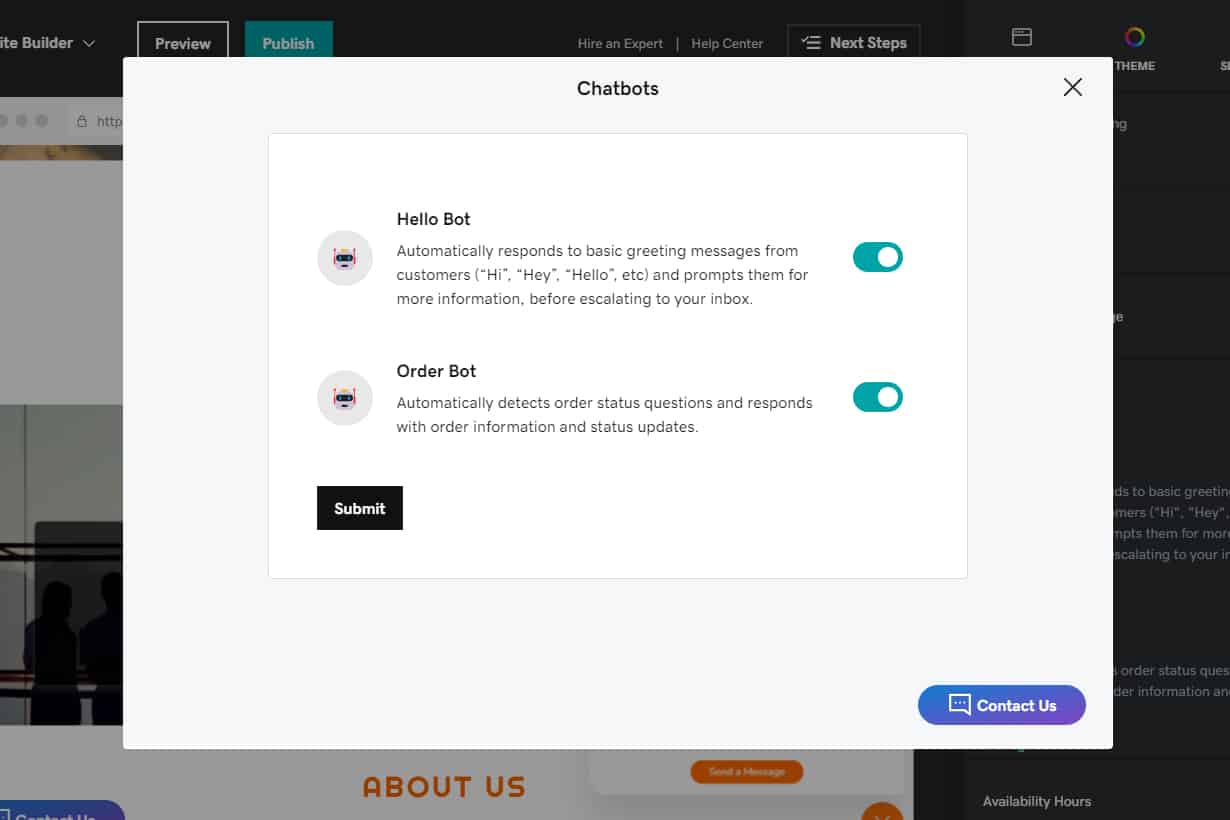 ---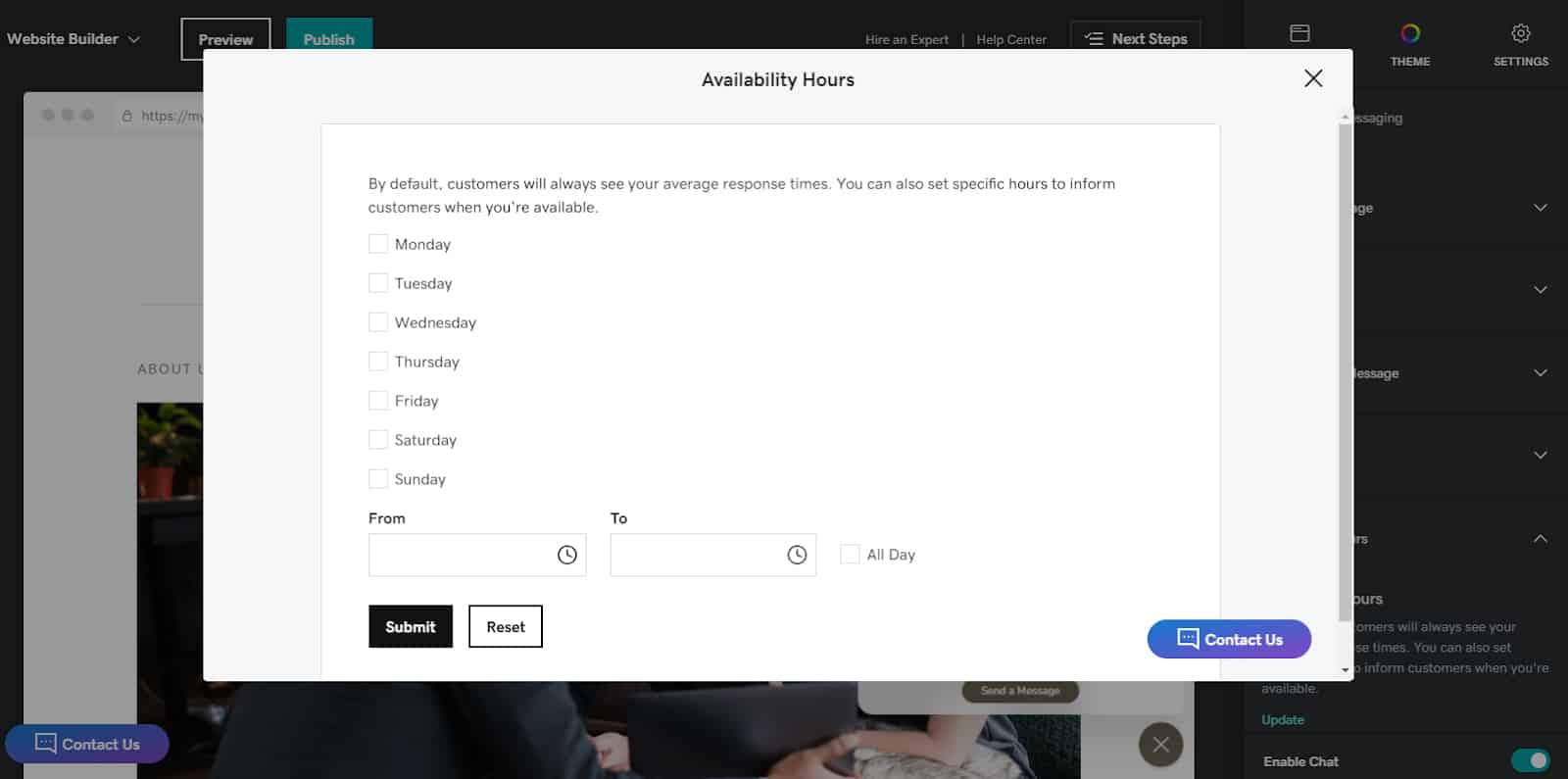 ---
---
All paid plans come with the ability to send marketing emails, starting with 100 sends in the basic plan and increasing to 25,000 in the Commerce plan and a whopping 100,000 in Commerce Plus. Other key marketing tools included are the ability to create and manage your Google Business Profile and Yelp Business listings and post to Facebook, Instagram, and Twitter.
In addition, with upper-tier plans, you can boost social media posts and create and manage social advertisements. Commerce plan subscribers can even post products from their stores on Facebook and Instagram to promote sales.
---
While selling online with an ecommerce store requires a subscription to the highest GoDaddy site builder package, that doesn't mean you can't collect payments with lower-tier plans. Beginning with the Basic plan, you can send Pay Links to request and collect payments.
You can also turn your smartphone or laptop into a virtual cash register and accept credit card payments. All plans also include a sales dashboard where you can view all transactions in a single place.
---
Ecommerce capabilities are only available on the two highest-tier plans, the Commerce plan and the Commerce Plus plan. Commerce Plus has higher limits on email marketing sends and includes automated sales tax and auto-populated tax forms.
The relatively low prices for ecommerce and the features you get put GoDaddy ahead of other site builders. Wix, for example, only has unlimited dropshipping on its most expensive business plan.
Likewise, Squarespace's cheapest commerce plan doesn't have abandoned cart emails. Still, none of these alternatives come near to the ecommerce features you get with Weebly, which offers ecommerce starting with a free website builder that stacks in value with each paid plan tier.
Also, when paired with its design capabilities and lack of ecommerce analytics, GoDaddy's ecommerce may be too basic for some online stores. Unless you want the ease of use that GoDaddy provides, you're better off going with a dedicated ecommerce site builder on a platform like Shopify instead.
---
In paid plans, the GoDaddy website builder includes basic page and site-level SEO settings. With any plan, your site will be served up worldwide on Google's content delivery network (CDN), to ensure that slow page loading won't keep people from visiting your website.
The SEO Wizard asks you to choose whether your site is a global or local site, and then add keywords for what your site is about and helps create meta descriptions and headings with your keywords. Where the SEO wizard falls short is a lack of a keyword suggestions tool. You'll need to use a tool like Semrush or another SEO keyword research tool before optimizing.
Paid plans for the GoDaddy website builder include behind-the-scenes automatic optimizations that aren't fully specified. However, the 50-page limit of GoDaddy precludes blogging and content marketing, which is subpar for search optimization. If ensuring your site will be found in online searches is a top priority, go with Wix, which has a built-in AI writer and keyword research support, or another of the best website builders for SEO instead.
---
Another area where GoDaddy's simplicity hampers use is add-ons or integrations. The functionality that's included is great for basic sites, but if you need additional features for organizing an inventory, managing a personal fitness training business, or loyalty program tracking, GoDaddy won't be the best choice for website builders for you.
Instead, consider Wix. Its ecommerce plans come with a ton of native niche features, and there are more than 300 add-ons in its app marketplace to provide advanced functionality.
---
Ease of Use
GoDaddy's site editor is very beginner-friendly. During setup, you're asked a series of questions about your industry and goals. Artificial design intelligence (ADI) determines the best template for your business' website needs and creates a template for you. Once your template is assigned, you'll enter the editor.
It's one of the easiest site builders we've ever used. GoDaddy spoon-feeds you the steps you need to take to get your site ready for publishing, and the interface is uncluttered and easy to understand. Learn how to build a website on GoDaddy in just a few simple steps by watching the video tutorial below.
Unlike Wix and Squarespace, GoDaddy doesn't utilize a true drag-and-drop editor. Instead, you build your pages by adding pre-made content blocks and editing them.
The trade-off for ease of use with GoDaddy is limited choices and customizability, so we suggest looking elsewhere if the simplicity makes it too basic for your needs. Wix tops our list of the best drag-and-drop site builders, but one of the other options on this list could also be a good fit for you.
Customer Support
GoDaddy offers 24/7 live phone chat and live chat on all of its plans (including the free trial). Like most other site builders, there is also a Help Center and forum where you can browse articles and ask questions. This is especially useful because GoDaddy doesn't offer priority support on any of its plans, so it might take a while for someone to respond to your queries.
If support is a top concern or you'd like personalized advice when building your website, check out IONOS, which tops our list of the best cheap website builders. Like GoDaddy, it has an intuitive, section-based editor, and all customers get 24/7 live support plus access to a dedicated success consultant you can turn to for advice and help.
Expert Opinion
Overall, the GoDaddy website builder offers decent functionality in a beginner-proof package that's affordable for businesses of all sizes. With it, you can create a custom-feeling website that's effective, even if not the most visually stunning. Your site won't have the advanced functions available via other builders like Wix or the thousands of plugins available in WordPress.
However, that may not be a problem for you. After all, not every small business needs the advanced functionality offered by the other providers. If you're looking for a simple, foolproof way to get a site up and running quickly, GoDaddy website builder may be right for you.
What Users Say in GoDaddy Website Builder Reviews
The best way to judge the quality of site-building software is to look at what real-life users have to say. GoDaddy website builder reviews show that it's one of the quickest ways to get started with your business' online presence. In GoDaddy website builder reviews, users praise the site builder's ease of use and how quickly you can set up a website on it.
Based on GoDaddy website builder reviews, it has earned the following average scores on popular review sites:
The biggest drawbacks of the site builder are its limited design capabilities and very basic features. Despite these limitations, GoDaddy remains one of the top website builders available.
Frequently Asked Questions (FAQs)
GoDaddy website builder offers the ability to build a relatively basic website with functionality like ecommerce or appointment booking easily and quickly. Its templates are not particularly inspiring, though, and what GoDaddy offers in simplicity comes at the expense of design and functionality. It's worth it for a basic website but may leave you wanting more.
---
Yes. You can access much of the functionality of the GoDaddy website builder for free, forever. That being said, many of the advanced features it offers are reserved for paid tiers. Appointment booking is available at the first paid tier, and recurring appointments require the Commerce or Commerce Plus tier. Ecommerce sites will require the Commerce or Commerce Plus tier, as well.
---
GoDaddy is a very reliable web hosting service, supporting an uptime guarantee of 99.9% or better. Living up to that guarantee makes GoDaddy one of the most reliable web hosting providers available.
---
While not as easy to use as GoDaddy, Wix is better for those that want a custom site and advanced features for ecommerce, restaurants, reservations, and events. Wix is also far better for SEO than GoDaddy. If you're looking for simple, choose GoDaddy. If you're looking for more design control and website capabilities, Wix wins.
---
GoDaddy is the best free website builder for appointment-based businesses, thanks to its built-in appointment booking system. However, Wix is the best overall, Weebly is the best free ecommerce site builder, Dorik is best for membership websites, and HubSpot is the only way to build a free website on your own domain.
---
GoDaddy charges a 2.3% plus 30 cent processing fee for any online payments processed through its online payment system. It does not charge additional fees, such as a transaction fee. This puts GoDaddy in line with other providers, such as Weebly, which charges between 2% and 3% per transaction.
---
Bottom Line
GoDaddy is one of the most popular web hosting companies and domain registrars, so it makes sense its website builder is among the top offerings in the industry. GoDaddy website builder is affordable and offers a well-equipped booking system, chatbots, and built-in marketing and SEO tools to help you spread the word about your website. Despite design limitations inherent to the site editor, GoDaddy is still one of the quickest and easiest ways to get your business online.