GoDaddy Website Builder Review: Is It the Right Site Builder for You?
GoDaddy's website builder has a very easy interface and a full suite of marketing tools—all at affordable prices. GoDaddy website builder reviews show that it's a great, all-around site builder for beginners. It's a solid, beginner-friendly choice for small businesses on a budget and those wanting to use built-in appointment booking tools and chatbots from day one.
GoDaddy Website Builder

What We Like
Free-forever plan
Starts at $6.99/month (first year)
Beginner-friendly
Appointment booking & chatbots―even in the free version
Build a site in just a few hours
What's Missing
Template selection limited
Themes aren't diverse
Limited design customizations
No third-party app store
Free email account only for one year
No revision history
GoDaddy is recommended for…
Any small business on a budget
Service & sales-forward businesses
Restaurants
Nonprofits and charities
Real estate agencies
Event venues (ticket sales)
Photographers and designers
GoDaddy Website Builder Overview
GoDaddy is one of the most established names in the market for domain name registration and web hosting yet not many know about the GoDaddy website builder. The website builder's intuitive interface makes it easy, even for complete beginners, to get a professional-looking website up quickly and affordably.
Even though it's beginner-friendly, it has essential search engine optimization (SEO) and marketing tools and a robust native appointment booking system—even in the free version. The forever-free plan is a great option for those just starting out or who want to try a free site builder before subscribing to a plan.
Who the GoDaddy Site Builder Is Best For
Beginners who need to quickly create a business website: This is one of the simplest section-based website builders we've used. A template is selected for you during the setup process based on your industry and goals. You can then change layouts, style, colors, and fonts. It's easy to delete or add sections to the page and customize them with your content. Find out more by seeing how it stacks up against other top drag-and-drop site builders.
Startups and small businesses on a budget: Paid plans start at $6.99 per month (for the first year, paid annually). Although you don't get ecommerce capabilities at this price, you do get a free secure sockets layer (SSL) certificate and unlimited storage and bandwidth. GoDaddy is one of the cheapest website builders on the market.
Service-based businesses: On the cheapest plan―and even with the free version―you get tools to enable clients or prospects to book one-time appointments. For recurring appointments or to accept payments, you'll have to upgrade to the Standard tier plan.
Restaurants: This is one of our top recommended restaurant website builders. It has dedicated restaurant templates and integrates with ChowNow and OpenTable.
Event venues: Starting with the Premium plan, GoDaddy website builder users can sell and track ticket sales for multiple events.
Real estate agents: GoDaddy is a website builder for Realtors. In addition to premade templates for real estate agents, it also has internet data exchange (IDX) integration. Paired with the built-in appointment booking system, it's one of the cheapest ways for agents to build a real estate website where clients can book appointments for showings, listing presentations, and more.
Artists, creatives, and photographers: Unlimited storage comes with all paid plans, giving you the ability to build a visual portfolio without any limitations. This is one of the best website builders for photographers, and you can even take appointments and sell services on the lowest-tier plan.
Nonprofits: Starting from its base tier paid plan, nonprofits can quickly create a website that includes a PayPal donation button. Keep in mind that to sell merchandise online requires a subscription to the highest-tier Commerce plan.
Who the GoDaddy Site Builder Is Not Best For
One reason GoDaddy's site builder is so beginner-friendly is that it's one of the more basic ones. Design customization is limited as is access to its full library of templates, and its marketing and ecommerce tools are better suited for beginners―at least as of now―than small businesses looking for more robust tools.
Based on our expert GoDaddy website builder review, we don't recommend it for:
Businesses that need highly custom sites: The simple editor lacks drag-and-drop functionality, access to a wide range of templates, and full customization options. You're essentially limited to premade sections you can choose from and edit. For true design customization, we recommend a site builder like Wix instead. Alternatively, you can find more options among the best drag-and-drop website builders.
Ecommerce: Ecommerce capabilities are only available on the highest-priced plan. Because of this, especially when coupled with limited design capabilities, you're better off building a store with Shopify or Squarespace–find out more by comparing the best ecommerce platforms. Businesses with super-small budgets can also get started with Weebly. You can sell an unlimited number of products online beginning even with its free version as Weebly is owned by Square.
Bloggers: Setting up a blog using the website builder is extremely simple and fast. However, the blogging tools are fairly basic as are its SEO and design features. For a site builder that can grow with you, we suggest that you start with Wix or another of the best blogging platforms preferred by influencers instead.
GoDaddy Website Builder Pricing
To really get a feel of what you can do with GoDaddy, head over and create a site for free. The free-forever version isn't quite robust enough for most businesses, especially since you can't connect your own domain. However, it gives you a feel for the site editor and a peek at the ways you can increase its capabilities by subscribing to one of four paid plans.
GoDaddy website builder pricing is very affordable, especially during the first year. All plans require annual prepayment and come with unlimited storage, bandwidth, a free SSL certificate, and a free email account for one year. Paid plans are ad-free and you can connect a custom domain. However, to get any ecommerce capabilities you'll have to upgrade to the top-tier Commerce plan.
| | Free | Basic | Standard | Premium | eCommerce |
| --- | --- | --- | --- | --- | --- |
| Price per Month (First Year)* | $0 | $6.99 | $10.49 | $13.99 | $14.99 |
| Renewal Price per Month* | $0 | $9.99 | $14.49 | $19.99 | $24.99 |
| Connect To Domain & Free Secure Sockets Layer (SSL) Certificate | Subdomain with SSL security | ✓ | ✓ | ✓ | ✓ |
| Integrated Social Media & Business Listings** | ✓ | ✓ | ✓ | ✓ | ✓ |
| Site Analytics | ✓ | ✓ | ✓ | ✓ | ✓ |
| PayPal Donations | ✓ | ✓ | ✓ | ✓ | ✓ |
| One-time Appointment Booking | ✓ | ✓ | ✓ | ✓ | ✓ |
| Email Account for One Year | ✕ | ✓ | ✓ | ✓ | ✓ |
| Website Optimizer for SEO | ✕ | ✕ | ✓ | ✓ | ✓ |
| Recurring Appointments | ✕ | ✕ | ✕ | ✓ | ✓ |
| Appointment Payments | ✕ | ✕ | ✕ | ✓ | ✓ |
| Ecommerce | ✕ | ✕ | ✕ | ✕ | ✓ |
| Marketing Emails per Month | None | 100 | 500 | 25,000 | 25,000 |
| | | | | | |
**Connect and post to Facebook, Instagram, Twitter, Google Business Profile, and Yelp.
For more information about each of GoDaddy's website builder plans, select from the dropdowns below:
Free
The free-forever plan includes a GoDaddy subdomain URL and free SSL security. It even includes limited ability to accept payments (via links) or take donations through Paypal. GoDaddy's site builder includes one-time appointment bookings in the free version, which is why it also made our list of the best free website builders.
The appointment booking tools are fairly advanced; for example, a client can choose between providers and services (e.g., a senior stylist and a hair color service). While you won't be able to take appointment payments online, it's still a great option for startups and small, service-based businesses on a budget, like a salon or spa.
The GoDaddy website builder also includes chatbots, again, even starting at the free level. Chatbots can be used to create engagement with site visitors, gather and relay basic information to you about a prospects' inquiry or a customer's service request, and help to generate conversions like web form completions.
All plans include the ability to connect and post to your Facebook, Instagram, and Twitter accounts, including scheduling posts in advance. Likewise, you can connect to and manage your Google Business Profile and Yelp business listings from the dashboard's marketing tools.
Free plan users also get access to the GoDaddy Studio. While some templates and features are reserved for paid plan subscribers, the Studio enables users to create logos, social media graphics, and even order business cards right from the dashboard. In addition, new tools for creating and editing videos have been added.
---
Basic
The Basic plan is one of the most well-rounded "cheap" plans across the board. For $9.99 ($6.99 per month the first year), your site is ad-free and you can connect your own domain, You also get unlimited storage, unmetered bandwidth, and a free professional email account for one year. You even get the ability to send 100 email newsletters.
The site builder is also a good option for non-profits and charities, as this plan allows donations via Paypal and ticket sales for events. Sinc basic plan features include unlimited storage and bandwidth, it's also a good choice for content-heavy sites, such as digital portfolios and online image galleries.
---
Standard
For $5 more per month, you can upgrade to the Standard plan. While still fairly cheap, you only really get a tiny boost in features, namely, the ability to send 500 emails. However, at this level, you do get GoDaddy's website optimizer to ensure your site gets found on Google.
Like the Basic plan, you can't book recurring appointments, take appointment payments, or sell via an online store. Unless you really need the slight marketing upgrade, we suggest skipping this plan to get the more robust features in Premium and Commerce tiers.
---
Premium
---
Ecommerce
GoDaddy's only ecommerce plan is priced at $24.99 per month—similar to ecommerce plans from other leading site builders. However, the first year's pricing is steeply discounted, so this is a viable plan for businesses wanting to sell online. GoDaddy also allows integrations with leading ecommerce platforms and marketplaces like Amazon, Etsy, and Facebook.
It does come with limitations, like no advanced ecommerce analytics, which other site builders include with ecommerce plans. For advanced ecommerce features, GoDaddy isn't your best option. But its ease of use makes it an acceptable option for beginners looking to set up a store quickly.
---
GoDaddy Site Builder Features
GoDaddy's site editing capabilities lean towards the simple side, but that isn't necessarily bad, as it makes it easy for beginners to create and publish a site quickly. It's affordable, has unlimited storage and bandwidth with paid plans, and includes some unique capabilities alongside essential marketing and SEO tools to help you grow your business.
Expand the tabs below to take a closer look at what you get with the GoDaddy website builder:
Templates & Design
One of GoDaddy's biggest shortcomings is in template selection and design customization. It doesn't give you the option to choose your own template. Its themes look fairly similar and lack the visual diversity a site builder like Squarespace offers. While you can't choose from a vast library of templates, you can update the layout of your website within the options provided without losing any content, which is nice.
Full design freedom is also lacking—you can't edit the site to your heart's content like with Wix. The GoDaddy website builder doesn't have a true drag-and-drop editor, and you are limited to pre-made content blocks (and limited options for editing).
That's not to say that GoDaddy's designs are outdated. Compared to Weebly, GoDaddy's templates are more modern, although not as modern as those of Squarespace, Webnode, or even Wix. You may become frustrated if you are wanting to create a custom-looking site with GoDaddy's website builder.
---
Appointment Booking
Aside from the site builder's ease of use, it's known for its sophisticated online booking system. This feature is available on every single one of its plans, although recurring appointments and online payments require at least the Premium plan. Still, not many site builders have an advanced booking system in base paid plans, let alone in a free website builder.
With the online booking system, you can list multiple services, dates, times, service providers, arrange payments, and gather customer information. You can even sell tickets for group events (300 people max)—a feature that even the lowest tier plan can access.
---
Chatbots
Not every business provides live chat 24/7/365 to engage site visitors, resolve issues, and deliver helpful information. However, GoDaddy includes two chatbots beginning with the free plan. By default, they are always on, but you also have the option to configure hours. This way, if you do have live chat during business hours, you can set the chatbots to come on when you aren't available.
The "Hello" bot can engage site visitors, asks questions, and collects information so that you can follow up with inquiries. The order chatbot detects order-related conversations and responds with information and status updates.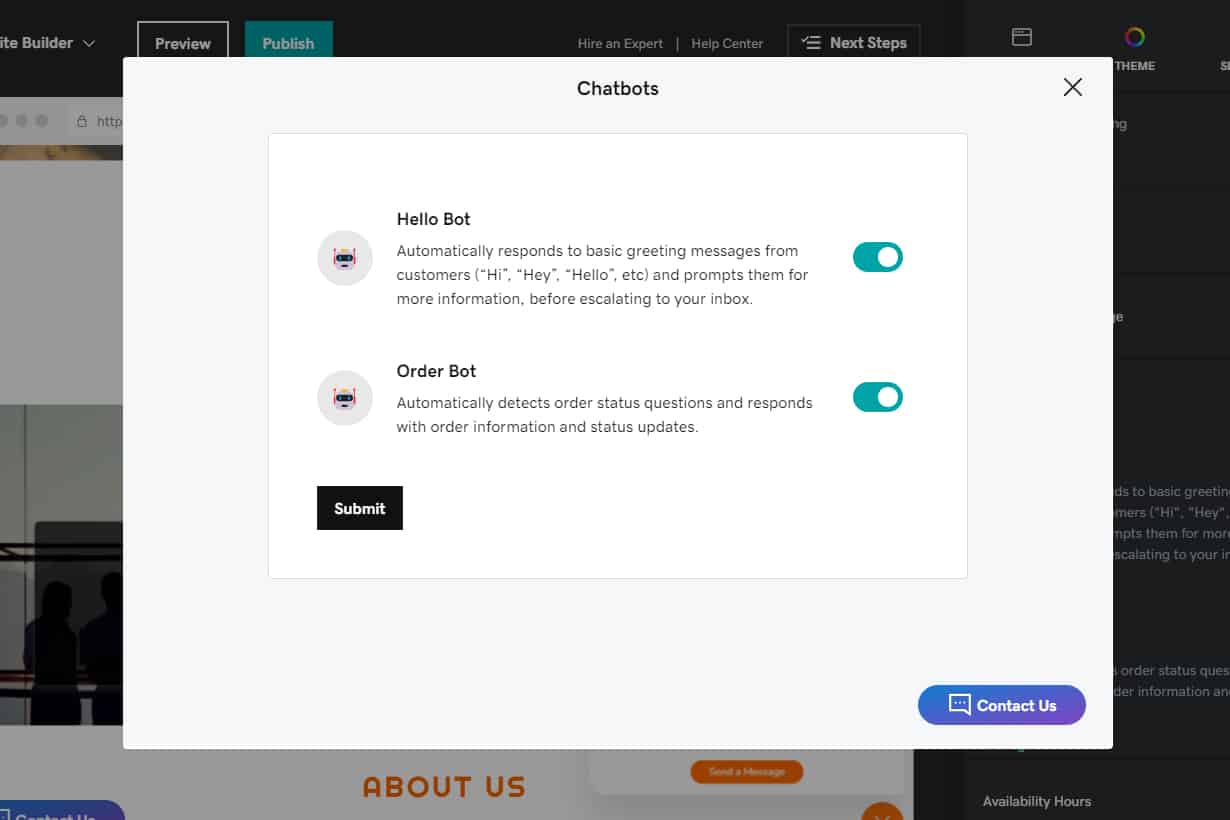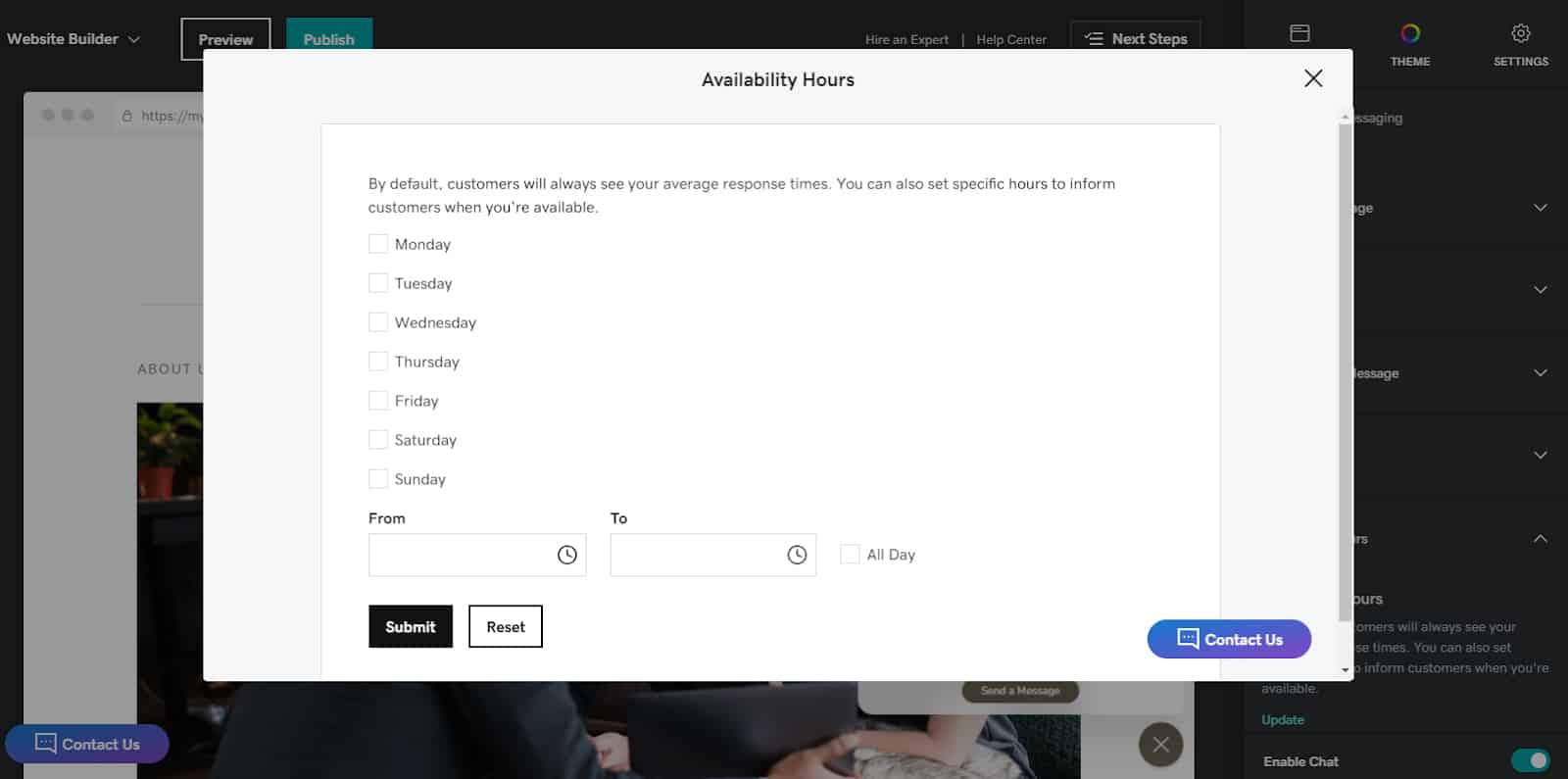 ---
Marketing Tools
We already mentioned that all paid plans come with the ability to send marketing emails, starting with 100 sends in the basic plan and increasing to 25,000 sends in the two upper-tier plans. Other key marketing tools included are the ability to create and manage your Google Business Profile and Yelp Business' listings and post to Facebook, Instagram, and Twitter.
In addition, with upper-tier plans, you can also boost social media posts and create and manage social advertisements. Commerce plan subscribers can even post products from their stores to Facebook and Instagram to promote sales.
GoDaddy's site builder also made our list of the best website builders for SEO. It has three data centers located around the world to ensure fast site loading, includes basic SEO features (even in the free version), and has an SEO Wizard to analyze your website and offer tips for better search optimization.
---
Online Payments
While selling online with an ecommerce store requires a subscription to the highest GoDaddy site builder package, that doesn't mean you can't collect payments with lower-tier plans. Beginning with the Basic plan, you can send Pay Links to request and collect payments.
You can also turn your smartphone or laptop into a virtual cash register and accept credit card payments. All plans also include a sales dashboard where you can view all transactions in a single place.
---
Ecommerce
Ecommerce capabilities are only available on the highest-tier plan. For $24.99 per month, you get an easily managed store, no commission fees, features like abandoned cart recovery, and marketplace and dropshipping integrations.
This price and the features that you get put GoDaddy ahead in some aspects. Wix, for example, only has unlimited dropshipping on its most expensive business plan ($49 per month).
Likewise, Squarespace's cheapest commerce plan ($26 per month) doesn't have abandoned cart emails. Still, none of these alternatives come near to the ecommerce features you get with Weebly, which offers ecommerce in a free website builder that stacks in value with each paid plan tier.
However, when paired with its design capabilities and lack of ecommerce analytics, GoDaddy's ecommerce may be too basic for some online stores. Unless you really want the ease-of-use that GoDaddy provides, you're better off going with a dedicated ecommerce site builder on a platform like Shopify instead.
---
Ease of Use
The site editor is very beginner-friendly. Before accessing it, during setup, you'll be asked to pick your industry. GoDaddy's artificial design intelligence (ADI) then determines the best template for your business' website needs.
GoDaddy doesn't utilize a true drag-and-drop editor. Instead, you can edit or add pre-made content blocks on your site's pages. Learn how to build a website with the GoDaddy site builder in just a few simple steps.
It's one of the easiest site builders we've ever used. GoDaddy spoon-feeds you the steps you need to take to get your site ready for publishing and the interface is uncluttered and easy to understand.
The trade-off is limited choices and customizability, so we suggest looking elsewhere if you think that the simplicity makes it too basic for your needs. Wix tops our list of the best drag-and-drop site builders, but one of the other options on this list could also be a good fit for you.
Customer Support
GoDaddy offers 24/7 live phone chat and live chat on all of its plans, including the free trial. Like most other site builders, there's also a Help Center and forum where you can browse articles and ask questions. This is especially useful because GoDaddy doesn't offer priority support on any of its plans, so it might take a while for someone to respond to your queries.
What Users Say in GoDaddy Website Builder Reviews
The best way to judge the quality of site-building software is to look at what real-life users have to say. GoDaddy website builder reviews show that it's one of the quickest ways to get started with your business' online presence. In GoDaddy website builder reviews, users praise the site builder's ease of use and how quickly you can set up a website on it.
Based on GoDaddy website builder reviews, it has earned the following average scores on popular review sites:
The biggest drawbacks of the site builder are its limited design capabilities, and its very basic features. Despite these, GoDaddy remains one of the top website builders available.
Best GoDaddy Website Builder Alternatives
Shortcomings as to lack of design freedom and the high cost of ecommerce functionality could mean that this platform isn't the best fit for building your company's website. Below are three top small business website builders whose stand-out features might make them a better choice or check out our review of the best GoDaddy alternatives for more options.
Best for:

100+ sleek, modern templates
Native SEO tools
Like Wix, this all-in-one solution includes a free domain & SSL certificate

Most design freedom
SEO & marketing tools, even in the free version
Vast template library & app marketplace

Fully ecommerce-ready, even in the free version
SEO & lead capture tools
Access to third-party apps with paid plans

Starting price per month:

$14

Free version with ads; ad-free plans start at $14

Free version with ads; ad-free plans start at $12

Learn more:
Wix offers more design freedom than GoDaddy's site builder, but is it the best option for you? See how they compare in our Wix vs. GoDaddy site builders review.
Bottom Line
Already popular as a domain registrar and web hosting company, GoDaddy's website builder adds another small business-friendly product to its range of offerings. It's affordable and offers a standout appointment booking system, chatbots, and built-in marketing and SEO tools. Despite limited site design capabilities, building a website using GoDaddy's site builder it's one of the easiest and quickest options for a small business.