How to Build a Website on GoDaddy in 5 Steps
In this GoDaddy website builder tutorial, you'll learn how to build a website on GoDaddy and get a business site online in a few hours or less. First, create an account and answer questions to generate a template. Then customize your site's settings and pages, choose a plan, and hit "Publish" to make your site go live.
1. Create an Account
To build a site on GoDaddy, click on "Websites," then "Websites and Stores," and then "Website Builder." From there, you will end up on the site builder's landing page. Click on the "Start for Free" button on the banner. This takes you to the website builder, where you will be prompted to create an account (or sign in to an existing one).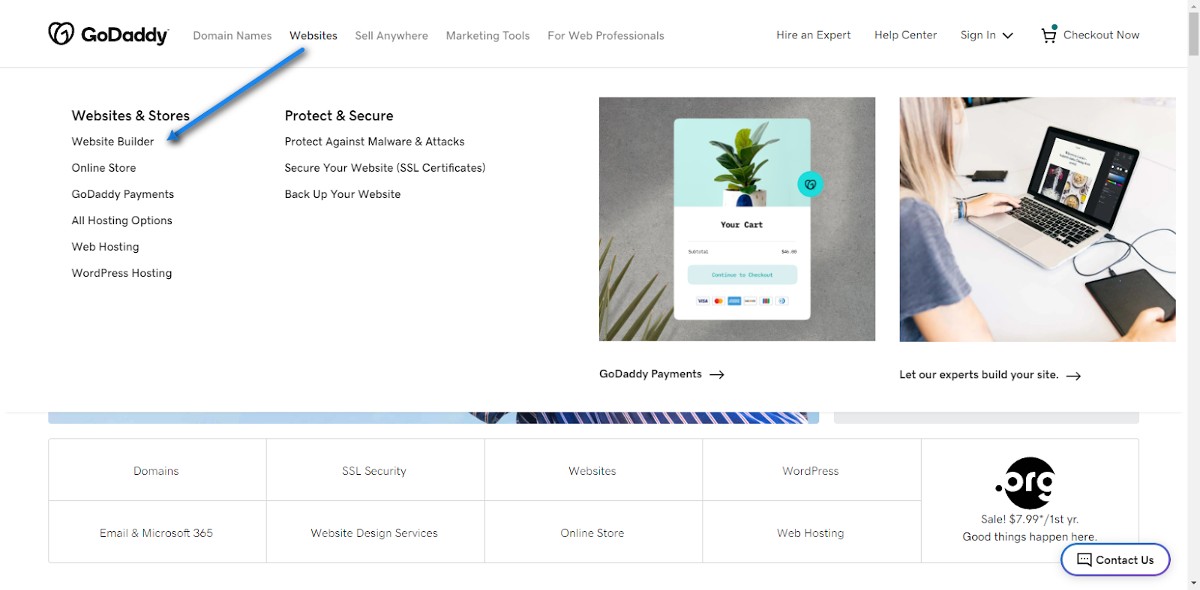 ---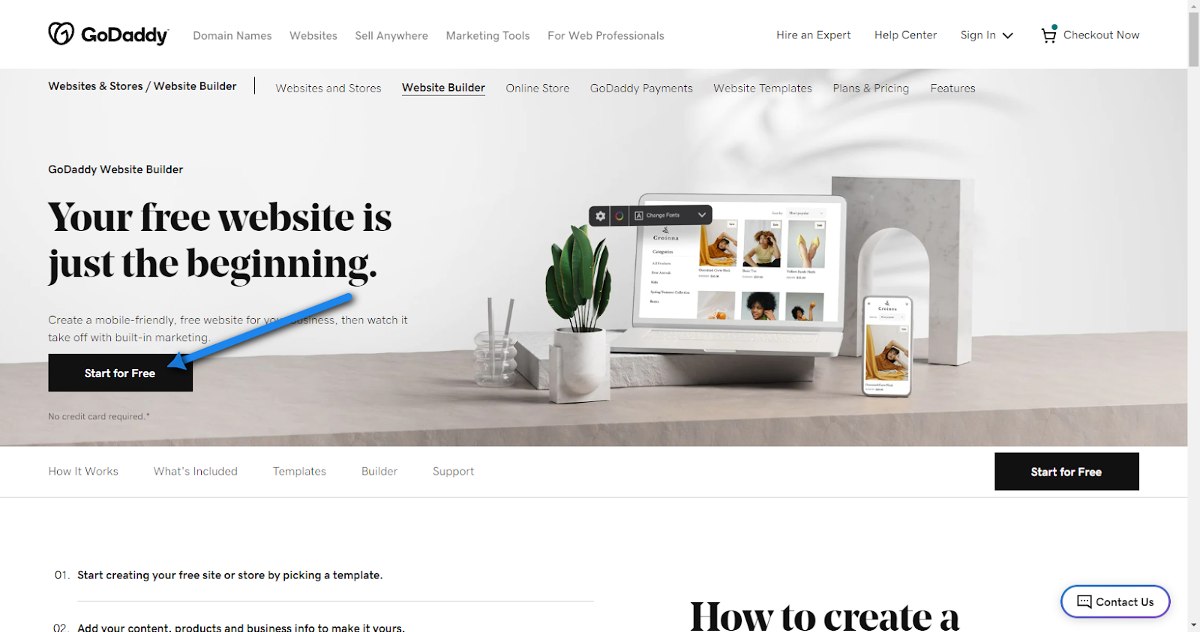 ---
2. Generate a Template
The GoDaddy website builder relies on artificial intelligence (AI) to generate your template by asking you a few simple questions. First, choose your business' main industry. Then, GoDaddy will ask you to find your industry from a list. Finally, name your site (you can always change this later on). From here, a template is generated for your website.
You can change this template anytime you want without losing your content by clicking on the "Theme" menu to the right of your editor, and then on "Try a New Look." However, GoDaddy only gives you around 20 variations to choose from.
Once you find the template that fits best for the website design you envision, hover over it and click "Select." This brings you back to the editor, where you can start editing your site's design elements and content.
3. Set Your GoDaddy Website Up for Success
With GoDaddy, you can change site-wide settings through the menu on the right-hand side. Some of the things you can do to set your website up for success include updating site-wide settings like contact and location details, connecting social media accounts, and completing basic search engine optimization (SEO) tasks. In addition, you can configure chatbots to increase site visitor engagement, even in the Free version.
Add Business Details
First, give your website a name—this will usually be the name of your business. You can also add your location and contact information. Changing anything on this menu will automatically reflect on your website (e.g., changing your phone number on your website's contact page). In addition, you can change the fonts and colors used for your website from this menu.
---
Connect Your Social Media Accounts
---
Optimize Your GoDaddy Website for Search
Next optimize your site for online search using search engine optimization (SEO) tactics so that your site will rank higher on Google and drive visitors to your website. GoDaddy helps you optimize your website with a beginner-friendly SEO Wizard.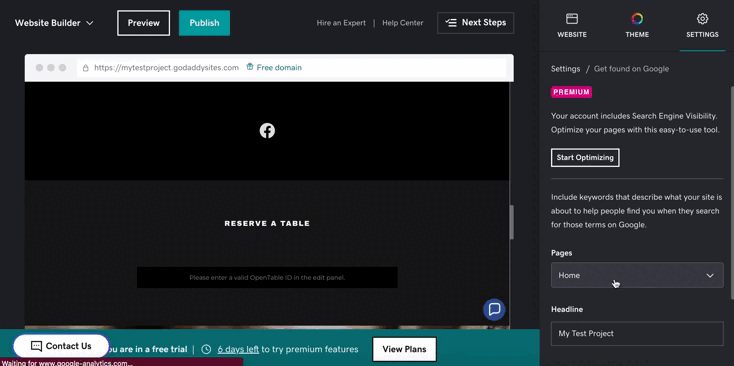 GoDaddy can help you optimize your website for keywords. To access the SEO Wizard, simply click on "Get Found on Google" in the "Settings" tab, and then on "Start Optimizing." This will lead you onto a separate page where GoDaddy will help you identify and add keywords to your website.
This SEO menu is also where you will link to your Google Business Profile (if you serve local customers). If you serve customers across the nation or worldwide, GoDaddy will direct you to improve your site's SEO through the Wizard. The final result will be an SEO dashboard located under "Marketing."
This SEO dashboard will help you track and analyze your site's metrics. Paid GoDaddy website builders plans (Premium plan and above) include even more website optimization and search engine marketing tools.
---
Configure Your Chatbots
Your GoDaddy website builder comes with free chatbots, even on the Free plan. You'll find settings for your chatbots under the Website tab at the bottom by clicking on the chat icon.
Create custom greetings to welcome site visitors, provide answers to commonly asked questions, and collect information from prospects or customers who need follow-up. You can also change the color of the chatbox and button and upload a custom avatar. Set custom hours for your chatbots or let them work to increase site visitor engagement 24/7/365.
---
4. Edit Your Template & Build Your Site
These next steps are the content-related tasks for how to build a website on GoDaddy. You can add and delete pages, and edit them using the section-based editor to update the content blocks. Before you finish creating a website with GoDaddy's site builder, you can also set your site's colors to align with your brand and customize the site-wide header and footer.
To access the editor, go to the top of your dashboard, click on "Website," and then click on "Edit Site." Then build your website's structure by adding, deleting, and editing pages.
Add, Delete & Manage Pages
Click on "Website" on the right-hand side to see a list of your existing pages. Then, click on the gear icon beside each page to rename, duplicate, or delete a page. Here you can also indicate whether a page should be added to the header navigation or as a menu item on the footer.
In addition, you can set a page to private here. This is great if you want to gate off content for employees, subscribers, or customers. When you set a page to private, you can indicate whether the page can be accessed only if you provide the user with a link to the page or if a user has an account.
For example, if you're a photographer, you can set up a photo gallery for a client on a page, set it to private, and then set up access as requiring a link to the page. Then send the client the link and they will have access to the image gallery to decide which prints to buy.
Alternatively, you can create an employee resource page with your handbook, employment forms, benefits information, and so on. Then set the page to private and allow employees to create an account, giving them access to the page.
Reorder your navigation menu by clicking on "Reorder Pages" at the top of the menu or add a new page by clicking the "+" icon. Keep in mind that when you add, delete, and reorder your pages in the navigation bar, it automatically updates on your website's menu.
GoDaddy also offers website add-ons, which you can find at the bottom of the "Website" tab. For instance, you can add a store, a blog, messaging, and page pop-ups that display messages when visitors land on a specific page on your website.
These aren't individual pages but sections and features that you can add to a page on your site. For example, to set up an online store, add a blank page and then add the store section to the new page. Or, to add a blog, create a new page and then add the blog section to it. Learn more about building pages in the next section.
Build Pages
Go to individual pages by clicking on them in the list under the "Website" tab. Since GoDaddy is a section-based website builder, to build pages, you can choose from premade sections and then edit them to build pages. Build out each of your site's pages by adding, deleting, and reorganizing content blocks.
To add sections, or content blocks, click on the "+" icon and choose from a list of sections. Organize them by hovering over the section you want to move. Then, click on the up or down arrows to the right of the box to move it higher up on the page or beneath the next section of the page.
The GoDaddy website builder is one of the best website builders for small business thanks to its appointment booking tools. A one-time appointment book is even included in the Free version. To add an appointment booking content block, click the "+" arrow to add a new section on the page, then scroll down to "Scheduling." From there, you can choose to add a block for booking an appointment or a calendar of events site visitors can choose to attend.
Beside the arrows you'll see a section layout button. Click on this to change how the section looks; each section has three different layouts. Finally, click on the ellipsis ("…") to duplicate, delete, or move the section to a different page entirely.
Edit Content Blocks
Select the content block you want to edit by clicking on it and adding your text or changing images. Alternatively, you can also type out your content through the right-hand menu.
Each text block usually comes with a few different style and size variations that you can access by clicking on the block itself. Some text blocks also come with a magic wand button—click this if you want to change all the similar content blocks across your website to the same style.
Add Page-level SEO
To make all of your pages search engine-friendly, add a meta description with your keywords to each website page. You'll find these under Settings and "Get Found on Google" as well. Use the drop-down to select a page and enter the title and meta description there.
Change Your Site's Colors, Fonts & Buttons
You can also align your website's design with your branding. To change your website's colors, fonts, and buttons, click on the "Theme" tab. Below the theme selection, you'll see drop-down menus for your website's colors, fonts, and buttons.
For both color and font, you can choose to select from the options yourself, or GoDaddy can help you out. It will suggest preselected colors based on your site's logo and imagery as well as fonts that pair well together.
Fix Your Header & Footer
Both header and footer settings are site-wide. To update your header, click on the very top of the screen (on the header). On the right-hand menu, you can change your website's colors, add promotional messages, and upload your logo. The most important thing to remember is to change the content on your header to your business name and to upload your logo.
Once you've completed your header, scroll down to the very bottom of your page and click on your footer. Change your footer's layout and sections by clicking on the right-hand menu, and edit the content by clicking directly on the block you want to change. Common details found on footers are business information (addresses, contact information, etc.), social media pages, and search bars.
Undo Changes as You Build a Website With GoDaddy
As you create your GoDaddy website, changes are saved automatically. If you need to revert to an earlier version of your site (or back to how it originally looked), click on "Settings" in the sidebar and scroll down to "Site History."
Pro tip: Don't have a logo yet? GoDaddy's logo designer can create one for you. You can also try a do-it-yourself design application like Canva or hire a professional through freelance sites like Fiverr.
5. Preview & Publish Your Site
When you think your GoDaddy website is ready for the world to see, hit "Preview" at the very top of the screen. This enables you to view your website as it will be seen by site visitors on both desktop and mobile devices.
Scroll through each page and make sure that the web design is as you envisioned. Ensure that details like your contact information and hours of operation are correct, and check for any typos or content blocks you forgot to update.
Next, either go back to the Editor to make more changes by clicking on "Edit Site" or click on "Publish" to launch your site. If you publish your site using the Free version, like all free plans on website builders, your site will be published under a subdomain (yoursite.godaddy.com). However, this isn't ideal—it doesn't inspire credibility or trust with site visitors, and it's not professional enough for business use.
To get your own domain name (e.g., www.yourbusinesssite.com), you can purchase one from GoDaddy or connect one you already own when upgrading to a paid plan. For more information and options, read up on how to choose a domain name for your business.
GoDaddy Website Builder Pricing & Plans
| | Free | Basic | Premium | Commerce | Commerce Plus |
| --- | --- | --- | --- | --- | --- |
| Starting Price (Monthly)* | $0 | $9.99 | $14.99 | $16.99 | $29.99 |
| Ad-free | ✖ | ✔ | ✔ | ✔ | ✔ |
| Connect a Domain | ✖ | ✔ | ✔ | ✔ | ✔ |
| Unlimited Storage & Bandwidth | ✖ | ✔ | ✔ | ✔ | ✔ |
| SEO Website Optimizer | ✖ | ✖ | ✔ | ✔ | ✔ |
| Social Media Integrations | ✔ | ✔ | ✔ | ✔ | ✔ |
| One-time Appointments | ✔ | ✔ | ✔ | ✔ | ✔ |
| Recurring Appointments | ✖ | ✖ | ✔ | ✔ | ✔ |
| Online Store | ✖ | ✖ | ✖ | ✔ | ✔ |
*First year pricing, billed annually, renews at a higher rate; monthly billing is also available at a higher cost
Best Alternatives to Building a Website With GoDaddy
GoDaddy is just one of many intuitive, all-in-one website builders. While it's easy to use, especially for beginners, it's a bit lacking in how much can be customized, access to designer templates, and low-cost ecommerce plans.
For the best alternatives, we recommend:
Best GoDaddy Alternative

Key Features Compared to GoDaddy

New Fluid Engine drag-and-drop page builder for more customization
100+ modern templates to choose from
More robust SEO tools

More design freedom and 800+ templates
More intuitive editor
Hundreds of third-party apps to add functionality

Robust ecommerce, even in the free version
Third-party apps to extend site capabilities
Better ecommerce plans and analytics

Free Plan

✕

✔

✔

Starting Cost of Paid Plans (Monthly)*

$16

$16

$12

Starting Cost of Ecommerce Plans

$27

$27

Free
*Ad-free paid plans with annual billing; monthly billing is also available at a higher cost
Still undecided about whether or how to build a website on GoDaddy? Read our expert GoDaddy review or check out our list of the best website builders for small business to help you out.
Frequently Asked Questions (FAQs)
Is GoDaddy the cheapest website builder?
GoDaddy is not the cheapest website builder, though its plans are very affordable for what you get. For example, with a starting cost of $9.99 per month the first year (billed annually), you get hosting, a free SSL certificate, appointment booking tools, chatbots, and the ability to accept payments via pay links. If you need more budget-friendly services, see our list of the best cheap website builders.
How do I build a website fast?
The fastest way to build a small business website is through an all-in-one website builder. And among all-in-one site builders, GoDaddy could be the fastest way to create your site. By following these steps for how to build a website with GoDaddy, you can get your business website online in hours.
Is building a website on GoDaddy free?
You can build a website on GoDaddy that is completely free, and this is a great way to test out the website builder's features, tools, and capabilities before committing to a paid plan. Keep in mind that if you publish your site without upgrading, it will be hosted on a GoDaddy subdomain and display GoDaddy branding. So while it's fine to build your site in the Free version, you will want to purchase a paid plan to publish your site on your business domain name.
Bottom Line
Now you know how to build a website with GoDaddy—sign up, get a template, update settings, edit your pages, and then publish your site. GoDaddy is a good option for a small business looking for an easy and affordable way to build a web presence. It's an especially good option for service-based businesses thanks to useful appointment booking tools, even in the Free version.
You Might Also Like…