How to Get Bookkeeping Clients in 4 Steps [+ Free Marketing Ideas]
Learn how to get bookkeeping clients quickly by first identifying your target audience, then implementing marketing ideas to reach your potential clients, followed by joining a few networking groups and finishing off by offering additional services like payroll or tax prep to your existing clients. You can typically get started with all of these steps for around $1,000.
Before you start to take on too many clients, make sure that you are ready. QuickBooks is the most popular accounting software for small businesses, which means that most of the clients you encounter use QuickBooks. You can sign up for a free 30-day trial with no credit card required.
The four steps to get bookkeeping clients are:
1. Identify Your Target Audience & Niche
Identifying your target audience gives you the insight you need to market to the people who actually need your services. Bookkeeping services are something that every type of business needs. However, because you don't have the resources to service every business, you've got to spend some time narrowing down the specific type of customers you spend your marketing efforts on.
To narrow the search, you could talk to other bookkeepers who have been in business for a while to see what type of customers they service. You also want to give some thought to focusing on a niche market. This can give you the specialty you need to receive a steady flow of clients looking for your exact expertise.
To help you identify your target audience, start with answering a couple of questions:
Is there a specific industry that has many businesses in your local area like industrial, manufacturing and automotive?
Do you patronize any small businesses that you could chat with about who they are using for bookkeeping services like dry cleaners, yogurt shops and yoga studios?
Make a list of these businesses and think about the types of services that they might need. If it's an industry that you're not familiar with, do your research. Before you sit down with potential customers, you want to make sure that you have some familiarity with the industry. Keep in mind that no two businesses are alike. For example, if you plan to start with local coffee shops, expect to see different processes and procedures in place for the same type of business.
Focus on the customer's pain points and ask questions like the following:
What is your biggest pain point in your business?
How much time do you spend managing the books, payroll, and similar processes?
What needs to improve so that your business can grow?
Whatever your target audience is made up of, it's important to know who they are so that you can properly market toward that audience. Throwing your name at any potential client is a sure way to get zero clients. These days, you need to stand out from the crowd, but you can't do that if you don't know who you're trying to stand out for.
2. Start Marketing Your Bookkeeping Business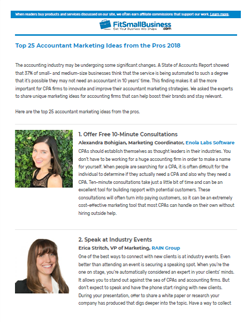 After you have obtained your credentials and identified who your target audience is, it's time to take action. Whether you are a brand new business owner or an established bookkeeping business, we've got several ideas to share with you on how to find bookkeeping clients quickly through free marketing efforts.
Download our Top 25 Marketing Ideas for Accountants
Listed below are several effective marketing ideas on how to get bookkeeping clients:
Create a Professional Website
Nowadays, having a website is just as important as having business cards. You don't have to spend hundreds or even thousands of dollars hiring someone to create a professional website. Instead, you can have a custom website designed by webmasters who specialized in creating CPA websites to convert traffic to sales. With CPA Site Solutions, you spend less than 15 minutes of your time speaking with a website professional and they will build a website with your logo, images, and content — and it's free for 60 days. Click here to get started.
Learn the Basics of Organic & Paid Google Advertising
Google advertising is a great way to market your business. As you might have guessed, there are some tips and tricks to advertising on Google. We've got a step by step guide on How to Advertise on Google to help you get started.
There are three primary ways that you can rank on Google:
Paid Google results: Businesses that pay Google per click have a very high chance of their websites showing up on the first page of Google. However, there are a number of other factors to consider, which are outlined in our How to Advertise on Google guide.
Local results: Lists businesses in the visitor's local area. For example, if someone searches for "bookkeeping services Los Angeles," they will see website listings for companies located in L.A. that offer this service. Typically, the locations closest to the individual's location will show up first.
Organic results: Organic results are not just limited to the local area. These results are determined by the authority of the website, which will typically include websites like Facebook and Yelp.
For more details on how you can get your bookkeeping business to rank on Google, check out our How Small Businesses Can Rank on Google guide.
Sign Up for Freelancer Websites as a Bookkeeper or Accountant
One of the most proactive ways you can build up your client list is to visit freelancer websites that are dedicated to helping businesses locate qualified freelance bookkeepers and accountants. Most of these websites don't charge anything for you to use them. However, some will charge you a fee if you do land a project that you bid through their website.
To find freelance bookkeeping jobs, follow these three steps:
Sign up for every free job site we included in the article mentioned below.
Complete your profile in its entirety, including profile picture, work experience, skills, services offered, rates, and so on.
Sign up to receive job alerts.
Create Professional Social Media Accounts Focused on Bookkeeping
One of the areas that a lot of folks in our profession don't embrace quickly enough is social media outlets. I am guilty of this myself and wish I had joined a lot sooner because many people use social media to search for just about anything that they need. Social media is one of the best ways for you to learn how to find bookkeeping clients online.
Be sure to create a professional account for many of the popular social media feeds like:
Facebook
Twitter
LinkedIn
Instagram
I recommend you sign up with the social media platform that you are most comfortable with and then gradually add new feeds when you are ready. This is where at least 25 percent of your clients will come from.
To engage yourself in the world of social media, follow these four steps:
Create an account for the social media outlet: Don't use an existing account that you have posted personal photos and content to. Keep your personal and business accounts separate.
Complete your profile: Include a picture, your credentials (such as certified public accountant), services you provide and other pertinent information.
Follow people within your industry: Check out the content they are posting and how they interact with their followers.
Establish a schedule of when you will post content and stick to it: There are some great resources that you can use to schedule content that will automatically post to your social media feeds.
Establish Referral Programs for Clients & Professionals
Some of the best clients I've ever gotten were referrals from existing clients and other bookkeepers. Create a referral program for clients and other professionals that interact with small businesses often. If you do a really good job, most customers will tell other people about you and before you know it, you've got a new client.
Referral Programs for Clients
One of the fastest ways to build your client list is to tap into your existing client list. Remember that your clients are already happy customers so why not ask them for referrals? While most of your customers will do this for free, it doesn't hurt to provide them with a little incentive.
Listed below are three steps to establish a referral program for your clients:
Decide what you are willing to give in exchange for a referral. It doesn't have to cost you a lot, but it does need to be something that would motivate someone to send a referral your way. For example, you could give a $5 gift card or give them a discount off their next billing.
Get the word out. Create an email blast to send out to your clients to let them know you are looking for referrals.
Find a way to track referrals. Set up a system to track new clients who have been referred to you so that you can make sure you reward the client who referred them.
Referral Programs for Professionals
Another way to expand your client list is to partner up with other businesses that offer professional services like lawyers, tax professionals and bankers. They have small business clients that need your bookkeeping services. In addition, they trust these advisors and will often ask them for advice and referrals depending on their business needs.
Start with the financial institution that you have your business accounts with and then talk to your lawyer and your insurance provider first. They can introduce you to their peers. As a thank you, you could offer a cash bonus for referrals or even send a referral their way in return for a referral that you have received.
Join the Fit Small Business Bookkeeper Directory
As part of our goal to build our bookkeeper/accountant community, we have a bookkeeper directory that includes bookkeepers in every state who provide bookkeeping, payroll and tax services. Often, we have small business owners who are looking for a local bookkeeper in their area and we always refer them to our bookkeeper directory. Join our directory so that our 2 million-plus monthly readers can find you.
3. Start Networking
Become a Business Advisor for the Small Business Development Center
Small Business Development Centers (SBDC) are funded by the Small Business Administration (SBA) to assist small business owners with starting and growing their business. The SBDC offers free and paid workshops as well as one-on-one counseling with SBDC business advisors free of charge. Some of my very first clients were SBDC clients. I was an SBDC business advisor for three years, and I also taught a monthly QuickBooks workshop.
To establish a partnership with the SBDC, take the following three steps:
Find your local SBDC office.
Visit their website to see if they currently offer workshops on bookkeeping basics or QuickBooks.
Make an appointment to speak with the director or assistant director to make a pitch for a new seminar or workshop or to offer your expertise as an advisor.
The SBDC will pay you a set hourly rate for meeting with its clients. However, it is on a budget so it sets limitations on the rate and the number of consulting hours per client. While you cannot take on an SBDC client as your own, this is a good way to hone your consulting skills and get paid while you are doing it.
Become an Adjunct Instructor
Establishing yourself as an expert in your field builds trust with prospective clients. One of the ways that you can do this is to teach part-time at a local community college or university. Many community colleges and universities look for professionals in a variety of industries to teach on a part-time basis.
I must admit that when I started my career as an accountant, I never envisioned myself in front of a classroom teaching students bookkeeping and accounting. As a matter of fact, like most people, I had a great fear of public speaking. However, I got over that fear by joining Toastmasters.
I've been an adjunct instructor at UCLA Extension for 10 years now, and I truly enjoy it. I let my students know that I do provide one-on-one consulting services, and I give each of them my business card. As a result, I've had countless clients who have been former students of mine.
To become an adjunct instructor, follow these four steps:
Join a local Toastmasters group to get over your fear of public speaking or teach an online class instead but keep in mind you won't get many local clients through the online platform alone.
Make a list of local colleges and universities in your area.
Take your list of colleges and go online to see what courses they currently offer in your area of expertise like bookkeeping and accounting.
Contact the college or university to see how you can apply to its adjunct instructor pool, and many colleges take applications year-round.
Join Meetup Groups
Meetup groups consist of like-minded people who get together on a periodic basis to connect on a common goal. For example, there are meetup groups on topics like learn how to cook, training for a marathon and how to build an app. I'm a member of a QuickBooks ProAdvisor group here in Los Angeles. While our initial goal was to come together to build our QuickBooks skills and assist each other with our client pain points, it has become a great resource for getting new clients as well.
To find a local meetup group in your area, follow these four steps:
Find and visit a "meetup" site.
Do a keyword search for "bookkeeper," "accountant" or "QuickBooks" to see what groups exist.
Attend a meeting to see what the group is about.
If you decide to join, be an active member and make sure people know where your expertise lies so they know what type of clients to refer to you.
While you might think joining a group of bookkeepers and accountants that offer the same services as you do would not help to grow your client list — you would be mistaken. For example, I enjoy teaching and training, but I have no desire to offer bookkeeping services. Therefore, someone in the group who does not like to train their clients will send them over to me and, in return, I send them clients who are looking for someone to provide bookkeeping services. Plus, there's a wealth of knowledge in the group that can teach you how to get bookkeeping clients quickly.
Join a Local Business Group
There are a number of local business groups in major cities. The challenge sometimes is to find a group that will support you in your goals and one that you can also make a contribution to. During my research, I found a networking group that seems to be getting some great results, which is Business Network International (BNI).
BNI claims to be the world's largest referral network. They have more than 232,000 members globally and more than 8,000 chapters worldwide. To ensure members are reputable, the application process includes an interview with the membership committee, a background check is done and references are checked.
One of the unique aspects of this organization is that they only allow one person from each profession specialty to join a BNI chapter, eliminating the competition among members. This means that you may have to visit multiple chapters before you find one where your specialty is not represented. For more information on how to join a BNI group, find a local BNI chapter near you.
4. Get More From Your Existing Bookkeeping Clients
One of the fastest ways you can increase your billables is to tap into your existing clientele. The first question to ask yourself is what services are you not providing to your client but you know they are paying someone else to do? For example, does your client have employees but you are not providing payroll services? If so, as their bookkeeper, you probably already know who they are using to do their payroll and how much they are paying. If you don't, ask.
To upsell to your existing clients, take the following four steps:
Make a list of the services that you are not providing to your clients.
Find out who's providing the service and how much your client is paying.
Crunch the numbers to see if you can save your customer money or provide them with better service than what they are currently getting, at a bookkeeping rate that is fair to both you and them.
Create your presentation and schedule time with your client to make your pitch.
Remember that your clients trust you. If there is a way that you can save them money or provide them with a benefit that the current provider does not offer, I promise they will at least listen to your pitch.
Prerequisites for Getting Bookkeeping Clients
One of the "selling points" to get a new client is to convince them that you know what you're doing. There are a number of ways that you can obtain the knowledge that you need to do bookkeeping work. If you've got your CPA license then you can skip this section. Otherwise, read on to learn more about how to become a certified bookkeeper and an accounting software expert. Be sure to check out our How To Start A Bookkeeping Business guide to learn how to get bookkeeping business up and running.
Get Certified
If you don't have any formal education in bookkeeping then you should consider getting certified. There are two prestigious organizations that offer the bookkeeper certification credentials: the American Institute of Professional Bookkeepers (AIPB) and the National Association of Certified Professional Bookkeepers (NACPB). Both organizations have qualifications you must meet to complete certification, including a certification exam.
If certified through the AIPB, you can put the letters CB (certified bookkeeper) behind your name and, if certified, through the NACPB, you can put the letters CPB (certified professional bookkeeper) behind your name on business cards and other marketing materials to inform prospective clients that you have the knowledge and skills required to manage their books.
You can typically take the available course and complete the test for less than $1,000. For more information on how to become certified in these programs, check out our guide on How to Become A Certified Bookkeeper.
Become an Accounting Software Expert
After you've proven your bookkeeping knowledge through certification, you need to get familiar with the accounting software programs that most small business owners use and prove your knowledge in that software. The best way to become an accounting software expert is to sign up for accountant or advisor programs. Most of these programs are free to join and include free access to their software so that you can gain hands-on experience with the program in order to successfully pass an assessment/exam to become a certified expert.
Once you are certified, your profile will be included in a directory that small business owners who use that software use to search for a local expert in their area. I've been a Certified QuickBooks ProAdvisor for more than 10 years now. Millions of small business owners who purchase QuickBooks search the Find a ProAdvisor directory looking for a local expert to help them with QuickBooks. This has been one of the most successful ways that I have built a clientele through the years.
Check out our article on How to Become a QuickBooks ProAdvisor to learn more about this program. You should also check out the advisor programs for other accounting software programs like FreshBooks, Xero, Wave and Zoho Books.
The Bottom Line
Now that you have learned how to get bookkeeping clients quickly, we recommend that you take a sequential approach and start with getting certified, become an accounting software expert and determine your target audience. Once you have achieved those three, you can implement the marketing ideas that you are most comfortable with first and then work your way down the list.
Don't forget to sharpen those QuickBooks skills by taking our free QuickBooks Course. It includes step-by-step video tutorials on setting up customers, vendors, paying bills, invoicing customers and much more. You can start with the first video or pick and choose the tutorials that you need to take. Sign up for a free 30-day trial of QuickBooks to check it out for yourself.