A bookkeeping business consists of managing income and expenses, processing payroll and preparing tax returns for business clients. Creating a business plan and learning how to get clients are a couple examples of what you need to do to get up and running. If bookkeeping is just going to be a way to make some extra cash, you may be able to get away with skipping a few steps. We'll point out these areas where appropriate.
Listed below are the eight steps to start a bookkeeping business:
1. Become a Certified Bookkeeper
One of the fastest ways to gain credibility with potential clients is to prove that you have the credentials to do bookkeeping work. If you are a CPA, then you have already demonstrated that you possess the knowledge and skills to perform the duties required of a bookkeeper, and you can proceed to the second step.
However, if you have either formal education in the accounting/bookkeeping field or you have worked as a bookkeeper, then you should get certified before you start a bookkeeping business.
There are two top professional bookkeeper organizations that we recommend you certify with:
American Institute of Professional Bookkeepers (AIPB) – To become AIPB-certified, you must meet the 3,000-hour work experience requirement and successfully pass a certification exam. Once certified, you will earn the right to put the letters CB (Certified Bookkeeper) behind your name and display this on your resume and business cards, which will give you an edge with employers and potential clients. This certification is ideal if you do not have any formal education in the bookkeeping and accounting field.
National Association of Certified Public Bookkeepers (NACPB) – To earn certification through the NACPB, you must pass an exam and submit proof that you have earned an Associate's or Bachelor's degree in Accounting. Once you are certified, you will earn the credentials CPB (Certified Professional Bookkeeper). You can put these letters behind your name on resumes, business cards and other materials to display your accomplishment to employers and future clients.
Take a look at our How to Become a Certified Bookkeeper guide for all of the details on the requirements, cost and certification exams.
In addition to becoming a certified bookkeeper, you should also consider getting certified in a few of the leading accounting software providers, like QuickBooks and FreshBooks. Check out our Bookkeeper Certification guide for details on how software certifications work.

2. Create a Business Plan
Unless this is just a part-time gig for you, writing a business plan is something that everyone should do before they actually start their business. While a business plan can definitely be used to obtain funding for your business, the value in going through the exercise of writing a business plan is all about the process.
During the business plan writing process, you are able to think about every aspect of your business, such as what products and services you will sell, how you will market those products and services, and who your competition is. You will also create a financial plan that should include a 12-month profit and loss projection, projected Cash Flow, and a projected Balance Sheet.
Here are the key items that should be included in every business plan:
Cover Page
Executive Summary
Company Overview
Competitive Analysis
Marketing Plan
Start-up Costs
Financial Projections
Check out our comprehensive guide to creating a business plan.
3. Incorporate Your Bookkeeping Business
Like starting any business, there are several administrative tasks that must also be done before you can start servicing customers. This step is an important one because it establishes your business as a legitimate one. It also helps to limit your personal liability; if your company is ever sued, the only assets that could be taken away are the business assets, not your personal assets like your home or your personal bank accounts. Whether you are doing this part-time or full-time, you don't want to skip this step.
Here is a checklist of what you need to do to establish your business at the local, state and federal levels:
Select a Business Name
Naming your business can be both a fun and stressful exercise. Your name must convey your brand, since that is what a potential customer will see before they sit down with you for that initial consult. You want to make sure that your business name says exactly what you do, so that people don't have to guess. This is not the time to be "cute" unless you can also accomplish "clarity" about what it is that you do at the same time.
Here are some great tips from business owners on how to name your business:
Aim for clarity – Your name needs to tell people what you do.
Use a term with an established brand – For example, you could use the name of the city where you are located, like Stacey Giulianti did for his business Lauderdale Comics (located in Fort Lauderdale).
Get input from others – Ask family and friends for their input; make it fun and put it out on your social media that you are looking for suggestions on what to name your business. Offer a prize to the winner.
Test it out – Try it out on potential customers to see what they think. Compare your name to competitors names to see if it stands out enough (but not too much).
For more tips, check out our Business Name Generator to help get those creative juices flowing!
Select a Business Structure
There are four common business structures: sole proprietorship, partnership, limited liability company (LLC), and corporation. The structure that you choose will determine your personal liability if the company is ever sued, your tax liability, and your ability to raise capital.
To assist you with this decision, I recommend that you get up to speed on the four common business structures by reading our Best Small Business Structure guide. Second, I recommend that you get in touch with a lawyer who can assess your particular situation and help you make the right decision.
4. Set Up Business Operations for Your Bookkeeping Business
Now that you've incorporated your business, you can start setting up operations like getting the right insurance and opening a separate business checking account. It's important to separate your business operations from your personal finances in order to take full advantage of the liability protection given to you during the incorporation process.
Hire an Answering Service
As a one-person operation, you may find it hard to get back to clients right away, especially during tax season. Sending prospective customers to voicemail when they need your services right then and there can cost you new business when things slow down. Go Answer is a bilingual answering service that connects your customers to live customer service agents via phone, text, web chat, or email 24/7. You can get started today with a 30-day free trial.
Set Up a Business Bank Account
One of the most important things that you can do is to separate your business finances from your personal finances. While most people think they should wait until the business starts to generate cash flow, I would disagree with that. It's much easier to establish a business checking account now, before the cash starts to roll in.
Another benefit to keeping personal and business funds separate is it supports the limited liability status. If you commingle your business and personal expenses, then you can lose the protection of your personal funds because there will be no way to distinguish what's business and what is really personal.
Establish a Business Mailing Address
If you plan to lease office space, then of course your mailing address will be wherever your office is located. However, if you plan to use a home office, you will need to obtain a business mailing address because you do not (under any circumstances) want to use your home address.
There are a couple of options. First, you can rent a PO Box from any local post office. On average, you will pay $60 for six months or $120 for the year. Of course, price will vary based on your geographical location. Most people frown on PO Boxes because that tells the customer right away that you don't have a real office space, which then begs the question, are you a "legitimate" business?
If possible, rent a UPS mailbox instead. The UPS store will give you a real physical address to use, which beats a PO Box! Another benefit to using a UPS mailbox is there are merchants that won't deliver to PO Boxes, so having a real mailing address will eliminate this issue. A small UPS box starts at $72 for three months and $240 for 12 months.
Get Bookkeeper Insurance
As a bookkeeper, you may need to get certain liability protection in case you make a mistake on your client's books. This insurance can help protect you in the event you get sued for that mistake. Without proper insurance protection, a legitimate lawsuit could cripple or close down your bookkeeping business due to the amount of money you'd have to pay out to both your client and lawyers to defend yourself.
For more information on the right insurance coverage, check out our article on Bookkeeper, Accountant, and CPA Insurance.
5. Get the Right Accounting Software
Determining what software to use to manage all of the various aspects of your business can be an overwhelming task. To get you started, here is a list of the areas of your business for which you will need to decide what software tool to use:
Bookkeeping/Accounting Software
Since you are starting a bookkeeping business, I'm sure that you have already given some thought (or made a decision) on which accounting software to use for your business. As you know, there are hundreds of options to choose from. However, my recommendation is that you use QuickBooks.
Besides the fact that QuickBooks is the #1 small business accounting software used by small businesses, you can sign up for QuickBooks Online Accountant for free and also have access to training guides and video tutorials, which will help you prepare for the QuickBooks ProAdvisor certification exam.
There are a number of benefits to being certified, but my favorite is the listing on the Find-A-ProAdvisor site. There are millions of small businesses that use this website to locate a QuickBooks Pro in their area who they can hire to help them with QuickBooks.
While most small businesses are using QuickBooks, you should also consider getting certified in a few other accounting programs so that you can also service customers who want an alternative to QuickBooks. Check out our Top QuickBooks Alternatives to learn more.
Payroll Software/Provider – Depending on the bookkeeping/accounting software that you choose, there will generally be a payroll processing option that you can just turn on when you are ready to hire employees. If you decide to go with QuickBooks, they offer a variety of payroll options to choose from. If you decide that you just don't want the headache of dealing with payroll, check out our guide on 6 Payroll Competitors that beat ADP when it comes to price.
Tax Software Provider – It's important to decide if you're going to prepare your tax return or if you're going to hire a tax pro. If you decide to do your own taxes, we recommend TurboTax. TurboTax is easy to use and affordable. Take a look at our Best Tax Software guide for more info on TurboTax and our other top picks.
Practice Management Software
Another tool that will make your life a whole lot easier is using practice management software. This type of software can help you to organize and track the progress of client work that you and your team are working on. If considering QuickBooks Online vs Xero, you'll find they both have practice management software.
As a QuickBooks ProAdvisor or a Xero Advisor, you get access to the practice management software for free. Both products allow you to track all client work—including clients who are not using QuickBooks or Xero.
Be sure to check out our top best accounting practice management software guide for more information.
Electronic File Sharing/Management
One of the tools that you will use quite a bit is a document sharing program. Whether you travel on-site to perform bookkeeping tasks for your clients or you decide to work virtually, you will need a mechanism to share information such as bank statements, copies of receipts, invoices and QuickBooks files.
There are a number of options out there to choose from. Personally, I've had a lot of success with Dropbox. Once I take on a new client, I create a Dropbox folder for them so that they can start uploading the documents/information I have requested. This system is much more secure than sending the files via email or using a USB. To access the information, you need a user id and password. All files are stored in the cloud, so there is no back-up required. In addition, my clients and I can access the information anytime (24x7x365) and from anywhere.
6. Fund Your Bookkeeping Business
By the time you complete your business plan, you will have a pretty good idea of what your estimated start-up costs will be. In general, the start-up costs for a bookkeeping business can be fairly low if you work out of a home office as opposed to leasing office space, which we will discuss in the next section. The experts say that you should always have at least six months' worth of expenses in the bank.
If your business is brand new and you haven't yet generated any revenue, check out our guide to startup business financing for more details.
Apply for a Business Credit Card
You'll likely want to go ahead and open a business credit card account—early on. A business credit card will likely be the first form of financing you'll qualify for, and it can be a great financial tool to help you with cash flow or necessary expenses early on in your business.
A business credit card can also be a great way to easily track your business expenses. This will go a long way to making tax time a breeze, because you won't have to go through the arduous task of going through your statements and separating out your business expenses to report on your tax return.
Startup bookkeeping businesses will typically use a startup credit card to float working capital expenses, earn rewards and manage employees. In our Best Credit Cards for Startup Businesses, we have selected the top five credit cards for startup businesses.

7. Set Up a Home Office for Your Bookkeeping Business
When you're first starting out, you should keep your costs down by setting up a home office. If possible, plan to meet your clients at their office or virtually. I do not recommend that you invite clients to your home office unless you know them very well and you have a private room where you can work. Check out tips to consider when creating your home office to learn more of the do's and don'ts when setting up a home office.
Also, don't forget to take those home office tax deductions. You can deduct repairs and maintenance to the area used for business, and a portion of utilities, real estate taxes and insurance on your home. Check out our Home Office Tax Deduction guide for more details.
If you just can't make a home office work, look into virtual office space. While pricing will vary depending on your geographic location, it can run about $200 and up per month; this typically includes a mailing address, local telephone number, a receptionist to answer calls, a physical office space and access to a conference room that you can rent by the hour. Another important part of setting up your home office is establishing a professional business number that has a professional voicemail message. Like most people, you can use your cell phone as your business line, but make sure that the voicemail includes your business name so that customers know they have called the right number.
8. Market Your Bookkeeping Business
When I had my bookkeeping business, one of the areas that I truly failed at was marketing. My idea of a marketing plan was business cards and a website. Whether this is your side gig or full-time business, you can get a website customized for your business with a company that offers specialized marketing services, like CPA Site Solutions. They will have one of their webmasters reach out to you for a quick 15 minute conversation before they go on to create your website fitted with your logo, images, and content.
CPA Site Solutions will focus on designing a website that increases revenue, improves client loyalty, and drives brand awareness all while ranking on among the first few Google search results. They even offer a free 60 day trial so you can see if it works for your business.
Below is an example of a website for a financial services company created by CPA Site Solutions.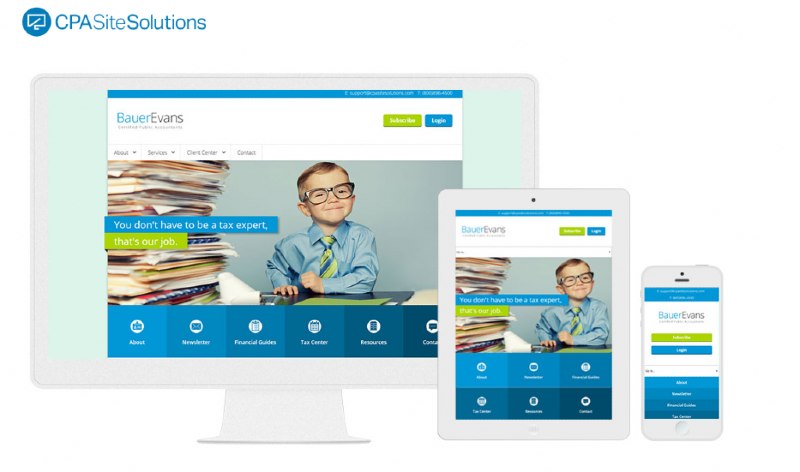 In addition to a website, there are many ways that you can market your bookkeeping business.
Listed below are seven ways that you can market your business to get new clients:
Become a business advisor with the Small Business Development Center (SBDC)
Be an adjunct instructor
Get certified in an accounting software
Sign-up with bookkeeper freelancer websites
Join a local Meetup group of bookkeepers and accountants
Establish a client referral program
Establish professional social media accounts
Read our guide on How to Get Bookkeeping Clients to learn how to implement these marketing ideas, plus learn more ways that you can market your bookkeeping business.
In addition to sharing my own experiences with you, I also spoke with Ben Robinson, who makes a living teaching folks how to start a bookkeeping business. Ben is the founder of Bookkeeper Business Launch. They have had more than 4,000 people complete their training program. One of the questions that I asked Ben is, "What is the most effective marketing strategy for bookkeepers?" Here's what he had to say:
Don't start with social media. Instead, tell all of your friends and family that you have started a business and are looking for clients. Getting featured in a blog or having an article published is another great way to market yourself. Make sure that you get your messaging right before you start promoting yourself through social media channels. – Ben Robinson, Founder of Bookkeeper Business Launch
Bonus Tip: Stay on Top of Industry Trends for Bookkeepers
In a world where computers are obsolete within a few weeks after you purchase them, it's tough to stay on top of new trends and changes in the industry. For example, one of the most popular trends in the software industry is that installed desktop software is becoming a thing of the past and is being replaced with subscription-based cloud software, also known as software as a service (or SAAS). This is a trend that is completely changing how bookkeepers and accountants do business, so it's important that you understand how it works since it will have a direct impact on your business.
Here are a few steps that you can take to "stay in the loop" on what's going on in the bookkeeping/accounting industry:
Attend Accounting/Bookkeeping Conferences
No one knows better than I do how tough it is to leave the office for a few days to attend a conference. While you may not think that you have the time, you've really got to just make the time. Investing the time to attend a conference not only will give you those continuing education credits you need to keep your bookkeeper or CPA certification, but you will learn what the hottest trends are in the industry and what's becoming obsolete.
In addition, you will meet other bookkeepers and accountants who you can share ideas with!
There are three conferences I have attended in the past and I would recommend that you try and attend at least one of these each year. Scaling New Heights is given by Joe Woodard and usually takes place in the summer. Accountex is usually held in the fall in Boston, and QuickBooks Connect is given by Intuit and usually held in San Jose, CA, in the fall.
Sign up for Blogs and Newsletters
I'm sure that you probably get your fair share of "junk" mail, and you will be surprised by how much valuable information you can get from monthly blogs and newsletters. I'm not telling you to sign up for every accounting/bookkeeping blog that you come across, but I have listed a few that I think are worth checking out:
Join a Professional Bookkeeper Association
You should be a member of at least one (or more) professional bookkeeper associations. As we mentioned previously, the American Institute of Professional Bookkeepers and the National Association of Certified Public Bookkeepers are the top two associations for bookkeepers.
The AIPB offers membership for one, two or three years. The membership fee starts at $39 for one year and includes a subscription to a monthly newsletter, free accounting, payroll and QuickBooks help on a member answer line and other benefits.
The NACPB offers one membership at a cost of $100 for one year, and includes access to practice certification exams, continuing professional education, training videos and more through Accounting Training Unlimited as well as discounts on certification exams, exam prep courses, and other benefits.
Bottom Line
Now that we've provided you with a roadmap to get your bookkeeping business started, I want to challenge you to take your calendar out and pick a date (be realistic) for when you would like to be ready to take that first client. Once you do that, take this guide and start putting a weekly to-do list together based on the steps we have shared with you. You also need to know how much to charge your clients. To learn more, check out our guide on freelance bookkeeping rates!