How to Start a Gift Basket Business in 7 Steps
Starting a gift basket business involves finding a niche, choosing a sales channel, registering your business, designing your baskets, and developing a solid marketing plan. To start a gift basket business from home or a storefront you need a carefully crafted business plan, a flair for creativity, and as little as a few thousand dollars.
QuickBooks Online is our pick for best overall small business accounting software with outstanding invoicing, bill pay, and inventory accounting. Get 50% off of QuickBooks Online for 3 months.

---

Free guided setup by a QuickBooks Expert

Invite your accountant to access your books for free

Create custom invoices and get paid online

Connect your bank and credit card accounts
Here's how to start a gift basket business in seven steps:
Step 1: Find a Gift Basket Niche
Finding a niche helps differentiate your business from the competition. A niche targets a specific audience or fills a specific need. The narrower your market, the easier it will be for your gift baskets to become the go-to solution for that audience.
For example, Edible Arrangements has a strong hold on the general fruit gift basket market. But a fondue gift basket business would target a more specific audience, distinguishing your brand from competitors.
Our guide to finding a profitable niche market outlines three steps for finding your niche:
List your interests: Choosing something you're interested in or passionate about as the basis for your gift baskets will help keep you engaged, and it can equip your new business with preexisting knowledge and connections.
Determine the audience potential: If you're opening a storefront, ensure your gift basket has a lot of local interest. For online businesses, use tools like Google AdWords or Google Trends to see how many people are searching for the products you want to offer.
Research the potential profits: Once you have an idea with verified consumer interest, make sure it can become a profitable business.
Who Buys Gift Baskets?
It's important to consider your target market when planning what and where to sell. Gift baskets are most frequently purchased by individuals at middle- to upper-class income levels, as well as businesses and corporations. Here's a closer look:
Individuals: Customers may buy gift baskets for their friends, romantic partners, family members, co-workers, or acquaintances. They're typically purchased for special occasions, such as birthdays, weddings, anniversaries, baby showers, holidays, or to celebrate personal accomplishments.
Businesses: Companies may buy gift baskets to show appreciation for their clients, employees, or partners. It's also common for businesses and corporations to use gift baskets as promotional items or giveaways.
Event Planners: Event planners sometimes purchase gift baskets to use as centerpieces, other decorations, or prizes for events such as weddings, parties, or fundraisers.
Nonprofit Organizations: These businesses often buy gift baskets to use as fundraising items or to show appreciation for their donors and volunteers.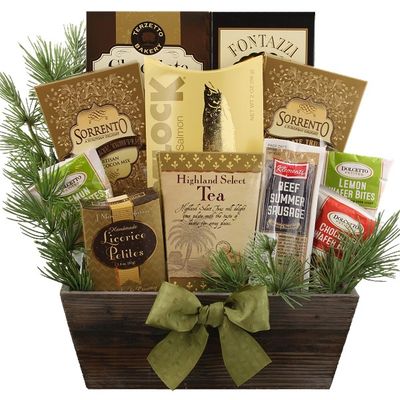 ---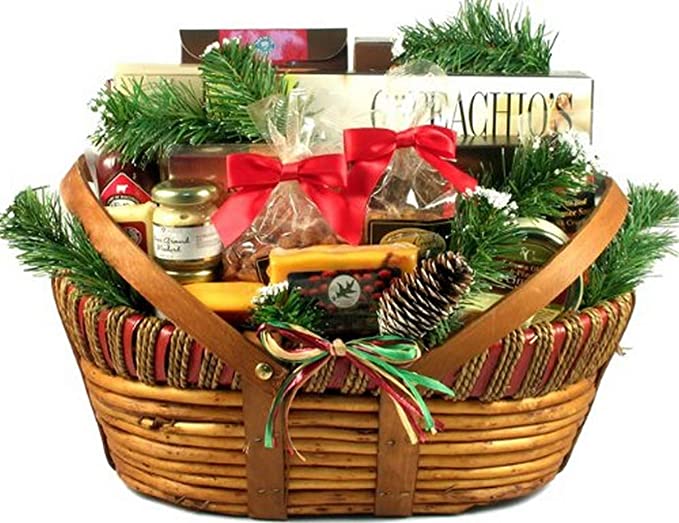 ---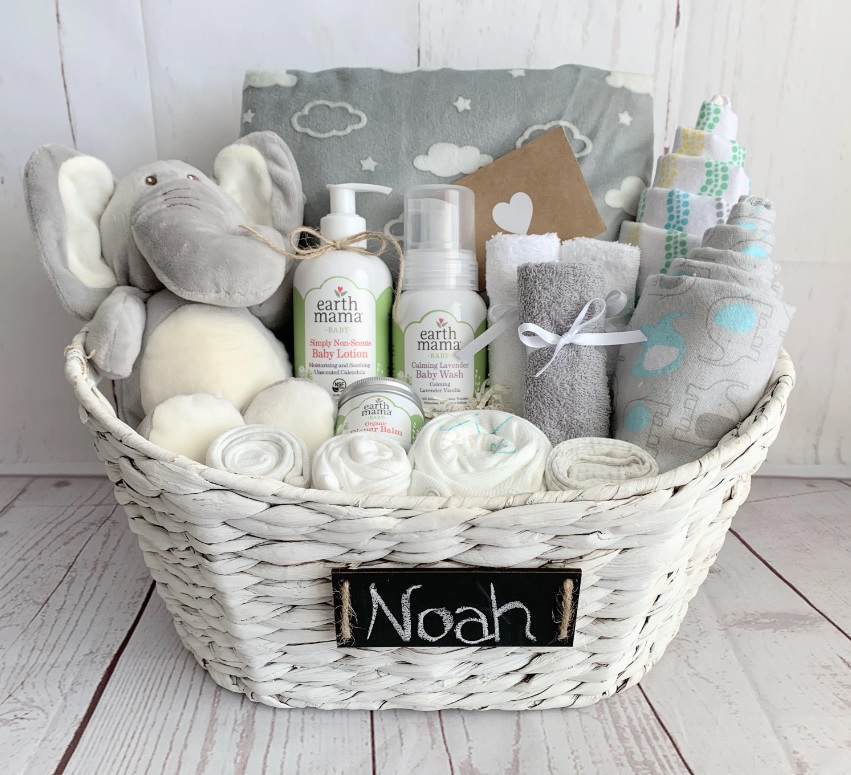 ---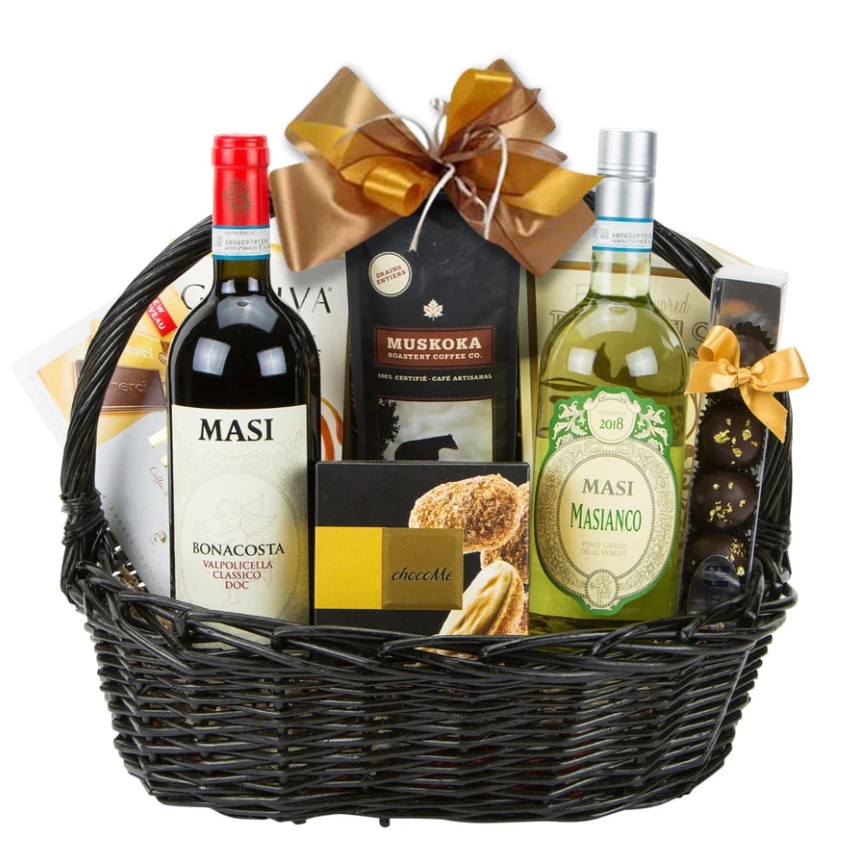 ---
Step 2: Create a Gift Basket Business Plan
Creating a business plan is essential for laying out the nitty gritty details of how your business will operate and how you'll make money. Your business plan serves as a model for how you envision your business to grow, and is often a requirement for securing a small business loan or other funding.
Creating a detailed plan early in the process will give you a better understanding of how long it will take for your business to turn a profit, what funds are necessary to sustain your business until that point, and which ideas are actually viable.
Your business plan should include the following sections:
Business Description: Describe the gift basket industry and its outlook, as well as your concept, theme, and other markets or industries that can directly impact your business.
Market Analysis: Identify trends in the gift basket market, as well as your target market, and analyze competitors. Be sure to include other gift basket businesses in your area and any other possible competitors.
Organization and Management: Explain how you plan to run your business, including standard operating procedures, staffing, and responsibilities of each employee.
Product Line: Lay out the details of your gift baskets, including what products will be used, how you plan to source your products, how much each basket will cost to make, and what you'll sell them for. Plan for any seasonal baskets through the year, and be sure to include those all well.
Marketing Plan: Describe how you plan to market your gift basket store. Be sure to account for any seasonality in the business, such as slower summer months and a big rush during the winter holidays.
Funding Request and Proposal: Figure out how much you need to start and run your gift basket shop (including any capital you have ready), how much you will need from outside sources, and how you plan to acquire those funds. If you're applying for a business loan, specify how much money you need to borrow as well as a repayment strategy.
Financial Projections: Break down your projected expenses, profits, and losses for at least your first three to five years.
You can create your plan on whatever medium is most comfortable for you— whether that's a Google or Word document, a slideshow, or using business plan software. While preparing your plan, make sure that you include all the tiny details wherever possible.
The funds you need to start a gift basket service will vary dramatically depending on whether you're opening a storefront or operating an online business from home.
If you're opening a brick-and-mortar store, your startup costs can be as high as $100,000, depending on your location and rent prices. This process requires designing and equipping the store's interior, which is an expensive step.
If you're starting an online business from home, the costs will be significantly lower—it's possible to start an online gift basket store for a few thousand dollars. You'll just need to invest in a quality website and ecommerce platform, online marketing, gift basket supplies, and shipping tools.
---
Another key part of writing your business plan is choosing a legal structure for your business. This step is important because it determines how you'll collect and pay taxes, how you'll get paid from your gift basket business, and your level of personal liability.
There are many types of legal structures, but the two most commonly used for small gift basket shops are sole proprietorships and limited liability companies (LLCs).
If you don't set a legal structure, your business will default to a sole proprietorship. It essentially means you're doing business as an individual, and therefore are not separated from your business in any way. Sole proprietorships are popular options for freelancers, project contractors, and other individuals conducting low-risk work by themselves.
Limited Liability Companies (LLCs) are legal structures for small businesses that protect your personal assets (such as your house) in the case of lawsuits or business bankruptcy. This is the most popular legal structure for small retail businesses, and the one we recommend if you are planning on opening a storefront or operating a high-volume ecommerce business.
---
Step 3: Choose a Gift Basket Sales Channel
Choosing where and how you'll sell your gift baskets is an important decision for your business. Evaluate your plan and decide whether you want to launch a brick-and-mortar shop or an online store.
Opening up a physical storefront requires much more upfront capital than starting an online store. You need to lease a space, outfit the space, design your store, and hire employees. That being said, having a physical store makes your business more visible and allows for growth into other retail categories. Plus, it's common for brick-and-mortar businesses to also sell their wares online.
Alternatively, starting your business online requires less upfront investment, and allows you to ease into the gift basket business as a part-time or side job. Plus, if you're shipping nationwide, having an online business provides a much larger customer base.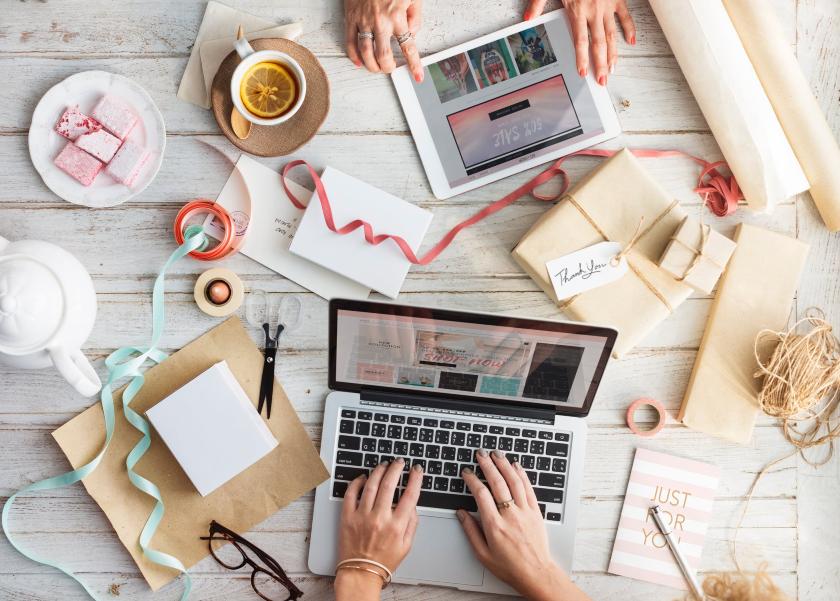 If you're interested in starting a gift basket business but not ready to devote 100% of your time to running the shop, selling online is your best option. The startup costs of an online store are significantly lower than opening a brick-and-mortar business, and you'll have much more flexibility.
In addition to building your website, you'll need to develop a method of fulfilling and shipping your online orders. Many small businesses start with an in-house fulfillment operation based out of the owner's garage or a rented storage unit. But as your business grows and order volume increases, you'll likely need to scale up by moving into a commercial fulfillment space or outsourcing your fulfillment to a third-party.
Pros & Cons of Selling Gift Baskets Online
PROS

CONS

Flexible schedule
Hard for new businesses to build visibility
Nationwide or international customer base
Lacks the built-in customer base that a local store has
Low startup costs
Requires fulfillment and shipping
---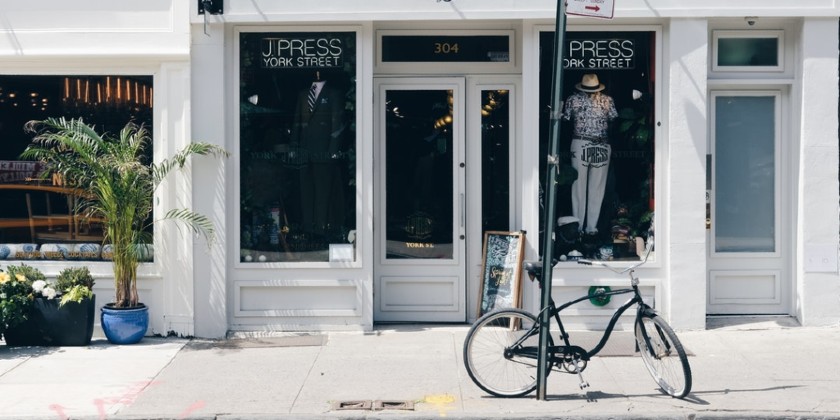 Opening a brick-and-mortar storefront for your gift basket business can be an ambitious endeavor. You will need to find a space, design and outfit that space, and hire employees.
Pros & Cons of Opening A Brick-and-Mortar Gift Basket Store
PROS

CONS

Greater visibility with a storefront
High startup costs
Built-in, local customer base
High monthly costs (lease, employees, etc.)
Can easily expand into other retail categories
Smaller customer base than online store
Can also sell online
Choosing a Storefront
It's crucial to look for a location that has high visibility and lots of foot traffic. In the beginning, foot traffic could account for most of your sales, and will definitely be one of your most valuable means of advertising.
When choosing a location, talk to neighboring business tenants to get their feedback on foot traffic and how they feel about the area. Also, be sure to consider other elements, like accessibility, nearby competition, and signage (some landlords or zones have restrictions on the kind of signage you can use on the front of your space, so it's important to do your research). Your storefront should also have ample parking for customers.
Seasonal Gift Basket Store
Another option to consider is opening a temporary or seasonal gift basket store. Gift basket sales tend to spike during the winter holidays—especially for food and wine baskets. Signing a temporary lease, opening a pop-up shop, or selling your baskets at local markets and festivals can be great ways to test the waters and take advantage of the busiest retail sales season.
---
Step 4: Organize Your Business Finances
Another important step in opening your business is separating your personal and business finances. If you opt for an LLC business structure, separating your finances is necessary for protecting your personal assets. Having your finances separated also makes it easier to monitor expenses and track tax deductions.
The best small business checking accounts have little-to-no fees for your daily financial transactions and offer outstanding products and services—like lending products, merchant services, and access to interest-earning accounts. Read our list of the 10 best small business checking accounts.
Step 5: Source Products for Your Gift Baskets
At first thought, it may seem like the easiest way to buy products for your gift basket may be to run to the nearest box store. But to get the best profit margins on your baskets, you should purchase everything it takes to make them from retail suppliers at wholesale rates. Wholesale prices are typically 50% of standard retail prices (and sometimes even less).
There are several ways to source wholesale products, including:
Using an online directory: There are several websites that gather many different wholesale suppliers in one place so you can order many kinds of products at once. Popular directories include Faire, Handshake, and Alibaba.
Attending a merchandise trade show: Shop for wholesale products at a regional or national merchandise trade show. You can see the products for yourself before purchasing, and there are typically great deals if you buy at the show. Plus, most retail trade shows have complimentary educational seminars on various marketing and management topics.
Purchasing directly from a wholesale distributor: Once you find a supplier you're happy with, purchasing directly from them will usually get you the best pricing. And as your business relationship with your supplier grows, you can begin negotiating for better pricing, shipping terms, or customizations. Some POS systems, like Lightspeed, have built-in product catalogs so you can order wholesale products directly from your POS.
Step 6: Design & Price Your Gift Baskets
Popular gift basket categories include gourmet food and candy, bath and toiletry items, seasonal items, baby showers, and wedding themes. Many gift basket stores offer a variety of standard and custom baskets.
To start, plan about 20 baskets. If you're working with non-perishable items, you can create the baskets upfront to save on labor down the road. If your baskets incorporate perishable goods, just create one sample basket for photos or display.
In addition to the products inside your gift basket, you'll need:
Empty baskets (or other attractive vessels)
Bows and ribbons
Note tags or cards for the baskets
Paper shreds or other filler for the bottom of the baskets
Cellophane or other clear wrapping material
A shrink wrap machine and heat gun for packaging
Crafting tools
If you're shipping baskets, you'll also need:
Boxes
Temperature regulating packing materials for perishable goods
Ability to print shipping labels
Gift Basket Pricing Strategies
Like with any retail business, the key to making a profit is to sell your baskets at a price that's high enough to make a reasonable profit and low enough to attract customers. When determining the costs of your basket, take into account the cost of the items inside, the wrapping and packaging materials, and any labor costs involved in building the basket.
For an in-depth guide to pricing your baskets (and easy-to-use profit calculators), read about how to price products in four steps.
Step 7: Advertise Your Gift Basket Business
Once you have your location or online store all set, it's time to start advertising. The best advertising strategies combine online and traditional marketing tactics to reach the largest number of customers.
Advertising online is often the most cost-effective way to reach a large group of people. If you're selling baskets online, digital advertising is a must—but it's important for brick-and-mortar stores to have a digital presence, as well. Here are the basics every gift basket business should follow:
Build a Website
If you're starting an ecommerce gift basket business, your online store will function as your website. But if you're launching a brick-and-mortar store, it's crucial to take the time to build a website for your brand. In either case, your site should feature:
Images and descriptions of the different types of gift baskets you offer
An "About Us" section
Contact information
Cancellation/return policies
Store location and hours (if applicable)
Your website should be easy to navigate with lots of crisp pictures and plenty of open space. It also needs to be mobile-responsive so that it's easy to use on any device.
If you're using a web builder or ecommerce platform, it will have mobile-responsive templates you can choose from. Read our list of the best ecommerce platforms for small businesses to get started.
Use Social Media & Paids Ads
Using Facebook and Instagram is an easy way for new customers to find you. Start building your profiles before your business launches to get people excited about your products. Instagram marketing is the perfect opportunity to show off your baskets since it's a highly visual platform.
You can also create simple, low-budget Facebook ads to reach a large number of potential customers. Facebook ads are a great option to advertise gifts for upcoming holidays, promote giveaways, or in-store events.
---
In addition to online advertising, you'll want to use some traditional marketing techniques to encourage and reward loyal customers. Most retail businesses earn a large majority of their sales from a small percentage of their customers. So, it's important to keep customers happy and coming back for more with loyalty and referral programs.
Implement a Loyalty Program
Loyalty programs are a simple yet effective way of rewarding customers. Issuing punch cards is a popular approach; customers who keep your card in their wallets will think of you each time they see it (and be incentivized to come back).
There are also digital options for loyalty programs—like Candy Bar, a digital punch card solution that customers keep on their phones. It even enables you to track who is using the loyalty program and how effective it is. Visit Candy Bar to learn more.
---
Bottom Line
Starting a gift basket business requires creative ideas and lots of careful planning. You'll need to find a profitable niche, choose a sales channel, and write out a detailed business plan—but having the right tools makes the job much easier.
For online gift basket businesses, we recommend using Shopify. It's an ecommerce platform, POS system, and payment processing solution all in one. Shopify has the tools you need to manage sales, track inventory, and market your business. Visit Shopify for a free trial.