Setting up a Google Business Profile is an effective way to promote nearly any type of business. It's free and easy to do and brings many benefits—from increased web traffic and rankings to brand credibility and sales. Keep reading to learn how to create and verify your account. Then find out what information to add, how to optimize it for search, and how to manage your listing going forward.
1. Create a Google Business Account (or Claim Your Listing)
To begin the Google business page setup process, visit the Google Business Profile (GBP) page and click on the "Manage now" button to create an account. In the next screen, you'll be asked the name of your business.
Enter your business name, then answer the following prompts about your business. This will include your business type (online retail, local store, or service business), business category, and address. After filling in your contact details, you'll be prompted to claim your listing or create a new one for your business. Finish signing up by filling in your business contact information.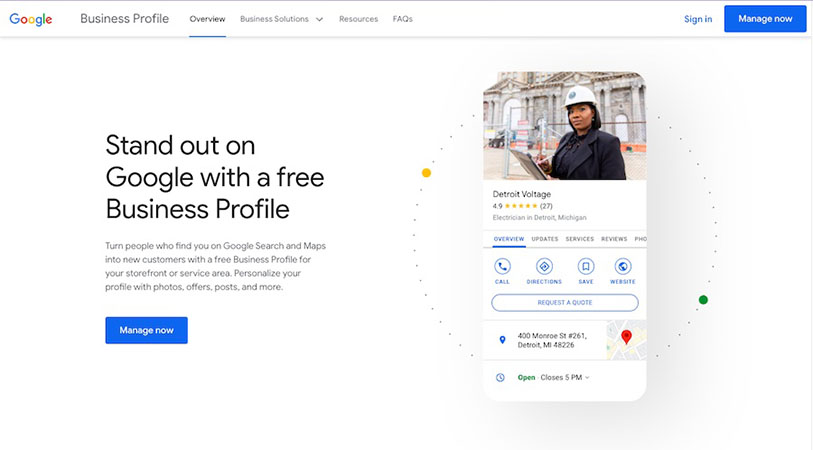 ---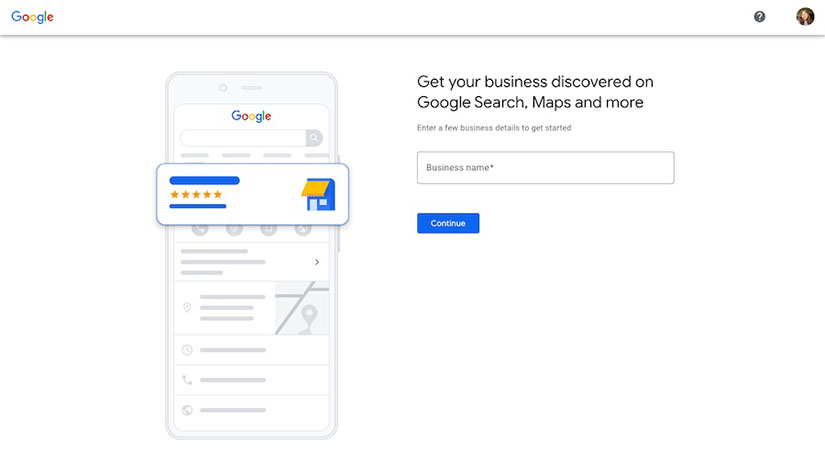 ---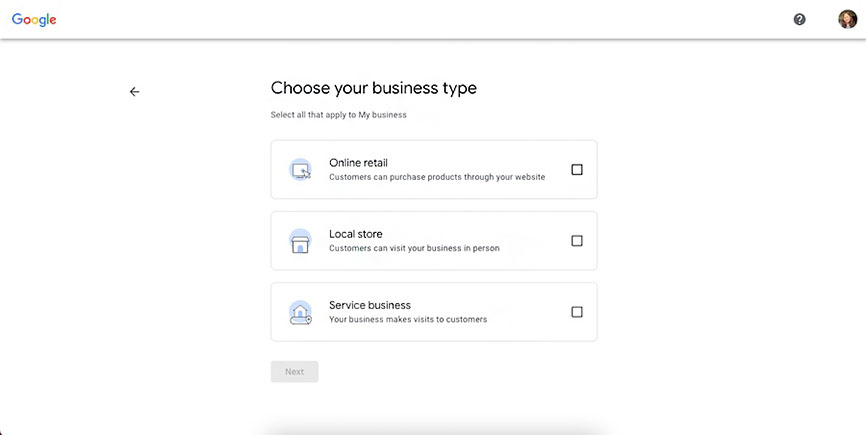 ---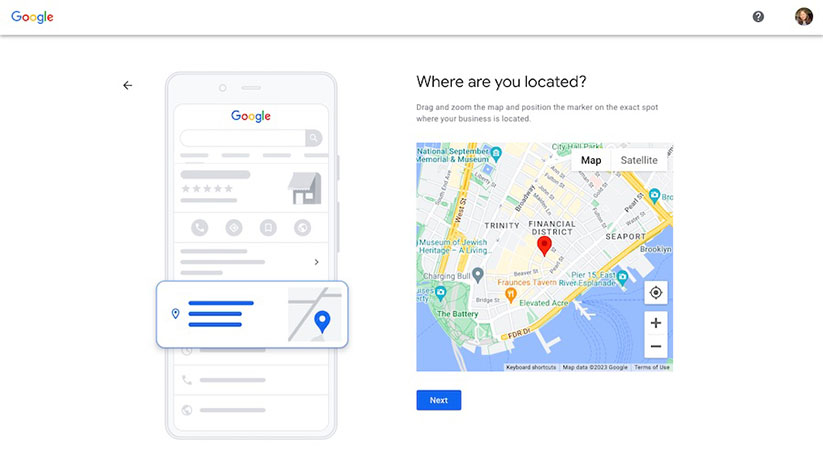 ---
For franchise owners, claiming a Google Business Profile is often overlooked, as the owner just assumes this was done for them. That's rarely the case. Find out what else you can do to market your franchise location with these franchise marketing tips.
2. Verify Your Google Business Listing
The next step in how to create a Google Business page is to verify it. In the following screen, you'll see a prompt to verify your business. This is usually done via U.S. postal mail, but some businesses are also eligible to verify via phone, email, video recording, or Search Console. Once your business is verified, your profile automatically goes live on Google.
The simplest way to verify your listing is via postcard or phone—you'll simply need to enter the code Google sends you into your Google Business account. Click "Enter Code" from the left-hand dashboard menu, then type in your code.
Google may take up to five business days to review and verify your listing, after which it'll automatically go live. After your business is verified, you'll also be able to access your dashboard.
3. Customize Your Profile
Next, customize your business profile by adding details like your hours of operation and business description, and enabling direct messaging. If applicable, you can also add your dining options and menu items. You'll automatically be prompted to fill in these details after verifying your business, but you can also revisit them via your dashboard.
Click the drop-down arrows below for a walk-through on customizing your business profile.
Indicate your business operation hours on Google so customers know the best times to visit you. Click the "Add hours" link from your dashboard's home tab, then use the toggle button next to each weekday to indicate if your business is open or closed.
When you toggle the button to "Open," you will be given an opportunity to input the times you open and close. If you are open during a couple of set times during the day (e.g., 9 a.m. to 1 p.m. and 2 p.m. to 5 p.m.), you can click "Add hours" next to each day to add more hours. Once done, click "Apply."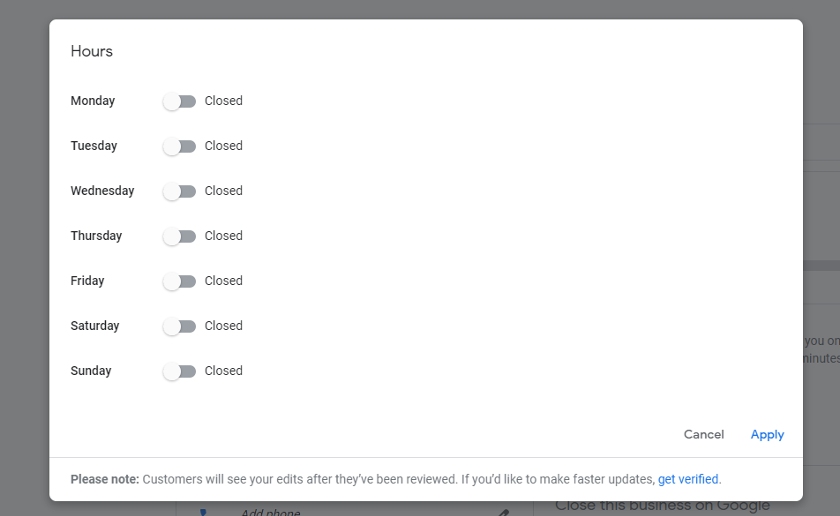 ---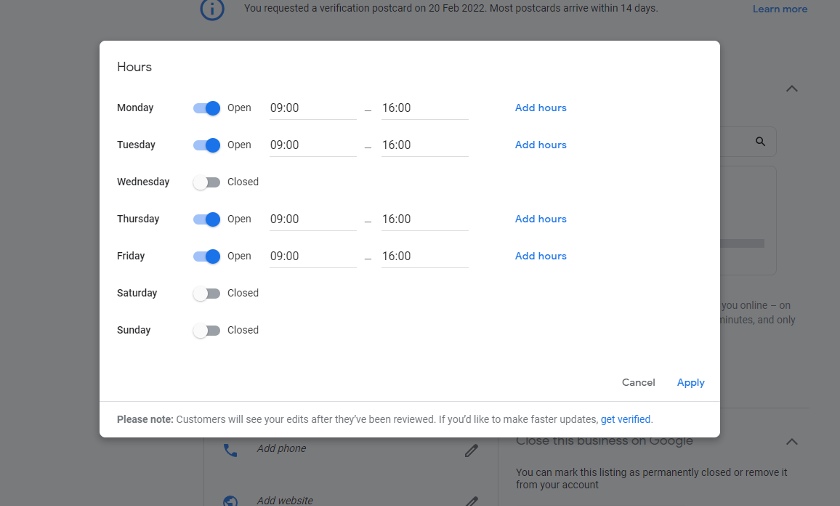 ---
Pro tip: Make it a point to update your hours of operation for holidays and even temporary closures. The more active you are in managing your page's information, the more likely Google is to display your profile in search results, knowing that the info is maintained and up to date.
---
You'll also have the option to enable messages from visitors on your profile. Simply toggle the button to accept messages when prompted, and the chat feature will automatically be enabled on your public GBP page. Customers can click the "chat" button and send you images directly.
In an age where customers have higher expectations than ever from businesses, having a chat feature on any public-facing channel is essential for your business' growth. It encourages customer engagement, helps answer customer queries, and ultimately increases the likelihood of customer conversion.
---
Next, you'll add your business description that will appear on Google—this is the general blurb visitors will read about your business on your page. Add a business description of up to 750 characters, but put the most compelling information first, as Google only displays the first 250 characters in search results.
To make your description as effective as possible, incorporate keywords prospects use to find businesses or products like yours online. For example, if you own a florist shop offering same-day delivery, "same-day bouquet delivery" would be a helpful keyword. To help you, use a free keyword research tool like Semrush to discover the most popular keywords to use in your content.
Google reviews your business description before it is approved and published. To make sure yours is published, follow Google's best practices when writing it. These include avoiding sounding overly promotional, editing for typos or grammatical errors, and excluding any hate or other offensive speech.
---
4. Add Business Photos & Videos
Upload media to your profile to add visual engagement. You can upload a logo, a cover photo, a video, or photos of your store's interior and exterior, and more. On the left-hand menu on your dashboard, click the "Photos" tab, then click "Choose photo" under the type of photo or media file you'd like to add, or the blue "+" button on the top right of the screen.
Here are the types of visuals you can add to your Google Business Profile (GBP):
Logo: Your logo is your avatar when you post photos or respond to reviews.
Cover: Choose a cover photo that best showcases your business' unique brand and value. This photo will appear when people see your business listing on Google search pages and Google Maps.
Videos: The video feature allows you to add a short video of up to 30 seconds and up to 75MB. Videos appear on your listing page and showcase why your business is unique.
Interior photos: These photos display the inside of your business' store or offices, highlighting its atmosphere and size. Like videos, interior photos appear on your listing page.
Exterior photos: These photos should clearly show your location's exterior, so customers can easily find you in real life. These are also shown on your listing page.
Menu: If your business has a menu, you can upload an image-based copy. This applies to hospitality businesses like restaurants and bars, but it can also benefit service-based companies like salons, spas, etc.
Food and drink photos (if applicable): Establishments serving food can also upload images of your menu or food offerings. These options show up if you selected a "cafe," "restaurant," or a similar business type during account setup.
Google recommends you add photos in JPG or PNG format with a minimum resolution of 720 x 720 pixels and between 10KB and 5MB in size. Videos should be no longer than 30 seconds, have a 720-pixel or higher resolution, and be no bigger than 75MB in size.
After uploading media, visit your Google page using different types of devices to make sure they load quickly and can be easily viewed on mobile as well as desktop computers and laptops. They are a visual representation of your brand and business that directly impacts whether or not people decide to visit your business or website.
5. Confirm Business Attributes
Attributes are the key features, characteristics, or offerings for your business. These include Wi-Fi and other amenities, wheelchair accessibility, whether you're minority-owned, pet-friendly, or have public facilities like restrooms, and so on.
Based on the category you chose when creating your account, Google automatically offers specific attributes for you to confirm. When you do, your business listing includes a badge showcasing that feature.
Access, review, and confirm these from the "Info" tab on your dashboard. To add a business attribute to your listing, choose "Attributes" on the "Info" tab. Select the attributes that apply to your business, then click "Apply."
6. Optimize Your Listing
A big part of learning how to create a Google Business Profile is making it search-friendly so it will be displayed alongside organic and map results in relevant online searches. After setting up your business listing, you can leverage Google Insights on your dashboard to see how people find and interact with your listing, then use that data to make tweaks to improve your profile.
Optimizing your listing includes performing keyword research to find queries people use when searching for businesses like yours online and researching competitors' pages. It's also essential for the name, address, and phone number (NAP) info on Google pages to match up with other online business listings (aka search engine optimization (SEO) citations). Learn more about what SEO citations are and how to manage them.
Did you know? Online listings on Google, Bing, Yelp, and other platforms add credibility to your website and give prospects more ways to discover your business. Learn which online business directories are best for your business.
7. Manage Your Google Business Profile
After you set up your Google Business Profile and your listing goes live, it's crucial that you consistently manage it to maintain your visibility on Google and to keep your information updated. Encourage and respond to reviews, answer customer questions, and update your profile as needed with new business information and posts.
Here are five key ways to optimize and manage your Google Business page:
You can add events, products, services, and offers, as well as news updates to your profile as posts. These will appear alongside your business listing on Google Search and Google Maps. Posts are automatically deleted after six months unless you specify a date range, so it's vital to post regularly.
To add posts, click "Posts" from your dashboard's left-hand menu, then choose a post type from the top of the pop-up screen. You can choose a COVID-19 update, a regular update (also known as "What's New"), an event, an offer, or a product post. Once you've created your post's content, click "Publish". Google will review your post according to its policies before it goes live.
An alternate way to create posts is via Google Search. Type your business' exact name on Google's search bar, then select "Add update" in the following menu that shows up to create your post.
These are the types of posts you can add to your Google Business listing:
COVID-19 update: A COVID-19 update lets customers know of any changes to your store, such as mask mandates, curbside pickup options, and so on.
Update: Update, aka "What's New" posts allow you to add a description, a photo or video, a link, and a call to action button. Call-to-action buttons include "Book," "Order Online," "Buy," "Learn More," "Sign Up," and "Call Now."
Event: Promote an upcoming event by posting a time, date, photo or video, description, event title, and any of the call to action (CTA) buttons listed above.
Offer: Offer posts are best for announcing promotions, such as special discounts. With offer posts, you can include a photo or video, a description of the offer (20% off in-store, for example), start and end dates, a coupon code (if you have one), a link to redeem the offer, and a terms-and-conditions link.
Once you've chosen a post type, fill out the following form with your post content and then click on "Publish" at the bottom of the popup page. Posts will show on your profile in search results and Maps as soon as they've passed Google's review.
---
Once your profile is live, you can improve your page (and your website's) search rankings by encouraging user reviews. Reviews make a Google business page effective—good reviews act as positive social proof, and can significantly influence people to try out your business.
In 2022, studies found that 98% of consumers used the internet to find information about a business, and 87% used Google to do so.
While reviews aren't a requirement on Google, having them on your business profile can benefit your business, and it doesn't even require any extra cost. Reviews also factor in how Google determines quality—profiles with more positive reviews are displayed more often on search results than those with plenty of negative reviews.
Encourage Reviews
To get more Google reviews, share a link to your Google Business Profile with customers, and ask them to leave a review. Note that you can't solicit Google reviews by offering anything in exchange, whether monetary or otherwise—doing so can get your reviews deleted or disabled. It can even get your account suspended or deleted.
Instead, copy your page link, share it with customers, and ask them to leave a review. To do this, search for your business on Google, then click "Ask for Reviews". Copy and share the link with customers via your website, emails, or social media pages.
Respond to Reviews
To read and reply to reviews, sign in to your Google Business account and click "Reviews" from the left-hand menu. For each review, click "Reply" to respond to it. Once you've written your response, click "Post Reply."
Reviews are beneficial—they build trust with your customers in the long run when done correctly. Replying to customer reviews shows that your company is attentive to customers and cares that they are satisfied. When you get positive reviews, give thanks and appreciation, and respond to negative reviews with respect and resolution.
---
Located below your contact details on your business listing is the questions section, which is essentially a Frequently Asked Questions (FAQ) area. Here, customers can post and respond to questions about your business on your public profile, so be sure to reply to all your questions regularly.
To access these questions, search for your business' exact name on Google to access your profile, then choose the "Q & A" icon. This will open up all the questions and answers people posted on your profile. To answer a question, simply click on the "Answer" button beneath the question, or post your own by clicking the "Ask a question" button.
You can also delete or edit the questions you posted by clicking the three dots on the right-hand side of your question, then click "Edit" or "Delete."
---
Learning how to create a Google business page is only half the battle—the other half is maintaining it regularly. Google Business listings require upkeep, as anyone on the internet can suggest edits to your profile, clutter it with irrelevant questions, or leave negative reviews. Even Google can change your details if it finds conflicting information elsewhere. That's why it's essential to keep your information consistent across all your channels.
However, maintaining all of these is a small price to pay for the long-term benefits you can get with a Google Business Profile. To keep your profile updated, be sure to log in to your account at least once a month to review and update your information, and respond to questions and reviews.
---
Google Insights' reports include data on the search terms people use to find your listings, and the actions they take, like clicking your website link, requesting directions, or viewing posts or photos. Access these reports by clicking "Performance" under the "Promote" tab, and selecting the date range for the data you need.
Here are some of the important reports you can find in Google Insights:
How customers find your listing: This report shows the number of people who found your Google Business Profile by searching for your business name or address (direct searches); searching for a category, product, or service you offer (discover searches); and searching for your brand or a related brand (branded searches). It also shows the total number of searches combined.
Search queries: The search query report shows you the search terms people used to find your business listing. You can see search terms used in the last week, month, or quarter.
Users who viewed your listing: This report tells you how many unique visitors viewed your listing. It includes your listing's views on Search and Maps, as well as the total views for Search and Maps combined.
Customer actions: You'll also see individual reports for how people interacted with your listing. These include how many clicked through to your website, the number of people who clicked the "call" button, how many messages you received, the number of booking clicks and completed bookings (if applicable), and the total number of all actions combined.
Direction requests: Here you can see how many customers requested directions to your store, and where they were when they requested it. The map displayed shows your location and the popular places people are when they ask for directions to your business.
Food orders: Google recently launched the food orders metric for food service businesses. This report shows how many people placed orders directly from your profile via Google's ordering service.
Photos: The photos report allows you to see the photos people viewed and the total number of photos they viewed. The graphs show photos posted by the owner, those posted by customers, and their respective view counts.
What your business is known for: This report displays what your business is known for, including commonly used descriptive words of its atmosphere, products, and services based on customer reviews.
---
Pro tip: For best results, include your GBP as part of your overall website marketing strategy, and use its insights to better calibrate future marketing efforts.
How Google Business Pages Work & Who They're Right For
Google Business Profiles (GBPs) are essentially the modern digital version of the Yellow Pages directory. They work as Google's tool to help customers find local businesses in the area.
Conversely, it's an excellent platform for small businesses to be discovered and to find new customers—especially those with physical stores. Google Business Listings appear on Google Search Results and on Google Maps, and they're completely free to set up and manage.
Besides helping boost your discoverability, your GBP is also a handy digital marketing tool. Not only does it make your business look more credible, in effect building trust, but it also helps you attract and engage with customers and lead them to your small business website. Finally, with the dashboard, you'll also gain valuable insight into your business' online reputation.
Who Should Create a Google Business Profile
A Google Business Profile (aka Google My Business) is best for businesses wanting to increase visibility in Google search results. They are particularly helpful for local small businesses wanting to attract customers via area-specific searches (e.g., searches like "cafes near me").
Here are some of the other types of businesses that benefit most from setting up Google Business Profiles:
Local brick-and-mortar stores: Google Business pages can help promote brick-and-mortar businesses on Google by featuring location photos, videos, and customer reviews to local visitors and showing them how they can contact and visit the business (via directions to the business, contact information, and hours of operation).
Franchises: Franchise owners can set up multiple locations for stores so that when people within the vicinity of one of their stores search for their products, brands, names, or services, the closest business location shows up.
Service businesses: Business owners can specify the areas they service by inputting states, cities, and ZIP codes. This allows them to accurately target all the potential customers who could benefit from what they offer.
Client-based businesses: Your profile can be optimized for online search with SEO keywords. With the right optimization, GBPs for client-based services like real estate agents and consultants can show up alongside customers' organic search results, increasing your chances of gaining new clients.
Media-centric businesses: The images and videos you add to your Google My Business profile enrich your listing (which Google loves) and are more compelling than text alone. This makes it a must for local photographers and videographers.
There are a few types of businesses that wouldn't benefit from creating a business listing on Google. However, online-only brands, artists, organizations, online stores, and similar businesses aren't eligible.
Benefits of Google Business Profiles for Small Businesses
Google is the most popular search engine in the world. Learning how to set up a Google Business Profile is a must, since it's one of the most useful marketing tools available. This goes especially for local and small businesses—according to a study by BrightLocal, customers found Google to be the most trustworthy review platform across all industries, even in 2023.
Here are other advantages of having a business profile on Google:
It boosts your credibility: According to Google, businesses with a complete Google Business Profile are nearly three times more likely to be considered credible by customers. This is particularly helpful for small businesses building a brand presence.
It helps your local SEO: In 2022, 35% of customers used the internet to search for businesses in their local area—good news for small business owners, as having a Google Business Profile can help yours appear on their radar.
It helps customer conversion: Reviews are powerful social proof. They're also one of the most prominent features of your business profile. According to BrightLocal, 88% of consumers are more likely to try businesses that actively respond to reviews, whether positive or negative.
Cost-effective way to get more visibility: Unlike digital or traditional advertising, which often costs hundreds or even thousands of dollars, creating and maintaining your Google business listing is completely free.
High-quality backlinks: Business directories like Google have high domain authority, and backlinks from high-authority websites boost your website's search engine optimization (SEO). Links are also considered trustworthy, so visitors are more likely to click through to your website.
Find out more about the essential Google search statistics for your business.
Frequently Asked Questions (FAQs)
Does every business need a Google Business Profile?
Any business wanting to maximize visibility in online search and small businesses looking to boost local SEO should create a Google Business Profile. However, a few types of companies, like 100% ecommerce stores or software providers that fully operate online, are prohibited from creating GBP profiles. Google's guidelines for eligibility explain more.
How do I get my business on Google Maps?
You can get your business on Google Maps by creating a Google Business page and following the prompts to provide your business contact information, including your address. After your profile is verified, you'll be eligible to be featured on Google Maps. Sign in to Google Maps, open the left-hand menu bar, click "Add your business," and follow the prompts.
Is a Google Business Profile free?
Yes, it's free to have a Google Business Profile (formerly Google My Business). Using the platform, you can showcase your business description, photos, contact information, reviews, questions and answers, and posts. You also get analytics reports showing how your customers interact with your listing. All these features are free to set up and use.
Bottom Line
Google Business Profiles comprise an online directory where companies can publish information, announcements, and updates, and get discovered by customers. Creating and managing a GBP is completely free, and it's one of the most cost-effective ways to boost visibility on online search.