How to Sell on Instagram in 7 Simple Steps
Learning how to sell on Instagram is easier than ever with shoppable Instagram posts (Instagram Shopping) and integration with Facebook Shops. The steps to selling on Instagram include creating a business profile, connecting to your Facebook page, and creating your product catalog or connecting it with your existing online store. Finally, you'll need a solid marketing strategy with great photos since Instagram is a very visual platform.
1. Check Your Eligibility for a Shoppable Instagram Account
Instagram limits those who can sell products using shoppable posts. Before you can set up Instagram Shopping, make sure that:
Also, note some of Instagram's restrictions:
If you travel to a market outside of the list of allowable countries, even temporarily, you may lose the ability to tag products. It can take up to two weeks for you to regain access to tagging capabilities.
You cannot sell digital goods and services through a shoppable post. You will have to direct users to the link in your bio to make purchases.
2. Switch Your Instagram Profile to a Business Account
If your business is using a personal Instagram account, then you will have to convert it to a business account to create shoppable posts.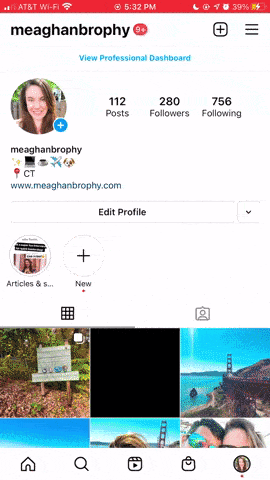 To convert a personal Instagram account to a business account:
From your profile, tap the three horizontal bars in the top right corner of the screen
At the bottom of this screen, tap Settings
Then, tap Account
Next, click on Switch to a Professional Account
Lastly, select Business and tap Done
Now, connect a Facebook business page to your Instagram account following these steps:
From your Instagram profile, click Edit Profile
Select Page under the section titled Public Business Information
Choose the Facebook Page you want associated with this Instagram account, or select Create a New Facebook Page if you don't have one yet
You're now set up as an Instagram business account and a Facebook business page. You can now run ads on Instagram, and you'll be able to create shoppable posts.
3. Set Up Shop in Instagram
Since Facebook and Instagram are connected platforms, you can manage your store from the joint Commerce Manager. In Commerce Manager, you can set up and customize your Facebook Shop, enable Instagram Shopping, manage your product catalog, create product collections, track shop metrics, and more.
To set up a shop on Instagram:
If it's your first time selling on Instagram, follow these steps to set up a shop in Commerce Manager.
If you already have an Instagram profile shop, upgrade to the new shop experience if you haven't done so yet.
You'll also need to choose a product catalog you want to connect to your commerce account (more on this in the following step).
After you've set up shop, you can now manage your business assets in your Commerce Manager settings.
Keep in mind:
You can only use Commerce Manager on a computer.
Your commerce account, Instagram account, and Facebook Page must be connected to the same Business Manager.
4. Connect Your Instagram Account to a Catalog
There are a few ways to connect a catalog to your Instagram account. You can use the manual method through Facebook Catalog Manager, or you can go through an approved Facebook partner like BigCommerce or Shopify. Another alternative is to use Square Online, which—while not an official partner—is ideal if you are looking for a free solution and don't need to set up a large catalog.
While you'll eventually be able to create shoppable posts through the Instagram app on your mobile phone, the initial setup, including creating your products and catalog, can only be done on a computer.
If you already have a Facebook Shops catalog, then you connect it to your Instagram account. Once connected, it will automatically create your Instagram shopping catalog. You can't change it later, so make sure you want to have the same catalog for both platforms. Most stores use the same catalog anyway to be able to monitor inventory.
To view and manage your connected Instagram account and catalog in Commerce Manager:
In Commerce Manager, go to Settings.
Select Catalog to view the catalog connected to your commerce account.
Select Business Assets. Under Ad and Sales Channels, select Instagram. You can view your connected Instagram account here. When your Instagram business account is connected, it appears as a sales channel in the Shops tab.
To add products manually, use Catalog Manager to upload product details, such as photos and information. You can do this one by one, upload products in bulk with a spreadsheet, or use a Facebook pixel to import products from your website. (We use the same steps when we upload products to a Facebook Shop.)
You can use one of Facebook's certified third-party ecommerce platforms: Shopify, BigCommerce, WooCommerce, and Magento.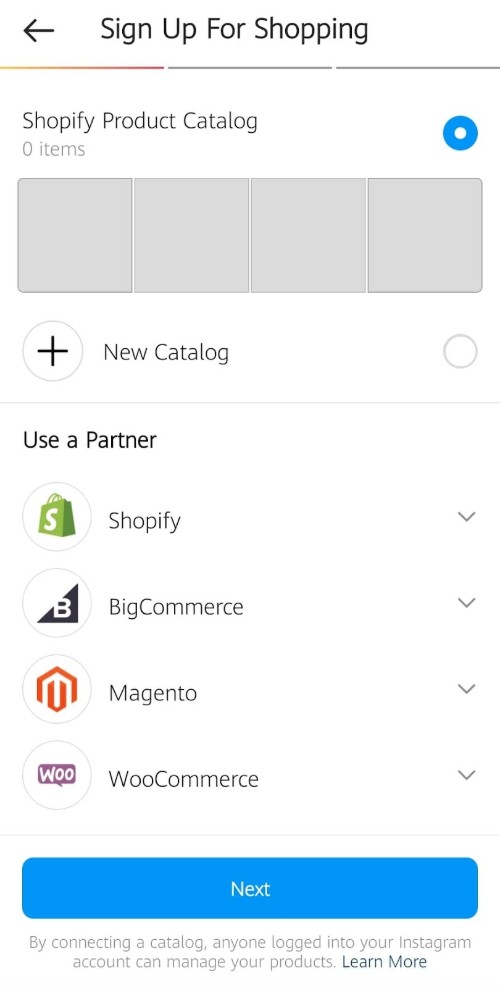 Since Facebook and Instagram manage their shops in the Commerce Manager, they have the same steps for each provider. Follow the steps on your partner's website to connect your account with Instagram. You'll be directed to complete the setup based on the platform you use.
1. Go to Commerce Manager
2. Open the Catalog tab and go to Data Sources
3. Select Add Items, then Use a Partner Platform, then hit next
4. Select your platform of choice
5. Follow the link to the partner platform website and follow the steps there to connect your account with Facebook.
A Square Online store uses your existing Instagram posts to create an online store in just a few steps. The best part is that you don't pay anything until you make a sale. Then, it's just standard payment processing fees of 2.9% plus $.30 per transaction.
To get started, simply add Facebook Shops as a sales channel to Square Online from your dashboard.
Interested to learn more about Square Online? Read our Square Online review to see if it fits your business needs.
5. Submit Account for Review
Once you have your catalog connected to your Instagram account, you need to request account approval.
In the Instagram app, go to your profile.
Click the hamburger menu on the top right.
Click on Settings then Business.
At the bottom, you'll see Set Up Instagram Shopping.
Follow the steps indicated to submit your account for review.
Approval is typically granted within three business days but can take longer. To check the status of your approval, click on Shopping in Settings.
6. Turn on Instagram Shopping in the Instagram App
You'll receive a notification about your approval from Instagram, and once you receive it, you can move onto setting up product tagging on Instagram. To do so, you need to turn on Instagram Shopping in the app. Make sure you have the latest version of the Instagram app.
To enable product tagging, follow these steps:
Go to your profile and tap Menu
Tap Settings
Select Business
Click Shopping. Note: You will only see this option once you are approved for Shopping.
Tap Continue
Select a product catalog to connect to your professional account.
Click Done
7. Sell Your Products
Once you have turned on Instagram Shopping from your app, it's time to start selling. There are a number of ways to sell your products on Instagram: by tagging products in posts, via adding product stickers in Stories, and through the Shop experience in your profile.
If you do IGTV and Instagram Lives, then you can add product tags or shop links as well. Once people click on a product tag, they can view the product detail page where they can also check out without leaving the platform.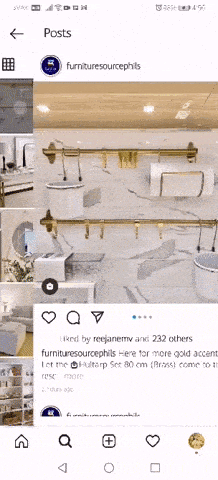 Product tags highlight products from your catalog and help customers learn more about what you are selling in Instagram Stories, posts, Live, and IGTV. When people tap the product tag on a post or story, they'll be redirected to a product detail page.
A product detail page has all the essential information about an item: pricing, description, and more images. What's great about product detail pages is that they pull in all media where the product is tagged on Instagram, so people can see them used in different ways.
Tag Products in Your Posts
To make your Instagram posts shoppable:
Tap the plus icon to create New Post
Select a photo or video and add a caption, effects, and filters. Tap Next.
Tap Tag Products. Click the products in the photo or video that you want to tag. Note: You can select up to five products per single-image and video post, or 20 products per multi-image post.
Search for the products you want to tag in your catalog, then select.
Tap Done and tap Share.
Add Product Stickers to Instagram Stories
To make your temporary and highlighted Instagram Stories shoppable:
Click on your profile picture to add a story
Select a photo or video to upload to your story
Select the product sticker from the sticker tray
Select the product from your catalog that you want to feature
Tap Done
Move the product sticker to where you want it to appear on your story. Note: The style of the product sticker can be changed by tapping the sticker.
Tap Send To and select your audience, then Share
You can tag products in both new and existing posts from your account. When you share a post with product tags on Instagram, you can also share the same post on Facebook, and it will have the same product tags. You can do this by toggling Facebook before posting.
Tips for Selling on Instagram
Instagram is a very visual platform, which means that your Instagram profile and posts need to fit your brand. Your posts should not consist of too many selfies or product-only pictures. In fact, if you're showcasing a product, it's best to display it as it's being used so it doesn't seem too salesy. Encourage your customers to tag you in their posts containing your product for a chance to be featured—these posts may see an increase in engagement of as much as 30%.
With shoppable posts, selling on Instagram is now easier than ever—particularly if you already have an established audience. If you don't have a large network of buying customers, here are some tips for marketing on Instagram.
Retarget using ads: If someone visits your online store but doesn't make a purchase, you can run ads to retarget that visitor on social media. This person might just need more exposure to your brand before making a purchase.
Post five to 10 Instagram stories per day: Stories help humanize your brand, and you can use them to gain valuable insights into your customers. Share things like tips, testimonials, how your products work, polls, and GIFs. Use a call to action like "swipe up" or "DM for details."
Use hashtags in your posts and stories: People used to advocate using 30 hashtags for each post, but now, people see that as hashtag spam. Instead, a few targeted hashtags that are really relevant to your post is all that's necessary.
Bottom Line
Having your products shoppable on Instagram is a great way to get in front of an enormous audience that is already likely to buy. Learning how to sell on Instagram is easy—the real work begins when you market your shoppable Instagram posts.
To make the selling process even easier, get a head start with Square Online. It has the most straightforward setup process, and you only pay when you make a sale. Sign up for free.
You May Also Like …