How To Sell on Instagram in 2022: 7 Simple Steps
Selling on Instagram is easier than ever with shoppable Instagram posts (Instagram Shopping) and integration with Facebook Shops. The steps to selling on Instagram include creating a business profile, connecting to your Facebook page, and creating your product catalog or connecting it with your existing online store. Finally, you'll need a solid marketing strategy with great photos since Instagram is a visual platform.
This guide outlines the steps to follow when selling on Instagram and lists actionable tips to make your Instagram profile stand out.
Step 1: Check Your Eligibility for a Shoppable Instagram Account
Instagram limits those who can sell products using shoppable posts. Before you can set up Instagram Shopping, make sure that:
Also, note some of Instagram's restrictions:
If you travel to a market outside the list of allowable countries, even temporarily, you may lose the ability to tag products. It can take up to two weeks for you to regain access to tagging capabilities.
You cannot sell digital goods and services through a shoppable post. You will have to direct users to the link in your bio to make purchases.
Step 2: Switch Your Instagram Profile to a Business Account
If your business is using a personal Instagram account, then you will have to convert it to a business account to create shoppable posts.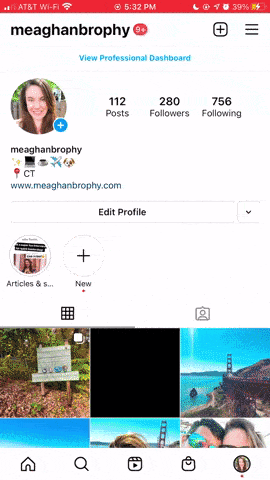 To convert a personal Instagram account to a business account:
Step 1: From your profile, tap the three horizontal bars in the top right corner of the screen
Step 2: At the bottom of this screen, tap Settings
Step 3: Tap Account
Step 4: Click on Switch to a Professional Account
Step 5: Select Business, and tap Done
Now, connect a Facebook business page to your Instagram account following these steps:
Step 1: From your Instagram profile, click Edit Profile
Step 2: Select Page under the section titled Public Business Information
Step 3: Choose the Facebook Page you want associated with this Instagram account, or select Create a New Facebook Page if you don't have one yet
You're now set up as an Instagram business account and a Facebook business page. From here, you can run ads on Instagram, and you'll be able to create shoppable posts.
Step 3: Set Up Shop on Instagram
Since Facebook and Instagram are connected platforms, you can manage your store from the joint Commerce Manager. In Commerce Manager, you can set up and customize your Facebook Shop, enable Instagram Shopping, manage your product catalog, create product collections, and track shop metrics.
To set up a shop on Instagram:
Step 1: If it's your first time selling on Instagram, follow these steps to set up a shop in Commerce Manager.
Step 2: If you already have an Instagram profile shop, upgrade to the new shop experience if you haven't done so yet.
Step 3: You'll also need to choose a product catalog you want to connect to your commerce account (more on this in the following step.)
After you've set up shop, you can manage your business assets in your Commerce Manager settings.
Keep in mind:
You can only use Commerce Manager on a computer.
You must connect your commerce account, Instagram account, and Facebook Page to the same Business Manager.
Step 4: Connect Your Instagram Account to a Catalog
There are a few ways to connect a catalog to your Instagram account. You can use the manual method through Facebook Catalog Manager, or you can go through an approved Facebook partner like BigCommerce or Shopify. Another alternative is to use Square Online, which—while not an official partner—is ideal if you are looking for a free solution and don't need to set up an extensive catalog.
While you'll eventually be able to create shoppable posts through the Instagram app on your mobile phone, the initial setup—including making your products and catalog—can only be done on a computer.
Using Facebook Catalog Manager (Manual)
If you already have a Facebook Shops catalog, connect it to your Instagram account. Once connected, it will automatically create your Instagram shopping catalog. You can't change it later, so make sure you want to have the same catalog for both platforms. Most stores use the same catalog anyway to be able to monitor inventory.
To view and manage your connected Instagram account and catalog in Commerce Manager:
Step 1: Go to Settings.
Step 2: Select Catalog to view the catalog connected to your commerce account.
Step 3: Select Business Assets. Under Ad and Sales Channels, select Instagram. You can view your connected Instagram account here. When your Instagram business account is connected, it appears as a sales channel in the Shops tab.
To add products manually, use Catalog Manager to upload product details, such as photos and information. You can do this individually, upload products in bulk with a spreadsheet, or use a Facebook pixel to import products from your website. (We use the same steps when we upload products to a Facebook Shop.)
---
Connecting a Facebook Partner
You can use one of Facebook's certified third-party ecommerce platforms: Shopify, BigCommerce, WooCommerce, and Magento.
Since Facebook and Instagram manage their shops in the Commerce Manager, they have the same steps for each provider. Follow the steps on your partner's website to connect your account with Instagram. Instagram will then direct you to complete the setup based on your platform.
Step 1: Go to Commerce Manager
Step 2: Open the Catalog tab and go to Data Sources
Step 3: Select Add Items, then Use a Partner Platform, and hit Next
Step 4: Select your platform of choice
Step 5: Follow the link to the partner platform website and follow the steps there to connect your account with Facebook.
---
Integrating Square Online Store
A Square Online store uses your existing Instagram posts to create an online store in just a few steps. The best part is that you don't pay anything until you make a sale. Then, it's just standard payment processing fees of 2.9% plus 30 cents per transaction.
Simply add Facebook Shops as a sales channel to Square Online from your dashboard to get started.
Interested to learn more about Square Online? Read our Square Online review to see if it fits your business needs.
---
Step 5: Submit Account for Review
Once your catalog is connected to your Instagram account, you must request account approval.
Step 1: In the Instagram app, go to your profile.
Step 2: Click the hamburger menu on the top right.
Step 3: Click on Settings and then Business.
Step 4: At the bottom, you'll see Set Up Instagram Shopping.
Step 5: Follow the steps indicated to submit your account for review.
Approval is typically granted within three business days but can take longer. To check the status of your acceptance, click on Shopping in Settings.
Step 6: Turn on Instagram Shopping in the Instagram App
You'll receive a notification about your approval from Instagram, and once you receive it, you can move on to setting up product tagging on Instagram. To do so, you need to turn on Instagram Shopping in the app. Make sure you have the latest version of the Instagram app.
To enable product tagging, follow these steps:
Step 1: Go to your profile and tap Menu
Step 2: Tap Settings
Step 3: Select Business
Step 4: Click Shopping. Note: You will only see this option once you are approved for Shopping.
Step 5: Tap Continue
Step 6: Select a product catalog to connect to your professional account.
Step 7: Click Done
Step 7: Sell Your Products
Once you have turned on Instagram Shopping from your app, it's time to start selling. There are several ways to sell your products on Instagram: by tagging products in posts, via adding product stickers in Stories, through the Shop experience in your profile, by activating Instagram checkout, and by scheduling a Live Shopping broadcast.
If you do IGTV and Instagram Lives, you can also add product tags or shop links. Once people click on a product tag, they can view the product detail page, where they can also check out without leaving the platform.
Product tags highlight products from your catalog and help customers learn more about what you sell in Instagram Stories, posts, Live, and IGTV. When people tap the product tag on a post or story, they'll be redirected to a product detail page.
A product detail page has all the essential information about an item: pricing, description, and more images. What's excellent about product detail pages is that they pull in all media where the product is tagged on Instagram, so people can see them used differently.
Upload Shoppable Posts
To make your Instagram posts shoppable:
Step 1: Tap the plus icon to create New Post
Step 2: Select a photo or video and add a caption, effects, and filters. Tap Next.
Step 3: Tap Tag Products. Click the products in the photo or video that you want to tag. Note: You can select up to five products per single-image and video post or 20 products per multi-image post.
Step 4: Search for the products you want to tag in your catalog, then select.
Step 5: Tap Done and tap Share.
Add Product Stickers to Instagram Stories
To make your temporary and highlighted Instagram Stories shoppable:
Step 1: Click on your profile picture to add a story
Step 2: Select a photo or video to upload to your story
Step 3: Select the product sticker from the sticker tray
Step 4: Choose the product from your catalog that you want to feature
Step 5: Tap Done
Step 6: Move the product sticker to where you want it to appear on your story. Note: You can change the style of the product sticker by tapping the sticker.
Step 7: Tap Send To and select your audience; then Share
You can tag products in both new and existing posts from your account. When you share a post with product tags on Instagram, you can also share the same post on Facebook, and it will have the identical product tags. You can do this by toggling Facebook before posting.
Activate Instagram Checkout
Activating Instagram checkout allows your customers to place their orders without needing to check out on a specific product page on your website. When the feature is activated, you will see a "Checkout on Instagram" button on a product page instead of "View on Website."
Once a customer clicks on the button, they will only need to enter their name, email, billing information, and shipping address the first time they check out. When the initial order is complete, Instagram will securely save their information for convenience the next time they shop.
Customers will also receive notifications about shipment and delivery right inside Instagram to keep track of their purchases.
Schedule a Live Shopping Broadcast
You can do livestream shopping on Instagram too! Easily schedule a livestream shopping broadcast anywhere from one hour to three months in advance to connect with followers. You can add up to 30 products when preparing or before the live broadcast begins.
During the livestream broadcast, your viewers can buy or save products that were added to the shopping video. You can pin one item at a time while Live to feature that product, and only products that have been approved can be added to live videos.
You can use Instagram's Live feature to keep your audience updated about new products and promotions. You can drive real-time demand for your products and let people know what's available. Take a look at how Lancôme leveraged influencer marketing with Instagram Live: It partnered with influencers Jamie Yeo and Cheryl Wee to feature its products and tips for using them.
Tips for Selling on Instagram
With shoppable posts, selling on Instagram is now easier than ever—particularly if you already have an established audience. If you don't have an extensive network of buying customers, here are some tips for marketing on Instagram.
Use the Link in Your Bio
You can only add one external link to your Instagram account—the URL section in your Instagram profile bio. It's a prime spot, so take advantage of it. Whenever someone finds you on Instagram, they are more likely to check your bio page and click your link if interested. Having a link in your bio will encourage traffic to your online store.
To maximize the link in your bio:
If your link is too long, you can shorten it with a Bitly or Google URL shortener.
Refer your followers to the link often. Phrases such as "link in bio" in post captions are there for a reason. This can encourage people to take action and visit your page.
Change your link depending on your business promotion. Whenever you have something new to promote, ensure the link in bio corresponds to it. Your followers won't always search for the right link, so make it easy for them to find whatever you promote.
Get on the Explore Page
Instagram's Explore page is a collection of public photos, videos, Reels, and Stories customized to help an Instagram user discover posts, accounts, hashtags, or products they might like. For example, if one searches for yoga clothes on Instagram's search bar, they will see a curation of videos, reels, and posts relevant to their query. In the image below, notice how there are shoppable posts included in the search results (the icon with a shopping bag).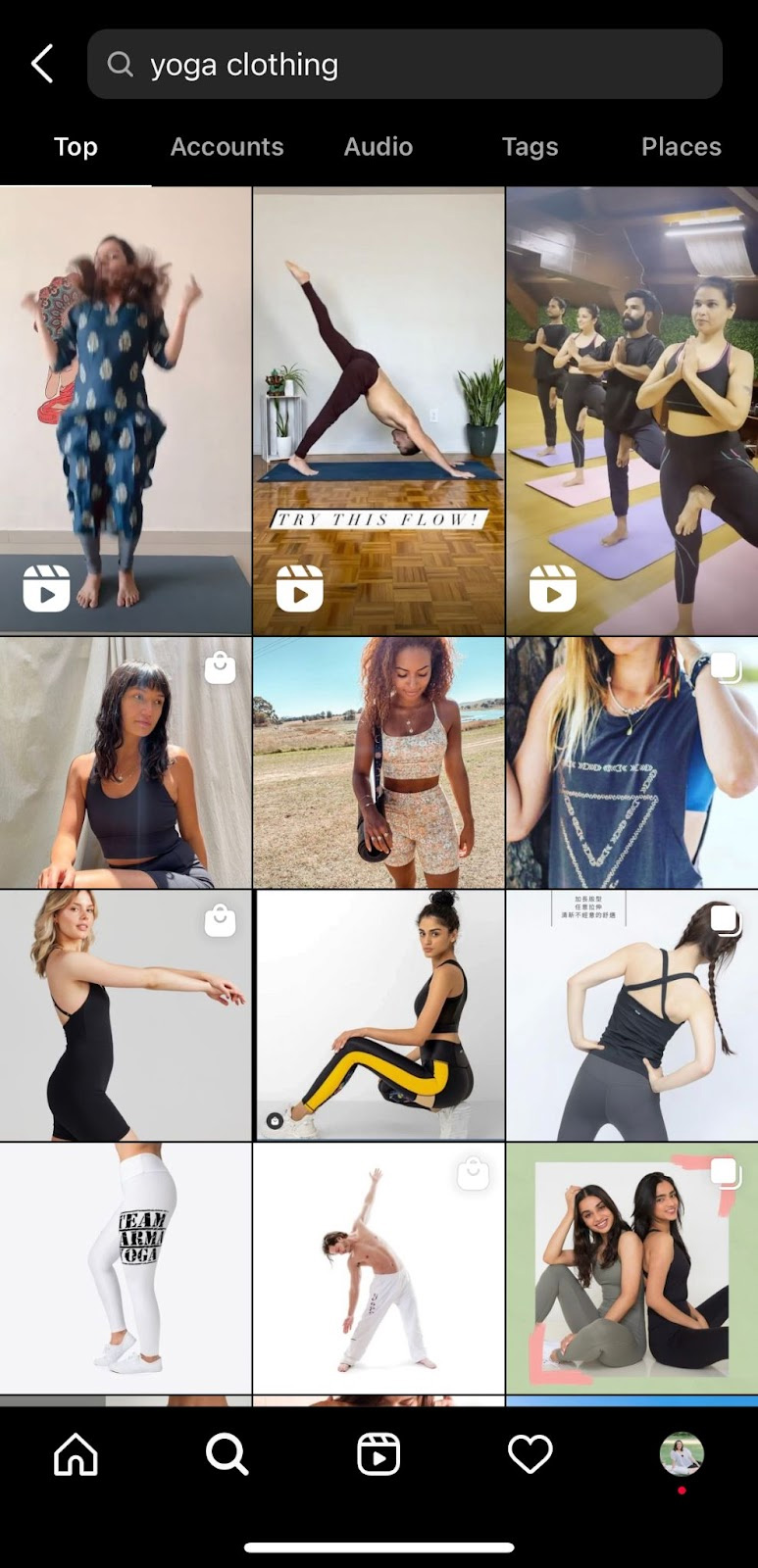 You can liken Instagram's Explore Page to a Google Search engine. It delivers targeted content to users based on their interests, search history, and user behavior data. Fifty percent of Instagram users use the Explore page each month. Getting on the Explore page will boost a post's engagement and drive discoverability for your brand, which signals the algorithm that your content is relevant and drives more traffic to your feed.
To get on the Explore page, consider doing the following:
Know your audience and what content type they prefer
Share valuable content. Learn how to take great photos.
Mix up your posts—do Stories, Instagram videos, Reels, and posts
Build an active community of followers
Use relevant tags
We tackle more of the tips to get on the Explore page below, which also serve to help you increase sales when selling on Instagram.
Embrace Video
Videos are no longer just a trend; video marketing is here to stay. The sooner your business adapts its marketing strategies to include videos, the better. Instagram video posts have a 1.45% engagement rate (which experts equate to a highly converting post already), with nine out of 10 Instagram users watching videos weekly. Reels have also been Instagram's fastest-growing feature, with brands reporting an increase in following after their Reels made it to a relevant Explore page.
Some ideas to do with Stories, Reels, and IGTV (videos):
Showcase your products in action
Promote special offers and new products
Do a behind-the-scenes to show production, packing, shipping, and more
Use Relevant Hashtags
Instagram hashtags work like keywords in a search engine. When a potential customer wants to find something easily on Instagram, they can quickly type in a hashtag related to their query, and the corresponding results are what they will be searching for.
Hashtags also work to build brand awareness and connect your post to a specific topic. When used correctly, hashtags help make your shoppable posts more discoverable on the feed. Use those relevant to your product to make it easier for customers to find your business.
Create your own branded hashtag if you can. It helps develop your brand's voice, zero in on specific events and promos, if there are any, and helps you track engagement. A great example is #ShareACoke by Coca-Cola.
Leverage User-generated Content (UGC)
Seven out of 10 shoppers are influenced by friends' social media posts and reviews. UGC has been proven to be more effective in brand advertising, and you need to take advantage of it as a small business.
Encourage your customers to post social proof and even use your branded hashtag. Customers showcasing your products help build trust and prove authenticity. Plus, it provides your followers a community they can be part of.
Take, for example, Alo Yoga's #aloyoga hashtag. The clothing and lifestyle brand encourages shoppers to post their outfits while doing yoga poses using the branded hashtag. As a result, its feed is mostly curated from its 2.1 million followers, all sporting Alo pieces.
Bottom Line
Having your products shoppable on Instagram is a great way to get in front of an enormous audience that is already likely to buy. Learning how to sell on Instagram is easy—the real work begins when you market your shoppable Instagram posts.
To make the selling process even more accessible, get a head start with Square Online. It has the most straightforward setup process, and you only pay when you make a sale. Sign up for free.
You May Also Like…