How to Take Quality Product Photos at Home in 7 Easy Steps
Product photos might be the most important piece of any ecommerce listing. They convey everything from physical specs to emotional attributes. Plus, photo quality directly correlates to perceived value.
High-quality product photography can be done on a budget using your iPhone or camera with equipment and materials you may already have around the house. Here's how beginners can take beautiful product photos that sell in six easy steps.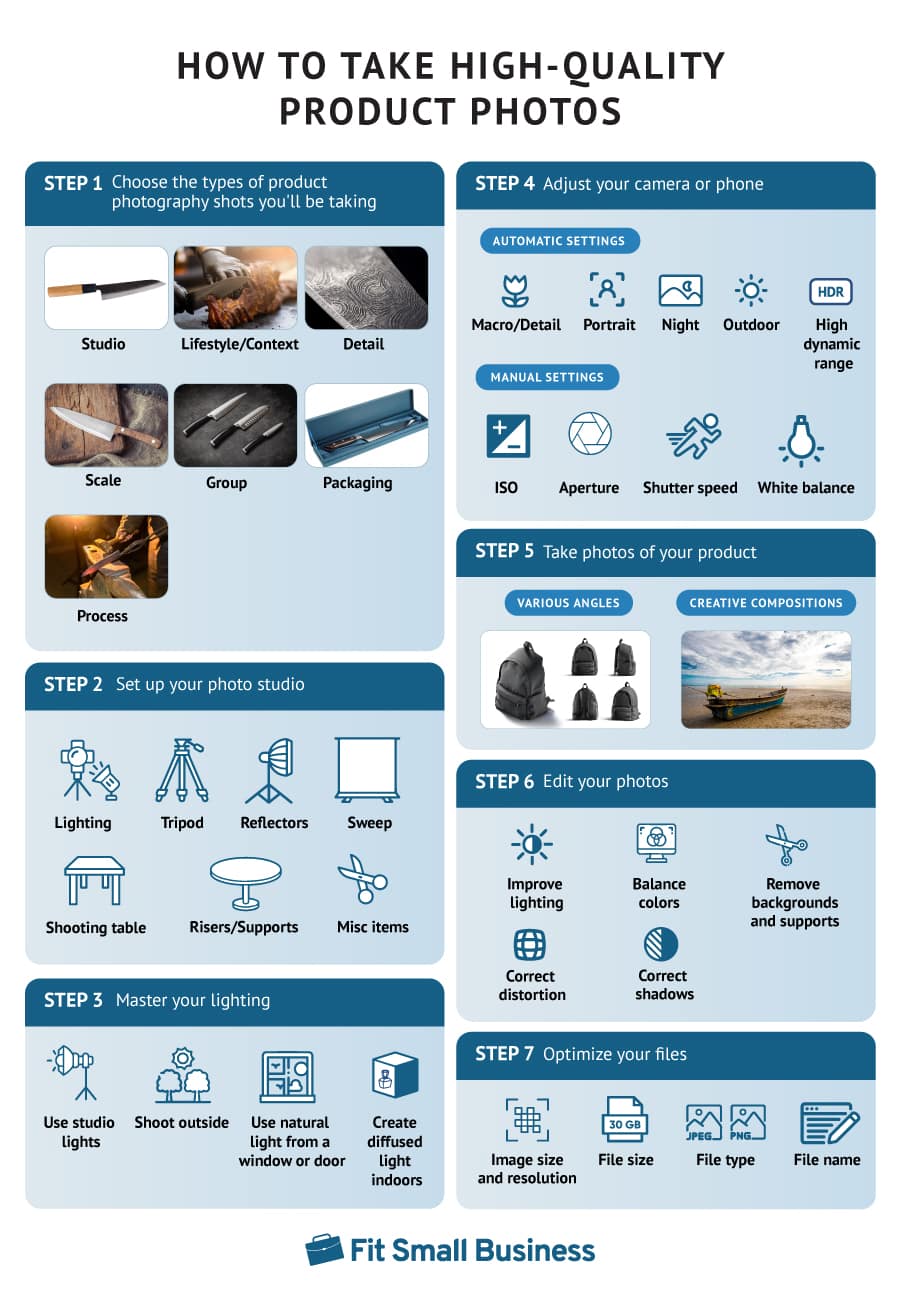 Step 1: Choose the Type of Photos You're Shooting
Without the opportunity to touch, feel, and experience the product in person before buying, online consumers rely on product photos to thoroughly inform them.
While a simple shot of the product against a clean white background can say a lot, it leaves room for questions. How big is the item? How do you use it? How will it make the user feel?
This information can be provided through different types of product photos. It's recommended that you upload as many pictures as it takes to showcase every major detail of your product, which usually means four to 12 images. The majority of these should be simple and informative with a plain, non-distracting background, plus a few dynamic shots that demonstrate the real-world glory of the item.
Here are the seven main types of product photography shots and how to incorporate them:
Studio shots, also called individual shots, provide a basic look at the product by itself against a clean, minimalist background.
Their purpose is to clearly and attractively display the item, often from multiple angles. Most studio shots feature a white backdrop, but alternative options like wood, grass, or stone can brand your images and help convey emotional product attributes.
This type of photo is a must-have for any product in every category. Aim to have three to eight studio shots in your listing.
The Square Photo Studio app automatically isolates your product from the background—creating clean, crisp studio shots without a physical studio.
A lifestyle or "in-context" shot shows the product being used, worn, or otherwise displayed in its natural habitat.
These shots allow the customer to imagine what having the product in their life would mean for them. They connect with the audience on an emotional and practical level and encourage the customer to relate the item to their existing preferences, hobbies, interests, or aspirations.
Lifestyle shots are highly beneficial for nearly any product in every category and can supplement or replace some studio shots in your product's gallery. Include at least a couple of dynamic, in-context images among other simpler photos.
Detail shots, also called macro images, present an up-close view of the product, often focusing on a specific characteristic.
They serve to provide further information about how the product looks and what it's made of, as well as showcase special features or indications of quality.
These shots are helpful for many types of products but may not apply to every category. Even if your item doesn't have a purposeful detail to show off (like the machined finish on the barrel of the pen shown above), try to include at least one macro shot to help the customer feel like they're viewing the item in person by offering a rich visual description of textures and materials.
A scale shot demonstrates the size of a product and can be accomplished in multiple ways.
Some photographers will include a well-known, recognizable object next to the item that they're shooting for scale (like a soda can or a gift card).
A more elegant way to convey size is to display the product relative to its environment—like the scratcher-toy shown above, complete with a cat on top of it.
Relative size is usually a vital piece of info for customers to have, but in some cases, the size of a product is either implied or irrelevant. If your buyers would benefit from a scale shot, aim to include just one or two in your item's gallery.
Group shots display multiple related items together in one scene. These setups have a few applications that serve slightly different purposes.
A group shot can be used to recommend buying other items in a collection by presenting them together, as is done with the chic ceramic incense burners pictured above.
It can also be used to showcase multiple variations of the same product like jewelry in white, rose, and yellow gold options, or a blush powder in every available shade.
One other way group shots are used is to demonstrate what a purchased set of goods looks like by presenting them together, like a set of four dinner plates or an assortment of gel pens.
This style of shot is great for nearly any product that is offered in variations or as part of a full collection. Adding one to three group photos to your product listing will help viewers get a more complete feel of the product and their options.
Packaging shots demonstrate how the product is, of course, packaged.
While this counts as a frivolous detail for many products, packaging is a large contributor to branding and even sales for plenty of goods. In the example used above, a mattress and pillow set are pictured as they arrive on the buyer's doorstep. The product's compact and manageable packaging is a big selling point for the brand, so it makes sense to photograph it.
Incorporating packaging shots is a good idea for items that have unique packaging elements or will likely be sent as a gift. One or two photos of the product's outer appeal is plenty for a product listing, but they're also great promotional tools to use around key holidays.
A process shot provides insight into how the product was made.
These images emphasize authenticity and craftsmanship and are helpful selling tools for handmade or artisanal products. They promote an emotional connection with the item as well as its origin and allow your brand to build trust as it connects with your audience.
One or two process shots will augment a product listing, but they're also useful for social media posts and advertisements.
The right combination of these photo types will give your customers the information and encouragement they need to confidently make a purchase.
Shooting multiple styles of shots in different environments requires making adjustments to your setup and sometimes procuring different equipment, so it's wise to plan your gallery before getting started.
Did you know?
Certain marketplaces have rules concerning what is allowed in listing photos hosted on their platform. Amazon, for example, prohibits close-up detail shots and prefers that sellers use a pure white background. Be sure to know any applicable guidelines before shooting to maximize your usable images.
Step 2: Set Up Your Photo Studio
Taking great product photos doesn't require a high-budget, professional setup—but you'll need some things other than your camera or phone.
Depending on your desired shot and available environment, you may need nothing more than a park bench and the right weather. Other circumstances, however, call for a more complete toolbox.
As an alternative, you can eliminate the need for your own photo studio by using the Square Photo Studio App. It has built-in tools to achieve the perfect angle, lighting, background, and more.
Here are the basics of a DIY photo studio:
You'll need a flat platform large enough to easily display the product—this can be your dining table, your desk, a TV tray, a chair, or another similar surface. If you decide to shoot outdoors, make sure your shooting table is portable.
You can also purchase a dedicated photography table with a built-in sweep (covered in the next tab) for $50–$125, like this economical option. Portability, durability, and convenience are the main benefits of buying this gear, but DIY emulations can work just as well.
A sweep or infinity curve is a seamless backdrop that smoothly transitions from the horizontal to vertical surfaces in your shot. It creates a distraction-free, shadowless background to let your product take center stage.
The size of the sweep you'll need depends on the size of your product (and any other subjects to be featured in your shots). When working with small goods, poster boards or foam sheets make effective sweeps. Larger products call for a larger setup, which can be made from fabric or purchased inexpensively.
To assemble your own sweep, first suspend the top of your poster board (or other material) above the back of your shooting table. If the surface is pushed up against a wall, you can use a temporary adhesive to hang it. Otherwise, construct a stand to attach it to by setting up scrap wood supports on your table or placing a coat rack or ladder behind it.
Secure the sweep to your support with clamps or tape, then drape the material down over the top of your shooting table.
In lieu of a sweep, you can arrange material on your shooting table that is congruent with your brand and complements the look of your item. Attractive background ideas include stone, wood, marble, tile, decorative pillows, grass, and plant life.
Keep in mind that, depending on your setup, this type of backdrop will likely limit the angles you can use to capture an attractive shot.
In the best-case DIY scenario, you won't need to buy or use any studio lights. Working with natural light is much easier and more forgiving and leads to better results.
Artificial lighting does provide more flexibility and convenience, though, especially if you don't have the proper weather, windows, or daily schedule to capture any sun.
If you opt for artificial lighting, seek 5000K daylight/cool white LED bulbs to provide a glow that's very close to natural light. Many household bulbs create warm white light, which casts a red-orange tint in photos, while most fluorescent lights cast a greenish hue. Plenty of inexpensive LED options are available online.
To use your bulbs on your set, cost-effective clamp lamps are perfect for turning any handy household object into a stand. If you're shooting often or in many different areas, you might find it easier to purchase tripod stand lights or an entire studio lighting kit.
For both artificial and natural light sources, reflectors are used to mitigate unexpected color variations and contrasts in photos. They also allow you to manipulate and evenly distribute light and shadows, which can make a world of difference in product photography.
Small, portable reflectors are available from about $15, but simple white foam boards are highly effective as well.
Keeping your camera or smartphone as stable as possible produces consistently crisp, clear photos. Shooting by hand works, but it may lead to blurry or out-of-focus images.
It's possible to stabilize your device by setting it on an object of the appropriate height—like a stack of books or a piece of furniture. To keep your phone steady in the right position, DIY mounts can be made using nearly any household object, like the examples shown below.
If you choose to invest in a proper tripod, they're cheaply available for both digital cameras and smartphones.
Product stands or risers help to lift items off your table to reduce hard shadows at the base. They're also great for staging product assortments, group shots, or incorporating decorative props.
Risers can be made by draping upturned items, like boxes or storage containers, in cloth. They can be the same color as your sweep in order to blend in or to add a pop of attractive color or pattern.
Some products look best when arranged or positioned in a certain way, which is where supports come in. Fishing line tied to a simple rod can be suspended about your setup to lift or hold parts of the item in place, like the handle of the purse shown below. Small picture display easels can prop or stand items upright, and glue dots are a popular choice among photographers for keeping everything securely in place.
Ask any professional and they'll tell you that you can never be over-prepared for a shoot. It's wise to keep little amenities readily on hand, like a pen and paper, extra tape, safety pins, scissors, and spare batteries (or a charger for your phone).
Take your at-home studio a step further by styling your set with props:
Though a standard, white-background studio shot is the product photography go-to, adding some panache to your scenes can help convey emotional attributes of your goods.
Try incorporating props that align with your brand, appeal to your audience, fit in with the scale of your subject, and tell your product's story.
With all of your equipment in tow, you just need to find the right space. As long as your studio area is large enough to house your gear and subject with enough room to maneuver around it, the only real consideration is light.
Our next step addresses how to choose the right spot to stage your shoot and make the most of the light it gets.
Step 3: Master Your Lighting
Lighting is key to taking great photos with any camera. Here are some tips to make the most of the light you have available.
Shoot Outside for Soft, Natural Light
This is a top product photography tip—A wash of soft, natural light provides the best color balance for product photos and minimizes harsh shadows.
You can find the perfect light outdoors on an overcast day (when the clouds serve to diffuse the sunlight nicely), or at midmorning and early evening (when the light strikes from a smaller angle).
The unedited product photo below was taken on an outdoor picnic table during an overcast day. This shot was captured using a Samsung Galaxy smartphone on its automatic setting with no additional equipment, and it's virtually perfect for a product listing.
Use Natural Light From a Large Window or Glass Door
If shooting outside isn't possible or convenient, try the next best thing—setting up indoors next to a large window or glass door.
By arranging your shooting table next to a bright natural source, you can still capture plenty of light. It may need to be manipulated for your subject to be lit evenly without harsh shadows, so be sure to have reflectors on hand.
Setting up a few pieces of foam board reflectors can make a great window-side stage for your product, like the example shown below.
Create Diffused Light Indoors
If the perfect natural light isn't accessible, you can mimic it in a number of ways. The key is to diffuse—meaning to spread out and soften—the light. This minimizes shadows and enhances colors in product photography.
For small items, you can do this by using a device called a tabletop light tent or light box. They're available to purchase starting at under $20 and come complete with rudimentary lights.
Of course, you can build one yourself using basic household materials, but you'll need to supply your own studio lights. Here's a detailed guide to construct your own DIY light box.