If a picture says a thousand words, what do your pictures say about your products? If your answer is "not much," don't fret. Capturing great product shots for your ecommerce website is quite easy with a few low-budget product photography tips. Best of all, you can get great results using your iPhone or Android phone, and we'll show you how.
In this guide, we'll explore the key elements of product photography and how to get professional-looking results on your own.
In particular, we'll cover the following:
What Types of Photos You Need to Sell Products Online
Product photography generally includes three types of photos: Studio, Lifestyle, or Glory shots. While each type of shot is useful in conveying information about a product, some shots showcase certain items better than others, especially on ecommerce websites. Let's explore each type.
1. Studio Shots
Studio shots focus on the product alone. These are the most common and effective type of shot for selling products online. These shots are well-lit, taken against a plain or very simple background, show different angles, and highlight fine details. Studio shots are considered ideal because they cut clutter and keep shoppers focused on the product.
Good studio shots can be hard to capture without a dedicated studio setup, but never fear! Throughout this guide, we'll show you how to create terrific studio shots like these without fancy equipment or photography know-how:
Studio shots are great for showing products from different angles, such as front, back, and side, and for highlighting image details. Since most ecommerce websites allow you to upload several images to your item page, you can use angle shots to showcase every detail to shoppers, like this:
2. Lifestyle or In-Use Shots
Lifestyle or in-use shots show the item being worn or in use. These are useful for showing relative size or fit for products such as watches, purses, jewelry, clothing, and decorative accents. They also help shoppers visualize how they might use items like electronic accessories, cookware, desk accessories, and home decor.
Lifestyle shots like these are easy to take using the lighting and phone camera setting tips we discuss later in this guide:
3. Glory Shots
Think of elaborate magazine spreads and print advertisements. These stylized product pictures are called "glory shots" because they showcase your products in all their glory. This type of product photography takes lifestyle shots up a notch to showcase items in realistic settings. Glory shots require work and space to set up, but can be worthwhile since they let online shoppers see how products will fit into their lives.
With a little work, the lighting and phone camera setting tips we discuss later in this guide can be applied to larger photo sets to capture glory shots like these:
As you start shooting the various product shots mentioned above, you'll find that capturing high-quality images take up a lot of storage space. It's a good idea to back up your photos to cloud storage as you go, so you don't run out of space during a shoot or lose your work due to a drive crash.
How to Find or Create Low Budget Lighting
Lighting is the key to taking great pictures with any camera, including your iPhone or Android phone camera. Professional photographers create their own lighting using all types of bulbs and reflectors. But you can get similar results without much, or any, fancy equipment using these five lighting tips from the pros:
1. Shoot Outside for Soft, Natural Light
This is the top tip from product photography pros. A wash of soft, natural light provides the best color balance for product photos and minimizes harsh shadows. You can find this perfect light outdoors on an overcast day or at mid-morning or early evening. For years, I've used this technique to capture product shots for my own ecommerce website with great results.
For example, here's a shot I took in my backyard on an overcast day, using my picnic table as a backdrop and my Android Galaxy 4 camera phone. This is a true point-and-shoot picture taken in soft, natural outdoor light. No special camera settings, no fancy lighting. Not bad for a no-budget, no-frills product shot: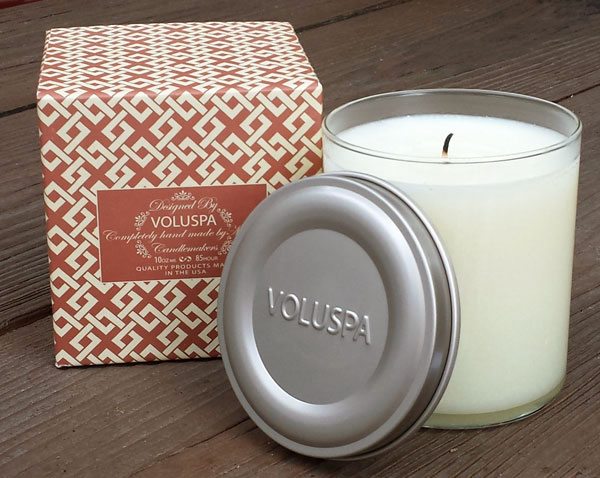 2. Use Natural Light from a Large Window or Glass Door
If shooting outside isn't possible or convenient, try the next best thing — shooting indoors next to a large window or glass door. You can easily set up a table next to a large window to capture the natural light. Then use a few pieces of white poster board or foam core as backgrounds to reflect the light and soften shadows. Here's an example:
3. Create Diffused Light Indoors with a Light Tent or Plain Paper
If outside light isn't accessible, you can mimic it in a number of ways. The key is to diffuse, meaning spread and soften, the light. This minimizes shadows and enhances colors in product photography. For small items, you can use a tabletop light tent, sometimes called a light box, to diffuse light. For larger items, you can simply clamp or clothespin sheets of blank white paper over light sources to diffuse light.
Tabletop light tent setups like the one shown on the right can be purchased on Amazon, starting at under $20. You also can make your own tabletop light tent using a cardboard box, some white fabric, and simple desk lamps, as shown in the image on the left:
4. Use the Right Light Bulbs for Indoor Product Photography
When shooting ecommerce product pictures indoors, the most important element is the light bulb. Many household bulbs create warm white light, which casts a red-orange tint in photos, while most fluorescent lights cast a greenish tint. For indoor product photography, use inexpensive 5000K daylight/cool white bulbs to provide a wash of light that's very close to natural light. You can find these on Amazon.
Tip: If using a light tent, you'll get the best results using identical light bulbs on both sides.
5. Use a Tripod to Avoid Using the Camera's Flash
Smartphone tripods make it easy to capture crisp, detailed product shots without a flash. In product photography, the flash alters colors and casts hard shadows. With a tripod you can use longer exposure times instead of a flash, which we'll discuss in later in this guide. Another plus when using a tripod is that you can set the shutter delay so your camera takes the picture a few seconds after you touch the screen. This is ensures sharp, in-focus images every time.
Most universal tripods like the one pictured below fit all smartphones and are quite versatile. They run from $15 to $30 on Amazon, depending on brand and attachments.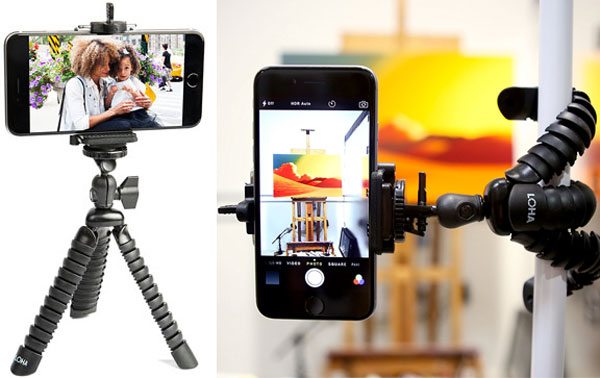 How to Set Up Your Own Photo Studio
Any area can become a temporary or permanent product photography studio. Depending on the available lighting and the types of products you're shooting, you can create a space using some or all of the following items:
A table large enough to hold the item and the background setup
White foamcore for set backing walls and/or reflectors
White or colored poster board, or other background materials — see options below
Duct tape and/or clamps to hold foamcore, posterboard, and backgrounds in place
Lights with clamps or stands and 5000k daylight/cool white bulbs
Tripod or stabilizer for camera phone
Finding Space for Your Product Photography Studio
As discussed in the previous section, if you can, set up your photography table outside or next to a large window to capture natural light. If you don't have access to natural light, set up your table in a space that allows plenty of room to work. This way you can play with the placement of lights and your phone camera.
Inexpensive Backgrounds for Your Product Photography Studio
As seen in the previous section, white foamcore sheets create great background walls for your tabletop studio. You can use them alone or create what the pros call infinity curves or sweeps, like the one pictured below. The idea is to create a smooth curve behind the product using paper, poster board, or fabric. This is an easy way to create distraction-free and shadow-free backgrounds that let your product take center stage.
For shooting larger items, you can hang background materials from a wall or clamp them to tripod stands or a tall item, like a ladder or coat rack. Then drape the material down and over your table.
You can create different moods and looks using a variety of background materials, such as:
Faux wood, brick, or stone paneling
Textured fabrics such as burlap
Plexiglass – this is especially useful as a base to create a reflection of the product that's placed on the surface
Stands and Supports for Your Product Photography Studio
Stands for Lights:
Inexpensive clamp-style work lights are great for do-it-yourself photography lighting. With these, you can use anything handy as a stand. If you're shooting often or shooting in different areas, you might find it easier to purchase tripod stand lights. With tripod lights, you can add clamp-on extension arms to hold light diffusers and adjust as needed.
Stands to Support and Raise Products:
Product stands or risers help to lift items off the table to reduce hard shadows at the base. They're also great for staging product assortments or group shots. Stands can be made by draping upturned items, like boxes or storage containers, in white or colored cloth, depending on the look you want. To prop or stand items upright, you can use small picture display easels.
Tip: Use glue dots to keep items and stands in place. Also try fishing line attached to a rod or fixture above your set to hold things like purse handles upright, as shown in the image below. The fishing line is easily removed from the image using simple photo editing apps, which we'll explore later in this guide.
How to Shoot Product Photography with iPhone and Android Phones
All Android and iPhone cameras have basic automatic settings you can use to capture great product images if you've followed our lighting tips above. If the basic settings don't get the job done, there are other ways to make your phone's camera work even harder for your product photography needs. We'll explore them here.
Using iPhone and Android Phone Camera Basic Settings
With the right light, you can rely on automatic point-and-shoot settings to capture great product images. You'll usually find these automatic settings by tapping the settings icon found on the edge of your phone's camera screen. Some phones feature them under a different photo options or modes icon on the screen, so be sure to explore.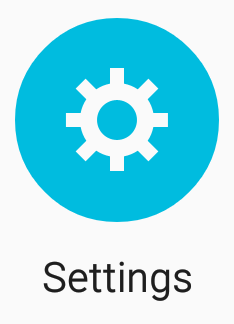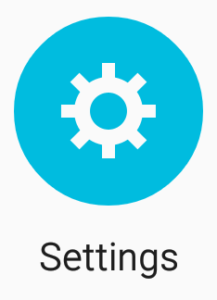 When shooting product images, it's helpful to try a few different settings to see what you get. Every phone camera is different, but most have a variety of automatic options such as:
Detail (also called Macros) – This is useful for creating images that capture close details in focus with blurred backgrounds. They provide a professional look for your detail shots. Click here for more info on taking close-up detail shots with your phone camera.
Daytime/Outdoor – These settings optimize light and white balance when shooting outdoors.
Night – This creates a slower exposure to capture more light. Used with a tripod, it can help you capture good product shots indoors without using manual settings.
Enhanced Color – This setting can help bump up product colors when shooting outdoors on an overcast day.
Using iPhone and Android Phone Camera Advanced Settings
Often, automatic options provide what you need to take great product photography. But if they don't give you the look you want, you can try adjustments to the focus, white balance, and exposure control settings. Again, these can be found by tapping the settings icon on your phone's camera screen, and here's what they do:
Focus
Both iPhone and Android phone cameras make focusing a breeze when shooting products. There are manual focus settings you can explore, but the tap-screen auto focus options common to all phone cameras will take great product shots. You can set the focus anywhere on your product by tapping the screen to set the focal point. The result will be a crisp, in-focus image for your web store.
White Balance
On automatic settings, cameras take a reading of the type of light you're shooting in and adjust settings to compensate. This is the White Balance (sometimes called Temperature) setting. For example, fluorescent light adds a greenish tint and standard light bulbs cast a red-orange tint. Automatic white balance compensates to reduce the tint.
In product photography, it's helpful to have manual control over this setting since minor adjustments can make images really pop. Plus, getting the white balance right during shooting can eliminate the need to color-correct images on your computer. That's a real time-saver.
Exposure Control
Exposure is how long your phone camera's lens is "open" while taking the picture. Longer exposure times allow more light to be captured by the camera. In product photography, exposure control lets you take the best image using the light you have available. So if your light is a bit low, you can set a longer exposure to capture more light and brighten the image.
Longer exposures need a still camera, so you'll definitely need to use a camera phone tripod to keep your phone still and your shot in focus. You can also set your shutter to delay — this is also found in your phone's basic camera settings. This makes the camera take the photo a second or two after you touch the screen and ensures crisp, clear images.
Popular Advanced Camera Apps for iPhone and Android Phone Cameras
If your phone's camera settings don't provide the product photography images you're looking for, consider using an advanced camera app. These provide more control over the basic functions we covered above, plus offer additional advanced features. Here are two top camera apps for iPhone and Android phones:
Camera+ For iPhone ($2.99)
Camera+ is the top camera app for iPhone users. It has terrific auto settings and easy access to manual controls including focus, exposure, white balance, and color filters. As shown below, Camera+ makes it easy to take crisp, color-corrected product photography from the start to save time in photo editing. At $2.99, it's well worth the price.
Camera FV-5 For Android Phone (Free)
This camera app offers simple manual control functions such as an exposure slider, plus fantastic auto settings if you're unsure of using manual settings. For Android camera phone users, Camera FV-5 provides everything you need to take professional looking product photography and cut photo editing time.
Best of all, this app makes your camera screen look like a DSLR camera display, so if you're used to taking pictures with a DSLR camera, you're in luck:
Other Useful Camera Apps for Creating Special Effects
For Android
Google Camera for Android has a great feature called Lens Blur that lets you take detail shots with unfocused, blurred backgrounds. This is a super easy way to take professional quality product shots that blur part of the item and the background, like in the image below:
Product Camera (Free app with in-app charges for image purchases)
For Android (iPhone to be released in 2017)
Product Camera offers an alternative to learning how to take product shots with a white background. This app removes the background for you, and you end up with your product image against a white background. Creating this effect in photo editing software takes skill and can be very time consuming. So even though you have to purchase the completed images, it can be a good deal due to the time saved.
Easy Ways to Capture Close-up Details Using Android and iPhone Cameras
Most standard phone camera lenses are equivalent to a 30mm lens, which is what professional photographers consider a mild wide-angle lens. For the non-pros out there, this means if you take a picture with your camera very close to the product, it appears distorted.
There are two ways you can remedy this close-up distortion and still create great detail shots:
1. Move Your Phone Camera Back from the Product (shown below)
Often, just backing away from your product will do the trick. Below, are three images I took to show how to easily create correct point-and-shoot product and detail shots:

On the Left: I held my phone close to the item, about 12 inches away, and the candle shape appears distorted, like the side is angled out from the bottom. It's subtle, but noticeable, and therefore not an accurate representation of the item.
In the Center: I moved the camera back and shot from about 18 inches away. The candle isn't distorted and I still have a crisp image that allows me to crop in for detail, as shown in the third image.
On the Right: To create a close-up shot of the item's name and logo, I simply used the image in the center and cropped close to the logo using photo editing software. We'll discuss how to do this in the following section.
2. Use Add-on Phone Camera Lenses
If you're taking a lot of close-up product shots, a clip-on macro lens will allow you to capture details clearly without distorting the image. This can save you time in editing, too, since you won't need to crop images to create close-up shots. You can find universal clip-on lenses that work on both Android and iPhones on Amazon, starting under $20.
How to Edit and Size Product Photos for Websites
If your shots are well-lit, you'll have little editing to do aside from cropping and saving your product photos for website use. Most phones have built-in tools for cropping and saving pictures, but better photo editing programs and apps offer more options. Plus, they let you save images optimized for website use. This means they'll load more quickly and look better on most website browsers.
Here are some top-rated photo editing programs and phone apps to try:
For Windows and Mac (Free)
See the user's guide and tutorials
Gimp is free open source photo editing software that gives you virtually all of the color, cropping, and file saving power of Photoshop Elements (see below), but without the cost. It's a very close second to Elements in some ways, but in others it's right on par. For cropping, fine-tuning colors, and saving your ecommerce product pictures, Gimp will cover your every need — for Free!
See how we used Gimp to crop and save pictures for this guide in the section below.
For Windows and Mac ($89 – $149)
See the user's guide and tutorials
I've edited hundreds of so-so product images in this program with great success. It has a powerful suite of photo editing tools and saves images perfectly for web display. Plus it offers automated sizing tools for bulk image processing which is handy if you have many images to resize. Anything you need to do with ecommerce product photos can be done in Photoshop Elements, but it does come at a price.
App — For Android and iPhone (Free)
This phone and tablet photo editing app offers much of the needed photo editing power of the computer version for free. Plus, you can edit without downloading photos to your computer. What a deal!
App — For Android and iPhone (Free)
This simple, no-frills phone and tablet photo editing app has some very nice auto filters which can easily fix color imbalances and lighting issues on your product shots.
How to Crop & Save Your Product Photos for Website Use
Once you've chosen your photo editing software, it's time to get to work cropping and resizing images for your website. Here, the most important thing to remember is size matters!
Image size and resolution, file size, and file type are the three main factors to consider when cropping and resizing images for web use. Here's how I used Gimp to control all three factors when cropping and saving product pictures for this guide.
1. Image Size and Resolution
Your ecommerce store system (Shopify, BigCommerce, WordPress Ecommerce Plugin, Etsy, etc.) will state the preferred images sizes in their setup or store management tutorials. And they will list image sizes in pixels (px) — this is a screen measurement. All photo editing apps will let you change measurements to pixels when saving images if not already preset.
As a rule, product images are best saved at about 600-800 px wide. Smaller images may not show the details you wish, and larger will appear overly large on screen. But always refer to your ecommerce store for their optimal image sizes.
For the first step — cropping — here's a look at Gimp's photo editing software in action. The dotted line in the center of the photo will become a close-up crop: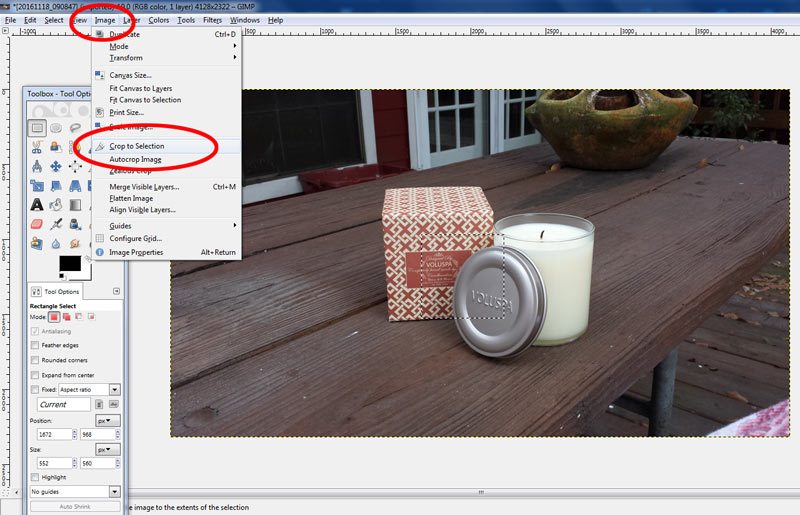 Next, I resize (Gimp calls this Scale) the cropped image to the width I need in pixels: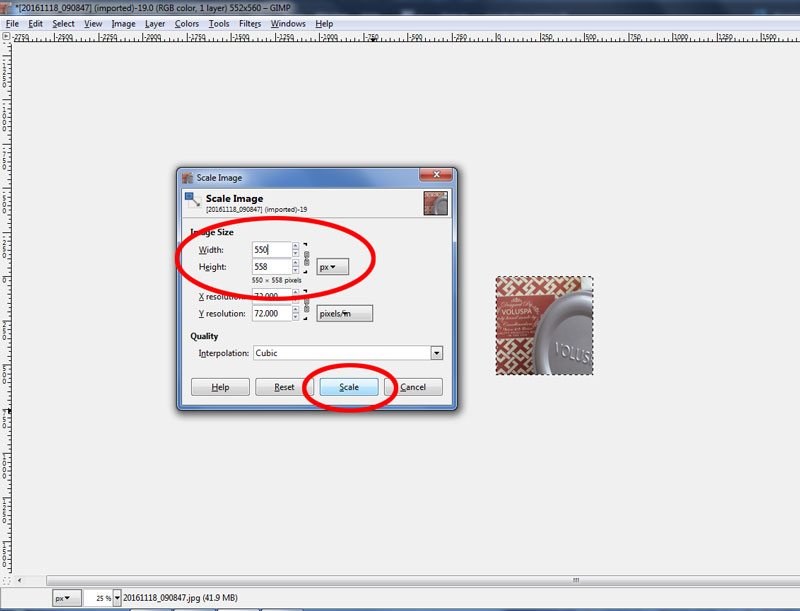 2. File Size
For website use, the size of your photo's digital file depends mainly on three factors: image color range (more colorful = higher file size), overall image size, and level of resolution detail or quality.
Controlling the image's color range is tough. It's a photo, after all. But you can affect the final file size by controlling the image size (as we did above by scaling the image in Gimp) and the image quality. In most photo editing programs, you can adjust quality in the final save steps, which I'll show you in #3, below.
Tip: You may see a Resolution setting when you create or save images. Typical screen resolution is 72px per inch. So 72px resolution is what you should select for online images when you see that as an option.
3. File Type
The most common, and best, file type for website photo images is a .jpg. A good rule of thumb is to save a .jpg at medium quality for good detail at a file size that won't slow your product pages down.
Tip: Most photo editing programs and apps let you save other types of files, including .gif or .png files, but these create large files for photo images. For photos, stick with .jpg files to keep your file sizes manageable.
Here's a look at how to select the .jpg file when exporting an image in Gimp. Note — exporting is Gimp's way of saving a .jpg. Some apps and programs save a .jpg. Whatever they call it, you end up with a nice, website-ready .jpg image.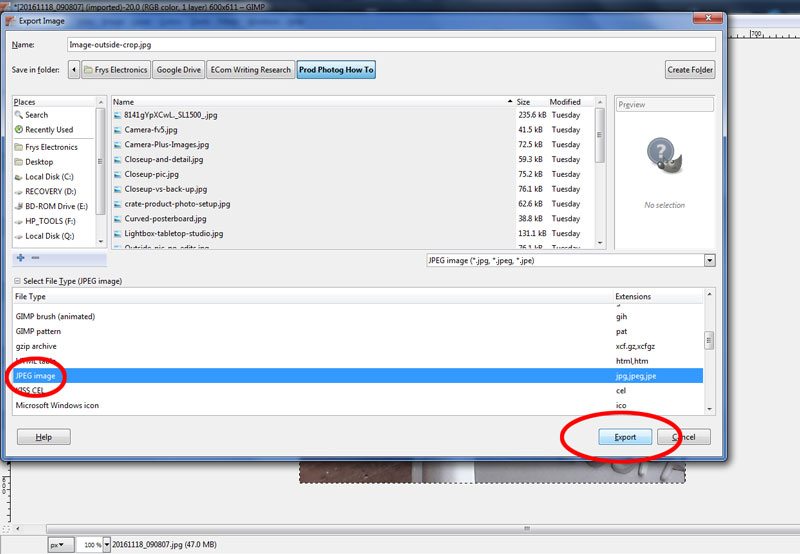 The image below shows how to control the quality of your .jpg image in Gimp. You can adjust the image quality on the slider bar at the top. I typically use a 60-70 quality setting. As you change the quality, you'll also see the file size change. File size is located just below the quality slider, and is measured in kilobytes (KB). As a rule of thumb, I try to keep product photos under 80kb for fast-loading product pages.
Other settings are available when saving .jpg files. Those circled below, Optimize and Progressive, are the only ones I select to create image files that look good but aren't too big.
The final step is to hit the Save or Export button — depending on your program.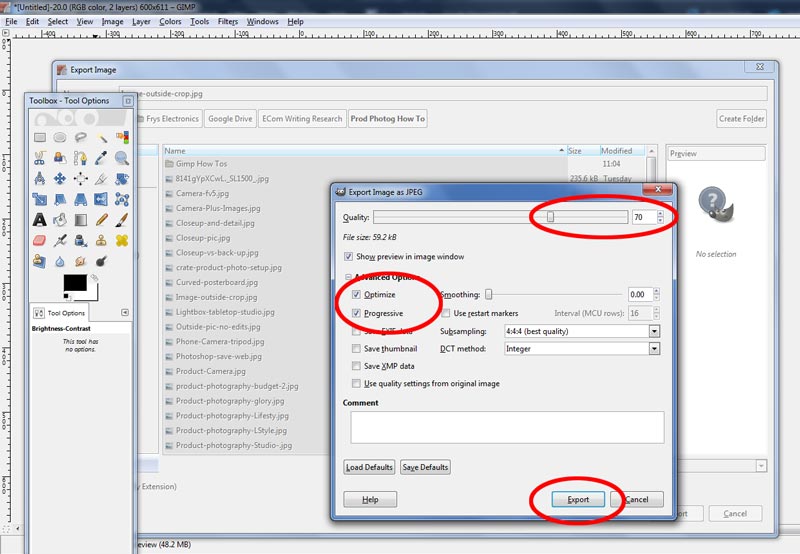 Want to learn more? See Gimp's full Crop & Save tutorial here.
Photo Editing Tip for Shopify Stores: If you sell on Facebook, Twitter, and Pinterest using Shopify, we have some great tips to make your Shopify product images look great on all three.
Retouching and Color Correction in Photo Editing Software
Photo editing programs let you improve so-so product shots in many ways, from color correction to erasing any stray specks that pop up. Each editing program is unique, but they all allow you to adjust image brightness and color, and some even have pretty accurate auto color correction tools. As you become more experienced, you'll enjoy having manual controls for image editing and color correction, including:
Brightness – This control lets you brighten, or darken, the overall shot.
Contrast – This control adjusts relative light and dark areas and can help make details stand out.
White Balance / Color Cast – This can adjust the overall tint of the image to remove the greenish or red/orange hue from pictures taken with indoor lights.
Color Variations or Curves – This gives you more specific controls over image color than white balance/color cast.
Retouching Tools – Tools like erasers and blotters let you remove stray specs that show up in your ecommerce product pictures. They also let you remove support materials, like the fishing line used to hold items upright during shooting. Here's how I blot it out using Gimp's clone tool: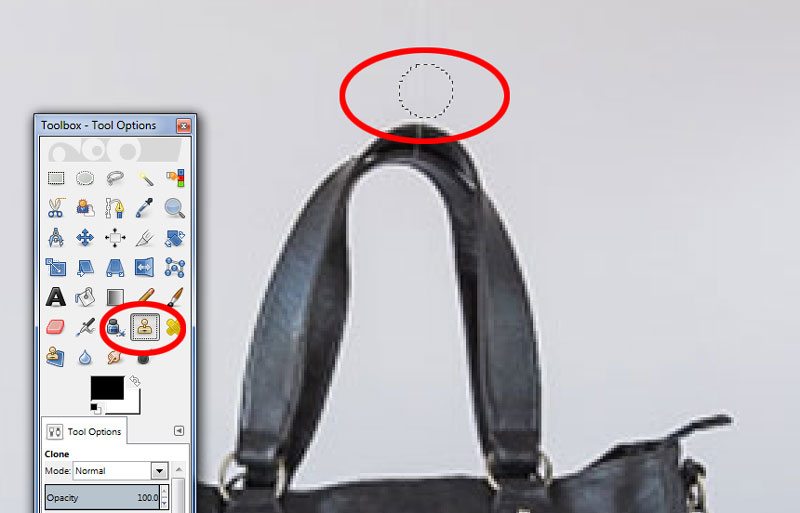 How to Plan Your Photo Session
Last but not least in your product photography plan is just that — have a plan! If you're shooting many products, you might need one background and lighting scheme for some, and an entirely different scheme for others. A shot list can help you stay organized as you shoot your product pictures. Plus it prevents having to backtrack because you forgot something.
Here's an example of how I plan my photo shoots using a spreadsheet, but you can just jot one down on paper, too.

On my shoot list, I include: The item being shot, type of shot, setup, angles needed, plus any notes on details to capture.
How to Outsource Photo Editing on a Budget with Fiverr
If editing and cropping your ecommerce product pictures seems daunting, Fiverr.com is an online freelancer directory that's chock-full of skilled photo editing freelancers. These pros can take care of any product photography editing that you don't want to tackle, and at reasonable costs that are agreed upon up front. The prices start at just $5! Fiverr is a very transparent system so you shouldn't have any surprises. Plus you can read reviews from other clients before deciding to assign your project to a freelancer.
If you decide to go the Fiverr route, be sure to provide your freelancer with accurate final image specifications including image size, file type, and file size. That way you'll get what you need the first time.
The Bottom Line
You don't have to spend a lot of money to create photos that showcase your products online. If you have a relatively new Android or iPhone, access to outdoor light, and a piece of white posterboard, chances are you have what it takes.
To shoot quality product photos that turn online shoppers into buyers, you need to:
Know what types of images you need to shoot
Capture or create natural-looking light
Use backdrops or backgrounds that enhance without distracting
Understand your camera phone's basic settings, or try more specialized camera apps
Know how to use basic photo editing software
Know the final image size, image type, and file size needed for your website
Have a plan
Do you have some favorite methods for capturing great product photography for your website or ecommerce store? Please share them in the comments below.