Online shopping statistics show that while brick-and-mortar purchases still make up a majority of consumer spending, online shopping is steadily on the rise. Many legacy brick-and-mortar chains are struggling to stay open. Meanwhile, a crop of new small businesses, direct to consumer retailers, and ecommerce startups are gaining popularity with shoppers.
1. 76% of U.S. consumers shop online
A 2019 poll by Marist College and National Public Radio (NPR) shows that 76% of all United States adults shop online. Looking closer at the frequency the online shopping stats show 25% of those who shop online do so at least once a month, and 16% shop online at least once a week. (Source: NPR/Marist Poll).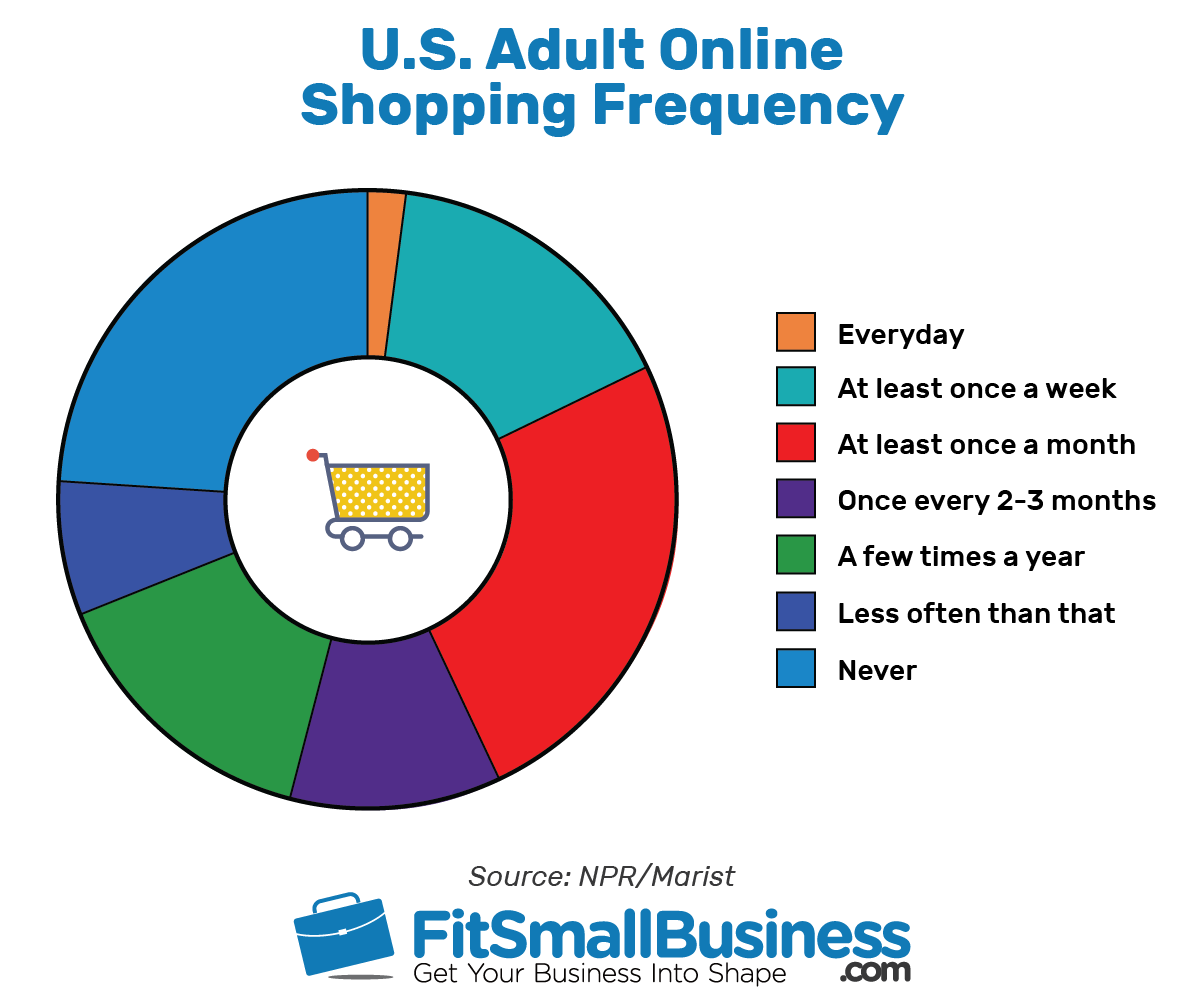 2. The U.K. has the highest ecommerce spend per capita
The U.S. has the highest total revenue from online shopping out of every country in the world. However, the United Kingdom has the highest ecommerce spend per capita. Chinese citizens spend a higher percentage of their salaries online than any other country. (Sources: Ecommerce Wiki, World Atlas).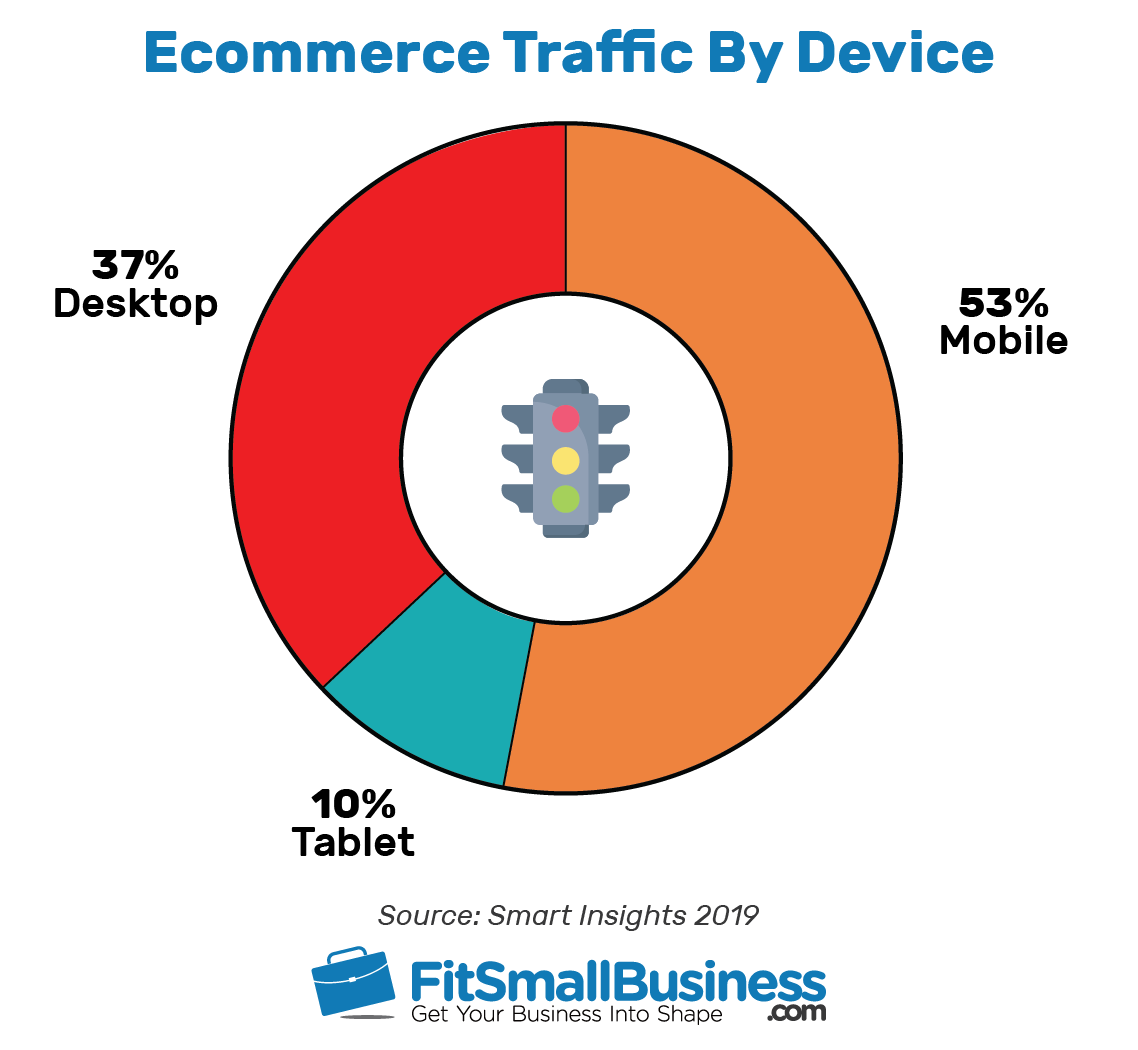 3. 53% of shoppers browse on mobile but buy on desktop
The majority of people visit retail websites on a mobile device but use a computer to finalize the purchase. Mobile devices make up 53% of traffic to online stores, but only 37% of the revenue. Desktop users make up 32% of total traffic but 56% of purchases. Little browsing or purchasing is done on tablets. (Source: Smart Insights).
4. There will be more than 300 million U.S. online shoppers in 2023
In 2018, the U.S. had 258.9 million online shoppers. That number is expected to grow to 271.1 million in 2019 and reach more than 300 million by 2023. (Source: Statista).
5. Mobile shopping expected to increase by 56%
Online shopping conducted through smartphones accounted for roughly $117 billion in the U.S. in 2018. Sales made directly through smartphones is expected to hit $209 billion by 2022. (Source: Retail Dive).
"Mobile traffic is becoming more prevalent as more users choose mobile devices such as phones and tablets over traditional desktop computers. This means ensuring your website is functional, looks great, and converts well on mobile is crucial for ecommerce success in 2019. Google has even released a 'mobile-first' algorithm update, which means that google crawls the mobile version of your website before the desktop version which is crucial for organic rankings & SEO [search engine optimization]."
—Lewis Peters, SEO Executive, Online Turf
6. Almost 80% of younger consumers impulse buy online
Of the millions of Americans who shopped online in 2018, 44% made an impulse purchase. Younger consumers make many more unplanned purchases than the average shopper. Of Generation Z consumers, 76.7% have made online impulse buys, and 78.2% of millennials have made online impulse purchases. (Source: CNBC).
7. 65% of shoppers like the BOPIS experience
Buy online and pick up in store (BOPIS) is gaining popularity with shoppers as it allows them to browse and compare products from the comfort of their homes, and still pick up the product immediately without having to wait or pay for shipping. A high 85% of shoppers are aware of BOPIS, 70% of those aware of BOPIS have tried it, and 65% of those who have tried it say that BOPIS improved their shopping experience. (Source: National Retail Federation).
8. 75% of online shoppers expect free shipping
About 75 percent of consumers expect free shipping even on orders of less than $50. Baby boomers expect free shipping the most, with 88% of boomers expecting free shipping on orders $50 and less. Even if it means items will take longer to arrive, 90% of shoppers want free shipping. (Source: NRF).
9. 39% of online shoppers expect free returns
U.S. consumers that shop online say that they rarely (65%) or never (26%) return purchases that they make online. Yet, 39% of U.S. online shoppers say that a free return policy influences their decision to purchase "a lot." A free return policy impacts 37% of online shoppers' decision to purchase "a little." (Source: NPR/Marist Poll).
10. 69% of online shopping carts are abandoned
For small online retailers, it can take a lot of online and social media advertising to bring new customers to your website. However, getting shoppers to your site is only a small step toward converting them into paying customers. More than 69% of all online shopping carts are abandoned. (Source: Statista).
"Our customers average four visits to our site before choosing to purchase one of our products. We actively look for ways to engage customers on their third visit. We look for opportunities to provide value to our potential customers such as sending an informative or educational article. Our philosophy is to give more to our customers than they expect."
—Karen Ellis, Entrepreneur, JAKT GEAR
11. More than 50% of abandoned cart emails are opened
The average open rate for a marketing email from ecommerce brands is around 15%. However, emails specifically targeting consumers after they have abandoned their online shopping carts have an open rate of more than 50%. (Source: Moosend).
12. 44% of online shoppers start at Amazon
More online shoppers turn to Amazon than Google. When looking to purchase an item online, 44% of online shoppers immediately turn to Amazon whereas 33% of shoppers start with a Google search. About 10% of shoppers start at a specific online store like Target or Walmart. (Source: NPR/Marist Poll).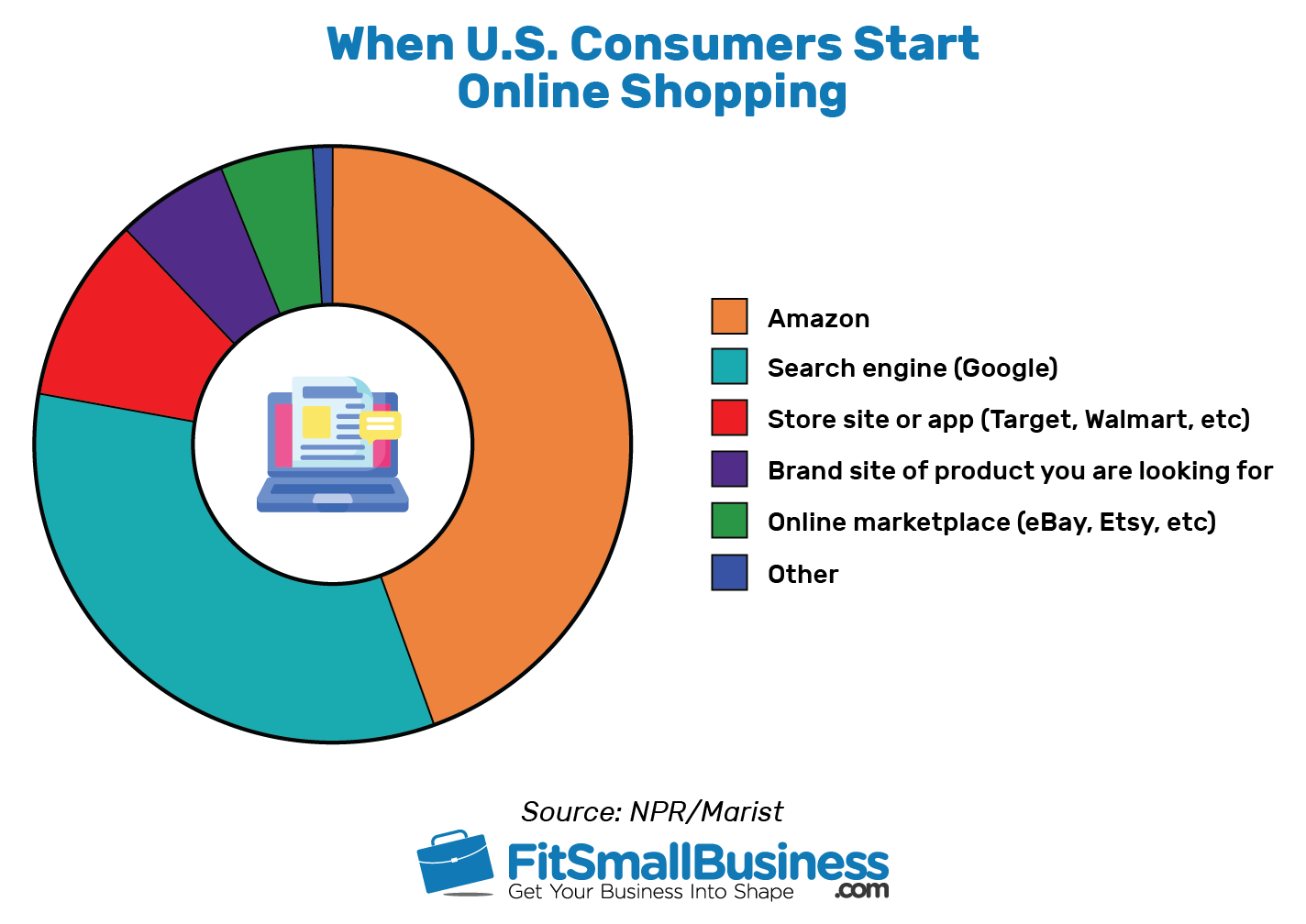 13. 26% of American adults are 'almost constantly' online
More than a quarter of U.S. adults report being online "almost constantly," and 43% of adults go online "several times a day." Young adults are more likely to be constantly connected as 39% of Americans 18 to 29 are "almost constantly" online. (Source: Pew Research).
14. 36% of male shoppers have purchased a $1,000+ product online
Of men who have shopped online, 36% have purchased an item that cost $1,000 or more. Only 18% of women report spending more than $1,000 on a single item when shopping online. (Source: NPR/Marist Poll).
15. Social media influences 87% of online shoppers
A very high 87% of online shoppers believe social media plays an important role in their shopping decisions. Almost three-quarters of consumers also say that there has been a direct link between watching a video online and making a purchase. (Source: Adweek).
"Social media is critical to online sales. You have to find organic brand integrations, especially with YouTube and Instagram influencers. The disclosure requirements for social media ads and sponsored posts are starting to change, although it doesn't seem to impact effectiveness or customers' perceptions seeing that something sponsored."
—Tim Trampedach, CEO, Torqued
16. Only 10% of all shopping dollars are spent online
Even though more and more people are shopping online and with higher frequency, most spending still occurs in store. Only 10 percent of all U.S. consumer spending is done online. (Source: U.S. Census Bureau).
17. Almost 66% of Americans have shopped Amazon
Of all U.S. online shoppers, 92% and close to two-thirds of all Americans, say they have purchased something from Amazon, which is by far the largest online retailer. (Source: NPR/Marist Poll).
18. 64% of consumers prefer the convenience of online shopping
The biggest draw for shopping online is the ability to shop at whatever time is most convenient. Consumers also shop online because it is easier to find a specific product they are seeking. (Source: NPR/Marist Poll).
19. 78% of consumers enjoy social media shopping
The NRF reports that of shoppers who have made a purchase through social channels, such as Instagram or Facebook Shop, are interested in purchasing through social media again. (Source: NRF Consumer View).
20. Drunk Americans spend $30 billion online annually
Drunk Americans spend $30 billion online each year. The average U.S. consumer spent $447.57 in unplanned online purchases after drinking alcohol in 2018. This number has more than doubled since 2017. (Source: NBC News).
21. 10% of U.S. adults do not use the internet
In 2000, 48% of American adults did not use the internet. Today, that number is down to 10%. However, that is still 10% of the population that is only shopping in stores. (Source: Pew Research Center).
22. Mobile conversion rates are 30% higher for small businesses vs large retailers
Online shopping conversion rates are always rather low. However, small retailers could have up to 30% higher mobile conversion rates compared to large retailers. (Source: PracticalEcommerce).
23. 84% of online consumers have purchased clothes or shoes online
A total of 58% of U.S. adults have purchased clothes or shoes online. Out of U.S. adults that shop online, 84% have purchased shoes or clothes. Electronics are the second most popular type of product to purchase online, with 48% of all U.S. adults having purchased a TV, computer, speaker, or headphones online. (Source: NPR/Marist Poll).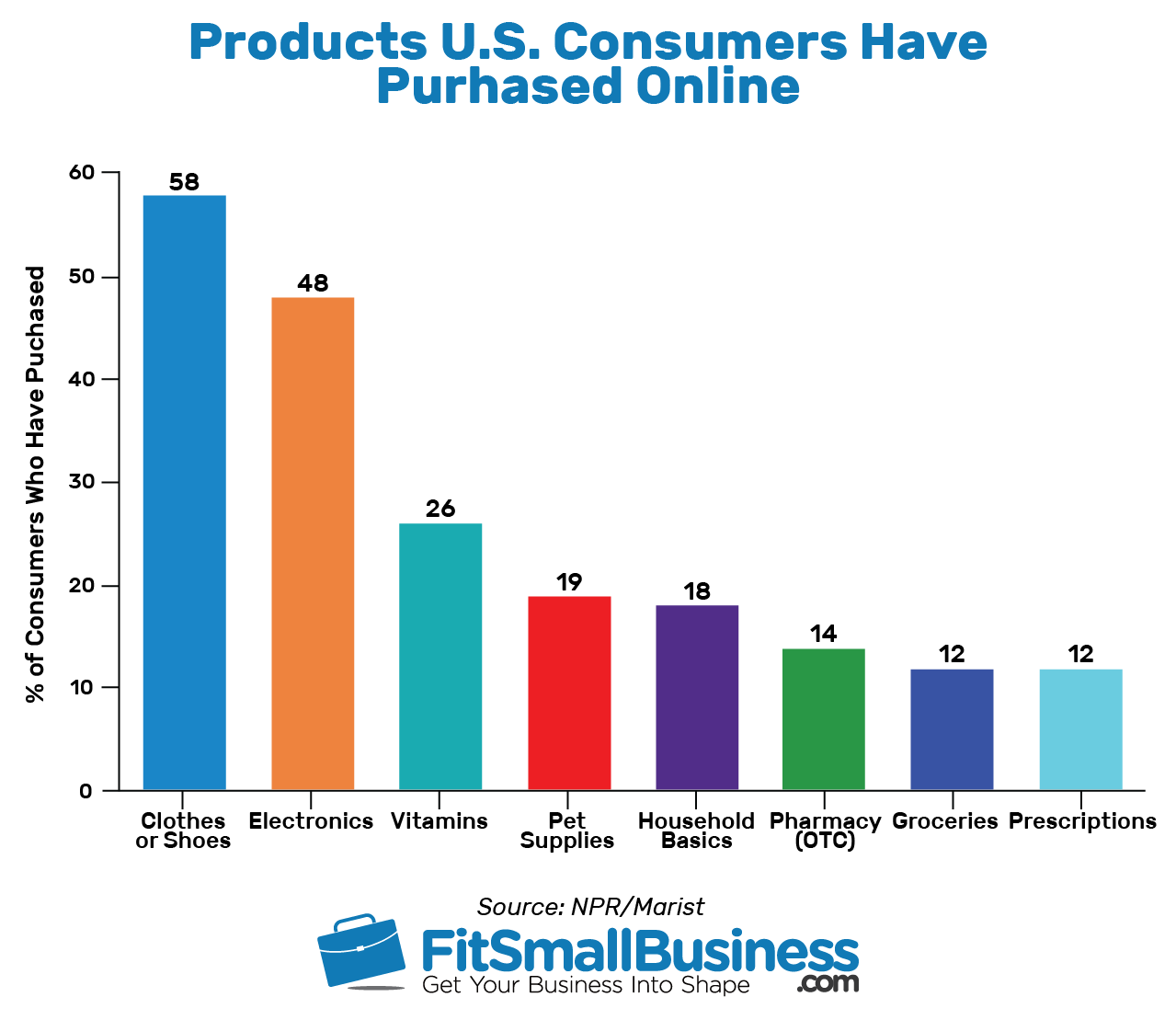 24. More than 50% of younger consumers want financing options for online purchases
Solutions that allow customers to buy now and pay later help increase online shopping sales. About 70% of baby boomers report that having a financing option doesn't influence them to make a purchase they otherwise wouldn't have considered. Generation Z and millennial shoppers buy more items or more expensive items when customer financing is available. (Source: BigCommerce).
25. Only 3% of grocery sales happen online
Online grocery ordering was invented 30 years ago with Peapod yet, today, only 3% of all grocery sales happen online. Comparatively, 30% of electronic sales and 22% of apparel sales happen online. (Source: The Atlantic).
Bottom Line
Online shopping statistics show that having a digital presence is critical for retail businesses. Last year alone, U.S. consumers spent $517.36 billion online. However, consumers are also using retail websites and social media to discover products, read reviews, and compare pricing before making a purchase online or offline.
Having an ecommerce site is crucial for every retail business. Ecommerce platforms like BigCommerce allow businesses of all sizes to manage their website and shopping cart, fulfill customer orders, track inventory, and market to customers. Visit BigCommerce for a free demo.