Pros & Cons of PayPal for Small Businesses
This article is part of a larger series on Payments.

PayPal offers easy and reliable payment services for both online (PayPal Business) and in-person (PayPal Zettle) sales, but not all businesses are compatible with its features. Here are general and product-specific pros and cons of PayPal to consider.
Pros & Cons At a Glance
PROS

CONS

Secure means of sending payment
Popular target for phishing and scams
Diverse financing options
Poor customer service
Extensive online and in-person payment solutions
Digital purchases aren't protected
Additional merchant support features
Disputes can delay refunds
Not sure if PayPal is the best payment solution for you? Check out our rundown of top payment processing platforms in the market today.
PROS

CONS

Online transactions cheaper than alternative providers
Confusing transaction fees
Integrates seamlessly with most business software
Expensive chargeback fees
Strong invoicing features
Few POS features and benefits
Instant deposits into your PayPal account
Expensive for international payments
Compatible with over 26 currencies, including cryptocurrencies and Venmo
Not compatible with high-risk merchants
Learn about PayPal's detailed pricing and features for online payment processing with our PayPal Business review.
PROS

CONS

Mobile-friendly
No add-on features available
Multichannel sales tools
Lacks offline payment processing
Free POS
Limited inventory features
Find out PayPal's detailed pricing and features for in-person payment processing with our in-depth PayPal Zettle review.
Pros of Using PayPal
The following are the advantages of using PayPal:
1. Secure Means of Payment
In a recent study, 69% of online shoppers in the US feel more secure purchasing online from merchants that accept PayPal. Because PayPal is known for its security, businesses offering it as a payment option lower their cart abandonment rate and increase conversion.
PayPal has established the following security measures to protect customers who opt to pay with its service:
Doesn't share sensitive payment details with sellers
Has round-the-clock monitoring of transactions to constantly monitor unusual events
Uses latest encryption technology to secure transactions from the beginning
Offers fraud prevention by enforcing its policy of not asking for sensitive information via email
Provides dispute resolution for any customer who wants to complain of unauthorized or incorrect transactions
Has purchase protection for customers who make purchases using PayPal and for payments made on its website. PayPal offers to reimburse clients the full purchase price they paid plus any original shipping costs, as long as they fall within the appropriate terms and limitations.
2. Diverse Financing Options
PayPal offers loans to its business clients to ensure they always have access to cash needed to expand their operations. Aside from this, PayPal also gives its clients' customers a credit line they can use to "buy now and pay later." That option alone makes businesses more attractive and helps drive more sales.
There are two different types of loans available for business clients:
PayPal Business Loan: Offers small business owners loans from $5,000 to $500,000 and is best suited for companies that are at least nine months in operation with at least $42,000 in annual revenue.
PayPal Working Capital: Provides business loans from $1,000 to $125,000 and is best suited for customers with PayPal accounts that have been active for at least 90 days and have processed at least $15,000 in PayPal transactions within the last 12 months.
PayPal Business Loans are fixed-term debts and considered based on a full picture of your business. You can receive funds as fast as the next business day after you request them. PayPal requires you to make fixed payments on the loan and will deduct funds directly from your business bank account on a weekly basis.
Meanwhile, PayPal Working Capital is a loan you can apply for based on your PayPal account history, and it only takes minutes to complete the application, approval, and funding process. PayPal automatically debits fixed repayment amounts through a share of your PayPal sales.
Another advantage of PayPal is the way business owners can offer credit to their customers as long as they have an eligible PayPal payment solution integrated into their website. PayPal also assists in making sure customers know this option is available for them early in their buying journey.
When offering PayPal Credit to your customers, you should know the following:
PayPal Credit is a reusable credit line that customers can use to shop.
PayPal Credit is already available to customers who checkout with PayPal.
There is no additional cost to business owners with customers that use PayPal Credit.
Business owners still get paid upfront like with any other PayPal transaction, even though their customers are paying for their purchases over time.
Meanwhile, Buy Now Pay Later is PayPal's latest customer financing payment option. By partnering with a long list of retail brands, merchants can provide customers with the option to pay for their purchases in four interest-free installments while merchants get the proceeds of their sale upfront. This payment method is compatible with popular ecommerce platforms and setup at checkout is easy.
3. Extensive Suite of Payment Solutions
For a long time, PayPal's payment solutions were focused on online personal and business customers. However, the company has expanded its features to offer on-site and on-the-go payment services as well. This puts PayPal in a great position to work with small businesses that are native to the online world but are looking to expand into brick-and-mortar stores and vice versa.
Small online businesses can use PayPal Checkout to offer a variety of payment methods. It gives customers the freedom to pay the way they want, whether with credit or debit cards and even funds from their bank. PayPal Checkout uses intuitive Smart Payment ButtonsTM, so it always presents the payment methods that are most relevant to each customer.
Brick-and-mortar shops can now manage their in-store transactions with PayPal's mobile app and card reader. Businesses can accept chip or magstripe credit cards, debit cards, and even contactless payments with the same security feature they offer to online customers. PayPal also has Zettle as its point-of-sale (POS) software, and it includes POS equipment like lockable tablets, receipt printers, card reader docks, and even cash drawers.
4. Added Merchant Support Features
PayPal is expanding its services beyond payment solutions by offering services that can help small businesses streamline their business processes—everything from invoicing to recordkeeping, tax computations, marketing, and even shipping. These services give small business owners an opportunity to build their online business from the ground up, fully supported by a strong and secure system.
Here are PayPal services beyond payment solutions that you might find useful:
Shipping: Business account users get discounts on USPS and UPS shipping while PayPal helps track and confirm the arrival of packages for both sellers and buyers.
Marketing: PayPal business accounts include tools to gather unique shopper insights so it can create customized incentives at no extra cost.
Recordkeeping: PayPal keeps extensive records of business transactions and also offers e-invoicing features.
Tax computations: You can set up PayPal to calculate taxes for every transaction. It can also track the payment volume of your business account and send a Form 1099-K to its user if it crosses the IRS thresholds in a given calendar year.
Small business owners will find that these features are easily scalable, so they should always fit within their budget. PayPal's website offers a resource center for its business account holders who would like to integrate its full range of business services.
Did you know?
You can save as much as 50% on your UPS ground shipments and 66% on 2nd Day Air shipments when using PayPal's shipping app. Seller protection is also available (subject to PayPal's guidelines for eligible purchases).
5. Fees Are Cheaper Than Alternative Providers
Because PayPal offers a wide range of services, its pricing structure is diverse. But, this also means small business owners only have to pay for services they want to use and at the level they need them. When analyzing the big picture, the cost of doing business with PayPal translates to a lower overall cost that's worth the value of the service quality it offers.
Selected PayPal Merchant Fees with Comparisons
Monthly Fees

Two free plans +

Payments Pro: $30/month

$0–$60

From $99/month

From $0

Online Payments

2.59% + 49 cents–3.49% + 49 cents per transaction

2.9% + 30 cents–3.5% + 15 cents

Interchange + 15 cents

2.9% + 30 cents–3.4% + 30 cents

Mobile Card Payments

2.29% + 9 cents

2.6% + 10 cents

Interchange + 8 cents

2.7% + 5 cents–2.9% + 30 cents

In-store POS Payments

2.29% + 9 cents

2.6% + 10 cents

Interchange + 8 cents

2.7% + 5 cents–2.9% + 30 cents

Virtual Terminal

3.49% + 9 cents

3.5% + 15 cents

Interchange + 15 cents

3.4% + 30 cents

Recurring Payments

3.49% + 49 cents

3.5% + 15 cents

Interchange + 15 cents

2.9% + 30 cents–3.4% + 30 cents

Peer-to-Peer

PayPal accounts: free

1.9% + 49 cents–3.49% + 49 cents

Debit cards: free (through Cash App)

Not supported

Not supported

Funding Times

PayPal-to-PayPal: Instant

Bank Transfer: 1–3 business days, or same-day for 1.5% fee

1–2 business days, instant funding for 1%, minimum 50 cents

1–2 business days

1–2 business days, instant funding for 1.5%
6. Integrates Seamlessly With Most Business Software
PayPal integrates seamlessly with most business software solutions—everything from online store builders and web design to marketing solutions. This gives small business owners a wider variety of business solutions to choose from regardless of budget, and allows them to still take advantage of PayPal's payment processing features.
You can visit the PayPal website to find a directory of providers it works with. Use its search function to help filter through its list of preferred partners. You can even get special discounts if you sign up with their partners using PayPal's special coupon codes. Also, you can check out its extensive list of software development kits for small business owners and their web developers.
7. Strong Invoicing Features
PayPal offers strong invoicing features for businesses that accept payments after billing their customers. There's no extra monthly and setup cost, and PayPal is pre-loaded with small business tools for easy billing management—including accepting ACH and e-check payments.
PayPal invoicing includes tools for accepting one-time and recurring transactions. Subscription-based retailers get tools for creating and customizing invoice templates and setting up recurring billing subscription options that are automatically delivered and include payment reminders. For service-type businesses, PayPal lets you create customized quotes or estimates, make adjustments based on customer requests, and convert the same estimates into invoices once approved.
Did you know?
According to 2019 PayPal user data, 76% of PayPal invoices get paid within a day of sending them out.
8. Instant Deposits to Your PayPal Account
For a small business, having quick access to funds helps continue its operations. What PayPal brings to the table is immediate access to your sales proceeds in the form of PayPal balance. And, because PayPal is a widely accepted payment method, you can use your PayPal balance to pay your vendors and contractors.
Also, if you sign up for a PayPal Debit Mastercard, you can immediately spend or withdraw your funds anywhere that accepts Mastercard and earn 1% cash back rewards for every eligible purchase. There's no annual fee and no credit checks, and the card will be sent to you one or two days after your request.
9. Works With Multiple Currencies, Including Crypto
PayPal's ability to make cross-border payments is among the reasons it has become one of the most popular online payment processing providers today. It supports 24 countries across the globe, allowing account holders to transact and convert their PayPal balance to any of these currencies for an additional 1.5% transaction fee.
The currency conversion is based on the current exchange rate plus a 3%–4% currency conversion spread when:
Paying for goods or services in a currency other than the currency the goods or services are listed in
Sending money to a friend or family member such that they receive a different currency from the currency in which you pay
Sending money using PayPal Payouts such that your recipients receive a different currency from the currency in which you pay
Another unique service of PayPal is its cryptocurrency management features. It supports its own cryptocurrency wallet and provides conversion to fiat currency at no extra cost. This allows account holders to use their cryptocurrency balance to make payments through PayPal. As long as customers have a PayPal cryptocurrency wallet, merchants with or without a cryptocurrency account can offer checkout with crypto without any add-on transaction cost.
10. Mobile-friendly Payment Solutions
PayPal offers mobile-friendly payment solutions for small businesses looking to increase their conversion rates on mobile devices. Whether the business has its own store app or a mobile-first/mobile-optimized website, customers can log in to their secure PayPal account to make payments without having to leave the seller's website. This added security puts customers' minds at ease so that they can complete their purchases.
More and more customers are exploring online stores using their smartphones. While mobile sales has seen a huge leap in its share of all ecommerce sales, stores experienced a 76.3% cart abandonment rate from a mobile device standpoint in the past 12 months. And from the list of reasons, the security of personal and financial information remains one of the major concerns for customers.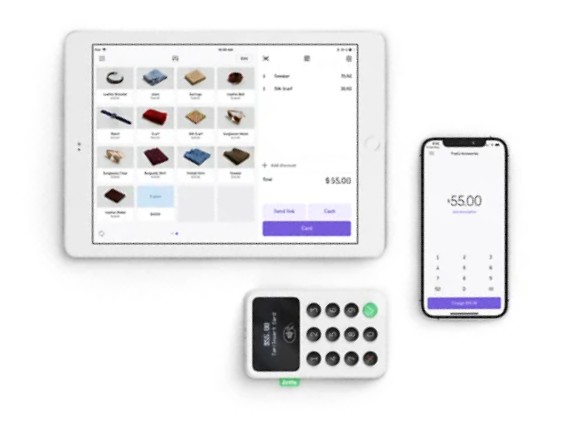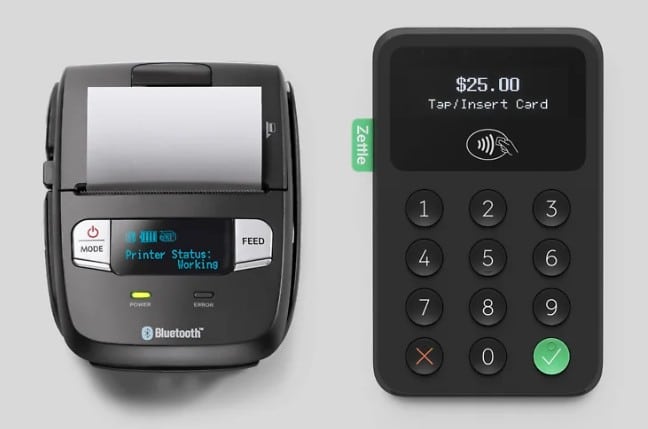 11. Includes Multichannel Sales Features
If you are an online business owner who wants to participate in occasional in-person sales, such as trade shows, fairs, and farmers markets, PayPal's POS (PayPal Zettle) and competitive processing rates are a viable option. It provides you with inventory tracking and basic restaurant tools and clock-in/out features to ensure that your sales run smoothly. The mobile app comes with a complete register that lets you ring up sales and manage your inventory.
Want to sell on social media? PayPal's commerce platform can host your listings, so you can sell online even without a website. PayPal provides you with tools to create listings that generate links you can share on Facebook and Instagram and via email, text, and chats. All you need to do is connect the PayPal Commerce Platform to your social media, and your customers can start making purchases securely.
12. Free POS
PayPal now offers Zettle as its POS software, along with mobile card readers to help users start accepting payments in-store and on the go. There's no monthly subscription fee or setup cost to use this product, and PayPal offers competitive transaction fees against most flat-rate payment processor alternatives like Square.
PayPal Zettle Pricing
| Transaction Types | Rates |
| --- | --- |
| Card-present transactions | 2.29% + 9 cents |
| Keyed-in transactions | 3.49% + 9 cents |
| QR code | 2.29% + 9 cents |
PayPal Zettle allows you to accept credit card, gift card, PayPal, and Venmo payments. And, while inventory management is basic, you can easily create variants, sell by specific units, upload and delete products in bulk, and set up low-stock alerts. It also lets you generate QR codes that your customers can scan and use to pay for their purchases.
Cons of Using PayPal
Here are the disadvantages of using PayPal in your small business:
1. Popular Target for Phishing & Other Scams
PayPal consistently ranks among the most popular targets for phishing scams. According to a cybersecurity report by VadeSecure, PayPal hit its peak in 2019, recording a phishing increase of 111.9% year over year. And while it has slid down to the eighth spot in rankings, the threat remains high with PayPal experiencing a 305% increase in the first half of 2022. The sensitive information inherent to a PayPal account makes it attractive to phishers.
PayPal has installed the most updated security measures in place; however, business account owners will need to know how to identify the latest and most common scam strategies. More information about this is available and always updated on the PayPal website.
As an alternative, we recommend Stripe, a payment processor with advanced security features that includes customizable payment risk level scores, secure data migration, and online identity verification for over 33 countries.
2. Customer Service Needs Improvement
Small business owners will find that the majority of negative feedback about PayPal is connected to its quality of customer service. Complaints vary from lack of support for fraudulent transactions to slow response times when resolving disputes. While PayPal's customer service is available via phone, email, and social media platforms, users still report unresolved issues that directly relate to poor customer service.
As of this writing, PayPal received a score of 3.7 out of 5 from around 900 PayPal account holders rating their experience of PayPal's customer service. Majority of complaints revolved around the poor service they received while asking for assistance over fund freezes and account holds.
For a solution with 24/7 support, consider Helcim or Payment Depot.
3. Seller Protection Policy Doesn't Cover Digital Goods
PayPal's seller protection policy shields small business owners from costs related to unauthorized transactions and undelivered merchandise. However, this is only for physical goods, which is a disadvantage to online merchants. PayPal does have an extended purchase protection plan for buyers that covers digital products (for those willing to pay extra). In case of any issues, sellers would have an opportunity to provide proof of transaction, including delivery receipts, and transcripts of conversations.
If you are in the business of selling digital products, we recommend Stripe. Radar, Stripe's chargeback protection solution, includes seller protection for both physical and digital products sold online at a rate of 0.4% per transaction.
4. Potential for Frozen or Delayed Funds
Regardless of who's at fault, any dispute raised by either the buyer or seller can result in PayPal limiting the merchant's account. Accounts may be frozen and refunds or returns may be delayed until the issue is resolved. To avoid this hassle, small businesses should maintain constant communication with their customers. This will ensure that customers feel more comfortable reaching out to the seller directly to solve misunderstandings instead of going straight to PayPal to file a complaint.
Did you know?
PayPal is an aggregate payment processor, meaning it processes transactions in large batches with other merchants. Because of this, PayPal is quick to freeze business accounts to reduce PayPal's own financial risk. This is typical of all aggregate processors (Square is another popular example).
If this is a concern, consider applying for a dedicated merchant account, such as the ones offered through Helcim, Stax, Payment Depot, or banks like Chase Merchant Services.
5. Confusing Transaction Fees
PayPal's transaction fees are widely varied and rates differ per use case. For example, under PayPal's commercial transaction category, rates range from 1.90% + 10 cents to 3.49% + 49 cents per transaction. Another category for online card payment services charges anywhere from 2.59% + 49 cents to 3.49% + 49 cents per transaction. There's also a different set of rates when using PayPal Zettle and for accepting international payments.
Below is a list of PayPal's current merchant fees:
For an alternative payment solution with simple transaction rates, consider Shopify if you have an online business, and Square for its flat-rate fees if you have a storefront.
6. Considerable Chargeback Fees
A chargeback is a reversal of charges after a purchase, typically initiated by customers when an item is lost, delayed, or not up to their satisfaction. Chargebacks can be costly, especially if you are a business using PayPal. With PayPal, a chargeback results in a $20 penalty per transaction on top of returning the customer's payment and losing the costs invested into shipping, documentation, and transaction fees.
Consider Square if high chargebacks are a dealbreaker for you. Square offers chargeback protection and waives up to $250 in fees per month.
7. Few POS Features & Benefits
While PayPal Zettle is free, it offers considerably fewer POS features compared to most popular competitors. It doesn't have kitting and vendor management tools to support larger inventory, nor does it offer add-ons that can scale with your business as it grows. Another disadvantage of PayPal Zettle is that it doesn't integrate with PayPal's online store, making sales and inventory sync impossible.
Shopify is the best alternative when it comes to multichannel sales. You get an online store and a free POS app that can handle larger inventory and sync both in-person and online sales and inventory automatically. If you need a mobile POS with a simple online ordering system, Square offers a free solution that is more feature-rich than PayPal's Zettle.
8. Expensive for International Payments
On top of its standard domestic rates, PayPal charges a premium of 1.5% per transaction when accepting international payments, including donations and for charity. Additionally, PayPal also charges an average of 3% to 4% spread on top of the current exchange rate for any transaction involving currency conversion. This is admittedly pricey, but there are not a lot of competitors out there that offer international payment processing to as many currencies as PayPal.
If your business involves a high volume of international transactions, consider switching to Stripe. While it also charges a 1.5% fee for international payments, the cost for currency conversion is only 1%.
9. Incompatible With High-risk Businesses
As an aggregate payment processor, PayPal is incompatible with high-risk businesses of any kind. Likewise, PayPal Zettle does not support age verification tools, making it incompatible for businesses selling age-restricted products. It also has limited integration features, meaning you can't really upgrade or expand Zettle's features.
If you need an online payment processor that's compatible with high-risk businesses, consider Payment Cloud. It supports medium- and high-risk merchant accounts, and unlike PayPal, it is highly praised for its customer support and has only a few complaints of frozen funds. For a POS system that's compatible with high-risk businesses, consider Lightspeed or Vend.
10. Lacks Compatible Point-of-Sale Integration
PayPal is an online payment processor first. Its point-of-sale (POS) service is meant to support business account holders who wish to process transactions through PayPal. Unfortunately, PayPal Zettle does not come with any available add-on POS features, nor does it have a range of compatible POS integrations. This makes it difficult for merchants with fast-growing companies that require other back-office tools such as shipping and vendor and employee management.
If you need a payment processing service with strong POS features, Square is your best option, particularly if you run a storefront. For ecommerce merchants, consider Shopify.
11. No Offline Payment Processing
For a mobile POS, it's crucial to be able to continue accepting payments even when the internet connection is interrupted. Unfortunately, while its mobile card reader is more feature-rich than most of its competitors, PayPal Zettle does not support offline payments. You will have to depend on your data or Wi-Fi when accepting on-the-go payments.
Consider an alternative like Square. Its POS can function offline, and it will store any offline payments to process and sync up once the internet connection is restored.
12. Limited Inventory Features
Inventory management tools in PayPal Zettle are limited and ideal only if you don't have a large volume of products. You can perform bulk actions—such as uploading, updating, and deleting product listings, and even tracking your inventory level to set a low-stock alert. However, you can only add up to three variant options, and PayPal does not allow you to create kits, build menu items, or manage your vendor list.
If this is a significant disadvantage of PayPal for your business, consider Shopify as an alternative. Not only is it capable of handling larger volumes of inventory, it also provides full integration with its mobile POS app, so your inventory levels are always updated for both website and in-person sales. This makes Shopify the best option for online businesses that require better inventory management.
Bottom Line
There are 429 million active PayPal accounts as of the first quarter of 2022, which means there's more potential business for small business owners who use the platform. When managed effectively, the benefits of PayPal business accounts can quickly outweigh the negatives. Aspiring entrepreneurs can utilize its financing and tax reporting features to build a profitable business that grows into a successful venture.
You May Also Like…