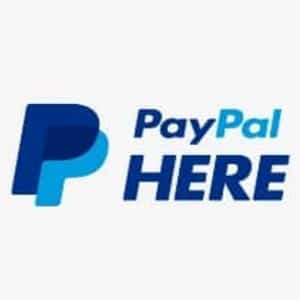 PayPal Here is a simple but versatile POS application that comes free with PayPal Here payment processing. With it, you can create products with variations, set prices and taxes, process payments, and run basic reports. PayPal Here is not as feature-rich as most POS systems, which may make it problematic for some businesses, but many others find it powerful for processing payments on the go.
What We Recommend PayPal Here for:
We've reviewed scores of POS software and dozens of payment processing systems. We find PayPal Here a worthy competitor for nearly any business needing credit card processing. Its POS system, while simple, offers powerful versatility. It lets you set inventory with items, variations, options, and categories, and it even handles international and cross-border payments. You can have up to 1,000 users on your business account, a great help when you have rotating sales staff or employees who don't always handle sales but should be able to in a pinch.
Learn more about what a POS system should do for your business.
In short, PayPal Here is best for:
Hobbyists or crafters: Because it's free and has competitive credit card processing fees, PayPal Here is ideal for people who only sell their goods on an irregular basis, such as at craft fairs. It's one of our top picks for those needing a basic credit card payment app or mobile credit card processing.
Service businesses and tradespeople: Because clients can pay through the mobile app, it's ideal for service people who work in customers' homes and accept payment upon job completion. PayPal itself lets you send invoices if needed. The PayPal Here POS app can be downloaded for free on any iOS or Android device.
Businesses with simple POS needs: If you have a boutique or an online business that also attends live events, PayPal Here most likely has the tools you need. While it did not make the list of our top-recommended free POS systems, it's a good option if reliable payment processing is more important than any other features.
Businesses that sell at international events or across borders: PayPal can process payments in over 200 countries and handle cross-border payments for an additional fee. Few payment processors with POS systems do that.
When PayPal Here Would Not Be a Good Fit:
Large restaurants or fast-food places: If you need a KDS, have a drive-thru, or serve alcohol, you may find PayPal Here lacks the tools that will make running your restaurant easier. Check our buyers' guide on the best restaurant POS systems for more robust software.
Stores with large and fast-moving inventory: Because PayPal Here lacks low inventory alerts and real-time item tracking, it's not the best for busy retailers or grocery stores that need to keep up on ordering stock. Consider these best POS inventory systems instead.
Stores that work with multiple vendors: PayPal Here does not have vendor management, although you can do some of this on PayPal itself.
Stores that want rewards and loyalty programs: Health and beauty services (like massages or facials) and coffee shops wanting to encourage repeat customers—or any business that wants to reach out to customers to encourage repeat business—will find PayPal Here lacking. It can text or email receipts, but that's the extent of its customer contact tools—and it does not offer a loyalty program. Read our top picks for retail POS and spa/salon POS systems for a more feature-rich application.
Looking for something different? Read our guide to the best POS systems for small businesses to find software that's right for you.
PayPal Here Overview
PROS

CONS

Free with PayPal payment processing
No bar code scanning, registration
Works on Android, Windows, and iOS devices
No low-inventory alerts
Accept cross-border, international payments
No employee scheduling or management
Inventory includes variations and options
No customer management
PayPal Here Pricing
POS fees: None
Monthly fees: None
Card-present transaction fees: 2.7%
Card-not-present transaction fees: 3.5% + 15 cents
Online and invoicing: 2.9% + 30 cents
Cross-border transactions: Additional 1.5%
Android card reader price: $19.99 for the swipe card reader; $24.99 to $99.99 depending on style, for chip and tap readers; first reader free.
For small and occasional sellers, PayPal is often the cheapest credit card processing solution.
PayPal Here Payments
Low card-present transaction fees
Handles cross-border payments
Accepts PayPal and Bitcoin
May hold payments in excess of $500 per week
PayPal is an extremely popular payment solution for small businesses because it works equally well for brick-and-mortar stores, tradespeople, and hobbyists who sell their wares. Accept credit cards, online and touchless payments, and, of course, PayPal. The mobile card reader is easy to use, syncs to your PayPal account, and even accepts cross-border payments—a big help if you attend trade shows outside your home nation. PayPal recently added Bitcoin processing as well. Learn more about the pros and cons of PayPal in our article.
Payments go directly to your PayPal account, to a limit. PayPal Here reserves the right to hold funds in reserve for 30 days, and PayPal says it does this in case of chargebacks. The contract does not specify a specific amount; however, MobileTransaction.org says PayPal has a $500 weekly limit, meaning if you process more than $500 in a seven-day period, the balance will be held in reserve for 30 days. One of the most common complaints by users is withheld funds.
PayPal Here Hardware
Works with Android, Windows, and iOS
Can purchase or lease hardware
Competitive pricing
PayPal Here works with Android, Windows, and iOS, which gives you the choice of using only the computer or mobile devices you are most comfortable with. The apps themselves work on phones, tablets, and even laptops or desktops through your PayPal account. This also means that if you want to let your salespeople use their own devices—such as while at a trade show—they can have the app on their personal device and log in with their unique password.
PayPal offers a wide range of POS hardware for use in your store or restaurant as well. It sells all-in-one devices, card readers, stands, printers, cash drawers, and accessories but offers only one type of tablet—the Apple iPad. Notably absent are barcode scanners, as PayPal Here does not have barcode features.
You can purchase the hardware outright or lease it for a two-year term through PayPal's Portal Advantage program. By leasing, you also get the SalesGuard Protection Plan, which includes hardware tech support and next-day replacement of broken items. Here are some pricing ranges:
All-in-one: $440, or $21.51 per month
Credit Card Readers: $25–$99; the $99 can be leased for $4 per month
Stands: $24.95–$176, or $6.45–$7.33 per month
Printers: $22.50–$350, or $12.50–$17.50 per month
Cash Drawers: $27–$125, or $5.50–$6.25 per month
PayPal Here Features
PayPal Here is a versatile POS system designed for taking payments on the go, although it can work in a brick-and-mortar business. The setup is very simple: download the app, sign up, and choose your credit card reader (some are free for the first one). Then, log in with your PayPal account and tap the menu button. You can set up items in the Item Catalog section, connect card readers, add users with permissions and their own passwords, and more.
PayPal Here Sales Functions
Once you log in with your PayPal password, PayPal Here takes you straight to the register. You can type in the item name or find it on the menu. If you've already put in the taxes, PayPal Here will calculate them for you. Otherwise, you can put them in at this time. This is a nice feature for people who travel to other states for sales and have to pay different taxes. Next, swipe, dip, or tap the payment. If your customer prefers it, they can pay via PayPal as well. You can also record cash or check payments. PayPal Here lets you email or text the receipt.
PayPal Here Inventory Tools
PayPal Here offers a simple but powerful inventory system for creating and classifying products. You can add variations, such as size or color, as well as options—the ability to add or subtract ingredients from a salad, for example. Naturally, you can name the item, set the price (which can change for variations and options), and upload a photo. It does not have low-stock alerts or vendor processing, however.
PayPal Here User Permissions
You can add up to 1,000 users on the PayPal Here POS system, giving each their own passwords and permissions. It's easy to track sales and app use.
PayPal Here Reports
PayPal Here's reporting system is basic but gets you the most important information on sales. You can customize the date and see sales by salesperson, items purchased, or payment type. Reports can be printed, emailed, or downloaded as a CSV file.
PayPal Here Ease of Use
Simple interface means intuitive functionality
Help options include FAQs, guides, and videos
Support is available by phone or email through the app
The simplicity of PayPal Here means it's very easy to use. Signing up is as undemanding as getting a PayPal account and downloading the app. The menu is simple, and the steps are clear for inputting information.
If you need help, there is a support button with FAQs, contacts, and copies of the legal agreements. Some of the menu items also have video tutorials. The videos on the website are older, but the processes are unchanged. The website help section also leads you straight to PayPal Help guides, which are in the form of FAQs and include images, along with how-to information. The app also lets you contact support by phone or email.
PayPal Here Alternatives
If you need a stronger POS program than PayPal Here supplies, there are several POS systems that partner with PayPal for payments so that you can expand your features without getting a new merchant account:
Overall, I recommend Square as the best PayPal Here alternative. Square is free with credit card processing and works great on Android and iOS, but it offers more features in its POS software plus other paid add-ons, like payroll, that let you manage your entire business on one suite. Read our full Square POS review, or compare Square vs PayPal.
What Users Think of PayPal Here
We scoured trusted review sites online, plus reviews of the mobile app on the Google and Apple app stores. Overall, this POS and payment system is well-liked by small and indie business people. Here's what we found.
Overall PayPal Here User Ratings:
Trending Praises and Complaints About PayPal Here
Most reviews address the payment processing side rather than the POS software itself. Also, many businesses are using it in conjunction with PayPal itself—for example, using the app for in-person transactions and PayPal for invoices. However, reviewers overall appreciate the ease of use, convenience, and wide range of payment options.
Those who complained again addressed payment processing. The most common complaint was withheld funds, as users found them arbitrary and had difficulty convincing PayPal to release funds early. One warned not to depend on PayPal Here if you use the money to pay bills. Of course, people wanted lower processing fees. Those who commented on POS wanted more functions, like transaction details in reporting or login alternatives to passwords.
| Users Like: | Users Don't Like: |
| --- | --- |
| Super convenient | Holds money; reasons ill-explained and seem arbitrary |
| Easy-to-use | Live customer support difficult to reach |
| Trustworthy company | Some people have problems with the card readers, connecting devices via Bluetooth |
Bottom Line
PayPal Here is an excellent and popular POS and payment processing system for hobbyists, small retailers or eateries, and businesses in the service industry. Its POS system is simple but useful and works well on Android, Windows, and iOS operating systems. Best of all, it's free with PayPal. If you already have a PayPal account, download the app and get started.