PayPal Zettle Review: Is the New PayPal POS Right for You?
This article is part of a larger series on POS Systems.
PayPal Zettle is PayPal's newer mobile POS app that replaced PayPal Here. It uses PayPal for its payment processing and provides a complete POS system for tablets or mobile.
In our evaluation of the best POS systems, PayPal Zettle earned an overall score of 3.57 out of 5, and did not make our list of the top 10.
While it has one of the lowest in-person processing rates, and a user-friendly app, the system provides standard register features, basic business management tools, and very limited integrations. It also does not yet integrate with PayPal's online store.
PayPal Zettle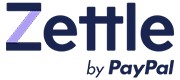 What We Like
PayPal checkout options, peer-to-peer, and QR payments for in-person sales
Low, card-present flat-rate transaction fees
Free POS software subscription
Integrates with Shopify
What's Missing
Limited features for restaurants, appointments
Limited POS integrations (does not integrate with PayPal online store)
No offline payment processing
PayPal has a reputation for freezing accounts
When to Use PayPal Zettle:
When to Use an Alternative
If you run:
We've tested dozens of POS systems, and after reviewing Zettle, we find it a strong mobile payments competitor to Square, the industry leader. It's simple enough for the solopreneur and, with PayPal's processing rates, a good option for the hobbyist.
On the other hand, while PayPal easily integrates into some of the best POS systems, you need to consider alternative solutions if you have a growing business:
Unlike Square, PayPal Zettle does not have any paid plans or add-ons, so you may quickly need a more robust POS solution.
Zettle has some inventory functions, like low stock alerts and variants; however, it lacks kitting and vendor management.
PayPal has an online store, a virtual terminal, and integrations, but they do not work through Zettle.
Zettle has some features that might work in a restaurant, like printing order numbers on receipts, but it's not the best option. It does have a food and drink solution, but it costs extra, is iOS-only, and is not yet available in the US.
PayPal Zettle Deciding Factors
Supported Business Types

Retail, Restaurant (not recommended), Service

Standout Features:

Integrated PayPal checkout method for in-person sales
Free POS software
2-in-1 mobile card reader with PIN pad
Product catalog with images
Integrates with Shopify for multichannel sales
Real-time reports
Venmo QR payment method
Invoicing tools

Monthly Software Fees

Very Competitive

$0

Setup and Installation Fees

$0

Contract Length

Pay-as-you-go

Payment Processing Options

PayPal payments processing

Payment Processing Fees

Very competitive

In-person: 2.29% + 9 cents

Keyed-in: 3.49% + 9 cents

Customer Support

Extended business hours for live support
24/7 email support
Extensive, search-enabled user knowledge bases
PayPal Zettle Fee Calculator
Top PayPal Zettle Alternatives
| | | |
| --- | --- | --- |
| | | |
| | | |
| Best for: Free and easy POS without using PayPal | Best for: Restaurants | Best for: Multichannel sales |
| Plans from: $0-$60 | Plans from: $0-$340 | Plans from: $9-$299 |
| Payment processing from: 2.6% + 10 cents | Payment processing from: Custom | Payment processing from: 2.4% |
| Hardware from: $299 | Hardware from: Custom | Hardware from: $179 |
| | | |
Zettle's software is completely free—no trials, no premium plans. Its rates are 2.29% + 9 cents for card-present transactions, and 3.49% + 9 cents for keyed-in transactions. The rates are extremely reasonable. For example, most mobile POS systems charge 2.5% and higher for card-present transactions.
Chargeback fees are $20, which is fairly standard.
| | |
| --- | --- |
| In-person transaction fees | 2.29% + 9 cents per transaction |
| Keyed-in transaction fees | 3.49% + 9 cents per transaction |
| Invoicing transaction fees | 3.49% + 49 cents per transaction |
| QR code transactions > $10 | 1.9% + 10 cents per transaction |
| QR code transactions =< $10 | 2.4% + 5 cents per transaction |
PayPal is a highly popular merchant service for small businesses because it works equally well for brick-and-mortar stores, tradespeople, and hobbyists who sell their wares. It processes credit cards, online and touchless payments, bitcoin, and, of course, PayPal. Learn more about PayPal as a commerce platform and its pros and cons in our articles.
Zettle processing fees: Its fees are often cheaper than other flat-rate payment processors—in particular, Square, which is its closest competitor. However, there are alternatives, including those that provide interchange-plus pricing, which may provide better rates if you do high-volume business. Find alternatives in our review of the best merchant services. You cannot use Zettle software with them, however.
International sales: PayPal processes payments in over 200 countries and 100 currencies. For an additional fee, it will also do cross-border transactions. However, we did not find any tools within Zettle to support this, such as multiple currency designations, although you can set it for your preferred currency. You can also set different VAT rates.
Transaction and processing limits: Zettle can process up to $500,000 in 24 hours ($10,000 per transaction) for chip and pin transactions. For chip and signature payments, the 24-hour limit lowers to $200,000. This could be sufficient for most small businesses. Of more importance, perhaps, is the minimum transaction limit of $1.
Deposit speed: PayPal Zettle deposits daily into your PayPal account, but transferring funds into a checking account takes two or more days. PayPal has been known to hold funds for up to 30 days, as well. The most common complaint against PayPal (which has been carried to Zettle) is withheld funds.
No obligation: PayPal does not charge monthly fees or have contracts like many other payment processors do. That makes it easy to use when starting out or as an additional service.
There's a lot to consider when choosing a merchant service. If you are just starting out, read our guide on merchant services and learn what they should do for you before signing up with anyone.
Zettle card readers are $79, with the first one discounted to $29. Unlike other popular mobile payment processors, like Square or Payanywhere, it does not offer a free reader. However, PayPal's reader processes chip, tap, or swipe, and has a pin pad, which is more than most free readers offer. It runs approximately eight hours or 100 transactions between charges. It's also EMV (Europay, Mastercard, and Visa)-certified.
If you want something similar with Square, for example, you would need to upgrade to a card reader terminal, which costs $249. You can order the PayPal reader through the app, although, ironically, you cannot pay for it with PayPal.
Zettle has hardware POS kits that cost $249 to $699, which makes them among the least-expensive POS systems that we've reviewed. The kits include combinations of a touch screen, receipt printer, and other peripherals. The cheapest, for example, has a reader, a dock, and a stand for an iPad. Other peripherals include receipt printers and barcode scanners.
| | | |
| --- | --- | --- |
| Store Kit Mini | Store Kit Portable | Store Kit Standard and Plus |
| Best for: In-store startup | Best for: In-store mobility and curbside sales | Best for: Retail businesses issuing paper receipts and handling larger inventories |
| Includes: Zettle Stand 360, Zettle Reader 2, and Zettle Dock 2 | Includes: Zettle Reader 2, Bluetooth-enabled portable reader, and Thermal Rolls for Portable Printer | Includes: Zettle Stand 360, Zettle Reader 2, Zettle Dock 2, Smart Printer, Thermal Rolls for Smart Printer, and optional Barcode Scanner |
| Cost: Starts at $249 (add $329 for iPad) | Cost: Starts at $339 | Cost: Starts at $499 without barcode scanner; $699 with barcode scanner |
| | | |
Setting up and applying for a PayPal Zettle account is easy. You can either start by downloading the Zettle app from iTunes or Google Play and filling out your information within the app, or register through the PayPal website. You can then order your hardware once you have an account.
Contract & Terms of Service (TOS)
Aside from the standard PayPal merchant terms of service, those who sign up for Zettle are required to agree to PayPal Zettle TOS. One of the interesting pieces of information we noticed within the Zettle contract is that while PayPal is known for its international payment processing, Zettle users are limited to processing US transactions unless otherwise approved by PayPal.
Other important points to note are the sections on restrictions, fees, chargebacks, and termination. Click on the copy of PayPal Zettle TOS below for details:
Zettle's register is easy to use and has a clean interface and a lot going for it, like generating order tickets, allowing customers to include tips, printing receipts, and issuing refunds. A small business will find it satisfactory, and its simplicity is an asset.
However, PayPal Zettle lacks a number of register functions you would normally find available in popular alternatives such as online ordering, order management, and loyalty management features. You get basic customer directory tools and limited stock adjustment options that make processing voids, returns, and refunds less streamlined compared to other POS software.
And, while PayPal Zettle integrates with Shopify for multichannel sales, users will be required to use PayPal as a payment processor. This means that Shopify will also charge a commission fee for each transaction, making it more expensive to accept payments.
Here are a few things you can do with a PayPal Zettle register:
Payment types: You can accept credit cards, gift cards, PayPal, and Venmo. The card reader is EMV-certified, which is now required by law in the US. (For manual card entry, you need a PayPal Business account.) While PayPal also accepts bitcoin, there's no setting for this on Zettle. You can also record cash transactions.
QR codes: A feature that's growing in popularity with POS software is generating a QR code that your customer can scan in order to pay. You need to activate this feature on Zettle to use it.
Sell by units: You can set your prices in the inventory section to sell by units such as ounces, cases, etc. Keep in mind that there's no kitting capability.
Partial refunds: Zettle recently added partial refunds, allowing you to refund the cost of one or more items on a receipt rather than the entire transaction.
Multiple logins: You can set up logins for your employees to track sales. You can also handle multiple accounts on one device, switching between them as needed. This is one way to get around the fact that Zettle, unlike Square, does not have multi-location functions.
Mobile App
PayPal's Zettle mobile app requires iOS 10, or Android 5.0, or higher. It has a complete register and backend system, from ringing up credit card sales to analyzing sales reports. Recent complaints include the card reader not connecting, changes due to the acquisition by PayPal, and problems with a recent upgrade making it hard to log in. However, the majority of the reviews say it's easy to use.
As of this writing, the apps have these scores:
---
PayPal Zettle did not score well for this criterion, having only basic inventory, reporting, and very limited marketing tools available for use. The software also does not have tools for vendor and order management, on-hand counts, and proper multilocation management features.
However, if you just need a simple mobile POS app, PayPal Zettle's no-frills approach might be sufficient.
Inventory Management
Zettle's inventory software is very simple but has several features that can make it a powerful tool. However, it does not handle vendors, create kits, or build menu items.
Bulk actions: You can load, assign categories, and delete items in bulk.
Low-stock alerts: Zettle tracks items and issues low-stock alerts. These show up in the shopping cart when you are selling a low-stock item.
Variants: You can add up to three options. These are pre-defined as Color, Size, Style, Material, and Finish. Once you set the variant, you create different values and assign a price to each.
Gift cards: You can manage gift cards that are premade, emailed, or physically created by you. These are tracked in inventory.
---
Reports
Zettle only offers basic sales reports, including an overview of a particular period, sales by product or category, staff performance, payments made, fees paid, and refunds granted. You can export your reports or data in PDF or Excel format.
---
Employee Management
Unlike most popular POS systems, PayPal Zettle does not have a wide range of tools for employee management. You can use your PayPal Zettle settings to create sub-accounts and assign each to your staff with individual usernames and passwords. This gives them access to limited functions such as payment processing.
With this feature, you can add more checkout terminals within your store or link multiple store locations. Note that creating sub-accounts for multiple users is important as PayPal is known for freezing accounts when it detects unusual activity such as multiple access. This is specifically mentioned in the Terms of Service.
---
Customer Management
Like Square, PayPal Zettle lets you sign up customers at the point of checkout, however, Zettle's tools are quite limited compared to other POS software providers. PayPal Zettle currently does not have any available marketing software integration. You can store customer email addresses and export them in bulk to upload to an email marketing software.
---
Fraud Protection & Chargebacks
Zettle is EMV-approved and complies with the strict Payment Card Industry Data Security Standard (PCI DSS) for handling card data. Zettle uses advanced machine learning systems to monitor every transaction being processed, 24 hours a day, to flag suspicious activity.
When a customer files a dispute, PayPal gives you a chance to address the issue, and if it can be resolved, then there are no charges. You have 20 days to work with the customer to fix any problems, but if either you or the buyer escalates the dispute to a claim, PayPal gives 10 days. If it cannot be resolved and the customer is refunded their money, PayPal charges you a $20 chargeback fee. There is no fee for bank reversals.
---
24/7 email support
Extended live support hours
Help section not always easy to search
No offline mode
Very limited POS integrations
Like most of PayPal's products, Zettle is easy to use and popular. For daily use, the lack of offline mode may cause problems if you are away from data or Wi-Fi.
PayPal is still supporting Here and transitioning to Zettle in the US, so there's not as much information about it as about PayPal Here. We did have some issues finding definitive answers to questions when using the search in the help section, but the articles themselves were clear, albeit unillustrated. Support is 24/7 but by email.
As a payment processor, PayPal has always scored high in our evaluation for its easy-to-use features and competitive fees. We recognized the same value-for-money, software reliability, and ease of use in Zettle, not to mention a more simplified set of payment processing fees. The point-of-sale software has also received below-average user reviews.
However, it has only been just a little over a year since Zettle replaced PayPal Here, and there are still a number of features not yet available to US PayPal merchants. PayPal Zettle lost significant points for the lack of key POS features. There are also no add-on options and very limited integrations to supplement these tools.
What Users Say in PayPal Zettle Reviews
The only reviews we found were on Trustpilot, where Zettle has over 3,000 reviews and a score of 2.7 out of 5. This is lower than the previous update, with complaints about PayPal taking it over, and particularly about accounts being frozen. Of all the complaints about PayPal services, this is the most common. Another common complaint was the lack of support, either live or in the form of help articles.
One particularly noteworthy feedback is from a user who complained that he bought the Zettle card reader under the impression that it accepts swipe payments, which the hardware no longer supports. A quick review of the PayPal website showed that this information has yet to be updated, which may seem like a minor oversight but can clearly affect the system's popularity.
On the other hand, people said the system itself was easy to use. There are a few shining stars in the support department who were mentioned by name. The card reader also received praise.
When reading through user reviews, here are some of the trends that I noticed:
PROS

CONS

Easy to use
Freezing accounts
Quick setup
Poor customer service
Professional, aesthetically pleasing interface
Previous iZettle users said services were interrupted, support went down, and readers stopped working after PayPal took over
Methodology—How We Evaluated PayPal Zettle
We test each of the POS systems ourselves to provide you with an extensive review of the product. We start by comparing the system's core set of features against what is expected of a functional POS software such as easy transaction and order management and flexible payment processing. We then evaluate its affordability and value-for-money, making sure that the system is easy to use, offers good value, and is able to grow with your business.
We use these criteria to examine the best overall POS systems. However, when looking at specific use cases, such as for retailers, complex inventory management, or mobile POS, we adjust the criteria to match the needs of those business types, which is why every POS has multiple scores across our site depending on the use case you are looking for.
Click through the tabs below for our overall POS evaluation criteria:
30% of Overall Score
We reviewed the pricing structure for both hardware, software, and payment processing. Points are awarded to systems with a starter plan and monthly fees less than $75 (extra points for free plans). Transparent payment processing fees, including negotiable or volume discount rates, are also given high marks, while points are docked for caps on the number of users, products, transactions, or sales you can process without upgrading plans. PayPal Zettle unsurprisingly earned above-average marks here.
15% of Overall Score
We look for customizable hotkeys and easy product lookup, return management, mobility to ring sales curbside or on the sales floor, flexible payment tools like contactless, gift card, store credit, layaway, and order-ahead options. Finally, we considered whether the system can process custom, work, or service orders such as repairs. PayPal Zettle struggled in this section, missing out on online ordering and loyalty program tools, while also scoring low for checkout customizability and streamlined payment features.
15% of Overall Score
Our main focus is on inventory management—low-stock alerts, matrix inventory, and purchase orders, plus easy stock counts and shipment receiving. We also consider CRM tools, marketing, employee management features, omnichannel management for creating an online store, and reporting capabilities. PayPal Zettle did not do well in this category, with most inventory management tools missing and very limited employee and multilocation management functions.
20% of Overall Score
We look for easy installation, detailed training materials, and 24/7 customer support. We also consider whether the system is a hybrid installation or otherwise offers an offline mode so you can still operate if the internet goes down.
We also favor software that can run on various hardware so retailers can choose their preferred devices. Finally, we took our own experience using the software into account, examining how features performed in practice. PayPal Zettle fared well in this category, only missing points for customer support availability.
20% of Overall Score
In this section, we evaluated PayPal Zettle by its full feature set (including any standout tools), the value it offers for the price, popularity, user reviews, whether or not the system experiences a lot of downtimes, and the overall experience of navigating the system's interface. It earned above-average marks, missing only partial points for features.
*Percentages of overall score
PayPal Zettle Frequently Asked Questions (FAQs)
Who should use PayPal Zettle?
PayPal merchants with a business account who want to sell in person will find PayPal Zettle an ideal choice. We recommend PayPal Zettle for small retailers with infrequent sales, such as hobbyists and those who participate in trade fairs and sell at farmers markets.
---
When should I use a PayPal Zettle alternative?
Consider an alternative if you want to start growing your business with larger inventory management capabilities and regular monthly sales.
---
What's the difference between PayPal Here and PayPal Zettle?
PayPal Here is PayPal's previous POS product that's slowly being phased out. New PayPal merchants in the US are offered Zettle, as PayPal's new POS software.
---
How do I get my money from PayPal Zettle?
Like any PayPal merchant, users have immediate access to their funds through their PayPal balance. Funds can also be withdrawn to a linked card or bank account within two business days or instant for 1.5% fee.
---
Can I Use PayPal Zettle with a mobile device?
You can pair your Zettle card reader via Bluetooth with an iOS or Android smartphone or tablet. The PayPal Zettle POS app is free to download from iTunes and Google Play.
---
Bottom Line
PayPal is a remarkably versatile payment processor that works in online stores, social sites like Facebook, multichannel sales like eBay, and more. However, its POS app, Zettle, is somewhat limited. You can use it for basic inventory, ringing up sales, and gift cards. Nonetheless, it is free to use, and with low transaction rates, it's a good tool for solopreneurs or small businesses.
If you have a PayPal account, go to my.zettle.com and sign up now.
You May Also Like…