How to Use Trello as a CRM in 7 Steps
This article is part of a larger series on CRM.
Using a project management tool like Trello for customer relationship management (CRM) is a cost-effective alternative to investing in traditional CRM software. You can perform lead and pipeline management by setting your sales process, designing your Trello boards, lists, and cards like records in a CRM, assigning your team members, and tracking your sales progress.
We'll show you how to use Trello as a CRM in seven steps and discuss its useful power-up features and alternatives.
1. Determine Your Sales Process
Because you're designing and visualizing a sales pipeline by hand, you need to determine what that process looks like. Consider the chronological activities or steps that go into finding potential customers, building your relationship with them, and then closing the deal. At a minimum, most sales processes involve lead generation, making introductions, conducting sales presentations, and closing the deal as common stages.
However, other stages need to be acknowledged during your process as well as after the deal is closed. Below are some examples of other stages you might incorporate in your sales process:
Lead Qualification: Determining whether a prospect is a good fit for your products or services and if they are potentially interested.
Product Demonstration: Showcasing your product's features and how they work in-depth and addressing questions from the potential customers
Underwriting/Quoting: Reviewing a potential client or customer and their needs to formulate price estimates.
Sending Proposals: Generating and sending a contract proposal to a prospect with pricing, deliverables, and terms of services to acquire their signature.
Negotiation: Back-and-forth conversations to find agreement among customer and provider on pricing, product or service deliverables, and terms.
Client Onboarding: Transitioning newly-signed customers through activities such as setting them up with the product or service, training, and connecting them with their account manager or another point of contact.
Cross-Selling or Upselling: The process of attempting to sell complementary products or services to what they already purchased and/or upgrade them to a more premium product or service option.
Re-introduction of Offerings: Re-introducing products or services to prospects who were lost deals previously, especially if there are changes to your offerings that might interest them.
2. Design Trello CRM Boards
Ordinarily, CRM software automatically provides default pipeline modules to track sales progress. However, when you're using Trello for CRM purposes, you need to manually create this module using "boards." From the Trello dashboard or a specific workspace you're using for your business, hit either the "create" or the "+" button. Either one will prompt you to see a few options in which you should select "create board."
Each board should represent a different pipeline required for your product or service. If you sell multiple things that require variations in your sales process, create a board for each one and name it accordingly.
For instance, let's say you run an insurance agency that sells property & casualty (P&C) insurance to businesses and also provides risk management consulting services. Therefore, you would have one board to represent the P&C insurance products pipeline named "Commercial Property & Casualty Insurance Sales Pipeline" and another board for the risk management consulting named "Risk Management Consulting Sales Pipeline."
3. Add Your Lists
From the board you just made, create lists by selecting "add a list." In the context of sales, each list will be a different stage in your sales pipeline you deciphered in step one. When creating the lists, name each one a different pipeline stage such as "lead generated," "introduced services," or "meeting scheduled," then drag and drop them in chronological order.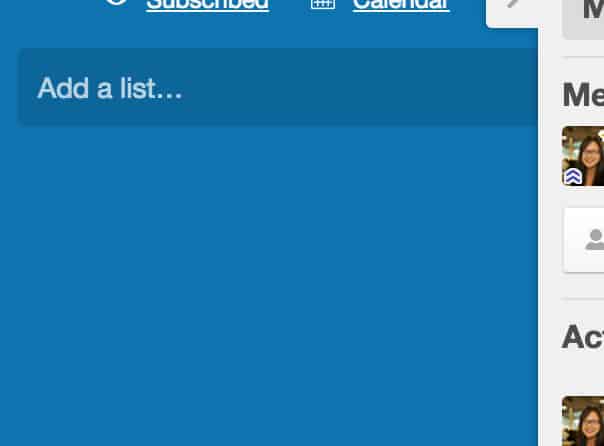 ---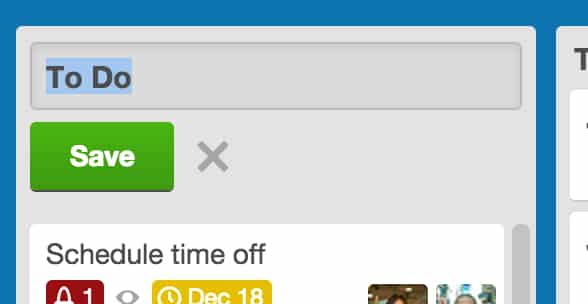 ---

---
4. Create Cards
Once you've laid out your entire sales process in order using the lists feature, you are ready to create your "cards." Cards represent the equivalent of leads, prospects, and customers to organize their information and track where they are in their buying journey. From the sales stage list they fall under, select "Add a card," and input their data.
One of the easiest ways to organize their information is to make the name of the card (card title) the lead or opportunity's name. For the card's description, add some identifying information such as the contact's name, email address, phone number, and the source the lead came from. The commenting feature can be used to add information about your interaction history with the lead.
While you need to pay the starting subscription price of $5 per user, per month, to use custom fields on a Trello card, the free version lets you assign labels to leads which could be useful for tracking lead attributes such as interest. For instance, a lead who said they are almost ready to purchase can be tagged with a red label while one who isn't looking to make any changes soon can be tagged with a blue label.
Other card items you can add include checklists for monitoring tasks associated with the lead and relevant dates for the lead. You also have the ability to add attachments to a card for storing documents and materials.
5. Assign Team Members
Now that your board is ready to use with lists and cards, invite other team members to collaborate. From the board, select the "Share" option and add the email address (or name if the person is already in your workspace) of the people you want to add. As people accept your invite, you can alter their privileges in terms of having admin rights, member rights, or only being able to observe the board.
If you want to assign leads to individual sales reps, just as you would add other items to a card as we mentioned earlier, you can add members of the board to a specific card. This is useful for circumstances where different reps handle certain stages of the sales process. For instance, an account executive might be responsible for a lead until the deal is closed—then you'd reassign the lead to an account manager.
6. Integrate Third-party Apps (Optional)
In addition to the project management features of Trello which can also be incorporated into a CRM system, Trello also offers a number of add-ons to help automate workflows, communicate with team members, and integrate with other third-party applications. This is all done through "Power-ups" which can be found by selecting the "Power-Ups" button on the board page.
From there, you're taken to the Power-ups page where you can search and browse hundreds of excellent options to enable your team to be more productive, effective, and organized. Trello offers integrations with popular platforms like Google Drive, Slack, Dropbox, Twitter, and Zapier as well as Trello-native add-on options.
7. Track Sales Progress in Trello
Once your team is added to your sales board and you have all of your Power-ups included, you are officially ready to use Trello for CRM. Track your progress by keeping lead cards updated on your activity history and dragging them to the next stages of the pipeline as they move through the sales process to either closed won or lost deals.
Keep in mind, the free Trello version only allows you to see the pipeline in a Kanban-style view. However, if you want to monitor sales progress using other views such as timeline, table, calendar, or dashboard, you can subscribe to their Standard paid plan for $10 per user, per month.
Trello CRMble Power-Up
One Power-up you might find useful that allows you to skip all of the steps in this guide is the CRMble power-up. This feature is a pre-made CRM template that already has a board with lists (sales stages), cards (leads), and contact data fields within each card. From the Power-up page, search "CRMble" then add it to your board.
The free Trello plan includes one Power-up with some Power-ups not included and requiring subscription to a paid plan. The paid plans start at $5 per user, per month, for the Standard plan, $10 per user, per month, for the Premium plan, and about $17.50 per user, per month, for the Enterprise plan (depending on the number of users).
Alternatives to Using Trello as a CRM
While using a project management tool like Trello is a great CRM alternative, you may find yourself preferring another solution that also fits the low-cost and usability benefits of Trello. Airtable and monday.com are both excellent project management tools you can design and utilize as a CRM system. Just like Trello, these platforms also come with premade CRM templates in case you didn't want to construct the system manually.
In terms of which alternative to choose, Airtable will be better for businesses that want more dynamic views of their leads, pipeline, and sales operation. Monday.com, on the other hand, will be just slightly more user-friendly than Trello.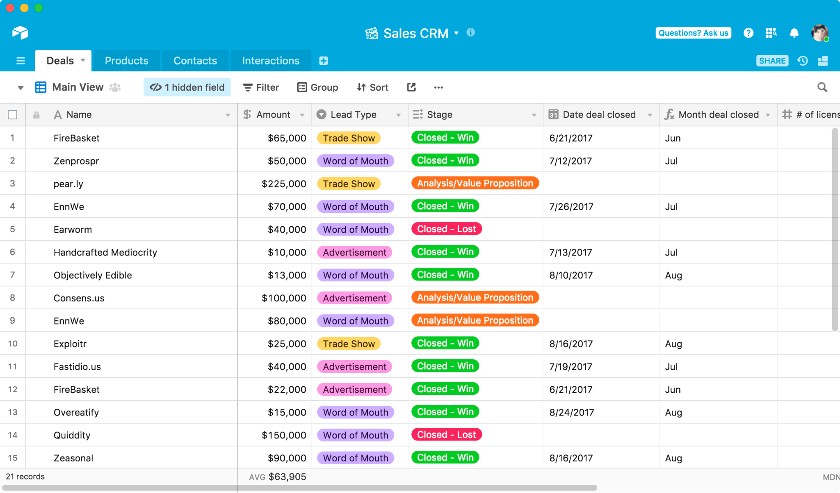 ---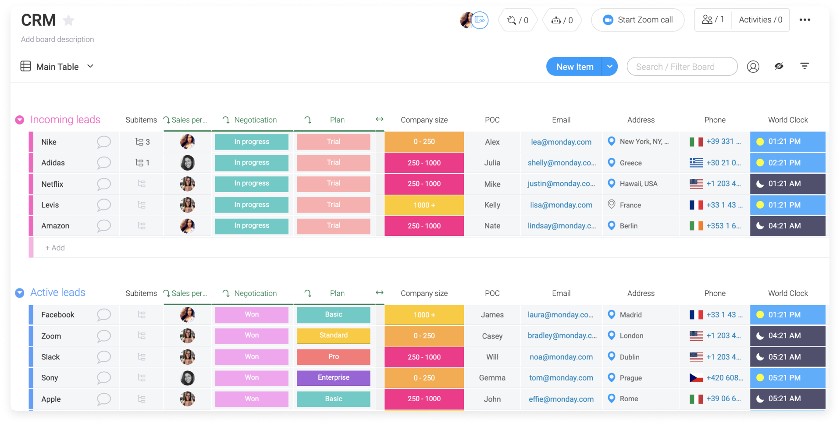 ---
Alternatively, you may be ready to invest directly in a traditional CRM software product that is known for its low-priced options and user-friendly interface. HubSpot, for instance, offers a free plan for unlimited users and is notorious for its easy-to-use features and robust marketing automation tools.
Another great alternative is Freshsales, which also offers a free option and an intuitive system to navigate and operate its tools. One standout feature that certain sales teams might like is the built-in telephone that allows you to place calls to leads directly from the CRM in the contact's profile as well as take notes on your conversations.
Bottom Line
Using Trello for CRM objectives is a solid cost-effective alternative for users who are more familiar with project management software. By evaluating your sales process and treating the board, list, and card items like pipelines, stages, and leads respectively, you can use this popular project management and collaboration tool to track the sales activity and lead progress of your sales team.
You May Also Like …