How to Use Trello as a CRM in 7 Steps
This article is part of a larger series on CRM.
Some businesses prefer using a project management tool over a traditional customer relationship management (CRM) software because of its simplicity and cost-friendly options—leading them to use Trello for lead and pipeline management. By creating a board, converting the sales pipeline stages into lists, and designing cards as sales data records, you can convert your Trello project management software into a sales tool. Here's how to use Trello as a CRM in seven steps.
1. Create Your Trello CRM Boards
Users can head to the main Trello page, where they'll be able to start a workspace. Workspaces are the central location where the primary users can host boards, manage users, and configure system settings to their liking. Create a Trello board from the workspace, select the background color, choose visibility settings, and name the board.
Boards represent a work module where teams can store data, collaborate on tasks, and stay up to date on activity progress. Each board should be designed for a unique function or similar work activity. For example, you can create a project management board specifically for monitoring marketing campaigns or overseeing content development projects. In this case, your board will be a CRM to manage leads and sales opportunities.
2. Establish Your Sales Process
Next, determine your sales process within your specific operation. Every business is unique in how they develop relationships with potential customers and the activity it takes to finalize a deal, indicated on the Trello CRM board for easy tracking. Regardless of the specific stages, every firm will incorporate some common stages in the sales pipeline.
These are the chronological and repeatable steps for finding and contacting prospects, converting them into customers, and then retaining them. Below are sales pipeline stages and examples of what they look like:
Lead generation: Creating initial awareness or interest for a prospect to consider your products or services. For example, if you cold call a potential customer you researched online, and they indicate they'd like more information, they've entered the lead generation stage.
Lead qualification: Determining whether a prospect is a good fit for your products or services in the scope of your target customer profile. Software companies often need to have initial calls with a lead on their technology infrastructure, goals, and user requirements before giving a demo—putting them in the qualification stage.
Product demonstration/sales presentation: Showcasing your product's features or service attributes in-depth and addressing questions from potential customers. While common for software and equipment providers, service-based businesses also need to do this stage to make their pitch and discuss how their processes work.
Underwriting/quoting: Reviewing a potential client or customer and their needs, often done behind the scenes or at a lead's location, to formulate price estimates. Insurance agencies, for instance, commonly have many field underwriting requirements before sending quote proposals. Similarly, contractors must be onsite to evaluate customer needs and provide accurate pricing.
Sending proposals: Generating and sending a contract proposal to a prospect with pricing, deliverables, and terms of services to acquire their signature.
Negotiation: Back-and-forth debating and compromising to agree with the customer on pricing, product or service deliverables, terms, and other parts of the proposal. Commonly used during large deals or when it's an enterprise-level customer size.
Client onboarding: Transitioning newly signed customers through activities such as setting them up with the product or service, training, and connecting them with their point of contact. For instance, in tax preparation and bookkeeping businesses, a newly signed client must enroll in a secure file sharing system and complete and sign legal documents granting an accountant permission before service is rendered.
Cross-selling or upselling: Post-selling of complementary products and services or upgrading to premium options to what a customer has already purchased. For example, software businesses often seek to upgrade their users to Professional or Enterprise-level plans for more features and capabilities.
3. Add Sales Processes as Trello Lists
Now that you know your sales process, you can incorporate it into your Trello CRM board as "lists." A list is a status within a board under which your records will fall. For example, projects might use statuses such as "assigned," "in progress," or "complete," indicating the progress of a task record at that moment.
In the case of using Trello as a CRM, lists will be sales process stages that leads or customers fall under. From the CRM Board, click "Add another list," name the pipeline stage, and select "Add list" for each stage you want to include. Trello offers drag-and-drop capabilities, so you'll be able to easily move lists around to ensure they are in the correct chronological order.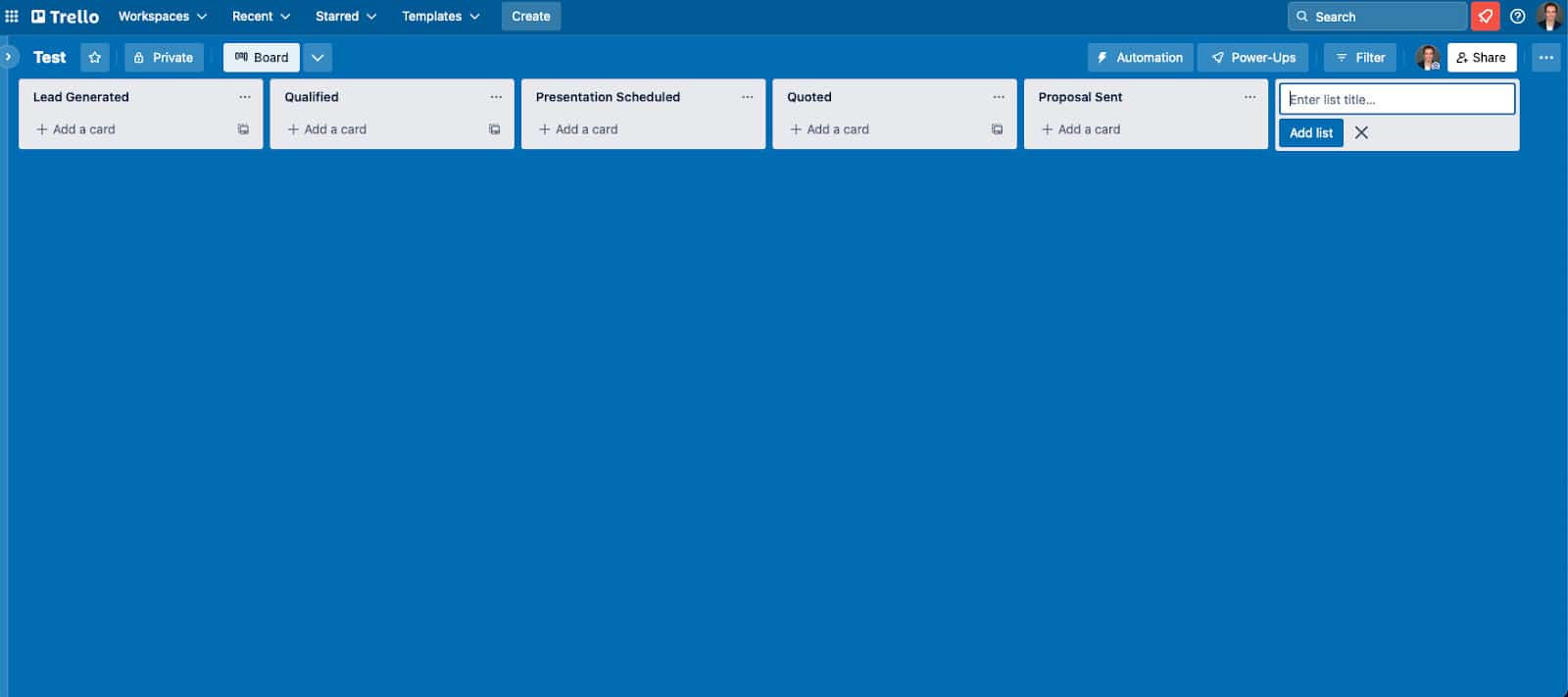 ---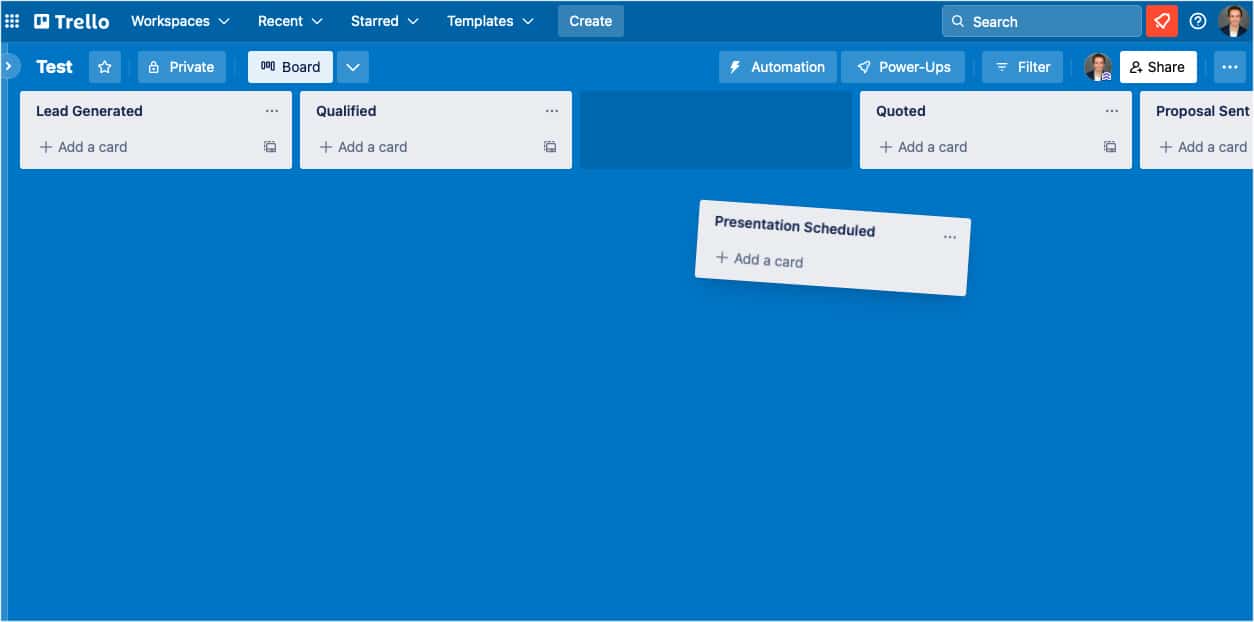 ---
4. Create Trello CRM Cards
Once your pipeline is set up, you can add Trello "cards" into the mix. A card is a record representing a lead, prospect, customer, or specific deal. As you generate new leads, you can select "Add card" and input the name of the person, company, or opportunity. Then, you can drag and drop the card into the next stages of the pipeline as you complete activity within the sales process.
In addition to adding the card with a name, you can add other data components within each record to provide additional context, responsibilities, or information on the sales contact. To do so, click on the edit button next to the card name, then select "Open card." There, you'll be able to write descriptions, comment on recent activity, and add other elements such as members, labels, checklists, dates, attachments, and covers.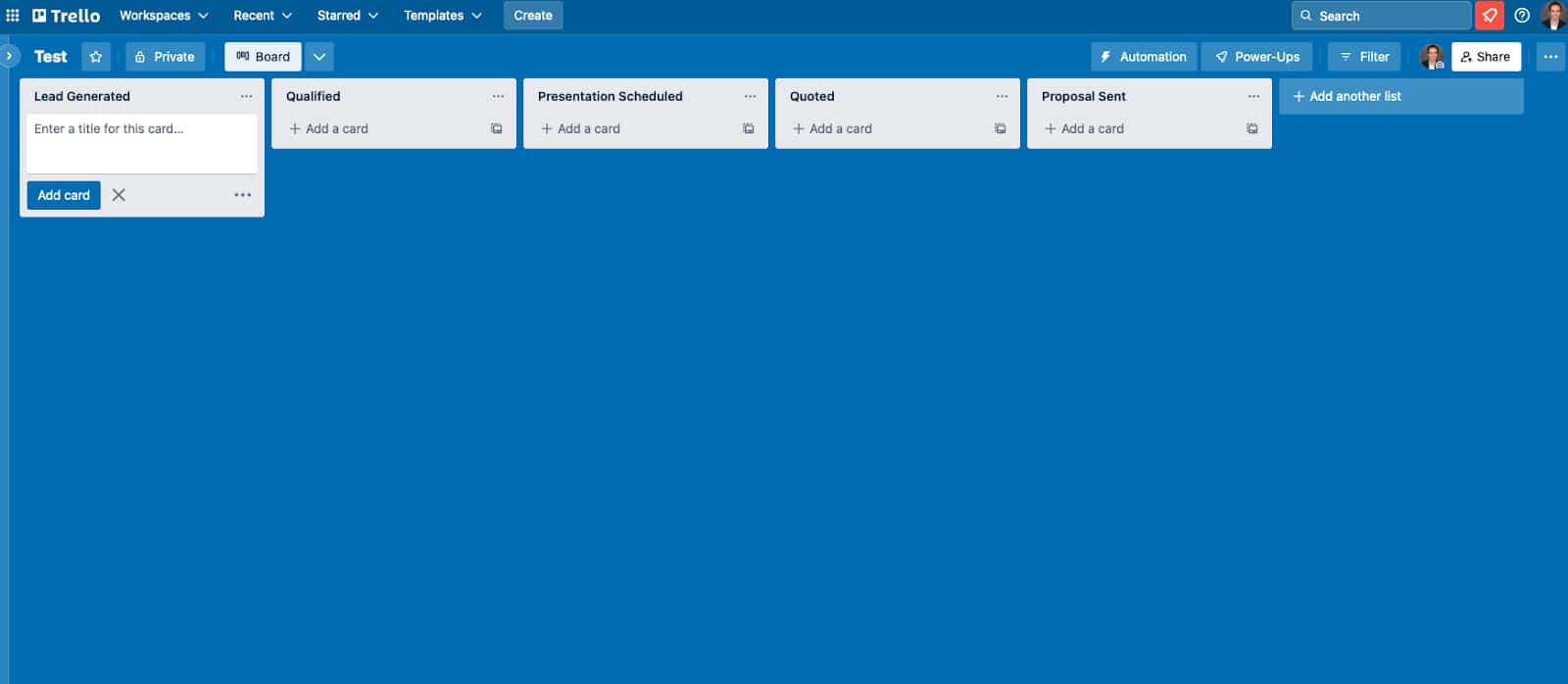 ---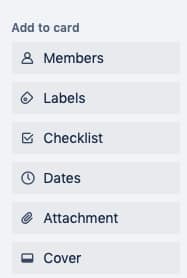 ---
We recommend taking advantage of these other data fields available to help you stay more organized and easily obtain necessary sales information. For example, you can add contact data such as phone numbers, job titles, and email addresses in the description section. You can also use the "labels" feature to identify the record with a specific trait, like the lead source or industry.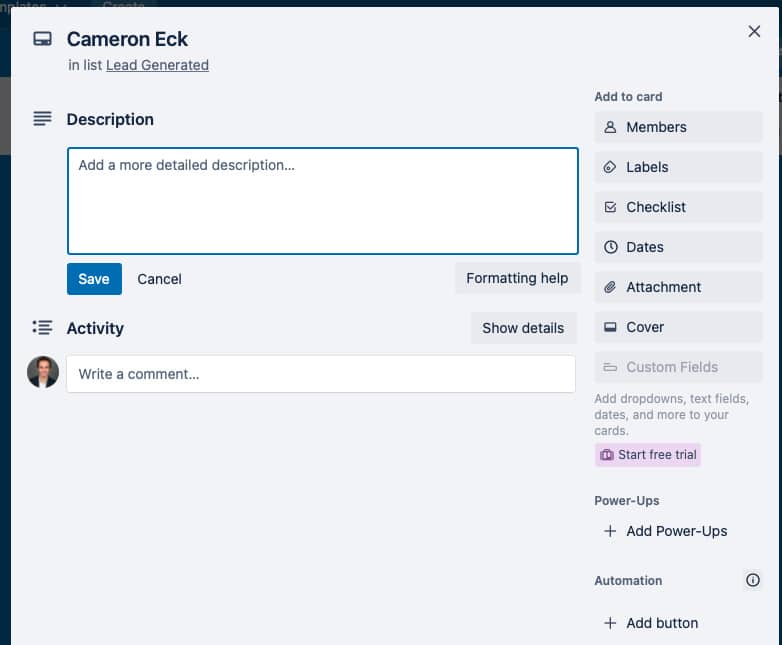 ---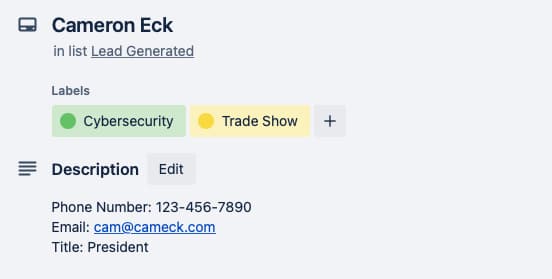 ---
5. Invite & Add Team Members
As your sales team grows, add members to your workspaces and CRM board to collaborate. On the board, click the "Share" option and enter the email address of the user you're inviting.
Select one of the three options for board privileges. "Admins" can edit the board, lists, and cards, and control the board settings and users. "Members" can only add and edit the board, lists, and cards, while "Observers" can only view records on the board.
In addition to adding users to your board, you can assign individuals to specific leads or customers to ensure someone is held responsible for its progress. From the card under "Add to card," select "Members," then choose a board member to assign.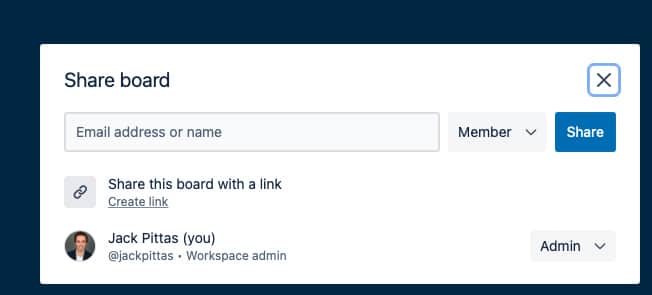 ---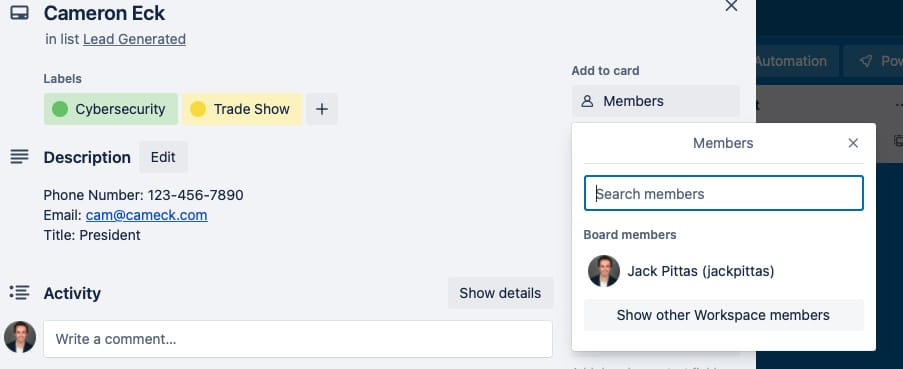 ---
6. Integrate Third-party Tools & Power-Up Add-ons (Optional)
While Trello's main built-in features are for the project and work management, teams can also deploy "Power-Up" add-ons within their board. These capabilities enable users to integrate their Trello CRM with third-party products to expand their functionality. Some popular third-party integrations for Trello include Slack, Microsoft Teams, Google Workspace, and CRMs like Zoho CRM, Salesforce, and Pipedrive.
There are also native Power-Ups made by Trello to create workflow automations, get expanded board views, run data synchronization actions, and better communicate with team members. For example, there's the Countdown Power-Up, which will count down time for when an important task, such as following up with a lead, is due. Alternatively, the Show Attachments Power-Up presents attached files on the front of Trello cards.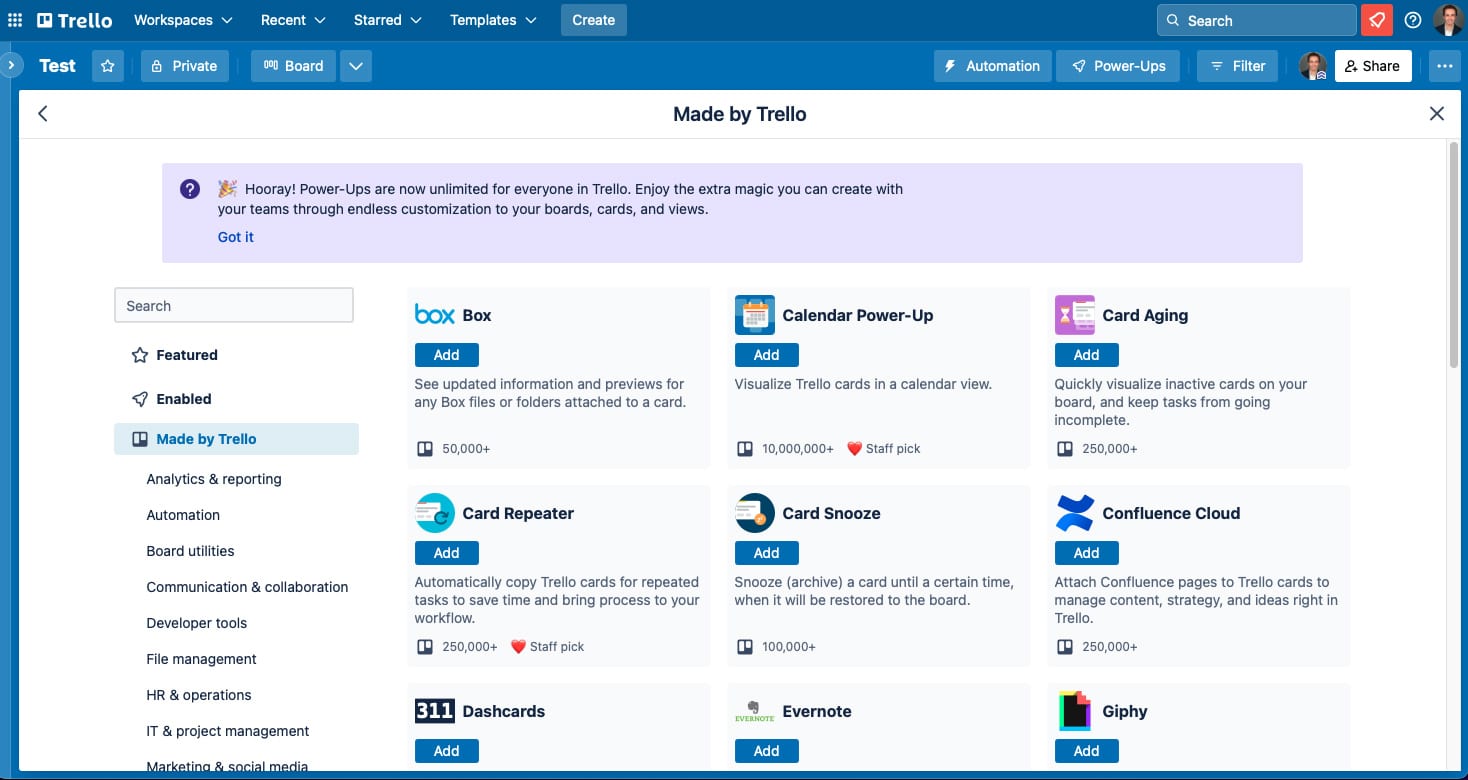 ---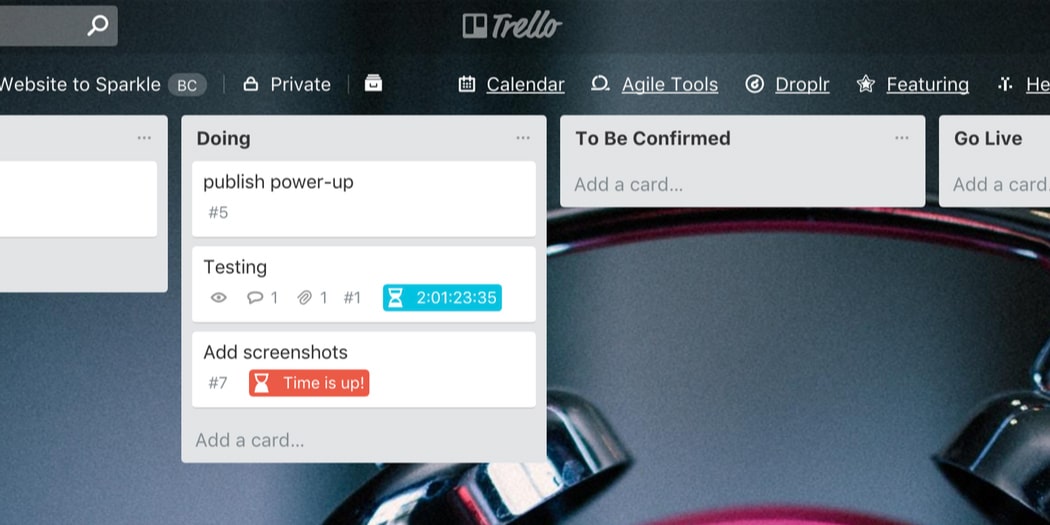 ---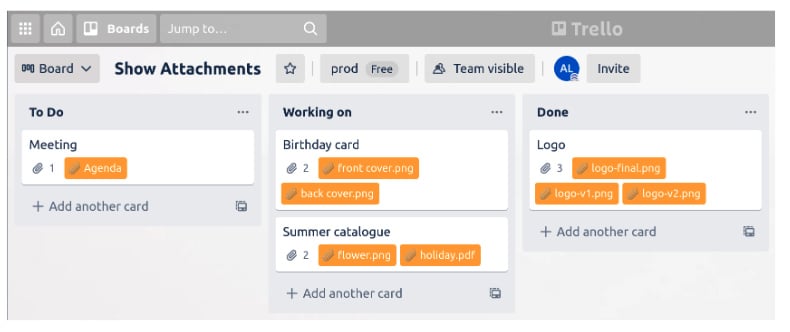 ---
To enable these integrations and expand capabilities, click the Power-Ups button from the board page, then select "Add Power-Ups." The user will be navigated to the Power-Ups page, where they can select the external software or native workflows they'd like to add to their board.
7. Run Your Sales Operation
Now that your system is ready and you can use Trello for CRM activity, start running your day-to-day sales activities. Keep your board and cards updated as new leads are generated and go through the pipeline. Let everyone stay in the loop by dragging lead and customer cards to the next stages, attaching files to leads in Trello, and posting activity on each card while tagging team members.
Pro tip:
While Trello is an excellent CRM substitute, small businesses may want to consider a traditional CRM product to help stay organized on sales activity, store their contact data, and automate sales tasks to improve efficiency and close more deals. To find that perfect CRM system, check out our guide on the top CRMs for small business with comparative insights on product prices, features, usability, and best-for scenarios.
Trello CRMble Power-Up
One of the most popular Power-Ups available for Trello is the CRMble. Rather than following our step-by-step guide and designing a CRM system from scratch, users can have a CRM-ready board. CRMble comes with sales stage lists added and premade lead cards with data fields already included.
Users can try the 21-day free trial for CRMble to see if it's right for them. The paid plans for dashboard, contact and deal management, calendar, and multiple data field features go for $4.99 per user, per month, on the annual billing plan.
Trello CRM Alternatives
While Trello is an excellent CRM option, users may prefer a different project management tool or traditional CRM system to oversee and monitor sales operations. Below are some of the top CRM alternatives you can consider for your business that offer similar usability and cost-friendly attributes as Trello.
Provider

Starting Prices*

Best For

Free to $8 per user, per month

Great CRM alternative for small teams seeking easy-to-use automation design tools

Free to $45 per month (up to two users)

Solid CRM for businesses looking to manage sales and marketing campaigns in one system

Free to $15 per user, per month

Best CRM option with a built-in telephone system

Free to $8.99 per user, per month

Excellent pick for small businesses that want free sales, marketing, and customer service features
*Pricing is based on annual billing; monthly billing is also available for slightly higher prices.
Like Trello, monday.com is a work management tool that can be customized to oversee projects, sales, human resources, IT management, marketing, and other business functions. It comes with free and low-cost pricing options and a highly intuitive interface for navigation. One of its best capabilities is the ease of setup for creating automations on your boards.
Teams can quickly set up workflows from scratch or use premade template automations. For example, if you want to assign newly generated leads to a specific rep, you can configure the system to notify a user and assign them an "item" once added to the board. Alternatively, you can easily set up a flow that moves items to different boards or groups upon changing statuses, such as when a lead is closed and becomes a customer.
Is Trello a CRM system and project management tool that suits your needs better than monday.com? Check out our direct comparison between Trello and monday.com in our Trello vs monday.com buyer guide. You'll get details on each platform's pricing, features, and which circumstances warrant which software solution.
---
HubSpot is a traditional and popular CRM system known for its ease of use, free plan for unlimited users, and powerful marketing tools. Teams can not only manage their leads, deals, and customers, but also design and deploy marketing campaigns from the CRM interface. The types of marketing assets and channels available in HubSpot include email campaigns, online ads, web forms, web pages, social media, blogs, and on-demand video posts.
---
Freshsales enables sales teams to track deals, manage contacts and accounts, and organize sales activity in one central location. The system is highly customizable and user-friendly for those with all levels of CRM experience. The free plan option includes a built-in, cloud-based telephone for reps looking to step up their calling game. The phone system lets users easily place, receive, log, record, and route phone calls directly from the CRM interface.
---
Agile CRM is a great alternative to Trello because it's comparable in cost and platform simplicity. Where it stands out, however, is the all-in-one functionality that includes free sales, marketing, and customer support features. Teams can manage not only leads, deals, sales tasks, and marketing campaigns, but also customer service. For instance, they can run a help desk, receive and resolve support tickets, and store canned responses in the CRM.
---
Did you know that HubSpot, Freshsales, and Agile CRM are considered some of the top CRMs for platform simplicity and feature ease of use? For more information, check out our guide on the best simple CRM systems to look at other products that perform well in the usability category.
Bottom Line
Trello is a popular project and work management platform you can tailor to create a CRM system. After creating a new board and establishing a sales process, add pipeline stages as lists as well as lead and customer data as cards. Once designed, integrated with your favorite third-party tools, and "powered up" with extra board functions and automations, you can drag and drop cards and add activity updates to stay organized and informed on sales activity.