A media advisory is a one-page announcement telling the media the details of an upcoming event. A media advisory invites the media to an event like a grand opening, fundraiser or something similar where free press coverage would benefit an organization. This event may or may not be open to the public.
Free Media Advisory Template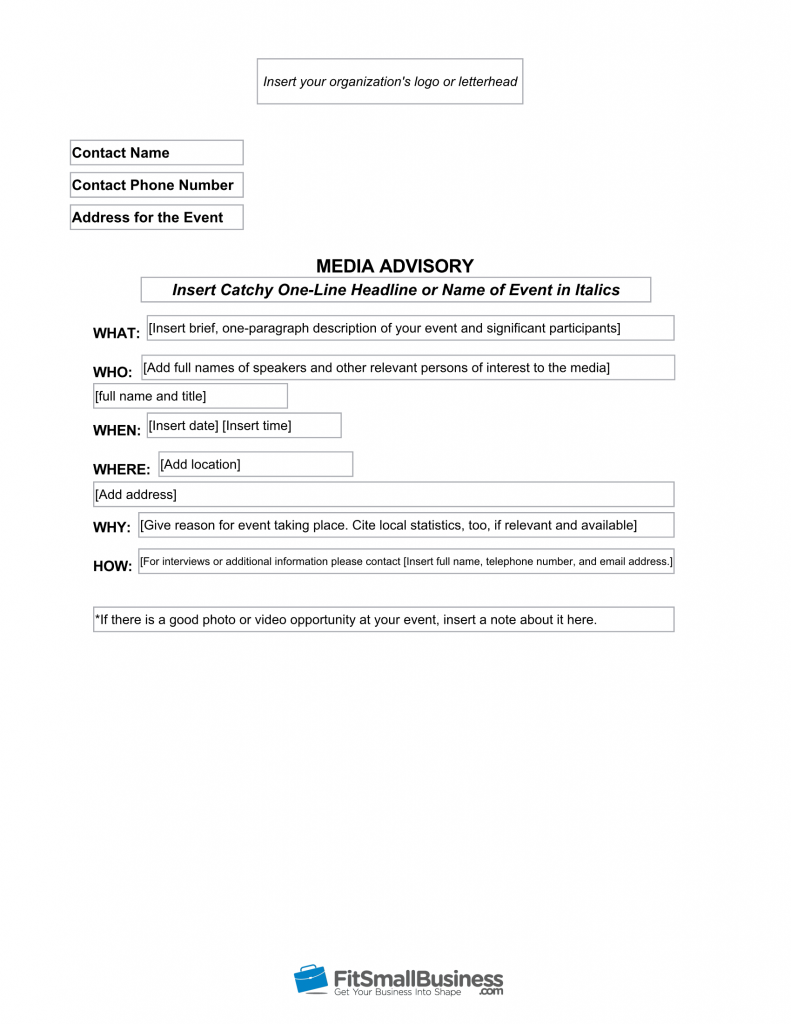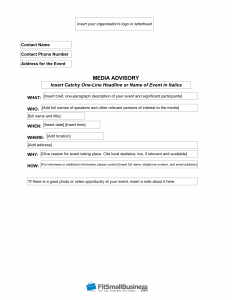 Writing an effective media advisory that gets the media to attend and write about your event can be challenging. It is important to follow the accepted media advisory format, which journalists will expect to see. To help you out, we've created a media advisory template to guide you through each section of writing your media advisory, which includes the headline, body, event details and contact information.
Thumbnail of the template itself:
Here are the templates to download:
Below are the six steps you need to take to write an effective media advisory.
1. Decide When to Use a Media Advisory vs. Press Release
The key difference between a media advisory and a press release is the purpose for sending it. A media advisory is addressed specifically to the media and is a one-page, information-only invitation to get media attendance at an event. A press release should be approached more like an article, which includes quotes and facts, with the goal of generating general interest in the news you are announcing, possibly getting picked up by both small and large media outlets.
A media advisory is what you choose to write and send when you want the media to come to an event. A press release is what you want to write and send if you want media coverage of a newsworthy topic related to your business. Sometimes, a press release announces an event, but it can also be the opening of a new location, hiring a new executive team member or winning a prestigious award.
If you think that press release is more suited to your needs and goals, you can read our article that gives specific instructions on how to write a press release, along with a helpful template to guide you.
2. Get Set Up Before You Start Writing
Before writing your advisory, there are a couple of planning and formatting things that you will want to address. If you want your media advisory to be read by people in the media, you want to follow industry standards in formatting so that they know exactly where to look for specific event details quickly. Following this format avoids the risk of them ignoring your advisory.
Here are the steps you need to take before writing.
Use Letterhead
You want your media advisory to get the attention of and be read by the media. In order to do so, you should use your letterhead to write the media advisory because it will give you additional credibility. Using your business letterhead will ensure that more people in the media will read the advisory and attend your event.
If you don't have letterhead for your business yet, you can check out some business letterhead examples for inspiration. You can also have it created quickly by using a service like Fiverr. Fiverr is a marketplace that will connect you with many design experts who can create beautiful logos and letterhead for you.
Title Your Advisory
You want to put the title "Media Advisory" at the very top of the page so that anyone who receives it knows what it is and who it is addressing. Then, you want to begin your advisory with "For Immediate Release." This lets anyone who first handles your advisory know that it's okay to distribute the information it contains right away.
Media Advisory Title Example
Include Contact and Address Information
In the top left corner of the advisory, usually sitting directly to the left of the Media Advisory title or slightly above the headline, include a contact name and the best phone number to reach that contact. Include the address where your event will take place, including the city and state, directly beneath the contact information.
3. Determine Your Audience
Now that you have your media advisory set up correctly, determine who your audience is and how you want to talk to them. It is important to know who you are talking to so that you can address what will specifically interest them. Remember that media advisories are addressed solely to the media and meant to invite the media to attend an event.
The best indication of who your audience is for a media advisory is what type of event you're hosting. For example, if you are holding a press conference, you will want more news reporters and journalists to attend while if you are hosting a fundraiser, you might want a social scene writer to attend. Tailor your content so that it's written for your intended audience.
Most media outlets have reporters that cover all major topics like politics, education, local business and technology. You may even want to find a specific reporter who covers events related to your industry, so read some of his or her articles and write your advisory with that person in mind. Decide what type of media professionals would be most interested in your event and focus on writing for them.
4. Write a Captivating Media Advisory Headline
A headline is the summary of your advisory that sits at the top center of your media advisory and should be in bold type. It is important to spend some time crafting a great headline so that those reading it will be interested enough to read the rest of your advisory and attend your event. The length of this type of headline is typically 65 to 80 characters.
Here's how you can write a compelling headline.
Keep It Short
If your headline is too long, it will get cut off in search engines searches like Google and on many mobile devices. You want to keep your maximum character count between 65 and 80 characters (including spaces).
Tie It to a Trending Topic or Current Event
One of the best ways to generate interest in your media advisory and your event is to tie it to a trending topic. For example, if you are hosting an event in October, you could tie it to Breast Cancer Awareness Month. By doing this, your event will feel timely, and you can gain additional interest from those who may otherwise overlook your media advisory and event.
Here is an example of an intriguing headline from a media advisory:
Media Advisory Headline
5. Cover Important Event Details in the Body
Now that you have your headline, you want to start giving all the vital information regarding your event. Media advisories should not be any longer than one page — total. A media advisory should only cover the most important details of your event like location, date, theme and reason for the event.
Here's how to write your media advisory body.
Answer the 'What, Who, Where, When & Why'
The easiest way to write the body of your media advisory is to simply list these questions and fill in the information in one or two sentences. You want to give the most interesting and important details for each section. You can change the order of these sections to include the information in order of importance.
Start by explaining what the event is, what is going to happen and what they are going to experience at your event. Let them know if this will be a good photo or story opportunity for them. Then, let them know who will be there. Will there be any celebrities or influencers who might interest the journalist? If so, be sure you list them in the "Who" section.
After you have written the "what" and "who" sections of your event, you want to add the "where" and "when" with your location and the date and time. Lastly, you want to concisely write the "why" section and give context on why you're holding the event and why the media should attend. For example, you could explain that you are raising money for a specific charity, or you are holding a press conference to cover a human interest story.
End Your Media Advisory
Lastly, at the very end of your media advisory, you want to add ### on the bottom line of your advisory. This lets the media know that your advisory is concluded, it signifies "this is the end."
Example of a Media Advisory Body
6. Start Distributing Your Media Advisory
Once your media advisory is ready to be distributed, you need to decide on a method to get it to the people in the media that will be interested in attending your event. You also want to be sure that you send your media advisory at the right time so that those who might attend have time to prepare and plan properly.
Media advisories should be sent about five to seven business days before the date of your event. In order to garner the greatest attention, you should send your advisory, and then call the newsroom of each media outlet you sent it to follow up and ensure they received it. During your follow-up call you can ask if they have any questions about your event and if they are planning to attend. Be sure to include contact information so that they can contact you with any additional questions.
Here are some steps you should take to get the most media attention possible.
Use a Distribution Service
To get the best results for your media advisory, you should consider using a syndication service. These services ensure that you get maximum exposure and the correct contact information to send your media advisory to the right people. When you use a distribution service, you will use a form on their site to write and format your media advisory, and then it will distribute it for you to the types of media outlets of your choice.
While there are several options for distribution services, one of the best is eReleases. By using it to distribute your press release, you will be able to reach thousands of news agencies, including TV stations, major news networks like Fox News and MSNBC and other news journals and websites. The cost for this service is typically between $99 and $300, and it offers deals to first-time users.
Gather Contact Information for the Media
For the best results, combine using a distribution service with reaching out to local reporters on your own. To do this, you will need to search for the correct media contacts, and then try to find their contact information, specifically email addresses since most media advisories are emailed. Go to your local news websites and look for contact details. Sometimes, this information is listed in articles the journalists have written or on a contact page on the news website.
One useful and free tool to find the email address of journalists quickly and easily is Hunter. Another free tool that offers a similar service for finding media email addresses is Clearbit Connect.
When you are gathering contact information, you want to be certain that you are finding the most relevant contact. For example, if your event is a fundraiser for the homeless in the area, you would want to look for a contact that focuses on local issues or nonprofit reporting. If you are unveiling new software, you should be looking for the editor or a journalist that covers technology for your local news station or newspaper.
Start Emailing Your Advisory
Now that you have contact information, you can start emailing your advisory to the local media list that you have compiled. If you want your email to be opened and read, you want to start your email with a catchy and clear subject line. Think of your subject line as your "pitch" where you can grab attention and pique curiosity. A good example would be: "Rotary's Sold-out Annual Golf Tournament to Host Women's Golf Champion Kelly Rohrbach."
Don't attach the media advisory as a document. Instead, copy the advisory directly into the body of the email. If you attach a document to your email, whether it is a PDF or Word document, your email — and thus your media advisory — is much more likely to get caught in a spam or junk folder.
Follow Up
Once you have sent out your media advisory, you will want to follow up with the news outlets that should have received it. Generally, you want to follow up two business days before your event. Journalists will often read your advisory quickly but not respond to it. A phone call can confirm the person's attendance or offer compelling reasons change his or her mind if the person has decided not to attend.
When you start your follow-up, you want to call the newsroom or office of where you sent the advisory. Most of the time, this is the quickest way to get directed to the desk of the journalist that would be covering your event. One industry trick is to call before or after business hours. This way, you are less likely to be competing with other callers, and the newsroom will be quieter.
If you end up having to leave a message, tell the person who you are, that you are calling about a media advisory that you sent and give them the day and time you sent the media advisory. Instead of asking for a return call, tell them that you will call back on a specific day or time. This allows you to stay in control of the follow-up process and allows you to call back on the day and time that works for you.
Following up with journalists is the best way to get them committed to attend your event. It will also allow you to stand out from the hundreds of other people that sent media advisories because most don't bother to follow up with a phone call.
The Bottom Line
A media advisory is an effective tool to gain media attendance for an event. To gain the most attendance, it is important that you format your media advisory properly and include all relevant information. By writing a well-formatted and concise media advisory and distributing your advisory correctly, you can gain greater attendance and press coverage of your event.