How to Write a Media Advisory in 2023 (+ Free Template)
A media advisory is a one-page announcement used to invite members of the press to attend an upcoming event. To write a media advisory, follow correct media advisory formatting, identify your target audience, write your headline and body, and then distribute it to media outlets. Download our free media advisory template below and learn how to write one that attracts attention and drives media attendance.
Leave the writing and distribution of your press advisory up to the experts at eReleases. They'll write and distribute your announcement directly to the journalists you most want to intrigue.
Free Media Advisory Template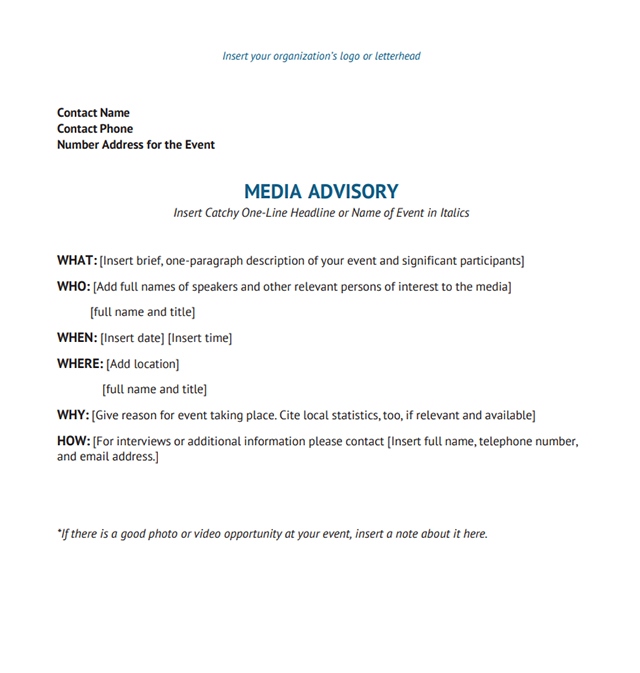 Thank you for downloading!
💡 Quick Tip:
When you're ready to distribute your announcement, use our #1 recommended media distribution service for small businesses: EIN Presswire, starting under $100.
Visit EIN Presswire
It is essential to follow the proper format journalists expect to see. To make it easy, we created a free media advisory template you can download that adheres to the standard media alert format and guidelines. Use it as you follow the five steps below for writing one.
1. Format Your Announcement
Before writing a media advisory (sometimes called a press advisory or media alert), it's important to get the structure and formatting right. If you want your announcement to be read by people in the media, follow industry standards on proper formatting so the reader knows exactly where to look for specific event details quickly. The media advisory template above is already formatted correctly to help you save time.
The header promotes brand awareness by including your logo, centered at the top, followed by a left-aligned contact information area. This should have the name, phone number, email address, and website where a journalist can get more information.
Below the header is the headline, which should be centered and in a bold font slightly larger than the rest of the advisory. While optional, this can be followed by a subheadline in italics. The headlines may be the only part of the advisory a journalist considers when choosing whether to attend or cover your news, so they need to be attention-getting and compelling.
The remainder of the advisory outlines the details of your news. One way to ensure your announcement includes all the information journalists need is to answer the what, who, when, where, and why questions as laid out in the media advisory template above. Finally, conclude the advisory with any attractive details that might make them want to attend, such as the opportunity to get exclusive photos with celebrities or high-profile individuals.
If you want to dress up the layout and look of your advisory to make it more eye-catching to journalists, hire a professional graphic designer for as little as $5 on Fiverr. Alternatively (and for the best chance of getting media attention), use a top press release writing service like eReleases to format, craft, and distribute your press advisory.
2. Identify Your Audience
Next, determine your audience and how you can appeal to them. Knowing and understanding your audience is essential so you can address what will specifically interest them.
The best indicator of your press advisory audience demographic is the type of event you're promoting. For example, if you are holding a business or news press conference, you want reporters and journalists to attend. On the other hand, you'd likely opt for a social scene writer to attend a local fundraiser. Tailor your advisory's content so it's a clear invitation for the type of media you most want to attend.
Most media outlets have reporters covering major topics like politics, education, local business, or technology. Decide what type of media professionals would be most interested in your event and focus on writing for them. When targeting specific reporters who cover events related to your industry, read some of their articles and write your advisory with them in mind.
3. Write Your Headline
It's crucial to spend time crafting a great headline so that those who see it become interested enough to read the rest of your advisory and attend your event. A headline is the summary of your advisory and should be about 65 to 80 characters in length.
Here's how to write a compelling headline:
Be concise and straightforward: Make your headline easy to understand and keep your max character count between 65 and 80 characters in length (including spaces). If your headline is too long, it's likely to get cut off in the list of search engine results shown on Google and in searches on smaller screens, such as mobile devices.
Tie it to a trending topic or current event: An effective way to generate interest in your event is to tie it to a trending topic. For example, if you are hosting an event in October, you could tie it to Breast Cancer Awareness Month. Doing this will make your event more timely, and you may gain additional interest from some who might otherwise overlook your event.
Lead with a value proposition: Journalists aren't checking out media advisories because they want something to do on a Friday night. They're looking for relevant content to turn into stories they can write for their media outlets. Leading with the main reason they should attend your event is the best way to capture their interest.
Media Advisory Headline Examples
One of the best ways to understand how to write a headline for your story is to see real-world examples and take note of the approach used. Here are some examples of effective press advisory headlines that clearly identify both the topic and target audience:

---

---

---
4. Detail Your Event in the Body
Once you have a headline, provide all the vital information regarding your event. Media advisories should be no longer than one page in total and should only cover the most essential details, such as location, date, theme, and reason for the event. Like press releases, it's best to limit your entire announcement to about 500 words.
Explain what the event is, what will happen, and what they will experience. For example, will there be a good photo or story opportunity? Who will be there? Will there be any celebrities or influencers on hand? Next, offer details on when and where the event will be, as well as any pertinent information needed, such as registration information or driving and parking instructions.
5. Distribute Your Media Advisory
Once your media alert is ready to be distributed, decide on a distribution method to get it to members of the press who would be interested in attending. Advisories for business events like press conferences should initially be sent about five to seven business days before an event.
A reminder advisory can also be sent the day before as a follow-up and to re-engage any interested journalists. Also, keep in mind that for high-profile events or to secure coverage from magazine writers, your advisory might need to be sent several months in advance as these types of organizations plan editorials many months prior to publication.
There are two main ways to distribute advisories, and for maximum reach, it's best to use them in combination:
Direct outreach to press contacts: If you have a list of local news media contacts, you can send your advisory directly by email. However, keep in mind not to attach your advisory as a document. Instead, copy your advisory's content directly into your email's body. This way, it's more likely to be read and less likely to land in a spam folder.
Use a distribution service: The easiest way to reach a wide yet targeted audience is by using a professional press release distribution service like Newswire or EIN Presswire. This gives you maximum exposure, giving your document the best chance of getting noticed and generating press attendance.
Once you have sent out your media alert, follow up with the news outlets that received it. Following up with journalists is the best way to get them committed to attending your event. It also allows you to stand out from the hundreds of others who sent media advisories, since most don't bother following up with a phone call.
When to Use a Media Advisory vs a Press Release
A media advisory should be written and sent when you want the media to attend and cover an event. In comparison, a press release is what you want to write and send if you want the media to share a newsworthy topic related to your business. Sometimes, a press release announces an event, but it can also be the opening of a new location, hiring a new executive team member, or winning a prestigious award.
Which to use depends on the action you'd like the recipient to take upon receiving it. An advisory is a one-page, information-only invitation addressed and sent specifically to members of the press to encourage their attendance so that they can craft their own news story based on their firsthand experience.
On the other hand, press releases are formatted more like articles designed to be shared as is. It covers key facts and information intending to generate general (and media) interest in a news announcement, which may or may not be related to an event. Ultimately, the goal of a press release is for its contents to get picked up by both small and large media outlets and shared for additional coverage and exposure.
If you think a press release is better suited to your needs and goals, head over to learn how to write a press release, which also has a helpful release template to guide you.
Frequently Asked Questions
What's the difference between a press release & a media advisory?
The difference between a press release and a media advisory involves the audience and the intent. A press release is a public relations statement mainly geared toward a specific audience based on a story. It may or may not include an invitation to an event, whereas a media advisory is a news release specifically intended for journalists to invite them to attend (and usually cover) a media-friendly event.
What mistakes should I avoid when writing a media advisory?
The biggest mistake to avoid when writing a media announcement is failing to include the information the media needs to attend, such as the date, time, place, and RSVP information. Similar to common press release mistakes, you should avoid writing your advisory like an advertisement, making unsubstantiated or unprovable claims. Finally, make sure you don't send your announcement at the wrong time.
What's the best time to send a media advisory?
The best time to send a press advisory is between 10 a.m. and noon, according to Cision. If you want members of the media to attend an in-person event, you need to send it with enough notice so they can plan to attend. For digital events or general announcements (like the kick-off of a fundraising campaign), sending the day before is best. Get more tips in our article on how to send a press release.
Bottom Line
A media advisory is an effective tool to gain press attendance for your event, especially when it's formatted correctly, written concisely, and distributed for maximum exposure. Give yours the best shot at reaching your goals by using a distribution service that offers advanced, multi-layer targeting to ensure your story reaches the right journalists, such as Newswire.