Small businesses often get the short end of the stick when it comes to press release distribution. Reaching big-name publications often requires a subscription to a major press release service, which can easily run cost thousands per month.
That's why we were excited to discover eReleases. As a reseller of top-tier distribution services (like PRNewswire) they allow small businesses to get their story on many major websites for a modest one-time fee. They also have highly attentive support for customers new to PR.
This guide will explain how to send a press release using eReleases. In addition, Natalie Beach from Clutch, who regularly uses eReleases to distribute stories, will be providing some insider advice.
eReleases Pricing & Options
For as little as $249, you can get your story re-published in a lot of major websites, including Yahoo Finance, Reuters and MarketWatch. Higher-priced packages give you more in-depth press coverage, and allow you to target more industry-specific publications:
| | Newswire Lite | Buzz Builder | Newsmaker | PR Pro |
| --- | --- | --- | --- | --- |
| Price | $249 | $299 | $399 | $499 |
| Included Words | 400 | 400 | 500 | 600 |
| Targeted Industry Lists | 0 | 1 | 2 | 3 |
The main differences between eRelease packages are the number of words you can have in your press release and the number of industry targets. All packages give you the same national distribution, which includes PR Newsire, Associated Press and Google News.
In addition, you can select a list of local or industry-specific publications to target. The "Buzz Builder" package gives you 1 target for free – "Newsmaker" includes 2 and "PR Pro" includes 3. As we'll describe more below, eReleases offers a huge range of niche targeting options, from home improvement, to radiology, to pets & animals. You can also select a local media market, by state or city. To view all targeting options, check out the list on eReleases website.
PR Pro Package
For the largest package, eReleases kicks things up a notch by sending your release to a hand selected list of journalists they think would be most interested in hearing your story.
According to Natalie, this is the way to go if you want to get more in depth coverage on your story. When she uses this package at Clutch, they're often contacted with interview requests from a range of publications. eReleases asks almost like a PR rep, mediating requests between journalists and your business.
How to Send a Press Release on eReleases
EReleases makes things simple by placing everything on a single order page. After you create your account, and select your package, you can hammer out your press release in just a few steps.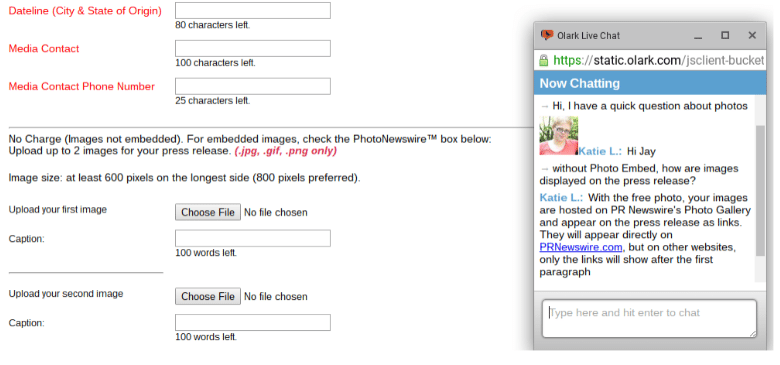 If you need any help along the way, you can call eReleases for support, or click a chat icon in the lower right-hand corner. During my test run, I was immediately connect to a support member and had my question answered within seconds. Live chat support is available between 8am and 6:30pm EST.
1. Targeting
By default, all press releases are sent to eReleases' US national distribution list. In addition, however, you can also target specific locations and/or industry groups.
Choose "Select Industry & Local Area" to scroll these options. eReleases offers a huge range of industry-specific distribution networks. They also offer local distribution to all 50 states and many cities.
For example, a Dental company could choose the subcategory "Medical – Dental." This would distribute their story to at least 150+ medical and dental-specific publications, including American Journal of Dentistry and Oral Health.
Targets are included free with the "Buzz Builder," "Newsmaker" and "PR Pro" packages. Just note that you'll have pay an extra $100 for each additional target, beyond what's allotted by your package.
2. Release Date
Choose on the calendar when you'd like your press release to go out. By default, the next business day will be selected, but you can schedule a future date as well. You can distribute on the same day (within 2 hours of your order being placed) for an extra $100.
The most popular times to send press releases are Monday and Tuesday morning around 8 to 9am. To make your press release standout, you may want to avoid these times, and instead send your release later in the afternoon.
It's generally better to send your press release early in the week, since this gives publications time to read and consider your story before the weekend comes. As Shift Communications points out, however, there's lots of room to experiment. Sending a press release over the weekend will mean you have few other stories to compete with. On the other hand, journalists may ignore or forget stories that come in during off-hours.
3. Upload Your Press Release
The next step is to upload your press release text document. eReleases accepts .txt, .rtf, .doc and .docx.  One of the perks of using eReleases is that they'll read over your release and fix any typos. They'll also make sure any hyperlinks are working.
Below your document, you'll need to enter some of the basic details about your release: The dateline, media contact, phone number, etc. These are small, but essential tidbits, as they're needed for the standard press release format. eReleases ensures you don't miss them by requiring these fields be populated. For more about these details, check out our guide to Press Release Formatting.
As Natalie told us, eReleases will also get on the phone with you if anything looks incorrect. This is another small, but crucial perk to using eReleases over a larger, less-personal distribution service.
Finally, you can upload up to 2 images (with captions) at no extra charge. Images will appear on your release when it's published on PRNewswire. For all other websites, however, they'll appear as a link, unless you select the "Photo Embed" option for an extra charge.
4. Finalize Your Order
Before you submit your order, eReleases will offer a few more add-ons: Photo Embed ($150), which displays photos within your body text, and YouTube Embed ($200), which adds a YouTube video to your article.
Remember, you can always link to photos and videos in your body text, so you don't necessarily have to upgrade in order to share them. If your goal is to get a lot of views on your YouTube video, however, or to share a product photo, you should consider these upgrades.
Still Need to Write Your Press Release?
In addition to distribution, eReleases also offers a press release writing service. The cost is $300 (plus distribution fees). eReleases will ask you to fill out a questionnaire describing your news story. From there, a writer will take the information on your questionnaire and website and craft it into a story.
The turnaround is 3 business days, and after that you can work with the writer to revise the story.
If you prefer to go the DIY route and write your press release yourself, take a look at our Press Release Template. Publications expect press releases to follow a standardized format, including a dateline before your body and a boilerplate at the end. These small details can be tedious, but on the plus side, they ensure you don't forget any key information.
For inspiration, also check out our 28 Press Release Examples From the Pros.
The Bottom Line
Natalie told us one of the biggest reasons to use eReleases is their customer support. In a field like PR, having an extra set of eyes on your writing is crucial. Whereas a larger service may just copy/paste your text and send it out, eReleases will give it a solid overview for typos, broken links and any missing information (like your dateline, source or contact information).