When writing a press release, it is important to follow the accepted press release structure and format, which includes a headline, subheadline, two or three paragraphs for the body, a boilerplate, and contact information. If you don't use this journalist-expected format, you're less likely to get media coverage. For best results, also include additional resources, like multimedia, hyperlinks, and social share buttons.
To ensure you get your formatting right, we created a press release template to guide you through each section. You can download them below.
DOWNLOAD – Free Press Release Template (DOCX)
DOWNLOAD – Free Press Release Template (PDF)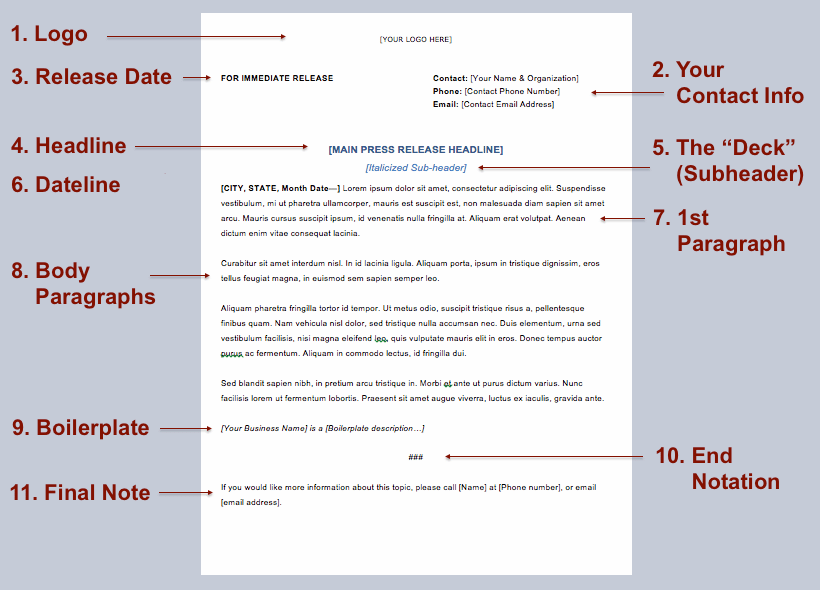 Press Release Format
A press release should contain your business logo, a headline, a lead paragraph that summarizes the announcement and newsworthy angle, three to four body paragraphs, hyperlinks, social media links, quotes, and multimedia. Then, it concludes with information about your organization (your boilerplate) and contact information. The total length should be between 300 and 500 words.
Logo
To boost the brand awareness impact of your press release, your company logo should be prominently displayed at the top of your press release. When sending your press release via email, be sure to also upload a 200 x 200 pixel original copy of your logo so journalists can include it in their stories. That way, journalists don't use a copy of a copy, which would likely reduce image quality.
Contact Information
You can put your contact information to the right of the logo. This includes the ways a journalist can contact the person within your company who can answer questions about this press release. Include their name, email, and phone number so that journalists can contact you however they are most comfortable. This should be justified so that it is positioned along the right margin. Here is how the contact information on your release should appear:
Contact: John Smith
Phone: (123) 456-7890
Email: john.smith@email.com
Release Date or Dateline
A release date indicates when you want your press release news to be published or written about. Add the timeline for when you want your press release to be published or written about in the top-left corner of your press release and in all caps. You can indicate if you want your press release news written about or published immediately or at a future time.
If your press release is ready to be distributed right away, include the words "FOR IMMEDIATE RELEASE" at the top of your press release.
When it is in your press release, it will look like this:
If you want the media to hold onto your press release, but you are sending it to be certain they get it before a specific date, it's called an "embargoed" release. In that case, put the words "Embargoed for Release" in the top left-hand corner and then add the date and time you want the press release and any related media stories to go live.
When you write an embargoed press release, it will look like this:
Headline
A press release headline appears at the top and center of your press release but below the logo, contact information, and release date. Keep your headline short and to the point, typed in 14-point size and centered. Try to stay within the 65- to 80-character range, and use language that is clear and easy to understand.
Since the headline is usually the most eye-catching part of your press release, you want it to compel people to read your press release. It should reflect the newsworthy angle of your release; your newsworthy angle should tell your target audience why they should care about your news. Then, when you distribute your release to journalists that share that audience, they are more likely to publish your story because it is clear why their audiences would care.
Subheader
A subheader is about 120 characters in length and appears directly below your headline. Subheaders allow you to capture readers' attention and help them better understand what your press release is about. It gives you the opportunity to develop your story angle further with a teaser that entices further reading. It should be formatted in 12-point Times New Roman font and in title case. Ideally, they should be italicized.
Place Stamp & Date
The first line of your lead paragraph needs to show the location the press release is coming from and the date it is published. It is separated from the first body paragraph by a dash. Both location and date should be bolded and should look like this: City, State. (Month Day, Year) -.
First Body Paragraph
The first body paragraph should answer the who, what, when, where, and why or how of the press release. Its purpose is to give journalists a quick snapshot to decide whether the story is a good fit for their audiences. Stick to the facts here and avoid hyping or trying to sell products or services, but do mention the angle that makes your announcement newsworthy. The text should be single-spaced and an unbolded 12-point Arial or Times New Roman font.
Body Paragraphs
The remainder of the body paragraphs should serve to complete the story you have introduced in the headline and first body paragraph. It should zero in on the newsworthy angle of the story and elaborate on it with details journalists can use to develop that angle. Be sure to follow AP style guidelines so media outlets can use your text as is. Use short paragraphs, of approximately two to four sentences, and feel free to include statistics in addition to graphics to back up your claims.
Finally, make sure you make it super-easy for journalists to cover your story. If, for example, you are inviting a journalist to cover a company event, be sure to include details on how they can attend the event for free. You should also include information for their audience about how to attend the event. That way, journalists can both invite their audiences beforehand, then attend to write a follow-up story. This means double the coverage of one press release.
Quotes
As part of any good news story, quotes allow journalists to round out their stories from a human perspective. For example, if you have a happy customer, you can add a testimonial quote from them. If you are introducing a new C-level employee, a quote from them about how happy they are about their new role and one from other executives about what this change in the C-suite will mean for customers offers more depth to the story. Simply list a couple of quotes so journalists can choose their human perspective angle.
Boilerplate
The final paragraph of your press release is called a boilerplate. It is your company's "About" section that appears at the very bottom of your press release. This is where you can write about your company's background, awards, amount of time in business, or anything that might be of interest about your company. You can also provide a link to your website. Your boilerplate should be less than 100 words. All companies mentioned in the press release should have their own boilerplate.
For more details on how to write a boilerplate, read How to Write a Boilerplate.
End Notation
While we recommend you stick to one page (or approximately 500 words) for your press release, if your release uses two pages, the first page should end in with "-more-" centered at the bottom of the page. Whether a one-page press release or the second page of a release, the final page should end with three pound signs, like this: ###.
This tells the media that they have accessed the entire document. Often, when sending press releases over fax or email, pages would be missing, so adding the notation of "###" tells the press they have all the pages they need to cover your news story.
Final Note & CTA
Once you have ended the text of the press release, it's a good idea to put one final note at the bottom that encourages someone who would like more information to reach out to you. A simple sentence like this is appropriate (formatted in 12-point Times New Roman or Arial font):
"If you would like more information about this topic, please call [name] at [phone number] or email [email address]."
Alternatively, this call to action (CTA) section becomes especially valuable if you include an element that is trackable to determine if you are meeting your business goals. For example, if your goal is new leads, you could add a link to a designated landing page that expands on your product launch, then offers a free trial or demo on that landing page in exchange for visitors' email addresses.
Hyperlinks
Though links within press releases are ignored by Google, links in your release are still valuable. They could—and should—offer your audience valuable information about your product, event, or other news. Linking to a landing page with more information, for example, offers journalists more resources for writing a story about your announcement. Journalists may even copy and publish your link in their story, which will often be respected by Google and so help your search engine optimization (SEO) efforts.
However, keep a couple of rules in mind to ensure your press release links get the most traction. Only include a link if it is valuable to your audience. For example, make your link more valuable by not just linking to your company homepage but, instead, linking to a page that is hyper-relevant to the topic discussed in your release. And, even then, only include one to two links within your entire press release.
Your boilerplate is the only place where linking to your website is an acceptable idea. Present it as a way people can learn more about the contents within your boilerplate. If you include a link to your website, also include a link to other business websites if they also have a boilerplate in your press release. Add social share links as an added way for readers to learn more.
Multimedia
Offering journalists multimedia resources in your press release allows them to choose the best format and details to provide their audiences when crafting a compelling story. Press releases with multimedia create more engaging stories across platforms like social media, blogs, and even print outlets. This is because journalists know that videos and other multimedia can increase engagement threefold.
While often offered only if you are willing to pay $100 to $200 extra via press release distribution service, embedded videos or images are more engaging than simply an attached image or video. Embedded multimedia is viewable directly from published news wire stories, while attached multimedia is simply accessible in link form within the published piece. Still, many plans offer free multimedia attachments, which still provide journalists with visuals they can use to add depth to their stories.
Each service has its own guidelines for formatting your multimedia for attaching or embedding in your press release, including file size and pixel limitations. Be sure to include the original files so your media contacts can use these clips if they believe they will add to their story angle. If you are emailing your press release, include links to these assets so they are available in their original form and not just a copy (which is often of less quality).
Press Release Format Best Practices
Writing and distributing a press release can either propel your company toward meeting goals or fall on deaf ears. Given the funds and time you are likely to invest in your release, we know you would like the results to be the former. For this reason, focus on adding quality details to your release (e.g., correct document settings) as well as multimedia content and social media links. Then, choose a distribution service that makes the most of your attention to detail.
Set Correct Document Settings
For a professional press release, use one-inch margins around your entire press release document. Set your body paragraphs to single space and use an easy-to-read and standard business font like Arial or Times New Roman. Bold your header and dateline and italicize your subheader.
Include Multimedia Attachments or Embedded Content
While your press release should be no more than 500 words, you can add depth and perspective angles that could mean more coverage through multimedia. An image or a video offers more information journalists can use to craft unique angles that could better fit their readers than the angle you have provided. Journalists also know the added media formats could increase story engagement, meaning they are more likely to want to publish your story.
Include Social Share Links
It used to be that people waited for their newspaper to arrive or picked one up in a coffee shop or gas station every day to consume the news. But, increasingly, people instead peruse social media feeds each day to receive their news. In fact, 55% of adults now receive their daily news via social media.
Brands wanting to disseminate news would be wise to ensure it is present where people are more likely to consume it. That's where social share links are valuable. Including them in your boilerplate is a great way to make this happen. Offer them as a way for readers to learn more about your business. Then, be sure to publish this and future press releases on your social channels as well as the stories that are created by reputable journalists around your press release content.
Choose the Right Distribution Service
While this may not seem related to your release format, choosing the right distribution service is a crucial step toward ensuring the formatting details you so meticulously included are put to good use. For example, some distribution services allow multimedia attachments or embedding as well as social share links in your press release, while others do not. Choose a press release distribution service that allows you to take advantage of the best formatting options.
Press Release Format Examples
Here are a few examples of press releases that convey the who, what, where, why, and how of their news effectively and clearly as well as key resources journalists can use to develop their stories—all in a properly formatted document. Click on the titles of each example below to view the full press release.
Thorn's press release begins with a headline that compels readers to read on. It goes on to develop the story by announcing who will be involved in the efforts, what the initiative entails, why the effort is important, and how the organization will meet the goals proposed in the headline. It further offers quotes, images, and key bullet points to help journalists develop their stories. Then, key links, like their social media pages, offer further means to learn more.
The press release finishes with an about section—or boilerplate—for all companies mentioned in the release. These paragraphs include the mission of each organization, what makes the company stand out, what they've contributed to their industries, their prominent partners, and relevant links where readers can learn more about the company.
The University of Pittsburgh Medical Center's (UPMC) press release offers an introductory graph that succinctly explains the who, what, when, why, and how they aim to reduce organ donation waiting times via social media awareness efforts. It does a great job of sprinkling media resources throughout the press release—like partner and social media links—journalists can use to develop their stories. It also prominently displays social share buttons that allow readers to spread awareness where people most consume news.
The University further offers content that journalists can use to develop a well-rounded story with a human perspective. These include stories from people whom their programs impact, including a 3-year-old girl who received a life-saving transplant as a result. The formatting elements—including its quotes, links, and subplots—compel readers to want to get involved. Then, their CTA offers them a way to do so via an invite and link to watch the event webcast.
The American Cancer Society does an exemplary job of enticing readers to continue reading in this press release. The headline promises resources for readers and the subheader compels further reading by introducing a celebrity partner. Then, the initial paragraph gets straight to the point with direct links to the resources promised in the header. This setup offers journalists the resources to quickly decide if the story a good fit for their audiences.
The release goes on to offer statistics that back up the need for this story to be published as well as an easily consumable list of resources the initiative offers readers. It ends with a direct link to the company's website and an internal contact journalists can access to help fill in gaps in their stories.
---
Bottom Line
A press release is a 300- to 500-word statement distributed by a business to the press to help generate media coverage and public awareness of specific news. It contains a compelling headline, a developed story with a newsworthy angle, multimedia, quotes, links, a CTA, a boilerplate, and contact information. If written correctly, it is an effective tool for businesses to earn press coverage that will, in turn, help them meet business goals like boosting leads.
If you need help incorporating all the best formatting options, eReleases can help. With writing plans starting at $300, you can hire a professional press release writer who will write and format your release, then offer unlimited edits until you are satisfied with the final product. From there, starting at $299 per release, they will distribute your press release, including added journalist resources like images and links. Click here to get started with eReleases.