In this guide, we give you a simple press release template with an easy to follow format. We'll also give you some tips on how to distribute your press release once you're finished.
Once you've written your press release, you need to distribute it. We recommend you use eReleases, as their distribution network includes Associated Press, PR Newswire, Google News and their own network of journalists and bloggers. Click here to check it out.
Press Release Template
We've provided a free fill-in-the-blank template to help you write your press release:
Simply download and open in Microsoft Word or Google Docs. Insert your own logo, and change the text in [brackets] to reflect your own business and press release.
Next, we'll explain each section of the press release in more detail.
Press Release Format: Step-By-Step Instructions
Press releases follow a well-defined format that simplifies the writing process. Journalists and bloggers read hundreds of press releases a day, so following this format helps ensure they catch the essential information at a glance.
Here's the 11 key components to write an effective press release:
1. Company Logo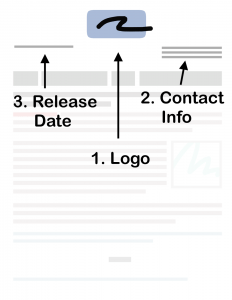 The first thing you should put on your press release is your company logo at the top center of the page. If you are emailing your press release, you should also include a link to a high-resolution PNG of your logo.
2. Contact Information
Below the logo, you can put your contact information along the right margin. Some people opt to put their contact information after the body paragraphs. Whatever you choose, it should look like this:
Contact: John Smith
Phone: (123) 456-7890
Email: john.smith@email.com
3. Release Date
Not all press releases contain a release date, but if you decide to include one, put it at below your logo on the left margin. This should either say "FOR IMMEDIATE RELEASE", or "FOR RELEASE ON [date] AT [time]".
4. Headline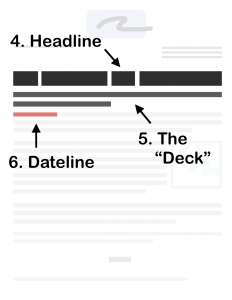 The headline or "head" is your first chance to grab your reader's attention and inspire them to keep reading. You should keep your headline short and to the point. Try to stay within the 80-170 characters range, and use language that is clear and easy to understand.
Remember, you're trying appeal to a journalist, so you don't need to plug your company right away. The headline can serve to set up the big picture story into which you can weave your business later on. It should be centered, with a size 14 font and bolded.
5. The Deck
The deck or sub-header is written directly below the headline. It gives you the opportunity to further develop your story angle, but should not repeat information already presented in the headline.
6. Dateline
The dateline presents the location and date of the article, and is separated from the first body paragraph by a dash. The location should be spelled out in all capitals. It should look like this:
BOSTON, MA, September 1 – [Body Text…]
7. First Body Paragraph
The first body paragraph should present the who, what, when, where, and why/how of the press release. This should act as a short summary that gives the reader a general idea of what the whole story is about. You should stick to the facts here, and avoid hyping or trying to sell your products or services. The body text should be typed in a non-bolded size 12 font.
8. Remainder of Body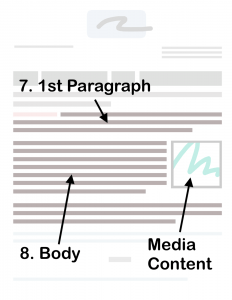 The remainder of the body paragraphs serve to complete the story you have introduced in the headline and 1st body paragraph. Be sure to write in a journalistic style so that media outlets can use your text as-is. Use short paragraphs (2-4 sentences), and feel free to include statistics, hyperlinks, media content and quotes.
Media Content
Part of the body can include different types of media content, such as photos, videos, and audio clips. Be sure to also include the original files so that your media contacts can use these clips if they wish. Media content can help you stand out on both social media and search engines.
Quotes
You can use separated block quotes to highlight certain aspects of your story. Quotes can help add another perspective other than the writer's.
9. Boilerplate
The final paragraph in your press release should be the boilerplate, which presents information about your company and what it does. This should be a factual description, and it can be used repeatedly in different press releases.
10. End notation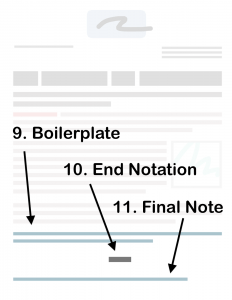 If your press release uses two pages, the first page should end in with "-more-" centered at the bottom of the page. Your final page should end with three pound signs, like this: ###
11. Final Note
Once you have ended the text of the press release, it's a good idea to put one final note at the bottom that encourages someone who would like more information to reach out to you. Something like: "If you would like more information about this topic, please call [Name] at [Phone number], or email [email address]."
If you are ready to distribute your first release press release, check out our comparison of eReleases, PR Web and PR Newswire, the top press release distribution services for small businesses. In short, we found eReleases to have the best service, as it distributes to the Associated Press network, PR Newswire's network, and their own network of bloggers and journalists.
How to Format a Press Release
Here's a few key press release formatting rules to keep in mind:
Keep total length under 2 pages, or 400-500 words
Avoid using "I", "we", or "you"
Use a standard font, like Times New Roman or Calibri
Bold your header & italicize your subheader
Use 1" margins on white paper
Last but not least: PROOFREAD
A press release is an opportunity to present your company in a highly professional manner. Be sure to proofread your press release a few times to make sure there are no spelling or grammar mistakes. You should also have a trusted friend or colleague review it for any errors you may have missed.
Press Release Examples
Here's a few examples of common types of press releases. For more examples, check out our Top 40 Favorite Press Releases, including tips from the authors on how they were successful.
New Product Launch Press Release Example:
The Biggest Loser Trainer, Pauline Nordin Launches a New Brand and App to Defatten America
Scandinavian Biggest Loser trainer and creator of the successful DVD, "The Butt Bible", is launching a new app called "Live Life Lean".
Full release here.
New Location Press Release Example:
Grand Opening: Rock N' Taco Brings Musically Modern Mexican Fare to Uptown Dallas
Rock N' Taco is newest addition to Dallas' Uptown area.
Full Release here.
Event Press Release Example:
St. Andrew's Lutheran Church to Host Thanksgiving Eve Service
Celebrate Thanksgiving Eve with the "Joy In Giving" service at St. Andrew's Lutheran Church on Nov. 27. A free-will offering is encouraged.
Full release here.
The Bottom Line
Following our press release template will help you stay on point as you write your press release. You'll want to follow it closely to ensure you've included all the key information, such as your release date, boilerplate, and end notation.
Once you're ready to launch, check out our comparison of the top press release distribution services for small businesses. While results, by nature, are unpredictable, we found eReleases to be the most promising. Their distribution network includes Associated Press, PR Newswire and their own network of journalists and bloggers. Click here to check it out.