A grand opening press release is a statement that generates media coverage as well as public awareness of your grand opening. A grand opening press release is typically 300 to 800 words and includes a compelling headline, event details, and contact information. If written correctly, it is a fantastic tool for promoting your grand opening.
Writing your grand opening press release is just the first step. After you have written your press release, you need to distribute it so it reaches journalists and media outlets. To get your press release in front of the right media contacts, use eReleases, our recommended press release distribution service, and get 33 percent off your first press release.
Grand Opening Press Release Template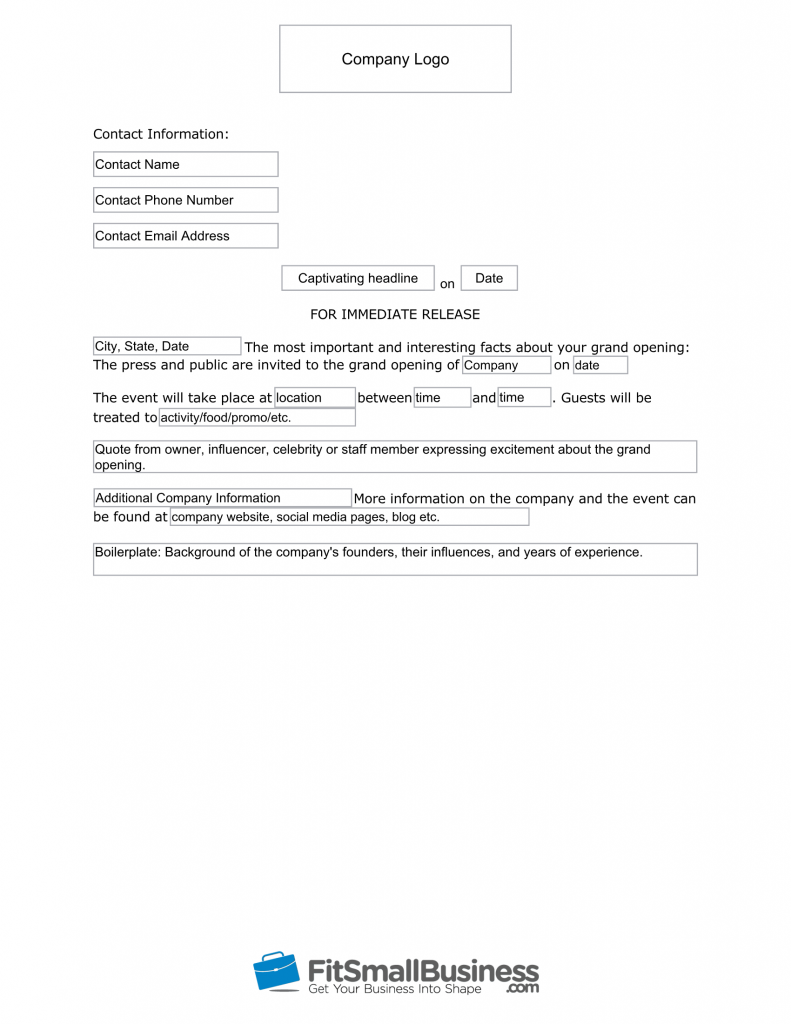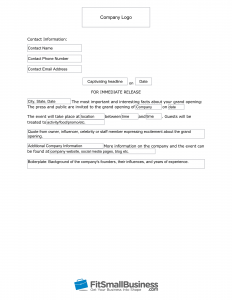 When writing a grand opening press release, it is important to follow the accepted press release structure and format, which, like other types of press releases, includes a headline, subheadline, a couple of paragraphs for the body, a boilerplate, and contact information. If you don't use this specific format, you're less likely to get media coverage for your event. To ensure you get your formatting right, we created a template to guide you through each section.
Here are the nine steps to writing an effective grand opening press release:
1. Determine Your Grand Opening Audience
To get started, you will need to determine who is going to want to attend your grand opening. When writing your press release, you want to grab the attention of this target audience. You can create a customer profile so that you are certain you are using language that appeals to your target audience.
Dig deep into understanding your audience by spending some time asking yourself questions about the demographic, interests, and behavior of your ideal target audience. You will get the best results if you write your press release to speak to your target audience on a personal level and think about what will appeal to them. Ask yourself about their age, gender, likes, and motivations.
Who do you want to come to this grand opening? Will they be intensely interested in a specific type of food or wine? Will they respond to the idea of amazing live music? Asking these questions will help you tailor your message, which will in turn, increase your potential for engagement.
Examples of Grand Opening Audiences
| Your Business | Your Audience |
| --- | --- |
| Upscale Italian Restaurant | Middle-aged couples, who rarely get a night out. When they do, they want to be treated to superb service and food. They will linger over wine and will always enjoy desert. |
| Full Service Beauty Salon | Women, 40-60 years old, upper-middle class, who enjoy being pampered. Busy professionals who feel they deserve a little time for themselves. |
| New Laser Tag Arcade, with Go Karts and a Bar | Families with kids that range in age, that want to have fun together. Middle-class adults 35 to 50. They enjoy competition, variety, and family fun. |
| New Clothing Boutique | Women, ages 30 to 55, interested in fashion and good deals. They appreciate good food and drinks, and time away from the kids and work. |
2. Create a Great "Hook" for Your Headline
A press release headline serves as the title of your grand opening press release. It will sit at the top of the press release and give the reader a compelling reason to attend your grand opening. These grand opening headlines should not only generate interest, but also entice those reading it to put your opening on their calendars right away.
Headline lengths are between 65 and 80 characters long, including spaces. Keeping it this length will allow you to be picked up by search engines and to share on all the social media sites without being cut off.
Many business owners have found it helpful to write their headline last. While some people feel they want the headline in place first, so that it can set the tone of the entire press release, many feel that if you save it until last, you'll have a better grasp of the overall message you want to send to the reader. If you make your headline the last thing you write, you might find that it allows you to better express your thoughts into one creative, captivating, well-honed headline.
Here are the steps to writing a compelling headline:
Be Concise
Your headline should be short and clearly communicate the most important parts of your grand opening. This might include your location, the type of service you are offering or what makes your grand opening special. But, keep brevity in mind when you are creating your headline. When Google indexes (that means making your press release easy to find in a search) your press release, it will cut off your headline if it goes over 80 characters.
Use Keywords
To get the most visibility possible for your grand opening press release, you want to use keywords in your headline and body. Keywords are the words that are used when someone is doing a search for that specific topic on a search engine, like Google.
For maximum visibility, you will want your keywords to be in the first one to three words of your headline, or in the first 65 characters. If you choose to distribute your press release through a service such as eReleases, having these keywords in your headline will play a critical role in its overall visibility.
Use Title Case
The format of your headline is critical if you want media outlets to pick it up. In order to follow the guidelines regarding your press release, you will need to use title case formatting. That means capitalizing the first letter of each word. Another thing to remember is that most syndication or distribution sites will not allow you to capitalize an entire word, for any reason.
Example of a Grand Opening Press Release Headline
3. Write a Descriptive Grand Opening Subheadline
Grand opening subheadlines give the reader a little more information about your grand opening. They sit right under the headline itself and are typically 20 words. Subheadlines are not required, but are strongly recommended because they allow you to add more detail that can be digested quickly by the reader and give them a better idea of what your press release is about.
Studies have shown that 79 percent of online readers scan more than read. If you create a captivating subheadline, you will be able to capture readers' attention and help them better understand why they would want to attend your grand opening, even if they only scan your press release.
Here are the steps to follow when you are writing your subheadline:
Build off of the Grand Opening Headline
You want your subheadline to give more information to your reader while being consistent in tone and structure with your headline. Use the subheadline to generate more excitement around your grand opening.
Below is an example of a grand opening subheadline that builds off of the headline and generates excitement by adding details. In this example, the headline tells the reader that there is going to be a "line-up" of celebrities at the grand opening for Universal Studios Singapore, then the subheadline lists the line-up.
Example of a Grand Opening Subheadline
Summarize Your Grand Opening Press Release
You can use the subheadline to offer a short summary of the most important or exciting thing that you want the reader of your press release to know. Are you going to have amazing food or live music? What about an entertainer or a special offer? If so, then you want to try to include that in the subheadline.
Stay Concise
The ideal length of a subheadline is 20 words or fewer. While there are exceptions to this, the press releases that get the best results are always around this length.
4. Write a Captivating First Paragraph
The first paragraph of your grand opening press release should be a summary of the most important things that you want the reader to know. It is critical that this paragraph includes any relevant information about your business, location, and grand opening event details.
Your first paragraph should be around 25 words. If you can stick to this length, you will have a better chance of getting picked up by media outlets and of increasing overall awareness of your grand opening by making the most important information easy to find in a quick scan of your press release.
Below are the steps to follow when writing your first paragraph:
Begin with the Grand Opening Date & Location
Start your press release with the date that you want the release to be live and the city that the press release originated in. Media outlets will look for this date to know when you want to publish this press release.
Clearly Announce Your Grand Opening
Once you have given the date and location, you want to concisely summarize your most important information. As mentioned above, most people will only scan over your headline, subheader, and first paragraph. If you keep the first paragraph short and clear, they will have all the information they need to decide if they want to attend your grand opening. Ideally, you want to keep the first paragraph under 60 words while still being engaging.
Answer "Who, What, When, Where, & Why"
Including the who, what, when, where, and why in your first paragraph will allow you to give the readers of your press release all the information they need to attend your grand opening. Keep succinct in the first paragraph, then expand this information further in the body of your press release.
These are the questions your first paragraph should answer:
Who: Who is hosting this grand opening? Who is the owner, founder, or investor in this business? Who is the chef or the manager?
What: What is happening? What is being offered? What is being celebrated?
When: When is this event happening?
Where: Where is the location of this grand opening?
Why: Why is this grand opening happening now?
Keep Your Language Simple
Try to avoid any industry-specific jargon or other phrases or words that aren't quickly understood. If people have to think too much about what you are saying, they will be less likely to be interested in reading more.
Example of a Good First Paragraph
5. Write the Body of Your Press Release
The second and following two to three paragraphs of your press release will expand on the who, what, where, when, and why questions, as well as offer more information about your business and your industry. You want to include the customer reviews, unique offerings, any specific highlights or benefits to coming to the grand opening event. The body of your press release is also where you can include quotes, images, and links.
Here are the items to include in the body of your press release:
Offer More Details on the "Who, What, When, Where, & Why"
When writing your press release, the body is your chance to write more details about the story of your business, how long you've been open, how many locations or employees you have, and what makes you unique. Adding these additional details gives some weight to your press release.
Give Reasons to Attend Your Grand Opening
To increase your grand opening attendance, you will want to offer a specific reason to attend your grand opening. This reason might be free, chef-created gourmet hors d'oeuvres and a nice selection of wine, or a discount on your first personally-designed summer outfit that will only be given to those who attend your grand opening, or a chance to meet a local celebrity. Whatever your specific appeal is, you want to explain that when you are writing a press release body.
Add a Quote
For a grand opening press release to be powerful, you want to provide some evidence that this will be a fantastic grand opening and that your location is worth checking out. The most common way of doing this is to add a quote from the owner, a customer, the chef, a current customer, or other industry leader. You can also include testimonials, statistics, research details, or case study excerpts.
Example of Using Quotes in Your Press Release
Include a Call to Action
The success of your press release is going to be determined by the number of people who actually attend your grand opening. In order to have a good attendance, you will want to have a specific call to action in your press release.
A call to action is a sentence in your press release that tells your reader exactly what you would like them to do. In this case, you could ask them to register to attend your grand opening or even just simply put it on their calendar. When you do, talk directly to your reader: "Register to save your seat today." Or "Sign up to attend now before all the wine glasses are taken." Make it easy for them to register by including a link that takes them directly to your registration page.
Example of Press Release Body
6. Write Your Boilerplate
A "boilerplate" in a press release is basically your "About" section that tells more about you, your business, and your offerings. In your boilerplate, you can include the owner's background and your business operating information.
Here are a few things you can include in the boilerplate:
How long you've been in business
How many locations you currently have
Links to any high-profile reviews
Awards, honors, and recognitions
Link to your website
For more information on how to write a boilerplate, you can read our article on boilerplate definition and how to write one that you can use for your grand opening release and beyond.
Share a Few Facts About You
In your boilerplate, share a few facts about the business in a way that is interesting to potential customers. You can be creative in what you share by describing your product or by describing why your customers love your business.
Example of a Boilerplate
7. Add Your Contact Information
Formatting for the contact information in a press release depends on where you distribute your press release. Some syndication companies have you add your contact information at the top, but if you are distributing it on your own, add your contact information to the end of the press release. Pick whichever format works best for you.
Contact information includes:
Contact Name
Contact Phone Number
Contact Email Address
8. Check Your Formatting
Now that you have written your press release, double-check the basic formatting. Journalist and media outlets expect those submitting press releases to follow a few basic guidelines and you want to be certain you haven't missed anything that might prevent them from talking about your grand opening.
This formatting includes the following:
Business information, including contact information
Grand opening headline
Grand opening subheadline
Attention-grabbing first paragraph
300- to 500-word body detailing your grand opening, including a quote
Boilerplate information at the bottom
For more information on specific formatting, check out our article on how to format a press release, including a free template.
Verify Your Release Date
If your grand opening is taking place soon, include the words FOR IMMEDIATE RELEASE at the top of your press release.
It will look like this:

If you want them to hold your press release until closer to your grand opening, that is called an "embargoed" release. In that case, include the words "Embargoed for Release" and then add your date and time.
When you do an embargoed press release, it will look like this:


Choose a Basic Font
You want to use a font that is typically used in articles and stories so that your press release gets picked up by news outlets. Usually this means using Times New Roman or Arial fonts throughout your press release and not using more than one font.
Check the Font Size
Here are a few other formatting guidelines when it comes to the typical size of the font in the various section of the press release:
Headline: 14 point Times New Roman
Subheader: 13 point Italic Times New Roman
Body Text: 12 point Times New Roman
Write in Third-Person Voice
So that your press release can be picked up anywhere and read by anyone, double-check that you have only used a third-person voice throughout your press release, including in the boilerplate copy. Doing this will ensure that your press release won't require additional edits before being picked up by major media outlets.
9. Begin Distributing Your Press Release
Once you are confident that your press release is ready to be given to media outlets and journalists, you can start the process of distributing it. You can do this several different ways, but for best results, you should combine them.
Use a Syndication Service
Using a syndication service will ensure that you get maximum exposure for your press release. When you use a service like this, you will use a form on their site to write and format your press release, and then they will distribute it for you.
If you use a credible syndication site, like eReleases, for your distribution, you will be able to reach thousands of news agencies, including TV stations, major news networks like Fox News, MSNBC and other news journalists and websites. The cost for this service is typically between $99 and $300. You can receive 33 percent off your first press release when working with eReleases.
Post on Your Website or Blog
As a general rule, you should always post your press release on your website to increase its overall visibility. Posting it on your website or blog, along with using a syndication service, will increase the exposure of your press release, which will help drive attendance and awareness of your grand opening.
Post a Link on Your Social Media Pages
Once you have a link either from your website or from your press release getting picked up by news outlets, post those links to your social media pages so that your fans and followers can see, like, and share them as well.
For more information on how to distribute your press release, check out our article on how to send your press release.
Getting the Most Out of Your Press Release
If you want to gain some real traction in the media with your press release that will result in increased attendance of your grand opening, there are a few press release distribution tips to keep in mind.
Focus on local media. Don't discount getting picked up by your local media. There is less competition in smaller outlets, plus you'll reach a more targeted audience that lives in your local area. This is the audience most likely to actually attend your event.
Include a link to your event registration page. Including a link to your event page might get the media to list your grand opening on their event page as well.
Don't send out your press release on the hour. By sending at an odd time, like seven minutes after the hour, you will face less competition than if you send a press release exactly on the hour.
Bottom Line: Writing a Press Release for Your Grand Opening
A press release can be an effective promotional tool for your grand opening. To get the most traction and visibility, you want to be sure to use the proper formatting and all relevant information that the media will be looking for. Remember to keep your press release concise and engaging and you'll get amazing results.
Sending a grand opening press release should be part of your promotion plan for any grand opening for a small business. Doing this will give your business and your grand opening added visibility and credibility in your area. To ensure you send your press release to the best media outlets and reach thousands of news agencies, consider using eReleases. Sign up with eReleases today to get 33 percent off your first press release.