How to Write a Grand Opening Press Release [+ Template & Examples]
A grand opening press release is a formatted statement announcing the news of your upcoming opening day to generate media coverage and public awareness. This helps get people to attend your event and build brand recognition. To write a grand opening press release and get the word out, identify your target audience, set up proper press release formatting, write your press release's content, then distribute it to media outlets and journalists.
Want help writing your press release? The best way to guarantee exposure to the right journalists and media outlets is to use a press release distribution service like eReleases. In addition to distribution, they offer writing services from seasoned media experts.
Grand Opening Press Release Template [Free Download]
Like other types of press releases, the elements of a press release for a grand opening should follow a specific structure and format. Using the standard format increases your chances of earning media coverage for your event. To ensure proper formatting, download our free template and use it as a guide as you write your announcement.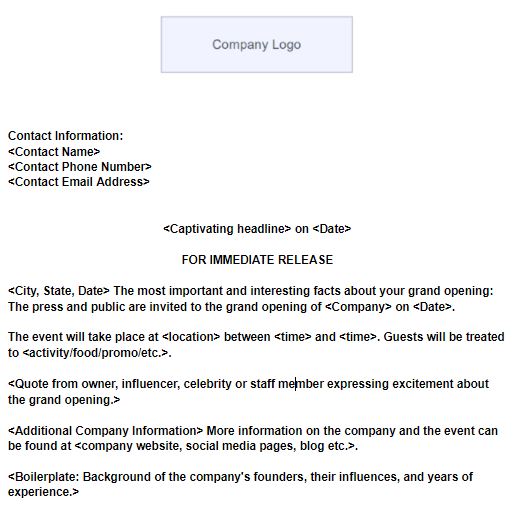 Thank you for downloading!
💡 Quick Tip:
Once it's written, send your announcement out with guaranteed media placements and targeted sends to journalists for $99.95 with EIN Presswire.
Visit EIN Presswire
Customize the template as you follow the steps below on how to write a press release for a new business:
1. Identify Your Target Audience
To get started, determine who you want to attend your grand opening and the types of customers you hope to attract afterward. When writing your press release, you'll be writing to interest this target audience in particular. Once you have a clear target audience, list the details of your business that would be relevant to their interests and concerns.
For example, if you were an organic restaurant wanting to build brand awareness among health-conscious customers, your menu offerings should probably have an interesting detail that would capture their attention. On the other hand, a dentist opening a new practice might want to include information about specialties, free screenings, and their commitment to the local community. Details like these will guide the headlines, content, and quotes that will go into your story.
Not sure how to define your audience? Learn how to use customer personas to help determine your grand opening's target audience.
2. Set Up Formatting
Journalists, and media outlets expect press releases to follow basic formatting guidelines. Use Times New Roman or Arial font in size 14 pt. bold for your headline, 13 pt. italic for the subheadline, and 12 pt. regular (not bold or italic) for your body, boilerplate, and contact information.
If you downloaded the template above, the formatting for your announcement is already set up for success. For more information or to double-check you have the proper format, check out our article on how to format a press release.
3. Write Your Announcement
Writing a press release for a new business opening involves creating a header, a body, and a press release boilerplate. The header includes your business name, contact information, and headline, while the body is where your press release's main story is located. Finally, it ends with a boilerplate with overview information about your business.
Open the dropdown menu items below for detailed instructions for each section and examples:
Center your logo or business name at the top of the document, then add your release date and contact information below. Below that, center your headline and subheadline, then left-align all the remaining text.
The headline sits at the top of the press release and gives readers a compelling reason to keep reading and attend your grand opening. Headlines are capitalized and should be between 65 and 80 characters long, including spaces. Keeping it this length also enables your title to be picked up by search engines and shared on social media sites without being cut off.
Here are some tips for writing a compelling headline:
Keep it straightforward and concise
Tell people what's in it for them
Use the same angle and tone as your story
Include your location
Use active voice
Use enticing language, but don't exaggerate
Ideally, you should also include a subheadline to add more information to further pique a reader's interest. Subheadlines go just below the headline and are typically about 20 words.
Below are a few examples of effective grand opening press release headlines.

---

---

---

---
Pro tip: If you find yourself struggling to write your headline, consider writing it last. It could help you better grasp the overall message you want to send to the reader.
---
The first paragraph of your announcement should summarize the most important things you want your audience to know. This includes the location and date of your grand opening, as well as a short overview of the event—all within a concise paragraph of about 60 words. Be succinct in the first paragraph, then expand with more details and context in the body of your press release.
Here are a few things to remember when writing your first paragraph:
Begin with the date and location: Start your press release with the date you want the release to be published and the city in which the press release originated.
Answer "Who, What, When, Where & Why": Including these primary details about your event in your first paragraph gives journalists—and eventually, readers—the vital information they'll need to attend your grand opening announcement.
Keep it concise: Keep the first paragraph short and clear—ideally under 60 words. This way, readers instantly understand your message while still being engaged with the details.
Use simple and direct language: Avoid industry-specific jargon and phrases or words that aren't easily understood. Simple, easy-to-understand language makes you seem more friendly and approachable to audiences.
---
The next two to three paragraphs of your announcement should provide additional information and context about your event and overall business. This includes elaborating the "who, what, when, where & why," adding quotes as social proof, giving audiences a reason to attend your event, and finally, adding a call to action (CTA).
Here are some of the things you should include:
Offer more details on the "who, what, when, where & why": When writing your press release, the body is your chance to show more details about your business and event and what makes them unique. For example, Ristorante Lucca's press release provides descriptions of the restaurant's dining spaces, menu offerings, and head chef, giving readers a more well-rounded picture of the restaurant.
Give a reason to attend your opening day or event: To increase your grand opening attendance, offer a specific reason to attend. This might be a catered cocktail hour, an exclusive discount for attendees, or a chance to meet a local celebrity or authority.
Add a quote: Provide social proof that it will be a fantastic event and that your business is worth checking out. Do this by adding a quote or two from the owner, a spokesperson, a customer, a celebrity, a local official, or an industry leader discussing their excitement for your new business.
Include a call to action: A call to action (CTA) is a sentence in your press release leading your audience towards taking a specific action. It could be as simple as "To learn more, visit us online at [website]," but it may also be more particular, such as "Register to save your seat today."
Additionally, you could also include details such as event benefits and highlights, interesting information about your business, and supplemental images and links. Check out the example below, including its use of four special offers to entice people to come:
---
A boilerplate is a one-paragraph (around 100 words) overview of your business at the bottom of your press release. It's a concise "About" paragraph that gives journalists more context about your business and its background. Along with your business' background information, your boilerplate should include your operating details, such as your location and hours.
Additionally, include your contact details and a link to your website so interested journalists can easily connect with you for more information. Here are a few more things you can include in your boilerplate:
What your business does
How long you've been in business
Links to high-profile reviews
Links to videos about your company
A link to your media kit or a media-targeted landing page
Awards, honors, and recognitions
Business size and scope, such as number of locations, number of employees, or geographic region/s served
What differentiates your business from competitors
You company's mission or vision statement
Endorsements, memberships, or affiliations
Industry leadership, such as products or technology pioneered
For more information, follow the step-by-step instructions on how to write a boilerplate. Below is an example you can draw inspiration from.
---
4. Distribute Your Press Release
With your announcement written, the last step is distributing it to get the word out. Success in gaining media coverage could even get your story onto the local news. There are several ways to get your announcement out to the public, and you should use multiple tactics for maximum media exposure.
To start, distribute it directly to local media outlets and journalists and share it on social media. Email a copy to your contact list, neighboring businesses, and your local Chamber of Commerce. For guaranteed media exposure, you can also use a press release distribution service.
Here are the most common ways to distribute a press release for a new business:
Send it directly to local press contacts: Create a list with the email addresses of journalists and publications in your area, then send them your press release along with a pitch email. You can also go beyond local and send an email to national journalists who regularly cover stories in your industry.
Send it to local influencers and bloggers: You can send your press release to local influencers and bloggers who share content related to your industry. This is especially helpful for businesses in niche industries, which can connect with their target audience via influencers in the same industry.
Send it to local dignitaries: A guaranteed way to get attention and credibility for your opening is by having dignitaries such as your local mayor or chamber of commerce, as guests at your grand opening. Send your media announcement along with an invitation letter to their email addresses or through their website—just be sure to give plenty of notice, as their schedules are usually full.
Send it to industry publications: Industry publications have the benefit of being catered specifically to your industry's audience. Some publications have contact forms on their websites that accept press releases. You could also manually send an email with your press release to a member of their editorial team.
Use a syndication service: A syndication service like EIN Presswire, Newswire, or eReleases ensures maximum exposure by sending your press release to thousands of outlets. You might spend anywhere from $99 to $399, but it's a worthwhile investment that gets your press release on major news sites and search engines, getting more people to attend your grand opening.
Post it on your website: Post your press release on your website to increase its overall visibility and generate more awareness of your grand opening.
Share it on social: Once you have a link to your published release (either from your website or when it's published by news outlets), post the link to your social media pages so that your followers can also see, like, and share your news. Also, if your city has a social media community page, consider sharing it there.
For more information about how to get media coverage, check out our article explaining how to send a press release.
A new business press release is intended to draw your target audience to attend your grand opening. However, you can also plan to invite journalists and media outlets to cover your event by sending them a media advisory in addition to your press release.
Grand Opening Press Release Examples
One of the best ways to learn how to write a press release when launching a new venture is to study examples of successful media statements. Below are three press releases for new business openings to draw inspiration from:
Grocery Store Grand Opening
Natural Grocers® Invites Brighton, CO Community to Celebrate Grand Opening Sept. 30, 2022
Natural Grocers has a great example of a straightforward new business press release. It has all the relevant information in the lead paragraph, including the location, date, and time of the grand opening, as well as a short rundown of the event. The subsequent paragraphs then give more context and details. There's also a quote as social proof before finishing off with an informative boilerplate about the company.
Restaurant Grand Opening
Ristorante Lucca Announces Fall 2022 Grand Opening; Now Hiring Experienced Staff
In this example, upscale restaurant Ristorante Lucca begins with a lead paragraph with major details about the grand opening and the restaurant's facilities to entice readers to the event. The following paragraphs then expound on those details with descriptions of the restaurant's menu and services. It also has quotes from its chef and managing partner. It then ends with a short boilerplate with the restaurant's description and location.
Service Facility Grand Opening
Grand Opening of Beacon of LIFE PACE Center Ocean County on Sept. 29
This example of a service facility opening begins with the event's location and time in its lead paragraph, then continues with quotes from staff members throughout the rest of the content. Moreover, its boilerplate also includes the company's contact information, which not only is helpful but also shows that the company is always ready to assist people—a great look for service-based facilities.
Frequently Asked Questions (FAQs)
How do you promote a grand opening?
To promote a grand opening, start with a press release and send a media advisory in advance of any business launch events. To increase attendance, invite influential people to attend and plan to hold a giveaway. Then publicize both in your pre-launch marketing. Set up your new business for success by running ads to start generating leads and introducing yourself to nearby businesses. Read more in our list of grand opening promotion ideas.
How do you announce a new store opening?
If the new store is the first opened by the business, follow the steps to write a press release for a new business above. If not, you can modify the announcement to note that it's a new location opening and include more about the broader company in the boilerplate. To make sure your announcement produces the results you want, follow our checklist of press release best practices.
How can I make my announcement interesting?
There are three ways to make your announcement interesting. First, make sure you've identified a target audience and plan to reach them in the distribution of your story. Second, make a clear angle by highlighting why your news matters to your target audience(s). Lastly, use enticing language to craft a headline and subheading that stands out to your readers. Learn more about what makes a good press release and how to write one.
Bottom Line
Press releases can be effective promotional tools for a grand opening that bring people to your launch event and new customers to your business in the days that follow. Follow standard press release formatting and include an attention-grabbing headline and content that will intrigue and attract your target audience.
To get the most exposure, use a press release distribution service like EIN Presswire. It's one of the most affordable ways to guarantee your story is placed in thousands of media outlets. Plus, your chosen distribution package comes with targeting to get your news into the hands of potentially interested journalists. Learn more about EIN Presswire.
You Might Also Like…