Klarna Review: Is It Right for Your Business?
This article is part of a larger series on Payments.
Klarna is a buy now, pay later (BPNL) service that offers flexible payment methods for online and in-store purchases via mobile app. It attracts mainly Gen Z and millennial shoppers who are building credit. Klarna is available in 17 countries and also has its own marketplace with over 147 million shoppers. Although it doesn't publish pricing and has somewhat limited integrations, Klarna is a good BNPL fit for businesses of any size and our pick for the best overall BNPL app for merchants.

What We Like
Appealing to a younger demographic
Many flexible payment options
Assumes credit fraud risk
Dedicated customer success team and marketing support
What's Missing
Lack of pricing transparency and information
Limited integration options
Requires good credit from shoppers
Deciding Factors
Integrations: Klarna works with many top ecommerce platforms but it doesn't work with everything. See integration details below.
Pricing: Klarna lacks transparent pricing information so it's difficult to discern if it's a fit for your budget.
Standout features:
Multiple payment options

4 installments
Financing
Pay in 30 days
Pay now

Marketing tools and dedicated marketing support team for merchants with >$3 million in annual sales
Instant, upfront payouts
Accommodates in-person and online sales
When To Use Klarna
Klarna earns the rating as our best overall BPNL app because of the services it provides for both sellers and shoppers. Compared to top competitors like Affirm or Afterpay, Klarna is the only platform that offers four payment methods.
We recommend Klarna for:
Businesses with international sales: Klarna services 17 global markets with plans to expand soon.
High-revenue businesses: Klarna offers enterprises with more than $3 million in annual sales a dedicated account team to assist with marketing and analytics to grow their business.
Small and growing businesses: If your store generates less than $3 million annually, you can still offer each payment method and get marketing support through the merchant portal.
Retailers looking for seller protection: Klarna assumes responsibility for fraud risks and chargebacks.
When To Use an Alternative
Retailers in need of diverse integration opportunities: Currently, Klarna only integrates with 11 ecommerce platforms. However, it does offer custom API credentials. If you need more, Affirm has integrations with dozens of platforms.
New businesses: Klarna requires a minimum contract of 12 months, which automatically renews one month before the binding period ends. So, if you're still a new business with an uncertain future, you may want to wait until you're more comfortable making a yearlong commitment. Affirm or PayPal Later may be better options.
Want to accept regular card payments as well? See our guide to the best merchant services for small businesses.
Klarna Pricing
One downside to Klarna is the lack of transparency regarding its merchant fees. There are no initial fees when signing up. However, fees are a part of the contract and deducted from Klarna payouts. Klarna charges a monthly basic fee, a transaction fee, and a percentage of the transaction.
Consumers aren't charged fees for purchases when using the Pay in 4, Pay now, or Pay in 30 days payment options. They will incur fees when they miss a payment by the due date and on monthly financing sales. Klarna adds an APR of 0%–24.99%. Other competitors, like Afterpay, assign late fees up to $8 per transaction or 25% of the purchase price, whichever is the lesser amount. Klarna also offers the option to extend payment due dates if possible.
Klarna Features for Businesses
Klarna provides businesses of all sizes the same payment method options. All businesses have full access to the merchant support team and developers portal. The dedicated account team is where the features differ slightly for companies that generate more than $3 million in sales annually.
Klarna provides onboarding assistance through a point of contact and merchant support. They will help new merchants integrate with their ecommerce platform and set up your account with merchant accounts, payment service providers, and any additional partners.
Multiple Payment Options
Klarna offers four flexible BNPL options for consumers. All merchants are paid upfront and in full by Klarna once each order is processed. Businesses have no further responsibility for collecting payments, so all you have to do is fill and ship the order.
4 Installments
Consumers can make four interest-free payments paid every two weeks. This feature is currently available for US and UK merchants. For in-store payments, consumers add a Digital Card to their Apple or Google wallet through the Klarna app. Then they simply tap their phones for fast and contactless payment to pay.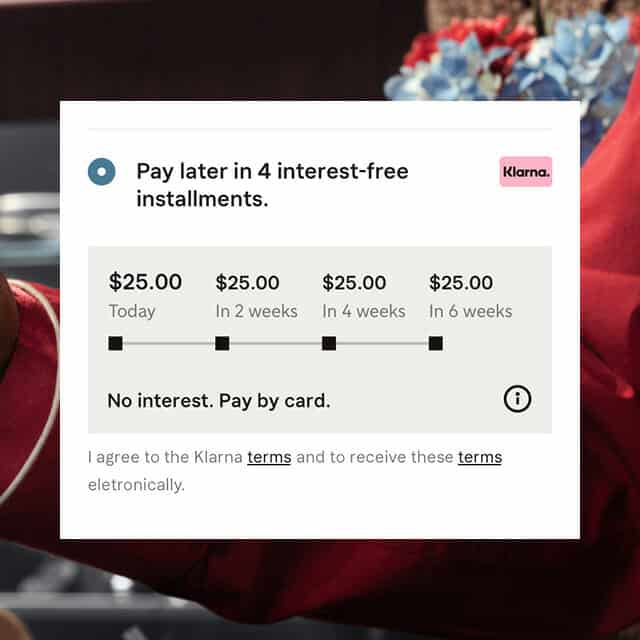 ---
Financing
Consumers can spread out their monthly payments for up to 36 months, with an APR from 0%–24.99%. This option is available in several international markets, including the US, UK, Germany, Sweden, and Finland. When they check out, they complete an application and receive an immediate response with a personalized offer.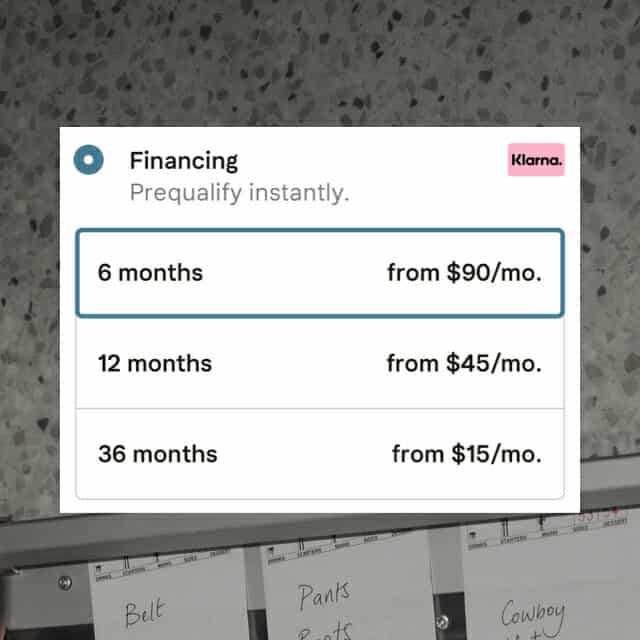 ---
Pay in 30 days
This option allows shoppers to place, receive orders, and pay in full up to 30 days later without any interest or upfront payments. This option is currently available to merchants located in the US, UK, German, Netherlands, Sweden, Norway, Finland, and Denmark.
---
Pay now
Shoppers can pay in full for their orders through stored debit or credit cards via the app. Businesses can feel secure in fulfilling the order because Klarna pays upfront while accepting full responsibility for fraud and the total credit of the order. Shoppers can also earn rewards for every dollar spent with this option.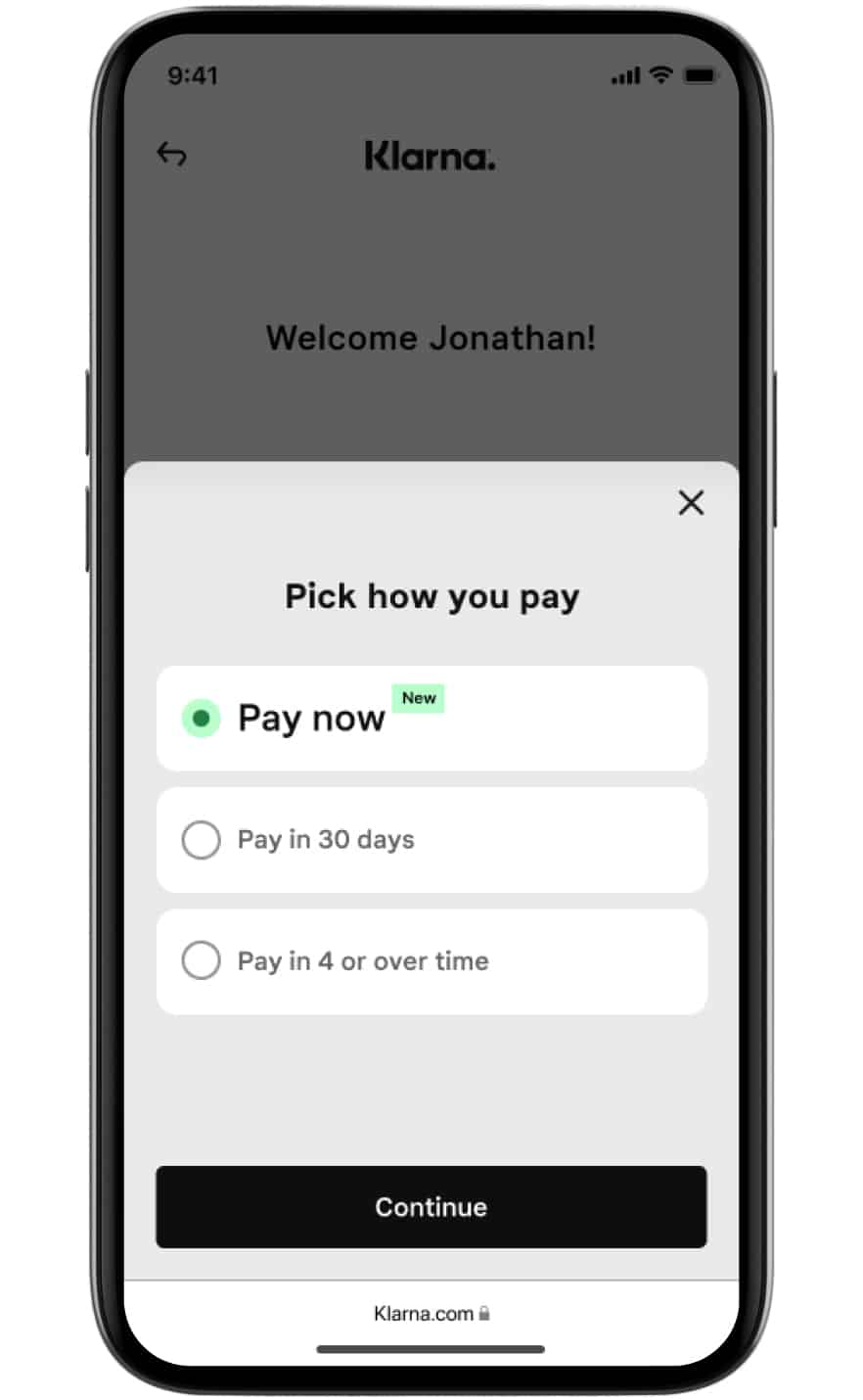 The Klarna Card:
In February 2022, Klarna announced the waitlist for the Klarna Card, a physical credit card specifically designed for the Pay in 4 payment method.
---
Integrations
Klarna integrates with various payment service providers, ecommerce platforms, and technology, agency, and in-store partners. Notably, Klarna integrates with Shopify, our top-recommended ecommerce platform.
Currently, Klarna has integrations with the following ecommerce platforms:
Adobe Commerce
BigCommerce
Cirkuit Commerce
Episerver
PrestaShop
Salesforce Commerce Cloud
SAP Commerce Cloud
Shift4Shop
Shopify
Wix
WooCommerce
Seller Protection
Klarna protects sellers by taking on all fraud and credit risk when customers use their payment methods. Businesses get paid in full and upfront after orders are processed.
Marketing Tools
Klarna's marketing features allow merchants to leverage its marketplace to gain visibility among new customers. Klarna has dedicated teams that provide 1:1 marketing assistance to merchants. Personalized marketing assistance varies based on your average annual revenue. Any business making less than $3 million per year will have access to ready-made templates and marketing resources, while those surpassing that threshold have an assigned team that works on their account.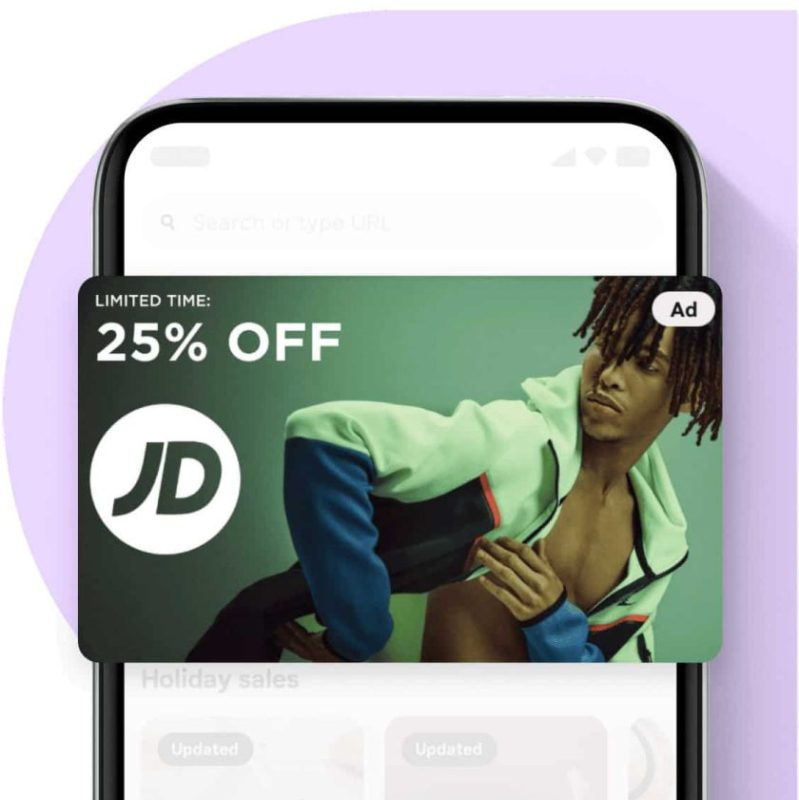 ---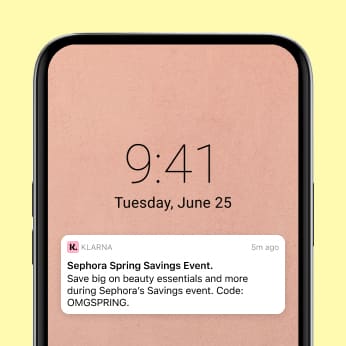 ---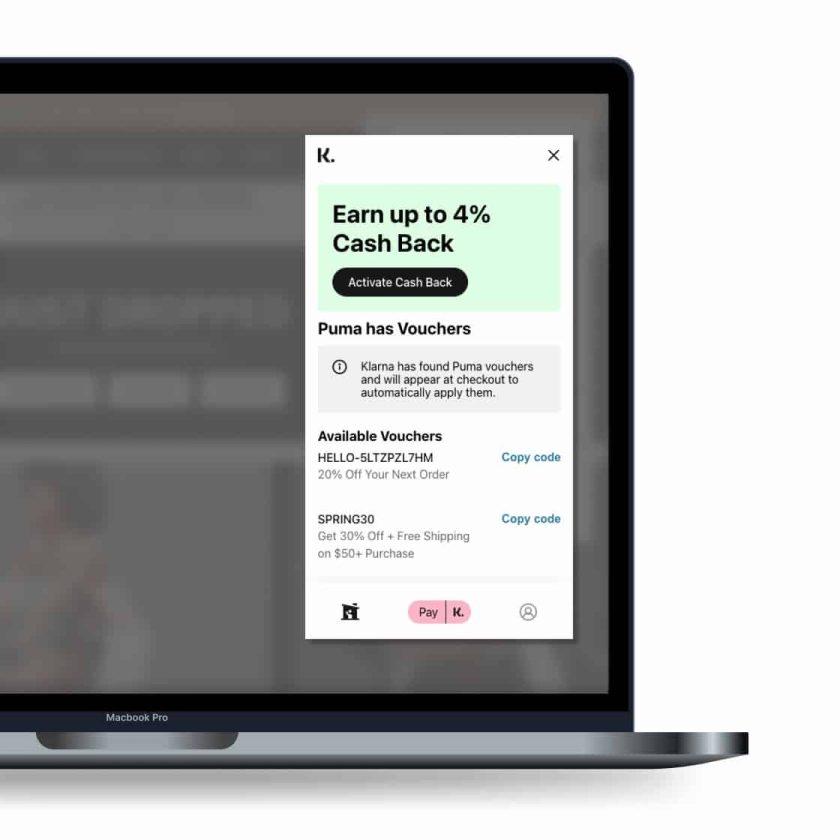 ---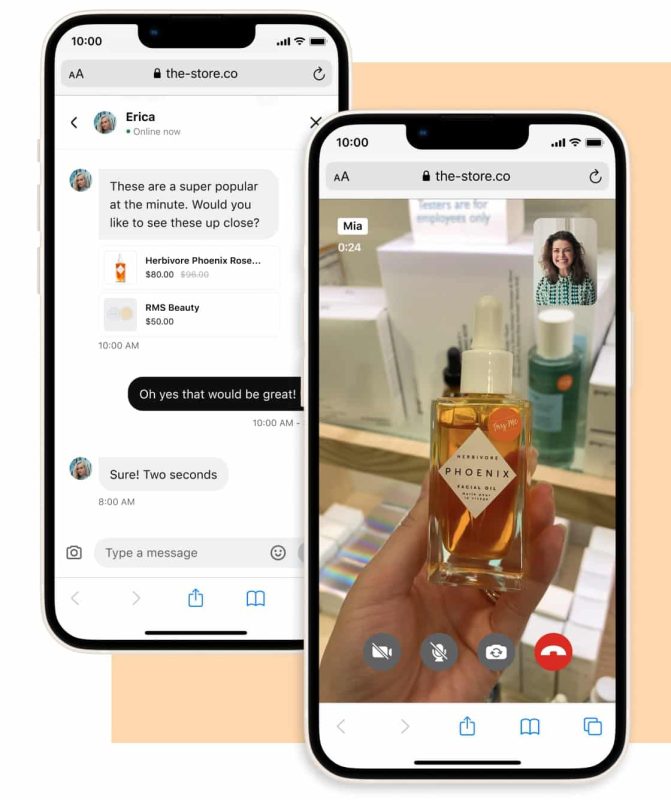 ---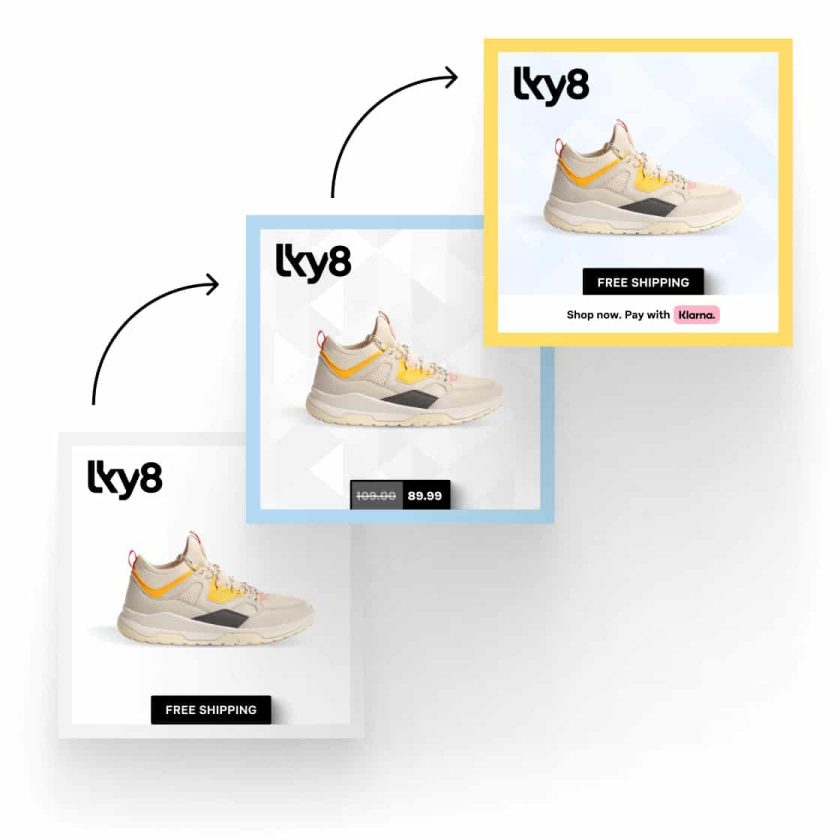 ---
Some of Klarna's marketing options include:
Sponsored placements: These allow merchants to promote their brand to a target audience on a website homepage or through the in-app browser. You can highlight stores, products, deals, or curated shopping lists.
CRM campaigns: Customer relationship management (CRM) campaigns use Klarna emails, articles, in-app messaging, and push notifications to drive shoppers to your brand.
Browser extension: Businesses can deliver highly relevant, targeted incentives through Klarna's desktop browser extension. The extension, used by over 1 million customers worldwide, reduces bounce rate and is run on a cost-per-action basis through an affiliate network. Plus, Klarna takes care of all the technical aspects.
Virtual shopping: Customers can connect with your team either live or through pre-recorded content to get personalized advice and recommendations. Businesses can even text and email through a list of opted-in customers.
Dynamic ads: Klarna uses an artificial intelligence (AI) content engine to create custom dynamic ad campaigns for your entire product catalog. The ads can be scheduled in advance and include push updates, promotions, and sales without altering the algorithms.
Influencer marketing platform: Klarna helps you connect and collaborate with influencers to drive conversions through one central platform. Search 500,000 creators in Klarna's database, coordinate directly through messaging, and track your traffic, sales, and other data all in one place.
Closed-loop reporting: Klarna also offers closed-loop reporting to know where your marketing dollars are making an impact and how to get a more significant return on your investments.
What Klarna Is Like for Shoppers
With Klarna's various payment methods, customers are given more flexibility with their purchases. While purchase power may fluctuate based on the store and chosen payment options, Klarna will increase spending limits with good payment history and payments toward outstanding balances. Klarna won't allow shoppers to purchase new items if they have overdue or failed payments.
Klarna also offers shoppers over 18 the opportunity to join the rewards club via the app. The free program gives one point for every $1 spent in any Klarna store. As shoppers collect points, they can unlock rewards and exclusive deals.
Examples of Stores With Klarna at Checkout
Etsy
Etsy online marketplace has Klarna as a checkout option. Customers make payments in monthly installments with 0% APR on most purchases.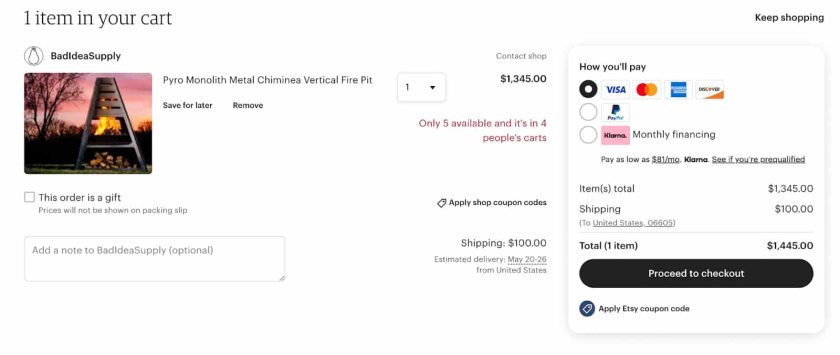 ---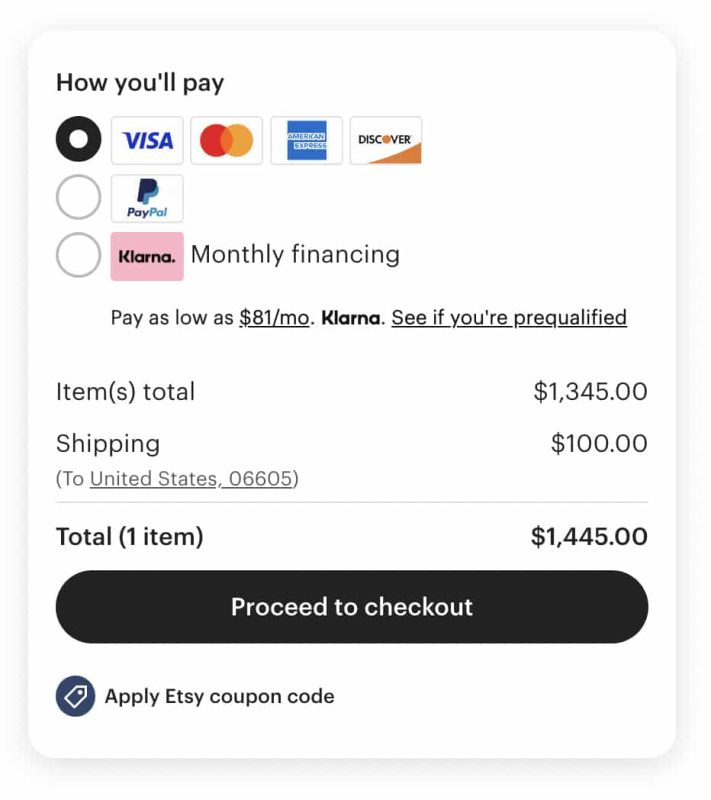 ---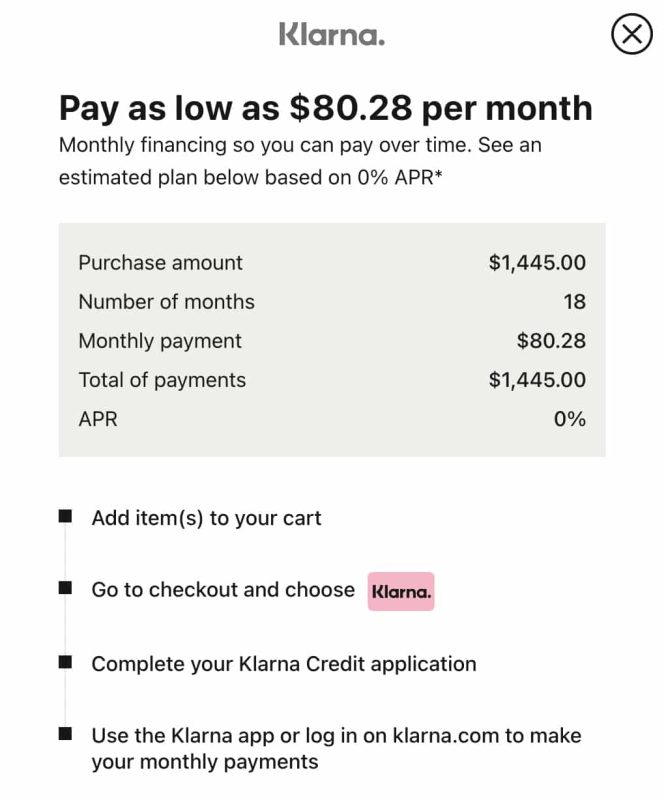 ---
Sephora
The beauty and makeup retailer Sephora also offers Klarna as a payment option. However, unlike Etsy, Sephora doesn't feature Klarna prominently from the shopping cart—you need to click "Checkout" to see that it is available. As a retailer, you can determine how prominently you want to feature Klarna on your site.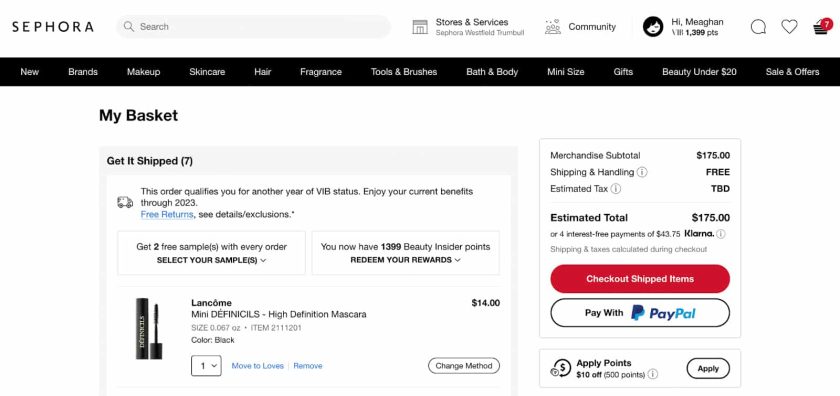 ---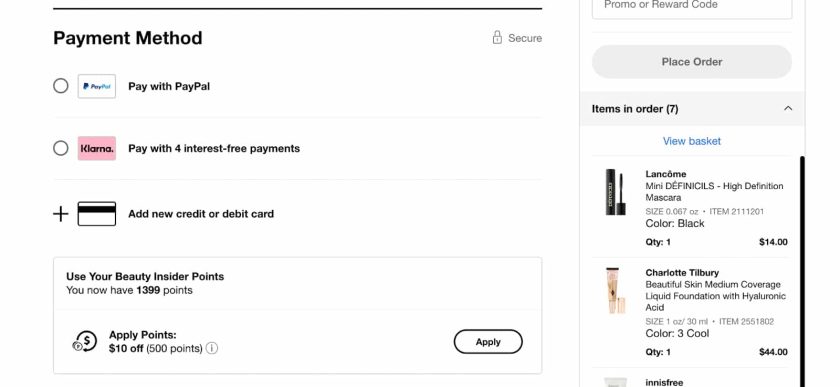 ---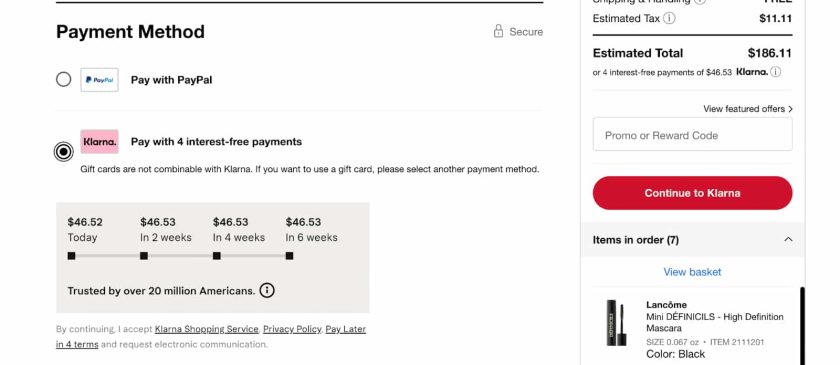 ---
Lululemon
Unlike Etsy and Sephora, Lululemon offers multiple BNPL options at checkout—Klarna and Afterpay. Both offer interest-free financing split into four payments with one payment made up front and the other three made over six weeks in two-week intervals.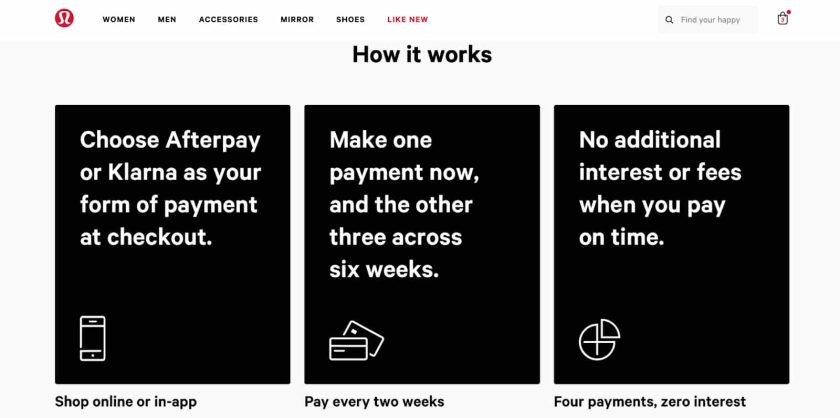 ---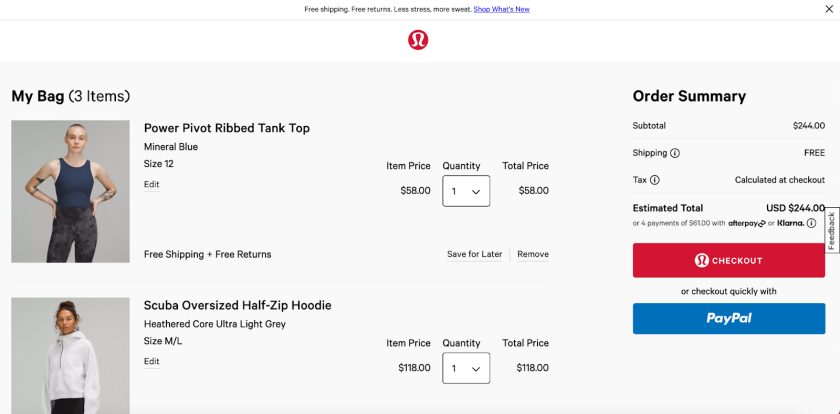 ---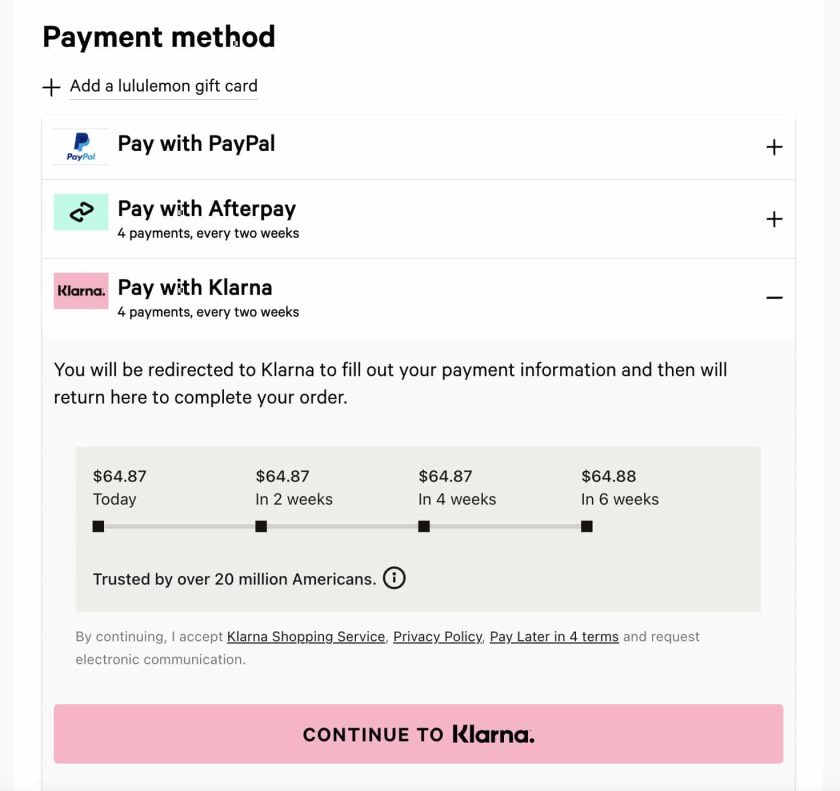 ---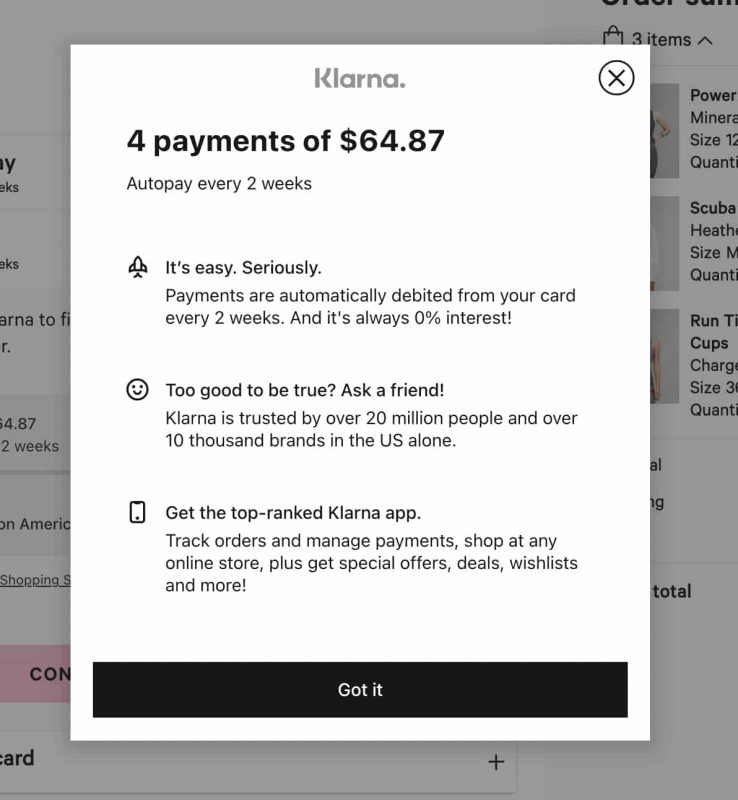 ---
Installation & Support for Businesses
Free sign-up: The application and approval process is free.
Guided integration: Access step-by-step guides to integrating with platforms like Shopify, WooCommerce, BigCommerce, and Wix.
Business support: An in-depth help section with developer and user documents, tutorial videos, and guides.
Marketing resources: Detailed best practices for advertising on your website, social media, in-store, or within the app.
Since Klarna is a financial institution, the application process follows Anti-Money Laundering (AML) and Know Your Customer (KYC) regulations. This means it'll collect information about your business, majority owners, or high-profile management positions. Once your application is approved, you'll receive your API credentials and can begin implementation.
The merchant portal helps you manage your day-to-day operations from one dashboard. The portal features are extensive and include sections for order history, payout settlements, disputes, branding, change settings, and troubleshooting issues.
You can reach customer service through online chat, phone, or email. The merchant support hours are limited to Monday to Friday 8 a.m. to 5 p.m. Eastern time. Merchants also have 24/7 access to a comprehensive support section on the website.
Klarna Alternatives
| | | | |
| --- | --- | --- | --- |
| | | | |
| Best for: | High-ticket sales | Gen Z shoppers | Shoppers building credit |
| Merchant fee: | Per transaction, varies by business type and size | Fees undisclosed | Per transaction fees, rates determined by type of products, age of business, and other factors |
| Consumer late fee: | None | $8 or 25% of purchase, whichever is less | None, customers will pay a rescheduled payment fee or a failed payment fee |
| Payout timeline | 1–3 days | 48 hours, guaranteed | 3 business days |
What Users Think
Overall, Klarna has favorable online reviews. Users often cite the app's ease of use and convenience. Many Klarna payment reviews also praise the variety of payment methods and online and in-store shopping options.
Klarna has received the following ratings on popular review sites:
Trustpilot: 4.4 out of 5 "Excellent" rating, based on 148,800+ reviews mostly citing simplicity and how quickly Klarna works.
G2: 4 stars out of 5, based on 30+ reviews. Most people love the software, though some wish it was available in more international markets.
Capterra: 4.7 out of 5 stars, based on 5+ reviewers who like the app but wish more merchants offered it.
Negative comments mention inconsistent customer service and difficulty with returns. Some shoppers have also experienced unexplained decreases in their purchase power.
Bottom Line
Our Klarna review finds the app an excellent fit for businesses of any size, particularly retailers that would like to increase revenue and broaden their client base. It offers the widest variety of payment methods and is expanding its reach across the global marketplace. While the number of ecommerce platform integrations is on the smaller side, Klarna does partner with most major sites and does have a custom API integration available. Create a free account today.