Klarna Review 2023: How it Works, Pricing & Features
This article is part of a larger series on Payments.
Klarna is a buy now, pay later (BPNL) service that offers customer financing for both in-store and online retail purchases. It is available in 31 countries and has its own marketplace with over 147 million shoppers and a mobile app for completing purchases on the go. Klarna is a good fit for businesses of any size that want to offer BNPL services—it is our pick for the best overall BNPL app for merchants.

Pros
Offering Klarna financing improves conversion rates
Multiple financing options including Pay-in-4, pay in 30 days, or 6- to 36-month plans
Klarna assumes loan risk
Dedicated customer success team and marketing support
Cons
High processing rates (3.29%-5.99% + 30 cents)
Limited POS integrations
Requires good credit from shoppers
| | |
| --- | --- |
| Pricing | Expensive compared to credit card transaction fees, but Klarna's transaction fees are standard for BNPL payments |
| Payouts | Merchants receive instant, upfront payouts |
| Integrations | Klarna works with many top ecommerce platforms but it doesn't work with everything—including many POS systems. See integration details below. |
| Marketing Tools | Marketing campaigns and dedicated marketing support team for merchants with >$3 million in annual sales |
| Klarna App | Includes Klarna marketplace, purchase management, Creator Platform (NEW), and a self-service Ads Manager (NEW) |
| Klarna Card | Recently introduced in the US, the Klarna card gives consumers a physical card to use for financing in-store purchases |
| | | | |
| --- | --- | --- | --- |
| | | | |
| Best for: | High-ticket sales | Gen Z shoppers | Shoppers building credit |
| Merchant fee: | Per transaction, varies by business type and size | Fees undisclosed | Per transaction fees, rates determined by type of products, age of business, and other factors |
| Consumer late fee: | None | $8 or 25% of purchase, whichever is less | None, customers will pay a rescheduled payment fee or a failed payment fee |
| Payout timeline | 1–3 days | 48 hours, guaranteed | 3 business days |
When to Use Klarna
Klarna is our pick for the best overall BPNL app because of the services it provides for both sellers and shoppers.
We especially recommend Klarna for:
Businesses processing international sales: Klarna is available in 31 countries. To sell internationally, you need to sign up for Klarna in each country in which you want to offer its financing services, but signing up is free and easy.
High-revenue businesses: Klarna offers enterprises with more than $3 million in annual sales a dedicated account team to assist with marketing and analytics to grow their business.
Small and growing businesses: If your store generates less than $3 million annually, you can still offer each payment method and get marketing support through the merchant portal.
Retailers looking for seller protection: Klarna assumes responsibility for fraud risks and chargebacks.
When to Use an Alternative
While Klarna is a great tool for most businesses, there are cases when you might want to use an alternative BNPL provider.
Retailers needing diverse integration opportunities: Currently, Klarna only integrates with 11 ecommerce platforms. However, it does offer custom API credentials. If you need more, Affirm has integrations with dozens of platforms.
New businesses: Klarna requires a minimum contract of 12 months, which automatically renews one month before the binding period ends. So, if you're still a new business with an uncertain future, you may want to wait until you're more comfortable making a yearlong commitment. Affirm or PayPal Later may be better options.
Businesses using Square products: Square recently partnered up with Afterpay to offer financing services for in-store and online purchases. While you can still offer Klarna on your Square website, Afterpay will be a much easier service to integrate.
Want to accept regular card payments as well? See our guide to the best merchant services for small businesses.
Klarna Pricing
Klarna Merchant Pricing
Monthly service fees: $0
Onboarding fees: $0
Payout schedule: Determined in contract based on needs
Risk: 0%
Processing fees: 3.39%–5.99% + 30 cents
Application and sign up: $0
Opening a Klarna account is free and easy. Simply fill out the application online and then wait for Klarna to review and give approval. Once your application is approved, you'll receive your API credentials and can begin integrating Klarna onto your site.
Klarna does not charge a monthly service fee, rather charging processing fees for each transaction using the financing service. Your processing rates will range from 3.29%–5.99% + 30 cents, depending on the size and processing volume of your business. When you partner with Klarna, your rates will be determined and outlined during onboarding and then agreed upon in your contract, along with your payout schedule and terms.
Klarna Merchant Features
Expand the sections below to see exactly what Klarna has to offer its merchants, including customer service options, integration abilities, seller protections, marketing tools, and the merchant portal.
Klarna has two programs for merchants—one for businesses processing less than $3 million in sales and one for those processing more than $3 million—with different levels of support tools. Larger businesses get lower processing rates and a dedicated support team to help with marketing, large-scale integration needs, and ongoing support.
All other Klarna merchants have access to customer service through Klarna's online chat, phone, email, and Klarna's library of online support resources. Live merchant support hours are limited to Monday through Friday, 8 a.m. to 5 p.m., Eastern time.
---
Klarna integrates with the biggest payment providers and ecommerce platforms, including Shopify, our top-recommended ecommerce platform.
Compatible ecommerce platforms

Adobe Commerce
BigCommerce
Cirkuit Commerce
Episerver
PrestaShop
Salesforce Commerce Cloud
Jibe
Wonderkind
Wix
WooCommerce
SAP
Shift4Shop

Compatible payment providers

PeachPay
Gr4vy
Stripe
Adyen
Digital River
Radial
Cybersource
---
Klarna protects sellers by taking on all fraud and credit risk when customers use Klarna's financing services. This means that businesses get paid in full when the purchase is made and are not responsible for collecting payments or issuing late fees.
---
Klarna has an array of marketing tools for businesses to understand how shoppers are using financing services and increase their visibility. Klarna marketing tools include:
The Klarna App Marketplace: Businesses can list their store on the Klarna App Marketplace to help gain visibility among new customers. There is even a new AI feature that caters to what businesses show up on each customer's marketplace based on their preferences and previous activity.
Ads Manager (NEW): Klarna just rolled out its new Ads Manager, where businesses can gain access to Klarna's first-party data and receive suggestions on creating more relevant shopping experiences, ad creation, and audience targeting.
Dedicated account manager: For businesses processing more than $3 million per year, Klarna will provide a dedicated team to give you 1:1 marketing assistance.
Ads and Sponsored Content: Target high-intent shoppers with premium placements in the Klarna app, including on the homepage feed.
Customer relationship management (CRM) campaigns: Connect your brand with Klarna's loyal shoppers through Klarna emails, articles, in-app messaging, and push notifications.
Comparison Shopping Service: Klarna's comparison shopping hosting service will help boost your product visibility on Google Search.
Creator platform: A new feature of the Klarna app is its creator storefronts, where creators can list products in their own branded store within the Klarna app. Leverage this tool and collaborate with creators to bring your products in front of new eyes.
Browser extension: Businesses can deliver highly relevant, targeted incentives through Klarna's desktop browser extension. The extension, used by over 1 million customers worldwide, reduces bounce rate, and is run on a cost-per-action basis through an affiliate network. Plus, Klarna takes care of all the technical aspects.
Virtual shopping: Customers can connect with your team either live or through pre-recorded content to get personalized advice and recommendations. Businesses can even text and email through a list of opted-in customers.
Dynamic ads: Klarna uses an artificial intelligence (AI) content engine to create custom dynamic ad campaigns for your entire product catalog. The ads can be scheduled in advance and include push updates, promotions, and sales without altering the algorithms.
Closed-loop reporting: Klarna offers closed-loop reporting to know where your marketing dollars are making an impact and how to get a more significant return on your investments.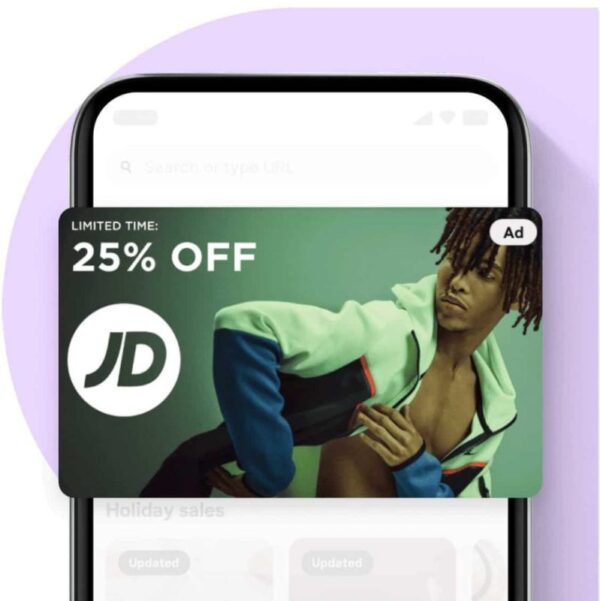 ---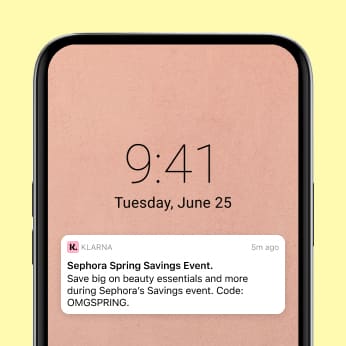 ---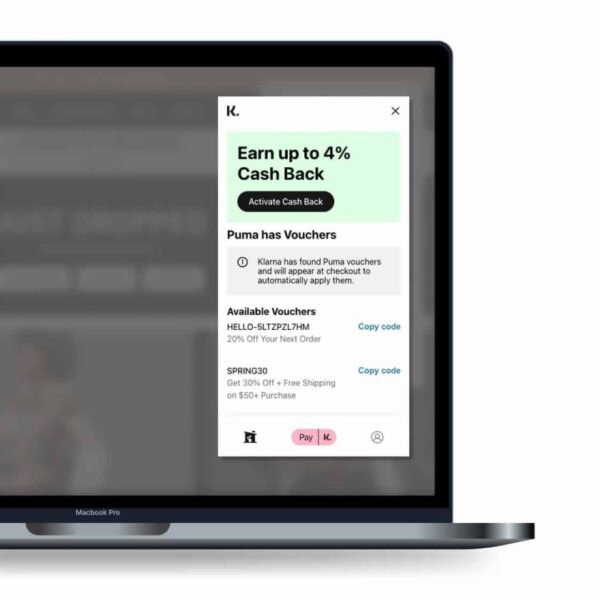 ---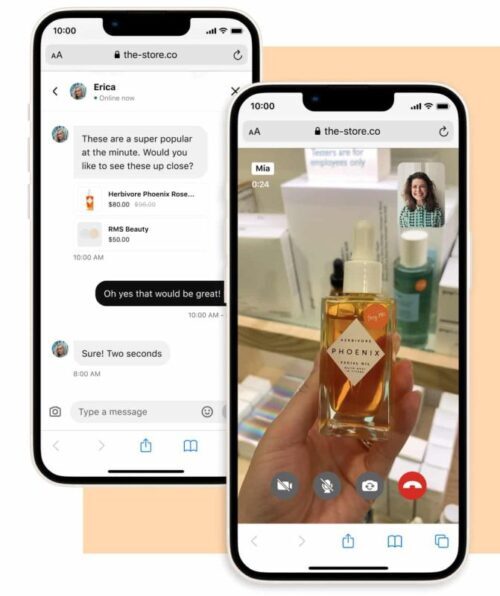 ---
---
---
The merchant portal helps you manage your day-to-day operations from one dashboard. From the portal, you can view and manage your order history, view payout settlements and disputes, make branding customization, change your settings, and troubleshoot issues.
---
Klarna Customer Features
Expand the sections below to see exactly what Klarna has to offer its customers, including financing options, the Klarna app, and the Klarna card. You can also check out Klarna's demo store, where you can test out what it is like to use Klarna on the customer side.
When checking out with Klarna, customers will get four financing options to choose from—more than any other BNPL provider. All merchants are paid upfront and in full by Klarna once each order is processed. Businesses have no further responsibility for collecting payments, so all you have to do is fill and ship the order.
Pay-in-4: Consumers can make four interest-free payments paid every two weeks.
6- to 36-month monthly financing: Consumers can spread out their monthly payments for up to 36 months, with an APR from 0%–24.99%. When they check out, they complete an application and receive an immediate response with personalized offers.
Pay in 30: This option allows shoppers to place, receive orders, and pay in full up to 30 days later without any interest or upfront payments.
Pay now: This gives shoppers the option to pay through the Klarna app. Shoppers can also earn rewards for every dollar spent via the Klarna App.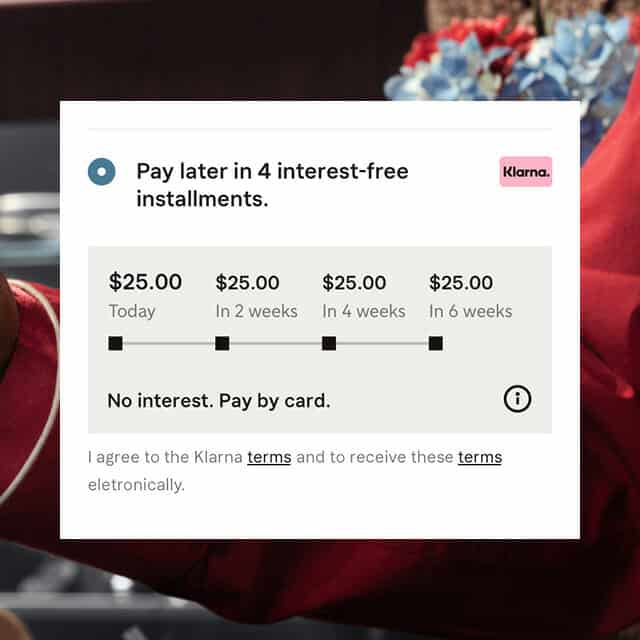 ---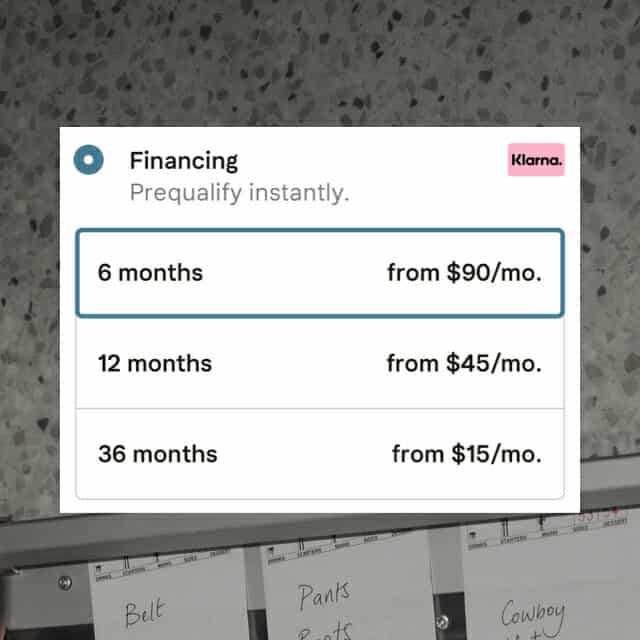 ---
---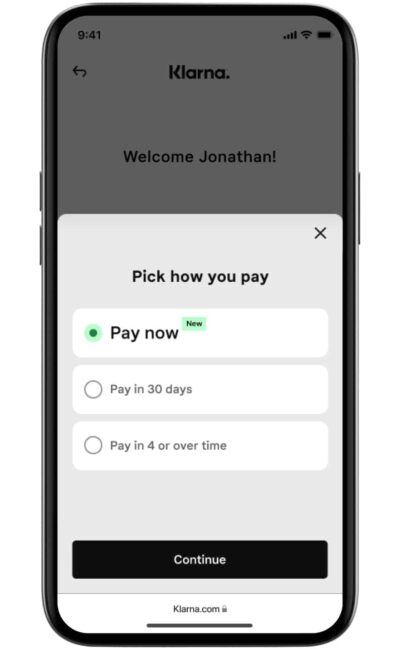 ---
Customers will incur a late fee is they miss a payment or fail to pay for their purchase. Late fees start at $7 after the first 10 days and go up to 25% of the purchase. Missed payments will also affect customer credit scores.
---
The Klarna App is where users can manage their Klarna orders, make payments, and shop the Klarna marketplace. Klarna's marketplace offers exclusive deals and a convenient platform to use your Klarna card and get Klarna's financing offers.
---
The Klarna Card is Klarna's credit card. Customers can either get the card physically or access it via the Klarna app as a mobile payment option. They can use the card anywhere Visa is accepted—in-store, online, abroad, or with Klarna and non-Klarna merchants.
What makes the Klarna Card special is that it offers 30 days to pay on all purchases with the ability to pay early or extend your window by 10 days—no fees or interest. It is completely free to apply.
---
What Users Say Klarna Reviews
Overall, Klarna has favorable online reviews, with an average user score of 3.9 out of 5 across multiple review sites. Users often cite the app's ease of use and convenience. Many Klarna payment reviews also praise the variety of payment methods and online and in-store shopping options.
Negative comments mention inconsistent customer service and difficulty with returns. Some shoppers have also experienced unexplained decreases in their purchase power.
Bottom Line
Our Klarna review finds the app an excellent fit for businesses of any size, particularly retailers that would like to increase revenue and broaden their client base. It offers the widest variety of payment methods and is expanding its reach across the global marketplace. While the number of ecommerce platform integrations is on the smaller side, Klarna does partner with most major sites and does have a custom API integration available. Create a free account today.