Lavu POS Review: Is This POS Right for Your Restaurant?
This article is part of a larger series on POS Systems.
Lavu is an iPad point-of-sale (POS) system designed for restaurants and niche food-service businesses. This competitively priced restaurant POS system combines solid built-in ingredient-level inventory, online ordering, and tons of third-party integrations. It also offers an in-house payment processing system and payment partnerships (which include Square and PayPal) that allow you to customize it to fit a variety of restaurant types. Software pricing starts at $59 per month for a single terminal and goes up to $279 for the all-inclusive top-tier subscription for two terminals.
Lavu POS

What We Like
Operates on iPads
Downloadable from the App Store and self-installable
Options for built-in or third-party payment processing
What's Missing
Customer support is not well-reviewed
Offline functionality is glitchy
Customization and add-ons can get pricey
Deciding Factors:
Software monthly pricing: $59 to $279 per month (see details in our pricing section)
Installation fee: $0
Contract length: 1 year is standard; 3-year subscriptions get a 50% hardware discount
Available payment processors: Lavu Pay, Worldpay, BridgePay, Heartland, PayPal, Square
Customer support: 24/7
Standout Features:

Built-in MenuDrive online ordering
Built in Sourcery Accounts Payable tools
Cash Discount setting
Contactless QR code ordering
When To Use Lavu
Lavu combines a high degree of customization with an affordable price point, and it frequently ranks as one of our top restaurant POS systems. While Lavu has a number of tough competitors out there, it remains as a viable option for food-service businesses with specific needs, including:
Independent restaurants needing flexible payment processing options: Lavu POS is a cost-effective system that offers an all-in-one, built-in payment processor and also integrates (for a fee) with other payment providers, including PayPal.
Small pizzerias on a budget: Lavu's POS system includes a pizza builder that allows you to accommodate menu modifications for pizza products such as various crusts, sauces, and toppings. These features, along with Lavu's comparatively low price point, earned it a spot in our list of the best pizza POS systems.
Restaurants requiring accounting tools: Lavu offers QuickBooks and Xero integrations in its Optimize tier. It also owns the restaurants accounting payable platform Sourcery, which supports automated invoice receiving and payments via the cloud.
Restaurants wanting to display nutritional information: Lavu lets you add detailed nutritional information to each menu item directly in the POS. Your customers, servers, and cashiers can access this information with the click of a button when placing orders in the POS or self-service kiosks.
See how Lavu compares to other software in our guide to the best POS systems for small businesses.
When To Use An Alternative
Food trucks with weak internet access: Lavu is a mobile POS, so if you don't have a reliable internet connection, you won't get the system's full use. You will be better off with POS systems that operate on cellular data or Wi-Fi and support mobile hotspots or LTE-enabled hardware—like Square for Restaurants or TouchBistro, which also store transactions for up to three days without an internet connection.
Restaurants with drive-thrus: If you need drive-thru management in a cloud POS, Revel Systems is a better option.
Delivery restaurants wanting a driver smartphone app: Lavu's MenuDrive function allows you to print driver directions or email them to drivers, but it stops short of including a driver smartphone app with GPS tracking and automated customer messaging. If you really want Uber-like driver management with a smartphone app, you'll be happier with Revel.
Since Our Last Update:
Lavu has made some major changes to its pricing structure and functionality. Beyond adding much more transparent pricing, it also increased its delivery management and accounts payable tools and added a cash discount function.
Delivery Management: Lavu's MenuDrive online ordering system now includes driver dispatch tools that allow you to assign deliveries to drivers and print or email driving directions.
Accounts Payable: Lavu added a built-in accounts payable system, Sourcery, which enables you to manage vendor invoices and make payments from a central dashboard. Lavu also now integrates with QuickBooks and Xero.
Cash Discount: This added feature allows restaurants to offset the costs of credit card processing by building in the cost of processing fees to menu prices and offering a discount to customers who pay in cash.
Lavu Pricing
Recently, Lavu updated its pricing structure. It now offers its POS at three different subscription tiers: Starter, Growth, and Optimize. Starter and Growth packages include software to support one terminal, while Optimize users can get Lavu POS on two terminals. Software for additional terminals is $50 per terminal, per month.
| | Starter | Growth | Optimize |
| --- | --- | --- | --- |
| Monthly Software Fee | $59 | $129 | $279 |
| Number of Terminals Supported | 1 | | |
| Inventory | ✓ | ✓ | ✓ |
| 24/7 Support | ✓ | ✓ | ✓ |
| MenuDrive Online Ordering | ✕ | ✓ | ✓ |
| Loyalty | ✕* | ✓ | ✓ |
| QR Code Ordering | ✕ | ✓ | ✓ |
| Accounting and AP tools | ✕ | ✕ | ✓ |
*For a limited time, Lavu is including loyalty tools in the Starter package, though this can change at any time at Lavu's sole discretion.
Users can add additional features like self-service kiosks, DoorDash integrations, and tableside ordering for additional monthly fees. Starter users can also add tools that are included in Growth and Optimize packages for additional fees. Currently these are some of Lavu's additional functions and their monthly fees:
Third-party processing: $25
Gift cards: $50
Loyalty: $50
MenuDrive online ordering: $99
DoorDash order sync: $70
Kitchen display system: $30
Tableside ordering: $30
Self-ordering kiosk: $50
QuickBooks/ Xero integration: $30
Sourcery AP automation: $99
API access: $30
Lavu requires at least a one-year contract, but you'll get up to 50% off hardware if you commit to a three-year contract.
Lavu Hardware
Like a lot of cloud-POS systems, Lavu operates on iPads. It also runs on iPads, iPhones, and iPod touches that run iOS 11 or later. Since you can download the software directly from the App Store, it is easy to use Apple devices you already own. The Lavu support website walks you through the steps to configure compatible devices. You can use iPhones or iPod touches for tableside ordering and mobile card readers to process tableside payments.
| Windfall iPad Stand | Magtek iDynamo Card Reader | Epson TM-U220B Printer |
| --- | --- | --- |
| | | |
| $135 | $140 | $350 |
| Low profile stand for 12.9" iPad Pro | Lightning Port-enabled card reader for iPads and iPhones | Two-color impact kitchen printer |
| | | |
Lavu operates on industry-standard Epson printers and kitchen display systems. You may be able to use hardware that you already own, but you'll need to check with Lavu to ensure compatibility.
You can buy hardware directly from either Lavu's online shop or a third-party reseller. Third-party resellers can create a complete hardware package for you and provide local technical support, but many restaurants find that a reseller is yet another intermediary who can pass the buck if the system has issues.
When you purchase hardware directly from Lavu, you have the option to lease rather than buy. The lease program can make a POS system more accessible for small restaurants, though hardware leases come with a long-term service contract. The lease contract can last up to three years and be incredibly difficult to cancel. Many negative online reviews of Lavu are from hardware lease customers who regretted enrolling in a hardware lease.
Lavu Payments
Built-in option: Lavu Pay is the built-in processor if you want an all-in-one solution.
Low rates: Lavu tries to ensure that Lavu Pay rates are the lowest available.
48-hour turnaround: Most Lavu Pay accounts are fully functional after two days.
Gift cards: Sell open-priced or set amount gift cards through the Lavu POS.
Customer support: Lavu Pay transactions are backed up by Lavu's in-house, 24/7 customer support.
Third-party: Lavu integrates with other payment processors, including PayPal and Square.
Lavu is flexible when it comes to payments. You can use Lavu Pay or opt for a third-party processor. Lavu integrates with popular payment gateways Worldpay, Heartland, and Square. Or if you are switching from another system, you can bring your existing processor with you, for a fee of $25 per month. Lavu Pay says that it offers the lowest processing rates, so it is a good idea to get a quote from other processors to negotiate the best rates for your restaurant.
Users who enroll in Lavu Pay can also use Lavu's Cash Discount function. This setting builds the cost of payment processing fees into your menu prices, then offers a discount to customers who pay with cash. So, your customers who pay with credit cards cover the cost of transaction fees. This is an excellent tool for restaurants that are switching from a cash-only model and afraid of how credit card processing fees might affect their bottom line.
What Is a Cash Discount?
A Cash Discount allows businesses to offset the costs of processing credit card payments. To remain in line with card providers' Terms of Use, it is a multistep process. To make a Cash Discount work, your POS:
Builds the cost of credit card fees into the menu cost.
Offers a discount (usually 3%–4%) to customers who pay in cash.
If a customer pays with cash, they receive a discount on their bill. If they pay with a credit card, the fees are covered.
Adding gift cards to your Lavu POS via Lavu Pay requires an additional monthly fee. However, you don't have to be a Lavu Pay customer to issue and redeem gift cards, as it can accept gift cards hosted by integrated processors like Heartland.
Lavu is compatible with built-in EMV-compliant tap, dip, and swipe card readers and mobile PIN pad readers. As such, you can accept contactless near field communication (NFC) payments and mobile wallet payments like Apple Pay. The system also supports online payments for orders placed via the MenuDrive module. Meanwhile, PayPal and Square integrations allow small restaurants to start receiving payments with a PayPal or Square merchant account.
Lavu Standout Features
Lavu contains a wealth of restaurant-supporting functions, like ingredient-level inventory with order management, online ordering, and employee scheduling. The system also includes foundational restaurant POS functions, like seat and course numbers, check splitting by item or seat number, pre-authorized bar tabs, multiple modification menus, and customizable floor plans. With the addition of more than 100 third-party integrations, you can configure Lavu to do any imaginable restaurant-specific task.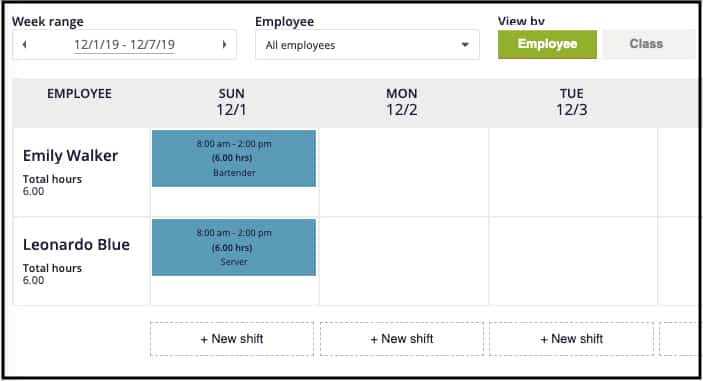 ---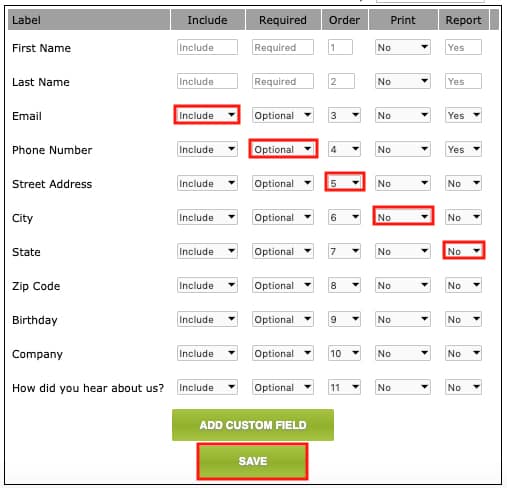 ---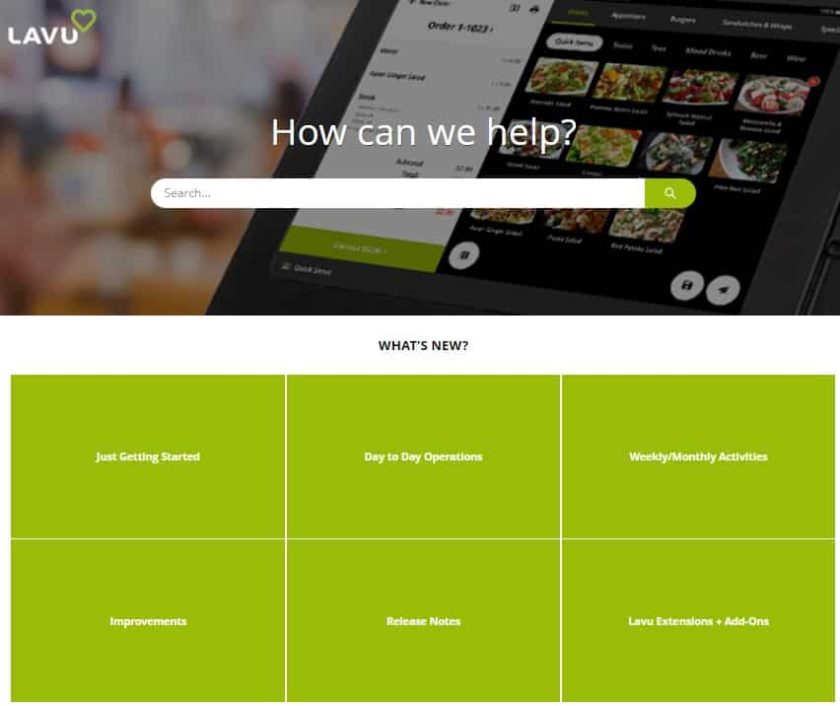 ---
We'll explore Lavu's online ordering, inventory, customer management, customization options, and reporting below. In addition to those features, Lavu also supports:
Workforce management: Lavu POS allows customizable employee permissions, logs staff hours, and has a built-in scheduling module that supports digital shift trades. This system can also automate your tip pools and tip outs based on employee roles, hours worked, or even split.
Customer management: Lavu creates detailed customer profiles that track contact information, birthdays, and how the customer learned about your restaurant. You can add custom fields to track additional information and set your Lavu POS to prompt servers to add a customer before beginning a check to ensure that you never miss the chance to track a transaction. Customer profiles also sync with Lavu's built-in loyalty tools.
Online resources: Lavu's online employee portal allows your team to view their schedules and make shift trades. Searchable Server handbooks and Manager handbooks on the Lavu support site bolster your training operations.
Accounting integrations: At the Optimize level, Lavu integrates with QuickBooks and Xero for streamlined accounting. Starter and Growth users can add this feature for an additional monthly fee. Users can expand their accounts payable functionality by adding the built-in Sourcery module that manages invoices and automates vendor payments.
Menu & Order Management
---
MenuDrive Online Ordering & Delivery
---
Lavu Inventory
Ingredient-level: Tie ingredients to recipes so that your stock level updates as you sell.
Vendor log: Create vendors, attach them to items, and create vendor orders in the POS.
Purchase order (PO) management: Create and receive POs directly in Lavu to speed inventory updates.
Real-time cost analysis: Know what supplies you have on hand at any given time. Calculate the value of your inventory.
Low-stock alerts: When stock is low, Lavu sends notifications directly to your iPads.
Like competitors TouchBistro and Lightspeed Restaurant, Lavu includes ingredient-level inventory in its baseline POS software—though Lavu's inventory is slightly more automated than those systems. Lavu's inventory module allows you to build orders in the POS, but it cannot place orders directly with vendors.
You can organize your orders in Lavu and create POs for them, but you'll still need to contact your vendors directly to place the orders. The PO function keeps your orders organized and saves you time entering new products as you receive them. When you enter ingredients into Lavu inventory, note where they are located in your restaurant and create categories for easy inventory counting.
Additionally, you can customize the weights and units of measure to track raw ingredients the way you use them. When it comes to inventory reporting, you have the option to figure your cost of goods sold (COGS) based on the average price you paid for an ingredient for a certain timeframe or set reports to calculate first in/first out (FIFO) style. FIFO calculations will use the price of the oldest stock you purchased to figure your costs even more precisely.
---
Lavu Reporting
40+ built-in reports: Built-in reports show you everything from daily sales and costs to specifics like overtime, voids, and individual shift summaries by employee.
Real-time sales and labor reporting: The Lavu back office dashboard shows you an at-a-glance snapshot of your sales and cost performance in real time.
Customizable: Built-in reports feature several filters, so you can drill down to exactly the data you want to see.
Reporting app: Lavu's Pilot reporting app allows you to access real-time performance data from a smartphone so that you can make decisions in the moment.
For an affordable cloud POS, Lavu's reporting functions are excellent. The filter and subfilter menus run along the top of the back office report screens and feature multiple dropdowns to support quick report customization. You can drill down to precisely the sales or cost data you want to see for the precise time frame you want to analyze. You can easily export reports in CSV files to share with bookkeepers or create spreadsheets for more in-depth analysis.
Lavu's management dashboard shows sales and stock trends in dynamic charts and graphs. While it stops short of competitors like TouchBistro that allow you to set and display daily and weekly and targets, Lavu's dashboard helps you identify where to make changes that will affect your bottom line.
The navigation menu on the left side of the control panel lets you easily move to dashboards for inventory or workforce management to gather more in-depth information. You can also create POs based on your low stock alerts and adjust your employee schedule from the control panel.
You can also access shift-specific reports easily from the POS dashboard. These in-POS reports include timeclock reports, cash reconciliation, labor reports and server shift reports.
Managers will like the Pilot reporting app, especially the built-in schedule features. The baseline system keeps all your scheduling in the POS and also supports online shift exchanges, ensuring that your desk won't be covered in easily lost Post-it Note requests from your team. This also allows you to access real-time labor cost reports so you can make staffing adjustments in enough time to impact your bottom line.
---
Lavu Ease of Use
iOS-based: The system operates on familiar tech like iPads and iPhones.
Training resources: Training handbooks and a searchable support database are available online, anytime.
Customer support: You can reach US-based customer support 24/7 via phone, email, and webchat.
Mobile access: Combined with the Pilot reporting app, Lavu's browser-based manager control panel and employee portal ensure you and your team always have what you need.
Like most iPad POS systems, Lavu is easy to navigate. Checks scroll on the left side of the screen, with order buttons on the right. You can attach images to menu items to speed orders and use forced modifiers to build combos. On the kitchen side, Lavu keeps it simple. The POS uses industry-standard Epson printers and iPad or Epson KDS screens. The KDS is vibrantly color-coded, distinguishing between in-house, take out, and delivery orders.
Customer support is 24/7 via phone, email or webchat. And Lavu also maintains a searchable online knowledge base if you just need a quick tutorial to learn a new feature. Lavu's online staff training handbooks and searchable support site help you design comprehensive training programs. The ability to download the software from the App Store lets you add features when you need them without waiting for an installation team.
Customer-facing kiosks and online order screens are excellent. They allow customers to take care of themselves while they are steeped in your restaurant's branding. Combo building and menu descriptions within the online ordering module are exceptionally intuitive.
Overall, the system is streamlined and easy to use. Your terminals are also locally grouped into a peer network, so up to eight terminals can communicate with one another even in an internet outage. Some functions—like the employee time clock and 86 countdowns—won't work offline, but you'll still be able to enter orders, print checks, and save swiped card payments to run when you regain internet connectivity.
Lavu Alternatives
Lavu is like a Swiss Army knife. It has every tool you need, but none of them are really best-in-class. Between built-in functions and third-party integrations, Lavu has most bases covered. There are, however, a few circumstances where you might be happier with a different POS.
| | | |
| --- | --- | --- |
| | | |
| | | |
| Best for: Small and seasonal restaurants that want month-to-month contracts | Best for: Small to midsize restaurants that want a POS to grow with their business | Best for: High-volume and multilocation restaurants that drive-thru and delivery tools |
| Monthly software fee: $0–$60+ | Monthly software fee: $0–$165+ | Monthly software fee: $99+ |
| | | |
What Users Think of Lavu
In positive Lavu POS reviews, users mention how easy it is to get started with the system and state that they felt well-supported by Lavu's installation team. Many also note the low cost and the incredible number of included features. Industry experts also find a lot to applaud in this system, though the user review scores are lower than many Lavu competitors.
As of this writing, Lavu earned the following scores on popular review sites:
Finances Online: The expert-based Smartscore rating gives Lavu an 8.9 out of 10, while an aggregate of Lavu user reviews rates the system as 4.3 out of 5 based on around 30 reviews.
G2: Lavu earns a rating of 3.3 out of 5 based on more than 80 customer reviews.
Capterra: Rated as an Established Player for 2022, Lavu earns a rating of 3.6 out of 5 based on about 130 user reviews.
A survey of online Lavu reviews performed by Finances Online gives the system a user satisfaction rating of 88%. This is lower than many comparable POS systems, so it's clear that not all Lavu users are wowed. Negative Lavu POS reviews mention long wait times for customer support and some trouble with tableside digital signatures. Some users who signed hardware leases also wish they had explored Lavu more deeply before committing to a three-year contract. Other users mention a disconnect between what the Lavu sales team told them and what the system is actually capable of doing.
| Users Like: | Users Don't Like: |
| --- | --- |
| Strong setup support for new customers | Back office can take some time to learn |
| POS, KDS, and Kiosk software can be downloaded from the Apple App Store | Miscommunication between sales and support teams |
| 100+ integrations make Lavu a highly customizable system | Long-term lease contracts can be hard to cancel |
Bottom Line
Lavu POS offers a ton of restaurant supporting features at a reasonable price. It is mobile-optimized and operates on iPads, iPhones, and iPod touches. You can download the POS software directly to iOS devices from the App Store. This highly customizable system does require regular administrative attention, but if you have the time to spend, then Lavu can be an excellent addition to many different types of restaurants.