Livestream shopping is when companies, brands, or entrepreneurs host live shopping events online where viewers can see and learn about products from a live host, ask questions or interact with the host, and then purchase items right on the stream. While livestream shopping is relatively new to the US, it is already huge in many Asian countries and is considered the new frontier of retail shopping.
Don't believe us? Check out our article on livestreaming statistics to see just how rapidly the livestream industry is expanding and what you can expect for 2023.
In this article, we will look at how livestream shopping works, including types of livestream shopping to consider, and tips on how to facilitate a successful streaming event. Don't worry, we have tons of examples, too.
How Livestream Shopping Works
In a livestream shopping event, a host conducts a live video stream for potential buyers, allowing two-way engagement with your brand. Holding a livestream shopping event begins with selecting a streaming platform, choosing someone to host your stream, and preparing your setup. Successful livestream shopping also involves advertising your event. Along with each of these steps, here are some tips you can follow.
Step 1: Choose a Livestream Shopping Platform
To host a livestream shopping event, you'll first need to decide from which platform you will stream. There are two options here: You can use an established livestreaming channel or opt for a software service that allows you to add your own livestreaming channel to your existing website or app.
Tip: The best platform for streaming your live shopping event will depend on the audience you are trying to reach. Know your target audience, and stream your event where they already are to maximize your potential of capturing them.
There are a lot of livestreaming channels to choose from, but here is a breakdown of the most popular options.
Amazon Live Creator: Amazon has partnered with a variety of influencers to host tons of Amazon Live shopping events, featuring products curated by the influencers. Individual brands and merchants can also create their own livestreams.
Taobao Live: This is Alibaba's livestreaming service, ideal if you want to reach Asian markets where livestream shopping has already taken off.
YouTube: YouTube kicked off its livestream shopping with 2021's Holiday Stream & Shop, featuring influencers who hosted giveaways and shared discount codes. One study found that 89% of YouTube viewers feel that the creators give trustworthy recommendations.
Live Shopping on Facebook: Merchants can host their own Facebook Live Shopping videos if they have a Facebook Shop already set up. In May 2021, Facebook also launched the weekly Live Shopping Fridays, wherein Facebook users have the opportunity to join livestreams where Facebook's invited brands feature products, tips, and demos.
Live Shopping on Instagram: Instagram has in-app commerce and checkout, providing a direct route to conversion. It also allows you to tag products in your livestreams—just like you would in posts—so viewers can easily click over to learn more and make a purchase.
Twitter Live Shopping: Twitter launched its answer to livestream shopping in collaboration with Walmart for Cyber Monday 2021. The platform hasn't rolled out the option for other merchants yet, though it plans to.
Pinterest TV: Another social media platform turned marketplace, Pinterest also has livestream shopping now. Creators curate their favorite products and broadcast livestreams about them Monday through Thursday. Then on Friday, viewers can tune in and actually shop the products the creators talked about.
TalkShopLive: A livestream social selling network used by influencers, celebrities, and brands in all industries.
TikTok Livestream Shopping: According to the Financial Times, TikTok has been talking with TalkShopLive to provide infrastructure for live shopping features on TikTok in the US. TalkShopLive takes a 10% commission from sellers for providing its services, and TikTok is likely to cover that cost for the initial phase of the project.
Channelize.io: Channelize.io is a RetailTech and MarTech Platform that allows you to add livestream shopping channels to your existing website or app. Channelize.io can integrate with most major ecommerce platforms, including Shopify, WooCommerce, Magento, and PrestaShop. Services start at $0/month.
GhostRetail: GhostRetail is a one-to-one live video co-shopping service that connects shoppers with live associates on demand or via appointment. Simply advertise liveshopping appointments on your site, let shoppers book, and they host one-on-one livestream shopping appointments on your site. Pricing starts at $99/month.
Bambuser: Bambuser integrates directly with your website, so you can host livestream events there. In addition to live video, you can also use prerecorded and edited videos. Pricing is custom, based on your needs.
Step 2: Select & Train a Host
Once you have chosen (or created) where you will broadcast your livestream, the next thing you will need to do is select someone to host your event. Typically, this will be either you (the business owner) or an associate from your store. You should strive to choose someone that is comfortable on camera, has lots of product knowledge, and your customers already know.
Tip: Consider partnering with an influencer or minor celebrity to host your stream. The right host will not only help create excitement and credibility among your customer base, but can also help expand your reach to include the influencer's followers.
Once you have made your selection, the next thing you will need to do is prep them for hosting with some training. Typically, training for a livestream shopping event includes:
Product knowledge: Coach your host on the features you want them to point out for the products that will be included on the stream.
Technology: Show your host how the stream works—how to start it, pause it, view comments, and any other technical features your equipment might include, like a mic or music.
Tips and Tricks: We will discuss a list of tips in the section below, and you should definitely run through these with your host before they get started, so they are in the right mindset and can incorporate compelling selling strategies throughout the stream.
Step 3: Set Up for Your Stream
Now that you have chosen your host, you can start setting up for your livestream. Typically, setup will include creating a set, writing a rough script, selecting products to show, and setting up your equipment.
Set: This might be in your store after hours, in a separate area (like your office room or your house), or you might even rent a filming space. You want to be sure wherever you choose will be quiet with few distractions, has good internet access, is well-lit, and has enough space for your host to move around and fit your products and equipment. Also consider adding product displays, like a clothing rack or mannequin, or a branded background.
Your set should be clean and simple so people can focus on the products instead of the background.
Script: While you want to avoid scripting your entire stream, you might write an intro and outro and bulleted points for each product shown. This will help keep your host from forgetting important product features without confusing them with a set script.
Product Selection: Before you start streaming, you will want to have the products that you plan to show selected, organized for the host to grab or displayed on the set, and their key features delineated and added to the script. The products you choose will largely depend on the type of livestream you are doing (see types below) and what you think will sell the best among your customers. You will also want to consider where the products will go once the host is done showing them.
Equipment: You will obviously need a camera (usually just the one in your phone), but other equipment you might use includes a camera stand, a ring light, a microphone, and noise-deadening panels.
Avoid shooting in front of windows and rather try to face one for the best lighting. Lighting is key to a successful stream as it allows viewers to see the products better and creates a more professional feel. Get more tips in our article on selecting and designing retail lighting.
Types of Livestream Shopping Events to Consider
While you may think that there is only one type of livestream shopping event—show product and let people buy—there are lots of different types of livestream shopping events that you can host. These include:
Product Launches: This is when you focus your stream on a single, new product. This allows you to draw focus to your new product and gives customers the opportunity to ask questions. This type of livestream shopping event is great for tech companies or other types of retailers that do not drop new products often.
Tutorials: This is a livestream shopping event where the goal is not to sell an item, but rather teach people its ins and outs (which may just inspire new sales). This is an ideal type of livestreaming event for retailers selling technical equipment or products that require assembly.
Auctions: In this format, viewers who tune in have to compete against one another in a bid to purchase your items. This type of livestream shopping is especially common for thrifted and secondhand goods where flexible pricing is the norm.
Appointments: This is when you offer one-on-one livestream shopping appointments where you can work with an individual customer to find what they are looking for. This is ideal for high-end retailers that offer design services or custom goods.
Step 4: Advertise Your Event
With everything set to go, it's time to start advertising your livestream shopping event so that you can get viewers and make sales. To drum up hype, you will want to hang flyers in your storefront, add banners to your website, post on social media, and send out email/SMS invitations and reminders. You will also want to train your associates to pitch the event to in-store shoppers.
As livestream shopping is still relatively new in the US, you might consider including an explanation of what it is when advertising your event.
To reach as many potential buyers, you will want to start advertising as far in advance as you can—about a month out is ideal. You should also send out day-of reminders a few hours and a few minutes before the event. This will help catch people who are already on their phones or computers but didn't necessarily plan to attend.
While your promos should be informative and give people a sense of what they can expect to find at your event, you should keep an element of mystery or surprise. Don't reveal everything—keep people wondering so that they have incentive to go.
For example, when JCPenney hosted one of their JCPlive sessions for the holidays, they revealed the theme—holiday gifts under $100—but they didn't tell shoppers anything about the items that would be shown. This was a great strategy because it let people know the general theme and price range but kept some mystery around the actual items.
Successful Livestream Shopping Tips
Here are some tips for facilitating a successful livestream shopping event that boosts sales and makes for a great event for you and your shoppers.
One way to engage shoppers on a livestream is to incorporate a game element. Consider a giveaway, raffle, quiz, trivia, or another game to incorporate into your stream.
For example, to boost sales at the brand's first livestream event (shown above), Jimmy Choo gave a personalized fashion sketch to the first 50 people that bought a pair of shoes.
---
Another way to get people to interact with your stream and boost sales is to ask your viewers questions. For example,
Is there anything you want to see?
How would you all use this?
Do you have any questions that I haven't covered?
How is everyone doing today?
Does anyone have anything in particular that they want to talk about or see?
Do you want me to try this on/use it?
Has anyone watching ever… (product-related question)?
---
The comment section is where customers can interact with the host, ask questions, send emojis and reactions, and engage with the stream. In order to both ensure you are attending to commenters and inspire new people to comment, the host should always interact with the comments.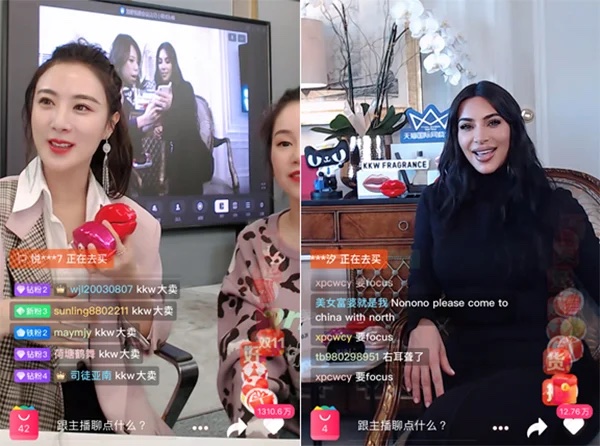 This is an especially impactful strategy when the host is a celebrity or influencer that viewers are excited to interact with. For example, Kim Kardashian appeared on Taobao (shown above), Alibaba's livestream shopping platform, to sell her KKW perfume. Interacting with the commenters and her product simultaneously allowed her to sell 15,000 bottles of her perfume in minutes.
---
While it can feel awkward to fill every moment with talk, it is better than leaving viewers in silence during a livestream event. Talk about the products, interact with the comments section, share anecdotes and fun facts, and move on to the next item on the agenda when there is nothing left to say.
---
A great way to inspire other users to buy is to announce when an item sells. For example, if you are showing off an item, and someone watching buys it, you might say, "We have a buyer for this beautiful top." This will, hopefully, build your credibility and inspire additional purchases.
Also, consider announcing if an item is low in stock or only comes in limited quantities.
---
One of the most important things that people are looking to get from livestream shopping over just shopping on your website is a better sense of how a product looks or operates in real life. You should always use or try on the products you are trying to sell on a livestream to add this value.
For example, the livestream app ShopThing (shown above), sends its livestream hosts to different stores and locations throughout the US to try on and sell discounted designer clothes and accessories.
---
As mentioned earlier, when hosting a livestream shopping event, you don't want to confine your host to a tight script. A big part of the appeal of livestream shopping is that it mirrors shopping with an associate in-store. Shoppers want that genuine interaction rather than feeling like they watched an infomercial for 40 minutes.
Keeping the script loose also makes it possible to interact with comments as they come in, answer questions that come up, and change course if one product or type of presentation is (or isn't) working well.
---
A great way to drum up hype and provide incentives for shoppers to attend a livestream is to include an exclusive offer for viewers. This might be a discount for livestream purchases, a special product or edition of a product, a free gift, or a loyalty members-only event. Creating some sort of limited or exclusive draw will help you bring in shoppers.
For example, Kiehl's hosted a live shopping event in conjunction with Ramadan this year (shown above), and to boost viewership, they offered complimentary skin consultations and limited-edition travel sets.
---
A great way to get viewers and boost the credibility of your events is to host them regularly. For example, you might host an event every Thursday night or on the first Friday of every month. Whatever you do, getting on a consistent schedule will increase the likelihood of fostering loyalty for our livestream events and boosting viewership.
---
Bottom Line
Livestream shopping is a huge global trend that is shaking up the retail space. It is a rising form of ecommerce shopping that should only continue growing exponentially in the coming years. With this article, you have the tools you need to host a livestream event and sell your products successfully.