How to Sell on TikTok in 7 Simple Steps (2022)
With more than 1 billion active monthly users averaging a daily view time of 95 minutes globally, TikTok is a place you should promote your business. To start selling on TikTok, you need to choose the right products, create a Business or Pro account, link your shop or products, and actively promote your content. It's now even easier to sell on the platform with ecommerce platforms such as Shopify partnering with it to launch in-app shopping.
Learn how to sell on TikTok using our guide below.
Step 1: Choose the Right Products
Selling on TikTok starts with learning about the platform, its users, and which products sell well.
Research Your Target Market
Before creating a TikTok account, you need to find out if your target market is using it. As of September 2021, teens account for a quarter of US TikTok users, while those aged 20 to 29 are at 22.4%. If your market focuses on millennials and Gen Z-ers, TikTok is the perfect channel for you to spend time on.
If that's not your target market, however, don't cross TikTok off your list just yet. A significant number of US TikTok users are between ages 30 to 49. TikTok is a channel where you can promote brand awareness and connect with a potentially huge audience.
Learn Which Products Sell
TikTok doesn't provide a list of allowed sellable products, but it lists prohibited items. A quick look at trending videos can give you an idea of what types of products are an excellent fit for the platform. You can look at TikTok's successful business case studies and explore the #TikTokMadeMeBuyIt hashtag for ideas.
TikTok Shopping was initially launched in select countries like the US, Canada, and UK but has since expanded to include Southeast Asian countries such as Indonesia, Malaysia, Thailand, Vietnam, Singapore, and the Philippines. It might not be a good fit if your market is outside these areas. If you'd still like to explore adding social media networks as sales channels, try selling on Facebook or Instagram.
Step 2: Create a TikTok Account
Once you have an idea of which products to sell, it's time to start playing with TikTok. You can create an account by going to its website or downloading the app from the App Store or Google Play.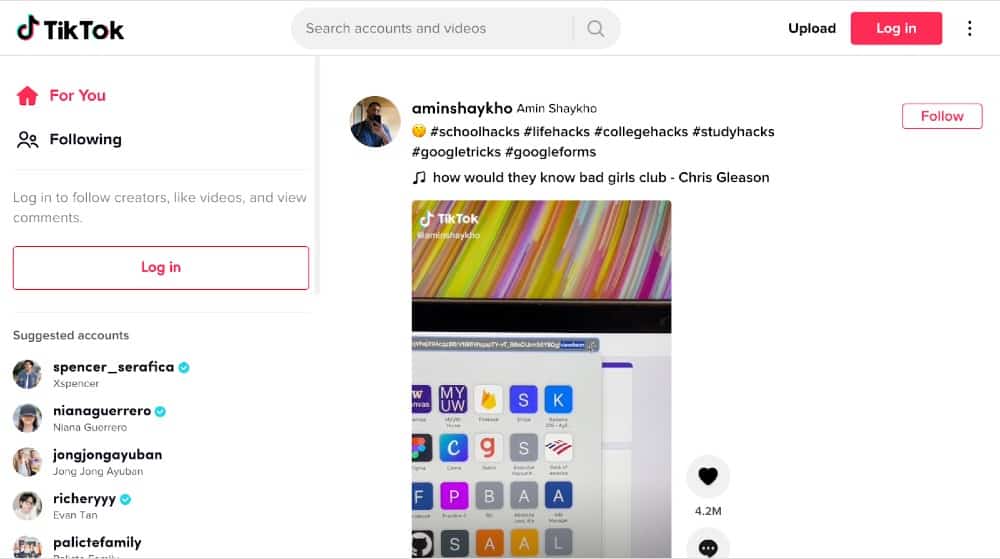 ---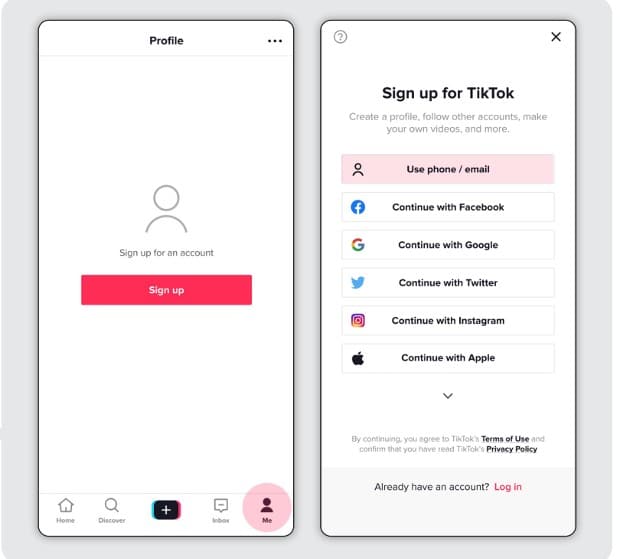 ---
If you are using a mobile device to sign up for an account, tap to open it once the app is installed on your phone. Tap Me in the bottom menu bar, then click Sign Up. You can register with your phone number, email address, or an existing social media account.
Step 3: Switch to a Business or Pro Account
Once you create an account, you are automatically tagged as a personal account, so you would need to switch to a business account. Aside from being able to sell products, switching to a business account enables you to access the following:
Performance and audience data: Get insights into what type of content your audience prefers
Business content guide: Advice on everything from choosing a video topic to picking a sound
Video Showcase: A carousel of popular content from businesses and content creators
Commercial music library: A library of 150,000+ pre-cleared, royalty-free sounds that you can use for commercial purposes
Web business suite: Download analytics data, view content creation tips from the Business Creative Hub, and access TikTok for Business for insights
Follow the steps below to switch to a Business account.
Step 1: Within the app, click on the three dots on your right-hand menu.
Step 2: Click on Manage Account.
Step 3: From the Manage Account screen, click on Switch to Business Account.
Step 4: Choose a category for your business.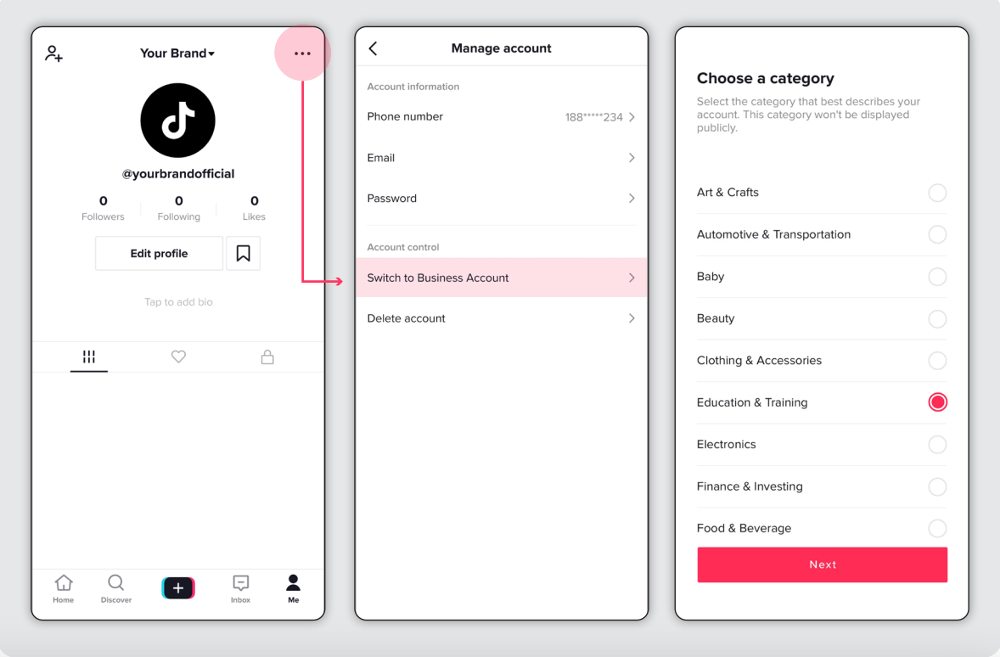 Set Up Your Profile
Once you have created your account, you need to optimize your profile before selling. A business account also lets you link your website, email address, and social media accounts.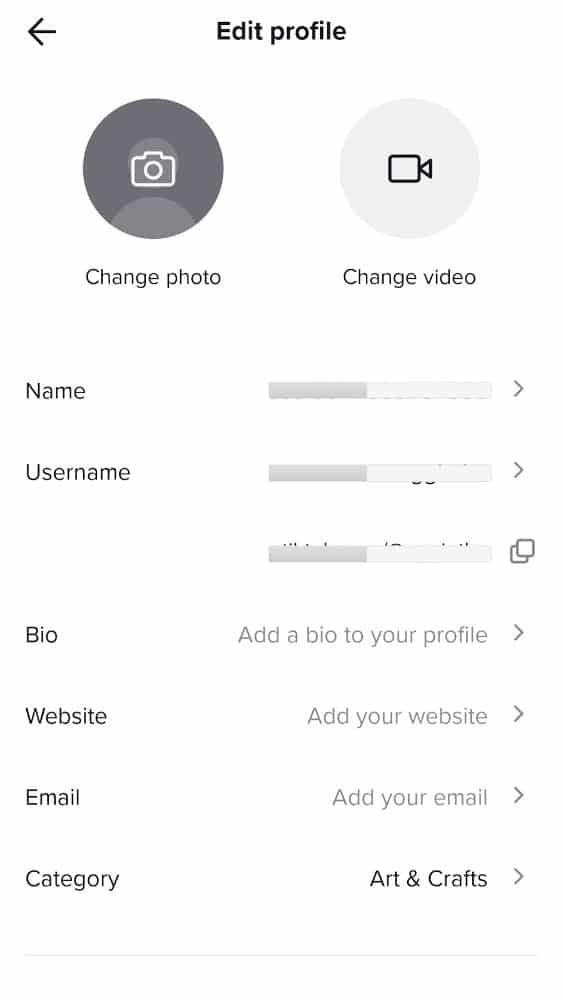 Here are a few things to consider when setting up your profile:
​​
Your TikTok bio is an introduction of your brand to your audience. Make it short and sweet. In a few words, describe your brand and what you do. You can use your slogan or keywords to improve your searchability in TikTok.
Speak your audience's language. Since most TikTok users are Gen Z-ers and millennials, use emojis—they can even help increase conversions.
CTAs can change from time to time since this part allows you to tell your audience what to do next. You can direct them to your shop or blog, promote discount codes, or invite them to a hashtag challenge you are doing.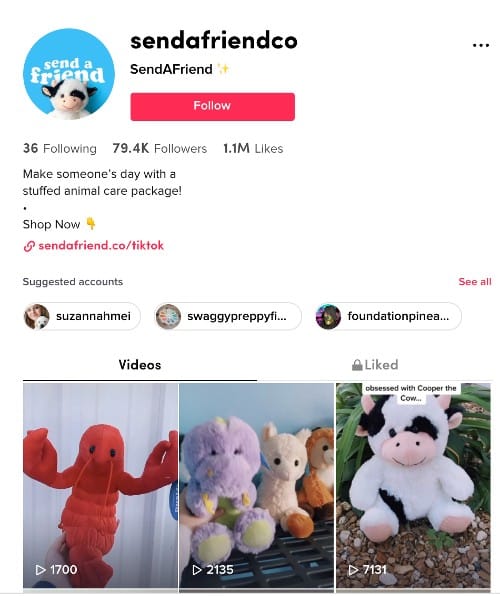 ---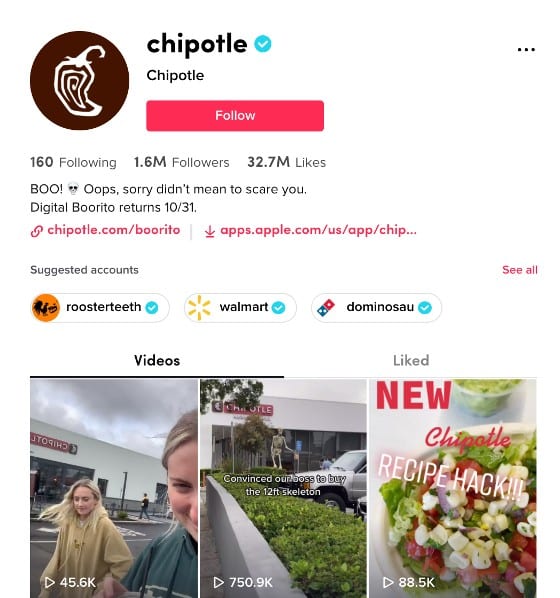 ---
Step 4: Link Your Shop or Products to Your TikTok Account
In the News
In May 2022, TikTok announced its partnership with WooCommerce to help merchants connect their online stores to the social platform.
After optimizing your profile, you are now ready to start listing your products or connecting your ecommerce shop to your account. Below, we detail instructions on connecting a Shopify, BigCommerce, Square Online, and Ecwid store. Once you connect your ecommerce platform to your TikTok, you can:
Sync your store's product catalog to TikTok and feature a shopping tab on your TikTok profile
Include product links in your TikTok videos that point directly to product pages in your store so customers can make a purchase
Run optimized ads by installing the TikTok Pixel
The TikTok Pixel is a piece of code that you install on your website so when you run paid ads, you can share website visitor events to TikTok for tracking. All the ecommerce platforms we outline below make it easy for you to install the Pixel on your store.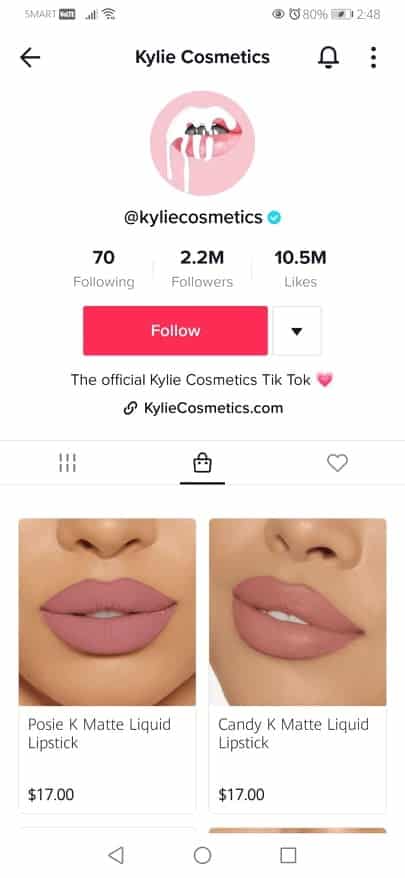 Expand the sections below for details on connecting specific ecommerce platforms:
Connecting Shopify to TikTok
Shopify makes it easy for you to connect your store to TikTok. Just add the TikTok app from your Shopify dashboard. Once installed, follow the prompts to associate your TikTok business account. The integration also lets you run and manage TikTok ads directly from Shopify.

---

---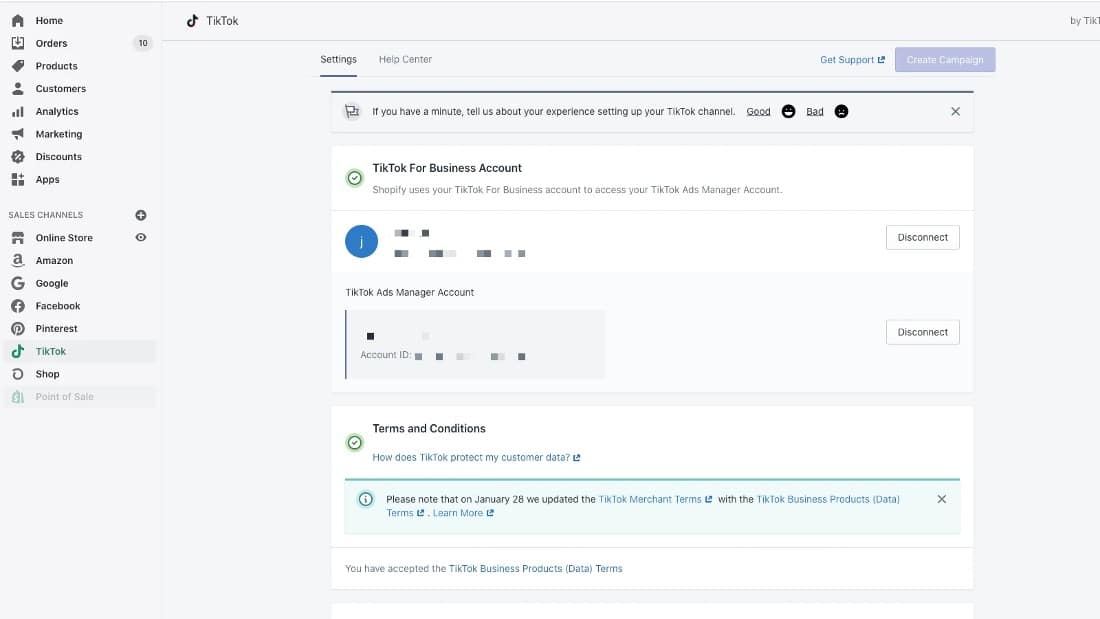 ---
---
Connecting BigCommerce to TikTok
You can connect your BigCommerce store to TikTok by following these steps:
Step 1: Install the TikTok For Business app from the Channel Manager, under Ads and social.
Step 2: Connect and authorize your TikTok Business account.
Step 3: Once you connect your account, create or connect your TikTok Business Center account (this is different from your TikTok Business account) and TikTok Ad account.
Step 4: Set up TikTok Pixel.
Step 5: Set up your catalog. Under the Catalog section, click Create New to sync your existing BigCommerce catalog with your TikTok profile.
Step 6: Set up TikTok Shopping.
To add BigCommerce products to your TikTok storefront, click Manage under the TikTok Shopping section. You'll be redirected to TikTok's Store Manager.
Step 1: Within the Store Manager, click on your Store Name.
Step 2: Click on the Product tab.
Step 3: Find your target product by using filter options or the search function.
Step 4: Once you've found your desired item, toggle Storefront Status to on. Add items in bulk by selecting the check box for multiple items and clicking In Storefront at the top of the page. To remove an item, toggle Storefront Status to off.
You can also add products in-app (from TikTok).
Step 1: Go to your TikTok profile, click on the Shopping icon, then Manage Showcase.
Step 2: Click on the three dots to edit a product or click on Add Products to create more listings.
Your TikTok app interface should look something like the image below: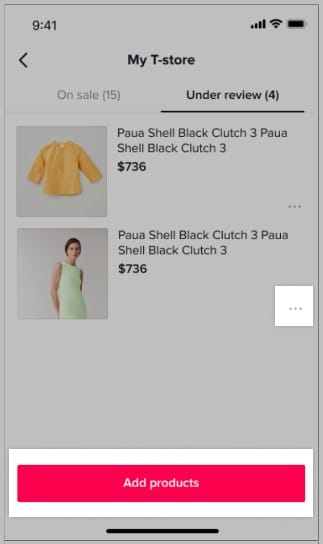 ---
Connecting Square Online to TikTok
Square has the following requirements before its merchants can establish a connection to TikTok and be able to start selling:
Published Square Online website
Return policy on Square Online
Contact details—make sure you indicate the phone number in your store settings
Visible payment methods
TikTok for Business account
To connect Square with TikTok, follow the steps below:
Step 1: From your Square dashboard, go to Account & Settings, click Online Sales Channels. Choose TikTok for Business. Click Get Started, then Connect.
Step 2: Sync a TikTok For Business account to activate the integration.
Step 3: Create or connect your TikTok Business Center account, TikTok Ads Manager account, and TikTok Shopping to your Square account.
Step 4: Create or connect TikTok Pixel from the Data Sharing section.
Step 5: Synchronize your product catalog. If you don't have a product catalog, click Create New to sync your existing Square catalog to your TikTok profile.
Note: View and manage which items are synced from Items > Channels Listings in your online Square Dashboard.
Step 6: Enable TikTok Shopping to promote and sell products from your Square Online site directly on TikTok using Shopping tabs and Product Links.
Note: Products go under review, and approvals or rejections are handed out within three to five days. If your product is rejected, go to Listings Manager to correct any potential criteria, such as image sizing or missing brands.
---
Connecting Ecwid to TikTok
Step 1: Go to the TikTok page from your Ecwid dashboard.
Step 2: Specify your mobile phone number in the phone number section of the TikTok Business Tools field.
Step 3: Click + Connect TikTok Account.
Step 4: Log in to the TikTok For Business account (not your TikTok account), then click Connect. If you don't have an account yet, click Sign Up to create one.
Step 5: In your TikTok for Business account, set up the Business Center by adding the name and clicking Create New.
Step 6: Set up a TikTok Ad Account; enter the name for your ad account and click Create New.
Step 7: In Data Sharing, enter the name for your Pixel and click Create New.
Step 8: In the Catalog, enter the name for your catalog and click Create New.
Step 9: Click Finish Setup.
Product review may take up to several hours, but you can check its status in the Products on TikTok section in your Ecwid dashboard. All approved products will appear in the "Listed products" column.
Once approved, your catalog will appear in your TikTok Business Center. Catalog syncing automatically happens twice a day. Ecwid has a guide on how to manage your product listings in TikTok.
---
Step 5: Create Engaging Content
Now that you have connected your online store to your TikTok account, it's time to get creative and promote your products. The only way to do this is to create engaging content that encourages more followers and promotes brand awareness.
Since our last update:
TikTok has rolled out improvements and released new features in its platform, including:
How to Use TikTok for Business
TikTok cannot only become an extension of your online store but it can help drive traffic, promote brand awareness, and increase customer engagement. According to Sprout Social Index report, 38% of consumers plan on using TikTok, more than double the 17% who were planning on it in 2020.
The same report also states that consumers find short-form videos 2.5x more engaging than long-form videos—a feature TikTok clearly gets right.
You can promote a video and drive traffic toward your online store (or linked product page). Here's how:
Step 1: Tap Me to go to your profile. Click on the three dots in the top right of your screen to go to Settings.
Step 2: Tap Creator Tools, then Promote.
Step 3: Under the Promotions page, tap the video you aim to promote (must not contain copyrighted music).
Step 4: Choose a goal for your video: view, visits, or followers. If you choose more website visits, add a URL and choose a call-to-action button (such as Learn More, Shop Now, or Sign Up).
Step 5: Tap the circle next to the audience you'd like to reach, then tap Next. You can choose from Automatic (TikTok chooses your audience) or Custom (set up a demographic).
Step 6: Set your budget duration, add payment information, then tap Start Promotion.
One of the goals in creating content on TikTok is to drive lots of user-generated content (UGC). Since TikTok is primarily creator-driven content, you won't have a hard time finding campaign-worthy videos.
Here are some ideas to get you started:
Create your own brand's hashtag challenge and encourage users to join in. Make the hashtag easy and memorable.
Get your existing customers involved. Ask them to participate in your UGC campaign. Offer discounts in exchange for participation.
Join in special occasions or a viral craze.
Run a contest.
TikTok Engaging Content: Case Studies
Take a look at how these brands leveraged user-generated content to launch strategic partnerships with influencers and brand collaborations.
GAP
American clothing brand GAP doesn't have an official TikTok account, but UGC has certainly helped them, being a mainstay favorite among influencers.
Gen Z influencers such as Emma Chamberlain and Barbara Kristofferson were just a few of the influencers that sported a vintage brown spell-out hoodie, providing completely free TikTok marketing.
The hoodie hasn't been released since, but due to demand, GAP obliged by sending out free hoodies to continue the hype, even reissuing the piece for limited edition pre-order to all customers.
Crocs
Crocs is famous for the bulky, bright, but comfortable rubber footwear. Gen Z creators are surprisingly huge fans of the brand, giving it indirect TikTok marketing. Crocs is smart enough to jump on the trend, using its resurging popularity to showcase novelty products and collaborations—even doing a bizarre collaboration with KFC.
The brand's biggest strategic partnership has been the #ThousandDollarCrocs challenge, encouraging users to customize their Crocs with extreme bling, which has been viewed more than 3 billion times as of this writing.
Crocs even had a demand for its Disney's Pixar Cars: The Movie kids' collection to be made available in adult sizes, and they complied.
Step 6: Partner With Influencers
Since TikTok is a creator-focused platform, partnering with influencers provides exposure for your brand and serves as social proof. One way to find influencers that fit your brand is through the TikTok Creator Marketplace. The platform houses thousands of TikTok creator profiles, and you can filter them to find ones that fit your target audience.
TikTok Influencer Campaigns: Case Studies
When popular makeup brand Benefit Cosmetics released its new Brow Microfilling Pen, it used the TikTok Creator Marketplace (TCM) to launch an awareness campaign. Through the marketplace, they partnered with 22 Gen Z and millennial creators and required them to replicate a brow dance set to an original music track, which of course, featured the product.
The 22 videos were launched in users' timelines and generated 3,500+ hours of views and 1.4 million impressions, all of which were from just 4.5 minutes of creator content.
Tip: Launch an affiliate program for your TikTok influencers. Set up a promotion plan when collaborating with influencers using TikTok's Selling Center. Every time the creator posts content with your affiliate links, and a user buys your product through that link, they get monetized. It's a win-win for everyone!
Step 7: Leverage TikTok's Paid Ads
Apart from creating engaging content, partnering with influencers, and displaying products in your videos, feature your products in TikTok ads so that customers can buy your products right away. It is a great way to tap into this exciting new market.
When creating an ad, TikTok content has the following requirements:
Image files: JPG or PNG only
Video files: MP4, MOV, MPEG, 3GP or AVI
Aspect ratio: 9:16, 1:1 and 16:9 (Vertical)
Image resolution: 1200×628 (Recommended)
Video resolution: 720×1280 pixels, 640×640 pixels or 1280×720 pixels
Video duration: 5 to 60 seconds
Brand name: Limited to up to 20 characters
Ad description: Limited to up to 100 characters, no emojis
Types of TikTok Ads
You can run ads in the following formats: in-feed, top-view, branded hashtag challenge, branded lenses, and brand takeovers.
Bottom Line
TikTok is still an evolving platform, and its in-app shopping experience is relatively new. However, getting into TikTok to promote your online store should be part of your retail marketing strategy. It is the social media platform every business should be in, especially with how fast user-generated content is put out by its users.
If you have an online store like Shopify, it is easy to connect, sync, and advertise your products on TikTok. Explore your options with Shopify's 14-day free trial.
You May Also Like…