For this guide, I spoke with Leslie Stern, retail design/lighting specialist and owner of Leslie M Stern Design, who provided some helpful information.
Retail store lighting can be broken down into 4 primary types: general/ambient lighting, task lighting, accent lighting, and decorative lighting. There are also lots of bulb options, like incandescent, LED, and more. This retail store lighting guide will help you pick the right lighting, bulbs, and locations to brighten your store and highlight your products.
Make sure potential customers know when your lights are on by verifying the information presented in your online listings. With Yext, you can scan multiple search engines to verify the hours listed for your business and make any necessary corrections. Click here to scan now.
Let's get started by taking a look at the different types of retail store lighting.
The 4 Primary Types of Retail Store Lighting

4. Decorative Lighting
Find a great selection of affordable lighting options, including track lighting, sconces, pendant lights, and much more at ATG Stores.
The 4 Primary Types of Light Bulbs
There are four main kinds of light bulbs used for interior spaces: Incandescent, Fluorescent, and LED. Here is a brief overview of each:
Act FAST – Both the LED and the CFL bulbs fall under the U.S. Government's Consolidated Appropriations Act of 2015. This means that they are considered energy efficient and they QUALIFY for a Federal Income Tax Credit for qualified parties. You can read the full  act here at SBA.GOV, but here's a quick preview.
The deductions are available to retail owners, but may also be available to you as a tenant. It's going to depend on what kind of construction expenditures you make in your space. You get to recoup .60 cents per sq/ft of the total retail space on your Federal Income Tax buy updating your lighting.. Take Note, this tax break only covers energy efficient lighting that was replaced during the years of 2015 and 2016. That means you have to get your lighting upgrades completed by December 31st, 2016. That means by the end of this year!!
---
BONUS: The World's Simplest Marketing Plan To Get More Customers and Revenue
---
Setting Up Your Retail Store Lighting
For the rest of this article we are going to show you how to set up the 4 primary types of lighting.  Before we get into the specifics of each type, here are some general tips that apply to all types of lighting:
1. Buy LED's by the Batch
Technology is still being developed and bulbs are not perfectly consistent in color temperature and tone. Buy them all at once to ensure consistency of lighting
2. Don't Burn Your Customers
Okay, maybe that is a bit extreme. But, it is very important to make sure that the heat from your lights will not make customers uncomfortable and/or fade products, especially where your ceilings are lower (soffits, nooks, etc). Incandescent lights are warmest, LED's coolest, and fluorescent in-between.
3. Be Sensitive to Color Temperature and the Color Rendering Index Rating (CRI)
Each bulb/light source has a natural color tone to its light. In general, to produce warmer tones and a more comfortable/soothing light (often used for general lighting), purchase bulbs that have a 2700-3200 k (kelvin) rating. To produce truer colors and a more natural light (Dressing Rooms, over fruit and veggies, areas where you want the truest color without glare), 4000 – 4500 K. For day white or bright light (task-spaces, offices), 5500-6000 K. Check out this handy guide to color temperature and this store/business specific guide (page 4). The Color Rating Index (CRI) is basically a measurement of how a light shows a product's true color. The higher the index number of a bulb, the truer your item color will be under that light. Here are some examples of high color temperature and low color temperature bulbs. In the first picture, notice the the lower temperature bulbs are yellow in color and the higher temperatures bulbs are blue. In the second picture you see an example of how one image looks differently under 4 different types of light on the color temp. index.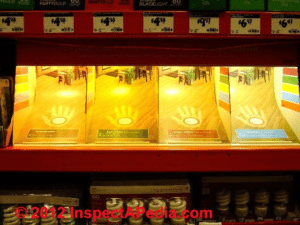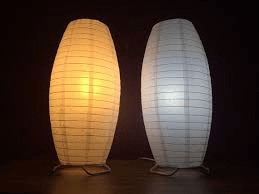 4. Factor in Replacement and Energy Cost
Upfront cost is certainly an important consideration, but it is not the only one.When factoring cost, you also need to include and calculate energy cost (cost of electrical usage/yr) and replacement cost ([annual hours of use divided by hours of bulb life] x cost per bulb). This will help you to determine how much you will actually spend per year on lighting. Check out this great cost-comparison of the three light sources.
5. Use Mirrors to Reflect Light and Brighten Up Your Store
Although not technically a lighting fixture, mirrors can be a great and cheap way to reflect light and brighten up your store. This is especially true if mirrors fit into your decor, as they often do in high-end stores. Also, if you set up your lighting and still have a spot or two that needs more light, A mirror can be a great low cost alternative to installing new fixtures/lights.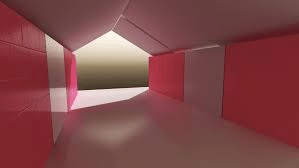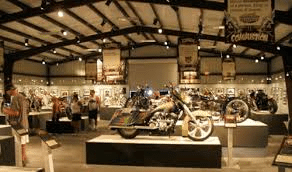 6. Use Dimmer Switches
Dimmer switches allow you to control the level of light usage in your store. This can save a significant amount on your energy bills, and also gives you the ability to influence the atmosphere with much greater control. Dimmer switches are especially helpful in higher-end stores, where a softer and less bright setting enhances the feel of luxury. You can find some dimmer switches at destinationlighting.com and most other local and online lighting stores.
7. Spend your money on your accent and task lighting
Many small business owners will have to sacrifice some level of quality to stay within their lighting budget. If you are going to sacrifice, sacrifice it on the general and decorative lighting, Leslie advised. Your accent and task lighting are the most important, because they highlight your product and keep the task-areas of your store up and running smoothly. Fluorescent lighting is actually not a bad option for general general lighting, and it is cost effective and much more efficient than it used to be.
Walking Through The 4 Types of Retail Store Lighting
In order to effectively pick out your lighting, you are going to need your floor plan/display layout in front of you. Without your layout, you will have no idea where to put your lighting, especially your task and accent lighting.
Find a great selection of affordable lighting options, including track lighting, sconces, pendant lights, and much more all with free shipping at ATG Stores.
Do Your General Lighting Last
Think of each of the lighting types above as different layers. It would seem standard practice to start with your general lighting first. However, when talking with interior designer Leslie Stern, she explained that she actually does the opposite. She explained that if you start with your decorative, accent and task lighting first, then you know exactly what areas still need to be filled in with your general/ambient lighting.
Jewelry Store Example:
To give a better idea of how this process works, we will be walking you through an example of selecting lighting for a jewelry store with a sales floor of approximately 1000 sq. ft. Since LED's are the most efficient and long-lasting, we decided to use them for everything except general lighting.
In each of the below sections we break out the lighting we would choose and how much it costs.
Decorative Lighting
Picking out your decorative lighting is all about creating an atmosphere in your store. Some stores may not even have decorative lighting, if it does not fit their vibe (hardware, grocery, sporting goods) However, higher end stores (boutiques, jewelry, furniture) often need decorative lighting to help emphasize their brand and influence customer mood.
Decorative lights need to be seen. They are statement pieces, saying "our store is luxurious and elegant." If you have a small enough store, your decorative lighting may even be able to serve as your general lighting.
As you choose your decorative lighting, keep two things in mind:
1. Where to Put Decorative Lighting
Again, decorative lighting is meant to be seen. So, put your decorative lights in prominent places.
Here are some good locations:
2. Match Your Brand
The whole point of decorative lighting is to emphasize your brand. If you have a furniture/home design store that emphasizes clean lines and modern decor, a traditional chandelier is probably not a great choice.
Jewelry Store Example:
Since the actual sales floor of the jewelry store is only 33' x 30," we decided to put one main statement piece, a chandelier hanging near the entrance to greet the customers and set the luxuriant tone. Also, we put some nice wall sconce lighting higher on the walls, every 8 feet or so. Jewelry stores, in general, work better with warmer and dimmer light, in order to promote a reflective and inviting atmosphere. This is why we chose a warm white bulb with around 2700 K, warm and soothing, for the decorative lighting bulbs.
$295.10 –  

Decorative Chandelier

$494.45 –  

10 Decorative Wall Sconces

$885.43 – Total cost so far
Accent Lighting
Picking out your accent lighting is very important. Your accent lighting will highlight certain displays and emphasize products. This is why having your floor plan is so necessary.
Step 1: Decide where you need accent lighting
Where do you need accent lighting? Answering this question is the first step to picking out your accent lights.
Here is what you need to do:
Pick out which displays you want to highlight (perhaps 3-4 main ones or maybe all of them if you have a smaller store). Definitely highlight larger displays and those with seasonal/new items.

Determine whether any or all of your walls need accent lighting. What is going to go on them. Will that product need extra light for emphasis? Think paintings, wine racks, shelves with 1 featured item.

Figure out how many lights you need for your window displays. Window displays are crucial, and lighting is definitely needed to highlight product and draw in customers.
Step 2: Decide on your Accent Lighting Fixtures
There are two main kind of accent lighting fixtures.
Recessed Can Lighting – Recessed Can lighting is lighting that is recessed into a ceiling and is used to provide specific illumination onto a display or piece of art. Can lights work great for when you need downward accent lighting and are generally installed right above a specific display or item, although they can at times be angled to some degree.
Track Lighting – Track lighting is lighting that extends down from the ceiling, is on some kind of track/bar, and has fixtures that are adjustable to various angles. Track lighting is very versatile, able to provide both downward and angled lighting.
In areas where you have semi-permanent/permanent displays and need downward lighting to accent a product, then can lighting is probably your best choice. It blends right in with your ceiling and provides focused light. Also, you do not have to worry nearly as much about whether the light fits in with your decor, as you do with track lighting, because it has very little visual surface area.
However, if you have an area where you are often moving displays and need to adjust your lighting to match, track lighting is your best choice. It is also a good choice when you have an area featuring several individual products in a line/row (small wall paintings, a row of jewelry displays, etc)To adjust a focal point with track lights, you simply climb a ladder and adjust the angle/position of the light to match your new display location or row of product.
Step 3: Determine quantity of lights and type of bulbs needed
Once you know where you are going to put your lights and which fixtures you are going to use, you need to decide how many you need and what kind of bulbs are best.
Here are some general tips:
Main displays often need 2-4 fixtures (can lights) for maximum exposure (1-2 tracks if using track lighting)

Single product/small display accent lighting generally requires only one light

Match the color quality and brightness of your bulb to your product/type of store (

handy guide to selecting bulbs compatible with your store type

page 4)
Jewelry Store Example:
Where accent lighting is needed: In the jewelry store, we have 3 large/main displays, one near the center of the store and one in each of the back corners. Also, there are 10 smaller displays that we would like to add accent lighting to as well.

Picking Fixtures: In a jewelry store, subtlety in lighting is important, which is why we decided to use can lighting instead of track lighting, due to its low-profile design. That way, the focal point is on the jewelry, not the light fixtures.

Deciding on quantity of lights and types of bulbs: We decided to put 3 can lights over each main display, to ensure adequate lighting. The bulbs we went with are around 3000 K in color quality, a warm light that shows natural color well and is dim enough to promote atmosphere. They are also bulbs with a narrow flood, which means they have a more focused light than an average can flood light would. Focused light is what you are looking for when accent lighting.
Here is the cost estimate:
$412.85 – 23

recessed can light fixtures

$414 – 23

recessed trim pieces

$775.79 – 23

LED bulbs (MR-16 equivalent, dimmable, 3000 K)

$2488.07 – Total Cost So Far
Task Lighting
Task lighting is used to provide enough light for task areas of your store, like your entrance, cash register, and store signage. Much like accent lighting, either can lighting or track lighting is the fixture of choice for task lighting. Task lighting often uses a brighter light than accent lighting, to ensure enough light for task performance.
The process for picking your task lighting is similar to accent lighting
Step 1: Decide where you need your task lighting
Here are the main areas where task lighting is needed:
Signage – So customers do not have to struggle to read your store name

Entrance – To invite customers in

Checkout area – To ensure money is handled well and cashiers aren't squinting

Customer service desk – To ensure returns and customer service needs are processed correctly

Dressing rooms – To ensure adequate lighting for trying on clothes

Other task-oriented spaces – Any place where extra lighting makes sense
Step 2: Decide on Your task lighting fixtures
The process for deciding on which type of task lighting fixture is best for your store is similar to deciding on accent lighting fixtures. So check out that section again. The most notable exception is that task oriented spaces are rarely as mobile as displays, making more permanent and less movable can lights a more viable option.
Step 3: Decide on your quantity of lights and type of bulbs needed
Here are some general tips:
Better to have too much task lighting than too little – task lighting is all about having enough lighting to do the job. Better to have too much than not enough.

Use a bulb with higher lumens and brighter color quality – Task oriented spaces are more about function than atmosphere, so go with around 3500-5000 K for maximum task lighting.
Jewelry Store Example:
Where task lighting is needed – For the jewelry store, you need task lights on the sign, at the entrance, at the checkout area, and at the jewelry services desk (re-sizing, polishing, etc)

Deciding on Fixtures – We are using can lights for our task lighting fixtures, for the same reasons as mentioned in accent lighting section, with the exception of the signage lighting.

Deciding on quantity of lights and type of bulbs needed – Signage lighting, row of 5 cans at entrance, 4 cans over jewelry services desk, and 4 over checkout area. Buying LED bulbs with 4000 K for brightness.
Here is the cost estimate:
$4090.77 – Total Cost So Far
General Lighting
Now that you have picked your lighting for all the other areas of your store, it is time to make sure your general lighting fills in the rest of your space. Just be aware, your overall lighting should not exceed 2.5 watts/sq. ft in order to meet latest energy code requirements.
Step 1: Decide what areas still need more lighting
After you have determined where all of your other lighting will go, you need to decide what areas still need some extra illumination. This can be tough, because you are generally working off of a diagram and not actually seeing how the light looks in your store.
More than 6 feet of space
One rule-of-thumb, is if there is any portion of your store that has more than 6 feet of space in-between lights, it is probably a good idea to add some general lighting. This is especially important if you are using recessed can or track lighting. If you are using big panel lights, you might get away with more space in-between.
1.5 – 2.5 Lumens per cubic ft (based on data and recommendations from the Lighting Research Center)
Once you have eliminated any holes, check and see approximately how many lumens your store has per cubic foot. On average, it should be between 1.5-2.5 lumens/cubic foot, a bit higher in display areas.  If you have less than that, you may want to add some general lighting evenly throughout the store.
To calculate lumens still needed
Determine the cubic feet of your space by multiplying width of sales floor x length of sales floor x height of sales floor walls. Take that number and multiply it by 2.5 to get your general estimate of appropriate lumens. Next, add up your total lumens for decorative, accent, and task lighting. Subtract your total lumen number of decorative, accent, and task lighting from total lumens for your whole space. The number that's left is how many lumens you still need.
Step 2: Decide on your type of general lighting
General lighting has many more options than accent and task. The kind of lighting type you use will depend a lot on your store.
Here are some general recommendations:
Use Recessed Cans/Track lighting in high-end, fashion, or boutique stores

Use

recessed panel

or

pendant panel lights

in grocery stores, convenience stores, hardware stores, and office spaces
Step 3: Decide on quantity of lights and bulb type needed
In this situation, it can actually be helpful to determine bulb type first, since that will help you to know how many lumens you are gaining per light. See calculation above under lumens/sq. foot.
If you are going to cut lighting cost somewhere, this is the place to do it, especially if your store is not in a high-end niche. Incandescent or fluorescent tube lights are adequate for most general lighting applications (not including high-end and boutique stores).
Jewelry Store Example:
In this case, the lumen count for the store up to this point (decorative, accent, task) is already at around 25,000, which is right about where it needs to be. So, for general lighting, we are just factoring in several sets of track lighting, in-case of dead spots.
$240 – 2 Sets of Track Light Rails (bulbs included)
$4330.67 – Total Cost of Jewelry Store Lighting
Where to Buy Retail Store Lighting
Local Lighting Provider/Interior Designer
The easiest way to find a local lighting designer is to search "retail lighting contractor"on google with your zipcode or the zipcode of the big city nearest you. You can also search google for interior designers, or better yet, check out the American Society of Interior Designers member list.
Online Lighting Provider
ATG Stores is our recommended online provider for lighting. They offer a very large selection of lighting for retail stores at very reasonable prices. Click here for free shipping on any purchase from ATG Stores. 
The Bottom Line
This article has all of the main information you need to begin selecting your retail store lighting and some helpful tips for doing so. With that being said, each store's lighting setup needs to be custom tailored to the space and store type, which is why we generally recommend hiring an interior designer (check out the American Society of Interior Designers (ASID)and expect to spend around $75-$250/hour). Regardless of whether you choose to DIY or hire a designer, this resource has a lot of helpful tips and will aid you throughout your light selection process.