22 Ecommerce Marketing Strategy Ideas for Retailers
Ecommerce marketing is the practice of driving brand awareness, traffic, sales, and conversions to your online store. For example, ecommerce businesses can create email marketing campaigns, build loyalty programs, collect customer reviews, and offer personalized recommendations as part of their marketing strategy.
Creating an effective ecommerce marketing strategy is crucial to growing your online store. Here, we've compiled nearly two dozen ecommerce marketing tips for your retail business.
1. Build an Email List
Email marketing is a cost-effective strategy to generate and nurture leads—it can generate nearly five times more buyers than social media. With an email list, you have complete control over your audience—unlike social media, which uses algorithms to limit how many people actually see your content.
When it comes to building an email list, quality is more important than quantity.
Instead of fixating on the number of subscribers, focus on how likely the subscribers are to engage with and buy from you.
To build a strong email list of quality subscribers, add opt-in forms on checkout pages, in post-purchase communications, and on popular pages of your website. You can also create an interactive quiz as a lead magnet to prompt people to submit their email addresses.
Clothing retailer Everlane, for example, incorporates a simple, straightforward design in its email opt-in form, using a discount to entice shoppers. Its crisp design and strategic placement ensure it's easy to notice and use.
2. Create & Send Email Campaigns
Once you've built an email list, it's time to send regular and valuable emails.
There's a level of trust that comes with customers handing over their email addresses to you. To maintain that trust and build a strong relationship with your customers, offer value in your emails. Since "value" is subjective, it's essential to understand what your customers care about and create email content to meet those interests.
Here are some email ideas customers will actually appreciate receiving:
A welcome email (or series) once a customer makes a purchase
Exclusive promo codes and free gifts
Regular newsletters to alert subscribers of new discount offers, product tips, and company news
Relevant content to help customers get the most out of their recently purchased items
A thank-you email for your repeat and loyal customers (a personal note expressing your appreciation is best)
Survey and feedback forms (ask about their purchase experience and how you can improve it)
Online photo editing studio Path frequently sends email newsletters, promos, and company updates to its list.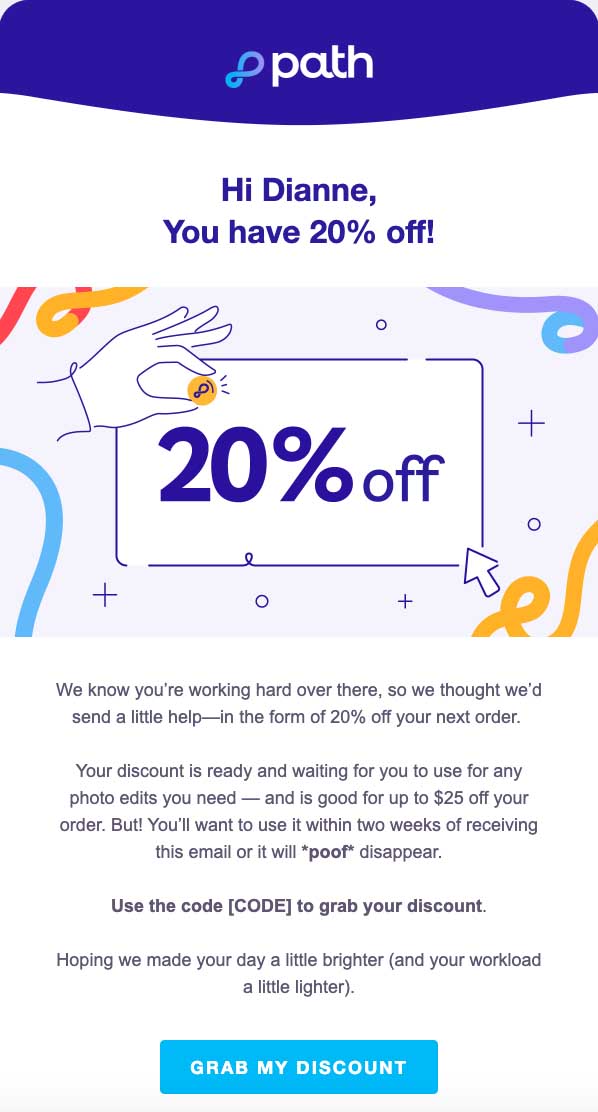 Find an email marketing tool to automate your messages and send targeted campaigns to segmented audiences on your list.
3. Set Up Automated Abandoned Cart Emails
Abandoned shopping carts happen when an online user adds products to their cart and leaves your site without completing the purchase. These are a major blow to retailers because these users are likely high-intent, so it's theoretically an easy sale. And according to shopping cart abandonment statistics, the average documented shopping cart abandonment rate is just under 70%.
To combat these lost sales, you can send automated abandoned cart emails. These kinds of emails remind your customers about their almost-purchase and encourage them to finish the transaction. In the emails, you could offer free shipping or a discount or suggest new products as extra encouragement.
For example, an email sent by a leather luxury goods brand in the image below is straightforward, reminding the shopper they've left something behind. Moreover, it suggests three related products, a great cross-selling and product recommendation strategy. We also like that the email's overall design is similar to the shopping page design to keep the shopper experience consistent.

4. Cross-sell Your Products
For cross-selling to work, the product you're offering should complement the items your customers have already bought. If you sell apparel, you can cross-sell a belt to go with a nice pair of jeans. Or, a pet shop might sell vitamins as a complementary item to dog food.
Companies like Amazon and McDonald's have seen a considerable increase in revenue because of simple cross-selling. You can try the same tactic for your store.
Similar to cross-selling, you can also upsell customers on a product that's slightly higher priced than their original intended purchase. An example of upselling would be if you convince a customer who is buying a $100 pair of jeans to purchase a $200 pair instead, or convince a dog owner to purchase the premium food instead of the generic brand.
5. Take Advantage of User-generated Content
User-generated content (UGC) serves as free marketing and exposure for your ecommerce business. When people see your customers post pictures of themselves enjoying your product, it helps them trust your business.
User-generated content is any piece of content created by people—in this case, customers—instead of a brand.
Aside from images posted on social media, UGC could also be in the form of reviews and recommendations. When done right, UGC drives traffic to both your physical and online stores.
Calvin Klein saw the UGC campaign highlighted below connecting more deeply with its target audience—young people—than influencer posts or paid ads. The brand gained millions of followers across Facebook, Twitter, and other social media platforms in no time.
6. Set Up an Instagram Store
Instagram allows ecommerce business owners to integrate their product catalog with their Instagram business profile. This means you can launch an Instagram store and build a shopping channel in your posts, stories, and Explore page.
You also get a Shop tab on your profile, which serves as your Instagram storefront. In this tab, users can see all the products you have for sale, along with prices and other details.
If you rely on visual imagery for promotion, Pinterest is another social platform you can take advantage of. Learn how to sell on Pinterest using our guide.
7. Sell on Facebook Marketplace
As Instagram's parent company, it's no surprise Facebook also supports ecommerce marketing on its platform. Over 33% of Facebook users in the US use the Facebook Marketplace to buy and sell products every month.
Facebook Marketplace is mostly intended to serve as a peer-to-peer marketplace, similar to how Craigslist functions. So, it certainly has its limitations when it comes to your online retail marketing strategy.
8. Create a Facebook Shop
Aside from the Facebook Marketplace, you can also create a Facebook store. This is the way to go if you really want to scale sales via Facebook.
Much like your Instagram Shop, you can create an ecommerce environment directly within the Facebook interface. It easily integrates your product catalog from platforms like Shopify with Facebook.
9. Sell on TikTok
TikTok is the trending social platform to sell on these days, amplified by Shopify's partnership to add in-app shopping. Even if you're not on Shopify, you can use the video-based social channel to promote your brand and foster connections with your audience. That's exactly the approach Benoa Swim takes with its TikTok, featuring a mix of product content, UGC, and engaging posts.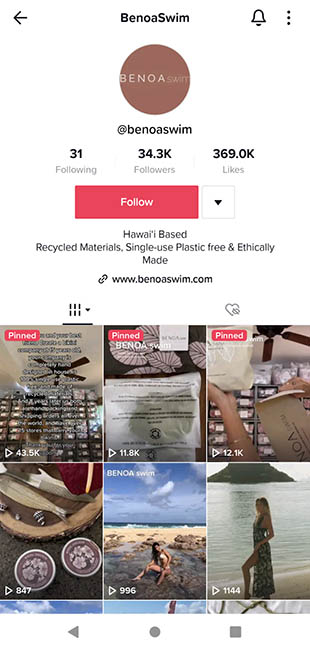 10. Get Started With Livestream Shopping
Livestream shopping is an effective and engaging way to promote your products online and create real connections with your audience. According to livestream selling statistics, the market is estimated to climb to $68 billion in sales by 2026. Apparel and fashion brands seem to use this ecommerce marketing strategy the most.
Here are some platforms worth checking out:
When planning your livestream event, be sure to have a theme or a "why" behind the livestream. This keeps it exciting. Some ideas might include product launches, influencer or brand collaborations, pop-up shops or events, tutorials, auctions, and one-on-one livestream shopping appointments.
You might also consider an incentive for attendees. Maybe it's a discount code or free gift with purchase. Jimmy Choo, for example, gave a personalized fashion sketch to the first 50 people who bought a pair of shoes during its first livestream shopping event.
11. Improve Existing Product Pages
Your product pages have two main functions—to attract and convert. To attract your dream audience or customers, you can use search engine optimization (SEO), paid advertising strategies, and other tactics (many listed in this post!).
Once you have a steady traffic flow, your next objective is to optimize your product pages for conversion. To do this, you'll need to write product descriptions that are also optimized for SEO to appeal to your audience's emotions or pain points and position your product as the solution.
The below product page from footwear brand Isleñas strikes the perfect balance of informative and fun. It provides essential details to help shoppers decide if the shoe is right for them, along with creative language and descriptors to appeal to a specific customer profile.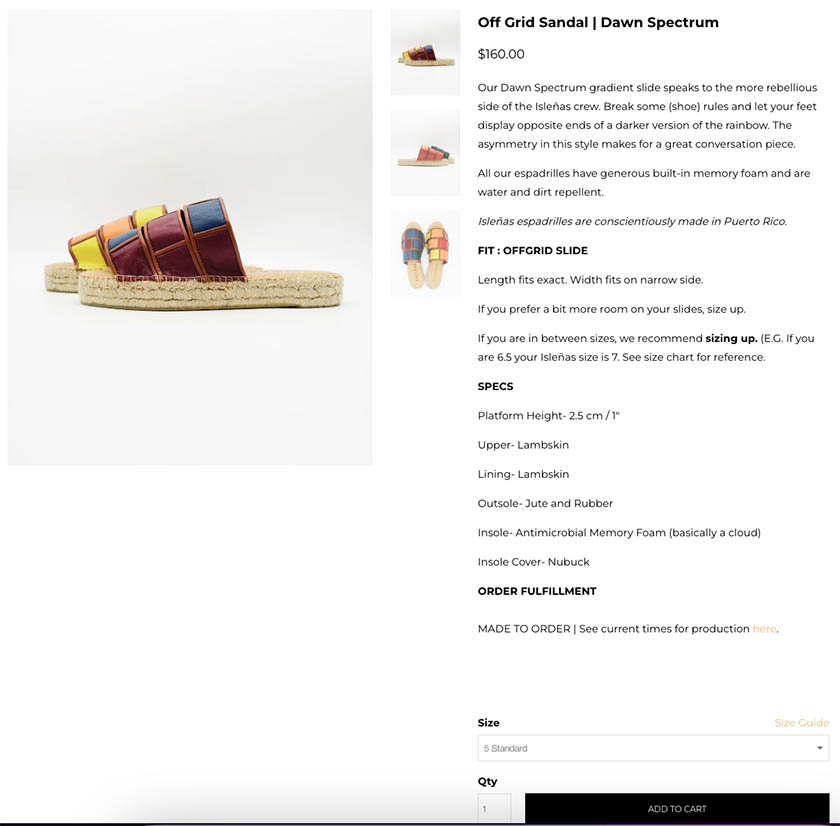 12. Create a Customer Loyalty Program
Customers love to feel appreciated. One of the best ways to appreciate your customers is to create a customer loyalty program with special offers and incentives for your most loyal customers.
For example, you could reward customers with points whenever they buy anything from you, give you a positive shoutout on social media, leave an online review, or refer a new customer to your business.
With a customer loyalty program, you can spend less on customer acquisition—which is generally more expensive than customer retention.
13. Leverage Brand Partnerships
Collaborating with a brand that sells a complementary product to a similar audience is another excellent ecommerce marketing strategy that exposes your product to a whole new audience. For instance, if you own a body soap store, you could partner with a business that sells body creams and lotions.
Then, you can promote the collaboration online—via your website, email marketing, social media, and other existing channels. This can build your audience and create long-lasting and indirect impacts long after the collaboration.
14. Make Your Online Store Mobile-friendly
Every year, more consumers use their mobile devices to shop online—and it doesn't look like that will slow down anytime soon, if ever. As such, it's crucial to think about the mobile experience when creating an online store.
Your store's design should be responsive and come with large buttons that don't require customers to zoom in on their phones or tablets. You should also optimize your online store for website speed to avoid losing prospects who despise slow-loading sites.
Many times, the mobile-friendly version of a website involves stacking page elements. So while a typical "shop" page might have a grid of product thumbnails, the mobile version might stack those thumbnails instead of using a grid. A grid would likely be too small on a mobile screen. See how it looks in this example from Apostrophe Puzzles:
Go with ecommerce platforms and website builders that include mobile-responsive features out of the gate.
15. Collaborate With Influencers
Influencer marketing can be a great alternative to running pay-per-click (PPC) or social media ads. Many consumers are more likely to trust influencers. In fact, one study found that 89% of YouTube viewers feel that the creators give trustworthy recommendations.
Choosing the right influencer for a campaign would improve brand awareness and land your product in front of an already engaged audience.
The most common kind of influencer marketing involves the influencer making a social media post on the platform where their engaged audience is. You can also ask the influencer you're working with to do a product review.
When working with influencers, remember to prioritize quality over quantity. Lots of followers doesn't always mean lots of engagement or sales. Though a lot of this is subjective, look for influencers who seem authentic and have a lot of positive two-way interaction on their posts.
16. Use SMS Marketing
Along with emails, you can also collect customers' phone numbers and send them marketing text messages. Considering your customers get a ton of emails every day, many of which eventually go unread, sending SMS text messages can serve as a perfect alternative.
You can use SMS marketing to send push notifications or promote time-sensitive offers to your customers. Location-based notifications can also remind them to make a purchase when in-store, provide additional product information, and promote exclusive in-store promotions.
Red Rooster Coffee uses SMS marketing to send promotions and product updates.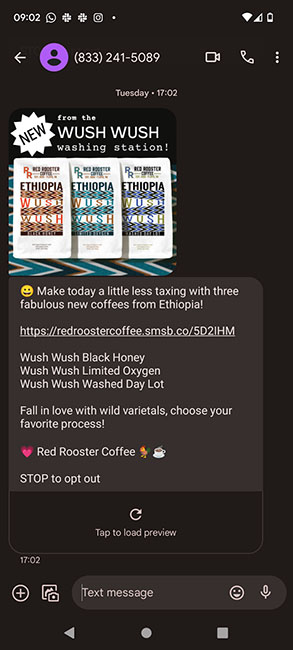 17. Include Personalization in Your Strategies
If you haven't employed personalization in your strategies and automation, the time is now. Nearly 90% of retail marketers are using personalization for their business, and those who use advanced personalization strategies see up to a $20 return on every $1 they invest.
Use your site visitors' behavioral data to personalize product promotion according to their past actions and preferences. You can also use their location to create an experience specifically catered to where your customers are in the world. For example, a shopper from the West Coast may look for bathing suits in October, while those shopping from the East Coast will be looking for coats.
A study from McKinsey found that 71% of shoppers expect personalization. Around 76% are more likely to purchase from brands that personalize, and 78% are more likely to make repeat purchases.
It's easier to implement this than you think, thanks to a variety of apps available on most ecommerce platforms. Here are some ways to personalize the shopping experience for your customer:
Offer personalized guides in the form of on-site assistance to your visitors (quizzes, size, and style guides)
Display recently viewed items
Personalize product pages based on location
Send birthday greetings via email
18. Encourage Customers to Leave Reviews
Seven out of 10 shoppers usually read between one and a dozen customer reviews before purchasing. To encourage your customers to leave reviews, you could send them a post-purchase email to rate their shopping experience. Or, you could send them an email after a reasonable amount of time (preferably after they've had time to use your product) asking them to rate how well the product is working for them.
If your audience isn't particularly open to giving reviews and feedback, you could incentivize it with a discount on their next purchase.
19. Roll Out a Content Marketing Program
If you're already creating content for your social media platforms, we recommend adding a blog to your online store. When you regularly publish valuable blog content, you might rank higher in search engines and provide more opportunities for your audience to engage with you.
On your blog, you can address the needs of an audience at the top, middle, and bottom of your sales funnel by creating content for informational, navigational, transactional, and commercial search intent.
For example, let's assume you run a shoe retail store called RunZ. Writing a blog post like "how to prepare for a marathon" is a purely informational piece of content that would most likely attract anyone who intends to run a marathon. This type of content is best suited for prospects at the top of your sales funnel.
When your audience types something like "RunZ website" into search engines, it means they are already familiar with your company and want to navigate to your website.
Meanwhile, to attract an audience who searches with transactional intent, you'll need to add phrases like "best," "coupon," and "shipping" to your product content. That way, when someone searches for something like "best Air Force 1 shoes," your product pages can show up on search engines.
There are more ways to do content marketing other than just creating blog posts. Consider the following:
Start a podcast to show expertise or build a stronger community.
Write guest posts on other websites to build awareness and generate backlinks that help with SEO.
Create long-form content and guides in the form of videos, e-books, and email campaign series to help customers use your products more effectively.
Related: How to Blog on Facebook: Everything You Need to Know
20. Run Contests & Giveaways
Who doesn't love getting free stuff? Capitalize on human nature by running contests and giveaways for your business. There are different ways to host a giveaway. However, the main point in doing all of these should serve a purpose, whether it be to collect email addresses to build your list, monitor customer sentiment or feedback, or increase engagement and promotion.
Since you might be attracting all kinds of people for a giveaway, it's essential to include a way to collect and segment your giveaway audience data to identify those who might eventually become customers.
One example is outdoor lifestyle brand Oru Kayak's giveaway in partnership with Sunski. What's great about this giveaway, shown below, is that it leveraged brand partnership and included the dollar value of the prizes in the giveaway landing page. This hits two birds with one stone—providing information about the giveaway and introducing its products to promote them in a subtle way.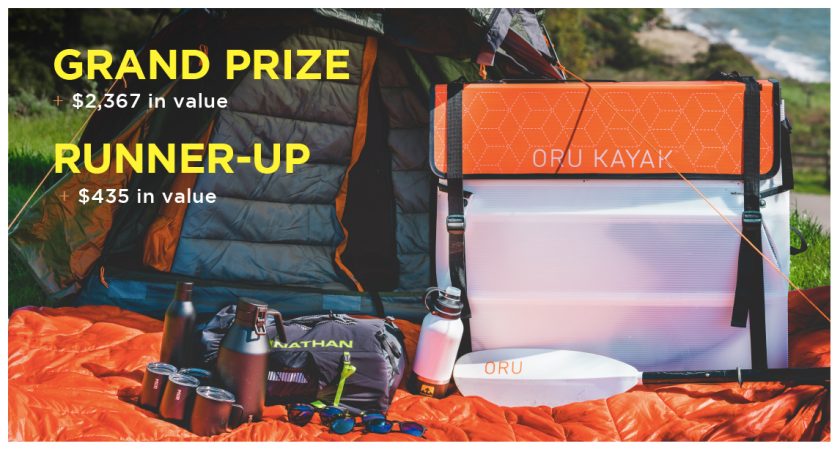 Once your giveaway is over, analyze the results to know what channel brought you the most qualified traffic. Then look for ways to double down on those opportunities through different promotional tactics.
Alternatively, you can also collect customers' email addresses even if the giveaway has ended, similar to what luggage brand Bellroy did with theirs.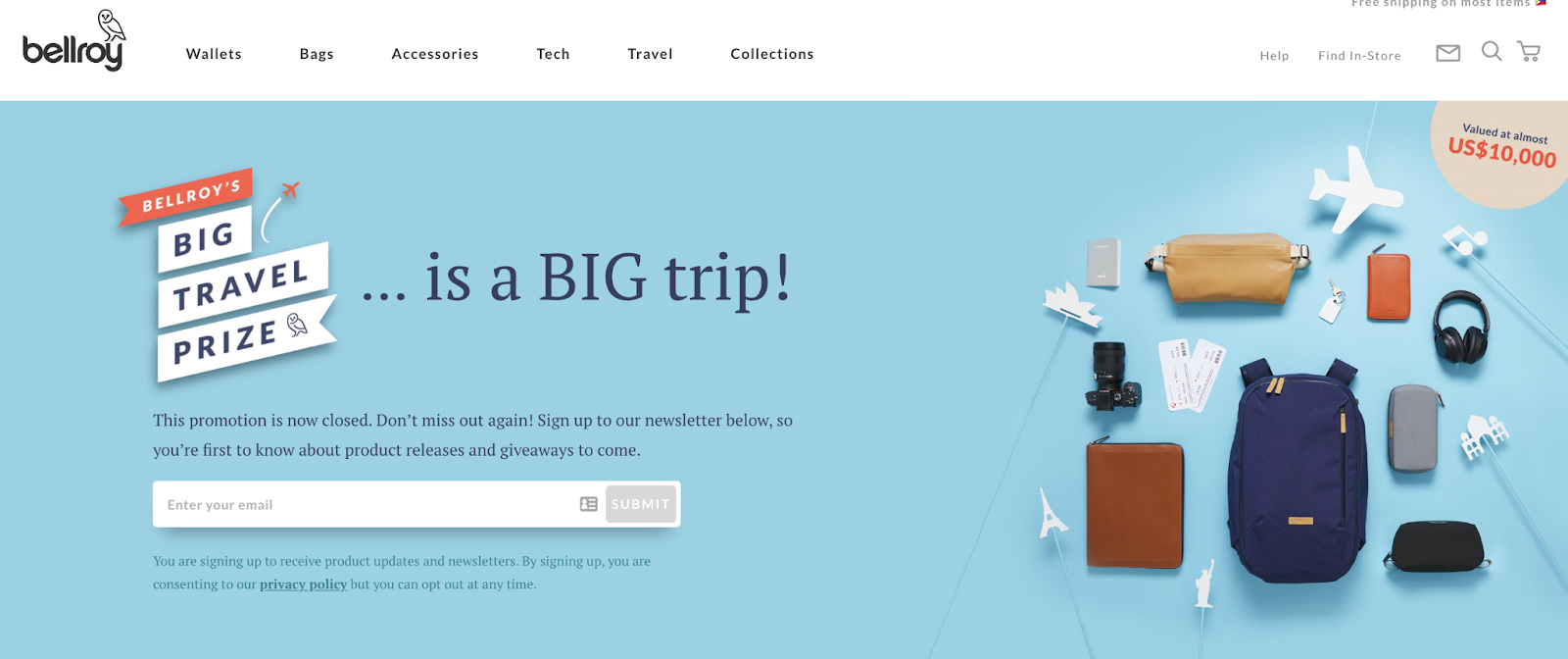 You can see how the brand triggers FOMO (fear of missing out) with customers by saying, "Don't miss out again!" and encouraging them to sign up to their newsletter.
21. Consider Paid Advertising
There are many options for online paid ads. Social media ads and paid search or display ads are some of the most common tactics for ecommerce marketers. The reason brands love paid ads is that they have control over who they're targeting.
You can use Facebook ads or Google Ads to create audience groupings you want to target with specific ads. You can target people with single ads or a series of ads, gently pushing them further down the funnel and closer to the point of making a purchase.
However, marketers' love for paid ads is quickly waning as privacy policies make it increasingly difficult for businesses to collect the data needed to ensure effective and creative ad targeting. Not to mention growing competition and rising costs, many brands are exploring other ecommerce marketing strategies to supplement their ads.
Related:
22. Optimize for Search
To attract your dream audience or customers via search, you'll want to optimize your website for search engine marketing. This includes incorporating keywords your audience uses when searching for and researching products such as yours online. Best practices for optimizing individual pages for traffic include proper meta tags, alt text, headers, and keywords.
If you have a retail store in addition to your online shop, you might also consider local SEO strategies. This will help turn online searchers into foot traffic to your store. You could look into local SEO services to help.
Likewise, if you sell on Amazon, you may also want to optimize your storefront and product listings for Amazon SEO.
Bottom Line
There's no one-size-fits-all ecommerce marketing strategy. It's vital to consider the kind of products you sell and what type of customers you have—and how much time and budget you're willing to invest.
You don't have to do it all at once. Pick a couple of tips and give them a go. Ditch the ones that don't work and experiment with new ideas as you go along. The best part of owning your small business is you get to decide how to run it.