Offboarding is the process of managing all aspects of an employee's exit from your business once they've resigned or been fired. An offboarding checklist ensures you don't miss steps, such as getting your office keys back. It also promotes your employment brand as you deal with each departing employee in a fair and professional manner.
Free Offboarding Checklist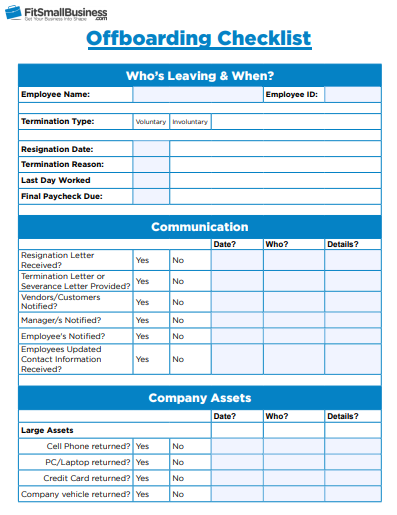 An offboarding checklist is typically an internal document that is not shared with the employee. Nonetheless, don't include confidential information on it such as the employee's Social Security number or pay rate.
The checklist lists below serves as starter documents to modify as needed, saving you time. You can add rows to the checklist for additional procedures and tasks and insert columns for additional notes, resource names, or dates as needed.
Download the sample offboarding checklist in any of these three formats:
Once you've downloaded our free customizable offboarding checklist in a version that best suits your needs, feel free to edit it to include details that cover your specific employee exit process. Even if you're the only one managing employee offboarding, an offboarding checklist, also known as a termination checklist, ensures you don't miss any critical exit tasks.
What Offboarding Is
Offboarding ensures all parties, such as the employee, their manager, their co-workers, your payroll rep, your IT team and HR are all on the same page when it comes to an employee's last day ― and what happens when.
For example, as you prepare for the employee's last day, you'll want to retrieve any property in the employee's possession, have them sign legal termination or severance documents and be sure to get updated contact information to send them year-end tax forms.
You'll also want to plan communications about the employee's departure to a broader audience in a way that maintains the employee's dignity and confidentiality rights. Many organizations further conduct a structured exit interview with the employee to obtain insights as to what they (the company) can do differently ― as employees leaving the organization are often open to sharing specific concerns.
Here are seven steps to ensure your offboarding goes smoothly.
1. Determine & Document the Termination Reason & Date
The approach you use when offboarding an employee depends on the circumstances of why the employee is leaving the organization. The most common reasons are that they resigned voluntarily or were involuntarily terminated. But there may be other reasons an employee leaves the organization such as not returning from medical leave, retiring or death.
Each termination reason carries with it different legal and practical requirements for offboarding. Therefore, the section below is tailored to help you think through the kind of tasks you'll need to do depending on why the employee is leaving.
Offboarding an Employee Who Resigned or Quit (Voluntary Termination)
The best way to manage employee turnover is to note exactly why departing employees are leaving as part of your offboarding process. Some employees leave because they have to move out of state with their spouse. However, others leave because they think their manager was a jerk. It's best you know that so that you can spot trends and use those learnings to manage existing employees better.
In addition, state laws vary on when an employee who resigns is to receive their last paycheck. In some states, it's OK to pay them on the upcoming or next pay cycle. However, in other states, such as California, you must provide them a final paycheck on their last day worked if they have provided 72-hours advance notice.
Offboarding an Employee Who Was Fired (Involuntary Termination)
Offboarding an employee who has been involuntarily terminated or fired is a bit trickier as you don't often have time on your side. You will want to make sure that you provide the employee their final check according to the requirements in your state ― in some states, it's due the day of termination.
In addition, in the heat of the moment, you may forget to ask for the employee's company credit card, get back the key to the storage unit or obtain their signature on a nondisclosure agreement. Having an offboarding checklist ensures you don't forget these critical items as you're ushering a terminated employee out the door.
Offboarding Employees for Other Reasons: Retirement & Death
At other times, offboarding requires specific activities based on the reason the employee is no longer with the company. Perhaps they retired. Do you want to host a thank you event for them? What if they were killed in a traffic accident? Your offboarding process will need to take into account providing legal and tax documentation to their estate, such as their final paycheck or getting their personal effects to their surviving spouse.
In all cases, key activities must be done, such as taking former employees off your payroll. There are too many important tasks to risk relying on your memory. That's why it's helpful to use an offboarding checklist.
2. Create and Use an Offboarding Checklist
Depending on the size and complexity of your business, such as what state your employee works in and whether you offer benefits, your offboarding checklist will vary in complexity. For some companies, it includes only a handful of tasks. Other firms may require an entire laundry list of procedural steps to be completed by various parties. You can download and customize our free offboarding checklist to add additional sections, tasks, dates, and persons to ensure it covers your specific business needs.
At a minimum your offboarding checklist should include:
Employee data: Include the employee's name, ID number and other relevant information like their work location, department, and supervisors name
Termination information: Include the employee's last day worked and termination reason, the term reason often drives decisions such as when their final check is due, whether they'll get severance pay, and if they'll be eligible for unemployment
Communications: Determine who you're going to notify and how like with vendors or co-workers
Company property: Identify company resources the employee will need to return like cellphone, laptop, vehicle, keys, badges, manuals, and files; decide will collect them
Information technology: Close software accounts or change passwords, such as the employee's email, point-of-sale (POS) login ID, or virtual private network (VPN) account
Contact information: Obtain their permanent mailing address, phone number, and email account in case you need to follow up with the employee after they depart
Benefits: Depending on the size of your company and/or whether you offer employee benefits, you may be required to offer COBRA or continuation of benefits
Leave balances: Based on state requirements or your company policy, you may need to calculate and pay out accrued but unused paid time off (PTO) or sick leave
Legal notices: Remind employees of key details they've agreed to, such as a nondisclosure agreement (NDA) or obtain their signature on those documents to protect your business
Exit interview: Note the time, date and person who will conduct the exit interview
Deductions: If the employee has any outstanding monies, such as a loan balance, is charged for failing to return their cellphone or has used more vacation time than earned, you'll want to gather these amounts to deduct from their final paycheck
Expenses: You'll need the employee to turn in outstanding expense reports so that you can reimburse them on their final paycheck or by the end of the pay cycle
Final check: Note the date their final check is due based on whether they quit (voluntary term) or are fired (involuntary term)
Often, your HR management system (HRIS) vendor will be able to provide checklists you can use. For example, Zenefits offers HR tools, benefits processing, and payroll services to small business. The provide an offboarding checklist right on its website for its customers' use. Contact Zenefits for a free demo.
3. Communicate Event to Relevant Parties
For employees who are fired, they're either terminated on the spot and asked to leave, or they're given an employment end date. If they quit, they often provide notice. Whenever the end date can be determined in advance, make sure you document and communicate it to all relevant parties, including confirming it with the employee. That ensures no surprises or misunderstandings that might devolve into a lawsuit.
Here are the parties and means to communicate employee offboarding:
The employee: As soon as possible, document in writing the termination date, reason, and any expectations prior to their last day; see sample termination letter below
Internal departments: Use email, Slack, or some other confidential HR workflow to notify departments like security, information technology (IT), or payroll about which employee is leaving and when
Company employees: Request managers to notify team members directly when a co-worker is leaving or has left; some companies wait until after the employee is off-site
Clients & vendors: For practical business reasons, clients and vendors need to know if their go-to person is no longer there and who they should contact instead
Some employees experience emotional stress when a co-worker they're fond of leaves the company. If you're using an HRIS like Zenefits, they can often offer an employee assistance program (EAP) to help employees cope with the change. For example, Zenefits has partnered with ThriveGlobal to provide EAP services to employees. Get a demo of Zenefits.
Examples of common offboarding communications are provided below for reference.
Termination and Severance Letters
Termination or severance letters can be used to formalize the termination date and reason and to clarify what's expected of both your business and the employee. Some employers like to remind the worker of the need for confidentiality, while others use this communication merely to confirm the expected last day and reason that the employee is leaving.
Here are two examples of employee communications you might use during offboarding.
Sample Severance Letter for an Employee That Just Quit
Dear Joe, we have received your resignation notice and wish to confirm that Friday, June 17, will be your last day with ABC Company. Prior to your last day, please submit any outstanding expense reports and be prepared to surrender company equipment, including desk keys and your security badge to your supervisor.
As long as you provide us with a valid email address, you will continue to have access to our HR system for pay stubs and tax forms. On your last day, you will need to schedule 30 minutes with HR to go over your benefits options (COBRA). In the meantime, we ask that you continue to conduct yourself with professionalism during your remaining time with the company, and we wish you well in your new job.
Sample Severance Letter for an Employee That's Been Fired
Dear Jill, given our earlier discussion of your performance issues and in compliance with our at-will employment doctrine, we have determined that your employment will end today. It is your choice whether you prefer to pack up your belongings first, or you may leave now and come back to get your belongings after your co-workers have gone home. Please coordinate these details with your supervisor.
Your final check will be issued on Monday at 4 p.m. and will include your accrued but unused PTO in the amount of 12 hours. We are also willing to pay out one week's severance in the amount of $600 once all company equipment has been returned to us, and you have signed the attached nondisclosure agreement as requested.
Department Memo
A department memo sent by email or other written form should be brief, to the point and indicate no fault or judgment. The purpose is to let those who interact with the employee understand that the worker is no longer employed by the company and to help them continue work as usual. If the news is positive like a new baby, relocation, or retirement, it's OK to celebrate as that improves your employment brand.
Here are two examples of team communications you might use during offboarding.
Sample Department Memo to Team Members
As of Friday this past week, Stefan Anderson is no longer with the company. We wish him well in his new endeavor. Going forward, all requests for financial approvals are to be directed to Sara Rodriguez instead. If you have questions or concerns, please talk directly with your manager or contact your HR rep.
Sample Department Memo to All Company Employees
After 20 years of service, Bill Thompson is scheduled to retire on December 1. Going forward, Kim Alexander will be taking over his department. Please stop by to wish Bill well. We will be scheduling a retirement party within the next few days to celebrate his contributions.
Client/Vendor Communication
While awkward to admit you've fired someone or they've quit, it's imperative that your clients and vendors not be caught off guard. As soon as the change occurs ― sooner, if cross-training is needed ― notify impacted vendors and clients of who their new representative will be and how to contact that person. Out of respect for the former employee, it's best to provide no further details.
Here are two examples of client/vendor communications you might use during offboarding.
Sample Client Communication
Out of respect for you as a client and to ensure a smooth transition, we wish to inform you that Erin Coffey is no longer with the company. Amy Russell will be assuming customer service for your account and will contact you within the next few days to introduce herself and address any questions you have. We appreciate your support during this transition. Thank you for your business.
Sample Vendor Communication
Please update your records to note that Chuck Curran is no longer with ABC Company. Your new business contact will be Katrina Alverez-Walters. You can reach her at [email and phone[. If you have any questions, please contact our accounting department at (phone number) or reply to this email.
4. Identify Who Will Do What & Delegate Tasks
Depending on the complexity of your organization, you may need to delegate tasks to different individuals. For example, you may have someone on your staff who manages administrative logins and will need to turn off email access on the employee's last day. You can use the column marked "who" to indicate which person or which job role will manage each offboarding task.
The common people/job roles to delegate tasks to during offboarding are:
Payroll rep: To provide a final check, include all deductions and any outstanding earned unused PTO balances, expense reimbursements or other deductions
Manager: To communicate with existing staff about the employee's departure and who will take over their responsibilities as well as whether the position will be replaced
IT/Admin: May need to gather and inventory equipment, manage account access and/or shut off employees building security
Executive: To communicate to vendors/clients or approve companywide messages
HR: Manage the process and update org charts, employee data systems, and files
Employee: Replacement employee/s will need to be cross-trained or notified that job tasks and responsibilities will transfer to them during the former employees offboarding
In a smaller organization, one or two individuals may oversee all these tasks. Perhaps you're the one who needs to ensure offboarding occurs. In a larger firm, oversight of the offboarding process is typically managed by the employee's manager, an administrative assistant, or an HR representative.
5. Conduct an Exit Interview
Conducting an exit interview should be one of the key steps on your offboarding checklist. However, it's optional depending on the situation. For example, if you have an employee that you've had to terminate for stealing, fighting, or violating company policy, there may be no point in retaining them on the job site to get their opinion about how to make the workplace better.
However, whenever possible, it's in your business' best interest to find out why employees quit. That allows you to address issues proactively like workload, pay, benefits, personality issues, or management training concerns.
6. Provide Final Paycheck
Using the details you've gathered in your offboarding checklist, you should be able to process the employee's paycheck. You'll know how many hours they've worked or will work through the end of their last day. You'll know about any deductions that need to be taken, such as any remaining benefits premium to keep their insurance in place until the first of the month. You'll also have received their expense reimbursement requests, calculated any PTO to pay out, or determined how much severance they'll receive.
Using software like Gusto, these calculations are easy and can be input into the final paycheck. When to provide that paycheck depends on the state your employee works in and whether the employee quit or was fired. In some cases, you're required to provide a paycheck upon termination.
That may be a problem if you fire your bartender at midnight on Saturday. In that case, you can use free payroll software or paycheck calculator to come up with the exact amount, pay them with check or cash and then enter the final paycheck earnings and deductions data into your payroll software on the following business workday. If you do this, make sure you retain a receipt.
7. Retain Employee Documentation
Document retention requirements vary by state, but as a general rule, you need to maintain files of terminated employees for at least four years. Of course, if you are concerned about claims of unfair employment practices, discrimination or any other issue, it's best to retain documentation of your termination reasons, such as performance reviews, warnings, or behavioral issues, for as long as the risk of a lawsuit exists. That ensures you can defend your position.
Further, if the employee has a retirement plan or 401(k), they have a right to view documents up to six years after the plan ends. That's why using a payroll service like Gusto can help. Electronic documentation like tax forms and 401(k) balances are retained online in case the employee needs it at a later date. Try Gusto free for 30 days to see how robust it is.
Who Offboarding Is Right For
Offboarding benefits two parties in particular: you, the employer and the employee. It protects your company and your managers by ensuring that expectations are clear. That reduces the likelihood you'll make a mistake like failing to pay out an earned bonus that might cause the employee to sue you.
Consider both audiences when you customize your offboarding process:
Employer: Your process should include tasks to protect the business and its employees, including getting keys and requesting confidential documents be returned
Employee: Your process must respect the rights of your employee, which includes to be paid on time and be spared from discrimination, harassment, or slander
The larger your business is, the more important it is that you structure a fair and consistent onboarding process and train individuals on what's required at each step. The more managers and departments you have, the more likely a task will fall through the cracks. Do you want to make the mistake of a leaving a disgruntled employee with access to your building or to your client's online accounts after you've fired them?
Offboarding Costs
The cost of offboarding is related primarily to payments or benefits you provide once an employee is terminated or quits. For example, if you are subject to COBRA (50 employees or more in most states), you may have to pay for benefits administration fees of a few dollars per month. Other costs are incidental, such as the time it takes to retrieve and take inventory of company property, or manager / HR time spent conducting an exit interview/
The most common costs of offboarding include:
Labor costs: The time it takes you, your managers and/or your HR staff to manage the offboarding checklist, update your company data and manage communications
Payroll & bookkeeping costs: If you use payroll software of a bookkeeper to manage HR data, there's typically a cost that ranges about $6 to $12 per month per employee to process a termination and issue a final paycheck
In truth, offboarding properly is a way to avoid costs. For example, the time you spend conducting an exit interview can save you money down the road as you address systemic workforce issues that may be causing your organization to suffer turnover. Or, the termination checklist you use may remind you that the employee has a company laptop you need to get back.
In fact, the hidden expense of offboarding is what it costs to replace an employee who has quit or that you've fired. Those costs can run into the thousands.
Offboarding Providers
Offboarding is a newer HR buzzword that cloud-based software providers have adapted to launch a new line of services, automating the offboarding checklist by providing reminders and communication templates to save employers time. You don't need a provider to do offboarding but using one can ensure you don't miss any steps within your offboarding process.
To ensure employee offboarding is handled professionally, consider using one of the options below.
1. Outsourced HR
Unless you're a labor law expert or employ only next of kin, you might want to get the support of an outsourced HR expert, especially if your employee is retiring or leaving under sketchy circumstances. Online services like Bambee provide dedicated unbiased assistance to manage your entire offboarding process including all that compliance paperwork. They even do an HR audit to uncover whether your business or managers may be inadvertently violating labor laws. That can save you fines and penalties. Schedule an introduction to Bambee.
2. Professional Employer Organization
Businesses that want to take a hands-off approach to all things HR and payroll are best suited to work with a professional employer organization (PEO). A PEO is a co-employer that partners with your business to manage the people-side of your operations. They ensure employees are hired and classified correctly, paid legally and provided with big-company employee benefits like health care.
PEOs start at less than $100 per month, per employee, with add-on services and fees that can help you attract top talent to your business. The way they help with offboarding is that they maintain data on the termination date, termination reason, last check date and any information that you need to be signed like an NDA or severance agreement. Justworks is an example of an affordable PEO that can assist you with offboarding. Sign up for a Justworks demo.
3. HRIS Software
HRIS) software is a tool that can help you keep track of new hires and terminations as well as provide legal and tax compliant payroll and benefits offerings. Unlike a PEO, you maintain control of your business practices including employee-related decisions like hiring and firing. An HRIS best for small businesses that already have a good handle on workforce compliance and tax laws in their state.
HRIS software varies greatly in price with some starting as low as $1/month per employee. To get payroll services as well, expect to pay between $6-12/month per employee with monthly service fees in the range of $40-$120/month. Most HRIS software, like Zenefits, contains an employee portal which can allow terminated employees to access data they need such as pay stubs, tax forms, and benefits documentation. Attend a live demo of Zenefits.
4. Payroll Software
Many payroll software and payroll service providers cover the range of common HR transactional needs such as hiring employees and terminating them. They often have a way to store employee documents, as well as ensure final paychecks are accurate and required services (COBRA) are provided to terminated employees. Like HRIS software, some, like Gusto, offer an employee self-service portal that former employees can use to obtain their own forms and documents. Try Gusto free for 30-days.
5. Spreadsheet/Manual
The smallest of companies may be okay managing employee offboarding manually, by using our offboarding checklist or keeping track of terminated employees in a spreadsheet. If you're a member of the Society of Human Resource Management (SHRM), they provide a very detailed termination checklist you could manually recreate as a shared spreadsheet using Google Workspace.
Offboarding Considerations
An inexperienced business owner may think that an offboarding process and checklist isn't necessary. Instead, they'll accept a resignation letter and/or fire the employee with nothing more than a final check and a boot out the door. But that's a mistake for several reasons, including the fact that it doesn't look or feel good to other employees and you may be creating time-consuming financial or legal issues down the road.
Employment Brand
Company review sites like Indeed and Glassdoor give employees a voice. In fact, either site may already have a review of your business created by current and/or former employees. An employee who feels the workplace was poor or that they were treated unfairly is likely to post their concerns on these sites. Poor reviews then make it harder for you to attract new employees.
Legal Requirements
If you employ workers in more than one state, you need to be aware of when final paychecks are due, either at the end of the pay period or within a specific number of days. Further, states like California require unused PTO must be paid out. Using an HRIS, payroll software, or working with a PEO, these state ― and sometimes local ― workforce requirements are built-in to the software. These ensure you don't suffer the consequence of a labor law violation: fines and penalties.
Unemployment Insurance
Your unemployment insurance (UI) rates are dictated by your employee turnover experience, and whether employees were terminated for cause or other reasons. That's why it's important to receive an employee resignation in writing, and/or document clearly why the employee was let go from the position. You don't want your unemployment insurance rates to rachet up simply because you don't have documentation proving that the employee quit. In fact, employers typically end up on the losing end if an employee disputes your undocumented termination reason.
Best Practices
If you've been satisfied with an employee's work, need to downsize, or the employee left for other than performance-related issues, you may want the opportunity to hire that employee back in the future. Therefore, it's important you treat the employee with dignity and respect.
Furthermore, because of the internet and social media, employees talk. If you want the best chance of hiring great talent in the future, it's important to treat all individuals with professionalism and respect ― even ones you're firing.
Pros & Cons of an Offboarding Checklist
As an HR best practice, there are many more benefits to using a formal offboarding approach and an offboarding checklist than not. Here are some of the considerations in terms of the pros and cons of offboarding and specifically of managing your process using an offboarding checklist.
Pros of Using a Checklist
You'll likely find the pros, listed below, outweigh the cons:
It's already happening: You're likely offboarding already, and a checklist ensures consistency and using an offboarding checklist makes clear who needs to do what
It reduces confusion: Communicating and completing tasks keeps your internal staff on the same page when a worker leaves your employment
You'll make fewer mistakes: It will prevent you from forgetting critical steps like turning off the employee's access to your worksite or forgetting to offer COBRA
It maintains your employment brand: When done right, it leaves current employees and often the person leaving with a positive impression of your company
It can prevent lawsuits: Building your offboarding checklist with an eye toward state-legal requirements like unused leave payouts can prevent lawsuits or fines
Cons of Using a Checklist
Using an offboarding checklist and process has its downsides:
You will need to manage the process: It's best to appoint a designated person to manage each offboarding event, such as yourself, the person's manager, or an HR rep
It takes time: In a crisis, like when firing an employee for intoxication, you may need to slow down and take time to process a termination request to ensure it's done right
You'll need to be flexible: When an employee exits due to unique circumstances, you may need to adapt, such as during a military deployment or serious employee injury
It requires maintenance: Labor laws change; you'll need to review your offboarding process and checklist periodically to ensure it's up to date
You may be doing it wrong: It's not a bad idea to have an attorney review your offboarding process to make sure it's not inadvertently violating employee rights or putting your business in a risky situation
We recommend having your offboarding process and employee offboarding checklist reviewed by a licensed labor law attorney or legal service like LegalZoom that can advise you of any concerns. For example, a noncompete agreement isn't valid in all states, and each state has different requirements for when COBRA notices or final paychecks are required. Try LegalZoom, and a get a 100% satisfaction guarantee.
Frequently Asked Questions (FAQs) About Offboarding
With terminations, each offboarding case may be different leaving employers with man questions.
Is it best to notify other employees during offboarding?
Yes, to reduce confusion in the workplace it's best to notify remaining employees that the worker has left employment. It's also important if the worker has resigned and their peers need to be trained to pick up the workload until the position is filled.
What mistakes do employers make when offboarding?
Some of the common mistakes employers make when an employee leaves their company are:
Failure to document the termination reason, such as employee quit, and getting stuck paying unemployment
Failure to abide by federal laws such as COBRA and being fined
Failure to provide the final check within the timeframe required by the state and thus, risking a labor law violation with penalties
Withholding the final paycheck while waiting for company equipment to be returned is an action that violates federal law
Violating the employee's privacy or Health Insurance Portability and Accountability Act (HIPAA) laws by talking about protected issues like physical or mental health problems or family or domestic issues
Failing to pay out earned overtime, reimbursable expenses, bonuses or earned and unused PTO balances per state law and/or your company's documented policies or handbook
When is the employee's final check due if they quit?
In most states, the employee's final paycheck is due at the end of the upcoming pay period. However, many states differentiate between the final check for a person who quits vs gets fired like voluntary vs involuntary term. In many states, a person being fired has the right to receive their paycheck sooner. For example, a person fired in Vermont must receive their final check within 72 hours. For more on the timing on final checks read our article about the payroll process. In it, you'll find a drop-down table with final check requirements for each state.
Can I withhold the employee's paycheck until they return company property?
It is against the law to withhold the employee's final paycheck. They have earned and have a right to their pay. What you may be able to do is deduct the value of items that have not been returned as long as you reimburse the employee once the item has been returned.
You can also incentivize the employee to return your property by offering to pay a severance if/when they return your company property. Otherwise, they have earned their pay and must receive it by the deadline specified in your state.
If you later need to take legal action to have your company property returned, that is a separate issue. For specific concerns, it's best to consult your attorney or use a legal service such as LegalZoom that offers online consultations. Check out LegalZoom's monthly consultations plans.
Bottom Line
Using an offboarding checklist to keep your offboarding process on track is an HR best practice. It ensures that you and your team have thought of everything you need to do, such as close their software accounts and/or change their passwords and update like put them to a termination status in your payroll system when an employee leaves your company.