6 Best Arizona Real Estate Schools Online 2023
To become a real estate salesperson or broker in Arizona (AZ), you must complete 90 hours of coursework and pass a six-hour contract writing course approved by the Arizona Department of Real Estate (ADRE). You must complete continuing education (CE) every two years to keep your license and obtain a broker license. The best Arizona real estate schools online provide the most convenient and effective approach to meet these criteria through various learning formats, accessibility, instructor support, affordable pricing, and exam prep.
Best Arizona Real Estate Schools Online at a Glance
To find out which real estate school in Arizona will best suit your needs and education, take this quick quiz: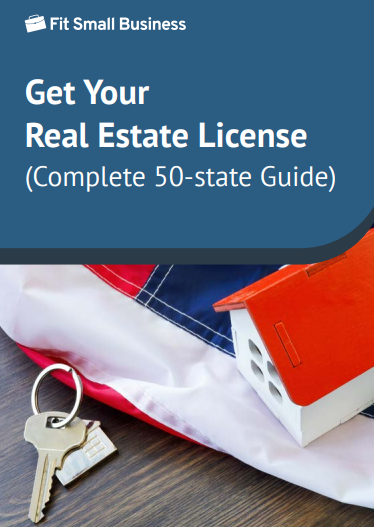 Thank you for downloading!
Your e-book is on the way! If you don't see it, check your "Spam" or "Promotions" folders.
Kaplan: Best for Hybrid Learning Model
Kaplan is one of the best Arizona real estate schools online for its scheduling flexibility, including live online, self-paced online, home study, and on-demand learning formats. Kaplan also provides hybrid packages for agents who want both livestream and self-paced classes. Furthermore, the school provides engaging online videos, an information-rich textbook, and a comprehensive course to prepare students for their exams.
Although most of its programs are 100% online, all courses include full access to instructors. Kaplan also allows you to purchase additional study tools like exam prep apps and flashcards to improve your chances of passing the exam. The 96-hour real estate prep package includes exam prep written by real estate experts to ensure students are well-prepared to pass the state exam. Once you have your Arizona real estate license, Kaplan offers professional development courses to help you build a robust real estate career.
---
---
---
Visit Kaplan
(Use Promo Code: Kapre5 for 5% off)
Aceable Agent: Best for Prelicensing Education With Individualized Support
Aceable Agent offers prelicensing courses with comprehensive bundled packages. Each self-paced course package includes exam preparation ranging from lite prep with sample questions to deluxe prep with an additional 1,700 questions and practice tests. With the Premium package, Aceable gives individualized support through one-on-one tutoring, live webinars, and live question-and-answer (Q&A) sessions to ensure aspiring agents are prepped for success.
Aceable Agent also provides the most extended course access of any Arizona real estate school at 12 months, so students have additional time to complete the 90 hours of prelicensing education. Students also have access to instructors via email for extra support if needed.
---
---
---
Visit Aceable Agent
(25% off, no promo code required)
Hogan School of Real Estate: Best for Comprehensive Learning Formats
Hogan School of Real Estate is a local Arizona real estate school that offers state-specific courses and tests. Courses can be taken via in-person, livestream, or self-paced online to accommodate each student's learning style, format preference, and schedule. The school focuses on providing training throughout the entire lifecycle of your Arizona real estate profession and assisting you in transitioning to the next level easily.
The school has a dedicated enrollment support team to help you through the licensing process. Exam preparation includes study materials, practice tests, and mock exams to help you feel confident on exam day. Its instructors are active, practicing real estate professionals who can provide updated and relevant course information and a curriculum designed for Hogan students. After receiving their license, students may start their real estate practice through Hogan's career placement program.
---
---
---
Visit Hogan School of Real Estate
Arizona School of Real Estate & Business: Best for Networking Opportunities
Arizona School of Real Estate and Business (ASREB) is a Colibri Real Estate family member and the Hogan School of Real Estate's sister school. ASREB is the best school for agents looking for networking possibilities because it helps students to connect and engage with probable employers and brokerages through online and in-person career expo events, seminars, and webinars. It also provides career development and enrichment courses to assist you in launching your career.
ASREB has multiple program selections with various schedules to match your needs, preferences, and lifestyle. It also has a sustained record of a high first-time pass rate of 77.5% for its online courses. Excellent instructors give an unrivaled teaching experience, and its over 300 CE course offerings keep you at the top of your field.
---
---
---
Visit Arizona School of Real Estate and Business
The CE Shop: Best Self-paced Continuing Education Courses
The CE Shop offers an extensive list of self-paced CE courses to meet Arizona's mandatory 24-hour requirement for license renewal every two years. In addition to individual continuing education courses, they offer four bundled packages so agents can decide whether to commit to all 24 hours at once or break up the CE requirement into separate packages. The CE Shop also provides career resources and a Facebook group to help agents get their footing once they pass the state exams.
This school developed a proprietary online learning solution called LEAP to drive engagement and interaction with course information to help students better retain the content and promote an engaging environment. Also, customer support for The CE Shop is available by phone, email, or live chat seven days a week.
---
---
---
Visit The CE Shop
(Use Promo Code: FSB30 for 30% off)
The Forum Real Estate School: Best for Livestream Learning Format
The Forum Real Estate School is one of the accredited real estate schools in Arizona that offers its courses in a livestream learning format, enabling students to complete their licensing requirements quickly, successfully, and with an in-person feel on all devices. Livestream classes are taught by current real estate professionals to better ensure students retain and understand the topics, unlike programs with text-based learning only.
This school provides flexible start dates that allow aspiring agents and brokers to start classes immediately, whereas other programs often require agents to start at a designated time. In-person events and workshops provide supplemental information to boost your real estate career post-exam.
---
---
---
Visit The Forum Real Estate School
Frequently Asked Questions (FAQs)
---
---
---
How We Evaluated the Top Real Estate Schools in Arizona
Each provider on this list has been approved by the ADRE and provides 90 hours of prelicensing education and continuing education for license renewal. All providers also allow students to take the courses online and self-paced, allowing for schedule flexibility. Customer support, course access length, supplemental resources, and the overall cost of each program were all considered as they contribute to student success in passing the Arizona state exam and having a successful real estate profession.
After reviewing various online real estate schools in Arizona, we found that Kaplan is the best overall school for acquiring your Arizona real estate license. It gets our highest recommendation since it offers several course learning formats, including livestream, on-demand, and self-paced sessions, solid customer review ratings, and a high value for the price.
Additional factors considered to evaluate the best online Arizona real estate courses included: