OrangeHRM is a complete HR software that takes your employees from onboarding to offboarding. It even has job posting capabilities and an applicant tracking system (ATS). The free plan is remarkably complete, including even performance management tools—something not often seen in freeware.
Users say it's easy to use and good for startups and larger companies. You need to call for a quote if you want the advanced plans—but its free plan has employee profiles, applicant tracking, job posting, time off tracking, and 360-degree performance reviews.

Pros
Free-to-use open-source HR software has robust features
Generally easy to learn and use
Training features include tracking progress and evaluations
Serves 100+ countries
Cons
Pricing isn't transparent
No payroll tools (need an integration)
Very few integrations available; need the API, which is paid plan only
What We Like:
OrangeHRM is a complete HRIS system with some nifty tools for employee communication, training, and performance management. We especially liked that performance management is included in the free plan, making it a great choice for startups and businesses on a tight budget. Real-world users say it's easy to use and praise the fullness of its features.
What We Recommend OrangeHRM For
Budget-minded employers needing basic tools: OrangeHRM's Free plan includes hiring, time and PTO tracking, employee information management, and performance reviews.
Startups: The feature-rich Free plan is great for startups, which can then move to the Advanced plan as their size and budget demands.
Businesses focused on employee improvement: Take advantage of 360-degree performance evaluation, discipline tracking, and learning management.
What are 360-degree performance reviews? 360-degree performance reviews combine your employee's self-assessment with their manager's assessment and assessments from their direct reports, peers, and/or clients.
When to Use Something Else
When you need a payroll solution: OrangeHRM does not include payroll, although it integrates with several third-party software. If you need payroll, check out our guide to the best payroll services.
Businesses that need strong compliance support: OrangeHRM can run any number of reports for meeting compliance requirements, but it does not have advisers, nor does it do compliance work like managing benefits or filing new hire reports. If this is important for you, consider TriNet Zenefits.
Not what you're looking for? Check our list of best HRIS/HMS software for more options.
OrangeHRM Deciding Factors
Supported Business Types

SMBs looking for HR solutions that don't have to include payroll, but do include employee evaluation, time off and time tracking, and (with a paid plan) training tools

Free Trial

Free 30-day trial of Advanced Plan

Pricing

Free Plan - $0
Advanced Plan - Custom quote

We were quoted for 25 employees: $1,380 annual fee and $600 implementation and training

Partners (Integrations)

(Requires Advanced plan for the API)

US: PayDay, ZKTeco, PayPros
India: Nitso Technologies
Sri Lanka: hSenidBiz
Jamaica: MC Systems

Countries served

100+

Standout Features

Free plan includes employee evaluations

Mobile app

Open Source and Advanced apps, depending on your plan; both available for Android and iOS

Ease of Use

Real-world users say the interface is intuitive and easy for their employees to use even without prior experience with this kind of software.

User review average score

4.14 out of 5

Customer Support

Phone support available for both free and paid plans
Help center with email and ticket support available through the app.
Are you looking for something different? Read our guide to the best HR software for small businesses.
OrangeHRM Top Alternatives
| | | | | |
| --- | --- | --- | --- | --- |
| | | | | |
|   | | | | |
| Best for | Robust workflows, animating HR processes, high-tech companies | Payroll with basic HRIS tools like hiring, time off tracking, performance reviews, HR documents | Customizable HR solution with payroll and a full suite of HR tools | Intuitive HR solution that offer payroll as an add-on |
| Monthly starter fees | $8 per employee + $35 base fee* | $6 per employee + $40 base fee | $5 per employee + $39 base fee | $8.25 per employee monthly (based on 15 workers)* |
| Average user rating** | 4.77 out of 5 | 4.46 out of 5 | 4.11 out of 5 | 4.54 out of 5 |
| Value for Money*** | 4.56 out of 5 | 4.41 out of 5 | 4.11 out of 5 | 3.85 out of 5 |
| Ease of Use*** | 3.75 out of 5 | 3.88 out of 5 | 4.25 out of 5 | 4.5 out of 5 |
| Our Reviews | | | | |
*Pricing is from a quote we received.
**Scores averaged from TrustRadius, G2, and Capterra (as of this writing).
***Ratings based on our evaluation of the best HRIS Software.
OrangeHRM Pricing
OrangeHRM only has two plans: Free and Advanced. The Advanced plan requires a custom quote (you can get a 30-day free trial). Pricing depends on the number of employees and modules purchased (this is despite the fact that the website lists one plan with all the modules).
The advanced plan starts at 25 employees, even if you have fewer. We received a quote for 25 employees with the Core HR, leave tracking, performance appraisals, and recruiting/onboarding. That costs $1,380 per year with support, plus a $600 implementation and training fee.
Both plans include:
User roles
Mobile app
Employee dashboard
Employee profiles and directory
Custom reports
Job posting
360-degree employee review
Time-off requests
Time clock and timesheets
The Advanced Plan also includes:
Disciplinary tracking
Document manager
Extract reports
Candidate interview automations
Onboarding and offboarding
Custom review questions & goals tracking
Training content library, tracking, and evaluation
PTO accrual
Pay policies and overtime
Travel and expense tracker
API
OrangeHRM HR Features
We found OrangeHRM's HRIS tools to be comprehensive and well done. However, it does not offer payroll.
OrangeHRM lets you post to thousands of job boards from its app (you may have to pay for certain boards, which is normal for even the best recruiting software). The applicant tracking system (ATS) has customizable hiring workflows and templates, lets you grade candidate responses and performances, and creates custom applications and questionnaires that you can integrate onto your website's job page.
You can integrate with Google and ICS calendars for scheduling interviews. OrangeHRM offers an automated interview assistant to help your team pick questions from a pool of common questions that apply best to the candidate's position and situation. You can set up three types of interviews: psychometric, aptitude, and general.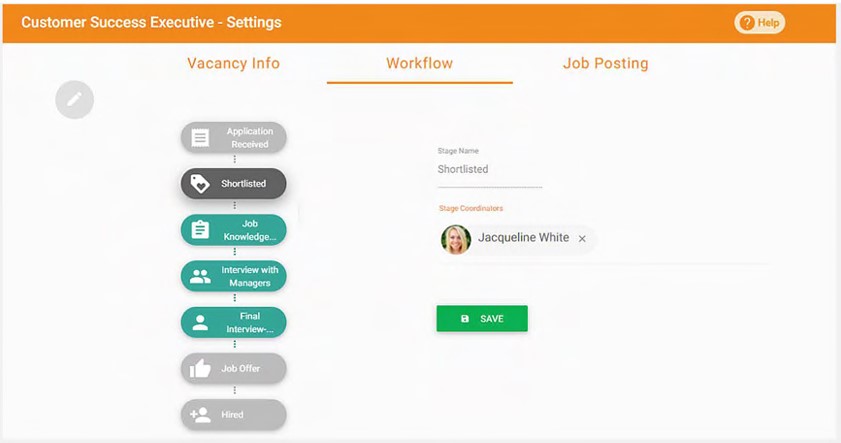 ---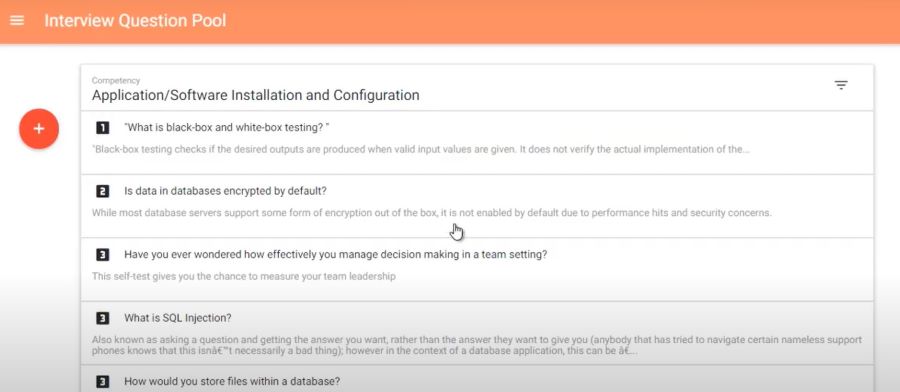 ---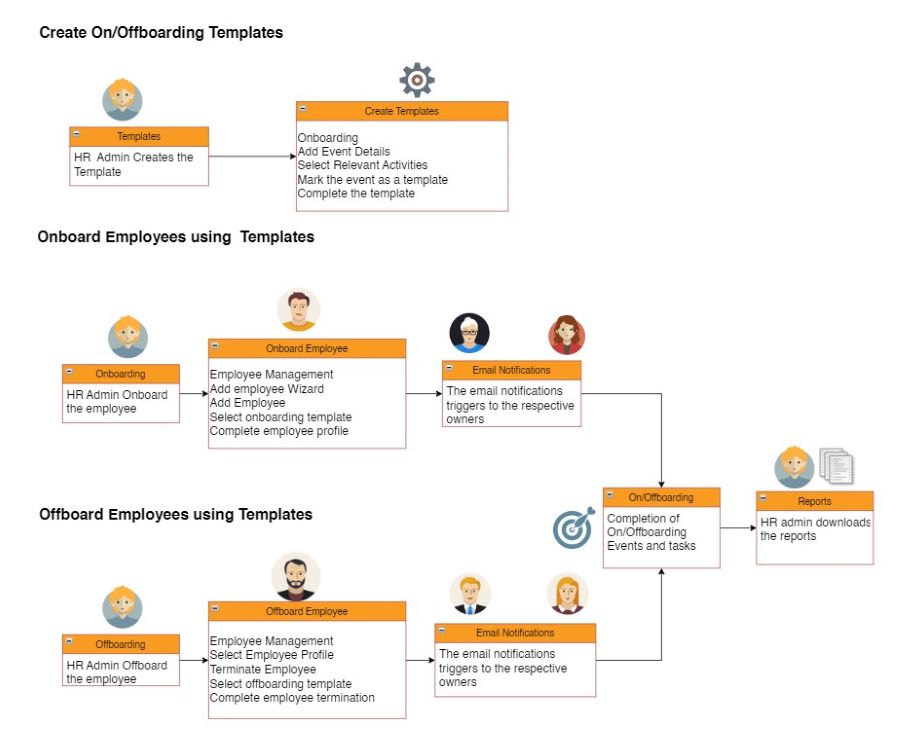 ---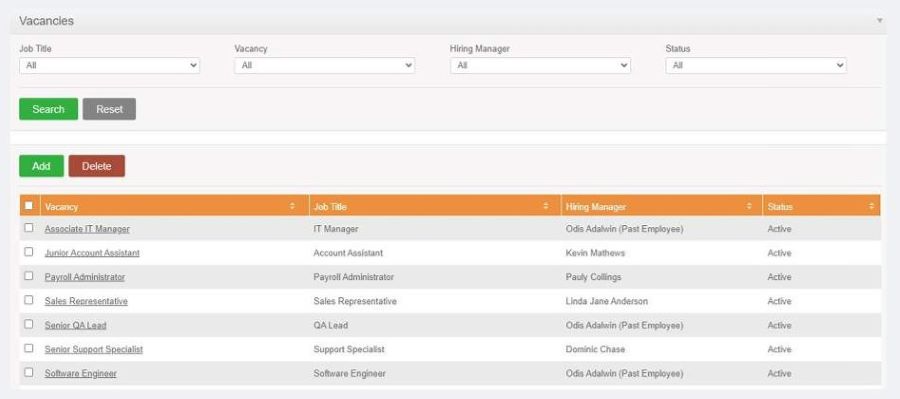 ---
You can set up multiple onboarding programs in OrangeHRM, so that they relate specifically to the position or even the individual. Further, you can assign event owners (like IT or Payroll manager) so that everyone knows what part of the process is theirs. Managers can get reminders about due dates, as can employees. It also lets department heads know when a new hire is starting.
If you're letting an employee go, its offboarding tool has pre-built events, like restricting the user's access to important software or collecting their laptop or door badge. It ensures you stay on top of what needs to be done, whether for a planned retirement or when someone suddenly quits.
---
OrangeHRM makes it easy to get information to your employees. The News & HR Policy Publisher lets you post important announcements with attachments to the employee's OrangeHRM dashboard, where they can easily find it. Next, you can send out notifications via email.
The Notifications tool also lets you automatically send out notifications for important events, whether approving leave or commemorating a five-year work anniversary. You can also use it to remind an employee to complete a task.
---
Even the free plan has performance management tools with assessments that can take in not only how the employee and manager feel about their work but also include feedback from co-workers and clients. The Advanced plan allows employees to set both performance goals and development goals, which helps develop the whole person as opposed to simply improving skills. You can create custom review questions for a better assessment as well. Once a review is given, your employee and manager can electronically sign off to show the review was completed, which helps you stay compliant with your own rules and industry regulations.
Finally, with the 9 Box Matrix, you can plot employee performance vs potential to find your best performers, those who need encouragement, and those who may be on the way out. This is a useful tool not only for mentoring employees but also for succession planning.
One thing that sets OrangeHRM apart from other HR software we've looked at is its discipline management module. It has tools specifically for recording and tracking employee issues, whether tardiness or nonadherence to regulations. This can help you track trends for working with an employee—or keeping a paper trail if you need to terminate them.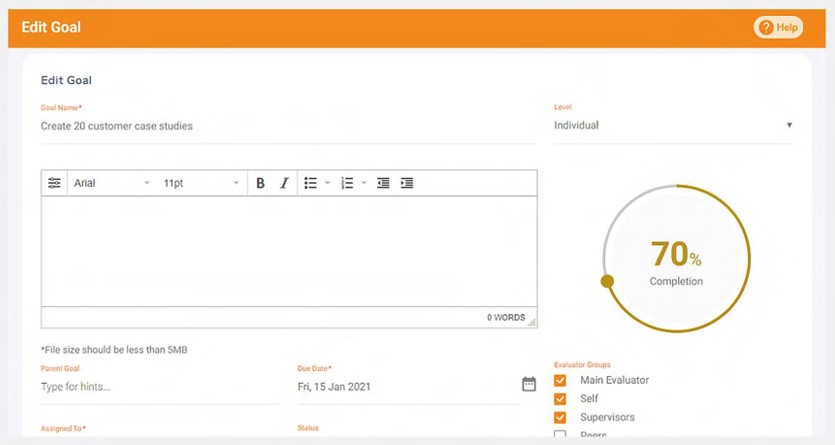 ---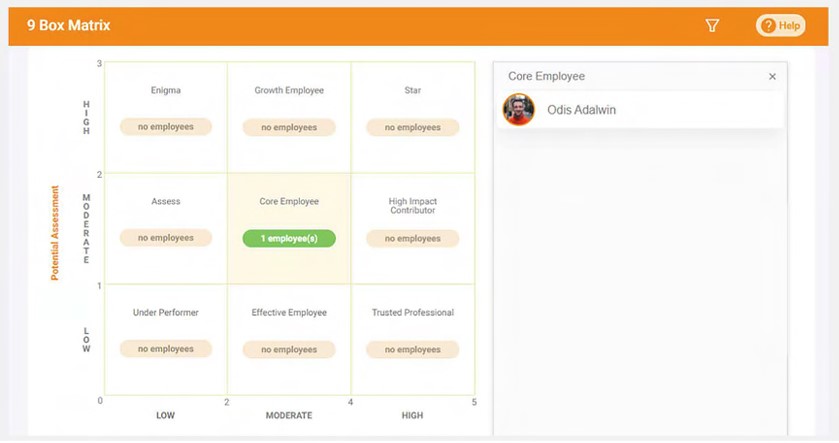 ---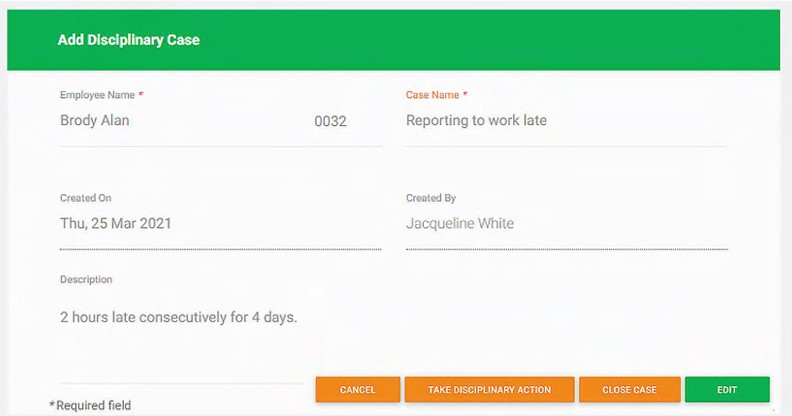 ---
---
OrangeHRM has a complete online learning management system (LMS). It allows you to create courses for individual or group use. Include videos, links, or documents. You can set up single-session classes or multiple sessions. You can set a course for public use, so any employee can take advantage of the training or private for only those that need it.
Employees can access them on their own schedule, or you can set up class times with email reminders. Attendee tracking lets managers know who has attended and completed courses (this can be used for onboarding too).
OrangeHRM also has an evaluation feature so you can get feedback on the course. You can also use email to remind them to complete a class or issue an e-certificate when done.
The one thing missing from OrangeHRM that we've seen in other HR software is the inclusion of common courses, like sexual harassment recognition training, which many states require all employees to take. However, you can find these courses elsewhere and link to them in OrangeHRM. Some states offer them for free.
---
While it does not have payroll, it does have a time clock that can create timesheets that you can export into a payroll software. With an API, you can also integrate the software to read the timesheet, saving you time and preventing errors.
Integrations don't have to stop there: OrangeHRM's customer, GoodCloud, integrated the time tracking tool to their employee ID badges so that they could clock in and out as they enter and leave the building.
---
OrangeHRM has the usual time off request tools that you'll find in most HRIS software. Employees can check their accrued leave and request time off on the app, and managers can approve it in-app. There's also a PTO calendar, so everyone can see who is taking time off, which can help with planning. It also lets you define leave types and set policies for all employees to easily find.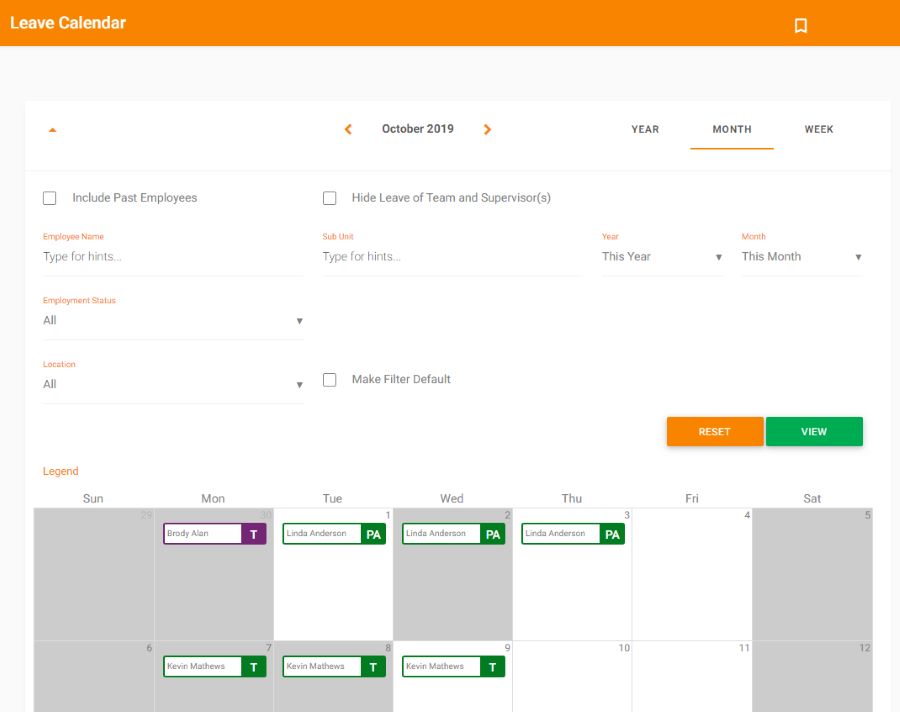 ---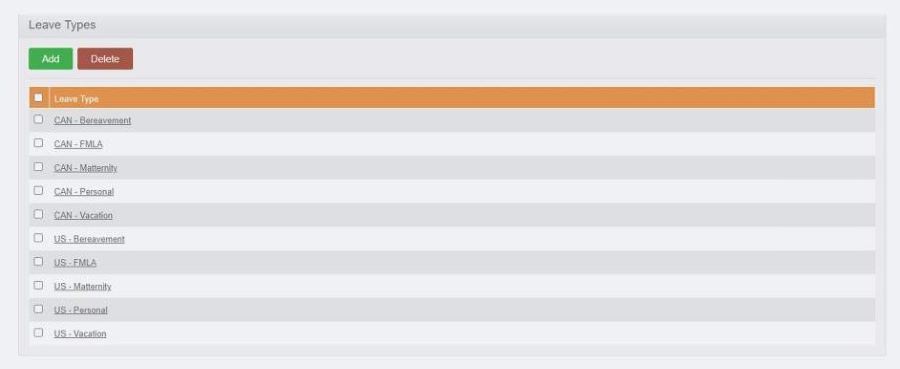 ---
---
One tool not often found with HRIS software is asset tracking. OrangeHRM has made it easy to track any assets your staff has, from laptops to furniture, even stocks, and options. In addition to simple assignment and identification, you can also track warranties.
---
OrangeHRM Reporting Tools
OrangeHRM offers a plethora of reports, from time sheets to EEO reports. It even has reports on your non-human assets. If you need a quick glimpse at an employee's past records, the Snapshot Report lets you see employee data from a particular date. Further, you can create any report you like from the information available. It stands out from many other software in this regard—yet users also say it's easy to find and create reports.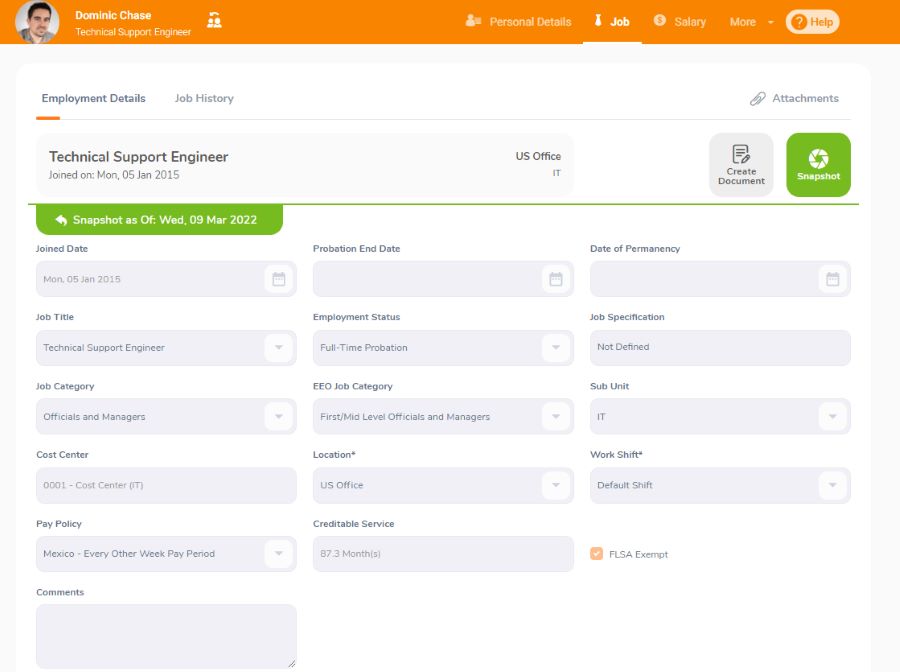 ---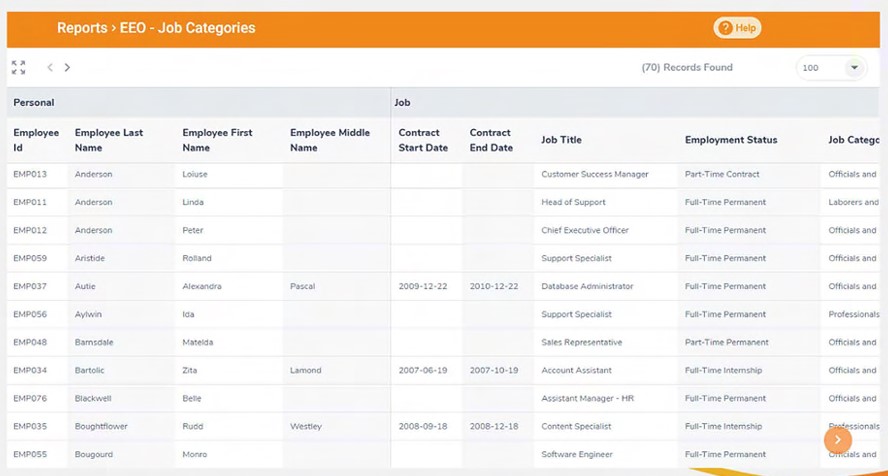 ---
OrangeHRM can create graphs or provide simple data for you to extract and analyze elsewhere. You can also download the reports as a PDF or CSV file.
OrangeHRM Functionality of HRIS Features
Overall, we were pleased with the functionality of the OrangeHRM toolset. Users said the data was easily accessed for both tools and reports, and it provides a lot of customization and automation to make HR tasks easier.
Employees have access to important information, like org charts, access to training courses (with the Advanced Plan), and the ability to track onboarding. Managers and admins can track employee progress in all programs, limit access to parts of the OrangeHRM program, and easily offboard employees that leave. There's also an audit trail feature so HR can track any changes to the system.
OrangeHRM Mobile Apps
OrangeHRM has two mobile apps. Both work for managers and employees.
OrangeHRM Advanced: Available with the Advanced Plan, it lets employees apply for time off and view timesheets and company information. Managers can approve leave, view timesheets, and more.
Where OrangeHRM Falls Short
Payroll, benefits: OrangeHRM does not offer any payroll functions, including benefits management, payroll tax payments, or other pay-related tools. Further, it only integrates with two payroll tools. For the rest, you need the API.
Integrations: There are very few integrations for this software, and only three are US-based. However, the advanced plan does include an API, so you can integrate other software if needed.
Compliance tools: Other than reports, we did not find any native compliance tools, and OrangeHRM does not provide HR expert advisers. However, you can create or incorporate classes in the training module and require and track employee completion to keep compliant with industry standards.
OrangeHRM Ease of Use
Real-world users say OrangeHRM is user-friendly, and we also found the interface easy, although it has a lot of customizability when setting it up. We had to Google to find the online help section, and it's formed as FAQs, which we found a bit awkward compared to others that lead you through topics. However, many of the articles had helpful step-by-step video instructions.
OrangeHRM lets you contact them in the app for email and ticket support, but it also has a phone number for calling support directly. It does not list hours, but it is a global support line.
Popularity: What Users Think About OrangeHRM
Real-world users, including HR staff and employees, gave OrangeHRM an overall score of 4.14 out of 5 based on scores from multiple sites. They praised the ease of use and depth of information. Employees liked being able to get information on co-workers and request leave, while HR individuals gave kudos to the customizable reports, and ability to get everything done with one system.
Complaints included a desire to have a native payroll system and requests for additional HR tools. One user was not satisfied with the level of documentation and help resources.
Users Like

Users Don't Like

Ease of use
No payroll
Complete HR system
Can be expensive
Versatile reporting tools
Few integrations
At the time of publication, OrangeHRM earned the following scores on popular user review sites:
Bottom Line
While the OrangeHRM app is a great tool for startups because its free plan includes so much, we found even the paid Advanced plan to be worth investigating because it provides an excellent and complete tool set. Lacking only on-staff HR compliance experts and payroll, it's a great choice for HR companies that just need strong software to take on the busywork of managing employees. Check out OrangeHRM today.