Paychex Flex: Is It the Right Payroll Software for Your Business?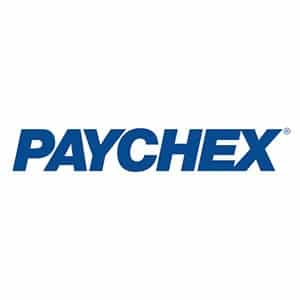 Paychex Flex is a cloud-based platform designed to help small to enterprise-sized businesses manage payroll, benefits, and HR processes. It is an ideal payroll software for businesses in a rapid growth phase, as it is easily scalable with flexible plans that can handle your growing HR and payroll needs. It even offers mobile apps (for iOS and Android devices) that let you access payroll and HR tools while on the go.
What We Recommend Paychex Flex For
We've reviewed and compared hundreds of HR and payroll solutions, and Paychex Flex is one of the highly rated and top payroll services for businesses of all sizes. It offers solutions for onboarding new hires, paying employees and contractors, administering benefits, and managing online training programs to help boost employee development. Paychex even provides professional employer organization (PEO) services for companies that need expert assistance handling day-to-day HR processes. Given its feature-rich solution suite, this provider appears in many of our buyer's guides, from best nanny payroll to HR payroll software and top payroll solution for accountants.
In short, Paychex Flex is best for:
Startups planning to grow significantly: Paychex Flex has multiple plans and features designed to grow with your business. Solopreneurs can start with Paychex Solo, and once their operations grow, they can sign up for Paychex Flex's starter plan that comes with full-service payroll, new hire reporting, and payroll tax administration. If their business continues to expand, Paychex Flex has higher tiers they can transition to that include more HR tools and support like new hire onboarding, background screening, learning management, and access to a dedicated payroll specialist.
Businesses with employees in multiple states: Paychex Flex supports payroll and tax processing plus compliance in multiple locations. It also offers health insurance and other benefits in all 50 states.
Retailers and restaurants paying hourly workers: Paychex ranked high on our list of best restaurant payroll software because its system is robust enough to handle the payroll needs of restaurants (such as tip reporting and multiple pay rates) and even retail businesses. And if you get its time and attendance add-on, you can track the actual hours worked of hourly workers and use its time data to pay employees.
Companies prone to workplace injuries and layoffs: Managing workers' compensation can be a nightmare for many small businesses, especially construction and manufacturing companies. Paychex Flex offers a variety of insurance plans, one of which is workers' compensation (although this costs extra). It also has state unemployment insurance (SUI) services that include constant monitoring of SUI regulations—provided you subscribe to its highest tier.
Businesses needing PEO services: Paychex PEO, which is included in our best PEO companies list, takes away the burden of managing HR and payroll tasks yourself as it will handle these for you. It also utilizes Paychex Flex to manage employee benefits, new hire onboarding, and other HR processes.
When Paychex Flex Would Not Be a Good Fit
Businesses with only 1099 contract workers: Although many industry experts say independent contractor growth is outpacing employee hiring, Paychex Flex does not yet offer a more affordable contractor-only payroll package. If you're primarily paying contractors, consider either Gusto or Square Payroll, as both have low-cost contractor-only plans ($6 and $5 per contractor monthly, respectively). For other options, check out our top picks for contractor payroll services.
Small businesses not planning on growth in the immediate future: Paychex Flex, which has scalable plans designed to grow with your company, comes with HR tools that you may not need if you don't plan to expand your business. If you have a small operation and only need pay processing and basic HR tools, read our guide on small business payroll software to find a better fit.
Looking for something different? If you need to manage staff data across the employee lifecycle, our guide to the best HRIS software can help you find a service or solution that's right for your business.
Paychex Flex Overview
PROS

CONS

Flexible plans with an affordably priced starter tier
Pricing isn't all transparent
Multiple payment options that include paychecks with check signing services
Year-end tax reporting, workers' comp, and time tracking cost extra; payroll tax administration require additional fees
Has 24/7 support; offers a dedicated payroll specialist
Access to dedicated payroll specialist available only in higher plans
Paychex Flex Pricing
Paychex Flex offers three plans (Essentials, Select, and Pro) with monthly fees that start at $39 plus $5 per employee. The main difference is access to advanced payroll and HR tools and support such as onboarding, learning management, SUI services, and a dedicated payroll specialist.
| | Paychex Flex Essentials | Paychex Flex Select | Paychex Flex Pro |
| --- | --- | --- | --- |
| Monthly Pricing | $39 plus $5 per employee | Call Paychex for quote | Call Paychex for quote |
| Full-Service Payroll | ✔ | ✔ | ✔ |
| Payroll Tax Administration* | ✔ | ✔ | ✔ |
| W-2/1099 Year-End Tax Reporting* | ✔ | ✔ | ✔ |
| Workers' Compensation* | ✔ | ✔ | ✔ |
| New Hire Reporting | ✔ | ✔ | ✔ |
| Direct Deposit Option | ✔ | ✔ | ✔ |
| Pay Checks with Check Signing and Stuffing Services | ✕ | ✔ | ✔ |
| Mobile App and Self-Service Portal | ✔ | ✔ | ✔ |
| Garnishment Payment Services | ✔ | ✕ | ✔ |
| Dedicated Payroll Specialist | ✕ | ✔ | ✔ |
| Time Tracking* | ✕ | ✔ | ✔ |
| Learning Management | ✕ | ✔ | ✔ |
| SUI Services | ✕ | ✕ | ✔ |
| Onboarding and Background Screening | ✕ | ✕ | ✔ |
| Accounting Software Integration | ✕ | ✕ | ✔ |
*Additional fees may apply
Paychex Flex offers these services at no additional cost:
Pay card payment option: Electronically deposit salary payouts to prepaid cards.
Financial wellness program: Tools and educational courses to help employees meet financial goals.
Tax credit services: Expert assistance in finding and applying tax credits your business may qualify for.
Employee assistance program (EAP): Helps employees find solutions to personal issues that may affect their work productivity.
Paychex Flex Features
Whether you need to pay employees or contractors, Paychex Flex has the tools you need to calculate earnings and deductions in addition to generating the required tax forms that both W-2 and 1099 workers need for year-end reporting. And while some of its services and solutions have add-on fees (such workers' comp and W-2/1099 tax filings), it can help you save time from having to manage these yourself while ensuring that you comply with government regulations. Here are some of its essential features.
Payroll
Online payroll processing is the main feature of Paychex Flex. It can handle pay processing for hourly and salaried employees, including contract workers. Aside from direct deposits, it supports employee payments via pay cards and paychecks. However, paychecks with signing and stuffing services are available only in its higher tiers.
Paychex Flex lets you choose from three different pay entry options that include a grid view for easy data entries. You can also customize earnings and deductions, and its system will calculate the applicable amounts. Wage garnishments are also deducted automatically and remitted to the appropriate agencies.
Further, Paychex Flex makes running payroll easy with its mobile app (for iOS and Android devices). Rated as one of our best payroll apps for small businesses, it lets you resume pay processing that you started on your computer and submit payroll directly from your smartphone or tablet—provided internet connection is available.
---
Payroll Taxes
Paychex Flex can manage federal, state, and local payroll taxes. Its payroll tax administration services cover tax calculations, form filings, and payments to the applicable agencies—although some of these services may require add-on fees. To help you file accurate taxes, Paychex offers compliance support to ensure you're up-to-date and comply with the latest regulations and tax rulings. It can even help you find tax credits that your business may qualify for.
---
Time Tracking
Paychex Flex Time, which is available as a paid add-on, captures employee clock-ins/outs, manages staff schedules, and tracks paid time off (PTO). Its biometric and facial verification time collection methods prevent buddy punching and time theft. It also has a mobile app, Paychex Time, through which employees can clock-in/out, switch jobs or assignments, and request PTO. For those tracking the hours worked by field staff, its geolocation feature can help you check the location of employees who are clocking in, while its geofencing capabilities allow you to set up virtual perimeters around designated areas where your staff are allowed to punch in.
---
HR Tools
Paychex Flex's HR solutions include a digital library of HR and business forms that you can use. If you need to run background checks on qualified candidates who meet your hiring requirements, the Paychex Flex Pro plan comes with a limited number of background screens. In addition to new hire reporting, you get onboarding tools that enable your new hires to complete required documentation online, such as direct deposit and tax forms.
Its platform also lets you store documents like company policies and forms. And if you subscribe to Paychex Flex's highest tier, you get an online employee handbook builder with options to create Microsoft Word or PDF file documents for easy distribution.
---
Learning Management
Paychex Flex offers online learning courses designed to help your staff enhance skills they need to succeed at their jobs. Aside from boosting employee development, this feature can aid in improving employee engagement and retention.
---
Third-party Software Integrations
Paychex Flex works with accounting, HR, banking, insurance, retirement, and time clock systems. Here are some of its partner solutions:
Hiring and HR: Glassdoor, Indeed, SimplyHired, BambooHR, HireRight, and TalentReef
Time and attendance: Deputy, OnShift, and TIMECO
Retirement and health benefits: Aetna, AIG, Ameritas, Cigna, Charles Schwab, Fidelity, Merrill Lynch, and Vanguard
Finance and accounting: QuickBooks, Sage Intacct, SAP, and Xero
POS: Clover
Banking institutions: Chase, Capital Bank, Bank of America, and US Bank
---
Paychex Flex Ease of Use
Data migration services for new clients are available
24/7 customer support with US-based specialists
Phone, chat, and email support
Access to a dedicated payroll specialist
Library of HR forms and business documents
How-to guides and help articles
You can easily sign up for a Paychex Flex Essentials account online. If you prefer either its Select or Pro editions, you'll need to contact a customer service representative to help you build your customized plan. Setting its system up is fairly easy, especially if you only have a handful of workers. If you have many employees to add with different payment types, it will take longer, of course. Paychex Flex can even help you set up your account or migrate data, if needed.
Those on the Paychex Flex Select and Pro subscriptions are granted access to a dedicated payroll support specialist. This means you can contact a payroll expert who knows about your business' pay processing needs and can answer your phone and email queries in a timely manner. If you're on its starter tier and have questions about its features, you can either access its how-to guides or contact Paychex's 24/7 support (via phone, chat, and email).
What Users Think About Paychex Flex
| Users Like | Users Don't Like |
| --- | --- |
| Relatively simple to learn and use | Can get expensive (given add-ons) |
| Ease of running payroll | Customer support is hit or miss; some provide good service while a few others are difficult to contact (due to long wait times) |
| Efficient onboarding and employee self-service tools | Software is laggy and runs slow at times; mobile app has glitches |
Users who left Paychex Flex reviews online said that it is generally easy to use and simple to set up. They added that its system is intuitive on the employee side and convenient to access due to it being hosted online. However, some reported they had difficulties connecting with a customer service representative to help them with specific problems such as tax issues.
At the time of publication, Paychex Flex reviews earned the following scores on popular user review sites:
Top Paychex Flex Alternatives
| | | |
| --- | --- | --- |
| Best for: Growing businesses planning to scale | Best for: Small companies needing payroll and basic HR | Best for: QuickBooks users |
| Base monthly fee from: Custom-priced | Base monthly fee from: $39 plus $6 per employee | Base monthly fee from: $45 plus $4 per employee |
| | | |
If you've narrowed your search down to a few payroll providers but still can't decide, read our guide on choosing the best payroll solution for help.
When to Consider Paychex's PEO Services
If you want to outsource your business' essential HR functions, then you may want to consider Paychex's PEO services. Ideal for growing companies with limited HR support and at least five employees, it comes with a comprehensive range of HR services—most notably its large group benefit rates and HR experts who help you stay compliant with laws and regulations. Let's look at its key PEO services.
HR experts: These professionals can deliver personalized recommendations and advice, depending on your business' objectives, risk tolerance, and needs. They can also assist in updating your company policies, including creating and managing a company culture strategy to boost employee engagement. If you're regulated by OSHA (such as companies that do manufacturing or deal with chemicals), you'll find having a dedicated safety representative handy. This service will help you handle OSHA regulations and manage your workers' compensation insurance.
Employee benefits and insurance plans: With Paychex PEO, you get access to employee benefits programs like health insurance, dental, vision, 401(k) plans, and health benefits accounts (such as FSA, dependent care FSA, HSA, HRA). Paychex will also assist you in managing these benefits through Paychex Flex, so deductions and premium contributions flow smoothly. Employment practices liability insurance (EPLI), cyber liability insurance, and state unemployment insurance (SUI) administration are also available.
Paychex PEO Pricing
Paychex PEO's pricing varies, depending on your location and number of employees. It charges a flat rate per employee vs a percentage of payroll, which can be more affordable if you have high-salaried employees on staff.
---
Bottom Line
Whether you're a solopreneur or a small business planning to expand to a midsize or large operation soon, Paychex Flex can grow with you. With over 45 years of providing HR and payroll solutions and services, it has the experience and resources to help your company scale. It has a wide range of HR solutions for managing the entire employee lifecycle, from hiring to retiring.
Sign up for a free Paychex Flex demo today.
You May Also Like …