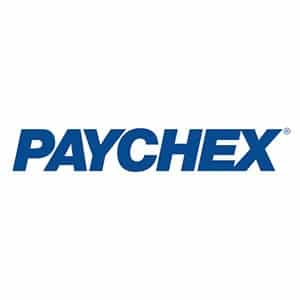 Paychex Flex helps small to enterprise-sized businesses manage their payroll online via its mobile app. It is an ideal payroll solution for businesses in a rapid growth phase, as it is easily scalable and includes onboarding support and new hire reporting.
What We Recommend Paychex Flex For
After testing and reviewing hundreds of HR, payroll, and accounting SaaS solutions over the years, I can easily report that Paychex has done one thing right: It is simple to use, as the interface is not crowded with extra features. It only takes only a few minutes to set up if you start using the small business basic product, Paychex Go. It will take two days if moving data from another provider. It took me about five minutes to set up a new business account.
In short, Paychex Flex is best for:
Startups planning to grow significantly: Paychex Flex offers on-boarding and new hire HR support, helps train your new employees to use the system, and provides new hire reporting options. If you're using its basic Paychex Go product, you can add employees for only $4 each per month. It also has three higher tier plans you can transition to when if you grow and need more personalized service in addition to HR support.
Retailers and restaurants paying hourly workers: The payroll system tracks time worked and attendance. It can also support numerous payment options. It monitors breaks, shift swapping, and overtime alerts and supports time card approvals if needed.
Manufacturing companies prone to workplace injuries and layoffs: Managing workers' compensation can be a nightmare for many small business owners, especially construction and manufacturing companies. Paychex Flex offers a variety of insurance plans, and it includes an integrated Workers' Compensation Payment Service. It also offers a state unemployment insurance (SUI) add-on that includes constant monitoring of SUI regulations.
Businesses with employees in multiple states: Paychex Flex supports payroll and tax processing plus compliance in multiple locations. It also offers health insurance and other benefits in all 50 states.
When Paychex Flex Would Not Be a Good Fit
Businesses with only 1099 contract workers: Although many industry experts say independent contractor growth is outpacing employee hiring, Paychex Flex does not yet offer a more affordable contract-only package. If you're primarily paying contractors, check out our top picks for contractor payroll services.
Small businesses not planning on growth in the immediate future: The entry-level product doesn't include features such as the mobile app, business software integrations, unemployment services, customized reporting, and on-boarding tools; when you're just starting out, your goal is usually to get the most bang for your buck. If you have a small operation, check out our guide on payroll software for small businesses to find a better fit.
Looking for something different? Read our guide to the best payroll services for small businesses to find a service or software that's right for your business.
Paychex Flex Overview
PROS

CONS

U.S.-based support
Paychex Flex Go version features are limited
Flexible mobile app
The best support is reserved for Select and Enterprise plans, which cost more than the basic product
New-hire support
Monthly fee is higher than the others
Affordable at only $39 plus $5 per employee, per month
Standard reporting tools are limited in the Go and Select versions
Paychex Flex Pricing & Features
| Features | Paychex Flex Go | Paychex Flex Select | Paychex Flex Enterprise |
| --- | --- | --- | --- |
| Price | $39/month, $5 per employee | Customized | Customized |
| Full-Service Payroll, Including Year-end Taxes | ✔ | ✔ | ✔ |
| Tracks Time and Attendance | ✔ | ✔ | ✔ |
| New Hire Reporting | ✔ | ✔ | ✔ |
| General Ledger Report | ✔ | ✔ | ✔ |
| Direct Deposit and Prepaid Card Support | ✔ | ✔ | ✔ |
| Accounting Software Integration | ✔ | N/A | ✔ |
| Mobile App | N/A | ✔ | ✔ |
| HR Integrations | N/A | ✔ | ✔ |
| Workers' Compensation Report | N/A | N/A | ✔ |
| Unemployment Support | N/A | N/A | ✔ |
| Dedicated Payroll Specialist | N/A | N/A | ✔ |
| Custom Analytics and Reporting | N/A | N/A | ✔ |
Setting up this payroll service is simple. I was able to set up a basic Paychex Flex Go account in less than five minutes. If you have many employees to add with different payment types, it will take longer, of course. Paychex Flex can help you set up your account or migrate data if needed. The software runs checks, too, so you don't miss anything when setting up payroll processing.
You can sign up for a Paychex Flex Go account easily online on your own. If you need a Select, Pro, or Enterprise account, you'll need to contact a customer service representative to help you build your customized plan.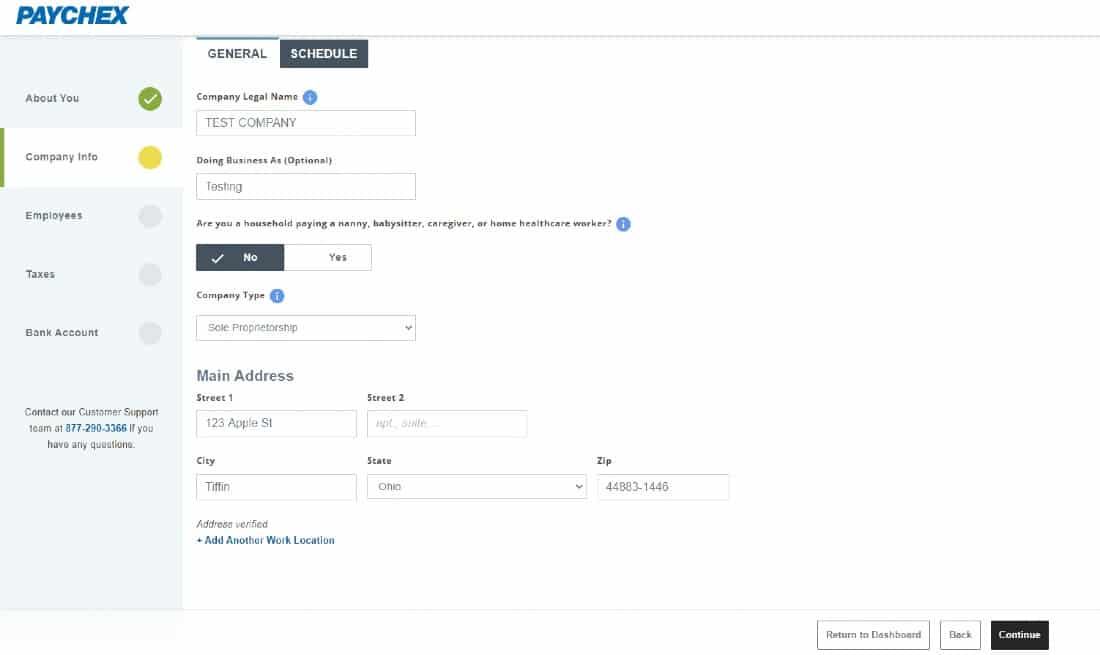 Payroll Processing
Online payroll processing is the main feature of Paychex Flex. It can process various types of payroll processes, including managing hourly, salary, and contract hours. It can also support direct-deposit payments, as well as payment cards and checks.
Payroll Taxes
Paychex Flex can manage employee federal, state, and local payroll taxes for every state. To help you file accurate taxes, it employs hundreds of people dedicated to monitoring tax law changes. They calculate, pay, and file your payroll taxes for you. Paychex Flex will also help you find tax credits that your business may qualify for.
Time Tracking
To create accurate payments, the software tracks time, including breaks and overtime. You can set it up to require payment approvals if necessary. You can use it with Paychex Flex Time or a third-party time tracking solution, including those that support hand, iris, and face scanning.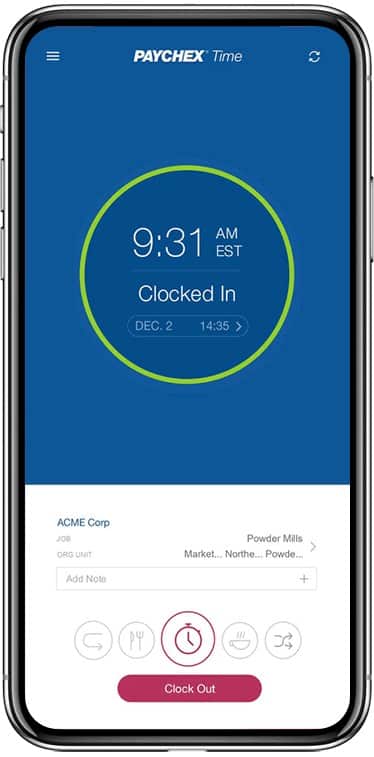 Business Software Integration
Payroll software is nearly useless if it does not integrate with your other business solutions. Paychex Flex works with accounting, HR, time clock, banking, insurance, and retirement systems. It says it works with POS software, too, but we found that it is only compatible with Clover. However, with regard to retirement and health services, it works with many, including popular services such as Aetna, AIG, Ameritas, Cigna, Charles Schwab, Fidelity, Merrill Lynch, and Vanguard.
It is also compatible with  popular accounting software, HR, point-of-sale (POS), and productivity solutions,
QuickBooks
Sage
Xero
Indeed
Bamboo HR
Clover
SAP
And of course, it offers integrations for working with most major banks, such as Chase, Capital Bank, Bank of America, and US Bank.
Payroll Support
Paychex Flex Select, Pro, and Enterprise versions provide a dedicated payroll support specialist. This means you can contact a specialist who knows about your business and answer their phone and email queries in a timely manner. This support person is U.S.-based, or if you'd rather visit an office, Paychex Flex supports over 100 office locations across the U.S.
Employee Training
While the software is simple to use, Paychex Flex offers employee training support to larger companies, including online courses, an AI-powered learning management system, and printable training posters. New-hire onboarding tools include direct deposit and tax forms that can be processed using paper or paperless using the mobile app.
Paychex Professional Employer Organization (PEO) Services
If you want to outsource your business' key HR functions, then you may want to consider Paychex's PEO services. Ideal for growing companies with at least five employees and limited HR support, it comes with a comprehensive range of HR services—most notably its large group benefit rates and HR experts help you stay compliant with laws and regulations
Paychex PEO HR Experts
These professionals can deliver personalized recommendations and advice, depending on your business' objectives, risk tolerance, and needs. They can also assist in updating your company policies, including creating and managing a company culture strategy to boost employee engagement. If you're regulated by OSHA (such as companies that do manufacturing or deal with chemicals), you'll find having a dedicated safety representative handy. This service will help you handle OSHA regulations and manage your workers' compensation insurance.
Paychex PEO Benefits & Insurance
With Paychex PEO, you get access to employee benefits programs like health insurance, dental, vision, 401(k) plans, and health benefits accounts (such as FSA, dependent care FSA, HSA, HRA). Paychex will also assist you in managing these benefits through Paychex Flex, so deductions and premium contributions flow smoothly. Employment practices liability insurance (EPLI), cyber liability insurance, and state unemployment insurance (SUI) administration are also available.
Paychex PEO Pricing
Pricing varies depending on your location and number of employees. Paychex PEO charges a flat rate per employee vs a percentage of payroll, which can be more affordable if you have high-salaried employees on staff.
Paychex Flex Ease of Use
Telephone support is available 24/7
Data migration support is available
Employee support includes mobile options
In-person support is available in 100+ cities
A dedicated payroll specialist is available
160+ payroll and HR reports
Top Paychex Flex Alternatives
| ADP Payroll Services | Gusto | QuickBooks Payroll |
| --- | --- | --- |
| Best for: Growing businesses planning to scale | Best for: Companies with fewer than 100 employees | Best for: QuickBooks accounting small business customers |
| Base monthly fee from: $59 | Base monthly fee from: $19 | Base monthly fee from: $45 |
| Per-employee monthly fee from: $4 | Per-employee fee from: $6 | Per-employee fee from: $4 |
What Users Think About Paychex Flex
Most small business owners gave Paychex Flex positive reviews with an average score of 4.2 out of 5 stars. Customers reported that the software is easy to use, simple to set up, intuitive on the employee side, and convenient due to it being hosted online. The mobile app also received positive remarks. However, some reported that they had difficulties connecting with a customer service representative to help them with specific problems such as tax issues.
At the time of publication, Paychex Flex earned the following scores on these three popular user review sites:
When reading through user reviews, here are some of the trends that I noticed:
PROS

CONS

It is simple to learn and use
Resetting passwords is challenging
The software provides good reporting options
Customer service can be difficult to contact
It helps with employee on-boarding
Employees cannot clock in/out if it goes offline
Bottom Line
If you are planning to expand to a midsize or large operation soon, Paychex Flex can grow with you. It is a large established company, reporting to pay one in every 12 American private-sector employees, that has the experience and resources to help your company scale. If you will need HR support alongside the payroll solution, Paychex Flex has over 600 HR professionals on staff to help you. Plus, your HR and accounting teams will appreciate how easy the payroll service is to use. Sign up for a free Paychex Flex demo today.