10 Best Email Apps for Small Businesses in 2022
Email apps are designed to streamline how you manage multiple business email accounts. They help small business websites track open rates, connect to other third-party apps, or pause incoming emails to avoid distractions and increase productivity. In this article, we have listed the top 10 email apps for small businesses and their best use cases:
1. Edison Mail

Best for: Ultra-fast search features and AI-powered email assistant
Price: Free, but Edison Mail Plus (with additional features like AI-based security upgrades, verify sender, and spam blocker) costs $14.99 per month or $99.99 per year for Android and iOS
Edison Mail allows you to seamlessly manage email accounts in a fast and secure inbox. It also includes smart search features that make it easy to find emails and an AI-powered email assistant. It's a top-rated productivity app available for free in the Apple App Store and on Google Play.
2. Front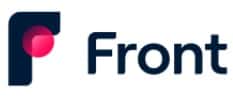 Best for: Managing team inboxes
Price: $19 per month for businesses under 10 members, $49 per month for small teams, and custom pricing for larger organizations
Businesses that use a team or shared inbox, such as support@yourbusiness.com, know that it can sometimes be a struggle to manage. Front is an email app for businesses that makes it easy for multiple people to manage a single and centralized inbox. It keeps everyone on the same page, and in return, leads to a better experience for those who are emailing your business.
3. Spark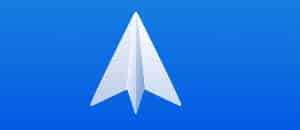 Best for: Comprehensive email productivity and collaboration
Price: Free, but has a Premium option for larger storage, unlimited collaborators, unlimited templates, and unlimited shared inboxes for $6.39 per user, per month
Spark is one of the most popular and highly rated productivity and collaboration email apps for businesses. It's capable of intelligently prioritizing your inbox, with your most important emails at the top. This email app helps decrease distractions by only notifying you of incoming emails from senders you know, and can easily integrate with third-party apps, such as Trello, Evernote, and Dropbox. For teams, it offers email collaboration tools where your team can comment on email threads.
4. Spike

Best for: Easily writing emails on mobile
Price: Free for personal accounts, $12 per month for solo, $8 per month for teams with a minimum of two users, and $7 per month with a minimum of five users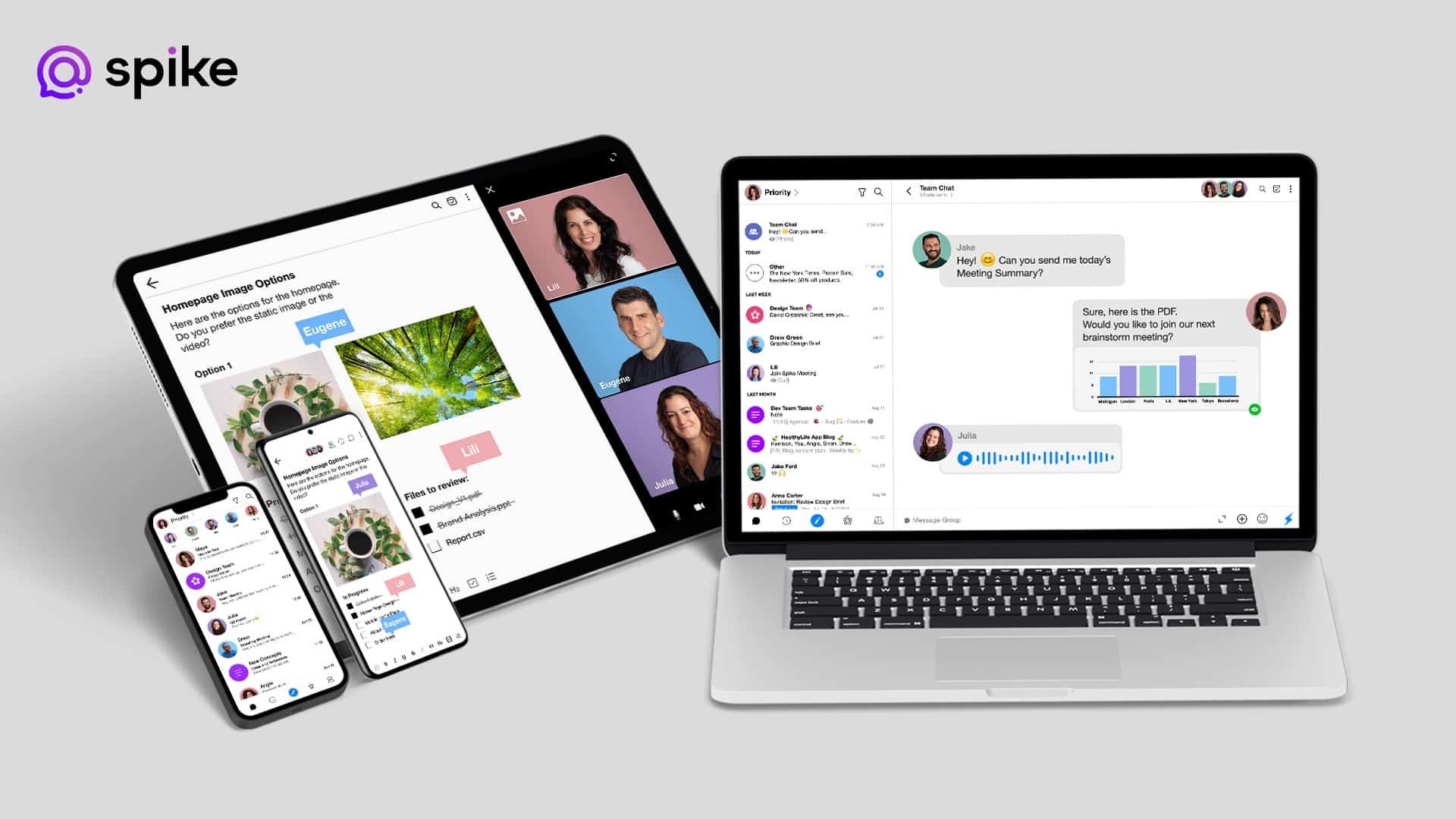 Spike was designed to be user-friendly on mobile—creating emails like you would a text message. It turns your email interface into a text interface, making it easy to craft conversational email messages from anywhere. Instead of the chunky email interface, Spike makes writing emails on mobile feel more natural to mobile users.
5. HubSpot CRM

Best for: Mobile sales management
Price: Free, but costs $45 per month for Starter (two users), $450 per month for Professional (five users), and $1,200 per month for Enterprise (10 users)
HubSpot is a top marketing and sales customer relationship management (CRM) platform. With its mobile app, you can harness the power of HubSpot and all of its email features, such as email open tracking, from anywhere you are. By taking your CRM on the road, you can stay connected to your team, customers, and leads while managing your sales pipelines, deals, and tasks from the palm of your hand.
6. Gmail for Mobile

Best for: Accessing your Gmail inbox on the go
Price: Free
Most mobile devices come standard with a basic mail app. However, businesses require more email features than these provide. Gmail is one of the most popular and highly rated email apps on the Apple App Store. It offers an array of comprehensive email features, from intuitive email sorting to automatic follow-up reminders.
7. Outlook for Mobile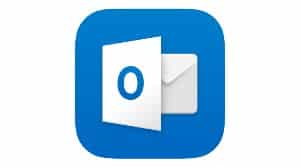 Best for: Accessing Outlook from your phone
Price: Free
Current Outlook users will find the Microsoft Outlook email app to be a helpful tool for accessing their inbox anywhere they are. While it includes all of the features one would expect from a major email provider, it also includes some unique features, such as easy scheduling via mobile and built-in flight notifications for frequent travelers.
8. BlueMail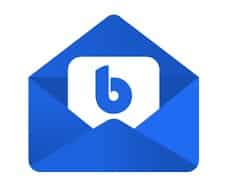 Best for: Managing multiple email accounts in a single platform
Price: Free or $4.49 per user, per month for Business plan (integration with multiple apps, corporate management dashboard, corporate configurations, and priority support)
BlueMail is an email app that enables you to manage multiple email accounts within one unified inbox, as well as set reminders and inbox prioritization. It makes sure your most important emails are at the top of your inbox rather than mixed between other messages. It's available for free, but it also offers premium plans starting at $4.49 per user, per month for corporate email management.
9. Boomerang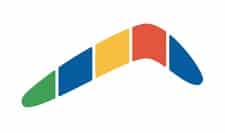 Best for: Email scheduler and follow-up alerts
Price: Free (limited to 10 message credits per month), $4.98 per month for Personal (unlimited), $14.98 per month for Pro (unlimited with writing assist), and $49.98 per month for Premium (unlimited with writing assist and CRM integration)
Boomerang is the email app for those who want scheduling and alerts, but don't want to pay for additional features beyond the essentials. That said, it does include the ability to pause your inbox. Pausing your inbox allows you to focus on your work without interruptions from incoming emails and tools to help you write better emails.
10. ProtonMail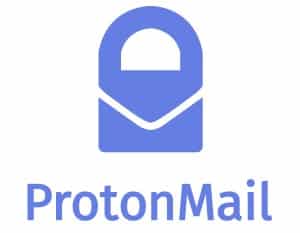 Best for: Easily send encrypted email for maximum data protection
Price: Free (500MB storage) or $5 per month for Plus (5GB storage for up to five users), $8 per month for Professional (5GB storage per user up to five users), and $30 per month for Visionary (20GB for up to 50 users)
ProtonMail encrypts emails and protects data from your phone through automatic email encryption, making it easy to secure your email messages from any device. It's a good email security solution for those who deal with potentially sensitive information via email, such as legal and financial services. It's considered one of the best email security apps with a high rating on the Google Play Store.
Frequently Asked Questions
What are the best email marketing tools?
There are a number of great email marketing tools and platforms that help make email automation easy. The top providers include Mailchimp, Constant Contact, Drip, ConvertKit, ActiveCampaign, and HubSpot. Which is best for you will depend on your unique needs, such as the number of contacts you have, email frequency, design skills, and budget.
How do I get a business email address?
While it may sound complicated to get a business email, such as yourname@yourbusiness.com, the good news is that it can be easy and affordable. There are a few different ways to go about getting business email—from free business email with Zoho Mail or Bluehost, to setting up business email using Google Workspace. Follow the step-by-step instructions on how to set up a custom business email.
What are the best email tools for small businesses?
The best email tools for small businesses make your life easier and hold the power to help you be more productive and strategic, making your revenue higher. The best overall include tools such as Mailchimp for email marketing automation, HubSpot for sales, Calendly for scheduling appointments, and DocHub for sending and signing PDFs. Get the full breakdown of the best professional email tools.
Bottom Line
The best email apps for small businesses will help you run your operations more efficiently, saving you time and money. Email apps help manage multiple inboxes in one place, helping you track when recipients opened your emails. Most of these email apps are available for free through the Apple App Store and Google Play, so the only investment involved is time to install and familiarize yourself with the app.