Cold emails are marketing emails you send customers who have no previous connection with your brand to build a relationship with them. Success with cold emails hinges on your ability to entice the recipient to open and read your message and respond positively to your call to action (CTA). In this article, we explore how to write a cold email, including researching your prospect, designing your email title, pitching your value proposition, and crafting an enticing CTA.
While there are many concerns about the Controlling the Assault of Non-Solicited Pornography and Marketing Act (CAN-SPAM) law, cold emailing is an entirely legal lead generation strategy. Just ensure it is personalized, free from misleading subject lines, and the information is relevant to the person. Your business and contact information must also be easily identifiable and allow recipients to opt out of receiving your emails.
Cold Email Template
Writing a cold email might not appeal to businesses that would rather approach warm leads. However, reaching out to people without a relationship with your brand can also yield great results. To write an effective cold email, download our free cold emailing template below: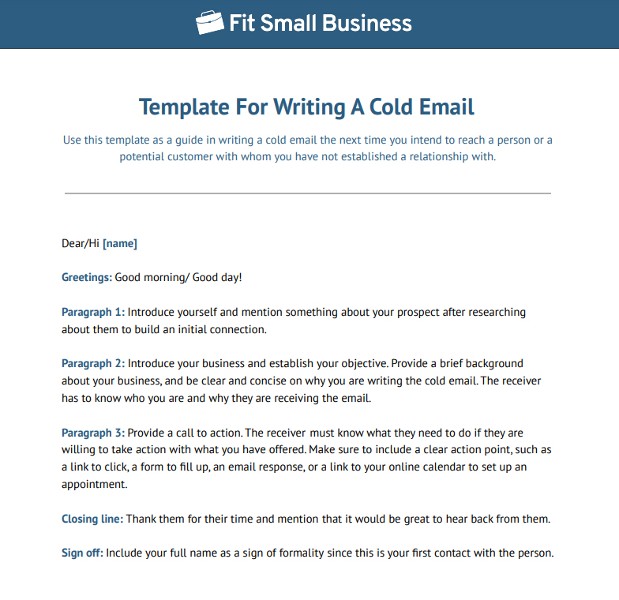 Thank you for downloading!
💡 Quick Tip:
Many customer relationship management (CRM) platforms offer tools to track the effectiveness of your cold emails.
Consider a CRM like HubSpot CRM, which has a read receipt and link click tracking feature.
Visit HubSpot CRM
Here are the six steps to learning how to write a cold email for business as part of your lead generation strategy. We also included parts of cold email examples you can customize and make your own.
1. Research Your Prospect
Studies show at least 50% of prospects being pursued by sales teams aren't a good fit for that business. Before drafting an email message, research the leads you want to target. This helps ensure the prospect is a sound candidate for your offerings and that you have some contextual information to use in your email message.
During the research phase, find any information about the lead that allows you to connect. Common examples include going to the same university, knowing some of the same people, working in the same industry, or being fans of the same sports teams.
If you're a business-to-business (B2B) seller targeting other organizations, make sure part of your research includes identifying the best person in an organization to reach out to. Simple Google searches and company websites can provide this information, and sometimes even have contact details. You can also use LinkedIn profiles to find the right person or a tool that offers lead data services, such as UpLead to acquire up-to-date email addresses.
2. Determine the Objective of Your Email
You can use cold emailing to generate leads, qualify them, or both. Therefore, before crafting a cold email, identify a specific outcome you want to achieve due to sending the cold email introduction. This objective will influence your email's subject line, introduction, value proposition pitch, and call to action.
For instance, you may do a cold emailing campaign to create awareness about your business, which could be measured based on clicks through to your website or direct replies. You could be attempting to set up product demos, which would be measured by the number of appointments set. Your goal may be to qualify a lead by offering to send pricing, which would then be measured by the number of business proposals requested.
3. Design an Intriguing Subject Line
The subject line is the first thing a lead sees once you've sent a cold email—whether or not they end up opening it. Additionally, 69% of email recipients report emails as spam solely based on the subject line, so it's crucial to diligently craft this aspect of an email message.
An excellent way to draw the recipient into opening the message is by mentioning something personal or familiar in the subject line. For instance, if you offer something time-limited, you can create urgency in the subject line. It is easier to catch the reader's attention if you use their name in the title. For example, "[Contact name], Your Special VIP Deal From Us Ends Tomorrow."
There's also the option to use questions in subject lines that look like they need to be answered by the recipient. Examples of this include "[Contact Name], Do You Want to Pay Less for Legal Services?"
4. Connect With Your Opening Line
Assuming your subject line intrigued the lead to open the message, you are ready to attempt to complete your cold email objective. This starts with making a personal connection in the opening line of the message. Here is when the prospect research you did earlier comes in handy.
Start your email by establishing trust through a connection or relevant observation. This can be anything from citing a mutual connection with another person or organization, complimenting them on something they recently won or created, highlighting a recent event applicable to them, or pointing out you're both from the same area.
The purpose is to show you care about the relationship aspect of sales and not just the revenue. Below are examples of some of the different ways you can connect with a lead in the opening line of an email:
Pro tip: Designing cold email templates and storing them in your business' database allows you and your team to simply plug in the contact's information, saving time on email drafting. Our free email templates offer customizable email templates that work for various scenarios.
5. Pitch Your Value Proposition
After the personalized introduction in your cold email, present what your business offers. The key here is to be brief and to the point by only using a few sentences to communicate your offer's value and an opportunity to highlight your business' unique selling proposition. This should address both the challenges the lead faces and how your solution can help.
Let's take a personalized cold email example that would follow the second opening line connection example in the section above:
"Anyway, I'll be brief and to the point. We help small accounting businesses like yours improve client service and productivity through our unique software, which combines client management with bookkeeping automation. Is improving your operational productivity through process automation something you are interested in?"
Notice that a question is used in this part of the email. Questions posed that have obvious answers are a great way to keep the recipient interested. In this scenario, of course, the person wants to improve operational productivity and automate when possible. Ending with a question is a perfect segue into the call to action.
Pro tip: Learn more about how to introduce your products and services and pitch your unique selling proposition with our introduction email templates.
6. Close With a Call to Action
The final step is where you'll prompt the lead to fulfill your objective. A positive response could be taking the next step by setting up an appointment or taking advantage of a free trial or demo offer. It could also be responding to your email or even remaining in the sales funnel as a new lead to be nurtured (vs opting out of your sales process in some way).
Continuing with the example we started in the sections above, let's assume that the objective is to schedule a product demonstration. Your call to action could look something like this:
"I'd love to arrange a 15-minute product demo to show you the features of our software and answer any questions you have. When is a good time for us to connect in the next two weeks?"
The call to action needs to include the next step and a command to get to that next step. For example, "Arrange a 15-minute product demonstration" is the next step. Meanwhile, "When is a good time for us to connect in the next two weeks?" is the command for the recipient to get to that step. If the call to action is initiated, the lead has moved to the next stage of your sales pipeline.
Pro tip: Make it easy for your prospect to fulfill the call to action by including a link to your online scheduling software, like Calendly. Your prospect can choose from your available time slots, and Calendly will automatically sync appointments to your calendar.
Cold Email vs Cold Calling
Writing a cold email that gauges the recipient's interest is similar to writing a cold calling script in that the primary message will vary depending on your objective. There are also more similarities, such as trying to make a personal connection, pitching your value, and providing a specific call to action.
In the case of cold emailing, you have the benefit of not needing to worry about improvisation (such as overcoming objections on cold calls). Plus, the message can be viewed, retained, and re-read by the lead at any time. The downside, however, is you don't usually have the opportunity to get an immediate response, and there's no guarantee a recipient will open, read, or consider your message.
Best Tools for Cold Email Marketing
In addition to helping your sales team craft cold email templates, those in sales management positions can also offer tools and resources to assist with cold email marketing campaigns. Sales enablement tools range in capabilities from expediting the cold emailing process or organizing information for cold email campaigns to sources for obtaining prospect email data.
Customer relationship management (CRM) systems have multiple uses for cold email marketing. The first is its ability to organize lead information, so you can store the email address of each lead and manage your progress with prospect nurturing through to closing sales deals.
Salesforce, for instance, lets you store email addresses as part of a lead's record and tracks lead nurturing activities over time. There's also the ability to track previous activity with the lead. If a lead responds to your cold email, you can note their response in the activity section.
CRMs can also be used to store, share, and use premade cold email templates. For example, Pipedrive easily lets you design and choose an email template. Then, with the contact information already stored in the CRM database, fields such as their first name, company name, or date are automatically merged into the message as it's sent.
Want more insights on CRMs helpful for creating email campaigns and cold email marketing? Check out our buyer's guide on the best CRM software for email marketing to see product comparisons and best-for scenarios.
---
While email marketing tools function for more extensive email marketing campaigns, they also offer helpful tools for cold email outreach. Two of the most helpful features are read receipts and link click tracking. Read receipts provide insights on whether the lead has opened and read the email, as well as how many times they opened it. Link click tracking would show you if they acted on your call to action to visit certain links.
Mailchimp is one of the most popular email marketing tools due to its extensive functionalities. It automates triggered email sends and analyzes the success of each email you send. Its extensive template library also allows you to design your emails according to the theme of your message.
Interested in learning more about the features of email marketing tools and how they help you track the effectiveness of your cold outreach? Read our guide on the best email marketing software.
---
Use an appointment scheduling tool to initiate a call to action within a cold email by adding your scheduling link within the email body or as a button or link in your professional email signature. This lets your recipients find open time slots and schedule an appointment, and events are automatically synchronized to your calendars.
Calendly is a low-cost, easy-to-use scheduling tool that lets you customize criteria for when appointments can be created through various channels. Through integrations, users can create events for phone calls and video conferences.
Calendly is also one of our picks for the best sales automation software. Our guide on the best sales automation software shows you other tools to automate tasks and stages within your sales process.
---
To save time hunting down and verifying email addresses, use data providers to accumulate this information for you. Hunter.io, for instance, pulls data from website domains and finds the email addresses based on the contact's name, email domain, and likely email combination format.
You can also use FindEmails.com to obtain email addresses. This platform lets you search for contacts based on company name, contact name, and job position—and then provides you with a verified email address. All the email addresses are tested to validate deliverability, so you know you are getting legitimate information.
---
Interesting Cold Emailing Stats You Need to Know
While there are times when cold calling may be the better play, ample evidence exists to support the effectiveness of using cold emails to engage prospects. This includes sending a series of emails over time to capture a lead's attention or induce message recall and encourage them to take action. Below we share some of the most interesting statistics on cold emailing:
There are some basic ways to increase the success of cold email campaigns. Some of them come down to best practices for business emails, while others (like the best day or time to send) may vary based on your industry or customer personas:
In addition to the basics, personalization also improves engagement, such as software that personalizes the subject line and greeting in an email with the recipient's first name. Advanced personalization tactics are even more effective, such as content tailored based on interests, industry, or details you may have gained when obtaining lead lists, such as the software or vendors they use:
Choose quality over quantity when it comes to cold email prospecting. Segmentation is a critical factor in email marketing at every stage of the buying process, including lead generation:
Bottom Line
Learning how to write an excellent cold email allows you to introduce your business to prospects without having to immediately handle objections or unexpected responses. Creating compelling, personalized cold emails starts with proper research, setting objectives, and a subject line that interests your prospects. After that, success comes down to proper messaging and investing in the right tools to organize the process and make it more efficient―which ultimately helps sales reps close more deals and increase revenue.