Using a branded email address on your domain sets you and your business apart from competitors. Learning how to create a professional email might seem technical, but it's quite simple. First, pick an email provider and then get a domain name. Next, decide on the format you want to use for email addresses and create one or more for business purposes.
Get Gmail's reliable, secure business email with an affordable plan from Google Workspace.

---

Reliable business email
Email, chat, and video calls
Pro plans from $6 a month
Get Gmail's reliable, secure business email with an affordable plan from Google Workspace.
---

Reliable business email
Email, chat, and video calls
Pro plans from $6 a month
1. Choose an Email Provider
To create professional email addresses, you'll need a business email hosting service that allows you to use a custom domain. There are many different options depending on your budget and business needs. For example, consider if you want to access email mainly from desktop computers or if you need mobile and web-based access, and which email client you plan to use (e.g., Gmail or Outlook).
To help you determine the best place for creating a professional email account, we narrowed it down to the options below. They cover most of the tools and features small businesses need as well as the best value for the money:
Best Professional Email Providers at a Glance
| | | | | |
| --- | --- | --- | --- | --- |
| | Get up to 5 free Zoho business email accounts on your domain | Domain included in cheap email hosting plans | 5 to unlimited email accounts in web hosting plans | Best way to set up Outlook business email; includes all Microsoft 365 apps |
| 30GB to 5TB email storage | 5-50GB email storage | 2-50GB email storage | 25GB email storage | 50GB email storage |
| From $6 per user, monthly | Free plan; paid Workplace plans from $3 user, monthly | From $1 per user, monthly | From $2.95 per month, the first year | From $6 per user, monthly |
| | | | | |
To find the best email hosting option for your small business, expand the sections below to learn more about each of these providers.

Pros
Plans from $6/user/month with Gmail, Docs, Sheets, Slides, Meet, and more
Intuitive to use, reliable, and secure
Get a domain during checkout
Thousands of business app integrations
Cons
Domain isn't included, unlike Bluehost and IONOS
Not as cheap as Zoho Mail or IONOS
Fewer advanced features than Microsoft 365 (and Outlook)
Paid Google Workspace plans allow you to host business email on Gmail on your own domain. If you don't have a domain, you can get it directly from Google during the account setup process. When you do, it's automatically connected to your account, making it even easier to set up professional email addresses on your domain. Check out some of Gmail's key features in our Gmail tips and tricks article.
Per-user pricing starts at $6 a month, and it's best for those who want to use Gmail for business email. It also comes with the complete suite of Google Workplace business collaboration and productivity tools most companies need, such as Google Docs, Google Sheets, Google Slides, and Google Meet.
Trying to decide whether the Google Workspace or Microsoft 365 software suite would be better for your small business? See how they stack up and what makes each unique in our Google Workspace vs Microsoft Office comparison.
---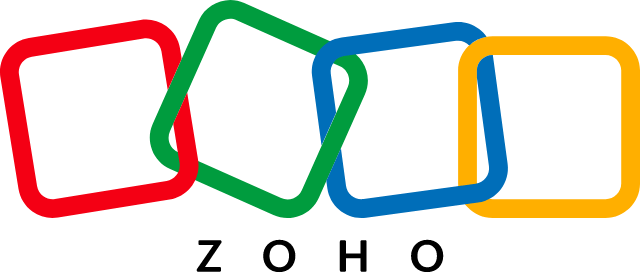 Pros
Create up to 5 free email addresses on a domain you own
Workplace plans comparable to Google and Microsoft from $3-$6
Integrates easily with all Zoho business software
Cons
No plans include a free domain
Limited storage and small attachment limits in free and base plans
Lacks advanced phishing and spam filters, unlike IONOS, Microsoft, and Google
Businesses looking for ways to get free professional email addresses can try Zoho Mail. While you need to get a custom domain name separately, Zoho Mail allows you to create up to five free business email accounts on your domain. Read our step-by-step instructions on how to create a free Zoho email account.
If you need more email addresses or higher storage limits, Zoho Mail offers paid plans for as low as $1 per email address, per month. To get more business features and tools, opt for Zoho Mail's Workplace plans, ranging from $3 to $6 per user, monthly.
Workplace plans come with both individual and shared storage, and Professional subscribers get email attachments up to 1GB. This is a must for creative freelancers and companies that send large files (e.g., construction, architects, marketing agencies, real estate, and others). Workplace plans also include Zoho Office's productivity tools (word processing, spreadsheets, and presentations), collaboration tools, and even video conferencing.
---

Pros
Email hosting comes with a free domain and SSL
Plans from $1 per month
Scalable options including more storage and multi-account plans
Intuitive webmail app and easy to connect to your preferred email client
Cons
Only 2GB storage in base plan (but can be expanded)
Most advanced security requires highest plan tier ($5/month)
Doesn't come with productivity and collaboration tools, unlike Google and Microsoft
You can get an email account for your business with IONOS' email hosting, website builder, and web hosting plans. Standalone email hosting starts at $1 per user, per month and includes a free domain, making it one of the best cheap email hosting providers for startups and small businesses. Plans are also scalable, as you can add more storage and email addresses.
IONOS offers the widest range of plan options for creating a business email address. It has three standard business plans ranging from $1 to $5 per month, Google Workspace (Gmail) plans, and Microsoft 365 and Microsoft Exchange plans. You can also add email archiving and eDiscovery to ensure your data is protected and restorable, starting from $2.50 per month.
---

Pros
Plans from $2.95/month with five-to-unlimited email addresses, web hosting, domain, SSL, and a WordPress website builder
Free domain the first year and unlimited free SSL
Intuitive Roundcube webmail app or easily add your email to your favorite client
Cons
No month-to-month options
Price increases after the first year
Lowest pricing requires a 3-year commitment
No productivity or collaboration tools like you get with Google and Microsoft
If you plan to build a WordPress website, you can set up email accounts at no extra cost in Bluehost's web hosting plans. The plans start as low as $2.95 a month for the first year and include free domain registration to use for branded email accounts.
Learn how to set up Bluehost webmail, then visit Bluehost to create your account.
---

Pros
Secure, business-class email from $6 per user
More advanced features in email and productivity software than its rivals
Higher storage and account limits overall in base tier vs Google Workspace
Cons
More expensive than Zoho Mail or IONOS
Downloading desktop apps requires an upgrade ($12.50/user/month)
Free domain isn't included, unlike Bluehost and IONOS
The Outlook email client is included with all Microsoft 365 Business plans. It's the best option for companies that want built-in advanced business email tools and automations. Learn how to set up Outlook email in three easy steps.
Also, read up on some of the unique Outlook features that Microsoft 365's small business subscribers enjoy. For example, you can schedule emails to go out in advance, share calendars with your team, create and manage tasks from Outlook, and create sales email templates to streamline repetitive emails used for things like lead generation and nurturing, employee onboarding, and more.
Choosing between Gmail and Outlook? Read our Gmail vs Outlook comparison to learn which would be better for your small business.
---
2. Get a Domain Name
After choosing a provider, the next step is getting a domain name (unless it's included by your provider). If you already have one, you simply have to verify your domain to connect it to your account. As with email providers, you have many options for getting a domain, including getting a free email domain through your preferred web host or email hosting plan.
Main Ways to Get a Domain for Professional Email
If you already have a domain or web hosting, you might already be able to create a professional email address for free. If not, here are the best use cases for each of the main ways to get a business domain name for email:
| Domain Options | Use Case | Top Providers | Starting Cost |
| --- | --- | --- | --- |
| | Free domain for one year in web hosting plans | | $2.95/month |
| | Free domain for one year with site builder and hosting plans | | $12-$16/month |
| | Free domain with email hosting plans | | $1/month |
| | Registering a domain separately from other products | | $9.99/year |
Learn more about each of these options in our guide to getting a free domain name.
Maybe you've chosen a provider and know how you plan to register your email domain, but you're struggling to find an available domain name that fits your brand. If this sounds familiar, you're not alone. Finding one that's both available and ideal for your business can be difficult. To help, check out this article for guidance on choosing a domain name.
Getting your own domain is not only key for a professional email address; it also adds credibility to your brand and improves online visibility.
3. Choose a Format
Before you create a professional email address, you'll need to choose a format for your username and display name. The username is the first portion of an email address, such as the "JDoe" of "JDoe@dowlaw.com." The recipient sees the display name, such as "John Doe."
Be consistent in using a standard email format for all company email accounts for branding and organization. This is crucial as branding statistics show that brand consistency alone can increase revenue by up to 20%.
Common Business Email Formats
Username Format

Examples for User John Doe

First name only

john@yourdomain.com

Last name only

doe@yourdomain.com

First name, last initial

johnd@yourdomain.com

john.d@yourdomain.com

First initial, last name

jdoe@yourdomain.com

j.doe@yourdomain.com

Full name (first and last)

johndoe@yourdomain.com

john.doe@yourdomain.com
When choosing an email username format, consider your company's size and the perception you want to make. Using only a first name is nearly impossible for large companies, so it may give the impression that your business is small. On the other hand, the longer and more complex an email address format is, the harder it is for prospects and customers to remember.
Outside of generic inboxes (e.g., support@yourdomain.com), we recommend businesses use an email format variation that includes the first and last name of the sender, or first initial and last name. For more guidance, check out our article on professional email address ideas.
Common Business Display Name Formats
| Display Name Format | Example: John Doe |
| --- | --- |
| Full name (first and last) | John Doe |
| First name and company | John @ Super Pets Supply |
| Company name | Super Pets Supply |
Email Address Formats for Team & Website Use
Now that you have all the tools and know how to make a professional email address, it's time to get to the next level. In addition to creating custom email addresses for employees, you may also want to create generic email addresses, alias forwarding emails, or shared email accounts for teams or departments.
Examples include email address usernames for customer support, sales, recruiting, public relations, media contacts, and more, such as:
General inquiries: e.g., contact, info, questions, inquiries, hello
Customer service: e.g., support, returns, billing, service
Sales: e.g., sales, demo, team, members
Marketing: e.g., press, media, PR, news
Human resources: e.g., jobs, careers, HR
When displaying an email address on your website, use a generic email address like "support@yoursite.com" or "info@yoursite.com." It looks more professional and helps reduce spam to individual inboxes by keeping them private. At the same time, it's easy to remember. Once you have created a generic email address, set up email forwarding or access to a shared inbox so that incoming emails from prospects and customers aren't missed.
Email forwarding automatically sends emails sent to the generic inbox to a specific person or a group of people, such as a department. It will be set up directly through your email provider, so the steps will vary. Alternatively, managing a shared inbox is made easier when you use business email tools to automatically route incoming mail.
Learn about more ways to use team and alias email addresses in our guide for creating a custom email address.
4. Create Your Professional Email Address
Now you have all the essential elements needed to create a professional email address: a provider, domain, and a chosen username format. Follow the steps outlined by your chosen email host (and potentially your domain registrar) to connect your domain and make a custom email address to use professionally.
Here are instructions for creating business email addresses for each of the providers recommended above:
Frequently Asked Questions (FAQs)
How to make a professional email address for free?
You can make a professional email address for free on Zoho Mail, provided you own a domain. Otherwise, the best way to get a free business email address is by purchasing a domain from IONOS. For $1 the first year, you get a domain and 2GB email address. Alternatively, you can set up multiple email addresses for free in web hosting plans through Bluehost, starting under $3 dollars per month for the first year.
What should I include in my business email signature?
A business email signature should have your name, job title, company, website, and contact details. You can also include a logo, your headshot, a motivational quote, a company tagline, links to social media, and a call to action, such as "Watch the demo" or "Start your free trial" in your professional email signature.
Is Gmail a professional email address?
Personal Gmail email addresses, which are free and use the domain gmail.com, aren't professional. However, Google Workspace plans come with Gmail business email, allowing you to create a professional email address on your domain. Simply purchase a paid plan and use your business domain to create a professional email address on Gmail.
Bottom Line
Learning how to create a professional email address is easy and can be completed in a few minutes. For the cheapest email hosting on a custom domain, try IONOS. If you already have a domain, set up five free accounts on Zoho Mail. If you plan to build your small business website on WordPress, Bluehost plans have all you need: a free domain, site builder, hosting, and free email accounts.
Alternatively, if you want seamless integration of business email with productivity and collaboration tools, Google Workspace is a great option. You can register your business domain during the checkout process and set up a professional email address in a few simple steps.