How to Make a Custom Email Address in 4 Simple Steps
A custom email address uses your domain name (e.g., yourname@yourbusiness.com). It looks professional and builds credibility and trust with prospects and clients. It's also surprisingly easy and affordable to make one. First, get a domain name and choose a hosting solution. Then decide on a format, create your email address, and connect it to the software of your choice (e.g., Gmail, Outlook, Apple Mail, and so on).
The easiest way to get a business email address is to get your domain while setting up email hosting on a platform like Google Workspace. This eliminates the hassle of manually connecting your email and domain and comes with the added benefits of excellent security and business productivity, plus collaboration tools.
Ready to set up your custom email address? Follow these simple steps:
1. Get a Domain & Hosting Solution
To make a custom, branded email address to use for work, you need a business domain name (e.g., yourbusiness.com). Registering a domain is simple and can be done in just a few steps, and you can get one from a variety of sources. It's also affordable, with options starting from $1 per month.
Here's a quick overview of the best places to get a domain for email hosting based on different use cases:
Best Places to Get a Domain by Hosting Solution
| Domain Registrar | Email Hosting & Free Domain | Office Software Suite | Website Builder | Web Hosting |
| --- | --- | --- | --- | --- |
| | | | | |
| Best for: | Best for: | Best for: | Best for: | Best for: |
| Quickly registering a domain to use for business email | Getting a free domain with email hosting | Registering a domain when using Gmail for business email | Getting a free domain and Google Workspace account with a site builder plan | Getting a free domain and up to 5 email addresses with a web hosting plan |
| Cost: | Cost: | Cost: | Cost: | Cost: |
| $10-$15/year | $1-$5/month | $6/month plus $12/year for domain | $23/month (billed annually) | $2.95/month (billed annually, renews at $10.99) |
Which domain provider is right for you depends on which email hosting service you plan to use, and whether or not you also plan to build a website that uses your domain name. Here is more information about the best ways to get a domain name, based on how you want to use it:
Still not sure which option is right for you? Get step-by-step instructions for business domain name registration.
2. Choose a Format
Before setting up your email account, decide how you would like your email address formatted. This is an important consideration, as choosing a format is key to maintaining branding consistency with emails as your business grows.
Some of the most popular formats for business email addresses are as follows:
Common Business Email Formats
| Username Format | Example: John Doe |
| --- | --- |
| First name only | john@yourdomain.com |
| Last name only | doe@yourdomain.com |
| First name, last initial | johnd@yourdomain.com |
| First initial, last name | ddoe@yourdomain.com |
| Full name (first and last) | johndoe@yourdomain.com |
| Generic or departmental inbox name | info@yourdomain.com or sales@yourdomain.com |
For help deciding which is right for your business, learn more about choosing a professional email address.
3. Connect to Your Provider & Create Your Email Address
Once you've settled on a format, create your customized email address within your chosen email hosting solution. How you connect your domain to your email host depends on where you registered your domain name. If you registered a domain name through Google Workspace, for example, you'll simply follow the remaining prompts, and the work is done for you.
On the other hand, if you registered your domain through a website or email hosting plan (e.g., IONOS or Bluehost), a site builder like Wix or Squarespace, or another third-party service, you may need to take additional steps. Most business email providers have detailed instructions available to help you connect your domain and email accounts, if not live support to assist you.
If you got your domain as part of a web hosting plan, navigate to your web hosting provider's instructions on how to set up your new business email address. For most, you will see an option labeled "Email" from within your account dashboard. Follow the prompts to set up your custom email account.
4. Add Your Account to Your Favorite Email App (Optional)
No matter which solution you choose, it should be fairly easy to connect your email to your preferred email client, including Outlook, Gmail, and Apple Mail. The exact process for doing this differs with each email software platform, so we've added steps for connecting your custom email address to Gmail as well as Microsoft Outlook below.
How to Add Your Custom Email Address to Gmail
To get started, log in to your Gmail account. If you don't already have one, you can quickly create a free Gmail account here.
After logging in to your new or existing Gmail account, click on the gear in the top right corner and select "See All Settings." Then click on "Add another email address" and enter your custom email address, then click on "Next steps." In the next screen, enter the SMTP settings provided by your email host (or domain registrar).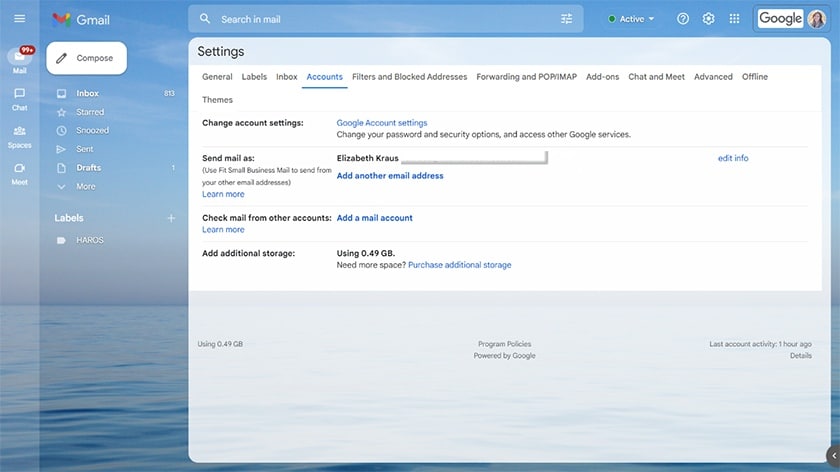 ---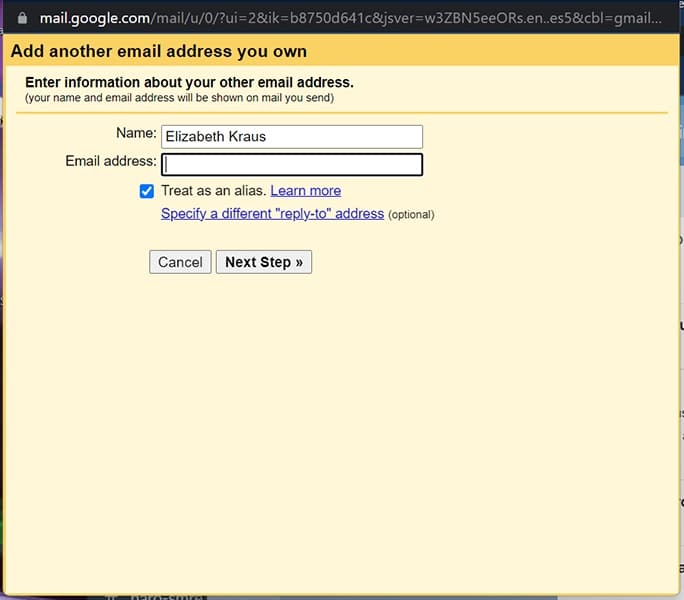 ---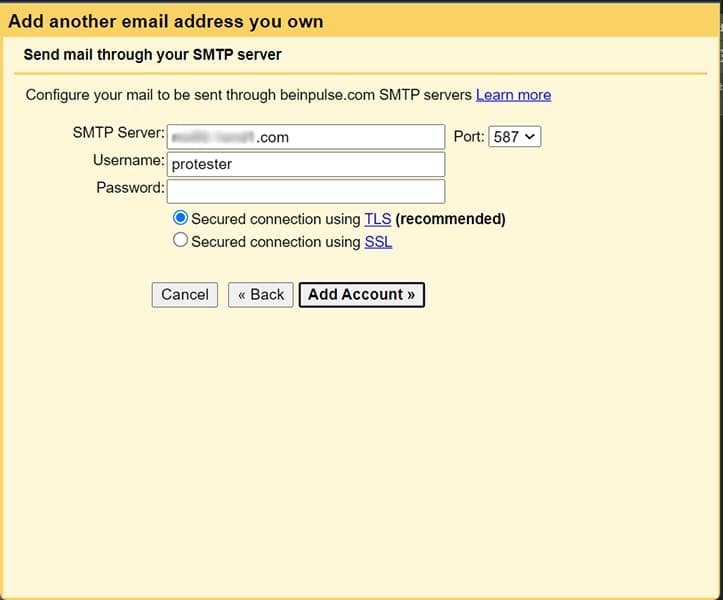 ---
For more guidance, read our article showing how to set up Gmail for business email.
---
How to Add Your Custom Email Address to Outlook
With a Microsoft 365 business subscription, you can create a personalized email address that is associated with your Outlook.com mailbox. Below are the steps for doing so via the web-based version of Outlook as well as the desktop interface.
To add your email address in the web-based interface, first log into the Office 365 dashboard. Go to Users » Active Users and click the "Add a user" button. On the next screen, enter the personal information of the new user and create a personalized email address. Finally, click on the add button to save your settings.
Alternatively, If you're on a desktop device, open Outlook and click File >> Account settings >> New to start the steps of adding a new email account using POP or IMAP/SMTP settings. Enter the name of the email address you want to create in Outlook, then click "Connect." Choose POP or IMAP settings and enter the credentials as provided by your email hosting service.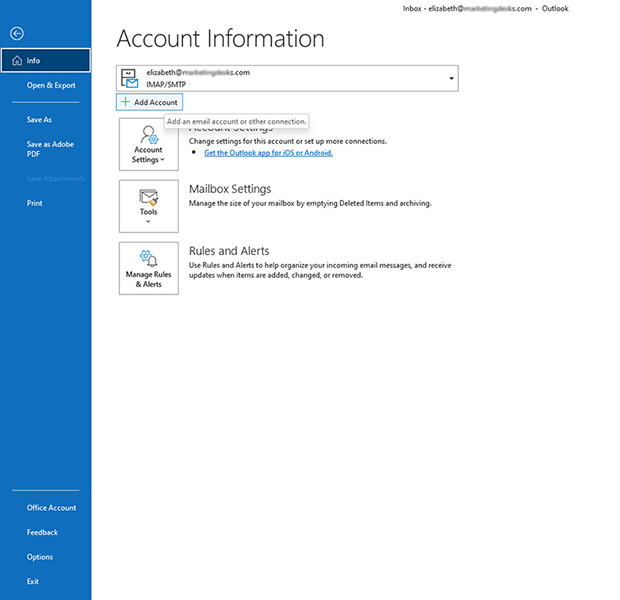 ---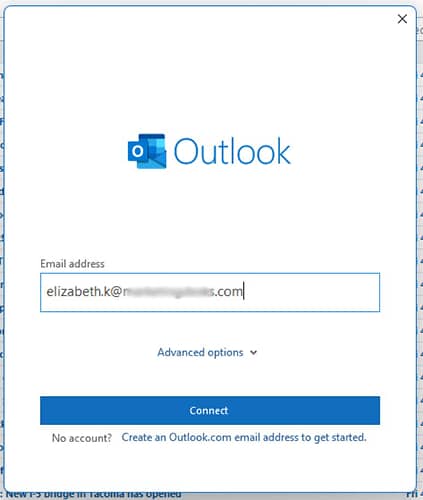 ---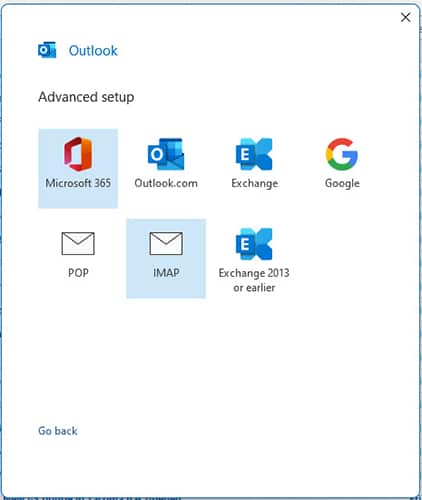 ---
For more guidance, read our article on Outlook business email, including the steps for how to add your email address.
---
Next Step: Make a Professional Email Signature
Now that you have a branded email account to use for business, the next step is to develop a professional signature to use when sending or replying to emails. To get inspiration and ideas, check out our list of more than a dozen professional email signature examples and learn what makes each one effective.
If you're using Gmail for business email, set up your email signature by clicking the gear icon in the upper right-hand corner. Then select "Settings" and scroll down to find the "Signature" box, where you can input your signature.
Web-based mail clients like Bluehost webmail and the web-based email app for IONOS also allow you to create custom email signatures. In IONOS, you can create different signatures for new messages vs replies or forwards. Log in to your account, click the gear icon in the top bar, then click on the Mail drop-down menu on the left side and choose "Signatures."
You'll find email signatures located under Settings >> Open all settings and then click on "Mail" in the web-based version of Outlook. Next, click on "Compose and Reply" and the email signature editor will open.
Among the many Microsoft Outlook features is the ability to create email signatures. To create a professional email signature in the desktop version of Microsoft Outlook, click on File in the top left corner, then "Options" in the bottom left menu bar. Then click on "Mail" and "Signatures. This will open up the Signature editor, where you can create one or multiple signatures, including setting up specific signatures for new emails vs replies.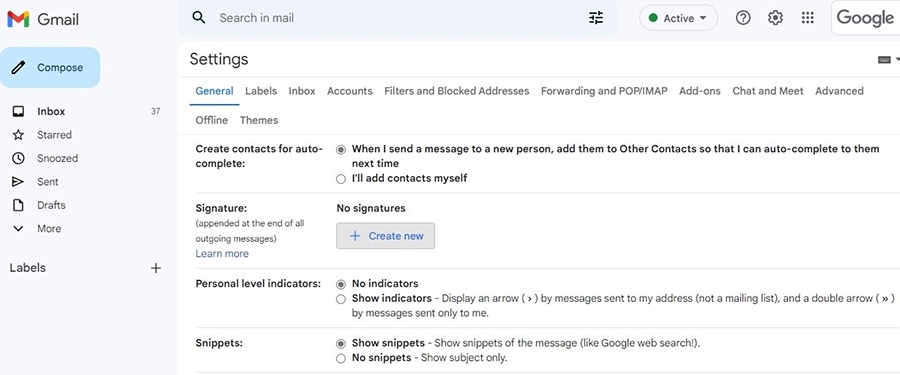 ---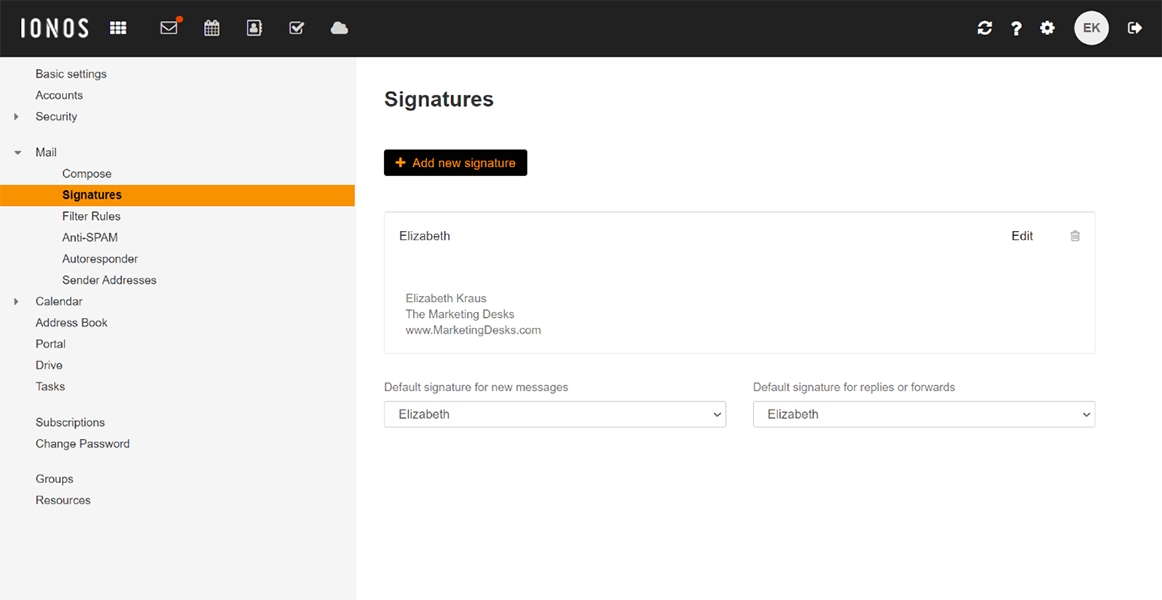 ---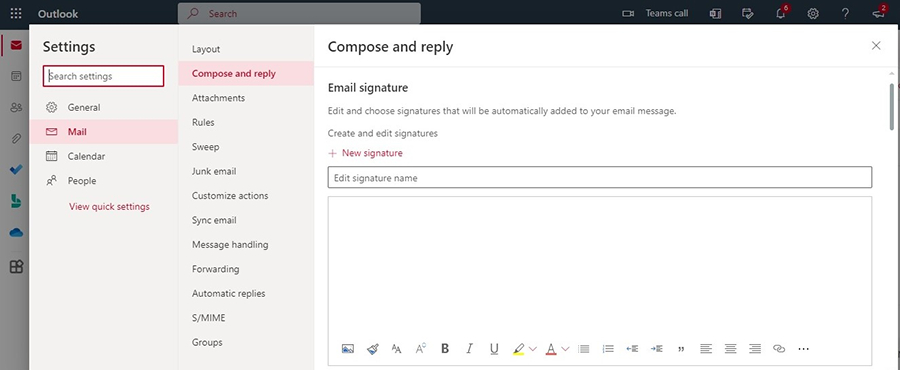 ---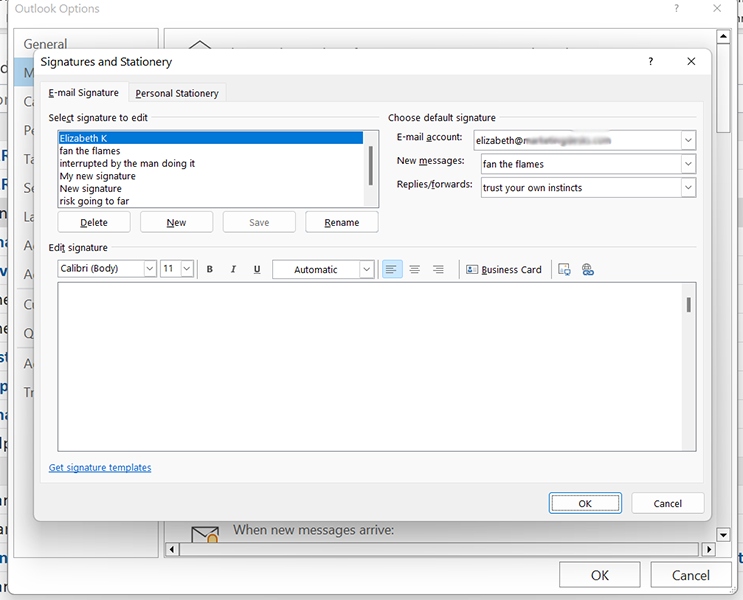 ---
Alternatively, you can design a standout branded signature to use in your emails with a signature generator like WiseStamp. WiseStamp lets you create a customized professional email signature that includes images, links, icons, and more―with no coding knowledge. Learn more about the best email signature generators, including some you can use for free.
---
Frequently Asked Questions (FAQs)
Where can I get help setting up a custom email address?
The best source for help with email setup is through the provider where you purchased your domain or email hosting services. For example, web and email hosting company IONOS and WordPress web hosting company Bluehost both offer free live support by online chat or phone if you need help setting up your account. If you want someone to set up an email account on your behalf, you can hire a technical support freelancer on Fiverr for as little as $5.
Why do I need a personalized email address?
An email address personalized with your domain and business name gives your small business professionalism and credibility. Aside from improving your business' credibility, it also serves as a cost-effective marketing tool. For example, a personalized email address increases the legitimacy of your company when you send out emails patterned after these business email examples.
How much does a custom email account cost?
For $2.95 per month, you get five free business emails from Bluehost as well as a free domain name, SSL certificate, and web hosting. Alternatively, IONOS provides standalone email hosting services that cost $12 a year. If you already have a domain, you can use Zoho Mail free for up to five free addresses, or for $6 per month, you can get business-class email and all the productivity tools your business needs from Google Workspace.
On a budget and in need of the best free option? See how to use Zoho free for email.
Bottom Line
An email address personalized with your business' domain name is essential for maintaining a professional appearance for you and your team. There are several easy ways to make a custom email address, including with the leading business email provider, Google Workspace. They make it simple to create a business email address, and it comes with the productivity and collaboration tools your business needs.
You Might Also Like…