A custom email address is one that uses your own domain name, such as yourname@yourdomain.com. It not only creates a professional appearance, but it builds consistent branding and builds trust. It's also surprisingly easy to create. All you have to do is get a domain, create your username, and connect to your favorite email platform.
However, here are the steps to set up a custom business email address in greater detail:
1. Get a Domain Name
To create a custom email address, you'll need a custom domain name (e.g., yourbusiness.com). The process of purchasing a domain name is simple, and affordable at around $12 per year from domain name registrars, such as GoDaddy.
Alternatively, if you're using WordPress for your website, check with your web host. Leading web hosts, such as Bluehost and DreamHost, often include a free domain name and free business email with low-cost hosting plans.
The third way you can get a domain name is to purchase it directly from your email host of choice, such as Google Workspace or Microsoft 365. In doing so, your domain will automatically be connected to your email host, making it easier to set up.
For more assistance, get the step-by-step instructions on how to register a domain name.
2. Connect to Your Email Provider
How you connect a domain to an email host will depend on where you registered your domain name. For example, if you registered a domain name through an all-in-one domain and email service like Google Workspace, you'll simply follow the remaining prompts and this is done for you. On the other hand, if you registered your domain through a site builder or other third-party service, you may need to take additional steps.
For example, if you got your domain through your web hosting plan, you will need to navigate to your web host for instructions on how to set up your new business email address. For most, you will see an option labeled "Email" from within your account dashboard. Follow the prompts to set up your custom email address.
From there, all you need to do is decide how you would like your email address formatted. For help deciding which is right for your business, learn more about choosing a professional email address.
3. Connect to Your Favorite Third-party Email Host (Optional)
If you got your domain name through a web hosting provider, you can connect your email to a third-party email host like Gmail or Apple Mail (and yes, your email will still be free). The exact process for doing this differs with each email platform, so choose your desired email host from the list below to get your step-by-step instructions on how to connect your free business email to one of the leading email platforms.
Gmail
To get started, you'll need to first log in to your Gmail account. If you don't already have one, you can quickly create one for free here. From your Gmail account, click on the gear in the top right corner and select "Settings."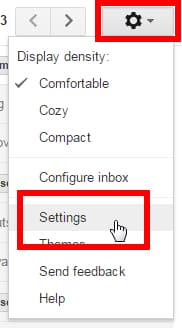 Navigate to the "Accounts and Import" tab at the top. Then click "Add a mail account."

This will open a new window where you can enter the email address you just created (e.g., via Bluehost). Enter your full business email address and Bluehost password in the window. You do not need to add POP server information. Once completed, click "Add Account."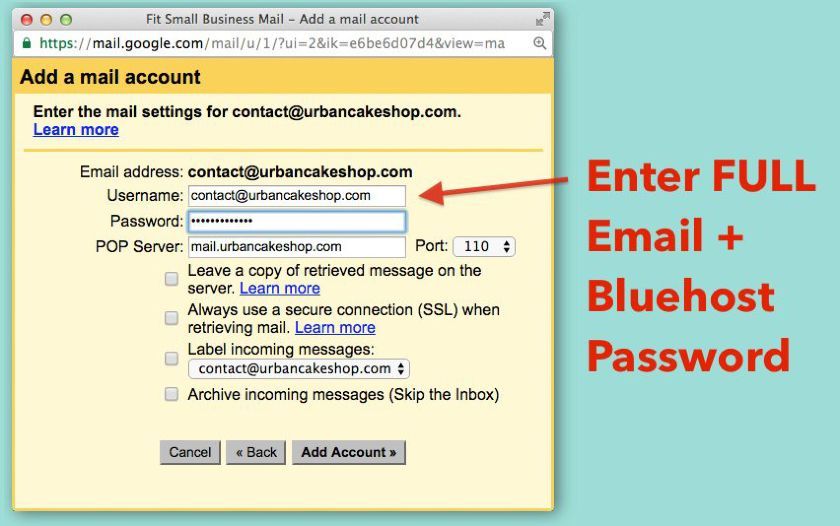 Important: Be sure to enter your full business email address in the Username field, including your domain (contact@yourbusiness.com).
You have now connected your Bluehost email address to Gmail; this means all email sent to your Bluehost address will land in your Gmail folder. However, you need to update Gmail so you can send from this address too.
On the following screen, Bluehost will ask if you want to set this up. Select "Yes" and click "Next."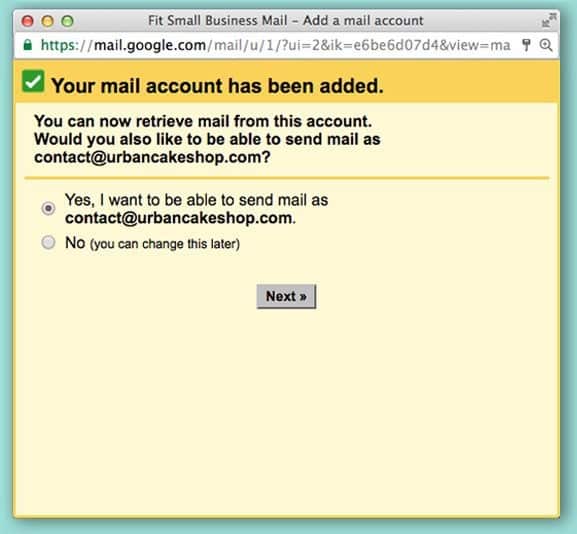 The next screen prompts you to verify your email address. Verification is required to ensure that you are the owner of your domain and the email addresses connected to it. To complete verification, enter your full email address and your Gmail password again. Gmail will send a verification code to your Bluehost email address.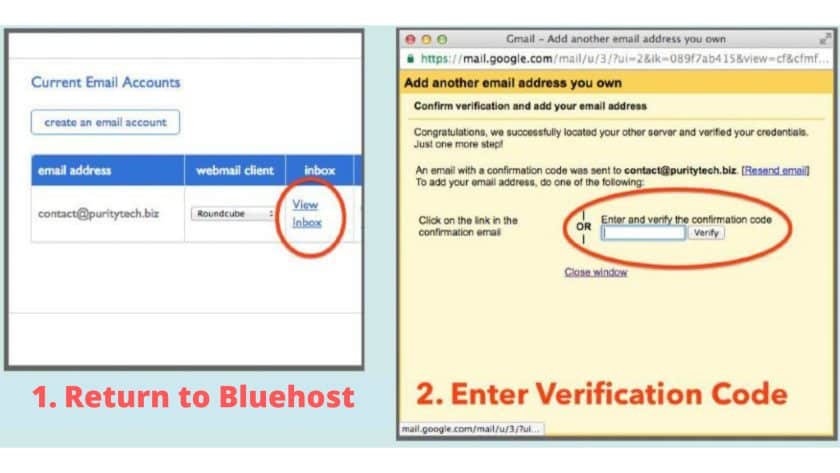 Head back into your Bluehost account. Select "Email Manager" and click "View Inbox." You should see an email from Google with your verification code. Copy this code and enter it into the appropriate field in Gmail. Click "Verify." This should complete the outgoing mail setup.
Once you've combined your accounts, you'll be able to navigate between your professional and personal email addresses within Gmail. Just choose which "From" address you want to use while composing your email.

Keep in mind, however, that it sometimes takes a few minutes for Gmail to process the new email address. Wait five minutes, then send a message to your new email address. You should see it appear in your Gmail account and have the ability to respond using your new address.
Outlook
First, log in to your Outlook email account. Select the "File" menu, and then "Info" from the left-hand menu that appears. Click the "Add Account" button.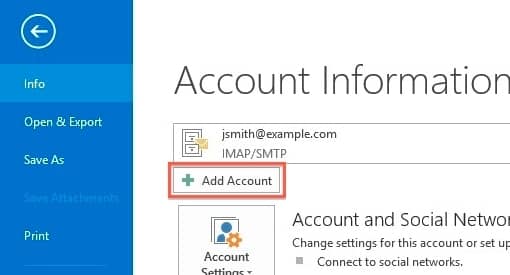 From the options that appear after clicking "Add Account," choose "Manual setup or additional server types." Click "Next" to continue to the following step, then select the "POP or IMAP" option.

Click "Next" and complete the form, including user information, server information, and logon information. For guidance on what information you need to add, read Bluehost's tutorial on setting up email addresses in Outlook.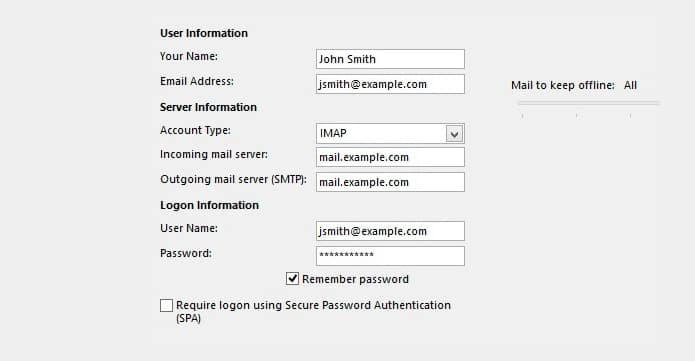 Before you click "Next," click the "More Settings" button in the bottom right-hand corner of the screen. Choose the "Outgoing Server" tab from the top of the pop-up window. Select the "My outgoing server (SMTP) requires authentication" and check the "Use same settings as my incoming mail server" radio button as well.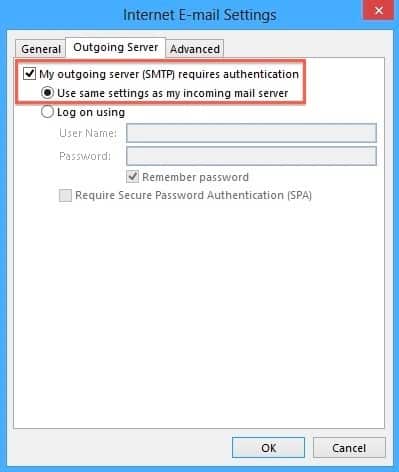 From the same window, select the "Advanced" tab from the top (next to the "Outgoing Server" tab). On this window, you will need to know which type of server you're using, such as POP3, IMAP, or SMTP with or without SSL. This information can be confirmed on Bluehost, but if you know it already, you can find your server port numbers below:
If you are using POP3 with SSL security, enter 995 for your port. Otherwise, leave the port at 110.
If you are using POP3, choose when messages are removed from the server.
If you are using IMAP with SSL security, enter 993 for your port. Otherwise, leave the port at 143.
If you are using SMTP with SSL security, enter 465 for your port. Otherwise, change the port to 26.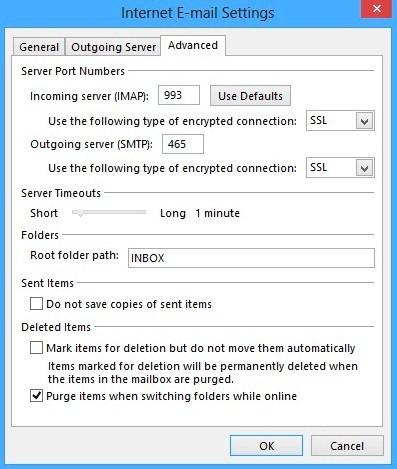 Setting up email server information on Bluehost. When your server information is entered, click "OK" at the bottom of the window. On the next window, click "Next" and finally, click the "Finish" button to complete the process.
Apple Mail
Open your Apple Mail application from your desktop. Click "Mail" from the upper right-hand corner, then "Preferences" from the drop-down menu. From Preferences, click the "Accounts" tab and click the "+" sign at the bottom left-hand corner of the screen. When the options window appears, select the last option, "Other Mail Account…"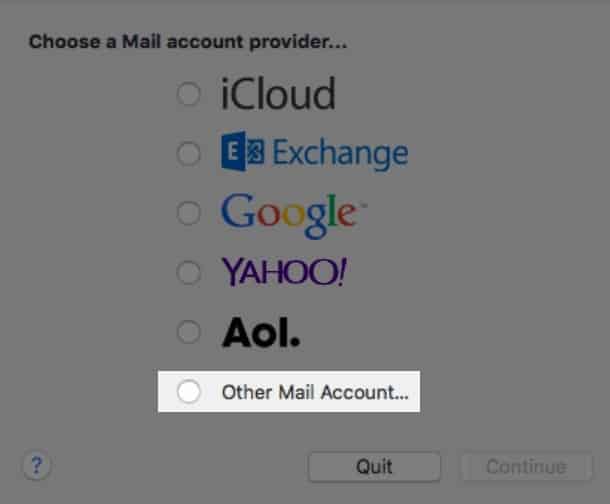 Fill in the appropriate fields for your name, email, and Bluehost password. Remember to use your new custom email address for this. When you're done, click "Create" on the bottom right.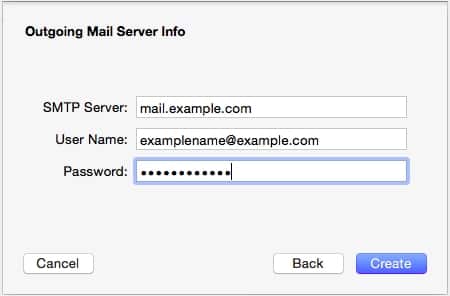 On the next screen, you will be prompted to input your incoming mail server settings. Reference Bluehost for complete server information, then select your account type and add your mail server, username (your complete custom email address), and Bluehost password. Click "Next."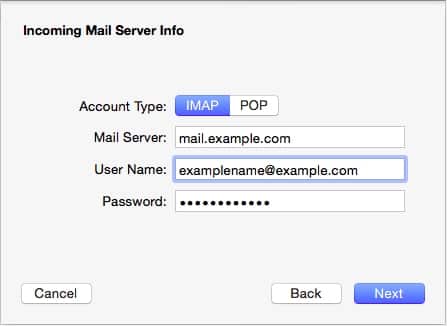 If you are using an SSL certificate, a "Verify Certificate" pop-up will appear. In the bottom left of the window, click the "Show Certificate" button. Check the box that says "Always trust bluehost.com…" and then click the "Connect" button in the bottom right.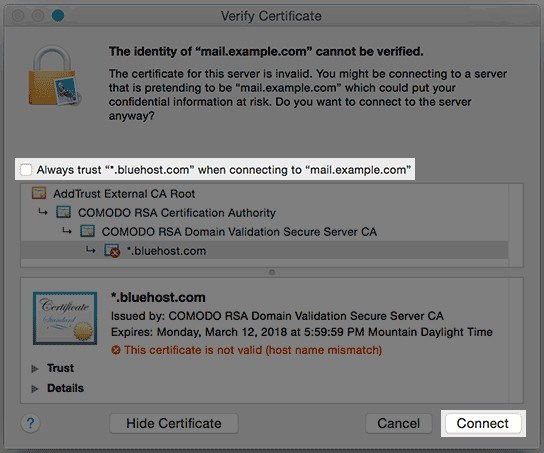 Now you will be prompted to complete steps for the outgoing server settings. Follow the same steps as when you completed the incoming mail server settings, such as entering your domain name as your server, your custom email address, and your password. Finally, click "Create."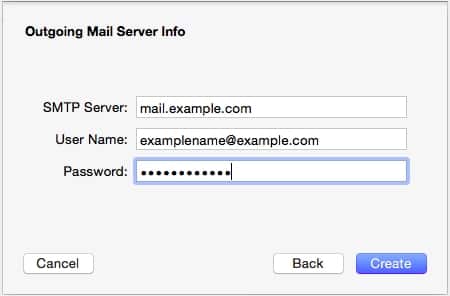 Frequently Asked Questions (FAQs)
Where can I get more help setting up my custom email address?
The best source for support is the provider you got your domain name from. For example, if you registered your domain through Bluehost, contact its customer service team for additional troubleshooting help via phone or live chat. If you'd rather have someone set up your custom email on your behalf, you can find technical support freelancers on Fiverr for as little as $5.
How do you set up a professional email signature?
If you're using Gmail, set up your email signature by clicking the gear icon in the upper right-hand corner. Then select "Settings" and scroll down to find the "Signature" box, where you can input your signature. Alternatively, you can design a professional email signature using a signature generator, such as WiseStamp, which lets you create a customized professional email signature with no coding knowledge. Learn more about the best email signature generators.
What are the best email marketing platforms?
The overall best email marketing platforms that are affordable, feature-rich, and highly rated include Mailchimp, Constant Contact, Drip, ConvertKit, ActiveCampaign, and HubSpot. Which is the best platform for you will depend on your unique needs, such as the number of contacts you have, email frequency, design skills, and budget.
Bottom Line
Business email that uses your own custom domain name is vital for maintaining a professional appearance online for you and your team. As complicated as it may sound to create a custom email address, you don't have to be stuck manually updating mail exchange (MX) records. Instead, there are a number of easy ways to set up your business email, such as with the leading email provider, Google Workspace.
You Might Also Like…