Creating a custom email address is an important step in taking your business from a side hobby to a serious business. Using a custom email such as jsmith@mybusiness.com instead of jsmith@yahoo.com changes the way your correspondents perceive you and your business.
Luckily for you, it's pretty easy to create an email address. In this guide we will go over the different options for creating a custom email, and then show you step by step how to set it up using your web hosting provider.
How to Create a Custom Email Address
The easiest and least expensive way to get a custom email address is by setting it up through a web hosting company. Most hosting companies allow you to create multiple email accounts connected to your domain at no extra cost.
In this article, we'll be discussing how to set up a custom email address with Bluehost. We recommend Bluehost because it lets you register a domain, host your website, and create up to 5 custom email addresses. Bluehost normally charges $7.99/month, but with our exclusive offer, you can click here to get started for just $2.95/month.
Step 1: Choose Your Domain Name
Choosing a domain name is a very important part of creating your custom email. This is what will show after the @ symbol in your email address. Not to mention, it will be the URL for your website.
If you need help brainstorming to find your perfect domain name, check out our 25 tips from the pros. You can also use the domain name search widget from Bluehost below to both find and register your domain. Be patient. You may have to go through a number of names that are already taken.
Step 2: Head to Bluehost to Sign Up
Once you've nailed down your domain name, you're ready to sign up for Bluehost. Enter the domain name, fill out your contact information, and choose your plan.
At the moment, they are offering prices as low as $2.95 per month if you sign up for 36 months. We suggest going with this option, since you can cancel at any time and receive a prorated refund based on how long you have used the service.
Step 3: Set Up Your Email Account
Once you've purchased your plan, you will be directed to Bluehost's dashboard. If you scroll down you'll see the email section. Click on the email manager.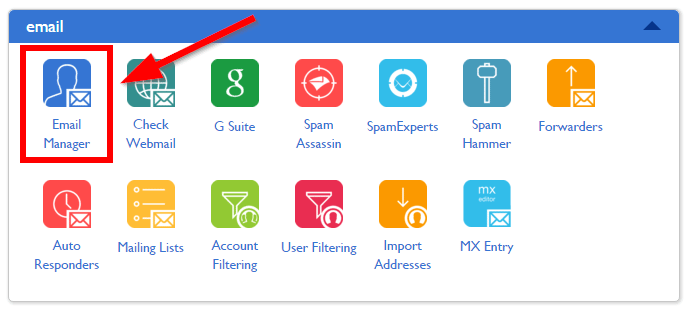 Hit "create an email account" and enter the text you want to come before your domain name in your email address. You will also need to choose a password.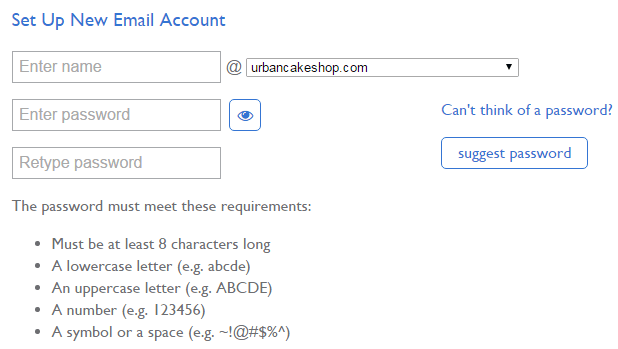 When choosing the name that will display before the @ symbol, you'll want to have a standard format for all of your employees. View our explanation on this plus more tips to creating your email address here.
When you've set up the name and password, hit "create". Repeat this step for all of your employees.
Step 4: Set Up Email Forwarding (Optional)
If you are creating the custom email address simply as a way to look more professional on your business card or website, you can set up email forwarding. This way, you can still use your existing email account by having all emails sent to your professional email address forwarded to your current account.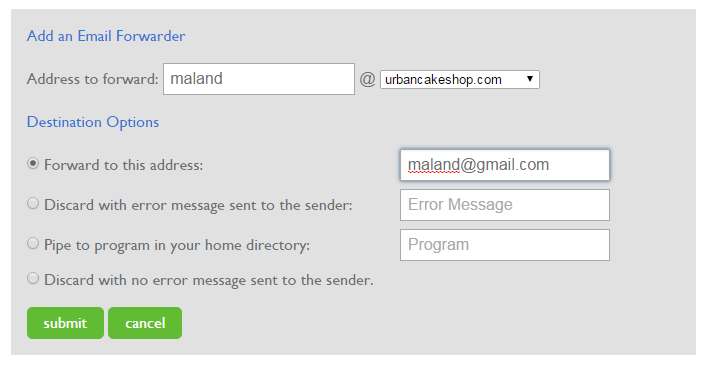 The drawback with doing this is that if you respond through your current email, then you will not be able to change your "From" address to your business email. In other words, your email will look like it is coming from your current account, not your business email.
The good news is that if you are currently using Gmail, you can connect it with your Bluehost email. This will enable you to use your business email as your "From" address, as well as keep all of your inboxes organized in the same place. We'll show you how to do this in the next step.
Step 5: Connect Bluehost Email With Gmail or Outlook
You can use Bluehost's inbox, but the interface is not very user friendly. Instead, we suggest connecting your Bluehost email with your Gmail or Outlook account in order to have a better experience navigating your inbox.
To connect your new Bluehost business email with an Outlook account, you can follow one of the guides below. The steps will vary slightly depending on which edition of Outlook you're using, so choose the one that corresponds to your current account.
If you have a Gmail account, you will probably want to unify your work and personal emails through Gmail. That way, you won't have to worry about logging into multiple accounts. This is time consuming, and there's a chance you'll miss an important email that was sent to an account you don't use as often.
To get started, you'll need to first login to your Gmail account. If you don't already have one, you can quickly create one for free here.
Now, click on the gear in the top right corner and hit "settings".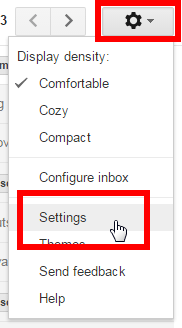 Navigate to the "Accounts and Import" tab at the top and then click "Add a mail account."

This will open a new window where you can enter the Bluehost email you just created. Enter your full business email address and Bluehost password in the window.
You have now made it so that all emails sent to your Bluehost email address will land in your Gmail folder.
You will want to also change it so that your outgoing messages are being sent from your new custom email address.
On the following screen, Bluehost will ask if you want to set this up.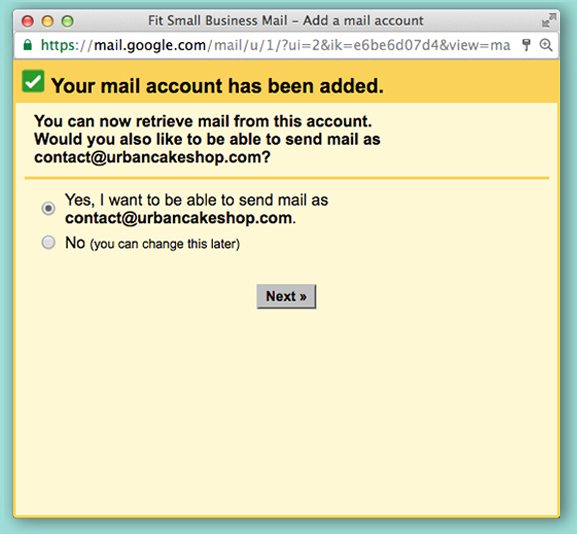 You'll have to enter your full email address and password again. Gmail will send you a verification code to your Bluehost account.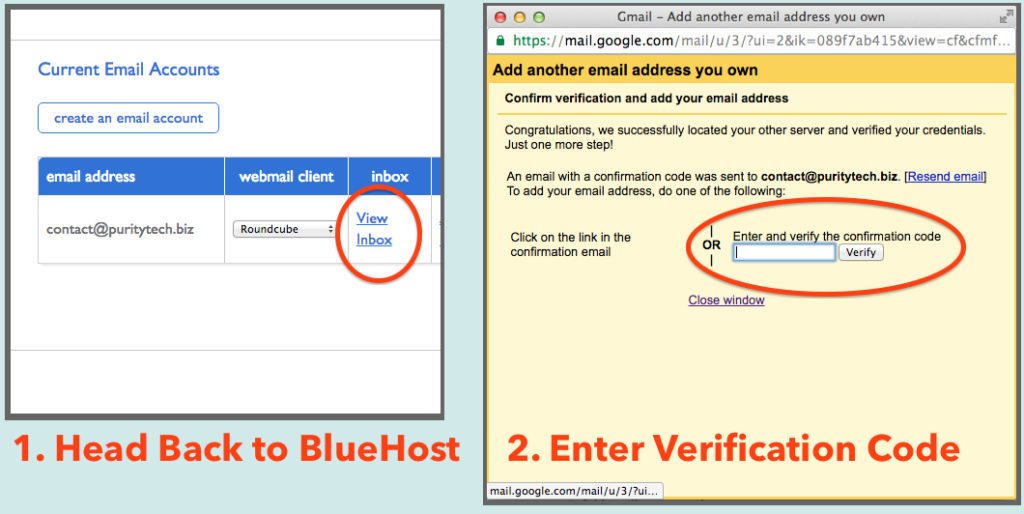 Head back into your Bluehost account. Select "Email Manager" and click "View Inbox." You should see an email from Google with your verification code. Copy/paste this code, and enter it back into Gmail.
Once you've combined your accounts, you'll be able to navigate between your professional and personal email addresses. Just choose which "From "address you want to use while composing your email.

That's it! Wait a little while, then send a message to your new email address. You should see it appear in your Gmail account, and have the ability to respond using your new address.
Bottom Line
Now that you were able to create an email address, it's time to create your website! View our step by step guide, and you'll be filling in pages on your own website within 30 minutes.
Don't forget to check out Bluehost as a one-stop option for hosting your website and getting a custom email address. Our special offer lets you get your domain name, hosting, and up to 5 email addresses for just $2.95/month (regularly $7.99). Click here to get started with Bluehost.