Retail Halloween displays offer a chance to entice shoppers with creative and captivating setups. From eerie window decals to ghostly mannequins, we've compiled 18 Halloween retail display ideas that are sure to boost your sales this October.
1. A Play on Halloween Colors
Orange and black are key colors for the season, and you can also throw in some green and purple to make it more colorful. Start by collecting all your orange, black, green, and purple retail display materials. This can spark some creativity while helping you stay on theme and on budget.
2. Messages on a Sandwich Board
You don't have to go all-out—or you can add to an extravagant scene—with a clever message on a sandwich board or chalkboard outside your storefront. Have fun with this, and don't be afraid to use puns!
Here are some ideas:
No tricks, just treats—and Halloween sales
Pumpkin spice and everything nice
Halloween sale, no bones about it
Creepin' it real with Halloween deals
3. Window Decals
Decals are an inexpensive but effective way to bring new life to your retail window displays. For Halloween, you can write messages or use Halloween-themed decals. You can also try temporary paint markers or commission a local artist to create something worthwhile.
4. String Lights
Hanging string lights is a great way to add curb appeal and they can be adapted for any occasion. You can find Halloween-themed string lights that feature jack-o'-lanterns, ghosts, skulls and skeletons—even eyeballs. Or, keep our first tip in mind and use string lights with Halloween colors.
Consider investing in a single set of string lights and dressing them up for each season—maybe you hang pumpkins and skeletons from them for Halloween, and then switch them out for ornaments and bells for your Christmas display, for example.
5. Fog Machine
Fog is an on-theme element that instantly turns any scene into a spooky haunted house-worthy experience. You can put the fog machine outside, if space allows, or in your window displays to lure in foot traffic.
Be mindful that not everyone likes the idea of shopping in a "foggy" environment. Try to keep the fog away from important areas, like the checkout counter, fitting rooms, or other areas you want shoppers to linger.
6. Candy
Candy is a major part of the Halloween celebration. If you sell candy, make sure you have displays where it's readily available for purchase. If you don't sell candy, consider giving it away for free to your customers. It's a festive way to invite foot traffic to explore your store.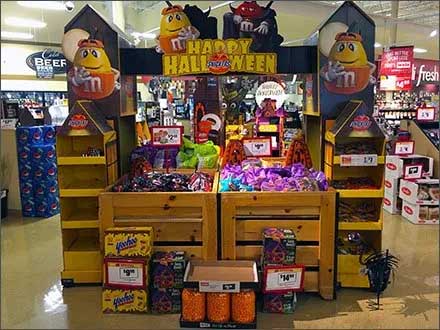 7. Cauldron
Put products in a cauldron for shoppers to explore. Small items and inexpensive impulse buys are ideal for this Halloween retail display. Place them strategically next to your checkout areas to encourage last-minute purchases.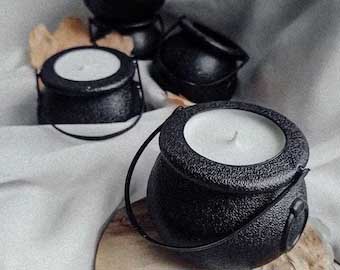 Sticking to a theme can help create focus for your Halloween store displays. It can spark ideas if you're feeling stuck creatively and facilitates a cohesive execution.
8. Caskets & Tombstones
Set the stage for Halloween with a casket display. You can use tombstones in place of sandwich boards out front, or turn a display case into a casket like the example pictured below.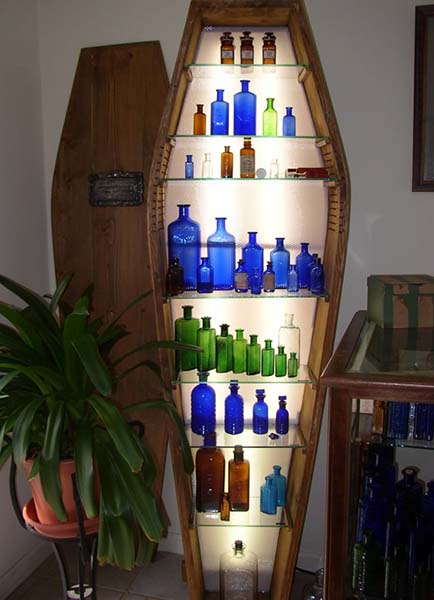 Curate your Halloween products. Start by identifying any products that could be considered Halloween- or even autumn-themed. For example:
Products that are or have packaging that's orange, black, green, or purple
Candy or other small sweet packaged treats
Anything with or related to pumpkin
Products related to bones—for example, vitamins for bone health
White sheets, as in ghost costumes
Makeup and clothing that can be used to dress up
Items that fit your theme
You can also check previous seasonal sales reports to see which products historically sell well during this period and prioritize the ones related to Halloween.
9. Spider Webs
Spiders and spider webs are also perfect for Halloween storefront ideas. And they're much smaller, making them easier to work with. Put fake spiders and webs throughout your window displays, scatter them throughout product displays, and sprinkle them on surfaces like your checkout space. You can also use your products and displays create a spider, like in this example of soda cases:
10. Bats
Bats, like spiders, can be small and simple to incorporate into your Halloween retail window display ideas. Use them as a focal point or an accent to your product and window displays.
11. Skeletons
Like ghosts, witches, and mummies, skeletons make perfect mannequins. Dress them up in your apparel and accessories, or make them play a role in setting up a scene featuring your products in use.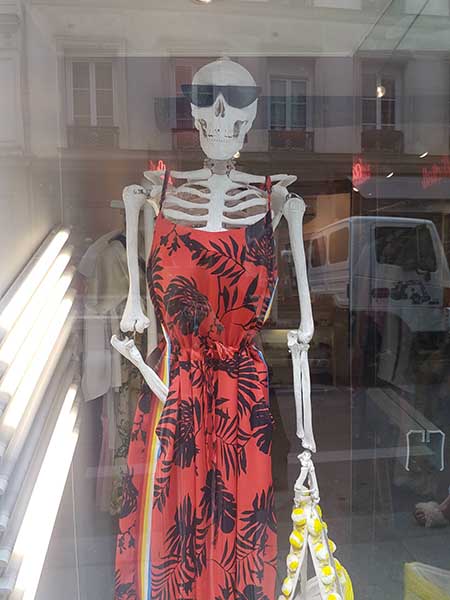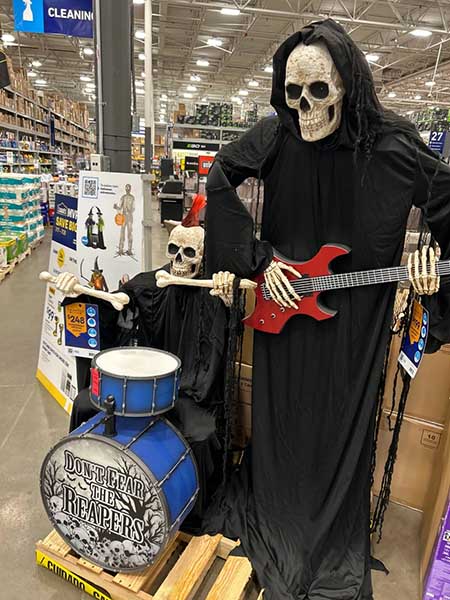 No room for a full skeleton? Skulls work just as well—and they take up less space. You can use them to display accessories like hats, sunglasses, or jewelry, or simply as a prop to add some Halloween spirit to your space.
12. Pumpkins
There are so many ways to incorporate pumpkins into your Halloween retail display ideas. Here are some to get you started:
Place jack-o-lanterns out front to welcome visitors—consider carving your logo into one of the designs.
Hang products from your pumpkins for product displays.
Put pumpkins on the heads of your mannequins.
Paint pumpkins to be your brand colors and place them around the store.
Use fake pumpkins and fill them with merchandise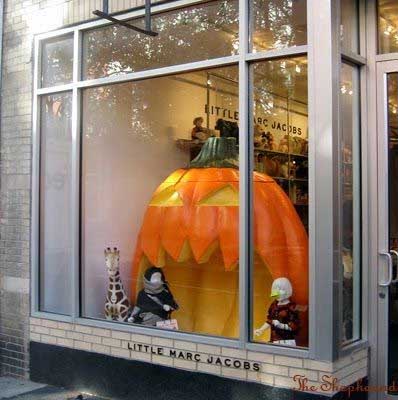 13. Ghosts
Ghosts are another seasonal fixture when it comes to Halloween, and they're easy to execute if you're on a DIY budget. All you need is some white sheets or pieces of posterboard and some scissors.
Just like with pumpkins, you can do a number of things with ghosts:
Hang white sheets over mannequins to turn them into ghosts.
Create scenes in your window displays with ghosts using your products.
Hang cutout ghosts from signage, walls, lights, and other areas throughout your store.
14. Witches
Witches make another excellent prop for your retail Halloween displays. Just like with ghosts, you can use them to create scenes showcasing your products in use. Or maybe they're more functional and point the way through your store. Throw a hat on your mannequin and call it a witch. You can also hang witch hats on lights and in other areas throughout your space layout.
15. Brooms
Witches don't just float around, they need a broomstick to fly on. For starters, if you sell brooms, consider making a Halloween-themed display around them. If you don't sell brooms, incorporate them into your Halloween retail displays more creatively. Maybe they act as wayfinding signage, or a prop for your mannequins to hold. You can also hang products from broomsticks in your window displays or in-store.
16. Mummies
Add mummies to your list of Halloween displays for stores that replace mannequins. You can even use your existing mannequins—simply wrap them up with some toilet paper and you're ready to go!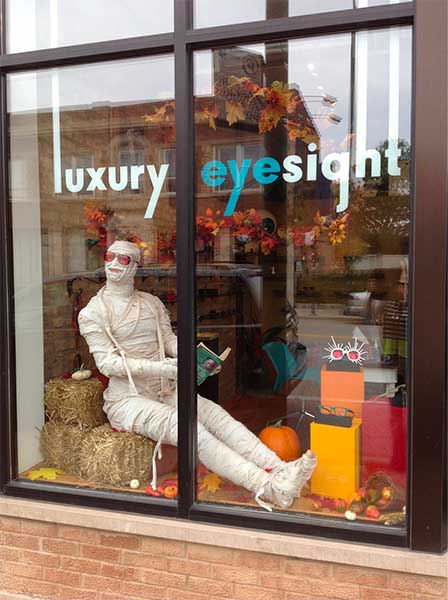 Frequently Asked Questions (FAQs)
Click through the questions below to get answers to some of your most frequently asked Halloween retail display questions.
Select a theme and pick out decorations that will help you execute it with cohesion. Props like cauldrons, pumpkins, ghosts, witches, brooms, mummies, spider webs, bats, and skeletons instantly create a Halloween vibe. Show these prominently on your window displays, but also make sure to add Halloween touches throughout your store.
---
Choose Halloween colors (orange, black, green, or purple); curate Halloween- and autumn-themed products; and decorate with window decals, string lights, and fog machines.
---
Organizing Halloween merchandise in your store involves categorizing products by theme and type. Use shelves, displays, and signage to clearly identify and separate Halloween items from your regular inventory. Ensure products are easily accessible to customers, and consider placing impulse buys strategically near checkout areas.
---
You can make Halloween decorations like cutout ghosts, witches, and tombstones from materials like white sheets, poster board, and cardboard. Paint pumpkins in your brand colors or design your own spooky decorations.
---
You should aim to roll out your Halloween displays early in the month of October. If Halloween merchandise is especially relevant to your brand (grocery store, costume supplies, home improvements store) you can bring it out in late September.
---
Bottom Line
Don't let Halloween slip by as just a prelude to the holiday shopping season. Embrace the spirit of this spooky celebration with these Halloween retail display ideas. By incorporating the right colors, themes, and products, and by using imaginative props and decorations, you can lure shoppers in who are getting a head start for the holidays or looking for some Halloween-themed retail therapy.