17 Retail Store Design Ideas to Increase Sales
Retail store design is everything a retailer does to set up their store, display products, and merchandise as a means to enhance their brand, drive sales, and foster a great customer experience. Store design is powerful and, if implemented well, can help grow your business and drive sales. Done poorly, on the other hand, it can be a real detriment and drive shoppers away.
This article will look at tips and tricks to help you master the art of store design, avoid the pitfalls that drive people away, and maximize your space.
1. Choose the Best Store Layout
Before you delve into your store's branding and visual merchandising, you have to lay the groundwork and select a store layout that will serve your business. Store layout refers to a strategic arrangement of permanent fixtures within a store designed to create a positive shopping experience and promote purchases.
To ensure that you are choosing the best layout for your specific business, you should define the needs and goals of your store layout at the onset of your design process. For example, a grocery store might implement a layout designed to hold and organize as much product as possible and facilitate an easy shopping experience. Meanwhile, a boutique might want to display fewer, curated items and create a more explorational shopping experience.
Choosing the right store layout is determined by the type of merchandise you sell, the amount of square footage you have, and how you want traffic to move through your space. Done with the right considerations, a store layout can drive your sales and create an enjoyable experience for your customers.
In general, there are six types of store layouts that you can choose from.
Retail Floor Plan

Best For

Example Store Design

Grid Floor Plans

Used in grocery, big box, and convenience stores

Shelf-stocked goods such as books, toys, specialty foods, hardware, and homewares

Loop Floor Plans

Used to maximize wall space and lead shoppers along a set pathway

Apparel, accessories, toy, homewares, kitchenware, personal care, and specialty retail stores

Free-flow/Mixed Floor Plans

Used in specialty and boutique settings

Apparel, accessory, personal care, specialty brand, and mixed-use stores like bakeries that also display packaged goods

Diagonal Floor Plans

Used to maximize employee visibility in retail stores with lots of product testing

Self-serve kiosks, tech, electronic stores, and beauty and cosmetic retailers

Forced-path Floor Plans

Used to guide shoppers through a predetermined path to expose them to every product

Furniture stores, home decor, experiential retail stores, and showrooms

Angular Floor Plans

Used to showcase curated or edited inventories in designer or specialty shops

Designers, artisans, high-end apparel and accessories retailers, and curated or limited collections
2. Carve Out Space for Daily Tasks
In addition to maximizing customer experience and shopability with your store layout, you should consider how you, the store owner, will use your space, so you remember to carve out areas for your daily tasks. For example, a clothing store should create space for storing backstock inventory and steaming and preparing goods for the floor. Meanwhile, a flower shop should consider including a prepping and pruning station for creating customer bouquets when laying out its space.
When implementing your retail store design, be sure to ask yourself what tasks will happen as part of store maintenance or management. Then, make sure you make space to accommodate those tasks.
Key concept: Creating a space that you and your staff can comfortably use to run your store is a huge part of making happy employees that stick around. You can learn more about employee retention with our guide on how to keep your top talent.
3. Keep Your Design On-brand
With your layout set, you can begin to think about the rest of your store design. A key part of effective retail store design is creating an aesthetic that is aligned with your brand. You want to be sure that your brand, or the emotions and ideas associated with your business, is reflected in the way your store looks. A disconnect between design and brand will confuse customers, make them unsure about what they can expect from you and, ultimately, deter their loyalty and spending.
On the other hand, when your brand and store design are in sync, you can strengthen customers' ability to identify and connect to your brand and business. This alignment will drive your sales and improve customer experience and perception.
You can find a great example of store design that reinforces the brand at Missouri's Bass Pro Shops. This outdoor and hunting retailer has designed its store with an extensive outdoor theme. Its over-the-top design perfectly aligns with its brand image and has helped raise the shop's bottom line and make it one of the state's top tourist attractions.
4. Create Exterior Appeal
Your retail store design doesn't stop inside. Remember, the exterior of your store—everything from your window displays to tour signage—is what will create the first impression on customers and attract people into your store. The goal of your store's exterior design is to entice passersby into your store to make a purchase.
Be bold with your exterior design and give people a taste of what they can expect from your business. Be sure you have clear and legible signage and consider advertising sales on your windows or even setting up a sale table or rack outside your storefront to attract attention.
You will also want to design your window displays to engage passersby. Use bright colors, innovative design, and smart product placement to create something effective and beautiful. You can check out our window display guide for more tips on designing your store window displays or scroll through some great examples below: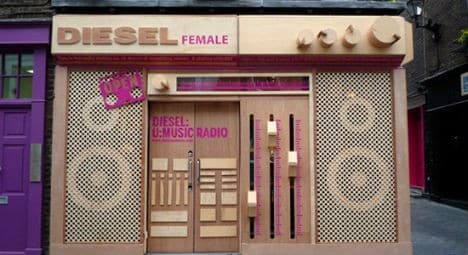 ---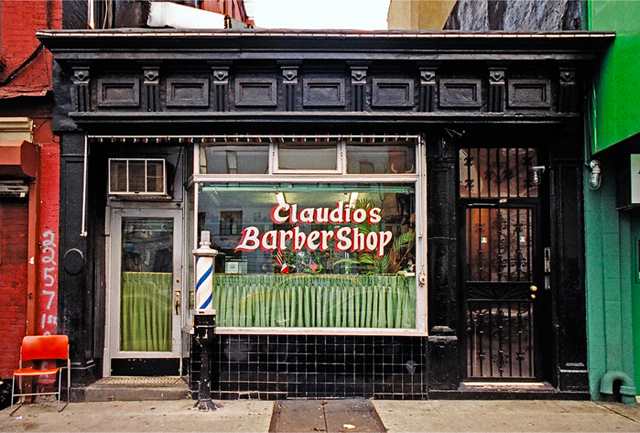 ---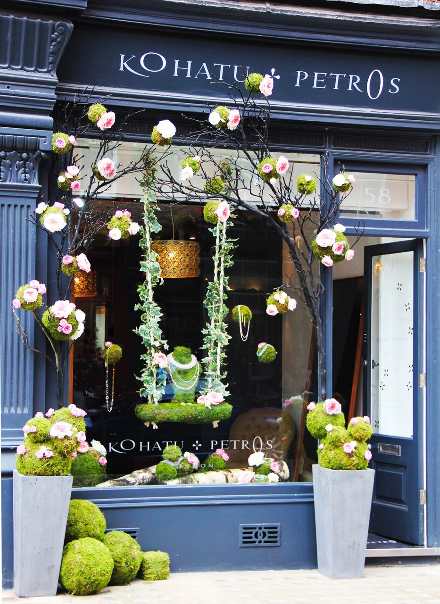 ---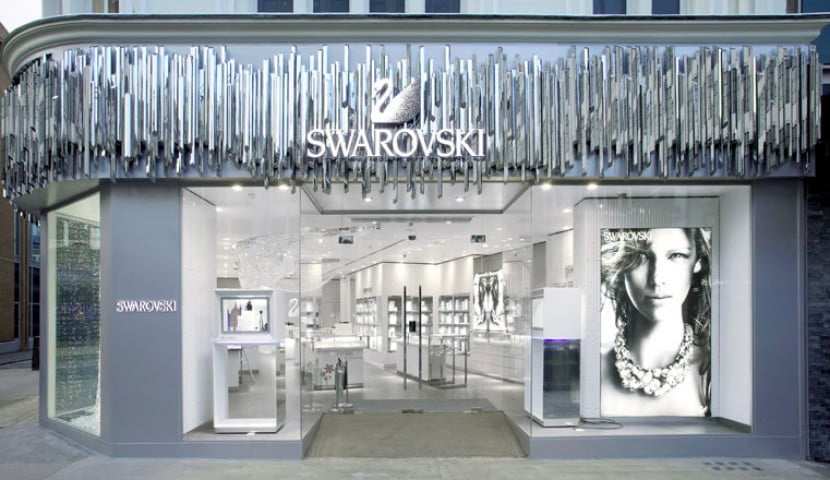 ---
5. Grab Attention With Digital Signage
Digital signs use LCD, LED, and Projection to display digital images and video, stream media, and display information. Because digital signage is still an emerging merchandising technique, it is a great tool to catch people's attention and engage customers. You can also consider incorporating interactive elements into digital signage such as motion activation or touch-screen monitors.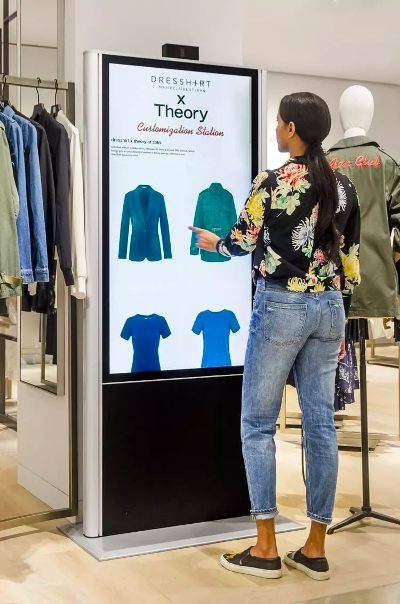 Digital signage is sure to attract attention, so place them strategically. Positioning them out front of your store or in your window displays will help to grab the attention of passersby and entice them into your space. Placing your digital signs in the back of your store, on the other hand, will draw existing customers' eyes to the back of your store and attract people to journey throughout your entire space for a closer look.
6. Add QR Codes
Another way that you can engage with customers digitally is through QR codes. Place them on products or shelf tags so customers can access product information, launch chats, play videos, or seamlessly transition an in-store shopper to an online ecommerce platform.
They can also be used to reveal discount codes, sign up for newsletters or product notifications, share contact information or social media platforms, or show store or product locations. Additionally, you can use them to engage with your customers and promote purchases. For example, consider placing them on your store windows to catch the attention of passersby or around items with lots of user information that can be pulled up on the web.
7. Use Displays to Make Your Products Shine
Displays are an excellent tool for showcasing products. When done properly, displays can save space, keep your store organized, and make products more enticing to your customers. For example, you can use displays to utilize vertical space, consolidate products, create endcaps, or fill tables and counter spaces. You can even use temporary POP (point-of-purchase) displays.
However, be sure you are not using displays that are too large and clutter your store. Too many or oversized displays can be visually overwhelming and distract from the products instead of highlighting them. I would recommend breaking your store into logical zones and limiting your displays to one per zone. Additionally, consider how your customers are browsing and navigating your store so that you leave enough space for easy shopping.
8. Create Focal Points
Focal points are display pieces in your store designed to draw the eye and guide customers through your space. Typically, you place focal points in key areas, such as at entrances, in high traffic areas, centrally, or within window displays. Focal points can be many different things—a cluster of mannequins, a POP display, or even a table filled with products—but they are necessary to create a visually exciting store and engage customers.
Think of your focal points as stepping stones for your store. Shoppers will instinctively gravitate toward them due to their visual appeal, so these points of interest will naturally guide people through your space. Place your focal points at all the areas you want customers to travel to, and be sure that they reflect the products and services in their designated spots.
Additionally, consider using these techniques to ensure that your focal points pack enough punch to really be central points in your store design:
Use bright colors: Using colors that are different from or brighter than the rest of your store's palette will help draw the eye.
Utilize height: People's eyes automatically gravitate toward high points, so use height to create a visual draw.
Be creative: Focal points do not necessarily have to be shoppable, so get creative with your displays.
Add dramatic lighting: Spotlights, uplighting, and contrast lighting will help create more visual appeal and draw the eye.
Break up monotony: If there is an area of your store that lacks diversity, use a focal point to create a more interesting look and draw customers in.
Here are a few great examples of focal point displays that create visual interest and act as touchstones to guide shoppers through a space.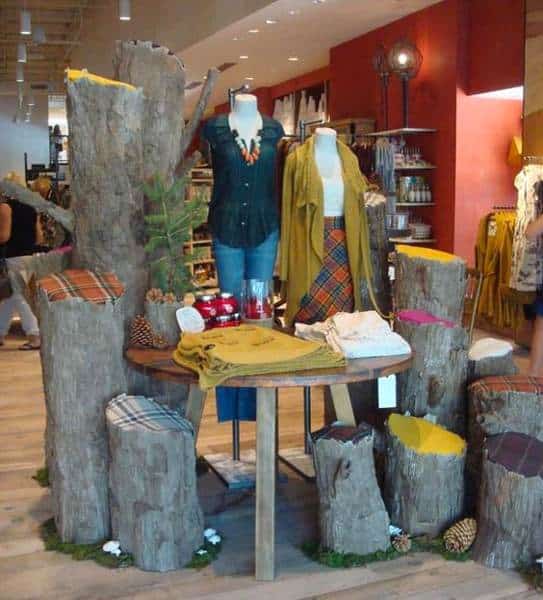 ---
---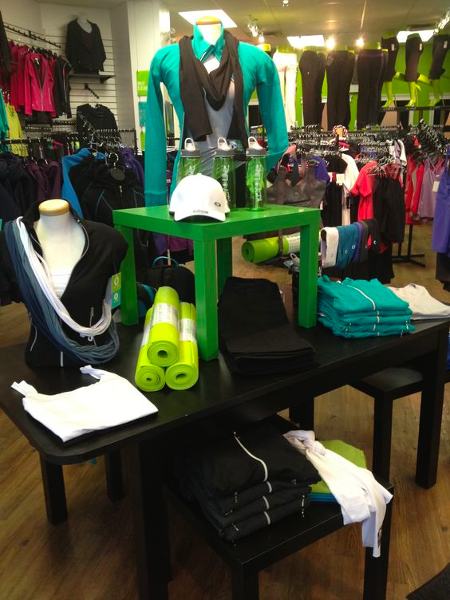 ---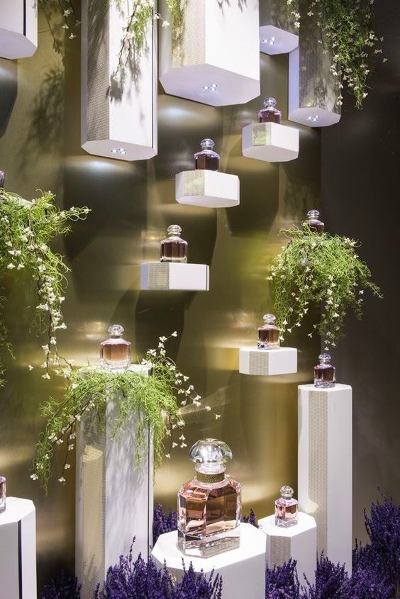 ---
9. Avoid Displaying Too Much Product
Clutter, or having too much product and decor, is the worst enemy of store design. It interferes with shoppers' ability to visually and physically move through your space and can make finding the things they are looking for seem impossible. Not only that, but a messy store can give the impression that your brand is neglectful and disorganized, leaving a bad taste in the mouths of shoppers.
To avoid the pitfalls of an overcrowded store, you should first determine the right amount of product for your space and business type. In general, higher-end stores should display fewer products and leave more unused floor space, as this will increase the perceived value of the merchandise. On the other hand, big-box or bargain stores should utilize every inch of space they have, as this will reinforce the perception that shoppers are getting a deal and will help sell more products.
The best thing you can do to determine the right amount of products for your business is to ask for second opinions. It can often be difficult to detect if things are cluttered when you are so familiar with your space, products, and design. Asking a friend or another associate to give you their impression of your space is a great way to get into the mind of a shopper and the experience they will have. Additionally, you can ask yourself whether there is anything you can remove without sacrificing visual appeal or product availability. If the answer is yes, remove it!
10. Use Products as Decor
One of the best ways to maximize the amount of merchandise on your floor without creating clutter or spending a boatload on decor is to use your products as decor. For example, at my boutique, we color-coordinated clothing on our racks, placed our candles on shelves in appealing patterns, and used hooks to hang hats on our walls and create wall displays.
This strategy allowed us to fit more product on the floor, appeal to customers through a visually exciting arrangement, and limit the need for decorative pieces. The biggest thing you will need to be careful of is balancing visual appeal with the shopability of the products. Pay attention to how high you are placing your products, and if people are inclined to shop your displays or are hesitant to disturb them.
Consider what items in your store could be used as decor, playing with different arrangements to see if they promote shopability and design interest. You can also look to Pinterest for inspiration on product-based decor ideas.
11. Utilize Smart Lighting
Lighting can make or break a retail store. It provides visibility, draws attention to certain products or areas, and helps create ambiance in your space. Using adequate and smart lighting will make the rest of your store design visible to customers and set the backdrop for everything else in your store.
In general, there are four types of retail store lighting, and you should be utilizing them all to ensure your space is well lit and that you are maximizing and guiding visibility.
Ambient lighting: Main lighting source for your store that will be the backdrop on which you will layer other kinds of lighting. Ambient lighting should reach every corner of your store.
Accent lighting: Used to highlight specific products or key areas, indicating their importance and drawing the eye. Accent lighting helps to guide customers to key products or areas by increasing their visibility or accentuating them.
Task lighting: Supplemental sources that illuminate where tasks are being done, like at your register or in fitting rooms.
Decorative lighting: Lighting features that serve an aesthetic rather than utilitarian purpose. Decorative lighting can be used to add embellishment to your space or to add to the ambiance of your storefront.
12. Create Picture-worthy Elements to Build Your Online Presence
It's no secret that social media is a powerful tool for growing your business, and you can use store design to promote social media engagement by creating decorative elements that can be used for photo ops. Picture-worthy store features will encourage social shares or organic promotions done by real people sharing with their personal audience.
Features like a plant wall, a fun light display, large mirrors, an accent wall, lit signage, or items that people can use for props are great ways to get shoppers snapping photos and sharing your business on social media.
When placing your photo area, you want to put your photo design feature toward the back of your store to force people to walk through your entire space to arrive at the picture spot. You also want to be sure that you allow for plenty of photographing space. If you do not have room inside of your storefront, consider putting your photo op feature outside.
Take the Paul Smith store in Los Angeles for example. You have likely heard of or seen pictures of the art gallery's famous Pink Wall. The wall has driven millions of visitors to the Paul Smith store, making it a staple photo and shopping destination for tourists and influencers alike.
13. Add Seating to Create a Comfortable Space
In addition to making your space shoppable, you should seek to make it comfortable for both shoppers and accompanying parties. Adding seating to your store will provide people with a place to relax and can even make them stay longer. In my own experience of running a store, our seating options were primarily used by partners and friends accompanying the shoppers. With a comfy place for their accompanying party to sit, the customer was able to spend more time in the store without having to worry about their companions.
When creating seating spaces, you should also think about where people are going to want to sit within your space. Typically, you want to steer clear of entryways, as this creates clutter and interrupts the decompression zone while placing shoppers in front of potentially drafty doorways. Rather, position your seating toward the back of your store to prompt people through your space and provide a place to sit and review shopping decisions.
Additionally, you should consider where seating might facilitate easier shopping. For example, if you host fitting rooms, you should provide seating in the immediate vicinity so companions have a place to sit and review their friends' try-on selections. Alternately, if people will be trying on shoes, provide benches near the shoe selection for them to use when lacing up.
14. Showcase Local Artists to Appeal to Your Community
Another retail store design technique that you can use to bolster your appeal to customers is to partner with local artists in your community and showcase their work in your store. This is a great way to show your customers that you care about your community and stand out from your competition.
Now more than ever, customers want the businesses they interact with to participate in social justice and bettering their communities. In fact, a study from Porter Novelli found that 59% of American consumers say it is unacceptable for companies to avoid social justice issues. Getting involved in your community and lifting local artists and artisans up is a great way to demonstrate to your customer base that you care about your community and are striving to connect.
15. Incorporate Wayfinding in Large Spaces
Wayfinding refers to signage or store design that helps people navigate through a space. In general, you use wayfinding techniques to make your store easier to navigate, share important information, and keep shoppers safe.
Think of a lined pathway, arrows pointing you where to go, or informational maps that help you orient yourself and find your way through a facility—that's wayfinding. You typically find wayfinding in large spaces, like warehouses or multilevel stores, helping boost product visibility. In smaller storefronts, wayfinding interrupts and distracts from the shopping experience.
In general, there are four types of wayfinding that you can incorporate into your retail store design:
Identification: This is wayfinding signage that lets people know where they are by identifying the area or destination. Aisle signage, department banners, and any other type of signage that marks a location is considered identification wayfinding.
Informational: These signs give broad information about the facility and include things like directories or informational pamphlets.
Directional: These are wayfinding signs that help people navigate your facility and get to where they are going. Typically, this looks like facility maps or junction signage.
Regulatory: This is wayfinding signage that establishes and reinforces rules, safety standards, and privacy expectations. Do not enter, staff only, or emergency protocol information are all a part of regulatory wayfinding.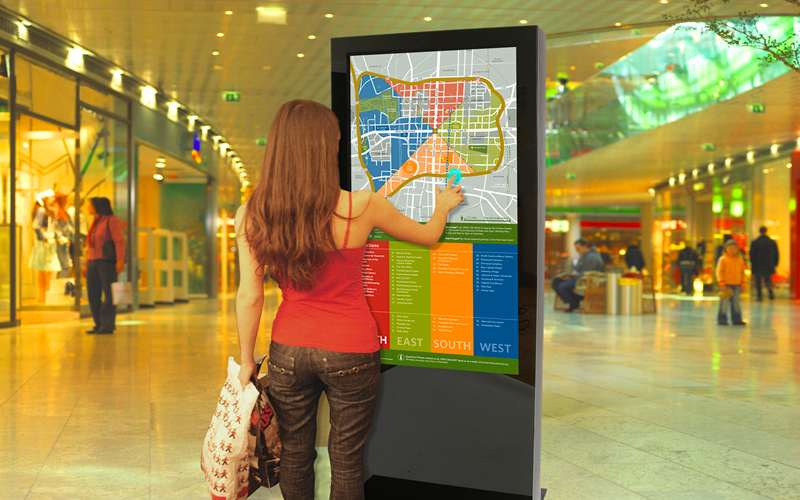 ---

---
---
16. Keep Up With the Seasons
For your retail store design to stay relevant to your customers, it should evolve with the seasons. This will not only help your business seem more connected to the real lives of your customers but also allow you to capitalize on seasonal buying potential such as winter holidays. In general, you will want to match your store's design with each of the four seasons, and then within that season, add holiday elements as they come.
For example, at my store, we did a big store redesign for spring, incorporating flowers, pastels, and other spring-inspired elements. Then, when Easter, Mother's Day, and St. Patrick's Day came to pass, we layered design features for those particular holidays over our spring decor. This helped us sell through seasonal and holiday-specific decor more easily and keep our stores fresh month over month.
Choose seasonal decor that will last year after year so that you don't break the bank. Also consider using elements that are versatile and can be used in multiple seasons, such as vases, power walls, and push-pin boards.
17. Play Music to Set the Store Mood
In addition to engaging your customers visually, your merchandising strategy is not complete without engaging your shoppers' auditory sense. Like lighting, the music you select enhances your space's ambiance and impacts how customers perceive your brand.
There are two major items to consider when selecting music for your store. First, you will want to evaluate the mood your music creates and how that speaks to your overall brand. Second, you will want to think about how your music choice aligns with your products, as a strong alignment can drive your sales, according to some retail studies.
Music should not be disruptive and should speak to the way you want customers to feel when experiencing your business—elevator music versus pop is going to evoke very different atmospheres and emotions from your customers. Your music choices can even go so far as to impact how long shoppers stay in your store and how your staff feels when working there.
Additionally, your music choice can become a sales driver when it aligns with your products. A study from the Journal of Retailing and Consumer Services reviews decades worth of research that shows how music impacts customers' perceptions of a business and how long they stay in a store; additionally, that research shows that, when used appropriately, music can increase customer purchasing.
Examples of Effective Retail Store Design in Different Industries
In this section, we will look at four examples of effective retail store design and the ways it shapes a retail space.
Described as part bookstore and part art gallery, The Last Bookstore uses store design to create a whimsical and old-timey book shop in downtown Los Angeles. Using strong thematic elements, it promotes a sentimental and homey appeal, setting it apart from competitors.
It also creates photo-worthy features—like its arch of books, pictured below. Its photo-ready appeal has made The Last Bookstore one of the most shared bookstores in the world on social media. Additionally, it uses its product as its primary decor element to avoid cluttering its small space.
Also a California-based brand, Erewhon Market is a luxury, organic grocery store. It has managed to create a spot for itself in the competitive grocery market using sleek and elegant design elements (like warm contrast lighting and minimal and modern design), keeping its product selection light, and using its exceptional produce as decor. Its design appeals to its target market (luxury grocery shoppers) and draws them to its stores.
Pilot and Powell is a luxury clothing brand in New Orleans. The storefront uses bright and airy design so that clothing is the star of its space. There are only a few focal points that help guide customers through the space and promote exploration. It also carves out a seating area for companions to view their friends' try-on clothes.
Keeping things minimal, chic, and girly has allowed the boutique to harness its brand and draw customers into the shop.
ABC Stores is a convenience store chain in Hawaii especially prominent in the tourist industry for providing beach supplies and other Hawaiian necessities. The local chain uses beach-inspired design, wide entryways, and lots of exterior appeal. This helps make it clear that what it provides is aligned with the look and feel of a Hawaiian vacation.
Bottom Line
Creating a beautiful, on-brand, and engaging retail store design is a key part of starting your retail business. You want to be sure that it fosters a positive customer experience, drives sales, and reinforces your brand. Following the tips outlined above will set you on the right track for creating a store design that is effective and visually appealing so that your business can thrive.