27 Best Retail Store Design Ideas to Increase Sales
Retail store design is everything a retailer does to set up their space when running a retail business. This includes determining the store layout, displaying products, and merchandising. The best retail store design is powerful and, if implemented well, can help grow your business and drive sales. Done poorly, on the other hand, it can be a real detriment and drive shoppers away.
This article will look at tips and tricks to help you master the art of store design, avoid the pitfalls that drive people away, and maximize your space.
1. Use Grid Floor Plans for Shelf-stocked Goods
Store layout refers to a strategic arrangement of permanent fixtures within a store designed to create a positive shopping experience and promote purchases. The right store layout is determined by the type of merchandise you sell, the amount of square footage you have, and how you want traffic to move through your space. With the right considerations, store layout can drive your sales and create an enjoyable customer experience.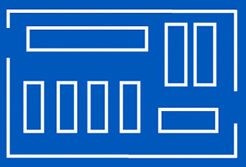 To ensure you're choosing the best layout for your specific business, you should define the needs and goals of your store layout at the onset of your design process. For example, a grocery store might implement a grid layout (shown above) designed to hold and organize as many products as possible and facilitate an easy shopping experience. This also works well for shelf-stocked goods such as books, toys, specialty foods, hardware, and homewares.
2. Approach Your Space as a Gallery
An angular floor or free-flow/mixed floor plan (shown below) can showcase curated or edited inventories in designer or specialty shops. This works well for designers, artisans, high-end apparel and accessories retailers, and curated or limited collections. It can also apply to mixed-use stores like bakeries that also display packaged goods.
A boutique, for example, might want to display fewer, curated items and create a more explorational shopping experience, similar to what it may feel like browsing through an art gallery.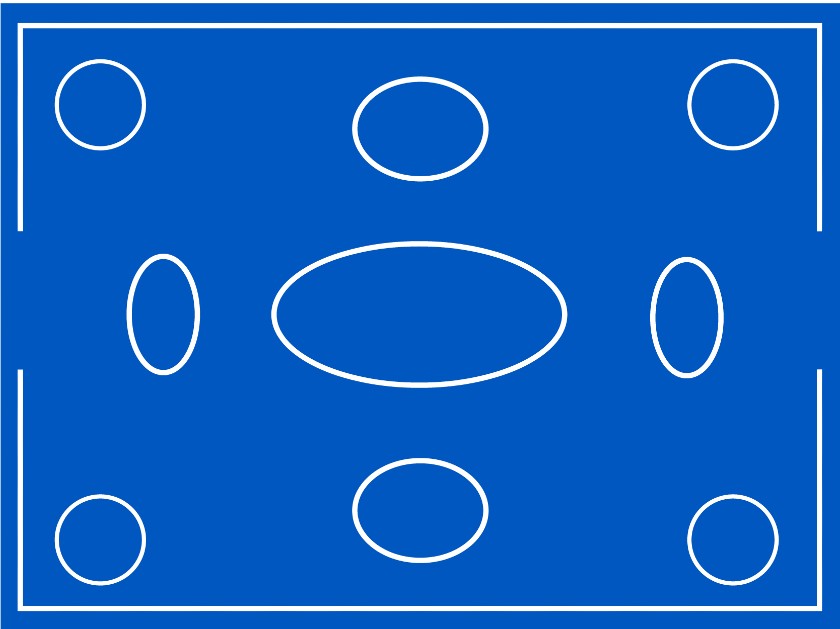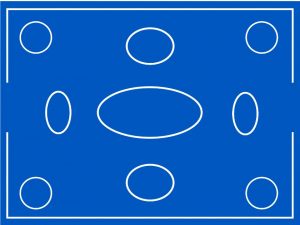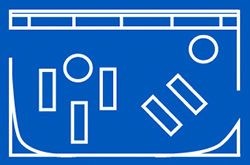 3. Use a Loop Floor Plan to Maximize Wall Space
A loop floor plan (shown below) helps maximize wall space and lead shoppers along a set pathway. It's ideal for stores selling apparel, accessories, toys, homeware, kitchenware, personal care products, and specialty retail items.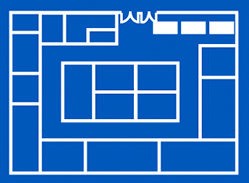 4. Set Your Store Up for Showrooming
Showrooming is when you use your physical retail space to display products. Customers may or may not make the purchase in-store. In many cases, in-store purchases are fulfilled at a later date (often via delivery).
This model is typical for furniture stores, home decor, and experiential retailers. Forced-path floor plans (shown below) work well in these scenarios, guiding shoppers through a predetermined path to expose them to every product.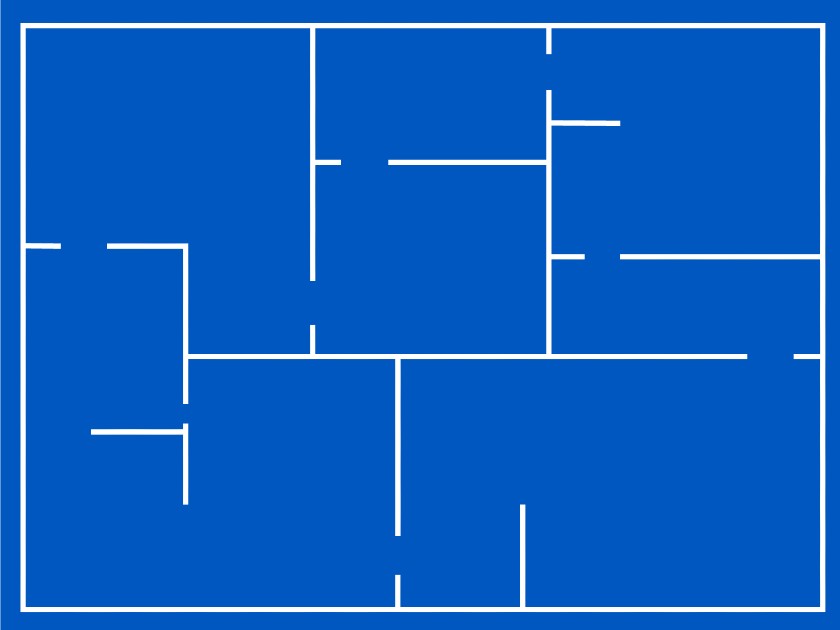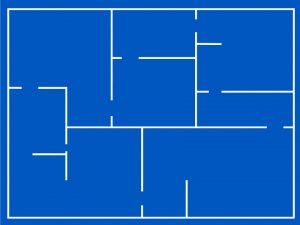 Related: What Is a Shopper Profile: 8 Types of Shoppers
5. Show What Goes on Behind the Scenes
Give shoppers a peek into how your products are made. LEMLOREN, a high-end designer fashion boutique in Aguada, Puerto Rico, is more than just a retail store. It also offers workshops and classes for those interested in learning more about fashion design and how to sew. In fact, most of its designs are handmade on-site.
6. Create Eye-catching Creative Window Displays
Your retail store design starts outside with your window displays. The exterior of your store creates the first impression and should entice passersby into your store.
Use bright colors, innovative design, and smart product placement to create something effective and beautiful.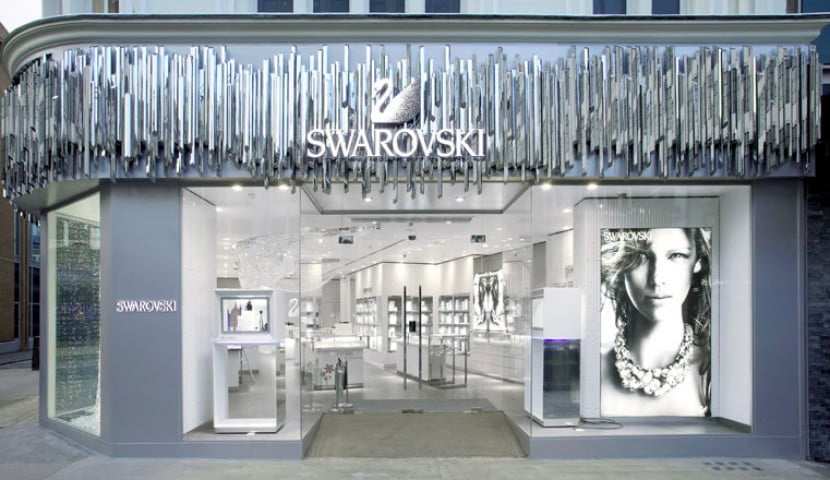 ---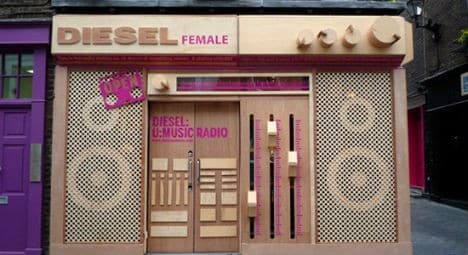 ---
Be bold with your exterior design and give people a taste of what they can expect from your business.
7. Grab Attention With Digital Signage
Digital signs use LCD, LED, and Projection to display digital images and video, stream media, and display information. You can also incorporate interactivity, such as motion activation or touch-screen monitors.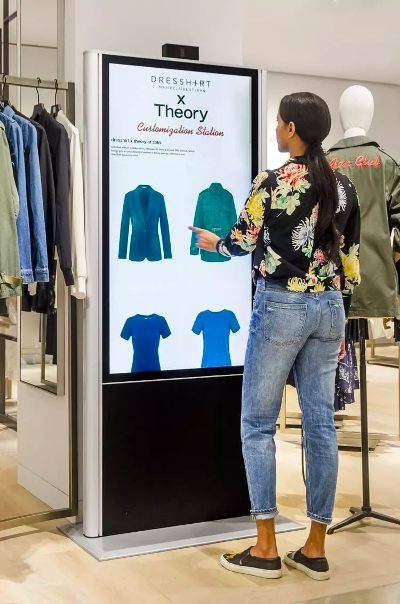 Digital signs are sure to attract attention, so place them strategically. Positioning them out front of your store or in your window displays will help grab attention and lure foot traffic. Placing your digital signs in the back of your store, on the other hand, will draw existing customers' eyes there and encourage them to come for a closer look.
8. Add QR Codes
Another way you can engage with customers digitally is through QR codes. Place them on products or shelf tags so customers can access product information, launch chats, and play videos. QR codes can also reveal discount codes, newsletter signups, product notifications, contact information, social media platforms, or store/product locations. They can also be used to seamlessly transition an in-store shopper to an online ecommerce platform.
Consider placing them on your store windows to catch the attention of passersby or around items with lots of user information that can be pulled up on the web.
9. Use Displays to Make Your Products Shine
Displays are an excellent tool for showcasing products. When done properly, displays can save space, keep your store organized, and make products more enticing to your customers. For example, you can use displays to utilize vertical space, consolidate products, create endcaps, or fill tables and counter spaces. You can even use temporary POP (point-of-purchase) displays.
Avoid going overboard. Too many or oversized displays can be visually overwhelming and distract from the products instead of highlighting them. Break your store into logical zones and limit your displays to one per zone. Additionally, consider how your customers are browsing and navigating your store so that you leave enough space for easy shopping.
10. Create Focal Points
Focal points are display pieces in your store designed to draw the eye and guide customers through your space.
Think of your focal points as stepping stones for your store. Shoppers will instinctively gravitate toward them due to their visual appeal, so these points of interest will naturally guide people through your space. Place your focal points at all the areas you want customers to travel to, and ensure they reflect the products and services in their designated spots.
Here are some tips for your focal points:
Use bright colors: Using colors that are different from or brighter than the rest of your store's palette will help draw the eye.
Utilize height: People's eyes automatically gravitate toward high points, so use height to create a visual draw.
Be creative: Focal points do not necessarily have to be shoppable, so get creative with your displays.
Add dramatic lighting: Spotlights, uplighting, and contrast lighting will help create more visual appeal and draw the eye.
Break up monotony: If there is an area of your store that lacks diversity, use a focal point to create a more interesting look and draw customers in.
Here are a few great examples of focal point displays that create visual interest and act as touchstones to guide shoppers through a space.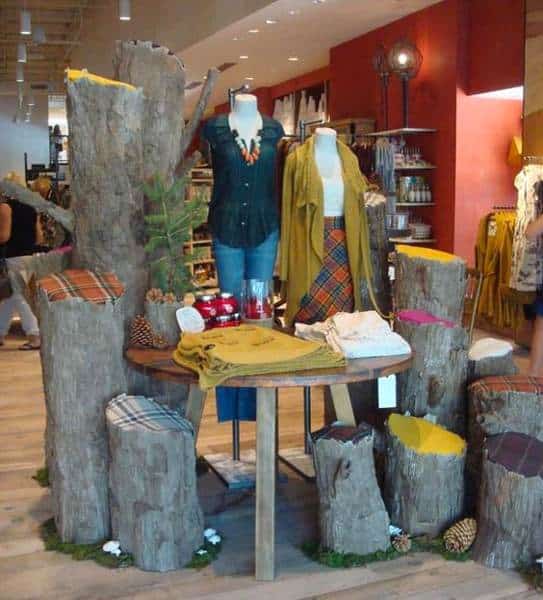 ---
---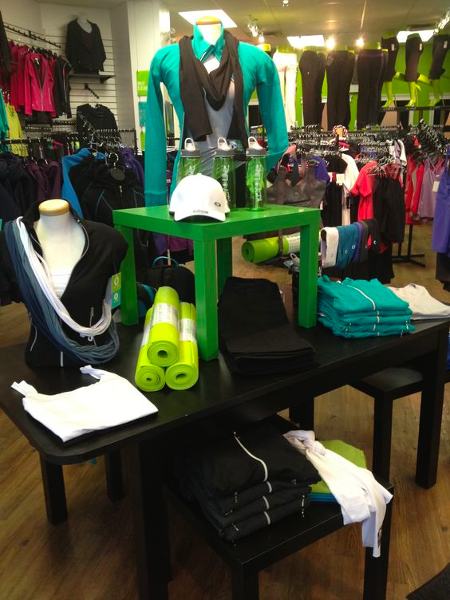 ---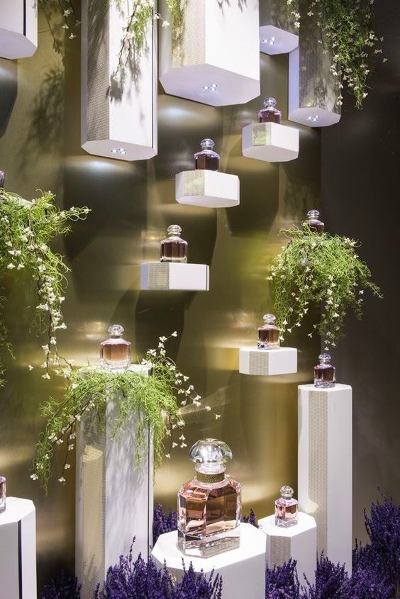 ---
11. Avoid Displaying Too Much Product
Clutter is the worst enemy of store design. It interferes with shoppers' ability to visually and physically move through your space and can make finding items difficult. Plus, a messy store can give the impression your brand is neglectful and disorganized.
To avoid the pitfalls of an overcrowded store, you should first determine the right amount of product for your space and business type. In general, higher-end stores should display fewer products and leave more unused floor space, as this will increase the perceived value of the merchandise. On the other hand, big-box or bargain stores should make use of every inch of space they have, as this will reinforce the perception that shoppers are getting a deal.
12. Use Products as Decor
One of the best ways to maximize the amount of merchandise on your floor without creating clutter or spending money on store decoration is to use your products instead. For example, at my boutique, we color-coordinated clothing on our racks, placed our candles on shelves in appealing patterns, and used hooks to hang hats on our walls and create wall displays.
This strategy allowed us to fit more product on the floor, appeal to customers through a visually exciting arrangement, and limit the need for decorative pieces. The biggest thing you will need to be careful of is balancing visual appeal with the shopability of the products. Pay attention to how high you are placing your products, and if people are inclined to shop your displays or are hesitant to disturb them.
Consider which items in your store could function as decor, playing with different arrangements to see if they promote shopability and design interest. You can also look to Pinterest for inspiration on product-based decor for shop design ideas.
13. Get the Right Lighting
Lighting can make or break a retail store. Using adequate and smart retail lighting will make the rest of your store design visible to customers and set the backdrop for everything else in your store.
In general, there are four types of retail store lighting, and you should be utilizing them all to ensure your space is well-lit and that you are maximizing and guiding visibility.
Ambient lighting: Main lighting source for your store that will be the backdrop on which you will layer other kinds of lighting. Ambient lighting should reach every corner of your store.
Accent lighting: Used to highlight specific products or key areas, indicating their importance and drawing the eye. Accent lighting helps to guide customers to key products or areas by increasing their visibility or accentuating them.
Task lighting: Supplemental sources that illuminate where tasks are being done, like at your register or in fitting rooms.
Decorative lighting: Lighting features that serve an aesthetic rather than utilitarian purpose. Decorative lighting can be used to add embellishment to your space or to add to the ambiance of your storefront.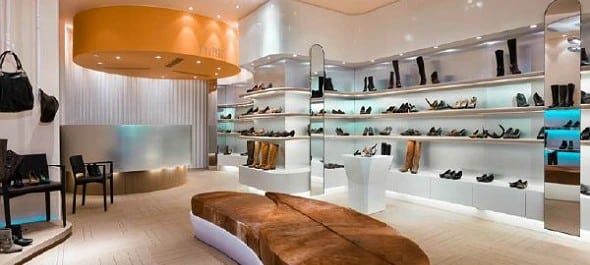 14. Create Picture-worthy Elements to Build Your Online Presence
Picture-worthy store features will encourage social shares or organic promotions done by real people sharing with their personal audiences.
Features like a plant wall, a fun light display, large mirrors, an accent wall, lit signage, or items that people can use for props are great ways to get shoppers snapping photos and sharing your business on social media.
When placing your photo area, you want to put your photo design feature toward the back of your store to force people to walk through your entire space to arrive at the picture spot. You also want to be sure that you allow for plenty of photographing space. If you don't have room inside your storefront, consider putting your photo op feature outside.
Take the Paul Smith store in Los Angeles, for example. The art gallery's famous Pink Wall has driven millions of visitors, making it a staple photo and shopping destination for tourists and influencers alike.
Part bookstore and part art gallery, The Last Bookstore also uses store design to create an Instagram-worthy space. Its arch of books and overall photo-ready appeal has made The Last Bookstore one of the most shared bookstores in the world on social media.
15. Add Seating to Create a Comfortable Space
Seating provides people with a place to relax and can even make them stay longer. In my own experience, seating options are often used by partners and friends accompanying the shoppers. With a comfy place for their accompanying party to sit, the customer was able to spend more time in the store without having to worry or feel rushed.
Think about where people are going to want to sit within your space. Steer clear of entryways, as this creates clutter and interrupts the decompression zone while placing shoppers in front of potentially drafty doorways. Rather, position your seating toward the back of your store to prompt people through your space and provide a place to sit and review shopping decisions.
Also, consider where seating might facilitate easier shopping. For example, if you have fitting rooms, provide seating nearby, so people have a place to sit and review try-on selections. Alternately, if people will be trying on shoes, provide benches near the shoe selection for them to use when lacing up.
16. Showcase Local Artists to Appeal to Your Community
Partner with local artists in your community and showcase their work in your store. Getting involved in your community and lifting local artists and artisans up is a great way to demonstrate to your customer base that you care about your community and are striving to connect. Plus, it puts your store in front of those artisans' audiences.
17. Incorporate Wayfinding in Large Spaces
Wayfinding refers to signage or store design that helps people navigate through a space. In general, you use wayfinding techniques to make your store easier to navigate, share important information, and keep shoppers safe.
Think of a lined pathway, arrows pointing you where to go, or informational maps that help you orient yourself and find your way through a facility—that's wayfinding. You typically find wayfinding in large spaces, like warehouses or multilevel stores, helping boost product visibility. In smaller storefronts, wayfinding interrupts and distracts from the shopping experience.
---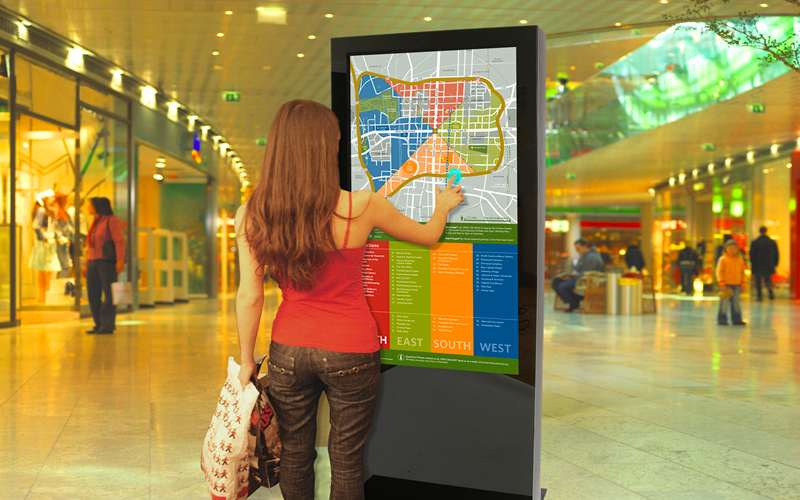 ---

---
18. Keep Up With the Seasons
Evolving with the seasons makes your store appear more connected to the real lives of your customers and allows you to capitalize on seasonal buying potential, such as winter holidays. In general, you'll want to match your store's design with each of the four seasons, and then within that season, add holiday elements as they come.
For example, at my store, we did a big store redesign for spring, incorporating flowers, pastels, and other spring-inspired elements. Then, when Easter, Mother's Day, and St. Patrick's Day came to pass, we layered design features for those particular holidays over our spring decor. This helped us sell through seasonal and holiday-specific decor more easily and keep our stores fresh month over month.
Choose seasonal decor that will last year after year so you don't break the bank. Versatility across seasons and holidays is key; look for things such as vases, power walls, and push-pin boards.
19. Complement Retail Store Design With Music
Like lighting, the music you select enhances your space's ambiance and impacts how customers perceive your brand. Additionally, your music choice can become a sales driver when it aligns with your products. Research shows music impacts customers' perceptions of a business and how long they stay in a store—and, when used appropriately, music can increase purchasing.
Music shouldn't be disruptive and should speak to the way you want customers to feel when experiencing your business—elevator music versus pop is going to evoke very different atmospheres and emotions from your customers. Your music choices can even go so far as to impact how long shoppers stay in your store and how your staff feels when working there.
20. Cross-merchandise to Boost Average Basket Size
Visual merchandising should involve more than pretty product displays. You want to devise a strategy for your merchandising that will help you meet business goals. One goal many retailers share is the aim to increase the average basket size or average transaction value. In other words, smart small store design looks for ways to get shoppers to spend more money with them.
One way to do this is with strategic cross-merchandising in your displays. This involves displaying products from different categories together to encourage customers to add these additional items to their purchase.
Stores selling apparel and accessories might display a ready-to-wear outfit on a mannequin, meant to promote shoes, a dress, a handbag, and a necklace. This might inspire someone who only intends to buy the dress to add something else to their purchase, seeing how good they look styled together.
Other cross-merchandising retail space design ideas could include displaying milk next to prepackaged cookie dough, sunscreen with face cream, or a sponge with dishwashing liquid.
21. Add the Option for Self-checkout
A diagonal floor plan (shown below) works well for stores that cater to a lot of self-checkout transactions. These floor plans also maximize employee visibility in retail stores with lots of product testing. They work well for stores selling technology, electronics, and beauty and cosmetics products.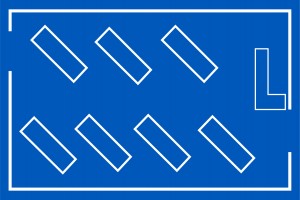 22. Design a Space for Online Orders
Click and collect or buy online, pick up in-store (BOPIS) saw a spike with the onset of the COVID-19 pandemic, and buyers continue to take advantage of this convenient shopping option.
Many retailers can design their space with these shoppers in mind. They're looking for convenience—block off parking spaces, offer a separate checkout line, or even invite those customers to come out back to the warehouse to pick up their orders there—whatever works for your space.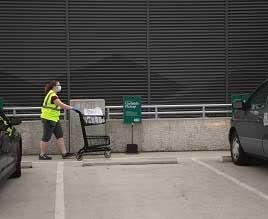 23. Clear Over Clever for Your Storefront Sign
While it's fun to flex your creative muscle, there are some areas where the adage "clear over clever" rings true. This is very much the case when it comes to your main sign and storefront ideas. While it should have an appealing and on-brand aesthetic, it also needs to be legible and easy to see. After all, this is how people are going to locate your store. It's important to get this right, as you won't have many second chances.
24. Use Virtual Fitting Rooms
Virtual fitting rooms are mirrors that use augmented reality (AR) or artificial intelligence (AI) to allow customers to virtually try on products without physically touching the items themselves. The technology creates a live image of the customer in the piece of clothing so that they can check its size, style, and fit. This is typically used for clothing, footwear, and beauty products.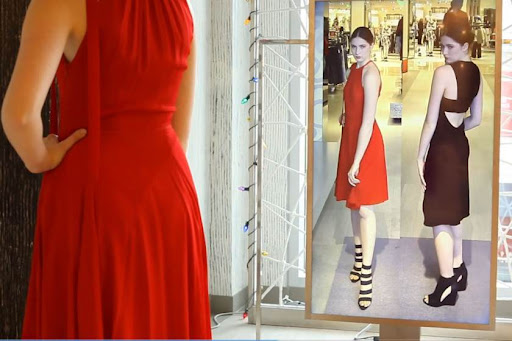 A woman sees what she could look like in both a black and red dress using AR imaging.
Because they're virtual, these fitting rooms don't have to be rooms at all. You can place the mirrors anywhere in your store, without worrying about privacy or having to create a barrier.
25. Add a Gift Wrapping Station
Gift wrapping is a great way to offer a value-add for in-store shoppers. This can be a year-round installation or a seasonal Christmas retail display idea. Consider using beautiful but subtly branded gift wrapping to boost brand awareness and recognition.
26. Pick a Theme Relevant to Your Brand
Sometimes you need a theme to get the creativity flowing. A theme can create synergy with your design and an experience for shoppers.
Missouri's Bass Pro Shops has designed its store with an extensive outdoor theme, very relevant to its brand. Its over-the-top design perfectly aligns with its brand image and has helped raise the shop's bottom line and make it one of the state's top tourist attractions.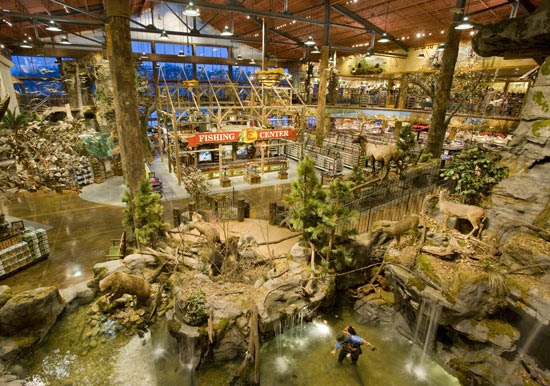 27. Keep the Space Flexible
Your retail store doesn't have to be a place of transactions. You can create an inviting, welcoming, and multifunctional space.
Mantra Lovers, a retail boutique with locally curated artisanal goods in Aguadilla, Puerto Rico, uses its space for more than just selling goods. The shop also doubles as a place for yoga classes, reiki healing sessions, and Tarot readings. As such, many of its tables, stands, and displays are on wheels—making it easy to transform the store into a multifunctional venue with a variety of streams of revenue.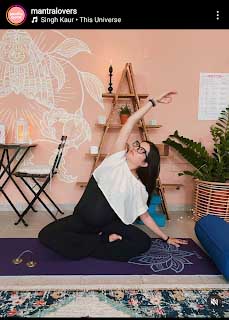 Bottom Line
Creating a beautiful, on-brand, and engaging retail store design is a key part of starting your retail business. You want to be sure that it fosters a positive customer experience, drives sales, and reinforces your brand. Taking inspiration from the retail store design ideas outlined above will set you on the right track for creating a store design that is effective and visually appealing so that your business can thrive.