Cash Wraps (aka Cash Wells and Checkout Counters) are the most heavily used piece of furniture in a retail store. Picking the perfect cash wrap for your small business is essential for encouraging a buying psychology among your clients, creating an efficient work area for your employees, and making a positive final impression on your customer.
We did the the research. We talked to the pros. In this article, we'll give you all the info you need to choose and purchase a cash wrap.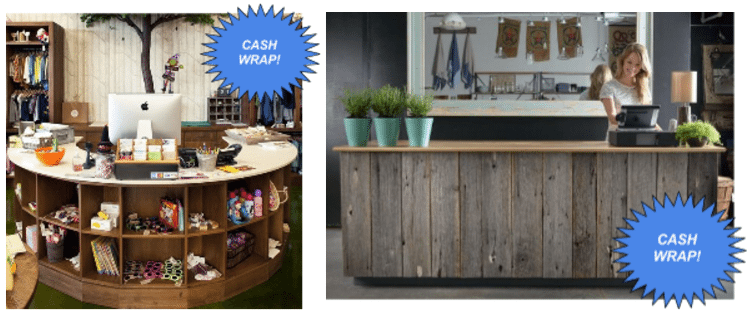 The cash wrap is your customer's point of purchase. It is your point of sale. At Fit Small Business, we believe that any business owner concerned with a great cash wrap should also find a great POS system. We recommend the powerful, intuitive, affordable Lightspeed POS.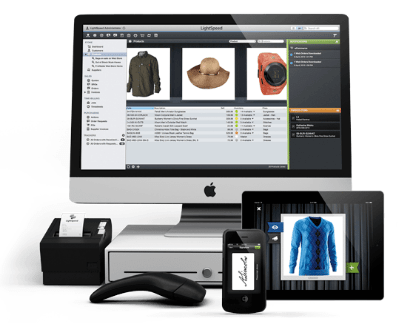 Try Lightspeed POS for free today, or check our complete POS Buyers Guide.
Where to Find the Right Cash Wrap and When to Order It
There are many manufacturers and suppliers of cash wraps. Knowing who will best meet your needs and when to place your order is crucial.
Some manufacturers will make variations of a couple standard models with little room for customization. Others will offer many variations on many models. Others still will build completely custom cash wraps to fit your store and brand.
Some smaller cash wraps will be delivered fully assembled. Others will be delivered in pieces and require assembly (just like any furniture from Ikea). While simpler cash wraps can be assembled yourself, many will require the expertise of a contractor, especially if there are lighting, electrical, or specialty glass elements incorporated in the cash wrap.
Ordering a mass produced, easily installed cash wrap is more like ordering a desk or bookcase. There aren't too many moving pieces to consider and, in fact, you can order many cash wraps on Amazon or similar sites:
Custom Cash Wraps
However, if you're looking to have your cash wrap custom made to order by one of the many manufacturers, there are more things to consider. First, depending on the manufacturer, fabrication times can run anywhere from 3 – 10 weeks. This means planning for a delivery and installation that may be 1 – 2 months out.
The next thing you need to keep in mind is that your don't want a remodel or installation happening during your busy season. Most traditional retailers will have their busiest season start a little before Thanksgiving and run through the end of the holiday season. Other retailers will rely on seasonal traffic like summer tourists or school schedules. The key thing to remember is to plan for changes to your cash wrap during low foot traffic seasons.
Once you have a timeline that works for you and you've identified a manufacturer that is producing products that you like, you're ready to place an order. Manufacturers of custom order cash wraps can offer you a lot of guidance, but you should be ready with a few things before you reach out to them.
As Bill Johnson from Newood Display Fixture MFG. Company  explained, "You need to have a good idea of your store layout, dimensions, and space available for the cash wrap already. Manufacturers can help you with some of the layout details, but most clients already know where they want to put their cash wrap and how much room they have to spare."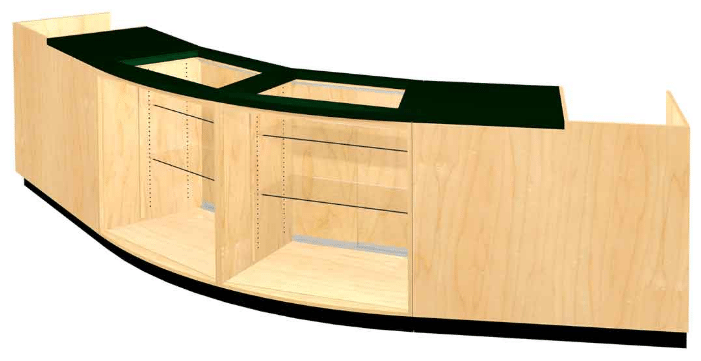 Your manufacturer will give you lots of expert advice regarding the best features and materials for your cash wrap. "For example," Bill Johnson said, "If your cash wrap needs to be able to take some abuse, you can go with stone or corian. Those will have larger upfront costs but really last. Another option is a high pressure laminate. That's cheaper but might need resurfaced occasionally to keep it looking its best."
At the end of the day, there's no one-size-fits-all cash wrap solution.
While a clothing retailer might want a larger cash wrap to accommodate multiple POS stations and have room for gift wrapping and returns, that might not be right for every business. In fact, many salons and spas would be wise to pick something very different.
"Salons and spas should keep in mind that cash wrap areas should be kept smaller, unless it includes display areas for more product sales," said Miriam Deckert, Marketing Director at SalonSmart. "Also, customers need an area to place their purses and shopping bags when paying for their items and services. You probably want at least one locking drawer to protect valuables."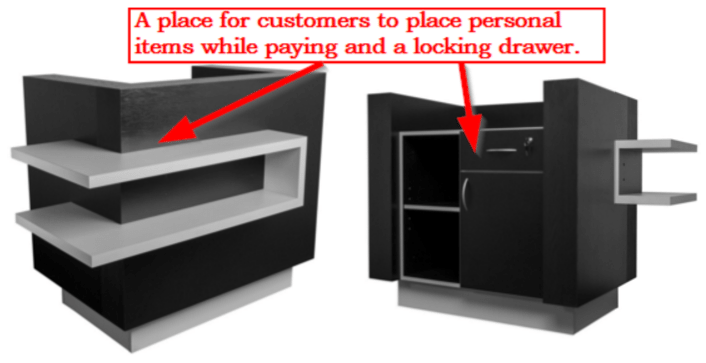 Three Main Cash Wrap Designs
Almost all cash wraps come in three basic designs: 1) single counter; 2) two adjoining counters in L-shape; 3) three adjoining counters in a U-shape.


What design  is right for your store will depend on the feel of your brand (brands conveying intimacy might want a more exposed cash wrap), how much space you have (larger cash wraps can conceal more supplies, etc), and what concerns your store is addressing (a U-shaped cash wrap make it very difficult for unauthorized people to access your POS, etc).
Treating Your Cash Wrap as Afterthought Will Cost You Big
Cash wraps are really the central point of interaction in a retail store.
Customers, employees, vendors, and delivery people will see the cash wrap as their ultimate destination. With this in mind, you must think about what each of these people need from the cash wrap.
The 4 Ways Customers Interact with Your Cash Wrap
1) Point of Sale
For you, the most important use of the cash wrap is to facilitate pleasant, efficient customer checkouts. When a customer approaches your checkout counter, there should be a clear line entrance leading to a clear line exit. Clear entrances and exits ensure customers don't feel awkward and also take out the guess work for employees.
Your cash wrap should feature a modern POS system. Nothing slows a checkout or return down more than an outdated POS system. If your salespeople are punching numbers into a cash register instead of scanning a barcode, or if you can't email a receipt, or if you can't check available inventory from your POS, the customer is going to feel like the entire transaction was taking place in the Twilight Zone.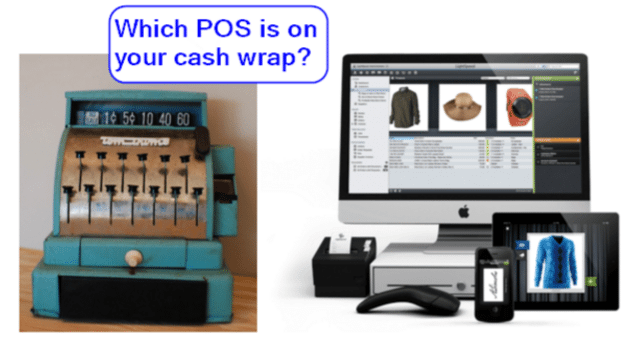 We recommend Lightspeed POS as an easy to use, powerful, great looking POS system. You can read our full review here.
2) Landmark
The most important thing from a customer's perspective is that the cash wrap is easily visible and identifiable. Customer's don't want to guess where they can get help or check out. In many ways the cash wrap is the landmark by which they navigate. Without they will feel lost and confused – two feelings that will not promote sales in your retail store.
At the same time, the cash wrap should not obscure the visual layout of your store or invade the shopper's psyche. In other words, don't block the view and don't be a guard tower.
3) Brand
Customers want your cash wrap, like every other element in your store, to be in line with your brand. Special attention should be made to the design, size, shape, material, and color of your cash wrap. If you're selling sweaters and the feel of your brand is cozy then a laminate cash well that feels like a doctor's office will be jarring and leave your customer with a bad last impression.
Your cash wrap will likely be your customer's last impression of your brand. Make sure it leaves an accurate and lasting impression on them.
4) Point of Return
Your cash wrap should help you execute a return as quickly as possible. The cash wrap should have ample space to store any returned items out of the view of customers until the item can be restocked. If the returned item is not out of view your cash wrap will look cluttered and it will suggest to customers that your store's items might be something other than 100% new. No one wants to buy recently used and rejected items.
A great cash wrap will even help encourage the customer with the return to go and shop for a replacement product. An awesome POS system can help with this too by offering gift receipts, discounts, coupons, and in-store credit right on the spot with the click of a button.
Cash Wraps & Inventory Delivery
When your vendors are delivering new inventory or you have package arriving from the mail you want to be able to receive the delivery without disrupting your customers or blocking your checkout line. A good cash wrap will help you achieve a quick, seamless delivery process.
First, an employee at the cash wrap should be able to easily spot a delivery person. There should be easy, wide access from your store's entrance to the cash wrap. The cash wrap should have space to temporarily store any incoming inventory.
This is also time to note that while a cash wrap needs to feel like it's sole purpose it to facilitate a wonderful customer experience, it is also part workbench. It can't be a fragile, dainty piece of furniture that won't stand up to large or heavy boxes or less-than-careful delivery people.
A good POS system, like Lightspeed POS, will allow you to receive and update your inventory lists in just a few minutes right from the cash wrap. It's a huge time saver not having to send an employee to a back room to do physical inventory counts, etc.
Employee Work Station
Employees will spend a lot of time at the cash wrap. They will checkout customers, handle returns, answer questions, accept deliveries, and take care of more administrative tasks at the cash wrap. Because your employees will be doing such a diverse set of tasks at this location, the furniture needs to be versatile.
Most importantly, employees need a cash wrap that allows them to provide customers with excellent service. This means the cash wrap must facilitate and quick checkout. It also means that there should be room for easy access to any packaging or wrapping that might be needed.
The space behind the cash wrap should give your employees ample room to move and bend as needed. It should also have enough storage to hold all of the supplies needed for daily transactions or personal items.
Employees should be able to see the entire store from the checkout counter. This allows them to be as attentive as needed but also notice potential shoplifters from this vantage point.
Looks Matter: 4 Cash Wrap Tips to Increase Sales
1. Counter Space
Your cash wrap should have abundant counter space. Limited counter space makes a customer's purchase look like a over-buy. On the other hand, a large counter space makes a customer's purchase look very reasonable, and perhaps they even have room for one or two more items that could trigger an impulse purchase.
2. Clutter
Your cash wrap should be clean and uncluttered. Your cash wrap should have ample space for your POS system's modern hardware, some displays for impulse items, and some signage. Everything else should be appropriately stored out of site of the customer. Closets and garages are cluttered. That's not the kind of feeling you want your store projecting.
3. Signage
Signage at your cash wrap can be useful in a number of ways. It reminds your customer where they are shopping and can notify them of upcoming sales or promotions. Also, having a place for people to sign up to an emailing list is a great way to remarket to your satisfied customers. There are not only way to promote your store, but they also occupy the customer's time if there is any line.
4. POS
New POS systems use sleek looking tablets or computers. This will always be a better look for a retail outfit than a bulky cash register. Your store has worked hard to develop and maintain a unified brand and feel throughout your store, you don't want to ruin it with a microwave-sized calculator. We recommend Lightspeed POS.
Cash Wraps Must Handle It All
It can't be stressed enough, the most used piece of furniture in your retail store will be the cash wrap. Checkouts, returns, deliveries, storage, administrative tasks – this piece of furniture needs to be able to handle it all. And where you choose to place your cash wrap will have a big impact.
How to Incorporate Your Cash Wrap into Your Store Layout
Any retail expert will tell you that optimized store layout is a key to any store's success. As you're planning your layout, the first things you should place is your cash wrap.
The cash wrap is the center of your store universe but that doesn't mean it should be in the center of your store. The ideal place for your cash wrap is on the left hand side of the store, relatively close to the entrance without blocking the entrance or being the first thing a customer sees.
Shoppers tend to to follow the rules of the road when they're in a store. When they enter a store, they typically take a right hand turn and work their way around the store from there. An inviting store won't immediately confront the shopper with a cashier. After all, you want shoppers to see your fantastic products. So keeping the cash wrap on the left gives a shopper plenty of time to peruse your products before bringing thoughts of payment to the front of their mind.
You don't want to hide your cash wrap in some far flung corner or deep in the back of your store. Ideally the cash wrap is close enough to your store entrance that it is visible right away, but not the first thing a customer sees. If you need help designing your store layout take a look at our step by step guide. 
Don't Forget ADA Compliance!
Since March 15th, 2012, any new cash wrap installations would also need to be compliant with the Americans with Disabilities Act's (ADA) 2010 Standards for Public Accommodations and Commercial Facilities. This means, in part, that your cash wrap counter surface can be no more than 38 inches above the ground with a edge protection of no more than 2 inches in height on the aisle side of the cash wrap. Further, the aisles need to be a minimum of 36 inches wide. See the diagram below: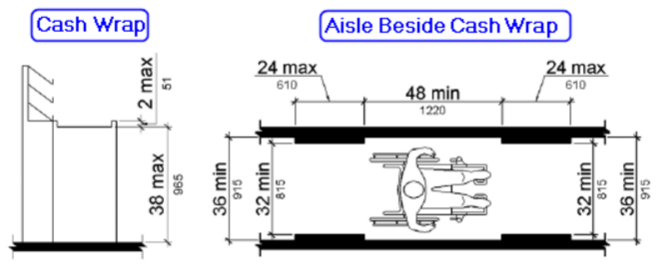 If you're interested in diving deeper into retail store layouts, take a look at step-by-step instructions for planning your store layout.
Summary
Cash wraps are at the center of the retail universe. Ignore them at your own peril.
A good cash wrap will facilitate quick checkouts, returns, and inventory deliveries. It will encourage shoppers to buy more of your products and help your employees alert to customer needs.
When you're ready to upgrade your cash wrap, make sure you give your manufacturer time to fabricate and delivery the furniture. Talk to them about your business's busy season to make sure you'll have the new-and-improved look with time to spare.
What the cash wrap does to supercharge your retail space, a modern POS system does to supercharge your entire retail operation. Try Lightspeed POS for 14-days free.