Sage 50cloud Accounting Review, Pricing & Features for 2022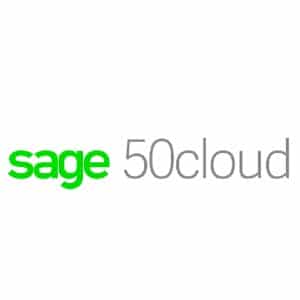 What We Recommend Sage 50cloud Accounting For
We recommend Sage 50cloud Accounting for small and midsize businesses (SMBs) looking for a scalable desktop accounting program that offers remote data access. Using Sage Drive―available in the latest release of Sage 50cloud Accounting―you can upload your data to the cloud and have your trusted accountant work on it anytime and anywhere and on any device, as long as they have an internet connection and they have Sage 50cloud United States edition installed on their computer or smartphone.
Sage 50cloud Accounting is a robust hybrid software application used for sending invoices and managing cash flow, taxes, banking, payroll, and inventory.
Sage 50cloud Accounting Software Is Especially Good For
Businesses looking for an alternative to QuickBooks: Sage 50cloud Accounting supports multiple companies, unlike QuickBooks Online, where every company requires a separate subscription. Its Quantum Accounting edition also offers more industry-specific functionality than QuickBooks Online. If Sage 50cloud isn't a good fit for your business, consider our other choices for the best QuickBooks alternatives.
Users who need consolidated financial statements: Sage 50cloud Accounting is our pick for the best multicompany accounting software for consolidating entities. Purchase the Premium Accounting plan and set up and manage as many companies as you want. You can also consolidate the financial statements of multiple companies, and Sage 50cloud will take care of reconciling intercompany accounts and transactions.
Businesses seeking desktop software: Sage 50cloud is designed to be installed on a desktop computer but also has the convenience of the cloud.
Sage 50cloud Accounting Is Not a Good Fit For
Do-it-yourself (DIY) small business owners: Sage 50cloud isn't the accounting software program for DIY business owners. If you plan to do the books yourself, Sage 50cloud is difficult software to learn, and we can't recommend it for nonaccountants. We recommend choosing QuickBooks Online instead. Read our QuickBooks review to find out more.
Businesses looking for accounting with a mobile app: While it offers remote data access through Sage Drive, there's no dedicated mobile app for Sage 50cloud Accounting. If you need full-featured accounting software with a mobile version, read our review of the best mobile accounting apps.
Companies needing multiple users: Sage 50cloud Accounting allows one user in Pro and up to five in Premium, but you must purchase additional licenses. You have to purchase the most expensive plan if you have more than 10 users.
Are you looking for something different? Read our guide to the best small business accounting software and check out our top picks.
Sage 50cloud Accounting Overview
PROS

CONS

Connected to the cloud; offers remote access through Sage Drive
Can't access all features remotely
Consolidate parent and subsidiary companies
Must download and install on your computer
Strong inventory management capability
Difficult for nonprofessional bookkeepers to use
Comprehensive reporting tools
Expensive for multiple users
Accessible customer support
No mobile app
FSB Case Study
Fit Small Business developed a case study to help us evaluate accounting software services across 11 key areas. We believe that testing the software is the only way to assess its capabilities and suitability to your small business.
Sage 50Cloud vs Competitors FSB Case Study
Touch the graph above to interact Click on the graphs above to interact
Sage 50Cloud: Starting at $56 per month; $88 as tested

Quickbooks Online: Starting at $30/month; $85 as tested

QuickBooks Desktop: Starting at $350 per year, $550 as tested
In our case study, Sage 50cloud ranked fairly well compared to its direct competitors, QuickBooks Online Plus and QuickBooks Desktop Premier. Sage 50cloud's strengths lie in project accounting and reporting, while it scored low in banking and inventory management when compared to its competitors. While its features are comparable to QuickBooks, we feel it's more difficult to use.
Sage 50cloud Accounting Pricing
Sage 50cloud Accounting offers three plans available at either a monthly or annual billing option. As of writing, Sage 50cloud offers 40 percent off on all plans.
Pricing & Features

Pro Accounting

Premium Accounting

Quantum Accounting

Monthly Pricing

($/Month)

$56.08

$87.58 to $120

$145.17 to $371.08

Annual Pricing

($/Year)

$567

$880 to $2,015

$1,460 to $3,726

Number of Users

1

1 to 5

1 to 10—for 11+ users, custom priced

Bank Reconciliation

✔

✔

✔

Expense Management

✔

✔

✔

Remote Data Access

✔

✔

✔

Job Costing by Phase & Cost Level

✔

✔

Advanced Budgeting Tools

✔

✔

Multicompany Support

✔
Other available add-ons include AutoEntry integration, Sage Invoice Payments, and a self-service payroll module. You can visit the provider's website to learn more about its add-ons.
Sage 50cloud Accounting Features
Sage 50cloud Accounting offers a wide range of features designed to help users automate, streamline, and manage their accounting duties. Its features are scalable for individual users, and its most expensive plan is an ideal fit for managing multiple companies. It can handle bank reconciliations, invoicing, banking and payments, and inventory management.
Let's take a closer look at some of its top features.
General (8.80 out of 10 points)
You can input basic company information and other useful information like entity type and fiscal year-end. You can also import or modify the chart of accounts and create user restrictions. Sage 50cloud's interface reminds us of QuickBooks Desktop. We think that first-time users will have a hard time understanding the flow of the software.
Accounts Payable (8.90 out of 10 points)
The A/P module of Sage 50cloud is full of great features, but it can be overwhelming. The AP module lets you create vendors, expenses, purchase orders (POs), and billings. You can also create service items and set costs of service items if you have standard costs for services. Sage 50cloud deserves recognition, if only for its AP features. However, the software's ease of use isn't what we would hope for in a small business accounting application.
The AP module interface is crowded, and navigation flows use too many popup windows. We see Sage 50cloud as a software product for accounting professionals and not for small business managers or owners. Sage 50cloud can be difficult for people with little to no knowledge of accounting software and accounting principles.
Accounts Receivable (7.85 out of 10 points)
The accounts receivable (A/R) module of Sage 50cloud features certain elements found in competitors' software, but they're not as dazzling and modern. Sage 50cloud's invoice management lets you generate PDF invoices from records, issue receipts, view customer accounts, and issue credit memos. Unfortunately, the only missing feature in Sage 50cloud is the ability to issue checks for customers with credit balances.
However, using all of these features isn't as convenient as what we've experienced while reviewing Sage 50cloud's competitors. The interface and overall layout design are old and quite similar to the Windows 97 menu bars, drop-down menus, and popup windows. We find it a bit flustering that almost every click gives birth to more windows. But feature-wise, Sage 50cloud won't disappoint.
Cash Management and Banking (8.10 out of 10 points)
Sage 50cloud's banking features are convenient because you can connect them to your bank accounts, which is useful for reconciliation purposes. However, if you prefer to not give Sage access to your bank account, you can import your banking activity by uploading a bank statement. We also like that bank connection isn't a prerequisite for performing bank reconciliation in Sage 50cloud.
When reconciling book and bank balances, we're satisfied that it shows the balances for outstanding checks, deposits in transit, adjusted balance, and any unreconciled differences. However, we can't seem to combine checks and cash into a single deposit. Although it's not a major feature, we still think it contributes to ease of use when entering transactions. Overall, Sage 50cloud's reconciliation is what we want to see, and we're satisfied with its functions.
Fixed Assets (1.00 out of 10 points)
We weren't able to find useful fixed asset accounting features on Sage 50cloud except for classifying assets as fixed assets. There's also no feature that automatically records and computes depreciation for fixed assets. We think that users should manually record these depreciation entries at year's end. There will be no video for fixed assets because of the very limited features for fixed asset management. For a robust fixed asset management system, Xero is our best choice. It has a dedicated fixed asset manager to manage your fixed assets and depreciation.
Project Accounting (10 out of 10 points)
Sage 50cloud is a great program for project accounting. Although its interface isn't pleasant as with other accounting software, the project accounting features cover everything from creating projects to assigning project costs and setting project estimates. Furthermore, we'd like to emphasize that Sage 50cloud can compare actual to estimated project costs. We're happy to see this feature because it's vital for project management and monitoring.
Sales & Income Tax (8.00 out of 10 points)
Tax tracking on Sage 50cloud is basic and straightforward. When compared to QuickBooks, both of these accounting programs share the same limitations, such as the inability to file and pay sales tax liability directly through the software. However, they both share features, such as tracking sales taxes through the sales tax liability account and setting up tax rates. There's no walkthrough video for this area since this part is already integrated within A/R, A/P, and general features.
Inventory (8.75 out of 10 points)
Sage 50cloud falls behind QuickBooks in terms of inventory. However, it doesn't miss on the most important features, like automatic accounting for the cost of goods sold (COGS) and computation of ending inventories. We think that Sage 50cloud is still a worthy choice even if recording the partial receipt of inventory on POs is problematic and viewing the total cost of inventory on hand has limited functionality. Our evaluation of inventory is also part of A/R and A/P, so there's no video for this one.
Reporting (10 out of 10 points)
You can generate many different kinds of reports on Sage 50cloud. However, our case study covers only the necessary reports for small business accounting. Here are the reports we look for in small business accounting software that Sage 50cloud can generate:
Comparative balance sheet
Comparative profit and loss (P&L) statement
Statement of cash flows
A/R aging
A/P aging
Income/loss by month
Income/loss by customer
Income/loss by class
Income/loss by location
Income/loss by project
Unbilled charges
Unbilled time
Transaction list by customer
Expenses by vendor
General ledger
Trial balance
Customer Service (5.00 out of 10 points)
Sage 50cloud's customer service is just average when compared to other accounting software services. We like that users can contact them by email or through live chat or chatbot. They also have robust self-help information. However, it would be better if users could reach them by phone. If this concerns you, we recommend choosing Zoho Books because it's one of the software applications with the best customer service.
Mobile App (1.00 out of 10 points)
In this area, we want to see a mobile app that can help users maintain their books even if not using the desktop version. We wish Sage 50cloud had more basic accounting features in their app, but it's very limited. Sage 50cloud Capture can only capture receipts and cannot send invoices, categorize expenses, and other essential mobile app functions. We recommend choosing FreshBooks or Zoho Books for a great mobile app.
Assisted Bookkeeping Options
We're not aware of any online bookkeeping services that support Sage 50cloud. While Sage does certify accountants as Sage 50cloud experts, it can be very difficult to find a certified consultant in the US. Your best option for support in the US will be to find an independent bookkeeper with some experience with Sage 50cloud.
Integrations
Sage 50cloud integrates with 115 various third-party applications spread across categories, such as data entry, ecommerce, and time tracking. Moreover, the most famous integration is with Microsoft 365. For an additional $150 per year, you get the premium features of Microsoft 365 including Word, Excel, PowerPoint, Access, and Outlook. You also get 1TB of online storage in OneDrive.
Sage 50cloud Accounting Alternatives
| | | |
| --- | --- | --- |
| Best for: Most small businesses looking for truly cloud-based accounting software | Best for: Freelancers or small businesses with limited inventory | Best for: Small businesses looking for a low-priced option for managing inventory |
| Software from: $30 | Software from: $15 | Software from: $12 |
| | | |
Bottom Line
Sage 50cloud Accounting offers many great features for small businesses. However, the software is a hindrance for small business owners and managers because it's not very easy to use. Using Sage 50cloud can be difficult for people without experience in accounting and accounting software programs, and it can be difficult to find assistance in the US. A professional accountant can learn Sage 50cloud and master the software, so we recommend using Sage 50cloud if you have an experienced bookkeeper or accountant managing your books. Otherwise, we recommend choosing another software.