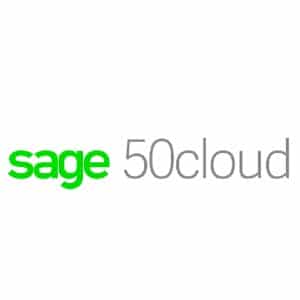 What We Recommend Sage 50cloud Accounting For
We recommend Sage 50cloud Accounting for small and midsize businesses (SMBs) looking for a scalable desktop accounting software that offers remote data access. Using Sage Drive (available in the latest release of Sage 50cloud Accounting), you can upload your data to the cloud and have your trusted accountant work on it anytime and anywhere and on any device as long as they have an internet connection and have the Sage 50cloud Accounting―U.S. Edition installed on their devices.
Sage 50cloud Accounting is a robust hybrid software used in sending invoices and managing cash flow, taxes, banking, payroll, and inventory.
Sage 50cloud Accounting Software Is Especially Good For
Businesses looking for an alternative to QuickBooks: Sage 50cloud Accounting supports multiple companies, unlike QuickBooks Online, where every company requires a separate subscription. Its Quantum Accounting edition also offers more industry-specific functionality than QuickBooks Online. If Sage 50cloud isn't a good fit for your business, consider other best QuickBooks alternatives.
Users keeping books for multiple companies: Purchase the Premium Accounting plan and set up and manage as many companies as you want. Alternatively, you can pick from our best multicompany accounting software review.
Businesses seeking desktop software: Sage 50cloud is designed to be installed on a desktop computer and provide the convenience of the cloud.
Sage 50cloud Accounting Is Not a Good Fit For
Businesses looking for accounting with a mobile app: While it offers remote data access through Sage Drive, there is no dedicated mobile app for Sage 50cloud Accounting. If you need full-featured accounting software with a mobile version, read our review of the best mobile accounting apps.
Companies needing multiple users: Sage 50cloud Accounting allows one user in Pro and up to five in Premium. You have to purchase the most expensive plan if you have more than 10 users.
Real estate companies: It cannot track income and expenses by property. If you need a dedicated accounting solution for your real estate business, check out our guide to the best real estate accounting software.
Looking for something different? Read our guide to the best small business accounting software and check out our top picks.
Sage 50cloud Accounting Overview

PROS

CONS

Connected to the cloud (offers remote access through Sage Drive)
Can't access all features remotely
Consolidate parent and subsidiary companies
Must download and install on your computer
Strong inventory management capability
Some important features are available only in the most expensive plan
Comprehensive reporting tools
Not suitable for multiple users
Accessible customer support
No mobile app
Sage 50cloud Accounting Pricing
Sage 50cloud Accounting offers three plans with monthly prices that start at $56.08 per user. Each subscription allows a limited number of users, and its higher-end plans consist of advanced features like job costing by phase and cost level, advanced budgeting tools, and multicompany support. Access your data remotely through various Microsoft applications by purchasing the Microsoft Office 365 add-on for $150 per year.
Pricing & Features

Pro Accounting

Premium Accounting

Quantum Accounting

Monthly Pricing
($/Month)

$56.08

Starts at $84.58/user

Starts at $139.58/user

Annual Pricing
($/Year)

$567

Starts at $850/user

Starts at $1,405/user

Number of Users

1

1 to 5

Customized

Bank Reconciliation

✔

✔

✔

Expense Management

✔

✔

✔

Remote Data Access

✔

✔

✔

Job Costing by Phase and Cost Level

N/A

✔

✔

Advanced Budgeting Tools

N/A

✔

✔

Multicompany Support

N/A

N/A

✔
Other available add-ons include AutoEntry integration, Sage Invoice Payments, and a self-service payroll module. You can visit the provider's website to learn more about its add-ons.
Sage 50cloud Accounting Features
Sage 50cloud Accounting offers a wide range of features designed to help users automate, streamline, and manage their accounting duties. Its features are scalable for individual users, and its most expensive plan is an ideal fit for managing multiple companies. It can handle bank reconciliations, invoicing, banking and payments, and inventory management.
Let's take a closer look at some of its top features.
Invoicing
Sage 50cloud Accounting's built-in invoicing system, Cash Flow Manager, lets you create custom recurring invoices, see an instant snapshot of your cash flow, and incorporate a "Pay Now" button on your invoices.
To create an invoice, go to the Sales Invoice tab, and provide the required information, including the customer, description, invoice data, and order number.
Bank Reconciliation
Download your live bank transactions and match them to your Sage 50cloud transactions manually or use the automatic reconciliation feature. You can apply custom rules to categorize your transactions, reducing manual data entry.
Payments
Accept all forms of payment, including credit and debit cards, PayPal, Stripe, and invoice payments over the phone.
Inventory Management
Stay on top of your stock levels, profits, and sales. Sage 50cloud Accounting calculates stock costs and quantities automatically by item code daily and adjusts your records every time you enter a new purchase or sale.
Job Costing
View an instant snapshot of your jobs and projects in one place so that you can stick to your schedule and budget. This feature helps control your business costs efficiently and avoid costly overruns. If you need some advanced features, such as job costing by phase and cost level, you need to purchase the Premium or Quantum plan.
Time Tracking
Easily track time with its built-in tracker or enter billable hours manually into Sage 50cloud Accounting. You can also generate weekly timesheets and mark time as billable or nonbillable.
Remote Data Access (Sage Drive)
Included in your Sage 50cloud subscription plan, Sage Drive is a service that enables you to store your data in the cloud through a Sage server. When activated, you and your accountant or team members can access your data from any device with Sage 50cloud installed. You can set up and use Sage 50cloud Accounting on a computer with Chrome, Firefox, or Internet Explorer, and a high-speed internet connection.
To access Sage Drive in a multi-user mode, a feature that lets you have two or more users working on the same file at the same time, you need to have Sage 50cloud version 2020.0 or later installed on your computer.
Microsoft Office 365 Integration
Purchase the Microsoft Office 365 add-on for $150 per year and get access to premium MS Office apps, including OneDrive, Excel, Outlook, SharePoint, Teams, and CRM. You can view your contacts in Outlook, see reports in Excel, and back up your company files using OneDrive. Once your Sage 50cloud account is connected to Microsoft Office 365 and your data is uploaded on the cloud, remote users can access that data even without Sage 50cloud installed on their computers.
Tax Compliance
Sage 50cloud Accounting can help you apply for your employer identification number (EIN) as well as file W-2 forms for your employees.
Payroll
Sage offers a do-it-yourself payroll module, for an additional fee, with updated tax calculations for employee withholdings. Sage Payroll allows you to automate payroll processes with pay cards, direct deposits, or business-generated checks. You can also perform advanced tasks, such as tracking employee sick time and vacation.
Reporting
Generate more than 150 financial reports to help you understand your business standing better. Available reports include cash flow, profit and loss statements, expenses, account payables (A/P) and account receivables (A/R), inventory, payroll, job reports, and more. You can access your favorite report with one click.
Customer Service and Ease of Use
Sage 50cloud Accounting has a steep learning curve, and it takes time to learn to use it, especially if you are new to accounting. The user interface is crowded with a pretty large number of features, which can be overwhelming for new users. However, it offers a basic walkthrough guide to help you find your way around.
Sage offers plenty of support options, including phone support, live chat, online support ticket, an in-software help section with various guides, a knowledgebase resource library with articles and videos on how to use the software, and a Sage City online community. Sage is also active on social media platforms like Facebook, Twitter, and LinkedIn.
Sage 50cloud Accounting Alternatives
| | | |
| --- | --- | --- |
| Best for: Most small businesses looking for cloud-based accounting software | Best for: Creating professional-looking invoices | Best for: Small businesses looking for a low-priced option for managing inventory |
| Software from: $25 | Software from: $15 | Software from: $9 |
Bottom Line
If you are looking for desktop accounting software with solid features and a serious degree of customizability, then Sage 50cloud Accounting can give you what you need. It is capable of doing more than what most small businesses need in terms of accounting, plus it offers unique remote data access, which is rare in other on-premise accounting software. If you need a powerful desktop accounting solution without having to give up the convenience of the cloud, you should try Sage 50cloud Accounting today.