Sales Coordinator Job Description & Free Template
This article is part of a larger series on Hiring.
Writing a job description can be difficult, let alone when it's for something as important as a sales position at your company. In this article, we will provide you with a free Sales Coordinator job description template and walk you through the essential parts of a Sales Coordinator job description so that you can customize one for your own business.
First, here is a Sales Coordinator job description template you can build from. Then, below the template, we will go through each part of the job description piece by piece.
If you're looking to hire a sales coordinator, we recommend advertising on Indeed, the #1 job board for small businesses. Click here for a free $50 credit to boost your job notice.
Free Sales Coordinator Job Description Template: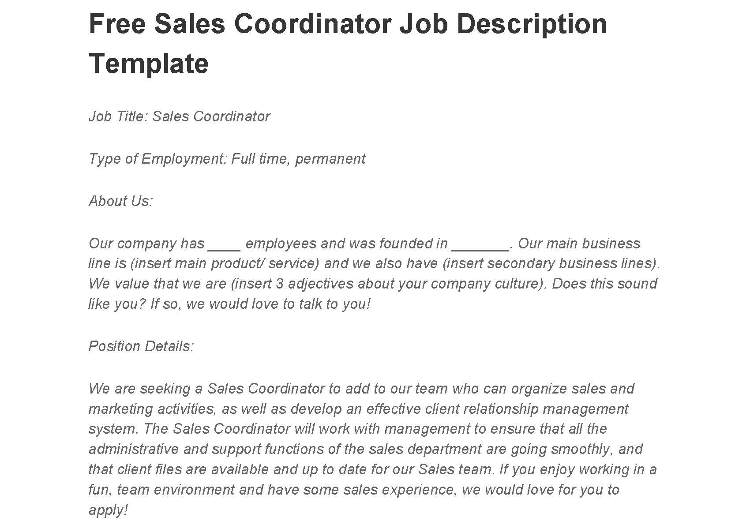 Thank you for downloading!
💡 Quick Tip:
If you're hiring, we strongly recommend posting on Indeed, which has the biggest audience of job seekers online.
Boost your job notice and get in front of more qualified professionals.
Click here for a free $50 credit.
Job Title: Sales Coordinator
Type of Employment: Full time, permanent
About Us:
Our company has ____ employees and was founded in _______. Our main business line is (insert main product/ service) and we also have (insert secondary business lines). We value that we are (insert 3 adjectives about your company culture). Does this sound like you? If so, we would love to talk to you!
Position Details:
We are seeking a Sales Coordinator to add to our team who can organize sales and marketing activities, as well as develop an effective client relationship management system. The Sales Coordinator will work with management to ensure that all the administrative and support functions of the sales department are going smoothly, and that client files are available and up to date for our Sales team. If you enjoy working in a fun, team environment and have some sales experience, we would love for you to apply!
Duties & Responsibilities:
Coordinate sales team by managing calendars, organizing clients files and documents, and communicating client information to reps, management, or other staff as needed
Keep inventory of our sales/marketing materials (i.e. business cards) and order new ones when appropriate
Respond to customer inquiries/ complaints
Provide after-sales support to clients when needed
Handle order processing with accuracy and timeliness
Inform clients of unforeseen delays or problems, or work with sales reps to inform clients of delays and problems (as well as to solve these problems)
Assist in the preparation of promotional materials for events and conferences
Skills & Experience Required:
High school diploma required.
Associate's or Bachelor's degree preferred. Relevant work experience can be taken in lieu of a formal education.
2+ years of related sales experience in a similar role.
Excellent customer service mindset and superb communication skills (written, oral and electronic).
High level of attention to detail with a love for organizing.
Must be fluent in MS Office Suite, especially Word, Excel, and Powerpoint.
Prior experience with a client relationship management system (CRM) preferred.
Compensation Package: [Salary, benefits, bonuses/ commissions, PTO, etc. should all be listed here].
If you are interested in applying to this role, please provide a cover letter and resume to:
[insert email address or other way to apply]
What to Include in Your Sales Coordinator Job Description
Let's look at each section of the job description in more detail so that you can understand their importance and make your own Sales Coordinator job description.
Job Title
A good go-to method for coming up with a job title when posting an open position is to go with a standard job title and then add a few words describing the position. In this case, we already know the position is Sales Coordinator, so an example of a job title might be: "Sales Coordinator for one of Atlanta's fastest-growing telecommunications firms" or "Sales Coordinator who's ready to support a team of sales superstars."
To help you determine the best title for your Sales Coordinator role, you could also try Indeed's Job Title Generator.
This tool is super handy because it tells you:
How many open job postings are currently out there containing "Sales Coordinator"; and
How many people are looking for a Sales Coordinator role
Then you can deduce how many applicants you might get by using the title "Sales Coordinator" versus trying something similar like:
Account Executive
Sales Associate
Business Development Coordinator
About Us
Write a clear paragraph about what your company does and why someone would want to work there. Remember, an active job seeker might also be applying to your competition, and you want to make clear why you are different.
Some things you may want to consider including here are:
What your company does
How many people work there
Your mission statement (if you have one)
Any impressive stats relating to company growth
What your company values are
What the company culture or current team is like
This section should be 5 sentences at most.
Position Details/Duties & Responsibilities
It's easy to forget when writing a job description how important it is to outline a realistic picture of what the position duties are. Not listing them makes it hard to pick out a great candidate, and it makes it hard to attract the right people to the job.
Think about what the day-to-day responsibilities of your Sales Coordinator will be and then write those responsibilities down. Think about the main goals the employee will be responsible for and what their daily tasks and interactions might look like. What are the outcomes for this role?
If you can, order the Duties & Responsibilities with the most important at the top.
Some good examples of duties & responsibilities for a Sales Coordinator include:
Utilize company resources to develop a client relationship management system
Organize and compose high quality sales presentations in PowerPoint
Ensure the inventory of sales and marketing materials such as brochures and presentation folders is always current
Act as the primary customer service contact for clients
Manage sales reps' schedules for client appointments
Produce monthly reports on progress within the sales department
Notice how specific they are; try to do that for your responsibilities as well.
Skills & Experience
Once you list the responsibilities of the position, you'll need to then consider the skills and experience your Sales Coordinator will need to carry them out successfully. To make this list the most effective for your job description, you want to order it from most important to least important (as best as you can).
An easy way to do this is to separate the skills and experience that an employee has to have to even be considered for the position, from those that would be nice to have, but are not absolutely necessary, and then order the list accordingly.
Here are some example skills and experience that a Sales Coordinator should have:
Candidate must have a GED/ high school diploma.
Candidate must have 2+ years experience in similar or related role.
Candidate must be advanced in PowerPoint skills (i.e. embedding video).
Candidate preferably should have prior experience working in a client management system, like Salesforce.
Associate's degree or Bachelor's degree in Business, Marketing, or related fields preferred.
Compensation
Any good Sales Coordinator or sales person in general is going to be all about the numbers– they will want to immediately know how much money they can make if they are successful in the sales role.
For a Sales Coordinator role, you will want to determine what kind of compensation you are willing to include:
Annual salary or hourly base rate?
Commission or bonuses on sales?
Bonuses for meeting quotas? And how frequently (i.e. monthly or annually)?
Remember, you will want whatever compensation you are offering to be in alignment with what you are paying current people in this role to avoid any issues! You'll also want the salary to be in alignment with what other companies in your area are paying, so you don't lose good candidates to competitors. Here's a look at Sales Coordinator compensation ranges by location.
Sales Coordinator Salary Ranges by Location
| Location | Sales Coordinator Salary Range |
| --- | --- |
| New York City, NY (Manhattan) | Average salary is $43,000; the salary range typically falls about $38,000-$49,000. |
| Chicago, IL | Average salary is $41,000; the salary range typically falls about $35,000-$47,000. |
| Milwaukee, WI | Average salary is $44,000; the salary range typically falls about $30,000-$48,000. |
| Fort Lauderdale, FL | Average salary is $36,500; the salary range typically falls about $32,000-$45,000. |
| Los Angeles, CA | Average salary is $41,000; the salary range typically falls about $35,000-$48,000. |
*Sources for all cities are PayScale and Glassdoor.
Resources That Can Help You Determine Compensation Range
Check out these websites for salary data for Sales Coordinators in your area:
Three things you might also want to consider are:
Make sure the salary you are offering is fair and in alignment with what your other Sales Coordinators are making, especially if you are posting the salary online.
If there are competitors also looking for Sales Coordinators, you may be able to see what they are paying using Glassdoor.com or PayScale.com, which can be useful.
You can also use social media like LinkedIn forums to ask other business owners what they pay their Sales Coordinators in your area.
Next Steps for the Applicant
Let candidates know how they can apply for the role right in the job posting. If they'll be applying online or via email, have a dedicated email address to receive the applications, like salesapps@abccompany.com, to spare your inbox some craziness.
You may want to ask applicants for a cover letter, or for some sort of sales track record data to supplement their resume. You could also ask for a list of references with the person's application. This will make filtering through the applicants easier, as you can immediately discard those who do not have a complete application.
Optional Section: Personality Traits
Being on the sales team is like being a part of the face of the organization to the public. Your Sales Coordinator will be working with the employees who make you money (your Sales Reps) and will also be working with your paying clients. You need to make sure that this person is a match for your company culture, the culture of the team, and the brand you want to portray.
Think about your product and your customers. For example, a client of mine in Texas does primarily IT services for accountants and lawyers. Their Sales Coordinator has a very different personality than that of my other client, a bakery/catering company in St. Louis that works with a lot of local events, weddings, and celebrations.
So how do you decide on what personality traits you are looking for? Ask some of the current sales reps or even the clients what they are looking for in this person. If there was someone who did this role really well in the past, what was their personality like?
If you'd like, you can include a small section in your job description that describes the ideal personality fit that you are looking for in your Sales Coordinator role. An example would read:
"The ideal Sales Coordinator for ABC Company is someone who is bubbly but professional. Our end clients are doctors' offices, and they need answers in a quick, straightforward manner from a great communicator who likes to problem solve and get to the point of an issue."
What's Next?
Now that you have a great Sales Coordinator job description, check out some information on where to post your open sales job and how to write a performance review for this role.
If you are looking for the best job board to post your open position, we recommend Indeed.