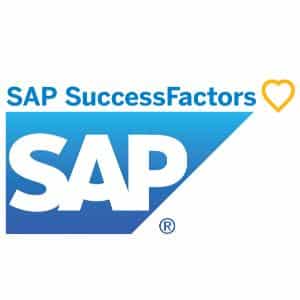 What We Recommend SAP SuccessFactors for
Businesses planning on hiring a global team: SAP can help companies expand their global workforce. In fact, it ranked as one of our top picks for international payroll services. It provides global payroll processing and localized legal, compliance, and employment support.
Large companies with 1,000+ employees that are planning on hiring: SAP can provide the HR support needed by large companies and advanced recruiting, hiring and onboarding tools are available, including time-saving automated processes. It is more expensive than your average small business software, and large companies typically have the capital to cover the costs.
Companies already using SAP solutions: If your company is already using SAP business tools, you can easily add additional integrated modules to create a complete HR solution customized for your business. The learning curve, which can be pretty high with this software, may also be easier to manage if you're familiar with the way it works already.
When SAP SuccessFactors Would Not Be a Good Fit
Small companies with few employees: Small companies don't usually require the advanced HR services that SAP provides, which means the price tag isn't worth it for them. If your company is small with basic operations and you only need a low-priced payroll system, check out our guide to the best free payroll software.
Companies wanting to integrate SAP into other HR software: SAP is intended to work with other SAP solutions and thus operates as a complete all-in-one HRIS. Configuring integrations with other popular business software can be challenging or may need to be created custom. For HR software options that may integrate easier with outside software, check out our guide on the best HR software.
Looking for something different? Read our guide to the best HRIS/HRMS software for small businesses to find a solution that's right for you.
SAP SuccessFactors Overview
PROS

CONS

Advanced HR features
Pricey for small organizations
Global HR and payment processing
May require multiple modules
Professional services and 24/7 year-round support
Integrations may require professional services
Powerful mobile employee tools
Training and IT support may be required for successful implementation
SAP SuccessFactors Pricing and Features
We considered the features provided with the SAP SuccessFactors Core HR and Payroll module. Most HR features, basic and advanced, are available with this module or the HXM Suite, which is SAP's human experience management software. You can add additional SAP modules to create a customized HR solution.
To know how much to budget for an SAP SuccessFactors HR solution for your company, you need to put together a requirements list and the number of users and employees. Core modules often include a flat monthly fee and a per-employee fee. Additional modules may cost extra. For example, the Performance and Goals module is $4.17+ per user per month and the Recruiting software is $3.00 per user per month. You may need to add additional modules to obtain all the tools your business requires.
Software training, professional services, and support plans may also incur an additional fee.
| Features | Core HR and Payroll |
| --- | --- |
| Pricing | Custom pricing per month + per employee |
| HR Information Systems (HRIS) | ✔ |
| Employee and Manager Self-Service | ✔ |
| Employee Profiles and Org Charts | ✔ |
| PTO and Time-off Management | ✔ |
| Shift Scheduling | ✔ |
| Time Tracking | ✔ |
| Workflows and Approvals | ✔ |
| Onboarding and Training | ✔ |
| HR Document Storage and E-signing | ✔ |
| Performance Management | ✔ |
| Payroll and Tax Processing | ✔ |
| Compliance Support | ✔ |
| Recruiting and Applicant Tracking | ✔ |
| Benefits Support | ✔ |
| Advanced Reporting | ✔ |
| Software Integrations | ✔ |
| Customer Service | Telephone, Email |
SAP SuccessFactors makes available a broad range of HR tools that together can create a complete HR solution with advanced recruiting, performance management, reporting, and attendance tracking.
Let's explore some of SAP SuccessFactors' most prominent HR features in-depth.
Human Resources
SAP SuccessFactors provides comprehensive HRIS tools for growing, global, and large operations. HR features include benefit and enrollment management, employee profiles and organizational charting, HR reporting and insight tools, best practices compliance support, and talent management. You can access all elements online, and it offers mobile tools.
To help manage current and new employees, SAP SuccessFactors helps with benefits enrollment, processing of HR and tax documents, life event changes, and employee profile management. Employees can sign into their profile and change their data when needed.
The talent management tools offered by SAP SuccessFactors are within an HR module that includes recruiting, onboarding, performance management, and compensation management tools. Growing companies can increase their chances for successful hiring by using its recruiting tools for sourcing and onboarding talent. If the employment agreement doesn't work out, it also provides helpful offboarding services. To ensure employees continue to progress and turnover decreases, HR teams and managers can utilize its performance management and compensation tools.
Payroll Processing
SAP Success Factors helps you run accurate payroll using automated processes that utilize integrated time tracking tools, time off and holiday rules, and tax compliance. It supports hourly, salary, and contract workers, although there is no contract-specific plan. SAP payroll processing tools can manage complex deduction scenarios such as retirement investments, garnishments, and benefits.
International Payroll Processing
SAP SuccessFactors helps businesses process payroll in over 45 countries. Over 1,300 localization experts are available for support. SAP global payment processing services processes payroll for 100 million employees worldwide. Its services can help employers with local compliance, legal, and employment requirements to help avoid expensive non-compliance issues.
Time Tracking and Time Off
Time tracking and time off management tools seamlessly integrate with payroll processing and other HR modules to produce paycheck, deductions, and tax calculations. It also tracks the use of PTO and vacation time. And if you need employee scheduling, it has that feature too, albeit at an extra cost.
Managers can review approvals using a mobile device. You can configure alerts and notifications to alert them of tasks that may need to be taken care of, such as time-off requests.
The employee mobile tools are available for all platforms and allow employees to perform various time tracking functions. From the workplace or remote locations, employees can submit time worked, view time-off balances, calculate time and pay, time-off requests, and other HR information.
HR Document Management
Document management features that SAP SuccessFactors provides help decrease tedious work that HR teams are often burdened by. This HR software can automate the onboarding process, so new hires can review and e-sign HT and tax documents. Documents are securely stored online according to the highest HR security requirements, and it supports access permissions.
It can manage documents such as employment agreements, tax forms, benefit enrollment agreements, and legal documents (such as NDAs). SAP document management tools can also be configured to monitor updates and changes. Managers can enable employee access to documents via the employee portal.
SAP SuccessFactors Ease of Use
24/7 year-round telephone, chat, email, and community support
Numerous paid support plans available
Embedded, dashboard, and online support
Training, employment, deployment, and adoption consulting services
SAP SuccessFactors provides numerous professional services for helping customers customize their solutions, implement and deploy the solution, train employees to use the software, optimize the reporting tools, and more. Online and in-person training is also available. Using training and support opportunities, most businesses can configure the SAP solution to fit their unique needs and manage the day-to-day use of the software with relative ease.
Considering how complex this software is, especially if you need to integrate it with other solutions, it is recommended that new customers take advantage of professional services. There is a big learning curve, especially if you've never used SAP software, and successful implementation requires multiple stakeholder representatives.
SAP has been around a while and has created products that target nearly every corner of the market, so SAP SuccessFactors Core HR and Payroll integrates with other SAP products. SAP solutions include accounting and finance software, CRM, people and talent management, travel and expense tracking, data management, asset management, and analytics.
Some SAP products require the use of an integration package to set up APIs for custom integrations; there are specific packages available to build them for third-party vendors   such as Kronos, IBM Kenexa, and WorkForce software.
Top SAP SuccessFactors Alternatives
| | | |
| --- | --- | --- |
| Best for: Companies planning to scale internationally | Best for: Midsize businesses upgrading from ADP Run | Best for: Small businesses growing in the US or internationally |
| Monthly fees: Custom | Monthly fees: Custom | Monthly fees: from $8 per employee |
What Users Think About SAP SuccessFactors
Users report that using SAP SuccessFactors' HR tools overall made their daily work life more manageable. The organized employee database, time and PTO reporting tools, automated training features, performance management, and recruiting features are reported to be more advanced than simple HR products. Users also relate that the employee tools were easy to use, and they appreciated that employees can manage their profiles and make updates.
Negative remarks surround the interface or UI. While some tout that they found the UI simple to use, many others claim to have found it challenging to navigate and slow. They say that functions are sometimes difficult to find.
Another comment complaint concerns integrations. While SAP SuccessFactors is designated to work with other SAP modules, it may be challenging to configure third-party integrations. You may need to work with SAP's integrations team to create the customized integrations you require.
At the time of publication, SAP SuccessFactors reviews earned the following scores on popular user review sites:
When reading through user reviews, we noticed some of these trends:
| Users Like | Users Don't Like |
| --- | --- |
| Automated processes | Cost prohibitive from smaller businesses |
| Reporting tools | Interface not intuitive, learning curve |
| Easy to update employee profiles | Limited out-of-box integrations |
Bottom Line
SAP SuccessFactors Core HR and Payroll provide advanced HR tools and payroll processing tools that easily integrate with other SAP solutions such as accounting and finance, talent management, and recruiting. Customers, along with SAP's professional services, can create custom solutions to meet any business need. Businesses with global offices and employees can also benefit from SAP's HR and payroll expertise.
You May Also Like …