2023 Papaya Global Review: Is It Right for Your Business?
Papaya Global offers a suite of solutions to simplify global payroll, hiring, and workforce management. In our review of the best international payroll services, Papaya Global earned an overall score of 4.59 out of 5.
Its employer of record (EoR) services allow you to recruit local employees while keeping you compliant with country employment laws. Compliance support is also provided when making cross-border payments and filing local tax forms. Similar to a professional employer organization (PEO), Papaya Global manages benefits plans and grants you access to Fortune 500-caliber benefits you can provide to employees. If you need to pay your global staff, Papaya Global offers international payroll services for $20–$650 per employee monthly.
Apart from basic HR and payroll, Papaya Global offers immigration services to assist you in securing work permits for employees on either long- or short-term assignments outside of their home countries. And if you have local and foreign contract workers, its contractor management solution can help you process payments and avoid worker misclassification errors.

What We Like
Transparent pricing with reasonably priced global payroll solution
Payroll, contractor management, and EoR services cover 160+ countries
Compliance support includes worker classification checks for contractors
Dedicated account manager
Global payroll payments in as fast as 72 hours
What's Missing
Can get expensive depending on the services you require and number of employees you have
Basic HR solution; doesn't have learning management and performance review tools
Lacks 24/7 customer support
Doesn't own legal entities in countries that it services
Limited third-party software integrations
Businesses planning to expand into other countries: Papaya Global, which is one of our leading PEO companies, has a network of in-country partners to help you hire, onboard, and pay international staff. And if you're sending employees to work in your international offices, it can help you get your staff's required permits (such as work and residence permits).
Companies needing global payroll tools: Papaya Global tops our list of best international payroll services because it can handle cross-border payments and multicurrency payouts with ease. It even manages the benefits of local employees in more than 160 countries and provides pay slips in the employees' local language. It also offers an online employee portal where your staff can complete onboarding, view pay stubs, track paid time off (PTO), and more.
Employers requiring assistance managing international contractors: With its network of in-country partners, finding and recruiting international contractors in 160+ countries will be less stressful for you. Papaya Global will even assess each contractor's worker classification to help avoid labor compliance issues. And when paying international contractors, its platform collects and validates all contractor invoices, making it easy for you to provide accurate payments.
Small businesses wanting only payroll tools: Papaya Global's payroll solution is designed to handle international pay processes and has features that small businesses don't need (such as cross-border payments). Its services can also get pricey depending on the number of employees you have, so for more affordable options, consider our top-recommended payroll software for small businesses.
Companies needing robust HR solutions: Papaya Global may have the essential tools you need to manage employee data, attendance, and onboarding, but it lacks advanced HR solutions to help you monitor performance reviews and training programs. If you're looking for an all-in-one system to manage the entire employee lifecycle, check out our guide on the best HR software.
Businesses looking for a low-cost solution to paying only a handful of international contractors: While Papaya Global offers a contractor management solution that's reasonably priced ($25 per employee, per pay cycle), other providers offer more budget-friendly options—such as Oyster, which has a free contractor payroll plan for up to two workers.
Papaya Global Deciding Factors
Supported Business Types

Small to large sized businesses that need global hiring, onboarding, payroll, and contractor management tools and services.

Free Trial

None, but you can request a free demo

Pricing

Payroll: Starts at $20 per employee monthly
Contractor management: Starts at $25 per worker monthly
EoR services: Starts at $770 per employee monthly
Payroll intelligence suite: Starts at $250 per month

Discount

Offers volume discounts for its payroll, EoR, and contractor management plans (contact Papaya Global for a quote)

Standout Features

Can help you hire and pay workers in 160+ countries
Global immigration support for managing work permit processing
Country specific onboarding workflows
Papaya Global guarantees payroll payments within 72 hours
Access to compliance, legal, and payroll experts
Worker classification and compliance check
Dedicated customer success manager

Ease of Use

Customer Support

Online FAQs and how-to guides; "Countrypedia" containing country hiring guides; dedicated account manager; access to compliance experts
Looking for something different? If you only want online tools to pay US-based employees, check out our list of the best payroll services. If you need help deciding which payroll software to get, read our guide to finding the right payroll solution.
Top Papaya Global Alternatives
Best for: Businesses needing multiple global payroll payment options

Best for: Employers looking for global payroll with stock option tracking tools

Best for: Tech-heavy businesses that want global HR, payroll, and IT solutions

Base monthly fee from:

$599 per employee for EoR services

Custom-priced for global payroll

Base monthly fee from:

$699 per employee for EoR services

Custom-priced for global payroll

Base monthly fee from:

$599 per employee for EoR services

$20 per employee for global payroll

(based on a quote we received)
In our evaluation, Papaya Global earned a perfect score for pricing given its transparent fees, reasonable rates, multiple plan options, and separate payroll package for contractors. It offers three plans: Payroll, Employer of Record, and Contractor Management and Independent Contractor (IC) Compliance.
All Papaya Global plans come with pay processing, local tax filing assistance, full benefits management and administration, and HR support. The main difference between the three packages is access to additional services like worker classification checks and third-party payments for national insurance, pension schemes, and the IRS.
Payroll

Employer of Record

Contractor Management and IC Compliance

Per-Employee Fees

Starts at $20 per month

Starts at $770 per month

Starts at $25 per month

Cross-border Fast Payments

✓

✓

✓

Customized Payroll Ledger

✓

✓

✓

Third-party Payments

(IRS, national insurance, etc.)

✓

✓

✕

Workers Classification Checks

✕

✓

✓
Papaya Global also offers a Payroll Intelligence Suite (monthly fees start at $250) to help you get real-time insights into your workforce spending. This solution provides a clear picture of your employer and employee costs across business locations and time periods. It even integrates with third-party payroll systems, and you can convert its data for uploading to any financial and ERP software.
With Papaya Global, you get a fully automated platform with flexible workflows and robust system security. Apart from helping you save time, its workflow automation streamlines global payroll and workforce management processes. In our evaluation of its payroll features, the provider earned a score of 4.13 out of 5. It didn't get a perfect rating in this criterion because it doesn't own local entities in the countries it services and lacks a robust tax penalty guarantee that covers all tax filing errors—regardless of who makes the mistake.
Through its network of in-country partners, Papaya Global can process payments for your international employees and contractors accurately and on time. It supports multiple currencies, provides local tax filing assistance, and handles payroll requirements in more than 160 countries.
Processing cross-border payments is easy with its fully automated platform—you can even complete the entire process in just a few clicks. Payments are made in the employees' local currency and through licensed third-party payment processors.
You can directly input the changes into Papaya Global's platform if you have salary updates. However, this is only advisable if you have up to 20 employees. If you have a large workforce, Papaya Global has a sample Excel spreadsheet you can download. It contains the required data fields for updating employee salaries, and you only need to input the necessary information (such as new salary and bonus amounts) and upload it into Papaya Global.
Papaya Global also supports bulk salary updates for multiple locations if you have teams working in several countries. It has a sample spreadsheet you can download and use to capture all salary-related changes that need to be uploaded into its system.
If you submitted salary updates via its platform but need to make additional changes, you have to contact Papaya Global for assistance. Note, however, that these changes may not be included in the pay period for when the updated salaries are scheduled to be processed. You may request an out-of-cycle pay run, but this will cost extra.
With its artificial intelligence (AI)-enabled data validation engine, Papaya Global can run payroll audit checks, especially if there are salary changes. It also keeps track of when employee salaries were updated and who made the changes, providing you with an audit trail and a way to verify whether the necessary checks have been completed.
While its in-country partners will process global salary payments for you, it's still your responsibility to conduct a payroll audit from time to time. You also have to approve the final payroll report for every pay run.
In our evaluation of Papaya Global's HR functionalities, the provider earned perfect marks given its solid EoR, compliance, benefits management, PTO tracking, and onboarding/offboarding tools. It also comes with employee profiles and an online storage for workers' documents. Papaya Global even has an org chart module and offers immigration services if your employees need work permit assistance.
Hiring international employees can be stressful and confusing. You have to familiarize yourself with local labor laws and set up local entities in countries you plan to expand in. With Papaya Global's PEO services, you don't have to worry about all that. Its in-country partners act as an EoR, allowing you to recruit qualified candidates, even if without a local entity, while keeping you compliant with local labor laws in over 160 countries.
What's also great about its EoR feature is that its in-country partners will assume responsibility for managing your global workforce but you get to direct employees when it comes to their daily tasks. And if you have multicountry business locations, Papaya Global's cloud-based platform provides you with the tools you need to easily manage all EoR/PEO in-country partners. Its dashboard even shows a list of countries (or "projects") in which you have employees and/or contractors.
---
Ensuring that you have a single source of employee data is very important, especially if you have a global workforce. With Papaya Global, you are granted access to a human resource information system (HRIS) that securely stores your employee information. It also has document management capabilities, enabling you to keep all your staff data and electronic forms in one place.
It has employment contracts that are validated by the provider's local partners and legal experts. You can also use Papaya Global to collect new hire documents from employees. Onboarding workflows are even customized to follow country requirements. And if some of the submitted new hire documents require additional attention, Papaya Global will automatically notify you.
Apart from onboarding and employee data management, Papaya Global has time and PTO tracking capabilities. Employees can monitor work hours and report PTO via the self-service portal. If you're using a third-party time and attendance system, you can extract the time data and then upload it into Papaya Global for pay processing.
---
With its self-service portal, your employees can view pay stubs (in their local language), request PTO, and track attendance online. If your global workers have questions about their payslips, they can contact your company's Papaya Global dedicated customer service manager. Or they can click the "Ask a question" button located in the menu on the right side of the dashboard to open email communications.
---
Papaya Global's contractor management solution is designed to help you avoid worker misclassification errors. It offers robust IC compliance support, which includes determining the correct worker classification of every contractor. And if you're wary about signing work contracts with international contractors, Papaya Global will do that for you. It willingly accepts the full legal liability for your contractors, including handling the day-to-day tasks of managing contractors (such as payment processing).
Independent contractors can log in to their self-service portal to prepare and send payment requests. A blank payment request template is available on the online dashboard if they don't have a form to use. Once they complete and submit the form via its platform, Papaya Global will automatically send the payment requests to the appropriate employee for approval.
---
Offering global benefits to an international workforce can be a nightmare for HR teams as it entails coordination with various providers in different countries. Papaya Global's full benefits management and administration solution takes the stress out of all that. Its network of in-country partners enables it to offer employee benefits in 140+ countries (aside from the US). It even includes access to Papaya Global's in-house team of benefits experts who can guide you through the entire process of selecting the best benefits plans for your global business locations. Here are some of its benefits options.
Medical plan, includes doctor visits and consultations with specialists
Dental insurance
Vision plan
Pension plan
Disability coverage
---
Papaya Global assigns a dedicated customer success manager (CSM) to all its clients. The CSM serves as your single point of contact and will oversee the entire payroll, global EoR, and contractor management processes. Aside from in-country partners to help keep you up-to-date with latest labor and tax regulations, Papaya Global has a "Center of Excellence," which connects you with payroll, compliance, and legal experts who can provide support.
---
What sets Papaya Global apart from similar PEO and global payroll providers is its support services, which include an immigration solution. It can help obtain work permits for your expatriates and employees on international short-term assignments, including spouse and family permits.
---
This is another criterion where Papaya Global earned a perfect rating. Its extensive HR and payroll report options contributed to its high scores. It has more than 50 standard reports, which include payroll summaries, cost simulations, HR workforce data, billing comparisons, annual statutory reports, and an audit trail.
Getting real-time insight into your workforce spending is also made possible through Papaya Global's Payroll Intelligence Suite (monthly fees start at $250). This add-on solution grants you access to advanced reports, which allow you to view employer costs and total payroll amounts across your global operations.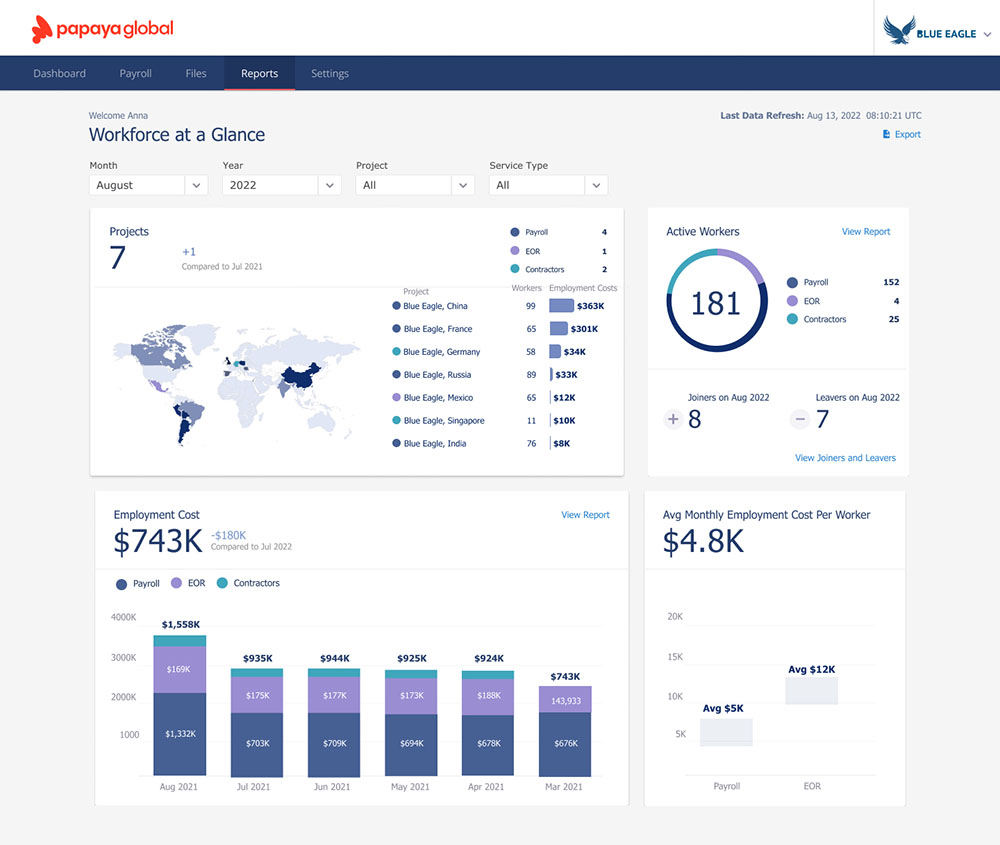 ---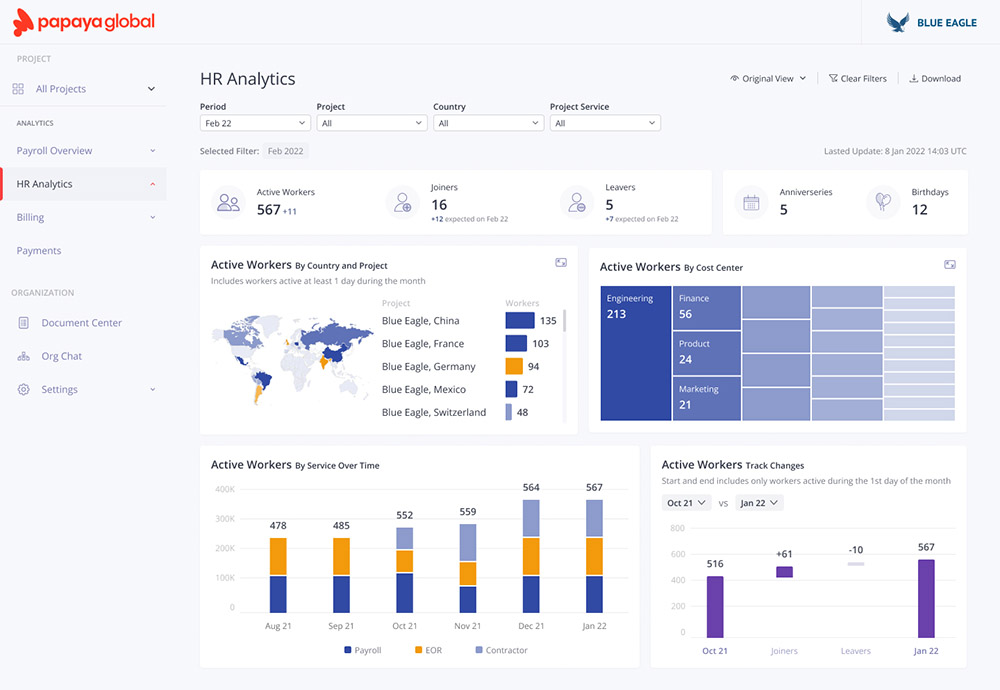 ---
Papaya Global earned perfect marks in this criterion because of its user-friendly interface that makes it easy to learn and use. It also has comprehensive EoR and contractor management solutions with solid global payroll tools. These functionalities take the stress away from finding, hiring, paying, and managing international workers yourself.
User-friendly platform
Phone and email support
Access to legal and compliance experts
Dedicated customer success manager
Dedicated support team
In-country partners/specialists
Online FAQs and help articles
Downloadable form templates
"CountryPedia" guides with per-country employment details
I appreciate that it has in-app form templates (such as payment requests and salary update forms) that you can easily download. It even contains the required data fields that the system needs, so you only have to input the necessary information and upload the form into Papaya Global for processing.
If you have questions about its features and services, Papaya Global has online FAQs and how-to articles, but the selection is limited. You may contact its support team via phone and email, your dedicated account manager, and its "Center of Excellence" teams of payroll, compliance, and legal experts. You also don't have to constantly check the employment and tax rules in countries where your business operates—Papaya Global's in-country partners are always up-to-date with the latest regulations to ensure that you are compliant at all times.
And if you're planning to expand business operations in another country but are not familiar with local employment laws, Papaya Global offers an online "CountryPedia" that shows important information about a country's payroll, tax, and labor regulations. It even displays the country's mandatory PTO entitlements and minimum wage details, including work visa requirements.
If you need integration options, note that Papaya Global doesn't have a robust network. However, the software it connects with are systems most businesses use. These include HRIS, expense management, time and attendance, ERP, and financial software. Here are some of its partner systems:
SAP Concur
Workday
Expensify
BambooHR
Namely
SuccessFactors
Microsoft Dynamics
Papaya Global earned perfect marks in our expert assessment. Its reasonable pricing, user-friendly interface, robust global payroll solutions, and efficient EoR services contributed to its high score. Plus, it has the essential HR tools that businesses need to manage international hiring, onboarding, and pay processing.
Papaya Global's low score in this area is primarily due to the very limited number of reviews on third-party review sites. Those who left positive Papaya reviews appreciate its user-friendly interface and how its online tools help simplify month-to-month payroll and HR processes. They also like the quality of support they received, adding that its customer representatives are helpful.
On the other hand, some users said that its platform needs system improvements and additional workflow automation to make it more robust. Other reviewers commented that while Papaya Global has a generally user-friendly platform, some of its features are difficult to find.
At the time of publication, Papaya Global earned the following scores on popular reviews sites:
How We Evaluated Papaya Global
We looked at the provider's features (both HR and payroll) and payment options. We also considered ease of use, transparency in pricing, HR and compliance support, and customer support. Access to third-party integrations, employee benefits plans, and onboarding tools is also important. We even check the feedback that actual users posted on popular user review sites.
Click through the tabs below for our full evaluation criteria:
25% of Overall Score
We looked for convenience features like automatic pay runs, local tax filing, and the ability to pay contractors and employees with manual check capabilities and direct deposit. Providers rank better if their services are available in more than 100 countries, with a team of in-country payroll and HR compliance experts.
20% of Overall Score
We highly favored providers that showed straightforward pricing with multiple plan options. In addition to each software's per-employee pricing, we checked if any required setup fees. We also gave more points to providers that allow unlimited pay runs and have multiple plan options.
15% of Overall Score
The best global payroll service includes essential HR features, such as onboarding, self-service portals, and benefits. We favored companies that offered tools to help with legal compliance issues. We also considered PEO services and benefit and deduction assistance.
15% of Overall Score
The global payroll software should have no setup fee and be easy to use. We also looked for an intuitive user platform, including live phone support, training options, and flawless integration with other software.
10% of Overall Score
In addition to the number of payroll reports, we considered whether they are customizable or if you could create special reports for your specific need.
10% of Overall Score
Sometimes, a service can check all the boxes but not be the best fit for a small business. The expert review is our opinion on how well a service meets SMB needs for payroll and HR, including its general value for the dollar.
5% of Overall Score
We took the average review ratings from third-party sites like G2 and Capterra, which are also based on a 5-star scale. Any option with an average of 4+ stars is ideal. We also favored software with 1,000+ reviews on any third-party site.
*Percentages of overall score
Bottom Line
If you have plans to expand your business in other countries and need to recruit local employees, finding a reliable partner who can handle all of your global hiring and payroll needs is critical. With Papaya Global and its network of in-country partners, you get solid EoR services and strong compliance support to help prevent employment and tax issues.
What's also great about it is that it has fully transparent pricing—most PEO companies and global payroll providers require you to call and request a quote. Plus, it has efficient online tools that can handle the payroll needs of employees and contractors in more than 160 countries, so sign up for a Papaya Global account today.