Semi-truck financing is a type of loan or lease where the vehicle acts as collateral to secure financing. About 80% of all goods in the United States are transported by semi-truck, and owner-operators drive roughly 350,000 trucks. Semi-truck loans allow those owner-operators and small businesses access to mission-critical lending.
Smarter Finance USA can qualify borrowers for up to $150,000 in semi-truck financing if they have a 600 or higher credit score and a down payment of at least 5%. They offer both leases and loans for semis, and their familiarity with the industry can help borrowers obtain financing fast.
How Semi-truck Financing Works
Obtaining a semi-truck loan is notably different compared to financing a personal vehicle. To finance a semi-truck, you should expect to put down money up front and have strong credit. In most cases, lenders will want to see previous experience in the industry, as well as two years in business, with the ability to show consistent revenue over that period.
There are several options available for semi-truck financing, ranging from equipment leasing and financing to an unsecured line of credit. Some traditional banks offer semi-truck financing as well as many alternative lenders and equipment leasing providers. The price, condition, and whether you purchase a new or used semi-truck will help determine the type of lending that is best for your scenario.
Semi-truck Loan Providers
Financing for a semi-truck can be obtained through a variety of different methods. Some traditional banks offer semi-truck financing, and, if you're particularly well-qualified and have an established relationship, this may be the right option. Many semi-trucks are financed by alternative lenders, which typically have more relaxed credit criteria and will lend on a wider range of equipment of varying conditions.
Semi-truck Financing Providers
| Provider | Best For |
| --- | --- |
| | New semi-truck owners with trucking experience |
| | Established businesses looking for competitive rates |
| | Business owners with fair to poor credit |
| | Borrowers with good credit who want to work with a traditional bank |
| | Owners seeking access to flexible types of financing |
Here are five providers that can help you get your semi-truck financed.
Smarter Finance USA
Smarter Finance USA offers semi-truck financing up to $100,000 with as little as 5% down and a minimum 600 credit score. Unlike many other providers, Smarter Finance will work with startup businesses, which makes them an ideal choice for semi-truck drivers who are making the transition to ownership.
Smarter Finance takes a straightforward approach to equipment financing. They're a great option for new owners, but they do typically want to see drivers with former experience in trucking as well as a commercial driver's license (CDL).
Commercial Fleet Financing
Commercial Fleet Financing is a well-known commercial truck leasing and loan provider that offers semi-truck financing. Commercial Fleet Financing provides competitive loans for semi-trucks with rates ranging from 6% to 16%. However, financing is reserved for well-qualified business owners with at least two years in operations. Commercial Fleet requires a minimum 640 credit score and wants to see borrowers with three years in the trucking industry.
Commercial Fleet Financing is a great funding option for established semi-truck owners who wish to expand their fleet. It is notable for its excellent online reputation as well as flexible financing and repayment options. For borrowers with less-than-perfect credit, Commercial Fleet offers financing through its Fresh Start program, with financing available for a mid-500 credit score or better.
Balboa Capital
Balboa Capital is another great option for semi-truck financing. Like Smarter Finance, Balboa will work with borrowers with a 600 or better credit score for equipment leasing. Balboa also offers term loans and has relaxed qualifications, allowing borrowers with a 560 or better credit score to obtain financing.
Because most semi-truck financing companies require a blanket Uniform Commercial Code (UCC) filing, working with a provider like Balboa Capital with several financing options available can work to your business' advantage—in this case, allowing you access to its business line of credit program for business expansion in the future.
Wells Fargo
Wells Fargois a bank with a nationwide footprint and is well-known for its wide variety of business banking products and services in addition to its consumer banking arm. With more than 5,500 banking locations across the US, it is one of the largest banks in the nation.
Business owners who are interested in working with a nationally recognized traditional bank will find a myriad of financing programs available through Wells Fargo, with terms ranging between 12 and 84 months, flexible payments structured around seasonal operations, and competitive interest rates.
BlueVine
If you need financing above and beyond the purchase price of your semi-truck, a business line of credit is an option you may want to consider. A line of credit with BlueVine allows you to finance additional costs that you may encounter when getting your semi-truck on the road, such as an engine overhaul and other mechanical issues.
With a minimum credit score of 600, one year in business, and $100,000 in annual revenue, you can apply for a business line of credit from BlueVine of up to $100,000. BlueVine also offers factoring financing to business owners with a credit score of at least 530, which allows you to collect an initial advance on your invoices while managing your own payment collection and client relationships.

How to Apply for Semi-truck Financing
When you are ready to apply for an equipment loan to finance your semi-truck, you will want to follow this process to determine what you qualify for and to make sure you will be approved for the best rates and terms.
5 Steps to Getting Semi-truck Financing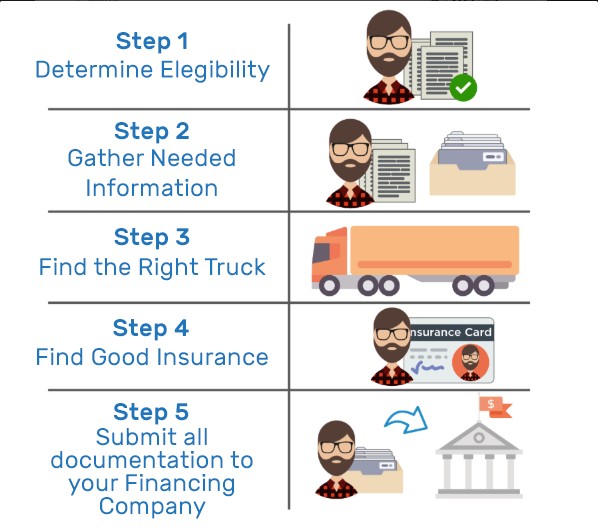 1. Determine Eligibility
Before you apply for any form of financing, you need to make sure you can qualify. Many semi-truck financing options have similar qualification requirements because the truck you're buying is securing the loan. The combination of the truck's value and your down payment typically eliminates most of the risk for your loan provider.
Here's a list of the most important qualifications to get semi-truck financing:
Credit score: 600 or higher; some will require 660 or higher (check your credit for free)
Down payment: 5% or greater (10% to 20% for new owner-operators)
Time with CDL license: Minimum five years
Age of truck: Less than 10 years
Truck mileage: Fewer than 700,000
All qualifications will vary by loan provider, but if you can meet the requirements above, then you'll typically have a good chance of getting financed. The time with your CDL license is essential because it shows the loan provider that the truck is going to be used by an experienced driver immediately. The provider doesn't want the truck to go unused without it bringing income into the business, but they also don't want to risk an inexperienced driver using the truck because it will be used as collateral for the loan.
If you meet these qualifications and are ready to move forward with your semi-truck loan, you should consider using Smarter Finance USA as your loan provider. They are very familiar with the trucking industry and can get you funded for up to $100,000.
2. Gather Needed Information
The next step is to gather all of the information you'll need to provide to your lender. Having the documentation ahead of time will enable you to speed up the process, and it tells the loan provider you're ready to make a large purchase. Trucks can sell fast, especially if another buyer makes an all-cash offer. Before you find the truck that you want, make sure you're ready to move forward and close a financing opportunity.
Here is a list of documentation that you'll likely need to be approved for a semi-truck loan:
Documents showing proof of your registered business
Current and past bank statements (up to 12 months)
Business tax returns (up to three years)
Current year profit and loss for your business
Current business balance sheet
Any business licenses or required certifications
Your CDL
US Department of Transportation (USDOT) number
Motor carrier number
Once you have all of this information on hand, then you're ready to go out and find the right truck.
3. Find the Right Truck
Finding the right truck can be much harder when you're financing the purchase as opposed to paying cash. It's crucial to find a truck that is going to meet the needs of your business by being able to haul the specific goods your business hauls. It's also important to find a truck that isn't too old. Having a truck that has too many years or miles on it can be devastating to your chances of getting financed. Your truck needs to fit a profile with these key attributes:
Fewer than 700,000 miles
Less than 10 years old
Sold by a dealer (not required, but ideal)
Once you find the right truck, you need to negotiate a price and get a written quote on your purchase of the vehicle. It should include the price you're paying plus these critical pieces of information:
Make, model, and year
Mileage
Condition report
At least three pictures of the vehicle
Truck serial number
If the truck is used, the quote should specify that
Once you've found the right truck that you're ready to move forward with, you need to move quickly so that you don't lose it. Be wary of cash buyers or other buyers with financing in hand who may make an offer on the truck you are attempting to finance.
4. Find Good Insurance
Before your loan finalizes, you'll need to show the loan provider that you have proper insurance for the semi-truck. The average cost of a commercial truck accident is $59,150, which could damage your business' cash flow or hurt your loan provider's collateral if you aren't insured properly. This is why proof of good insurance is at the top of your loan provider's list before you can close on your loan.
You can typically start steps 4 and 5 at the same time because you can get preapproved without having insurance. However, you won't be funded until the loan provider receives acceptable documentation of the vehicle being insured.
The type of insurance you need for a semi-truck depends on what kind of business you have. If this truck is the only asset in the business, you'll typically need:
Primary liability coverage
Physical damage coverage (which includes all electronic and in-cap devices)
Bobtail coverage for nontrucking use
Cargo coverage to cover the costs of whatever you're hauling, which should be tailored to your industry for the specific goods you haul
If you're a business with an office or employees, then you will also likely need a general liability coverage policy and a workers' compensation policy. The larger your business is, the more coverage you're likely to need.
The cost of your insurance will vary significantly based on your driving record and the claims record of your business. The value of the truck, the amount of mileage on the truck, and how much you expect to drive it monthly will also play a factor in your costs. We recommend consulting with an expert insurance broker that is familiar with your industry before deciding on what coverage to get.
5. Submit All Documentation to Your Financing Company
Once you've finished with everything in the first four steps, you're ready to apply officially and get approved for semi-truck financing. Make sure that you get details and a complete list of everything your financing company requires before you submit any documentation.
A strong financing partner, like Smarter Finance USA, will help you with this so that you don't delay the process by having to go back and forth with them on small pieces of information that could have been provided upfront.
Next Steps: Owner-operator Cash Flow
Once your financing is approved and the loan closes, you can start using your truck to bring income into your business. Payments will begin shortly after you close on your loan, so you'll want to get the truck operating as quickly as possible. You will also likely want to lower your truck operating expenses because, once you have your rig, your attention will typically be redirected to managing your cash flow.
Getting the right fuel card, or a fleet card for larger transportation businesses, could also save you money and help spread out your cash flow obligations instead of paying for gas immediately when your truck is on the road. If you need additional financing in the future, look at trucking business loan options. You may also want to consider how freight factoring can get you advanced payment for your outstanding invoices.
Semi-truck Financing Mistakes
Now that you understand the steps it takes to get financing, make sure you pay attention to the small details of your application that may deter you from getting approved. Whenever you're getting financing, it's important to be thorough in the small details of your application.
One wrong step or attribute could stop you from getting financed. This could be even more frustrating to you if you've spent a significant amount of time trying to get approved when you could have corrected the issue before you applied.
Here's a list of five things that could prevent you from getting semi-truck financing.
1. Being a New Business
Most loan providers will want to see a minimum of two years of operating history before they lend you a large amount of money. Being a newer business may not stop you from getting a loan, but it could cost you more money. Smarter Finance USA can get you funded as a startup as long as you have industry experience.
How to overcome this: Negate the loan provider's risk by having a large down payment. If the value of your truck and the amount you're willing to put down for it equals the loan amount, then your chances of getting approved are much higher.
2. Having Poor Credit
It's challenging to get semi-truck loans with bad credit. The exact requirements differ by loan provider but, generally, you'll need a credit score of at least 600 to qualify.
How to overcome this: Once you check your credit score, you can then work at improving it, or bring on a co-signer with a strong credit profile. You may be able to find a loan provider willing to work with you if you can provide a large down payment or have a co-signer with a healthy credit profile.
3. Buying Your Truck From a Private Party
Buying your truck from an unknown private party is a risk for a loan provider. More than 15.5 million trucks are operating in the US alone, and they're all in various conditions. The equipment financing company may not be comfortable with the truck's condition or whether or not the documentation is all correct.
How to overcome this: You can buy your truck from a known business or seller—a person or company that is known in the industry and has a history of selling semi-trucks. If this isn't possible, then we suggest getting as much information as possible about the private party you're buying from before applying for financing.
4. Low Cash Reserves
It is difficult to get most types of financing if your business has a history of struggling with cash flow.
How to overcome this: If you currently have low cash reserves, we suggest finding ways to tighten your budget to show more cash in the bank. If this has been a struggle, then putting together detailed pro formas showing how the new truck will improve your cash flow operations would be very beneficial for your loan provider to see.
5. Buying an Old Truck
If your truck is more than 10 years old, you'll find it very difficult to get financing. Being an old truck also relates to mileage as well. A truck with 700,000 miles on it or more is not likely to get financed. Older trucks break down more frequently, and they give the loan provider less collateral value to protect the money they loan you.
How to overcome this: Find and buy a younger truck. Older trucks might be excellent additions to your fleet if you're purchasing one in good condition for cash, but when you need to finance them, they need to have fewer years and miles on them.

Equipment Leases vs Equipment Loans
Semi-truck financing can refer to either an equipment lease or an equipment loan. The differences between the two are significant, and you can read more about them here. The most significant difference is that any form of an equipment loan is where you will own the equipment at the end of your financing term.
An equipment lease is an arrangement where you pay to borrow the equipment until the end of the term when you then give it to the financing company. If you want to move forward with financing, you should use an equipment lease calculator to determine what your monthly payments might be so that you can decide if you can afford it.
Where to Get Semi-truck Financing
When you're ready to apply for financing to buy or lease your semi-truck, look for a partner that is familiar with your industry. There are hundreds of potential providers, but ones that focus on doing equipment financing specifically to trucking and transportation businesses can give you a lot of benefits.
Some benefits of industry-specific financing include:
The process can be faster: They'll know what documents are important to analyze your business profile.
Better chance of getting approved: Semi-trucks are very specific equipment that can be difficult to determine a value for if you're unfamiliar with them. A provider experienced in offering financing in your industry will know how to analyze your information and the value of your truck to best benefit you.
Lower down payment: Providers that don't lend in the transportation space very often may require a larger down payment to secure your financing. This is done to cover any potential risk of which they may not be aware.
Lease purchase opportunity: Using a lease-purchase can have certain accounting benefits to your balance sheet. Traditional lenders may not offer this option, but loan providers who frequently lend to the transportation industry will generally be more comfortable with the process.
Bottom Line
You can get semi-truck financing in the form of either a lease or a loan. Reading our five steps to applying for semi-truck loans should have helped you understand the process better so that you can prepare to get financed. Following the steps carefully and paying attention to the small details of your loan application, will set you up to find the financing you need to purchase your next semi-truck.
If you're ready to apply, Smarter Finance USA is the best semi-truck loan provider we've reviewed. They can get you funded quicker than much of the competition because of their familiarity with the trucking industry. If you have at least 5% of the purchase price as a down payment and a 600 or higher credit score, then Smart Finance USA can get you funded for up to $100,000.