Sideline and Google Voice offer similar functionality, however, you can't use Sideline to make calls using your desktop computer, whereas Google Voice works on any device. In addition, while both options provide you with a business phone number, Sideline goes further by allowing you to send branded text messages, and at $9.99, its Team plan is the lower-cost option for businesses looking for more advanced features.
Sideline: Better for small teams using mobile devices for SMS-based marketing
Google Voice: Better for solopreneurs or small companies wanting to forward business calls to any device
Sideline vs Google Voice at a Glance
| | Sideline | Google Voice |
| --- | --- | --- |
| Starting Price | $9.99 per month | Free |
| International Calling | Available as an add-on service for $14.99 per line, per month | Available on all plans with a per-minute fee |
| Mobile App | ✔ | ✔ |
| Voicemail Transcription | ✔ | ✔ |
| Auto-attendant | Only available on the Enterprise plan | With Standard or Premier plans |
| Toll-free Numbers | No | No |
| Auto-reply Text Messages | ✔ | No |
| For More Information | | |
Takeaway: Sideline is focused on branded text messaging marketing and offers team-sharing plans so that anyone can answer incoming calls using a mobile device. It's an affordable solution for adding a second number without flashy features. In contrast, Google Voice offers a free plan for solopreneurs or paid packages with a service level agreement (SLA), and users can accept calls using any internet-connected device. Both providers feature advanced plans with an auto-attendant for companies wanting business phone system capabilities.
How We Evaluated Sideline vs Google Voice
Sideline and Google Voice are both highly rated virtual phone systems, which means they both require you to have an existing phone line to forward calls to, but do provide basic call handling functionality. Therefore, to determine which was the better option, we considered various business use cases as well as pricing. We also looked for scalability by looking at functionality and cost differences when adding two or more team members.
We used the following criteria for our evaluation:
Standard voice-over-internet-protocol (VoIP) features
Availability of free plans and cost of tiered packages
Customer service options and response times
Usability of mobile and web-based applications
Unique or advanced phone features
Types of collaboration tools and integrations
Call management features on free and paid plans
Although the Google Voice free plan is perfect for solopreneurs, small teams wanting a second number for business purposes will find that Sideline is the better option at a lower price point. However, if your team uses desktop or laptop devices to make and receive calls, Sideline isn't a good fit.
When to Use Sideline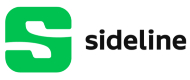 Sideline and Google Voice are both virtual phone number providers. Still, Sideline focuses on unique text messaging features. Business owners can add custom signatures or logos to text messages, and these options aren't available with Google Voice. Furthermore, you can opt for a team phone number for only $9.99 per number, per month and share it with an unlimited number of co-workers. In comparison, you'll pay $10 to $30 per user, per month on Google Voice plans, making Sideline the cheaper option for companies wanting to connect multiple people.
Sideline Pros & Cons
PROS

CONS

Can add a link to your website with the auto-reply text message feature
International calling only available as an add-on package
Low-cost team plan for adding many employees
No integrations with any other applications
7-day free trial for Standard accounts and a 30-day free trial for Enterprise plans
Limited call management features
Sideline Pricing
Sideline Standard: $9.99 per month for one phone number, voicemail, voicemail transcription, and a mobile app for iOS and Android devices*
Sideline Pro: $9.99 per month through June 30, 2021, for one phone number, plus premium support, broadcast texting, and an iOS-only mobile app
Sideline Team Number: $9.99 per month for the Standard plan, and you can add an unlimited number of team members, so incoming calls ring on all phones*
Sideline Enterprise: $9.99 per line, per month for one phone number, an admin control panel, and with the purchase of two lines, you can use an auto-attendant
*Six- and 12-month plans available for $8.33 per month when paid upfront.
Why Sideline Is Better for Small, Mobile Teams
Team number: Unlike Google Voice, which charges a per-user fee, Sideline lets you establish one phone number and send an email invite to add users at no additional cost. When a text or call comes through, it'll ring on all employee devices at once.
Texting: Although Google offers SMS and MMS text messaging, only Sideline lets you set up automated replies when you miss a call, add a custom signature to messages, and insert your logo for business-related text communications.
Activity monitoring: Sideline provides a shared inbox and keeps a log of which team members sent text messages or placed a call, allowing complete transparency, whereas Google Voice only offers call history for individual lines.
When to Use Google Voice


Like Sideline, Google Voice offers unlimited texting and calling, but users aren't limited to mobile phones. Instead, Google Voice works on desktops and laptops, as well as any other internet-connected devices. Unlike Sideline, Google Voice provides a free plan for solo business owners. Plus, you can record incoming calls and integrate your phone system with Google applications, such as Google Workspace, email, and the calendar. Paid plans start at $10 per user, per month, but you'll need to pay $20 to get an auto-attendant, which is nearly the same price you'll pay for a Sideline plan.
Google Voice Pros & Cons
PROS

CONS

Cheaper international rates
Limited user support
A free plan for solo users
No toll-free numbers
Voicemail-to-text services
Caller ID can be unreliable
Google Voice Pricing
Free Google Voice: Sign up with your Google email address for a free phone number, voicemail, and unlimited texting in the U.S. and unlimited calling in the U.S. and to Canada
Starter: $10 per user, per month for integrations, an SLA, voicemail transcripts, and usage and activity reporting
Standard: $20 per user, per month for a multilevel auto-attendant, ring groups, and desk phone compatibility
Premier: $30 per user, per month for access to BigQuery data and to connect international employees to your phone system
Why Google Voice Is Better for Small Teams & Solopreneurs
International options: Sideline doesn't let you call international numbers unless you use the Enterprise plan with the global add-on feature. In comparison, Google Voice offers low per-minute rates on all packages, and the Premier plan supports employees living in international locations.
Integrations: Google Voice is an excellent companion product for Google Workspace users because you can make a call right from Gmail and connect it to your Google Calendar. In contrast, Sideline doesn't integrate with any tools.
Multilevel virtual receptionist: On the Standard plan, you can set up a multilevel automated receptionist and ring groups to manage incoming calls and route them to the appropriate team members. With Sideline, you need to add a line for the auto-attendant, and the line can't be used for outgoing calls.
Find out if Google Voice is right for your business by checking out our full review.
Alternatives to Sideline & Google Voice
Sideline and Google Voice are great ways for small, mobile teams to add a business phone number. However, both companies rely on your Wi-Fi or cellular data to place and receive calls. This means neither virtual provider can completely replace a complete phone system. If your team is expected to work primarily from an office, or is rapidly growing, consider one of the many Google Voice alternatives on the market with more robust call management features.
If your budget is less flexible, you can also check out our list of the top six cheap VoIP services.
Frequently Asked Questions (FAQs)
Are free trials available for Google Voice or Sideline?
Yes. Sideline offers a seven-day free trial for the Standard and Pro plans or a 30-day free trial for the Enterprise plan, but a credit card is required for the trial. In contrast, you can use the free Google Voice plan without a credit card for as long as you want. However, there aren't any free trials of the paid Google Voice plans.
Do virtual phone services use Wi-Fi or cellular data?
Yes. Google Voice and Sideline offer users the option of using cellular data or an internet connection. The difference is that Sideline is a cellular-first virtual provider, and you can enable Wi-Fi calling in your settings, whereas Google Voice is a VoIP-first provider. You can turn off Wi-Fi calling to use your cellular data.
Can Google Voice or Sideline replace an existing phone system?
No. Google Voice and Sideline are virtual number providers, meaning they forward all calls and messages using your existing cell phone number. To replace a business phone system, you need a standalone VoIP service, such as RingCentral or Grasshopper.
Bottom Line
For small teams, Google Voice and Sideline are excellent options for adding a second line. Sideline's Standard plan allows an unlimited number of team members to share the same line for $9.99 per month, which feels similar to sharing a phone line in an office at a much lower cost. Since it doesn't work on desktops, Sideline isn't good for high call volumes. In contrast, Google works on any device, and higher-tier plans also work on Polycom phones and softphones, making it a better option for managing calls.
Overall, Sideline is a solid option for small business owners looking for an inexpensive plan to connect team members. If you're a solo business owner, the Google Voice free plan is the best choice. If you want an auto-attendant, then Sideline is slightly cheaper than Google Voice. Before picking a phone system, consider the devices employees use and if you need international calling capabilities.