Companies that don't need a full-scale phone solution are the best candidates for Sideline and Google Voice. Each is a virtual phone service, providing a business telephone number to subscribers while also offering features like SMS texting and voicemail capabilities. However, the main difference between the two is that Sideline was built for collaboration in mind, while Google Voice is better for single individuals.
Google Voice: Best for solopreneurs and startups with a tight budget
Sideline: Best for small to medium-sized companies with different teams
Sideline vs Google Voice Overview
| Feature | Sideline | Google Voice |
| --- | --- | --- |
| Pricing | $9.99 monthly per number | Free |
| Local Telephone Number | ✔ | ✔ |
| Mobile App | ✔ | ✔ |
| Voicemail | ✔ | ✔ |
| Business Texting | ✔ | N/A |
| Team Number | ✔ | N/A |
| Shared Inbox | ✔ | N/A |
| Additional Numbers | For an additional fee | N/A |
| Auto-attendant | For an additional fee* | With paid subscription |
| More Information: | | |
*This feature is only available to
Enterprise
accounts, or users who have at least two paid telephone accounts through Sideline.
Takeaway: Google Voice does an excellent job providing the basics for companies that need the professional presence of a business telephone number at a cost that can't be beat. However, in comparison to Sideline and other alternatives, its features are nowhere near as robust. Sharing a common voicemail inbox, for example, and being able to message your team in real time, therefore, make Sideline the better solution for small to medium companies with growing teams.
How We Evaluated Sideline vs Google Voice
Because Sideline and Google Voice are such different services, we took a long look at each to see which works better in a small business setting. While affordability and overall good telephone reception are important factors for any business phone system, we also examined others such as:
Included stock features
Advanced features
Communication methods
Voicemail services
Call management features
Collaboration tools
Overall customer reviews
Scalability
When to Use Sideline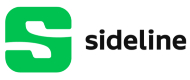 Since Sideline is not a free service, it is better suited for companies that can afford to spend money on a phone plan. Sideline charges a monthly fee of $9.99 per phone number, but the price unlocks many different collaboration tools for small and growing teams. This price also includes other methods that customers can communicate with your business, such as text messaging and even MMS (pictures and other media) texting.
Sideline Pros & Cons
| Sideline Pros | Sideline Cons |
| --- | --- |
| Affordable: Compared to similar services, Sideline's monthly fee is not as expensive as you might expect. | Customer service: Long wait times and unreliable customer service agents are a common complaint from customers. |
| Team-centered: Sharing an inbox for voicemails and text messages is only one of many team-centered benefits of Sideline. | Confusing notifications: Many users complain that notifications, like missed calls, don't show up properly or on time in the app. |
| Auto-reply: If nobody is available to answer missed calls or texts, this feature will do so for you. | No video chat: The ability to host video meetings is frustratingly lacking. |
Sideline Pricing
Sideline charges $9.99 per telephone account, per month. You can purchase as many accounts as you like, with additional upgrades available if you're interested. These include:
Sideline for Enterprise: $9.99 per line, per month. Using a team dashboard user interface (UI), companies can control which telephone number is assigned to which employee, manage settings, and more.
International calling. $14.99 per line, per month. Sideline supports over 165 countries, offering unlimited global calling for anybody with a team telephone number.
Additional accounts: $9.99 per line, per month. Purchase as many Sideline accounts as you like.
Why Sideline Is the Better Choice for Medium-sized Companies
Monthly price: Sideline is not a free service. This means that companies that can afford to spend on a monthly telephone service are the best candidates for Sideline, which are likely companies that have grown past the startup phase.
Made for teams: So many features have been built into Sideline to help business teams thrive. These include unlimited MMS messaging to include files and other media in texts; team telephone numbers to help with customer management; and logs to view and manage communication history between teammates.
Call management: Features like call forwarding, mute, and custom voicemail greetings add a layer of professionalism to your business. These additional features help to separate your phone presence from amateur to professional.
When to Use Google Voice

Very small businesses, including startups, are the best audience for Google Voice. Offering many similar features as Sideline, Voice is a much less robust virtual phone system. It is a free option, which is attractive to businesses on an extremely tight budget, yet gives users access to features like video chat and a free telephone number in the area code of your choice.
Google Voice Pros & Cons
| Google Voice Pros | Google Voice Cons |
| --- | --- |
| Free: Paying nothing for a second phone number is one of the best features of Google Voice. | Basic: You are given very few options to customize your own phone experience or that of your customers. |
| Convenient: Wherever you can sign in to a Google browser, you can access Voice and any other G Suite applications. | Limited customer support: Many users complain that resolving technical issues of any kind is a long and slow process. |
| Video chat: Whereas Sideline does not have a video chat option, Google Voice has one for free. | Becoming outdated: Voice has not changed its user interface (UI) in quite some time, making it look aged and outdated. |
Google Voice Pricing
With Voice, you pay absolutely nothing to get started. All you need is an existing telephone number as well as a Google account.
Why Google Voice Is the Better Choice for Startups & Small Businesses
Free: If your company is very small and you are carefully watching your pennies, then Google Voice's free plan is an ideal choice. You pay $0 to gain access to a business telephone number, video and SMS chatting, and voicemail.
Professional presence: By having a phone number and voicemail inbox assigned specifically to your business, Google Voice helps you to present yourself to the world as a professional.
User-friendly: Voice is set up in a very easy-to-follow manner, making it easier for less-than-tech-savvy individuals to learn. Its mobile and desktop versions are laid out very similarly, making it easy to navigate no matter what device you choose to use.
Sideline vs Google Voice: Which Is Better for Small Businesses?
Between Google Voice and Sideline, which service you choose will reflect the nature of your business. For example, if your business has experienced a growth phase and you don't mind paying for a virtual phone service, then Sideline will be a better option. However, if your budget is limited and you'd prefer to spend nothing on many basic features, then Google Voice will be more ideal for you. Sideline and Google Voice both have:
SMS texting: Voice and Sideline both let you communicate with colleagues and clients by sending and receiving SMS texts.
Voicemail: Catch up on missed calls by listening to voicemail recordings. Both services also include voicemail transcription.
Free telephone number: Keep your business and personal calls separate using a free telephone number of your own choosing.
Call management features: Both services have a suite of basic call management features, including mute, call forwarding, caller ID, and many others.
When all is said and done, we recommend Sideline as our preferred virtual phone service. The monthly price is minimal in comparison to your included features, plus you have plenty of ways to keep in contact with your growing teams. It is ideal for businesses that are in a phase of growth, but are not quite ready for the commitment of a full-scale voice-over-internet-protocol (VoIP) phone system yet.
Frequently Asked Questions (FAQs)
Can I have more than two telephone numbers through either service?
With Sideline, you can purchase additional telephone numbers, but they are not linked to your personal device in the form of, for example, a third or fourth phone number. Sideline lets you purchase team numbers, which is a single telephone number shared by all team members across their devices. You can also subscribe to the Sideline Enterprise service, which allows a single administrator to manage multiple telephone numbers and assign them to users.
Google Voice does not allow any additional numbers at this time. One number can, in theory, be shared by more than one individual, but Voice is stricter with its sign-in options. If more than one person is signed in under a single account and attempts to make Voice calls at the same time, the system will disallow this. The better course of action for multiple numbers with Voice is to have each employee sign up for an individual Google Voice account.
What's the best way to use Google Voice?
Your experience with Voice will be tailored based on your needs and the way you prefer to communicate with others, but some of the best ways to make the most of Google Voice include:
Share voicemails through email
Host conference calls for up to four other participants
Screen calls and set "do not disturb" settings
Bottom Line: Google Voice vs Sideline
Google Voice's free package gives customers on a budget basic necessities to help manage a steady call volume, including features like SMS texting, video chat, and a second phone number for business purposes. On the flip side, Sideline's paid subscription gives users many different features that far exceed those of Voice, including team phone numbers and shared inboxes.
As our pick for the better of the two services, Sideline wins. Voice is great for startups and companies on a shoestring budget, but Sideline's specific focus on teams and working together helps companies to grow and succeed over time. If you aren't ready to make the full commitment yet, visit Sideline to learn how to start your free seven-day trial.