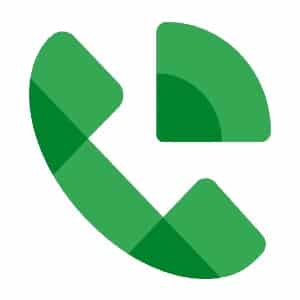 Google Voice is a virtual phone service that provides users with a phone number for calls, text messages, and voicemails. It is often used by entrepreneurs who are looking for a straightforward voice-over-internet-protocol (VoIP) solution that fits their small budgets. Google Voice is among the best small business phone systems because of its free option with basic features and its affordable plans.
What We Recommend Google Voice For
Google Voice offers a cloud-based VoIP system for those with existing phone numbers and Google accounts. It provides a virtual local phone number that you can utilize when sending and receiving calls and texts, as well as managing voicemails. It is perfect for small business owners already using Google apps looking for a free or low-cost solution with basic call and messaging features.
Specifically, Google Voice is best for:
When Google Voice Would Not Be a Good Fit
Looking for other options? Check out our guide to the best VoIP apps for business to find out which product is best for your needs.
Google Voice Overview
PROS

CONS

Free option available
Limited capabilities
User-friendly interface
Lacks 24/7 support channels
Paid plans allow integration with GoogleWorkspace apps
No toll-free numbers
Includes local phone numbers
Multilevel auto-attendant locked in premium plans
Google Voice Pricing
Google Voice is free for those who utilize their personal Google accounts. However, those with Google Workspace accounts must subscribe to one of its three plans, where fees start at $10 per user, per month. The main differences between the plans are the numbers of users and locations and access to premium features like advanced reporting and desk phone support.
Starter

Standard

Premier

Best For

Small businesses and entrepreneurs

Local organizations of any size

Businesses that need advanced features and international presence

Pricing
($/User/Month)




$10

$20

$30

Number of Users

1 to 10

Unlimited

Unlimited

Domestic Locations

1 to 10

Unlimited

Unlimited

International Locations*

✕

✕

Unlimited

Unlimited Domestic Calling

✔

✔

✔

Unlimited Text Messages Within the U.S.

✔

✔

✔

Multilevel Auto-attendant

✕

✔

✔

Ring Groups

✕

✔

✔

Desk Phone Support

✕

✕

✔

Advanced Reporting

✕

✕

✔
Other calls that aren't included in the user's subscription are billed according to Google Voice's rate card. Per-minute fees range from 1 cent to $5.12, and are based on the country or region of the call's recipient and type of call, such as mobile and VoIP, among others. Rates may change without notice.
Google Voice Features
Google Voice is a free, cloud-based phone service accessible through computers and mobile devices. It is recommended for businesses looking for a basic VoIP solution to separate their personal and business phone lines at no cost.
Its free plan includes unlimited local calls and texts, desktop and mobile apps, and visual voicemail. Users with Google Workspace accounts may subscribe to its paid plans to unlock more features, such as advanced reporting and a service level agreement (SLA).
On top of Google Voice's core capabilities, it also comes with the following:
Short message service (SMS): Send an unlimited number of text messages for free to most U.S. and Canadian numbers using your Google Voice number. Its platform utilizes Wi-Fi or mobile data when sending text messages. Unlimited text messaging is available only in the U.S. for those who are subscribed to any Google Workspace plan. Users' mobile phone companies will charge extra fees if they aren't connected to any internet service while sending SMS.
Google apps and service integrations: Google Voice enables users to integrate its application with other Google apps, including Google Hangouts. If you have a Google Workspace account, you may also utilize Google Meet, Google Calendar, and Google Fi with your Google Voice service.
Desk phone support: Standard and Premier subscribers may set up desk phones, such as Polycom VVX 150 OBi Edition, Polycom VVX 250 OBi Edition, Polycom VVX 350 OBi Edition, and Polycom VVX 450 OBi Edition. This capability lets you receive and make calls over the internet through the Google Voice platform.
Need to separate your business calls from your personal ones? Read our guide on how to get a Google Voice number.
Google Voice Call Management
Domestic and international calling
Multilevel auto-attendant
Ring groups
Call forwarding
Call screening
Missed call email alerts
Google Voice is a virtual phone system that lets you make and receive calls through its app with an internet connection. Its free version includes unlimited domestic calling and texts and lets users purchase credits as needed.
Its call management settings can easily be turned on or off through a toggle button on the settings page. These options include missed call notifications, alerts, and do not disturb, among others. Google Workspace account holders may also access premium features like multilevel auto-attendants and ring groups.
Google Voice Visual Voicemail
Access from any device
Voicemail transcription
Customized voicemail greetings
Voicemail PIN setup available
Google Voice enables users to receive and manage voicemails from its intuitive platform. Though it is among the simplest platforms compared with other providers that have free plans, its voicemail features include the essentials, such as transcription and customized greetings. To add another layer of privacy, users may also set up a PIN for voicemail access.
Google Voice features a visual voicemail that displays transcriptions of voice messages. Some audio recordings cannot be transcribed if they are too short or aren't recognizable by its system. Those with Google Workspace accounts may set their voicemail and transcription data retention rules. Per Google's support page, they may choose to retain messages from one to 36,500 days.
Google Voice Reporting
Advanced call reporting
Filter and export log data
Create email alerts of filtered reports
Wide range of information available, including auto-attendant activity
Google Voice provides detailed activity reports for those subscribed to a paid plan. These pieces of information are accessible through the Google admin console and are retained for six months.
The Voice audit log includes:
Event name: Logged actions such as phone number assignment and text sending
Event description: Activity information such as call duration and costs made from a Google Voice number
Date: Event time and date, which are based on the user's browser's time zone
User: The name of the user who executed the action
Destination: The recipient's phone number that received the call or text
Source: The phone number that made the call or sent the text message
Duration: The total length of time of the call
Group message: Displays whether a text message was sent to an individual or a group
Cost: Shows the cost of the call or text
You may also add filters to show your needed data, export information, and create email notifications of your filtered reports. Premier plan users may also generate advanced reports through BigQuery.
Google Voice Web & Mobile Apps
Manage calls, texts, and voicemails across devices
Accessible for personal and Google Workspace accounts
Competitive international call fees
Searchable history
You can access Google Voice through your web browser or its mobile app compatible with Android and iOS smartphones. Due to its platform's simplicity, you can access all of its features on calls, texts, and voicemails regardless of the device you are using.
Both web-based and mobile apps are free to use. However, charges will be required for calls or texts that aren't included in the locations covered by its unlimited usage terms.
Google Voice Ease of Use
Easy to set up
Simple and familiar interface
Integrates with other Google apps
Compatible with desktop, iOS, and Android devices
Help center and community forums available
Google Voice is a free phone service that you can deploy instantly from anywhere, as long as you have a personal or Google Workspace account and an existing phone number. It is among the simplest tools available in the market.
It features a straightforward user interface for both its web-based and mobile applications. Since it doesn't have many features, users can intuitively make it work. However, it lacks support channels typically provided by its competitors, such as live chat or phone. Users can only access its limited help center and community forums.
Want to know ways on how you can utilize Google Voice? Here's our guide on how to use Google Voice as your business phone number.
Google Voice Alternatives
| | | |
| --- | --- | --- |
| Best for: Teams wanting communication and collaboration tools in one spot | Best for: Businesses needing advanced features with hassle-free setup and use | Best for: Businesses wanting call center capabilities and scalability |
| Starting price: $19.99 per user, per month | Starting price: $26 per month | Starting price: $12 per user, per month |
Looking to read more about other VoIP systems? Read our guide on the best Google Voice alternatives.
What Users Think of Google Voice
Reviews from end-users and experts are comparable with our Google Voice analysis, saying that it's been an excellent choice for small business owners looking for a free virtual phone system. At the time of publication, Google Voice has earned the following scores on our and other popular user review sites:
TrustRadius features a customer satisfaction score based on their compilation of user reviews and ratings on their website. According to its calculation, Google Voice has an 8.4 out of 10 rating based on 179 reviews.
When reading through user reviews, here are some of the trends that I noticed:
| Users Like | Users Don't Like |
| --- | --- |
| Intuitive and user-friendly interface | Phone number cancellation when an account is inactive |
| Free and reliable | Initial setup is complicated |
| Excellent call quality | Voicemail transcription isn't always accurate |
| Virtual phone number is included | |
Bottom Line
Google Voice offers a free VoIP service that provides users with a virtual phone number that they can utilize with its applications. It also offers low-cost paid plans for Google Workspace account holders; however, its set of capabilities isn't as comprehensive as its competitors in the market.
Google Voice works best for those looking for a basic VoIP app that comes with a virtual local number to separate their professional and personal communication lines. It is also recommended for Google apps users who do not need complex business phone systems.
Visit Google Voice to sign up for a free account and determine if it matches your business needs.