Google Voice Review: Is It Right for Your Business?
This article is part of a larger series on VoIP.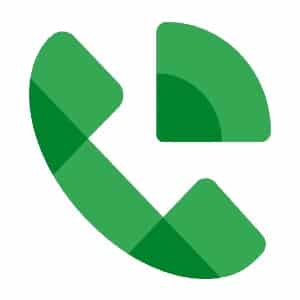 Google Voice Overview
PROS

CONS

User-friendly interface
Toll-free and vanity numbers are not supported
Unlimited calls and text to domestic locations
Limited business phone capabilities, such as emergency calling and multimedia messaging
Offers local phone numbers for free
Multi-level attendant is available on high-tier plans
Highly customizable options to meet daily workflow, including number porting and billing
Global coverage is only available in 14 countries
Ability to route calls to multiple devices at the same time
Only available as a paid add-on to Google Workspace
What We Recommend Google Voice For
Google Voice offers a straightforward voice-over-internet-protocol (VoIP) solution for businesses with a Google Workspace account. Users have the freedom to select a local phone number that they can use to make and receive calls and switch between connected devices during a call.
When to Use Google Voice
When Google Voice Might Not Be a Good Fit
Google Voice Pricing
Google Voice is a cloud-based phone service for those with Google Workspace accounts. However, business users can subscribe to any of the three paid plans to start using the service. Starting at $10 per user, per month, each plan differs in the number of users, locations, and access to premium features, such as ring groups and advanced reporting.
Google Voice Plans

Starter

Standard

Premier

Best For

Small businesses or solopreneurs wanting unlimited call and text messaging features

Mid to large-sized businesses that need a local presence

Businesses needing advanced call features and global presence

Google Voice Pricing

($/User/Month)

$10 per user, per month

$20 per user, per month

$30 per user, per month

Number of Users

Up to 10

Unlimited

Unlimited

Domestic Locations

Up to 10

Unlimited

Unlimited

International Locations

✕

✕

Unlimited

Unlimited Calls to the U.S. From Any Country

✔

✔

✔

Unlimited Text Messaging Within the U.S.

✔

✔

✔

Multi-level Auto-attendant

✕

✔

✔

Advanced Reporting

✕

✕

✔
Other calls excluded from the user's subscription are billed by usage based on Google Voice's rate card. Per-minute fees range from 1 cent to $5.12, depending on the country or region of the call's recipient and type of call, such as mobile or landline. Rates change at any time.
Google Voice Features
Google Voice is a cloud-based phone system with basic call and messaging features. It offers three paid pain plans for businesses, and each one includes unlimited calls to the U.S. from any country. Fees may apply when making calls to other countries. All three plans include call forwarding, voicemail transcription, unlimited texting, and activity reporting.
The right plan depends on the communication requirements of your business. However, it's important to note that there is little difference between the feature packages of the three paid plans. For example, the Premier plan includes all Standard plan features except for advanced reporting and international locations.
General Features
Google Voice offers an attractive array of VoIP business phone features that enable users to take full control of their phone service beyond standard phone lines. It turns any device into a business phone, with the ability to set up a business number with Google Voice. The platform enables users to send text messages, make and receive phone calls, and forward calls from one number to another, making it easy to manage all communications.
All plan subscribers have unlimited texts within the U.S. and free calls to the U.S. from any country. If you want to make international calls, Google Voice is available in up to 14 countries, including those in the European region. However, international locations are limited to Premier subscribers, and pay-per-minute rates are applied for non-Google Voice members.
Google Voice offers other basic call functions, including call forwarding, conferencing, and recording. The call forwarding feature is useful for businesses managing a high volume of calls and connecting participants from multiple locations. This feature allows you to forward your Google Voice phone number to any number and link a maximum of six numbers at a time.
---
Data Reporting
All Google Voice plans include reports on usage and real-time activity. Usage reports are a great way to monitor call activity in a business and identify your business' direction. The Voice Audit Log includes the event name, date, destination, and source. Users may also add filters to export information, show required data, and create email notifications of filtered reports.
Upgrading to the Premier version offers a more advanced and customized reporting feature via BigQuery—Google's serverless, multi-cloud data warehouse. It is designed to help companies turn data into valuable business insights.
BigQuery also helps analyze data through its built-in features, such as machine learning and business intelligence. This feature is recommended for large enterprises that want to take advantage of their high volume of calls to collect information.
---
Voice AI
Google Voice uses Google's artificial intelligence (AI) to save users' time, blocking unwanted calls and transcribing voicemails automatically. The powerful AI feature also integrates your Google Voice account with Google Meet and Calendar to identify the most important tasks.
Despite the incredibly helpful features of Google Voice AI, this feature only works when combined with third-party VoIP or contact center providers, such as 8×8.
---
Voicemail Transcription
Another unique offering within Google Voice is its voicemail transcription service, powered by Google's advanced speech recognition technology. This feature is particularly useful for those who don't like listening to long voicemails or for people who need to know whether a voicemail is urgent enough to let go of the tasks at hand.
When someone leaves a message at your Google Voice number, this tool will create written transcripts along with a color indicator that shows how accurate the translation is. You also have the choice to listen to the recording and set specific voicemail messages to every caller. Additionally, Google Voice allows you to send your voicemail transcriptions to a specified email address.
---
Ease of Use
Guided by Google's familiar, user-friendly interface, Google Voice makes the management of a VoIP solution relatively easy. It features a straightforward interface for both desktop and mobile use and an admin console that allows you to consolidate your workflow across devices.
Since Google Voice is a lightweight VoIP solution, users will find it easy to use with little to no learning curve. It also simplifies the management of phone calls and brings all basic communication features into one place. Users of Google Workspace will benefit the most from its intuitive interface because it offers quick access to calls and settings.
---
Integrations
Since Google Voice is a part of Google Workspace, its integrations are limited to Google Workspace apps, including Google Meet, Drive, Calendar, and Gmail. The platform is compatible with Polycom hardware, enabling Standard and Premier subscribers to set up desk phones manufactured by Polycom.
Although Google Voice doesn't have additional integrations, it allows users to use its platform along with Smith.ai, which offers live chat and virtual receptionists.
---
Looking for the best VoIP phones for your small business?
Check out our article about the best VoIP phones and find out which one offers a more affordable and straightforward solution for your phone system requirements.
Google Voice Alternatives
Google Voice is a promising VoIP solution for businesses looking for a lightweight VoIP platform. However, its limited capabilities may not work well for businesses with advanced call management needs. Below are some alternatives that cater to different business requirements:
| | | |
| --- | --- | --- |
| Best for: Businesses needing extensive third-party integrations capabilities | Best for: Companies seeking unlimited international calling for multiple countries | Best for: Remote businesses wanting a unified communications platform for distributed workforces |
| *Starting price: $29.99 per user, per month for the first paid tier | Starting price: $15 per user, per month for the first paid tier | **Starting price: $30.95 per user, per month for the first paid tier |
| | | |
*Pricing is for two to 20 users
**Pricing is based on one to four users
What Users Think of Google Voice
Recent Google Voice reviews reveal that many users appreciate the platform's simplicity and low-cost pricing plans. Freelancers and solopreneurs commended Google Voice's ability to keep their personal and business phone separate and provide a local phone number for free. Many users also praised the AI functions of the platform, which enable them to transcribe voicemails and block spam calls.
At the time of publication, Google Voice earned the following scores on popular review sites:
Despite the high scores on Google Voice ratings, there are negative reviews that reveal the platform's inability to provide toll-free numbers, its lack of live customer support, and inaccurate voicemail transcriptions. Amid these setbacks, Google Voice reviews point out that users continue using the platform because of its cheaper subscription plans and voicemail transcription service.
Bottom Line
With its affordable plans, Google Voice is a great fit for small businesses looking for a straightforward VoIP platform with basic features for business communications. It also works best for Google Workspace users and remote teams who travel frequently and use multiple devices at the same time. If you're interested in exploring more of its features, sign up for a free trial on the Google Workspace platform.