TurboTenant Review: Is It Right for Your Business?
TurboTenant is a free property management tool with features that streamline and simplify landlords' tasks. The most popular features include rental listing marketing, lead management, online rent collection, tenant screening, and maintenance tracking. TurboTenant customer reviews show that the software is extremely easy to use, beneficial for landlords and tenants, and offers excellent value for the price. It is ideal for landlords seeking an all-in-one property management tool for a small number of properties.

What We Like
Powerful rental marketing and lead management tools
Online rent payments and tracking
Free tools, calculators, reports, and additional resources
Affordable pricing
What's Missing
Free account only connects to one account
Customer service is difficult to reach
Tenant application fee more expensive than other tenant screening services
Recommended for
First-time investors looking for a user-friendly, all-in-one tool
Landlords wanting to automate rent payments
Independent investors wanting an efficient strategy of communicating with tenants
Not Recommended For:
Non-accredited investors who want automated and passive investment options
Investors looking to expand their portfolio in commercial real estate
International investors who want to invest in Roofstock One
Non-accredited investors who don't have a lot of capital to buy SFRs
TurboTenant Pricing:
Free plan: $0
Premium plan: $79 per year
Other Articles Featuring TurboTenant
TurboTenant Reviews: What Users Think
If you're asking, "Is TurboTenant legit?" here's what people are saying. Almost every TurboTenant reviewer noted how intuitive and user-friendly the interface is, and we didn't find any reviews that mention technical bugs or glitches. Users also rave about how easy it is to automate payments and track invoices on the free plan.
Rental TurboTenant reviews also noted that the management features were excellent, making it easy to communicate seamlessly with tenants and build strong relationship. One of the other features that reviewers love is the marketing and advertising tools. Users noted that they consistently get plenty of leads for each rental they list with TurboTenant, and that almost all of the leads are likely to convert.
Although the majority of TurboTenant customers were more than pleased with the software, a number of them noted it was consistently challenging to get in contact with customer service. TurboTenant does state that phone support is only offered to premium members, so this is something you should take into consideration. If you'd prefer to use property management software with highly accessible and active customer support, check out Buildium.
Would the Expert Use TurboTenant?
We recommend TurboTenant because of its easy-to-use property management platform with an extremely affordable pricing structure. Some of our favorite features include rental listing syndication, lead management, rent collection, and expense tracking. Also, the availability of add-on tools and features allows you to continue using TurboTenant as your portfolio grows.
However, the free plan can only connect with one bank account. Investors with multiple properties need to create separate accounts—which is an unnecessary hassle—or upgrade to the premium plan. In addition, the accounting add-on does not include a few important details, like 1099 forms, and the lease agreements should still be verified with a legal professional.
For this reason, TurboTenant may not be ideal for investors with large portfolios. If this is a problem for you, we recommend TenantCloud. It's a similar platform with easy-to-use tools, but offers more package options for an unlimited number of properties.
TurboTenant Alternatives
Software

Best For

Beginner investors wanting an affordable, easy-to-use solution that grows with their portfolio

Landlords seeking software that can handle a large number of properties

Landlords wanting an easy-to-use rental marketing and property management software

Investors wanting property management software with an app

Key Features

14-day free trial
Unlimited units on the free plan
Free listing syndication

Manages up to 5,000 units
Comprehensive, all-in-one tool
Accessible customer support

Paid plans offer unlimited properties
Marketing tools
Syncs with Google

Mobile app
Online rent payments
Unlimited properties

Monthly Pricing

Free or $7 per unit

$50

Free or starts at $12

Starts at $9

Learn More
TurboTenant Plans & Pricing
TurboTenant pricing includes two plans: free and premium ($79 per year). Both plans offer advertising, lead management, rental applications, tenant screening, rent payments, expense tracking, messaging, maintenance requests, document management, and chat support. Landlords can continue using the free plan and simply pay a one-time fee for add-on services like lease agreements, online signatures, and the landlord forms pack.
In addition, TurboTenant includes a free platform for renters to communicate with landlords and pay their monthly rent. However, renters must pay a fee to submit a rental application. It also provides additional optional services for renters, like renters insurance and rent reporting.
Plans

Free

Premium

Who Plan Is Best For

New investors looking for an easy-to-use management tool for their first property

Investors with multiple properties

Annual Pricing

$0

$79 per year

Advertising

✓

✓

Lead Management

✓

✓

Applications & Screening

✓

✓

Automated Reference Checks & Rent Payments

✓

✓

Rent Reporting & Expense Tracking

✓

✓

Maintenance Requests

✓

✓

Messaging & Document Management

✓

✓

Chat Support

✓

✓

(Faster response time)

Phone Support

✕

✓

Expedited Rent Payouts

✕

✓

Connected Bank Accounts

One

Unlimited
Add-ons
For users on the free plan, TurboTenant provides multiple add-on services, like state-specific lease agreements, lease addendums, e-signatures, and a landlord forms pack. These services are included in the premium plan. Pricing for a la carte services is as follows:
State-specific leases: $39 per lease
Lease addendums: $15 per addendum
E-signatures: $9 per document
Landlord forms pack: $145
TurboTenant also provides an accounting tool as an add-on service for all users. It includes automated imports from your bank accounts and easy-to-use reporting tools. It starts at $15 per month, and each additional property costs an additional $5.
General TurboTenant Features
TurboTenant core features include rental listing marketing, lead management, rental applications, tenant screening, customizable lease agreements, automated rent payments, expense tracking, and rental management. It also provides extensive resources and tools for landlords, like a free rent estimate report, a landlord glossary, and TheKey, a weekly newsletter for landlords.
The easy-to-use tools and resources provided by TurboTenant almost unanimously make it easy for landlords and tenants to use and increase efficiency. Continue reading more about how TurboTenant's features can help you find good tenants and manage properties seamlessly.
Upload photos and video tours
Easy-to-create rental listing that automatically posts to multiple sources
Rental listing page
Includes a lead management platform with contact information
TurboTenant provides a rental listing platform that makes it easy to enter detailed information and upload photos and videos. It then automatically customizes your listing for individual platforms and shares your property to each one, including Realtor.com, Apartments.com, Craigslist, and Facebook Marketplace.
This allows you to create an appealing listing in under 10 minutes and ensure that it can be found by all the potential renters in your area. In fact, TurboTenant customers get an average of 28 quality leads per listing.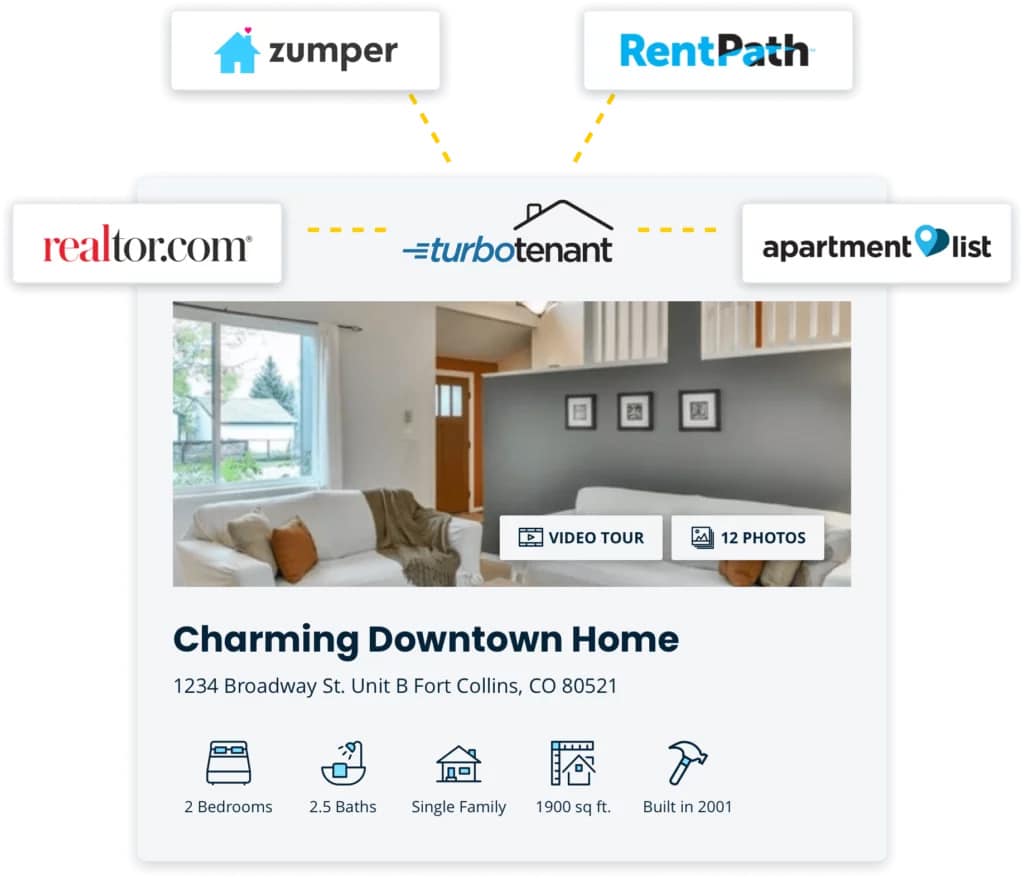 ---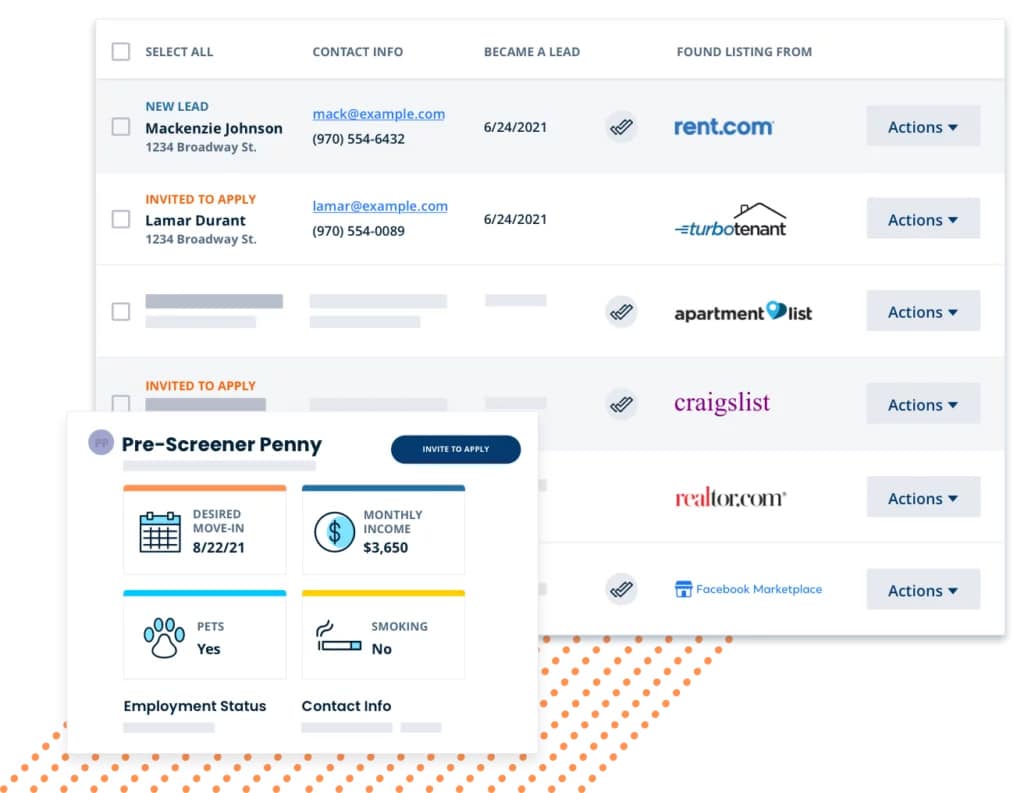 ---
In addition, TurboTenant includes a lead management platform that provides contact information for potential tenants who have shown interest. You can see which platform each lead came from and invite them to apply for the property if they haven't already. Combining these tools from TurboTenant makes it easy to market your properties without sacrificing unnecessary time and minimizing vacancies.
---
Free for landlords and property owners
Customizable rental application questions
User-friendly for applicants and landlords
Securely request documents to verify applicants' identity and income
Check rental, credit, and criminal history
Automatic prescreening
TurboTenant provides an all-in-one system for creating, sending, and accepting rental applications. There are automatically generated application questions that you can use, or add, remove, and create your own. In addition, TurboTenant provides one of the industry's most comprehensive tenant background checks. It includes the applicant's credit score, lines of credit, debts, criminal record, and past evictions. Finally, performing this background check is free for landlords and only costs applicants $55.
---
$39 per lease on the free plan
Unlimited lease agreements on the premium plan
Created by legal professionals
Customizable leases
Once you've found and approved new tenants for your property, TurboTenant makes it extremely easy to create a lease agreement. For landlords on the free plan, using the lease agreement tool is $39 per lease, but Premium members have unlimited access. TurboTenant lease agreements are created by lawyers and landlords and are customizable, so you can remain compliant with your state's landlord-tenant laws.
Using TurboTenant's lease platform is an easy and efficient way to customize your lease and get legal signatures from yourself and the tenants. However, it is always recommended to consult a real estate attorney in your state to confirm that your agreement complies with state laws and fully protects you from potential tenant problems.
---
Free bank transfers
Automated payments and receipts
Payment schedule and history
Automatic payment reminders
TurboTenant provides an easy-to-use platform to accept and automate rent payments. It is an intuitive, easy-to-use system that clearly shows charges, past payments, and upcoming due dates. This frees landlords from the tedious process of accepting physical payments and creating and sending rent receipts.
---
Expense tracking
Send and receive messages
Maintenance requests
Document management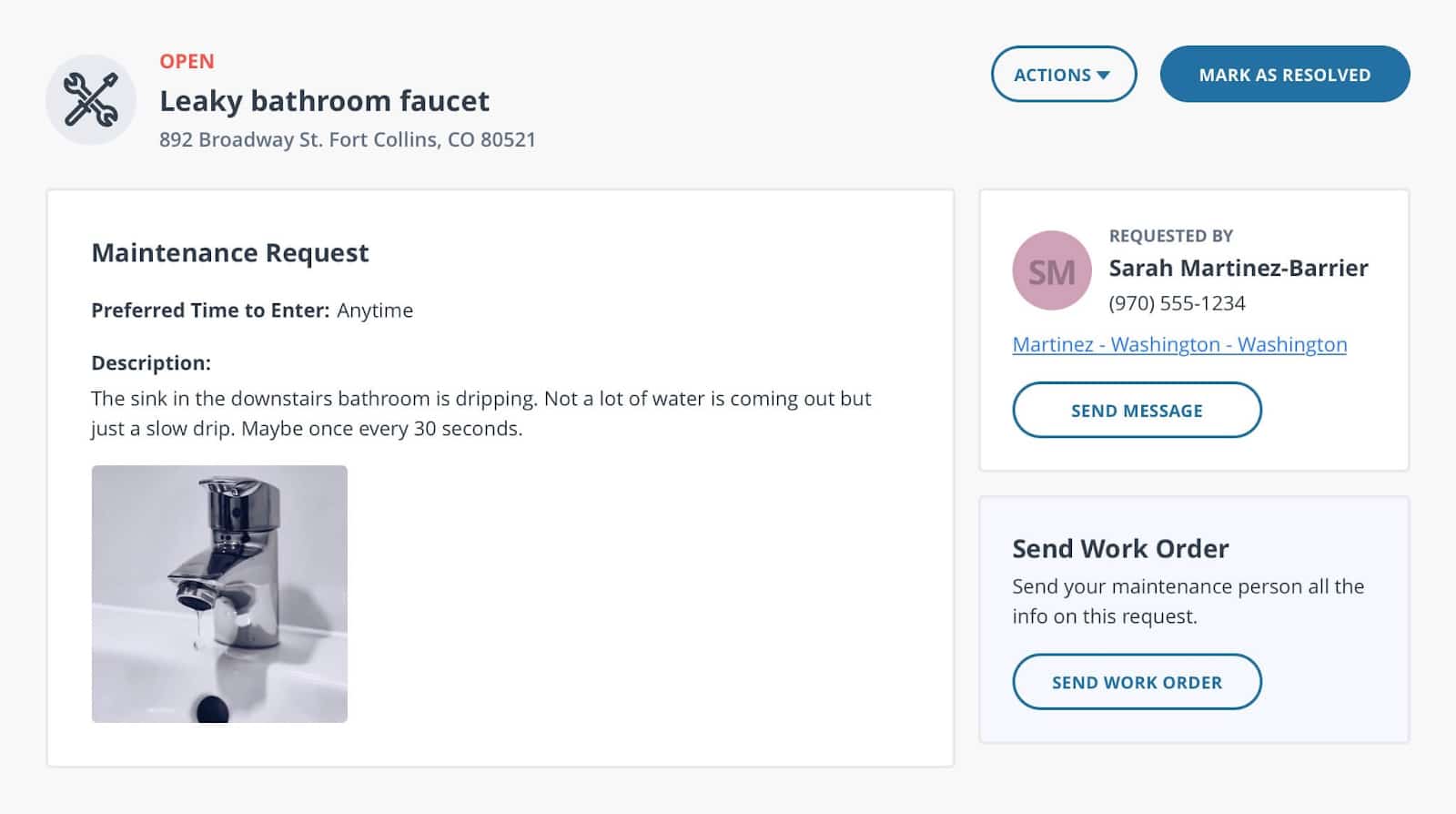 ---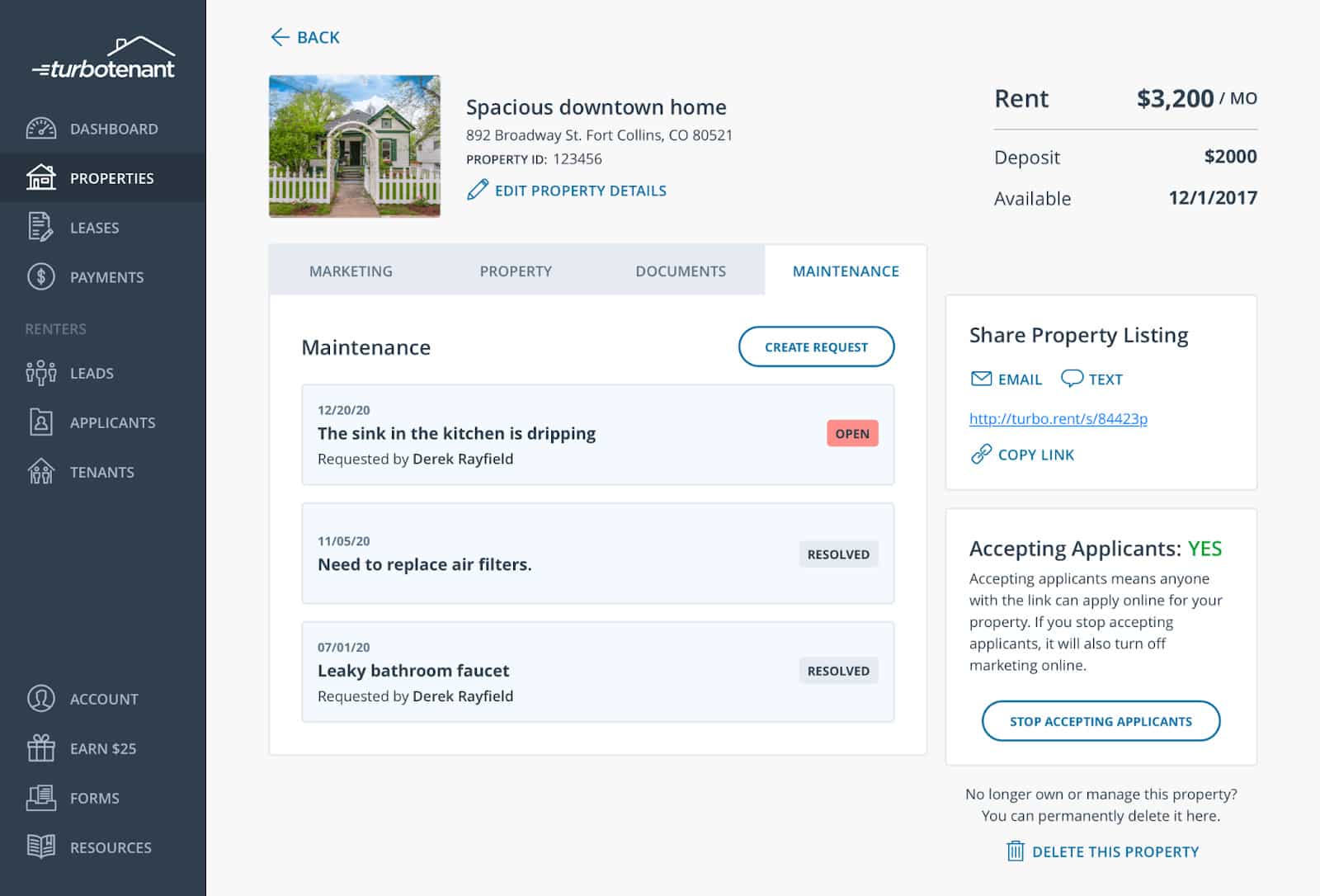 ---
In addition to accepting payments, TurboTenant also provides a centralized dashboard for all communications with tenants. Tenants can easily request repairs or maintenance and include photos, and TurboTenant then keeps a record of all maintenance tasks completed on the property. In addition, these requests can be forwarded directly to your contractor or handyman to get the property fixed quickly and efficiently.
---
Ease of Use
TurboTenant is easy to sign up for and use immediately, especially for new landlords or property managers. The platform interface allows you to easily toggle between each feature so you can stay organized.
The dashboard provides automatic notifications when tasks are completed by tenants, like rent payments and screenings, and when there is activity on your listings. In addition, all tenant documents, leases, and accounting information is stored in the system, so there is less physical paperwork to keep track of.
Bottom Line
After reading this guide, you should be able to answer the question "What is TurboTenant?" It is an efficient, well-organized property management tool that helps landlords easily and successfully market rental listings, choose strong tenants, and seamlessly manage their properties. It's free to sign up, and the free plan offers a variety of tools and features that every landlord needs. However, if you own or manage more than one rental property, we recommend switching to TurboTenant's affordable premium plan.