TenantCloud Review: Is It Right for Your Real Estate Business?
TenantCloud is a cloud-based property management software that enables landlords to collect rent, store rental information, screen tenants, and manage communications. Users like its fair pricing and comprehensive features, including online applications. It benefits independent landlords and property managers, allowing them to list and manage unlimited properties. In this TenantCloud review, we analyzed its features, pricing, customer feedback, and ease of use to help you determine if it's the perfect fit for your rental business.

What We Like
Comprehensive property management software
Free plan and free trial
Fairly priced tiered subscription plans for landlords and property managers with different needs
Mobile app
What's Missing
No live chat customer support
Familiarizing the software might take some time due to multiple features
Priority support is only available to Business plan customers
Recommended For:
DIY (do-it-yourself) landlords looking for free basic property management features, including rental listing and application, tenant screening, rent collection, lease agreements, and maintenance requests
Landlords and property managers who want Premium Leads and lead tracking CRM tools
Team messaging and custom property permissions are useful for huge property managers handling several team members
Landlords and property managers who are always on the go and prefer a mobile app over a website
Not Recommended For:
Landlords needing free lead CRM tools
Property managers who want free team management features
Customers looking for 24/7 phone and live chat support
TenantCloud Pricing
Free: $0, includes basic property management features
Starter: $12 per month, includes everything in the Free plan, plus advanced marketing and financial reporting tools
Growth: $40 per month, includes everything in the Starter plan, plus lead tracking tools
Business: Custom pricing; includes everything in the Growth plan, plus team management and coordination tools
Other Articles Featuring TenantCloud
TenantCloud Reviews: What Users Think
TenantCloud reviews reveal that landlords enjoy the simple and intuitive software interface that makes managing and organizing properties more efficient. Other customers like its cloud-based services, particularly custom leases, e-signature, online applications, and background checks.
Another landlord appreciated the helpful videos and articles in the Help Center that she could send to tenants to help with their onboarding. To summarize his TenantCloud experience, a user described it as a "reasonably priced, one-stop shop" for landlords and property managers.
GetApp: 4.1 out of 5 stars based on 208 TenantCloud reviews
G2.com: 4.2 out of 5 stars based on 94 TenantCloud reviews
However, some users experienced app issues, with one customer describing the app as "very slow and clunky at times." One client also complained that phone support is not always available. Some customers also experienced automated clearing house (ACH) delays and issues with the accounting feature. If you want to check other rental management software with equally comprehensive functionalities, we recommend Buildium and RentRedi.
Would Our Expert Use TenantCloud?
There are a plethora of reasons why we recommend TenantCloud. For one, it has a free plan that gives landlords and property managers access to basic property management features, such as unlimited properties, free listing, tenant screening, rent collection, and maintenance tracking. This all-in-one software empowers landlords to be more efficient by automating rental processes, thereby saving time and maximizing profitability.
In addition, TenantCloud provides advanced features for property managers to find and track tenant leads, manage team members, and perform financial reporting on the same platform. What's more, TenantCloud has a mobile app that landlords, property managers, tenants, owners, and service providers can download for free and use on the go.
While we don't have a lot of negative things to say about TenantCloud, new landlords might find the software a bit complex and might need time to familiarize themselves with the platform due to its robust features. You can try RentRedi, another robust property management platform with multiple landlord functionalities. What we like about RentRedi is its user-friendly mobile app that helps protect your real estate investments, filter the right applicants, and manage existing tenants.
TenantCloud Alternatives
To cover all bases before deciding on property management software, compare TenantCloud's features and pricing with other alternatives below:
Software

Best For

Property managers with up to 5,000 units looking for a one-stop shop property management software

Independent landlords looking for free property management software

Mobile property management with tenant screening service

Independent landlords who want free rental advertising

Key Features

Set tenant screening criteria
Includes several property management functions like accounting, maintenance, in-app communication
Free marketing website
Mobile app

Option to pass on tenant screening fees to applicants
Customizable tenant screening reports
Applicant communication and message center
Free subscription plan

Auto-tenant screening feature
More affordable tenant screening service than other platforms
Multiple renewal subscription options
Free listings on Realtor.com and Doorsteps

Free rental advertising on multiple listing sites like Realtor.com and Rent.com
All-in-one property management solution
Customizable lease agreements
Mobile app

Pricing

$50 per month

Free plan available

$9 per month

Free plan available

Learn More

or

or

 
TenantCloud Plans & Pricing
TenantCloud pricing offers tiered plans with numerous rental management features, though more perks are available to paid subscribers as they expand their rental portfolio. Priced between $0 and $40 per month (custom pricing for Business subscribers), all plans allow landlords to add unlimited properties, units, and listings. Users can also set up a free listing website. Higher-level plans contain all the features from the lower plans plus more advanced options.
Plans

Free

Starter

Growth

Business

Who Plan Is Best For

Independent landlords looking for basic property management tools

Property managers needing advanced marketing and financial reporting tools

Landlords looking for lead management tools on top of everything offered in the Free and Starter plans

Property managers overseeing multiple team members and properties

Annual Price Range

($/Month)*

Free

$12

(14-day trial)

Custom pricing

(14-day trial)

File storage

512MB

1GB

25GB

100GB

Rental Applications & Online Rent Collection

✓

✓

✓

✓

Mobile App & Messenger for Tenants

✓

✓

✓

✓

Tenant Screening

✓

✓

✓

Volume pricing

Lease Agreement Templates

1

10

30

Unlimited

E-signature

✕

✓

✓

✓

Lead Tracking CRM

✕

✓

✓

✓

Lead Text Messaging

✕

10

15

Volume pricing

Property Message Board for Tenants

✕

✕

✓

✓

Tenant & Account Support

Ticket support

Ticket support

Tech support and phone assist

Tech support and phone assist
*Pricing based on annual billing; pricing changes for monthly billing. Compare plans and pricing here.
Add-ons
Although the free plan allows multiple functionalities, some features require additional payments. These add-ons include a rentability report that provides an in-depth comparison of your property and properties in your area, renter's insurance, and tenant screening reports.
Rentability report: $19.99
Renter's insurance: Starting at $16 (through Assurant)
Tenant screening reports:

Background check: $25
Credit check: $30
Full check: $39
General TenantCloud Features
Free listing website and listing syndication
Lead tracking tools
Team management features
Mobile app
TenantCloud is robust property management software that assists in managing daily operations, whether you're a DIY landlord looking for free basic features or a property manager handling multiple team members and properties. If you subscribe to a free plan, you'll enjoy basic features, including a free listing website, listing syndication, rental applications, tenant screening, rent collection, internal messaging, and maintenance tracking.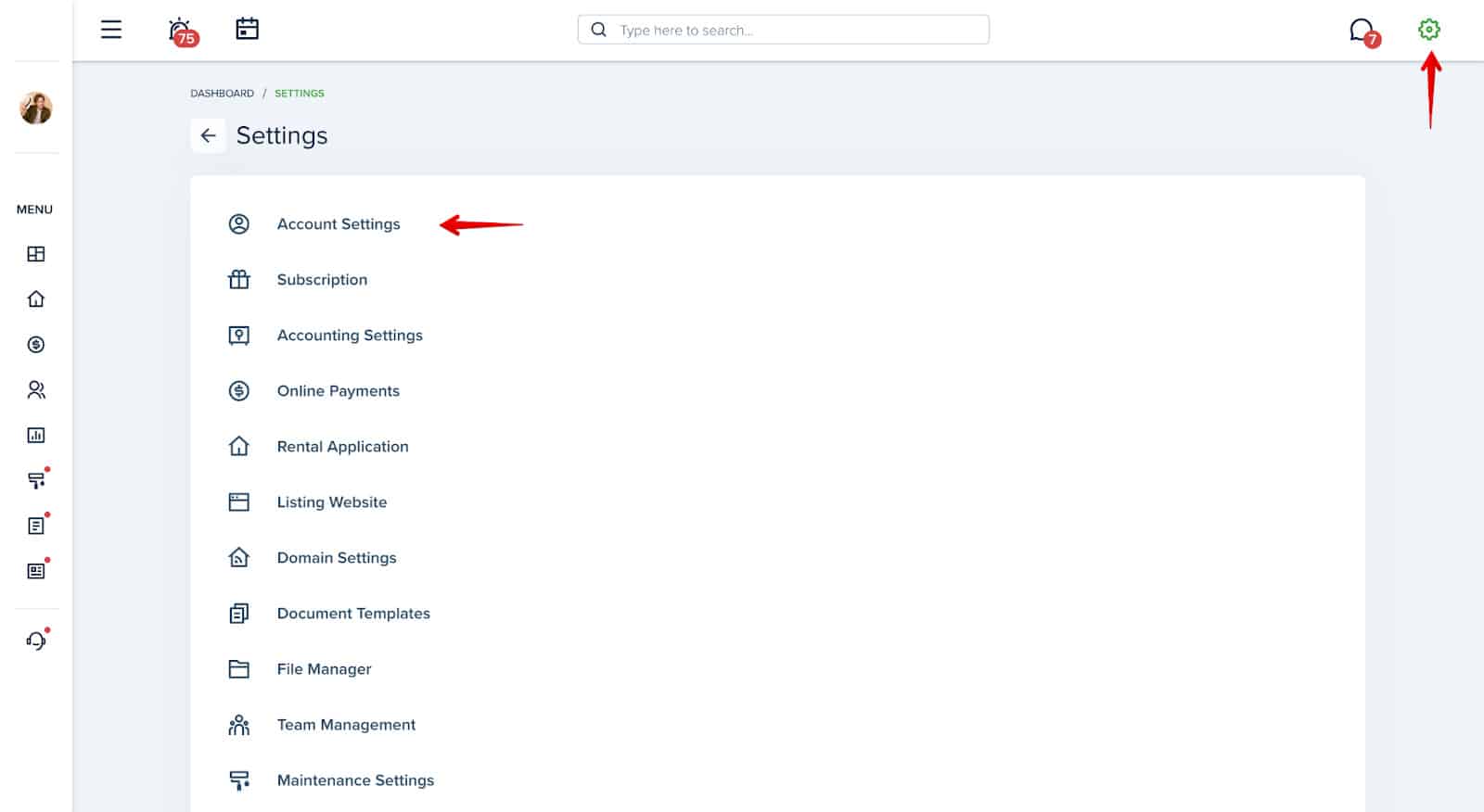 ---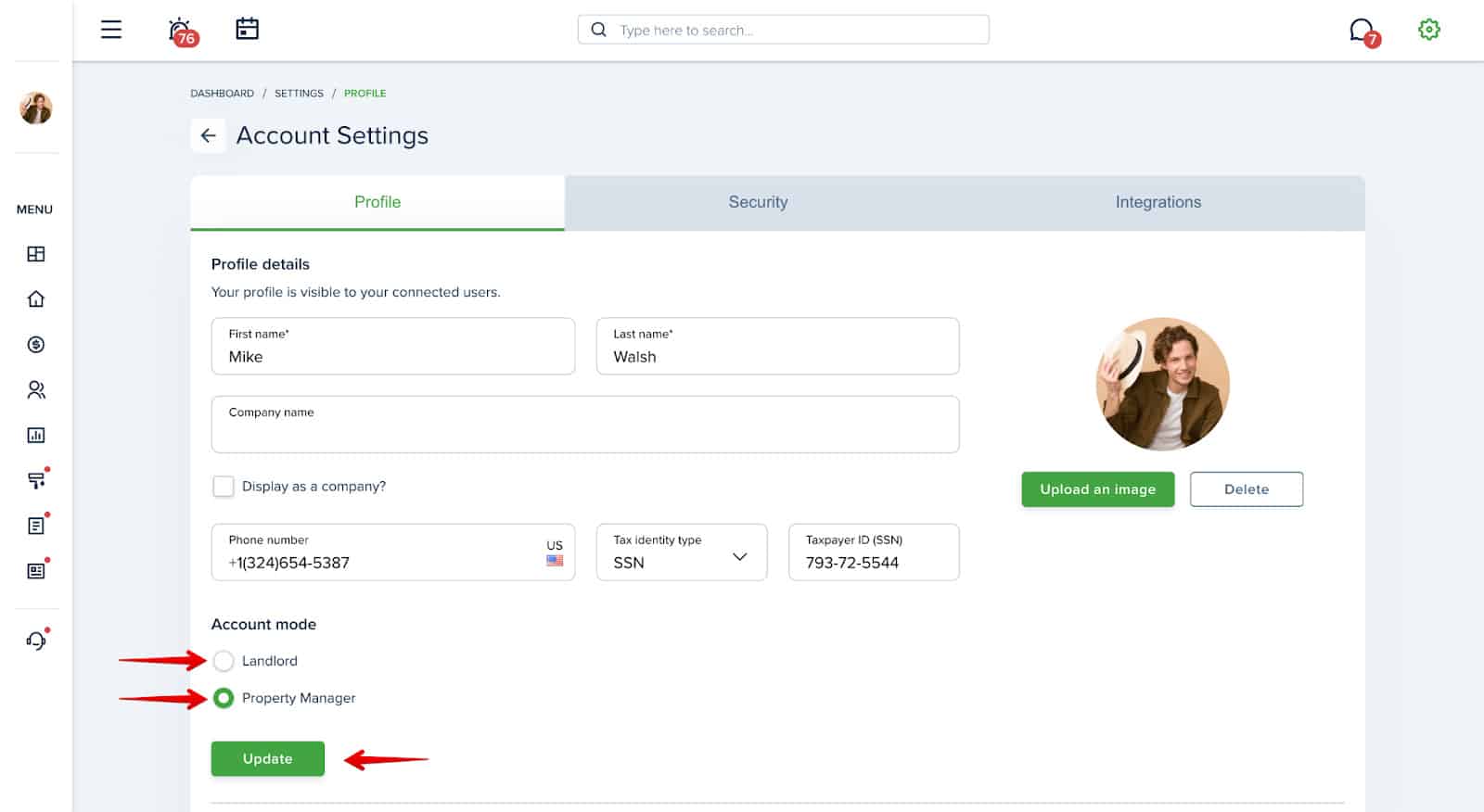 ---
Paid subscribers enjoy more enhanced features, such as lead tracking, marketing, and financial reporting. If you have several properties and team members, team management tools will streamline the different processes for you and your team. To make sure you stay updated and connected to your tenants 24/7, download TenantCloud's mobile app to immediately receive notifications and track tasks and requests without having to log in and log out of your account.
Free listing website
Automatic listing syndication
Unlimited properties and listings
Premium leads for paid subscriptions
TenantCloud offers several tools for landlords to list their properties online. Create your own free listing website, market vacancies, and highlight property features to prospects. Add personal and company info, add team members, upload photos and create a gallery, and set up rental applications. If you purchase a Growth or Business plan, you can customize your website to include your unique logo and brand.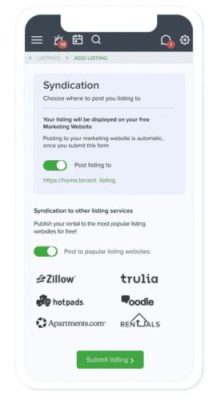 ---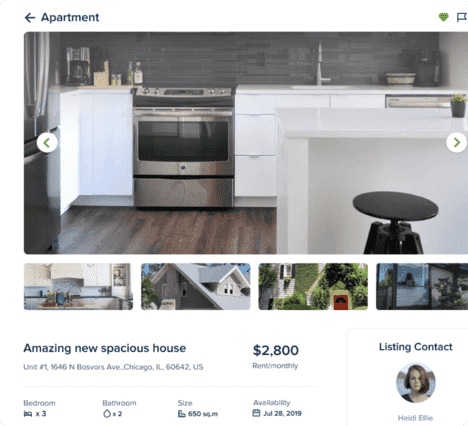 ---
Landlords can post unlimited listings and add pictures, unit amenities, descriptions, and lease terms to make the listings stand out. You can even schedule a tour with prospects. Once you post a listing, it will be automatically posted on partner sites like Apartments.com, Rentler, and Zillow Group.
If you subscribe to paid plans, you'll get access to Premium Leads. In partnership with Rentler, TenantCloud enables landlords to find millions of potential tenants. All you need to do is add your vacant units to TenantCloud and see all potential tenants matched with your property. You can view prospects who contacted you using the built-in leads tracking tool and invite them to apply. You can also modify the lead status, add notes, log calls and meetings, and upload files.
---
Free rental applications
Customizable application templates
Mobile friendly
Your applicants can view your listing and directly apply on your website by simply clicking the "Apply Now" button and filling in the application form. Once a new application is submitted, you will get notified so you can proceed with tenant screening.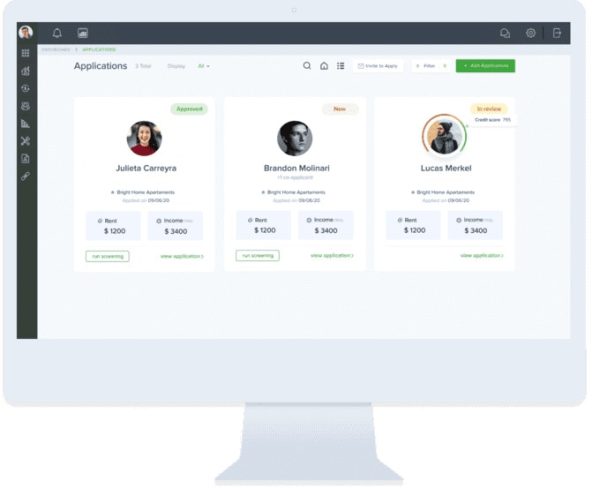 ---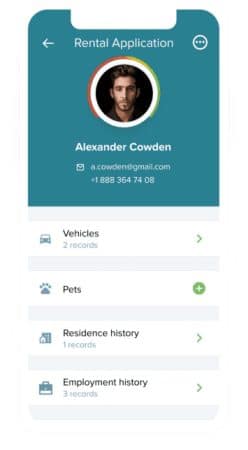 ---
Rental applications are sent to your TenantCloud account for you to easily accept them online. Modify your application, add your screening questions, and choose documents tenants need to upload. Landlords can customize the application template and include standard information such as residence and employment history, income, and references. To speed up your application process, set up an application fee that covers the screening costs and request background and credit checks.
---
Three tenant screening options: full check, credit history, background check
Ability to pass on screening costs to tenants
Screen tenants online or on your mobile app
TenantCloud helps landlords protect their real estate investments through a comprehensive online tenant screening process. Choose from three tenant screening packages: full check, background check, and credit report. A full report includes both background and credit checks, along with an eviction history.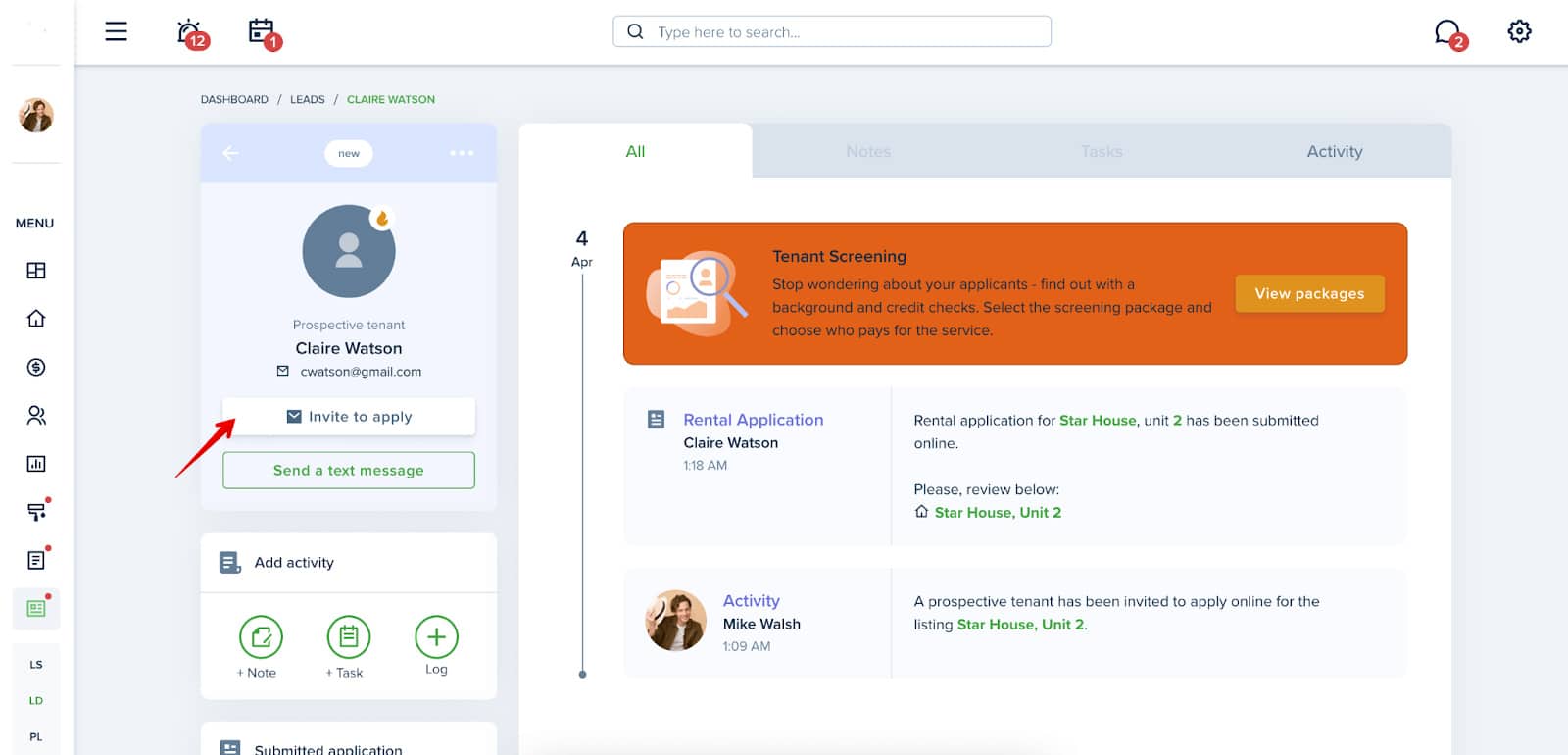 ---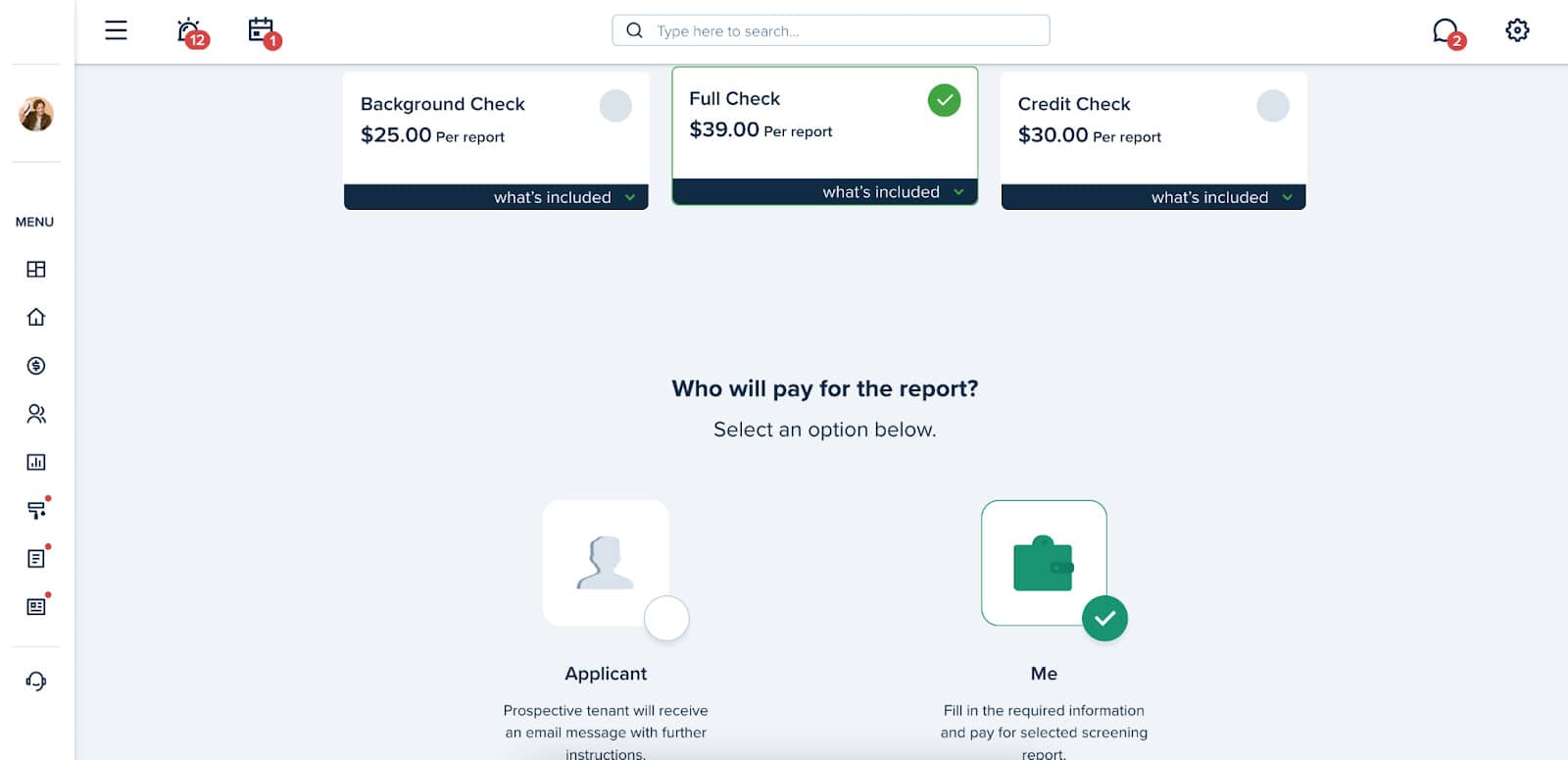 ---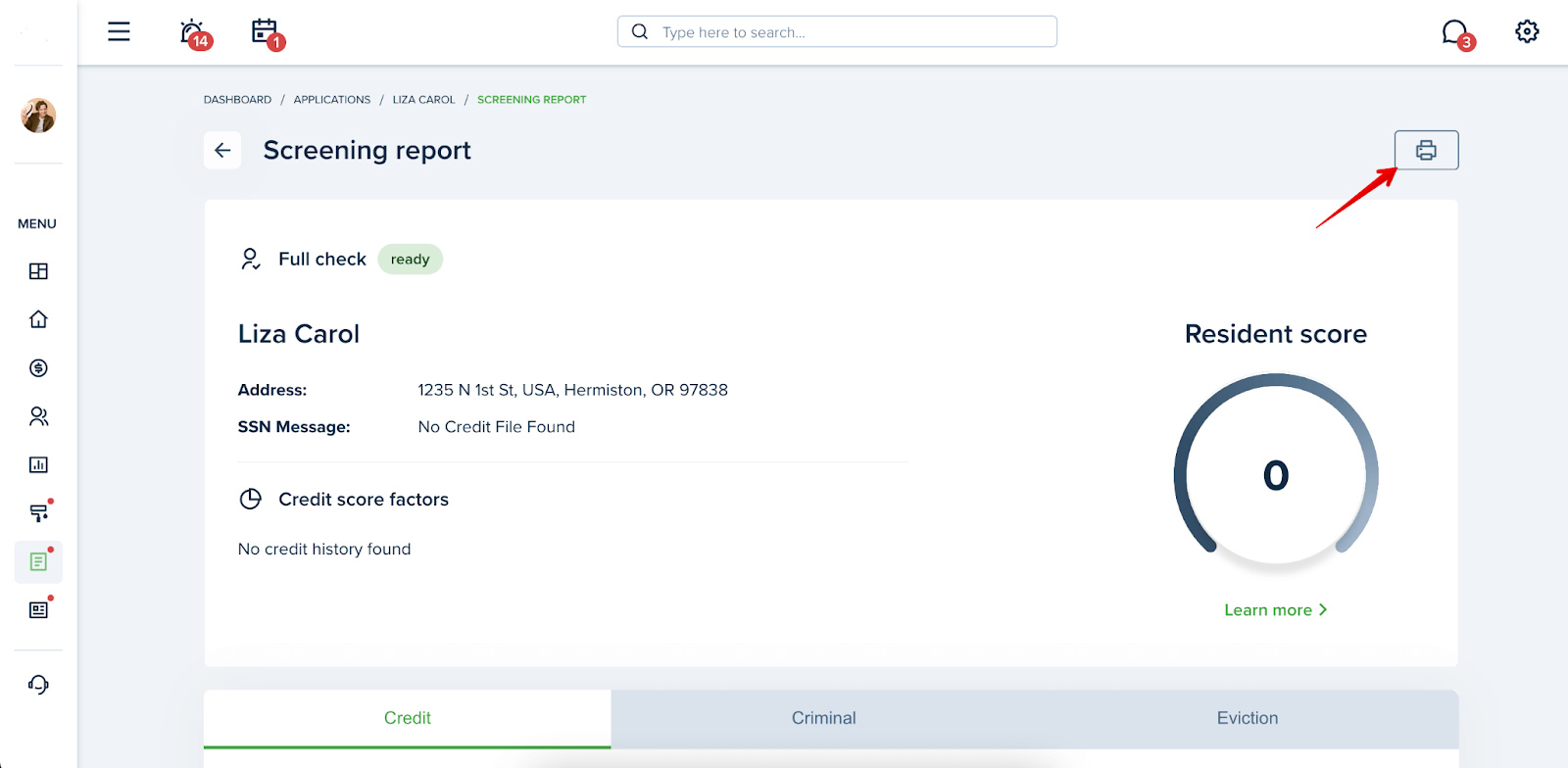 ---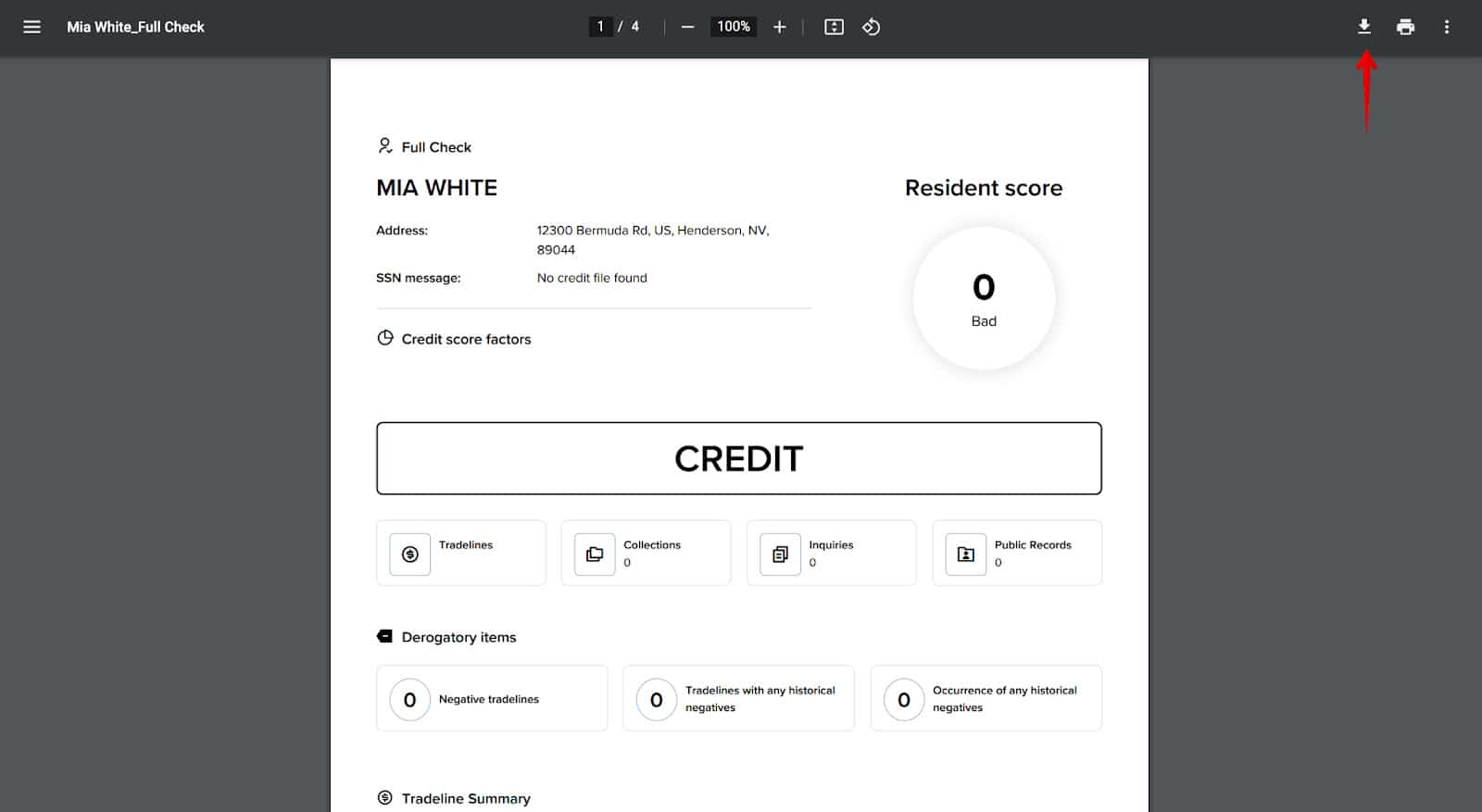 ---
If you only need to verify a tenant's identity and their criminal, education, employment, and eviction history, you can order an individual background report. The background report will include national criminal search, instant state data, national sex offender data, Office of Foreign Assets Control (OFAC), and most wanted searches.
To determine the applicant's financial and payment performance, you can either order a separate credit report or request a full tenant check. Powered by TransUnion, the report includes Social Security number (SSN) verification, address history, bankruptcy search, and full credit report with resident score.
The tenant screening reports will help you predict the quality of a tenant, so you can make wise investment decisions. Note that you have to activate your free listing website to access the tenant screening feature.
---
State-specific tenant lease agreements
Multiple notice templates
E-signature available for paid plans
With TenantCloud, you can build and upload your lease documents. Its document builder allows property managers to create custom and lease agreements that adhere to state-specific laws. You simply fill in all the property details, set up rent fees, and have tenants purchase or provide their renter insurance. You can even choose the agreement template using the template builder. Note that the number of templates you can create varies depending on the subscription.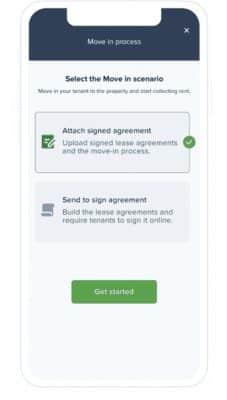 ---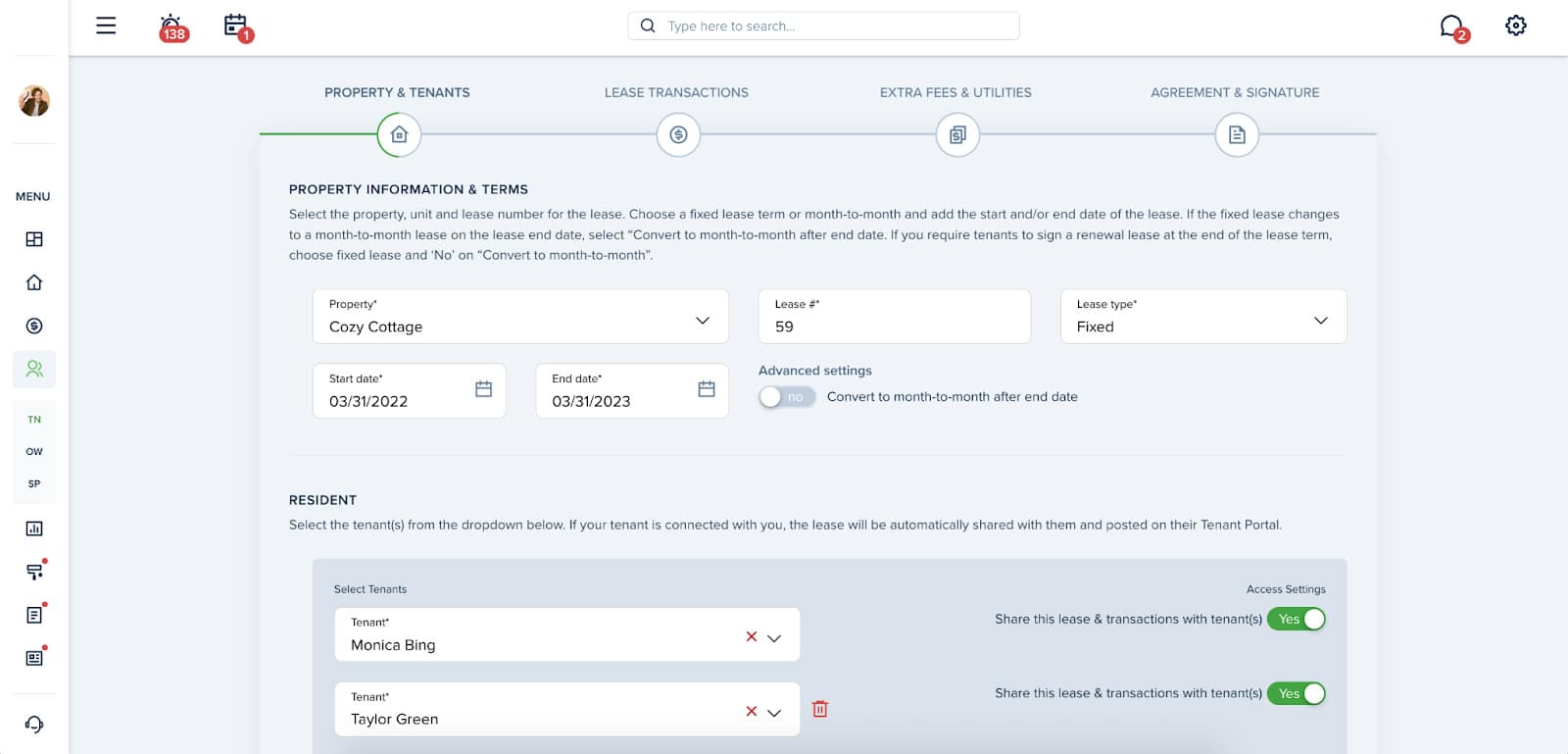 ---
If you subscribe to a paid plan, you can request e-signatures from tenants on any device. Once they've signed the lease agreement, your lease becomes active, and you can collect their rent payments online. Aside from lease agreements, you can also create notice templates you can use for important announcements. This includes rent increases, move-out forms, and late fee policies, which you can easily share with your tenants. You can also attach and upload your files to the cloud for reference and easy access.
---
Rent payment and management online or through the mobile app
Auto Pay for tenants if you are subscribed to a paid plan
Online payment to service providers
Rental property accounting and customizable reports
TenantCloud makes it convenient for landlords and tenants to collect and pay rent online. Rent payments will directly go to your bank account, so you don't need to cash checks in person. Tenants can deposit ACH payments or pay via their debit and credit cards. You can also add multiple bank accounts. Once tenants make payments, you will get notified and can track their payment history. Moreover, you can pay service providers through TenantCloud.
If you have a paid plan, your tenants can set a recurring monthly payment through Auto Pay. You can also set up grace and late fees and invoices for late payments, which could motivate your tenants to pay their rent on time. Landlords can adjust the payment settings to customize payment allowances for certain tenants, adjust rules for late payments, or allow tenants to pay partial rent before the due date.
Another useful feature for property managers is rental accounting, enabling you to store, sort, retrieve, and summarize financial data. With this, you can easily track property transactions and balances, schedule invoices, late fees, and receipts, apply deposits, refunds, and discounts, and export all your account data to a ZIP file.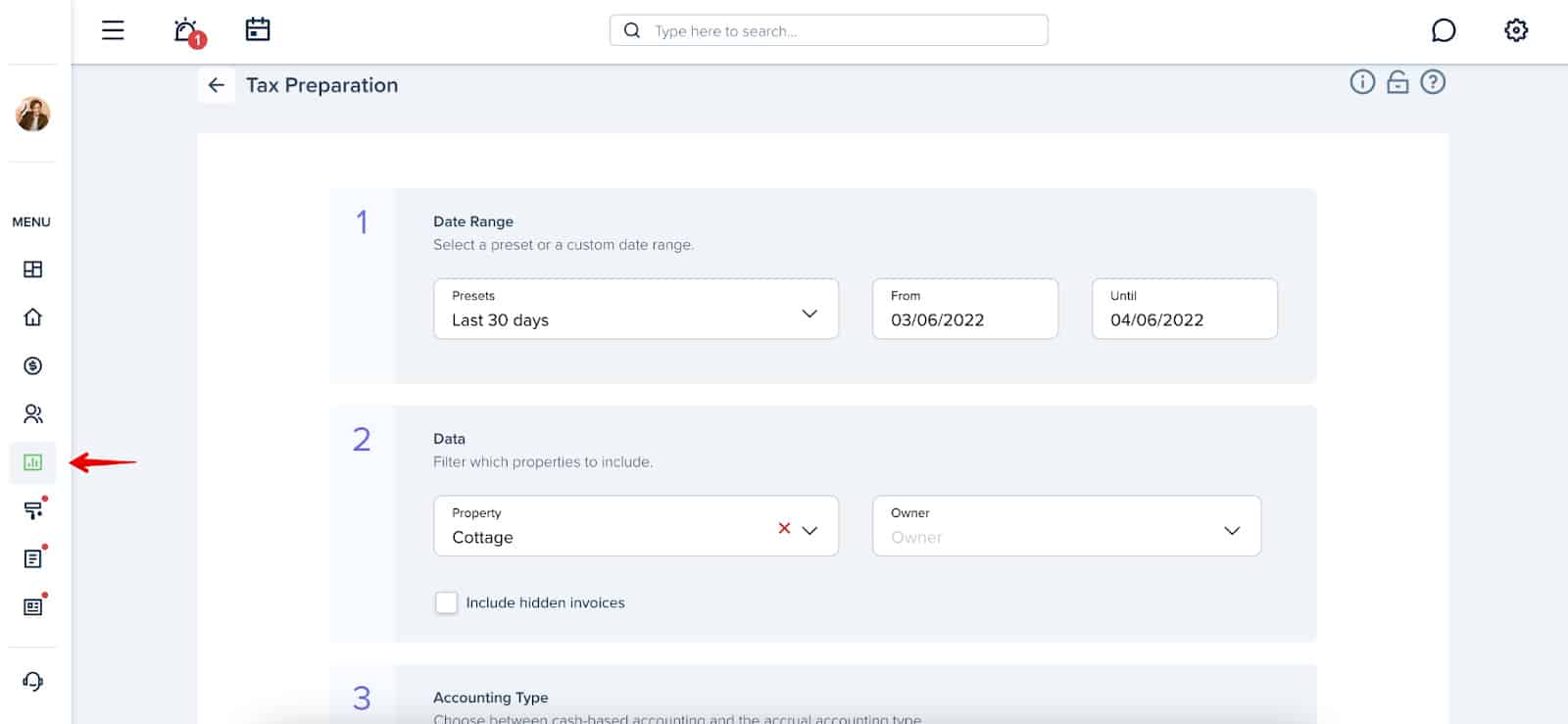 ---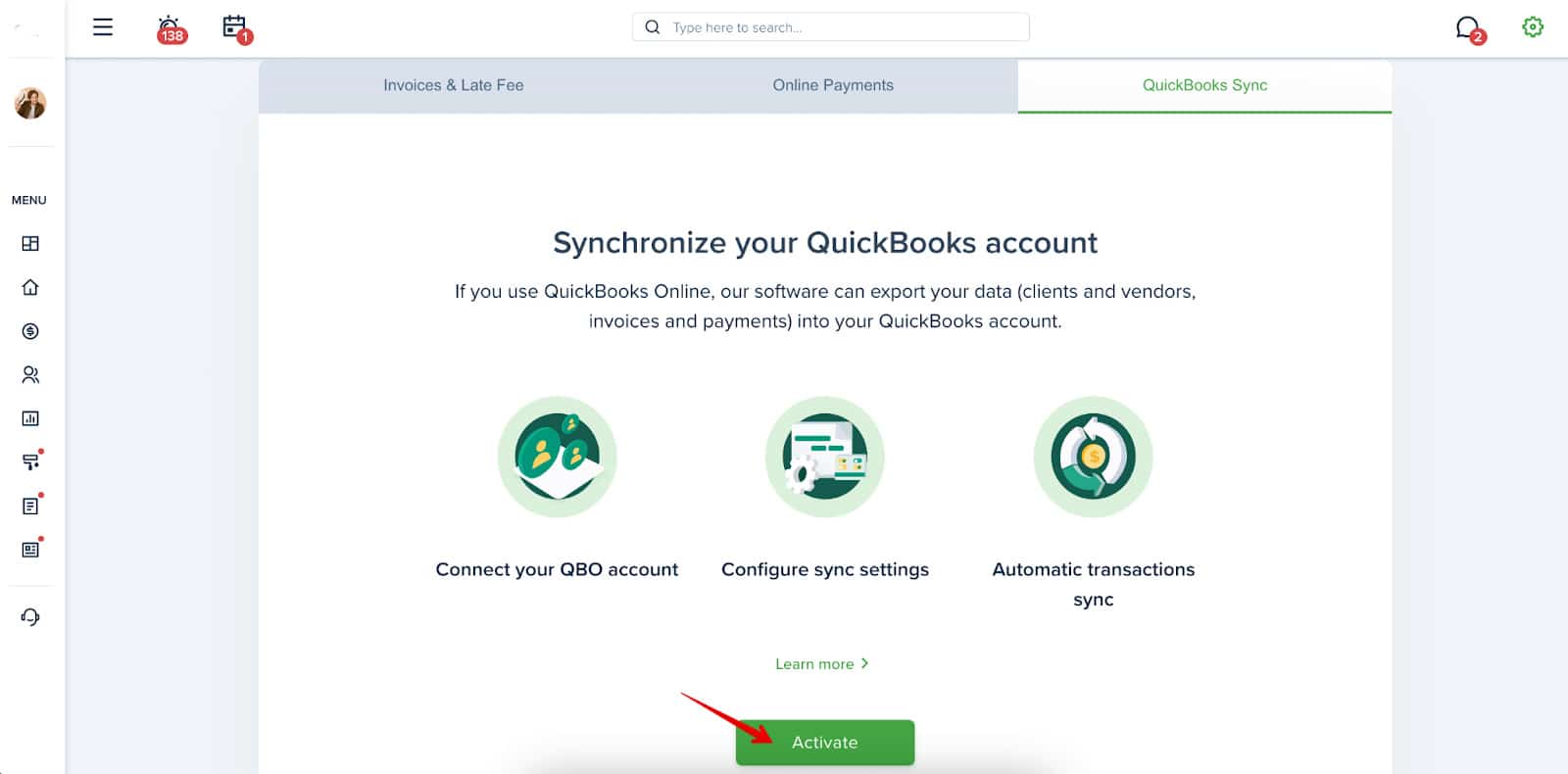 ---
With paid plans, you can produce a Schedule E prep document and other tax reports. Additionally, you can generate a 1099 tax form and conveniently send digital copies to recipients through your account. For Growth plan subscribers, you can synchronize income and expense transactions with QuickBooks, so you can focus on more urgent tasks.
---
Video and picture requests
Maintenance request and expense tracking
Find and hire local service providers directly on the app
To ensure your rental property is in its best shape, accept and monitor property maintenance requests through TenantCloud. Your tenant can upload pictures and videos to further explain the problem without having to call you. This also saves you time as you no longer need to drive to the property to understand the issue.
Each maintenance request will have a unique number and undergo three stages: new, in progress, and resolved. Create invoices, share the request with multiple tenants on the lease, and keep track of materials used and time spent to fix the issue.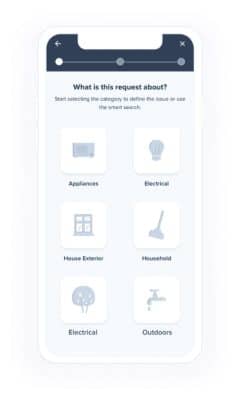 ---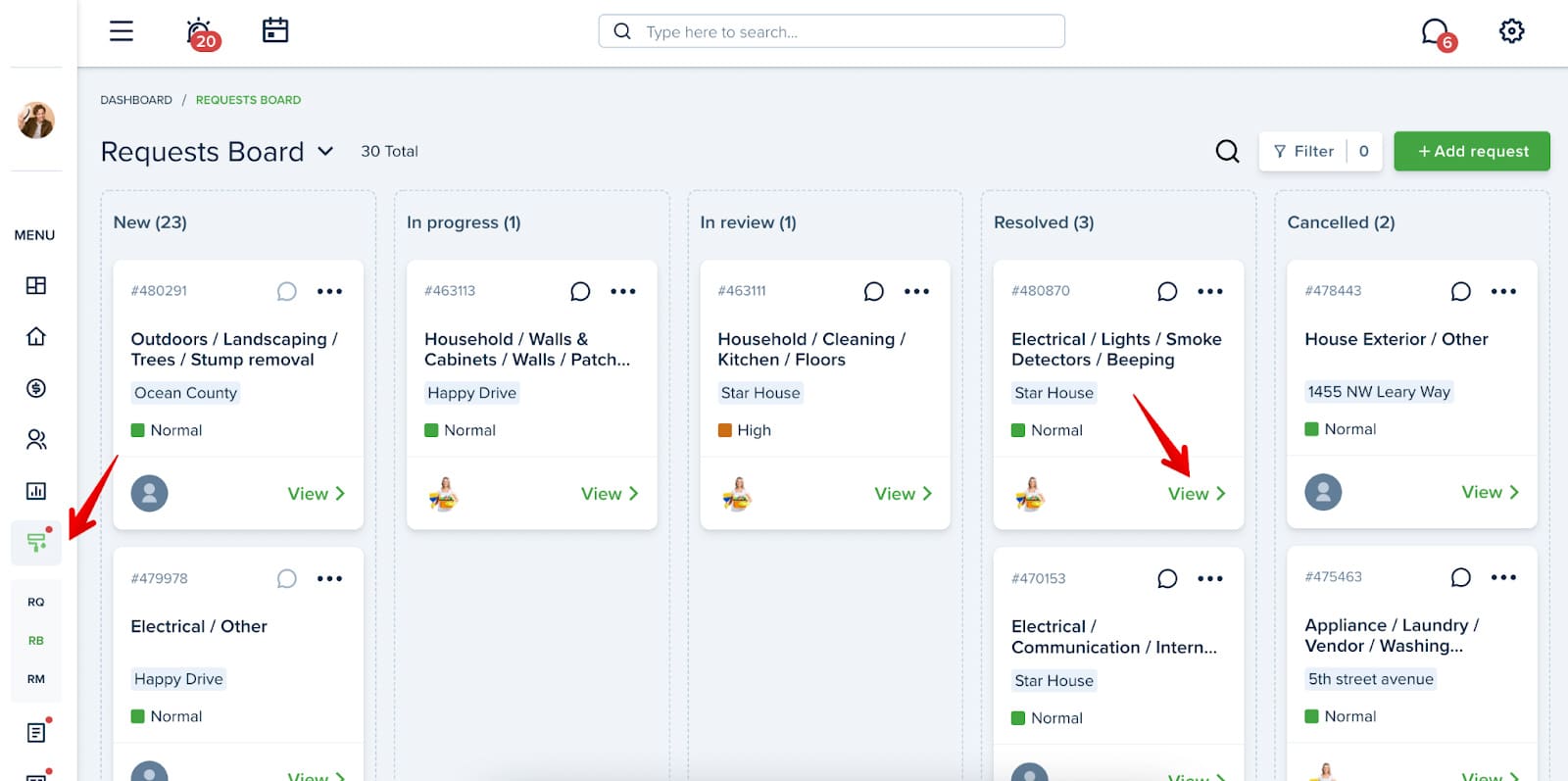 ---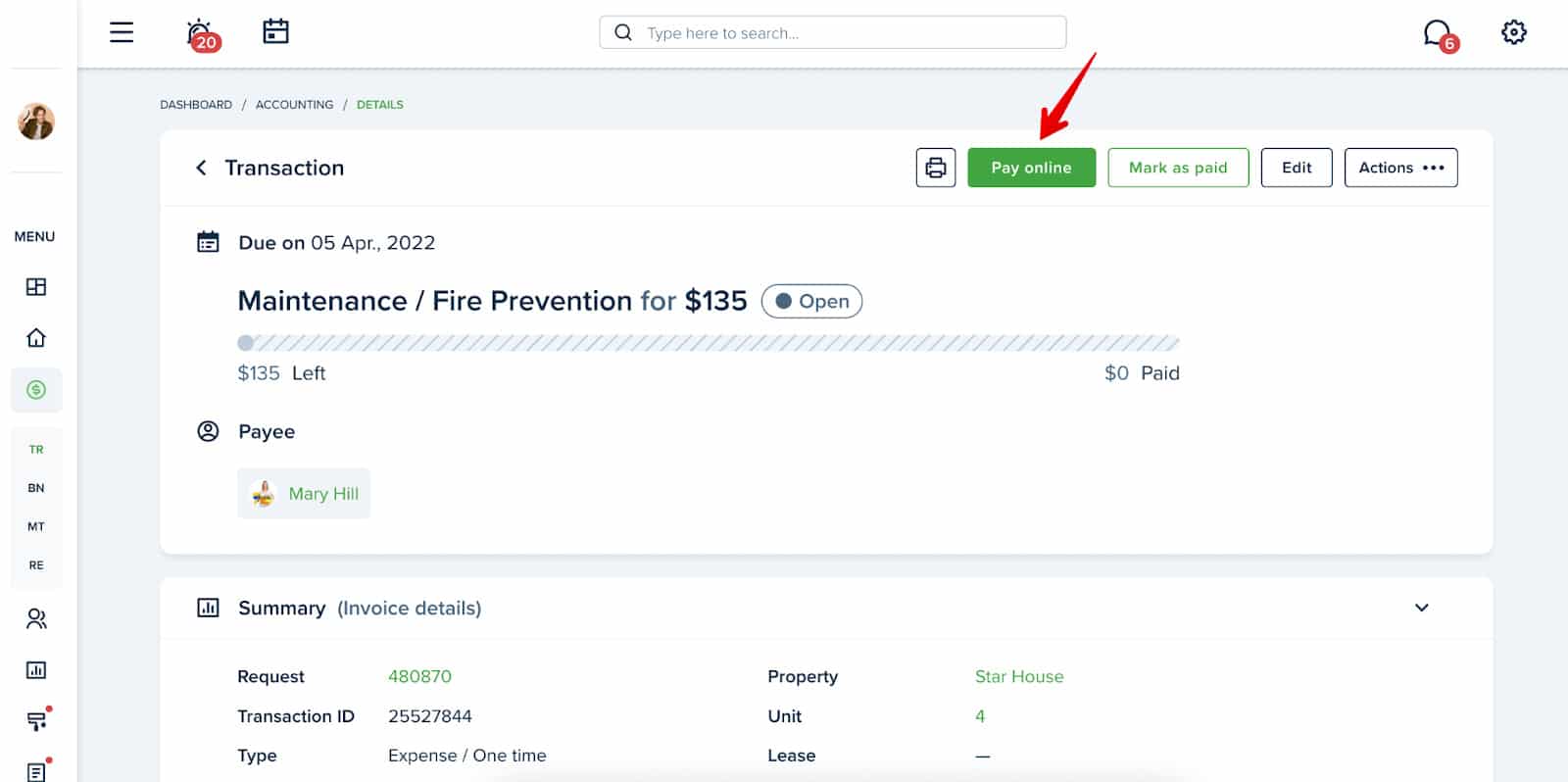 ---
What's great about this feature is that it allows you to contact and collaborate directly with service providers registered on the app. Assign a service pro to a maintenance request and message both service pros and tenants inside the maintenance request for easy tracking. Further, create invoices linked to the maintenance request to monitor all related expenses. If you need service pros for another home repair or improvement project, simply create a task and get a quote from a local contractor.
---
TenantCloud (TC) Messenger
Property Message Board
Mobile app
TenantCloud makes 24/7 tenant-landlord communication easy. Through the TenantCloud (TC) Messenger—an internal message system—landlords can chat and share files with tenants. The Property Message Board is another feature where you can leave messages or post announcements for all tenants on the same property. You can also get email and feed notifications for new invoices and applications on the software. The TC Messenger can be used to contact service providers.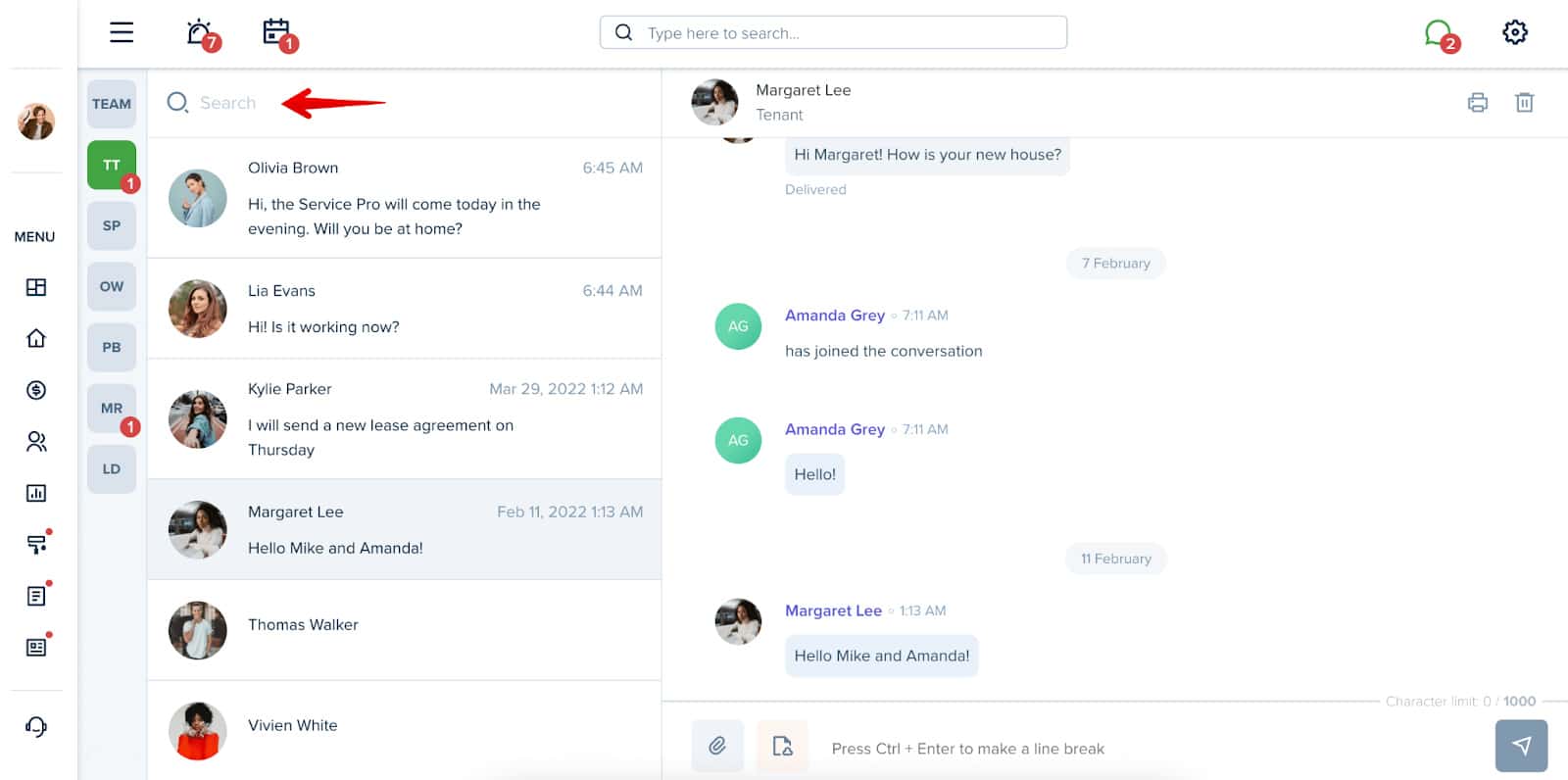 ---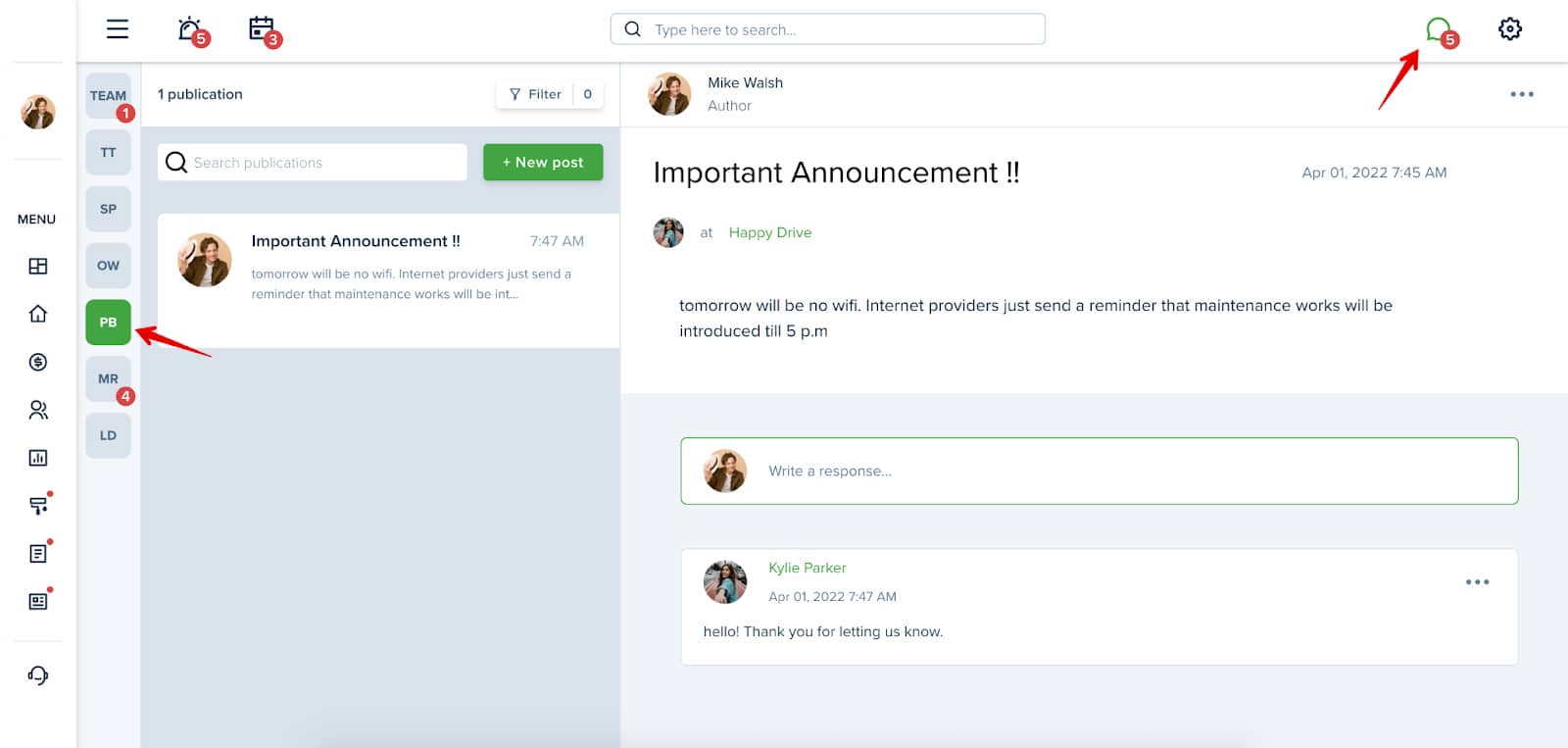 ---
Your contacts will be notified on their account and via email when you send them a message. For your added convenience, the contacts list is categorized into "tenants," "service pros," "teams," "owners," and "maintenance requests" channels. Note that you can only send and receive messages from connected users within TenantCloud.
---
Team messaging
Team history tracking
Customize team permissions
Available only in the Business plan
TenantCloud's team management feature is beneficial for property managers handling multiple team members and rental properties. Property managers can add their team members, customize team permissions, assign tasks, and create reminders in one place. With team messaging, you can contact your team, tenants, and owners on the same messaging platform for more efficiency. You also have the choice to communicate as the property manager or main office.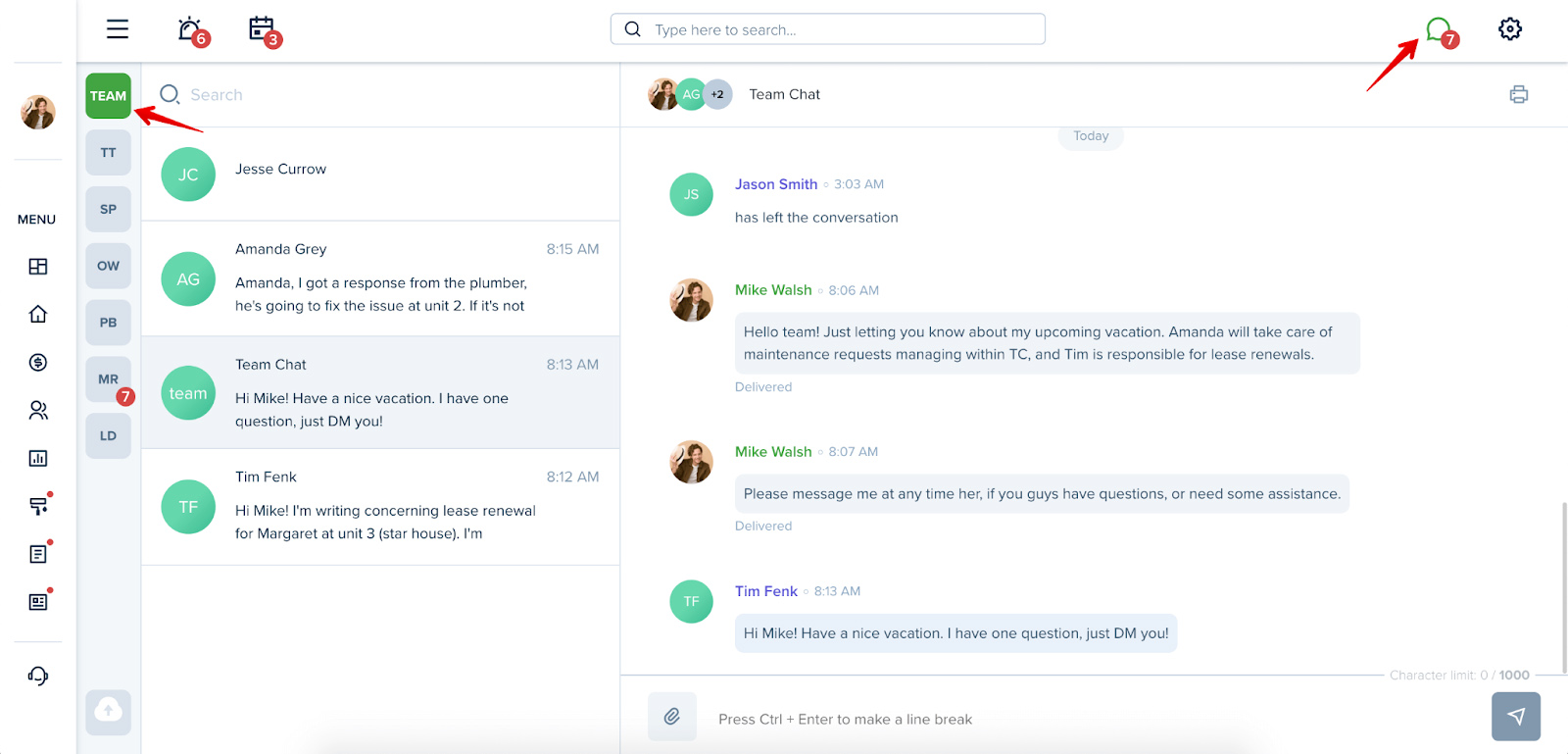 ---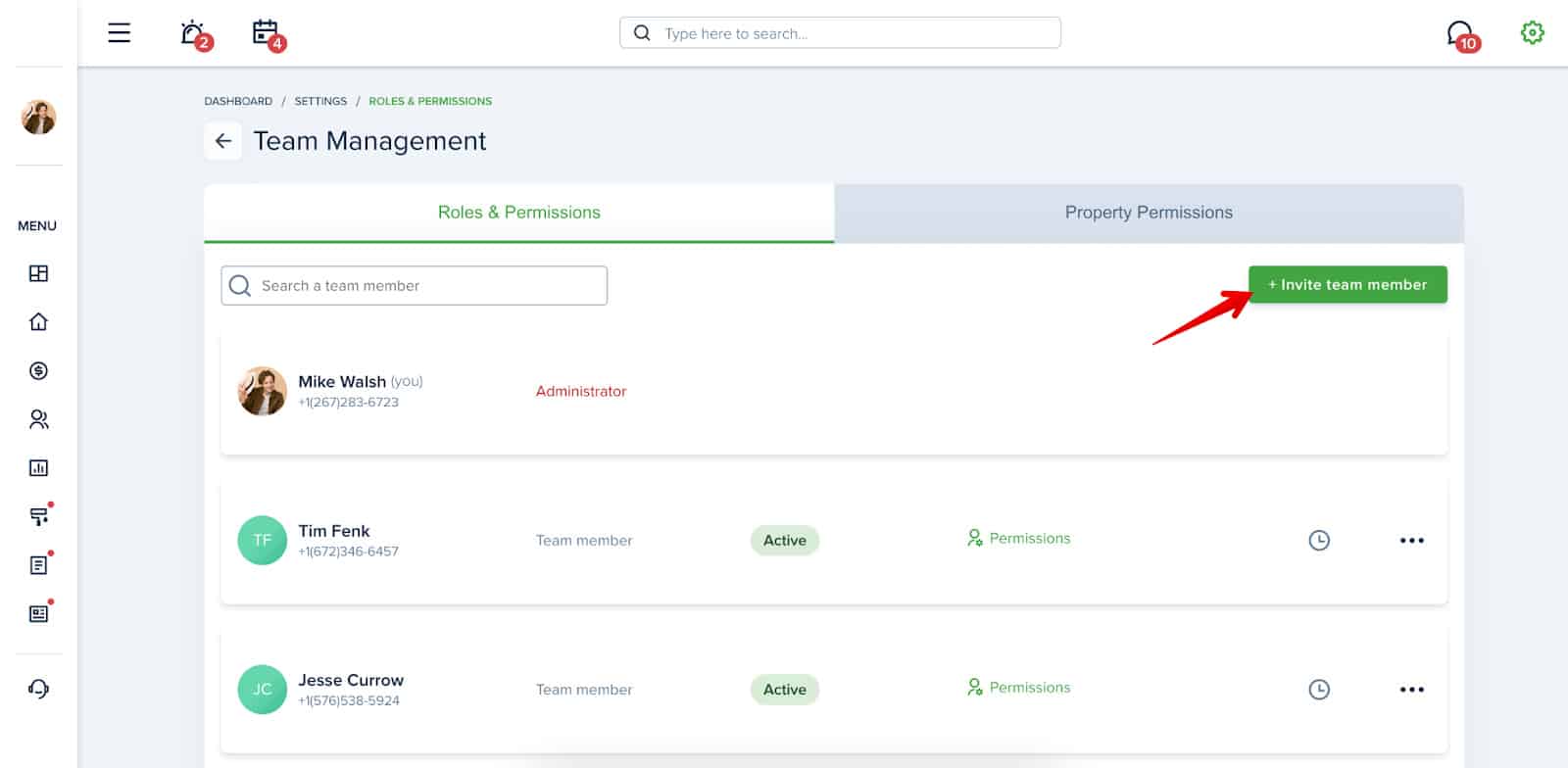 ---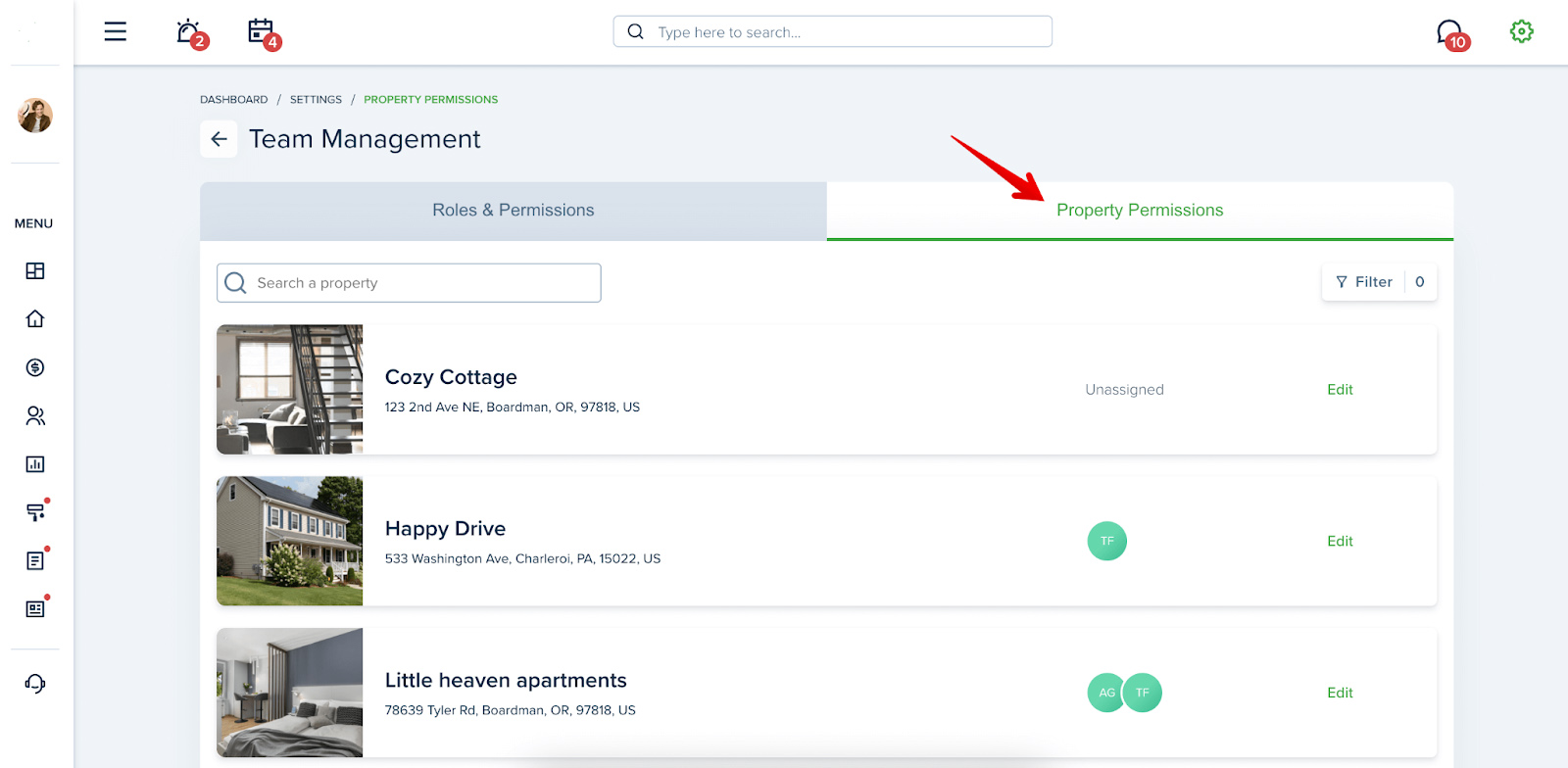 ---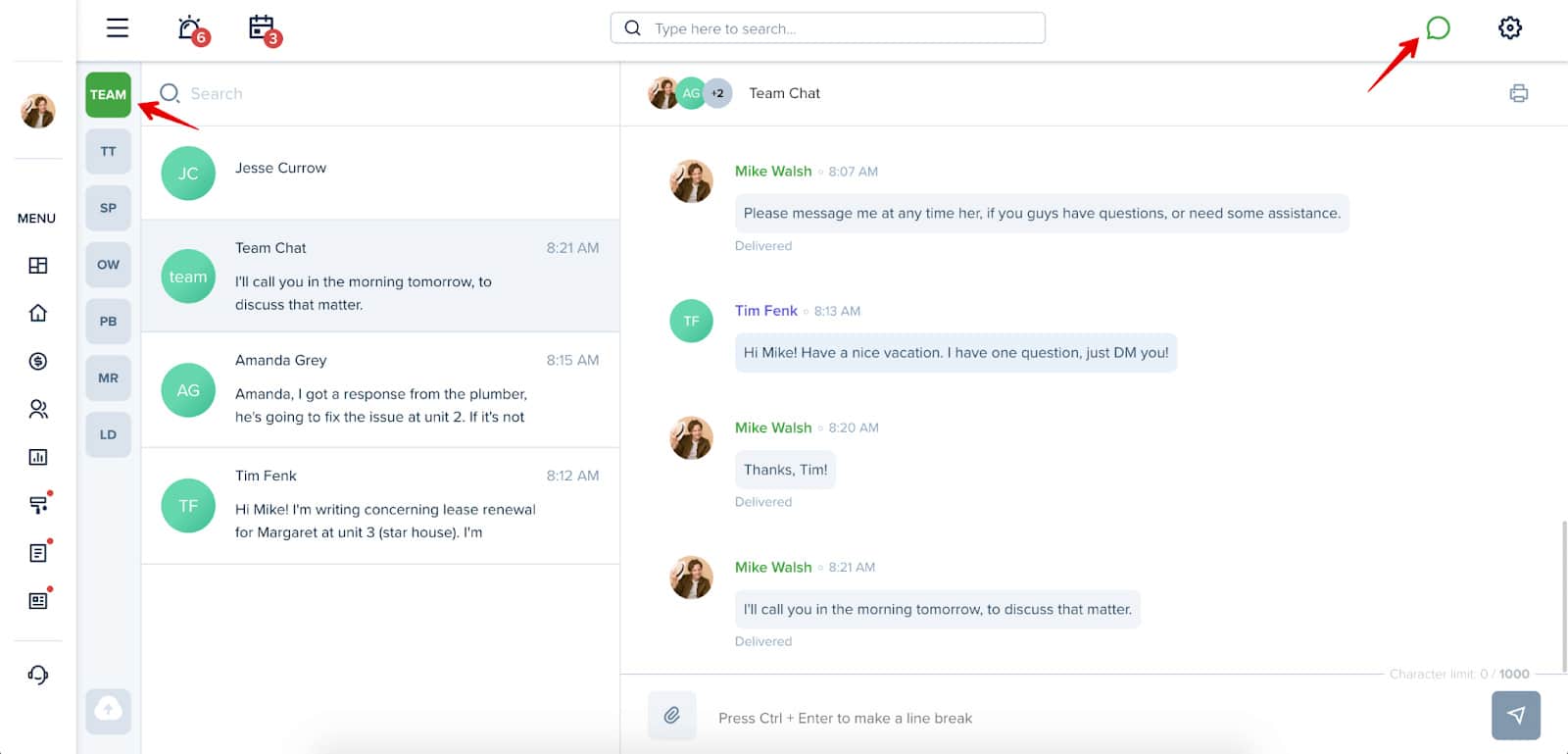 ---
The property manager can assign properties to specific team members and grant them access to property-related leases, accounting transactions, listings, and applications. By using the team management feature, you can discuss tenant issues as a team and address owner issues faster. To track the changes made by each admin, you can view the team activity history.
---
Separate or joint invoicing
Manage multiple tenants residing in one unit
Send notices to a tenant or roommates
If you want to lease the same rental unit to multiple tenants, TenantCloud's Roommates feature helps you move in tenants and track each of their payments. Each roommate will have to set their own TenantCloud account to access the lease and transactions. Tenants can pay their individual portion of the rent or make joint payments.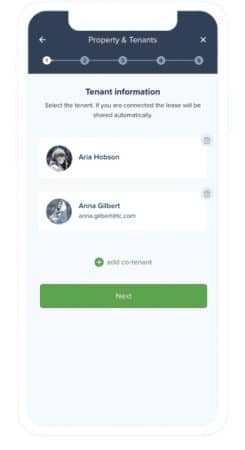 ---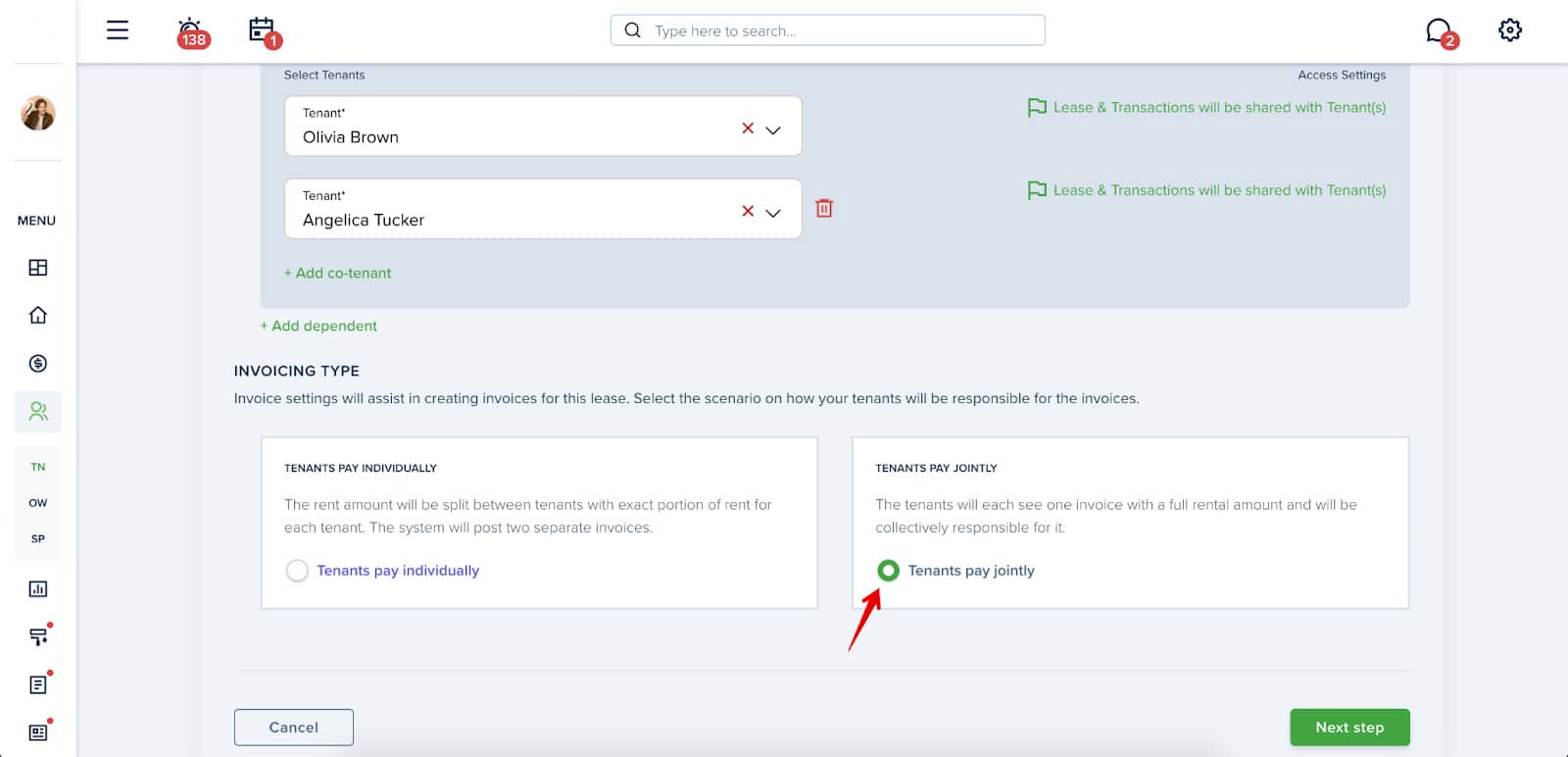 ---
The Roommates feature further permits you to run a screening report, upload or send lease agreements, and organize rental payments for each tenant. Landlords can also add credits, discounts, and refunds for each tenant, schedule rent increases and decreases, and return or apply deposits toward unpaid invoices. On top of that, landlords can send a notice to a specific roommate.
---
Premium Leads and lead CRM tool
Leads Text Messaging
Available in paid subscription plans
Lead tracking tools are available for landlords and property managers who subscribe to paid plans. Lead tracking makes it easy for landlords and property managers to view all prospects and Premium Leads. Leads who reach out from your listing website, request tours, send questions, or submit rental applications will automatically appear in your customer relationship manager (CRM) tool. You can also add leads manually.
Using your account, invite leads to apply to your vacant rentals, making the rental process easier for landlords and tenants. With Premium Leads, the system matches your vacant properties with the best applicants looking for rental units, helping you fill vacancies faster. If you post your listing on your TenantCloud website, your listing will be sent to tenants using the Rentler app. If it fits their preference, they will show up as a potential Premium Lead under your listing.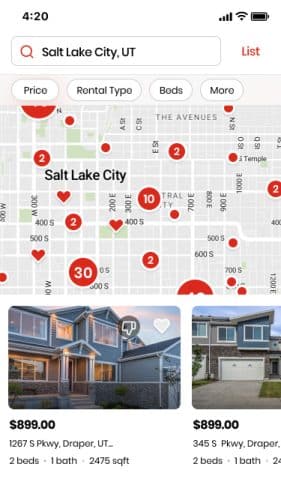 ---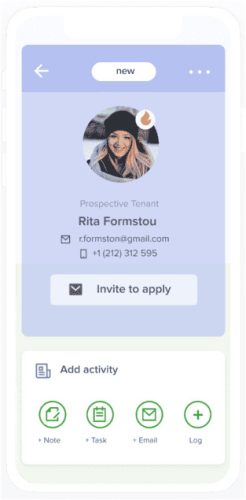 ---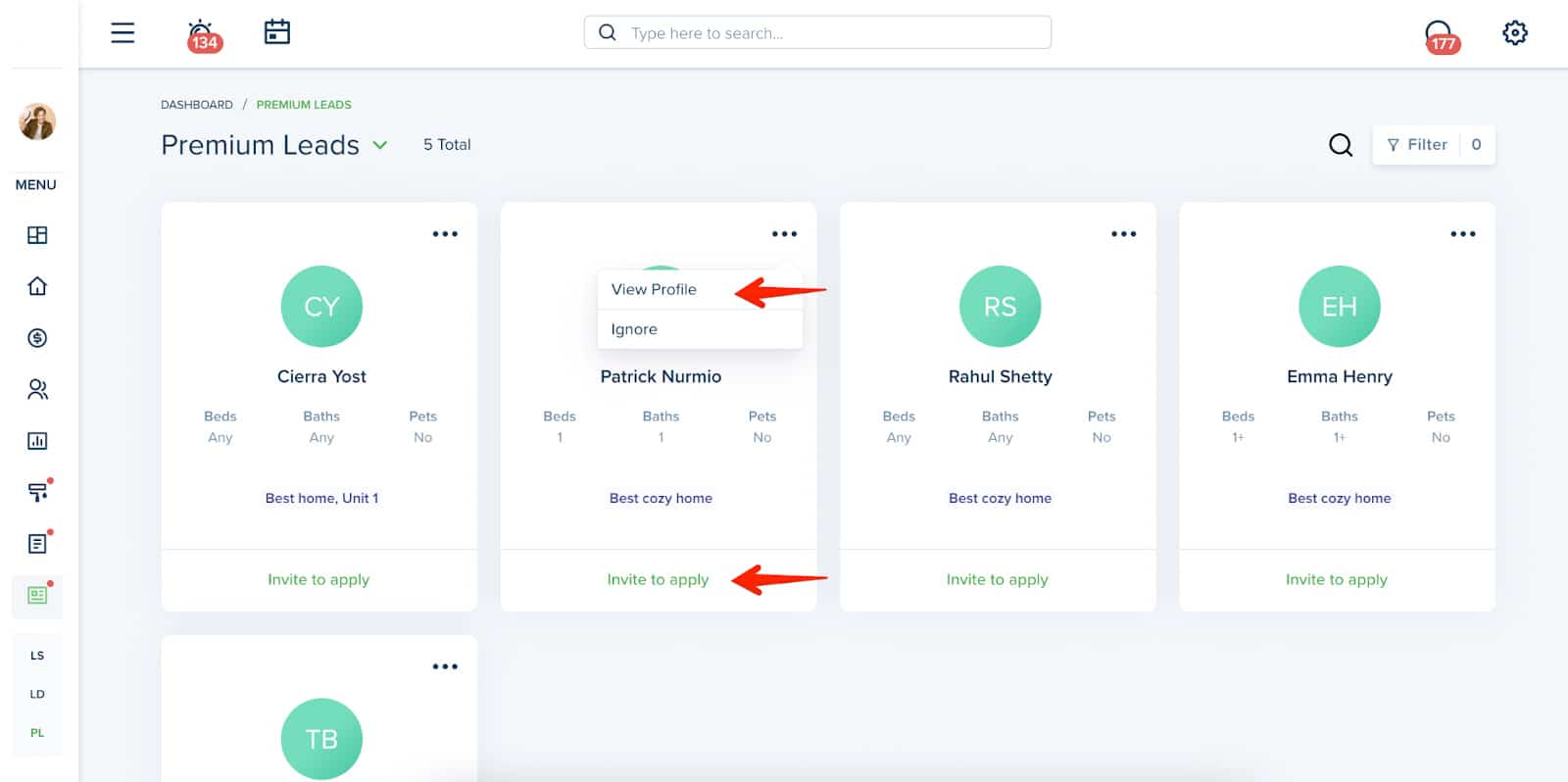 ---
Once leads are added to the CRM, you can easily monitor and change their status, log calls and meetings, and even add notes and files for future reference. With Leads Text Messaging, you are able to communicate with leads via text through the "Leads" channel in your TC messenger. If you have team management features, you can assign leads to your team members and create tasks for them. This makes lead conversion faster and easier.
---
Free mobile app
Compatible with iOS and Android devices
Mobile features for landlords, tenants, property managers, owners, and service providers
TenantCloud offers a free mobile app that landlords, property managers, tenants, owners, and service providers can download on iOS and Android devices for free. This is a perfect solution if you're always on the go, as you don't have to constantly log in and out of your account. Easily access your properties, units, leases, accounting, and maintenance requests on your mobile phone and tablet. You can also manage your team, collect rent, and screen tenants right on the app.
To ensure your data security and privacy, all your TenantCloud info is protected in Amazon Web Services (AWS) data centers, which provide a secure, extensive, and reliable cloud platform.
---
Available through phone and email
Ticket support for tenants and account holders
Priority support and ticket responses for business clients
Help Center
TenantCloud's customer support is available through phone and email. You can call their phone support and sales department on weekdays from 9 a.m. to 5 p.m. Central Time. If you're an account holder experiencing technical issues or needing assistance, you can raise a ticket to the support team directly on your dashboard. Customers can even attach screenshots and add details about the issue when submitting a ticket for faster resolution. If you have general inquiries, you can shoot them an email at support@tenantcloud.com.
Business clients enjoy priority support, which means you get immediate phone support and are first in line for ticket responses. If you want to grow your rental investment using TenantCloud, visit their Help Center for articles and quick start guides.

---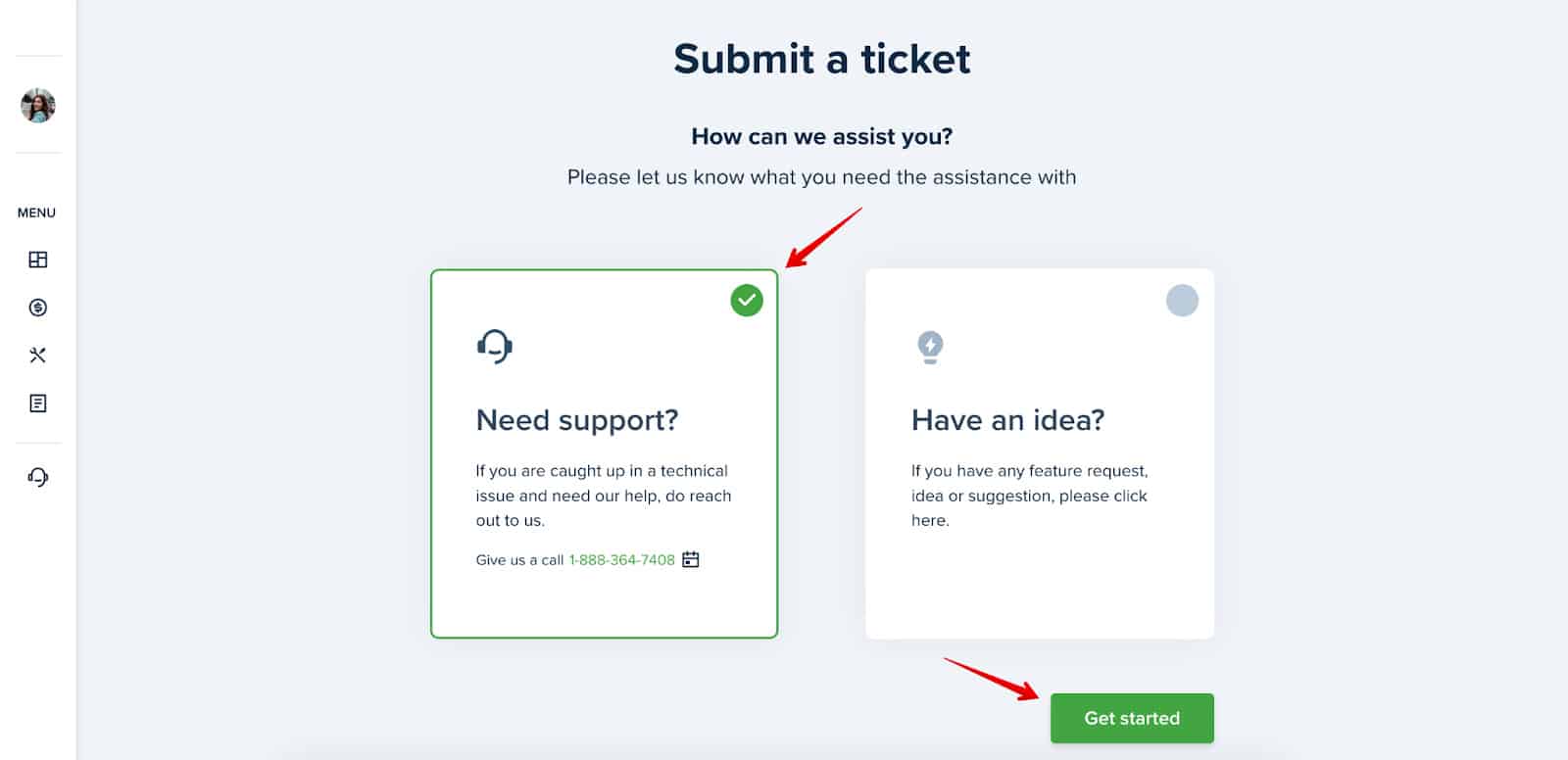 ---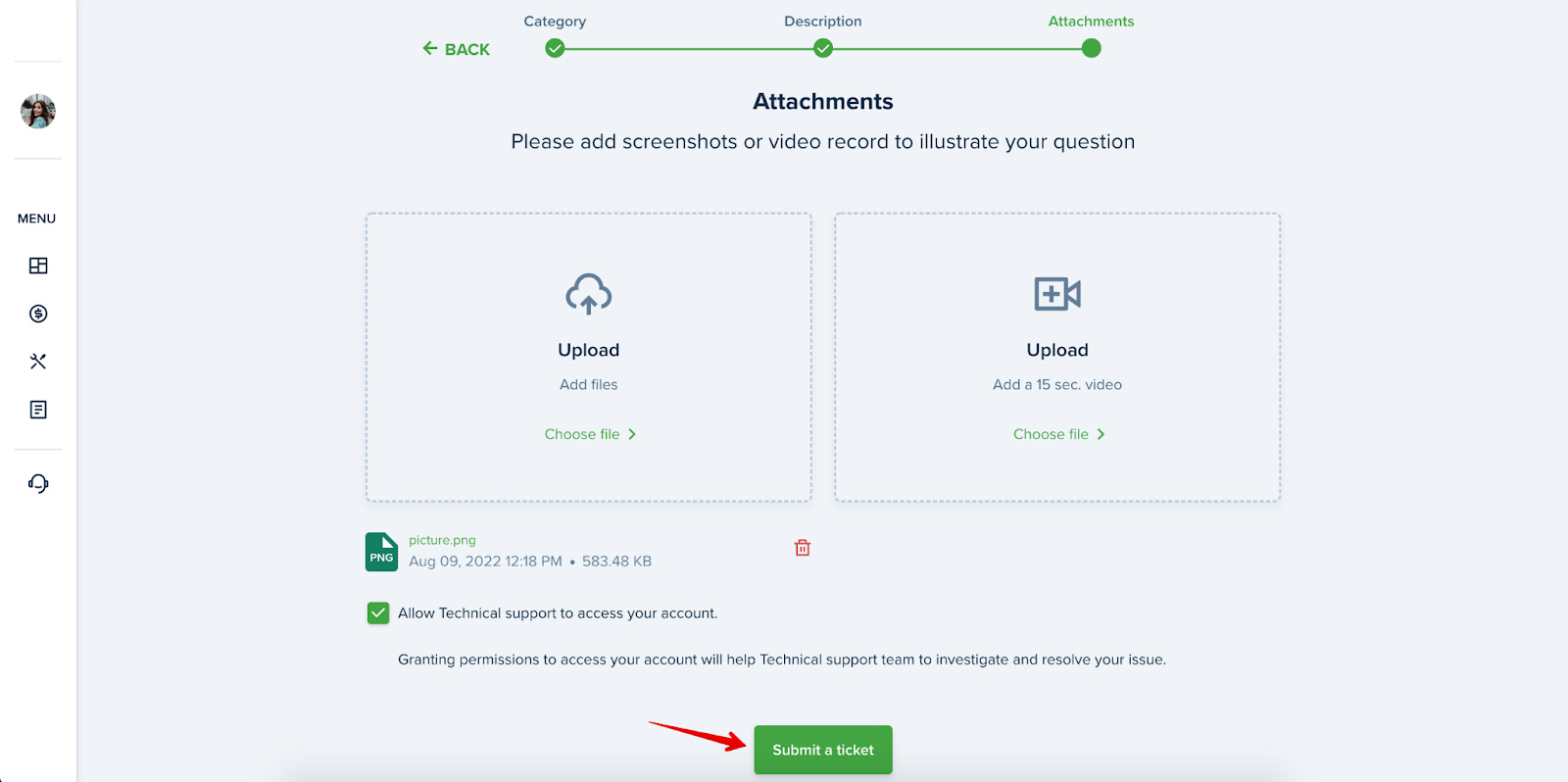 ---
---
Ease of Use
TenantCloud's system is designed with multiple functionalities to automate and simplify processes for landlords and property managers, as well as tenants, owners, and service providers. When you log in to your account, you'll be directed to your dashboard, which contains several widgets that display information stored in your account.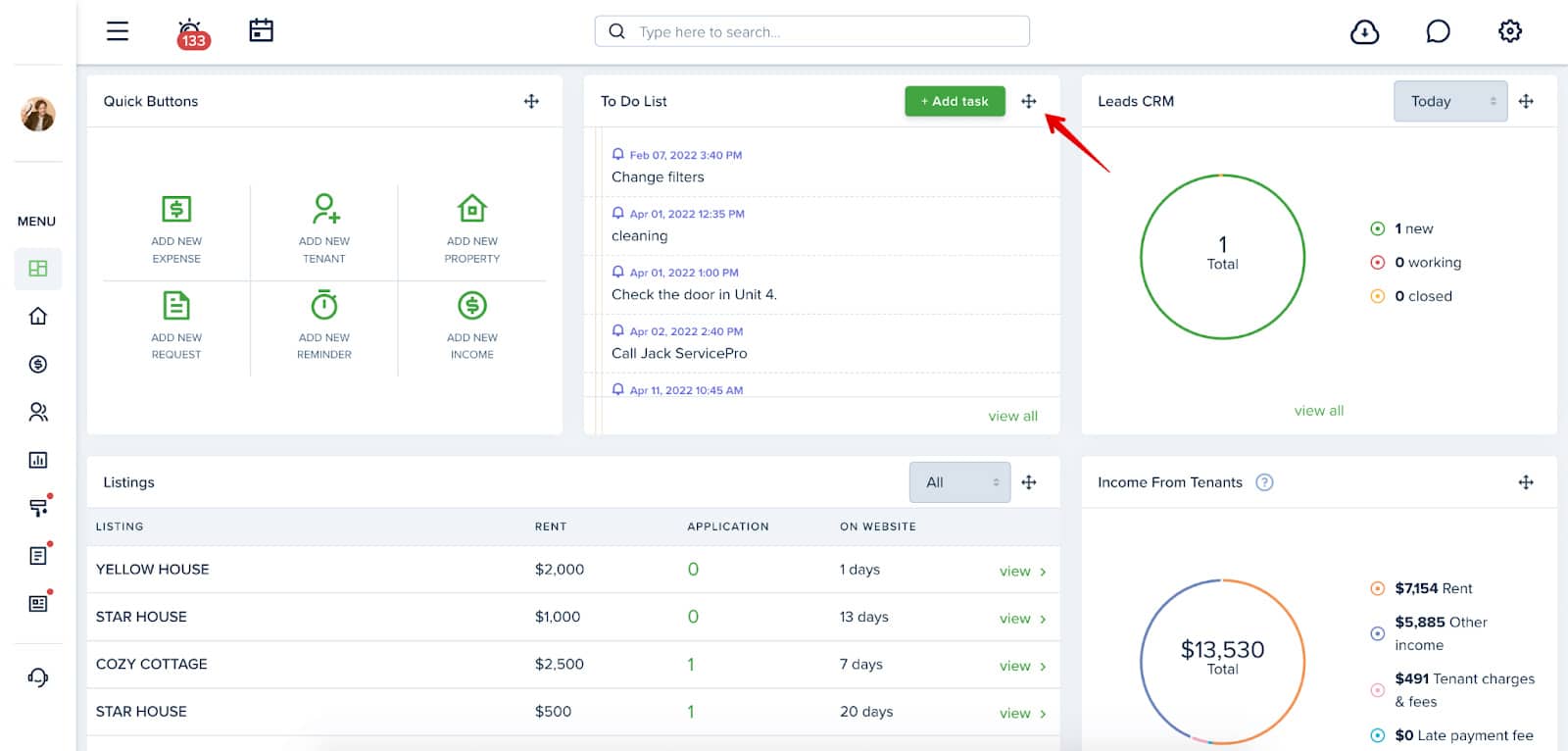 ---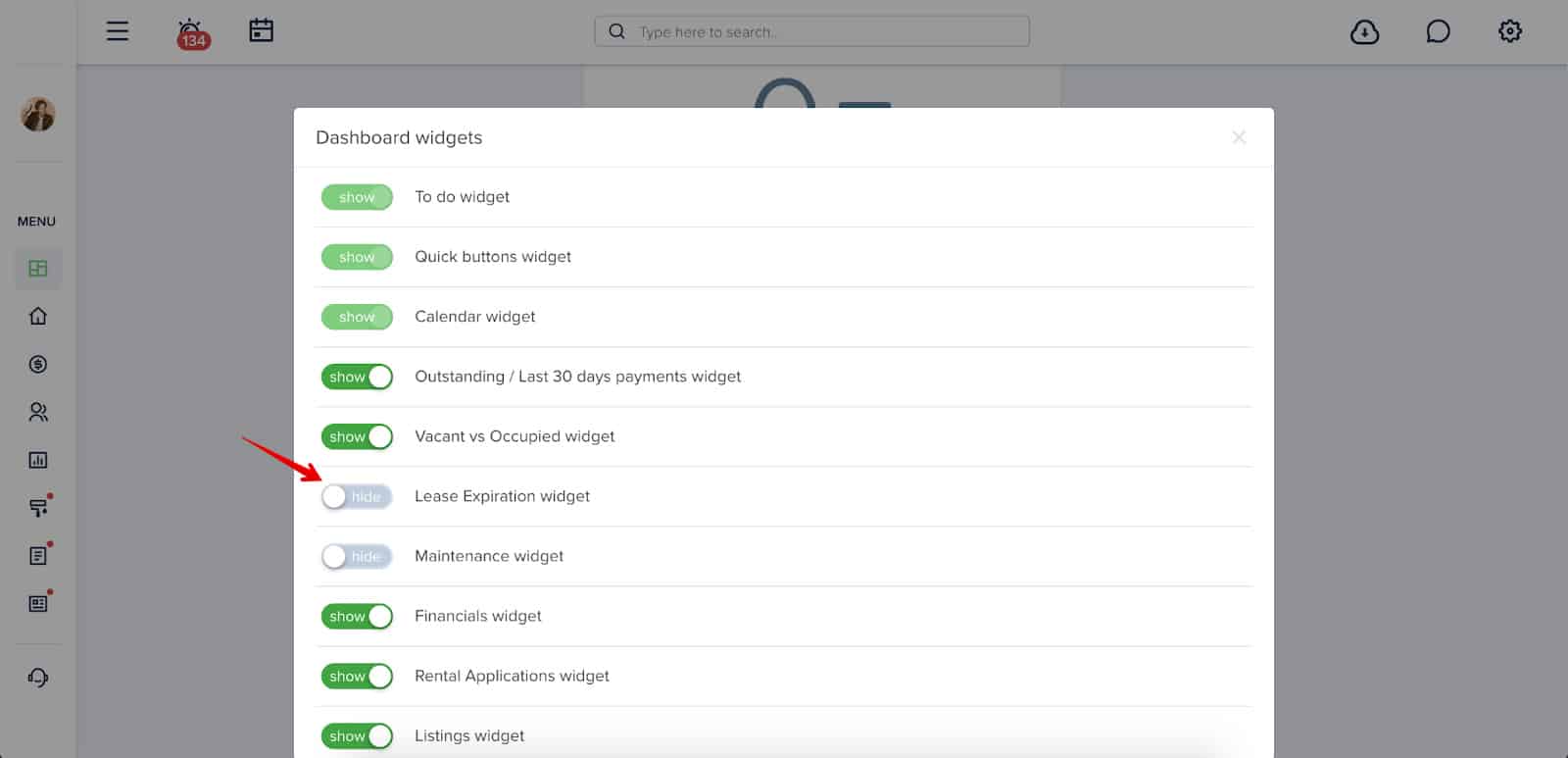 ---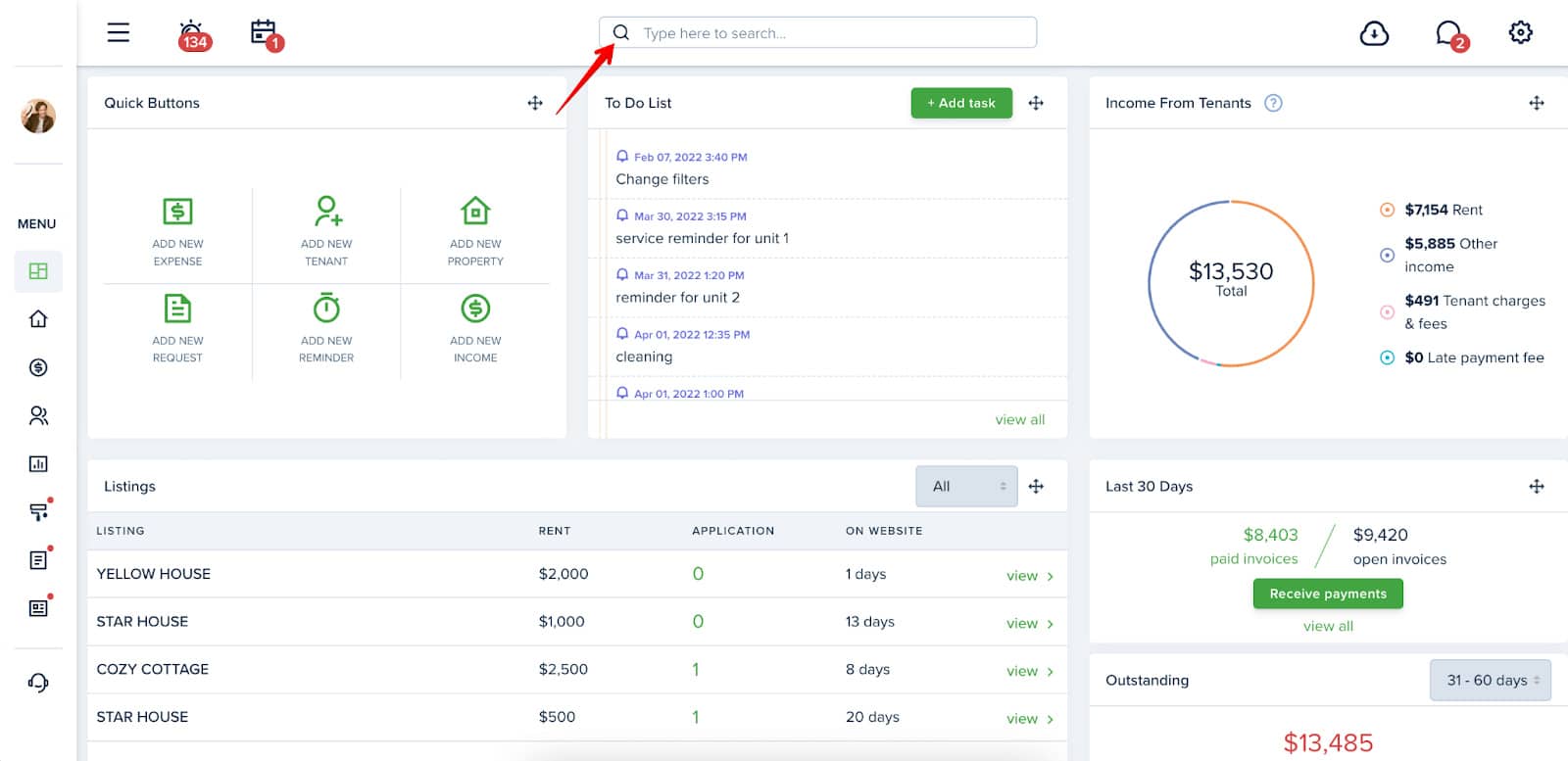 ---
From your dashboard, you can get a quick view of your rental units, calendar and alerts, to-do list, invoices, leases, online payments, and maintenance requests. You can even customize your dashboard widgets based on the features you constantly use.
For easy navigation, find a Quick Buttons widget on the dashboard so you could jump to different functionalities in just one click. The side navigation menu also gives you quick access to certain property management actions. A Dashboard Search is also available on your account, so you can find contacts, properties, transactions, reports, maintenance, applications, listings, leads, and Property Board posts within a few seconds.
However, since this software has numerous capabilities, learning where features are and how to use them might take some time. If you need step-by-step guides on using a specific feature, you can visit the Help Center.
TenantCloud's website doesn't take too much time to navigate. With its simple design, you can quickly find information about their product, use cases, pricing and plans, and other resources through the top navigation menu. You can also check all the features and other company information through the links on the website footer.
Bottom Line
TenantCloud is one of the premier all-in-one property management software out there designed to perform and automate basic and critical landlord tasks. This TenantCloud review reveals how landlords enjoy functionalities like rent collection, lease agreements, and tenant screening, which saves time and keeps them organized. Some notable perks are team management and lead customer relationship management (CRM) tools for property managers and investors. What's more, TenantCloud's tiered plans are priced fairly, giving you several options that could fit your budget.