7 Ways Landlords Can Verify Proof of Income
Landlords should ask prospective tenants for proof of income to show they can afford to pay rent and to determine if they're committing fraud with forged documents. Pay stubs are the best proof of income, but landlords also should collect at least one other proof of income document and compare the two.
You can verify income manually by requesting documents that show proof of income through a tenant screening company. MyRental is a comprehensive tenant screening software that helps landlords assess credit, check backgrounds, and check eviction history. Online applications are free, and plans start at $19.99 per applicant.
You also can verify income through a property management service, which may be easier and save you time. Because they aren't a rent collection service, property managers charge additional fees to manage tenants and the property. Property management fees start at 4% to 10% of the gross monthly rental income.
However you choose to verify income, tenants should be able to prove they make at least three times the current monthly rent.
Types of Income Verification Documents
Type

Best For

W-2 employees

Self-employed small business owners

Corroborating pay stubs, tax returns, or Social Security benefits

Using with W-2 employee pay stubs

Combining with tax returns for the self-employed

Proof of retirement income

Those collecting alimony or similar payments

Last Updated 05/13/20
Some landlords include overtime, bonuses, seasonal pay, and hazard pay when verifying an applicant's income. However, since these earnings usually aren't consistent, it's always best to use the applicant's base salary to qualify them, and only use variable earnings if they're on the cusp of qualifying.
1. Pay Stubs
Pay stubs show an employee's full name, employer's name, and contact information. Pay stubs also show how much gross income an employee earns and how often they receive paychecks. For example, pay stubs will verify a tenant's income year-to-date as well as their per-paycheck earnings, including any overtime or bonuses.
Pay stubs are the most reliable proof of an employee's income and should be requested, along with a secondary source of income verification when screening applicants.
How to Get Applicants' Pay Stubs
To screen a tenant based on their income, a landlord should request the applicant's two most recent pay stubs and clearly indicate this in the application instructions. The applicant will have access to their pay stubs each pay period, either online or as a hard copy.
How to Verify Income Using Pay Stubs
Check the pay stubs for the amount of income per pay period and their year-to-date earnings Most W-2 employees are paid bi-monthly. Multiply their bimonthly per-paycheck earnings by two to get their gross monthly earnings. Note any regular deductions and net pay. Multiply the monthly income by 33% to determine if they can afford your rental since housing expense is typically one-third of their monthly income.
Below is an example of a standard paycheck with four things you'll want to look for when verifying proof of income.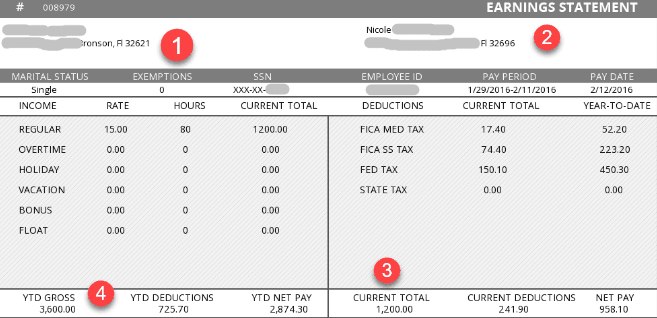 Employer name and address; use as a contact
Employee's name and current address
Gross income for pay period
Year-to-date (YTD) gross income shows much the applicant earned this year
Pros & Cons of Accepting Pay Stubs
Obtaining pay stubs can be time-consuming because landlords have to track down the applicant and remind them to send them to you. Landlords also have to file or dispose of tenant pay stubs once they've been reviewed.

| Benefits | Drawbacks |
| --- | --- |
| Pay stubs are easy to read | Applicants can create fake pay stubs online |
| The applicant can obtain them with little effort | Employers won't verify an employee's income over the phone |
| It's simple to verify that the applicant works for the employer listed on the pay stub | Overtime listed on the pay stub can give the impression of higher income that the tenant may not earn consistently |
2. Tax Returns
Tax returns can be a supporting document for W-2 employees or a primary document for self-employed applicants. It's best to get tax returns in addition to either pay stubs or bank statements. Typically, you'll want to get the last two years of tax returns to verify income.
How to Get Applicants' Tax Returns
The landlord must ask the applicant for their tax returns. The applicant can get the copy they filed directly from the IRS, their accountant, or download it online. Some applicants use tax preparation software and can access digital files to print, email, or upload a PDF version of their tax return.
How to Verify Income Using Tax Returns
Tax returns show where a prospective tenant worked for the past two years as well as their overall income. The more tax returns a landlord is provided, the more financial history can be considered when deciding on a prospective tenant.
With an IRS 1040 tax return, the landlord can look at the applicant's contact information and verify that it matches what's listed on their rental application. Landlords can then look at the wages and their adjusted gross income to verify that a prospective tenant can afford the rent. Take the gross income, divide by 12 months to get monthly income, and divide by 33% to determine one-third of their income to cover housing expenses.
Pros & Cons of Accepting Tax Returns
Interpreting an applicant's tax documents can be difficult. Online property management software offers online tenant screening services, including verifying proof of income and employment. It also allows landlords to check the tenant's credit history, criminal activity, and prior housing records.

| Benefits | Drawbacks |
| --- | --- |
| Landlords get a comprehensive look at the applicant's full financial picture | Tax filings may not account for current bonuses and raises |
| Tax returns don't overstate an applicant's income | Tax returns aren't current because they show earnings from the previous year |
| Tax returns are harder to forge than other documents | Returns may disqualify an applicant who doesn't properly report all their income |
3. Bank Statements
Asking for an applicant's two most recent monthly bank statements is a great way to obtain supporting documents for use with pay stubs to verify a tenant's income. Statements also can be used as a secondary proof of income if an applicant is self-employed. If this is the case, landlords should collect tax returns as primary documents.
Bank statements have several unique benefits for verifying tenant income, including the ability to see a tenant's entire banking history and check their cash reserves. Look for bounced checks, overdraft fees, and bill-paying history. In most cases, a bank statement will be used as a secondary source of proof of income.
How to Get Applicants' Bank Statements
Bank statements can be a great way to get insight into an applicant's finances, but you have to get them from a tenant to review them. The easiest method for the landlord to obtain them is to ask the applicant to email them a PDF of their most recent statement, which should show itemized transaction history, including deposits and withdrawals.
How to Verify Income Using Bank Statements
The landlord should ask applicants for the most recent two months of bank statements. In this example, you can see the bank's name, the applicant's name and address, and the statement date. You also can see total deposits and withdrawals. If the applicant submitted a primary proof of income document, match that income with the bank deposits to ensure it's correct.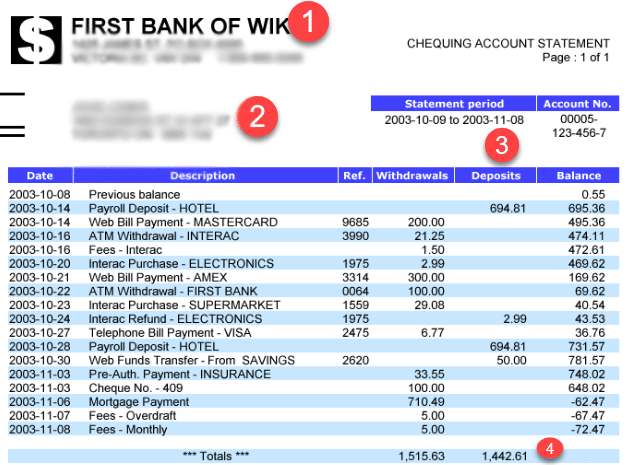 Bank statement shows bank name and address
Applicant's name and address, which should match the name and address on their rental application
Statement periods show the monthly dates of the statement
Totals show the applicant's total deposits and withdrawals
Pros & Cons of Accepting Bank Statements
In most cases, a bank statement will be used as a secondary source of proof of income. However, if your applicant is self-employed, this document may become your key source for income verification, which is not ideal.

| Benefits | Drawbacks |
| --- | --- |
| Bank statements show current information that can be printed the same day | Bank statements are easy to forge |
| Statements are easy for the applicant to get and send | Some applicants feel uneasy about releasing such personal information |
| Landlords can use bank statements to see an applicant's cash position | Statements can be time-consuming to read through if there are a lot of transactions |
4. Letter From Employer
A letter from an applicant's employer can serve as both a proof of income and reference letter. However, it shouldn't stand alone. It should be submitted in addition to one or more other proof-of-income documents, preferably pay stubs if the applicant is a W-2 employee or tax returns if the tenant is self-employed.
The letter from the employer should outline how much the applicant earns and how often they get paid. It should be prepared on a company letterhead that includes the company name, address, phone number, and contact person. It should also state how long the applicant has been at the company and their current position.
How to Get a Letter From an Applicant's Employer
A letter from the applicant's employer proves current employment verification and confirms income statements made on an application. Many large companies have templates and can provide them to the applicant quickly while smaller companies may need to prepare one from scratch. If so, be clear about the information you need to verify tenant income.
Some companies may require the applicant to sign a release before they give the applicant's information to a prospective landlord. It's good practice to have this release as part of the rental application, so you're not wasting time trying to get tenant signatures.
How to Verify Income Using a Letter From an Employer
Verify an applicant's income with a letter from their employer by comparing the income they list on their application and how much income the employer says they make along with income from their pay stubs, bank statements, or tax returns.
Below is an example of an employment letter. Landlords can match the applicant's information with what they wrote on their application.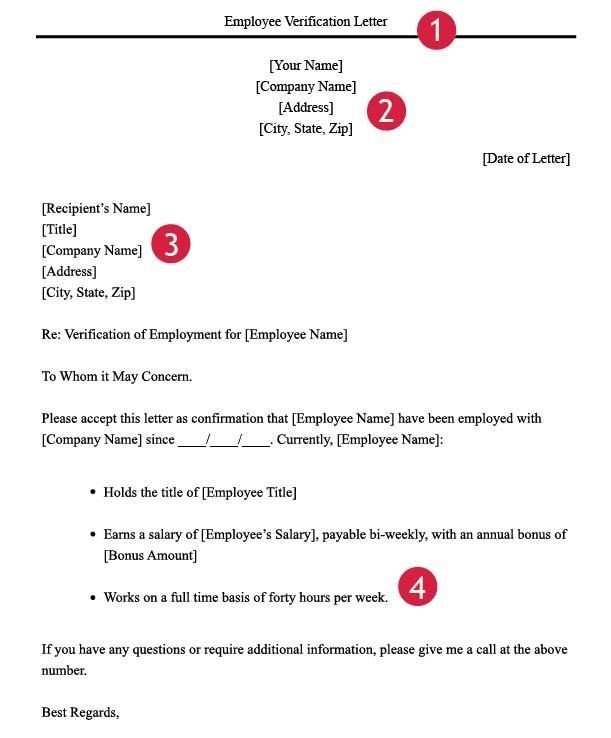 Letter from employer
Employer name, address, and contact number
Applicant's contact information
Applicant earnings and how long they've been employed, which should match the earnings reflected in their primary document
A letter from an employer provides helpful information but needs to be verified because it can be duplicated or forged easily. Verify an employment letter by searching online to ensure the company is as listed. Call the employer and verify the applicant's employment and position. Ask for a character reference. Ask for salary confirmation. Employers are not required to divulge this information, but you can at least ask them to verify the applicant's current employment, length of employment, and job title.
Pros & Cons of Accepting a Letter From an Employer
A letter of employment is a good source for primary and secondary proof of income, especially if you confirm it by calling the employer. Most employers are familiar with handling these types of inquiries, so it's best to take the extra step to verify letter contents.

| Benefits | Drawbacks |
| --- | --- |
| Verified easily with a quick call to the employer | Applicants need time to obtain this if they don't already have it |
| Provides up-to-date employment information | Is forged easily |
| Less invasive than a bank statement | Not reflective of overtime and commissions |
| | Employers may not share much information due to employee privacy |
5. Profit & Loss Statements
A profit and loss (P&L) statement can demonstrate a self-employed applicant's proof of income because it shows their business's earnings and expenses. A P&L statement shouldn't be accepted alone but should be used as a supporting document with bank statements or tax returns.
How to Get Applicants' P&L Statement
A tenant can ask their accountant or bookkeeper for their P&L statement or pull it from their records. Alternatively, an applicant can create a new P&L statement specifically to show proof of income for the property they're trying to rent.
How to Verify Income Using a P&L Statement
A P&L statement is used best with supporting documents or an accountant's verification. Since a profit and loss statement is harder to verify than a W-2, it's used as a last resort or as a supporting document. The P&L statement shows how much money the business earns in revenues as well as its profits. It shows whether the owner is taking a draw and how much, or if they're paid as a W2 employee on payroll. Compare the P&L to business bank account statements or tax returns to see if the amounts match.
Here's an example of a profit and loss statement. Look at the company name and contact information, check with the secretary of state corporate filings division to verify ownership, and if the business is active and in good standing. Do an online search for additional company information. If the corporate filing shows a resident agent who is different from the tenant-applicant, call the resident agent to verify the applicant is the business owner.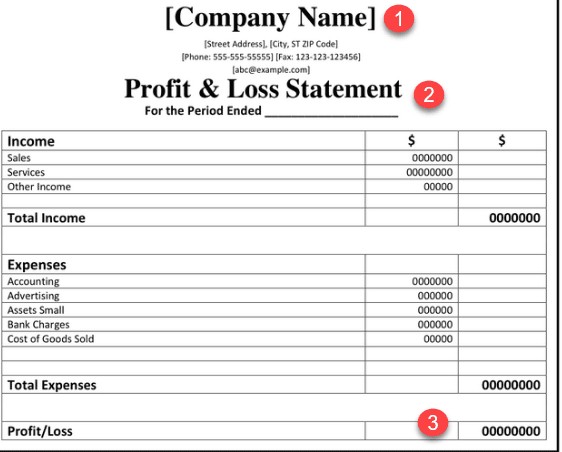 Company name, address, and phone number
Profit and loss statement showing a business's financial standing during the period listed
Shows the total profit or loss during the period stated
Pros & Cons of Accepting a P&L Statement
P&L statements will show you the applicant's business income, but there is no real way to verify the document unless you compare it to bank statements or tax returns. Most landlords will want three years of business tax returns to demonstrate the long-term history and business income trends. This is similar to lending practices when applying for a mortgage.

| Benefits | Drawbacks |
| --- | --- |
| Provides a good overview of the applicant's business finances | They may not be accurate |
| More difficult to forge than other documents, such as a letter from an employer | It needs to be verified by comparing it to bank statements and tax returns |
| Demonstrates trends in business growth, helping landlords determine long-term ability to pay rent | It can be time-consuming for a landlord to review |
6. Social Security Benefits Statements
A Social Security statement is generally used to verify income by retirees or disabled tenants receiving Social Security disability benefits. It's best when used as a supporting document along with the applicant's tax returns or bank statements. Because Social Security or disability income may be low, it's important to look at the bank statements to verify the applicant's cash position.
How to Get Applicants' Social Security Benefits Statement
The applicant will need to obtain a Social Security statement and give it to the landlord. The applicant may already have a copy in their files. If this isn't the case, they can go online and log in to their Social Security account to request a statement. They also can call a regional office or go there in person to request the statement.
How to Verify Income Using a Social Security Benefits Statement
A landlord can verify the information on the Social Security statement by comparing it to their bank statements or tax returns. The benefits statement will show how much the applicant is earning per month from Social Security or disability, and when they will receive it each month. Be sure to check that benefit amounts match a secondary document or bank deposits.
Here's an example of a Social Security or Social Security Disability Insurance (SSDI) benefits statement. You want to look at what type of statement it is and how much the monthly income is, as well as the yearly income.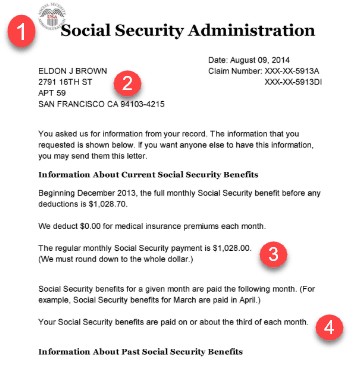 Type of Social Security statement
Applicant's name and address should match the application and bank statement
Monthly income after deductions
Date that the applicant receives the income
The landlord can call the Social Security office number listed on the letter and ask to verify that the applicant receives the benefits mentioned in the statement. Due to confidentiality laws, the office may not confirm this until the applicant gives their permission for them to do so.
Pros & Cons of Accepting Social Security Benefits Statements
Social Security income can be a reliable source of income for applicants. The amount doesn't change much, and it's typically guaranteed, making it less volatile than self-employment or even W-2 income.

| Benefits | Drawbacks |
| --- | --- |
| Benefits statements show stable and consistent income | Applicants must request a letter of earnings verification if they don't have a current one |
| Social Security statements help verify a retiree's income | Income may fluctuate as laws change |
| Statements are easy to verify for fraud with the administering office | It doesn't provide insight into the applicant's financial history |
7. Court-ordered Agreement
A court-ordered agreement is a signed legal document between an arbitrator and a party that the court has ordered to pay. The most common types of court-ordered agreements include spousal alimony and child support as well as a payout from a trust or a lawsuit.
Although court-ordered agreements are far less common than pay stubs, they are still an acceptable document for proof of income. A court-ordered agreement shows the source of the applicant's income, the amount, and the frequency the income is received.
How to Get an Applicant's Court-ordered Agreement
An applicant may already have a copy of their court-ordered agreement in their files. If they don't, they can get it from their attorney or from the court clerk's office where the ruling took place. Unless they've been sealed, these documents are part of the public record, meaning you might be able to look it up yourself via the county clerk's office.
How to Verify Income Using a Court-ordered Agreement
First, verify if the payments are monthly or paid in one lump sum. If it's a lump sum, request additional bank statements to make sure there's still enough money left to pay the required rent. If the agreement is structured as a monthly stipend, ensure it's at least three times more than the rent.
Here's an example of a court-ordered agreement. Typically, you'll want to check the total amount and how often it's paid.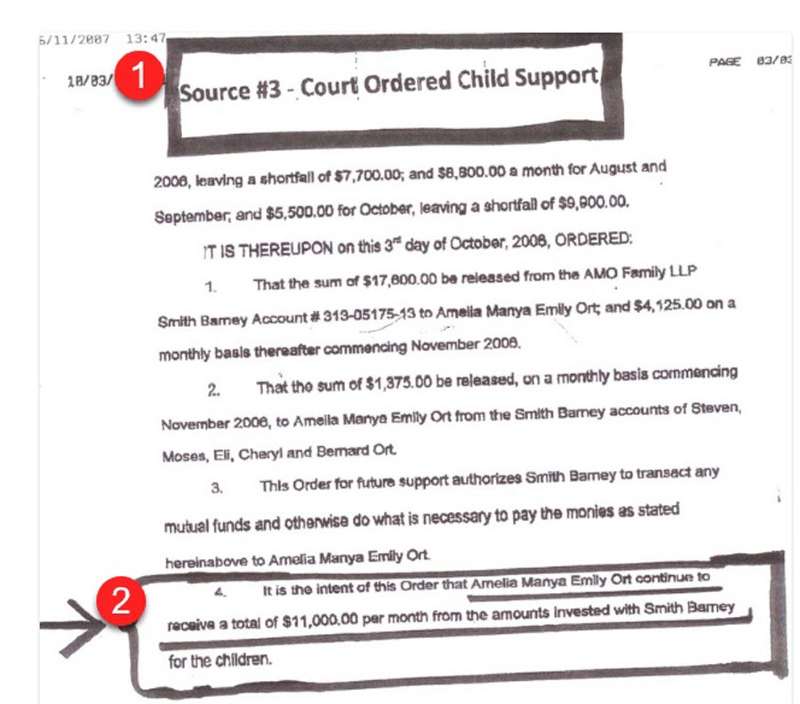 Shows the document is a court-ordered agreement
Income amount and frequency
Pros & Cons of Accepting Court-ordered Agreements
There are both advantages and disadvantages to accepting court-ordered agreements when confirming income. Keep in mind when using a legal document to verify income that many settlement payments have an end date, so make sure the income continues during your lease term.

| Benefits | Drawbacks |
| --- | --- |
| Easy to verify online or with a phone call to the court because it is a public record | It doesn't give an overview of the applicant's work history |
| Simple for the applicant to obtain | It could be appealed or changed through litigation |
| | It doesn't provide much insight into the applicant's financial history |
| | A former spouse could stop making payments |
Tips for Spotting Fake Proofs of Income
Landlords have to ensure tenants can afford to lease their property by verifying income. Tenants know this and will sometimes provide fraudulent documents. Knowing what to look for can help you vet your prospect's proof of income, thus saving you time, money, and possible litigation.
The following are some tips for spotting fake and fraudulent proofs of income.
1. Listen to Your Gut
If the applicant's income doesn't seem to add up or if you feel something isn't right, go with your intuition. If you have trouble verifying their claims, you should reject them as a tenant. If there are issues in the beginning, they often become magnified later on and may cost you in evictions and legal fees.
2. Require Tenants Sign a Form 4506
If you want to verify the information on a profit and loss statement or validate a potential tenant's income, you can request a transcript from the IRS with a signed Form 4506. The transcript will show the tenant's federal tax documents. The transcript is the official income received and recorded by the IRS and is stamped as official so it can't be forged.
3. Compare Pay Stub Income to Year-to-Date Income
Ask the applicant for their two most recent pay stubs. Look at their per-pay-period income and the year-to-date (YTD) amounts. Often these numbers won't match up if the pay stub isn't real. You should also double-check the pay stub with another form of income verification.
4. Review the Ongoing Statement Balance
To spot a fake statement, make sure all deposits are reflected properly in the total ledger balance. A forged bank statement doesn't usually have the correct ongoing balance because the applicant has probably added deposits and withdrawals that aren't included in the running balance.
5. Do an Online Search for a Tenant's Business
If your applicant is self-employed, do an online search of the company listed on the applicant's application. Verify the company exists and how long it has been in business. You can perform the same search for applicants providing W-2s and letters of employment. Most businesses are required to register with the secretary of state corporate division, which is an online searchable database. Verify the business is active, in good standing, and the company owner matches the applicant's name.
Renter Has No Proof of Income
There are times when the applicant cannot prove their income or may not be able to afford the property. When this happens, it is essential to handle declining the applicant properly. It's a good idea to create a rejection letter with a checklist of potential legal reasons an applicant is denied. Create a process to verify income that is compliant with the Fair Housing Act.
Bottom Line
A renter needs to prove they can afford to rent your property. This is done when they submit documentation proof of their income. These documents are verified by the landlord to prevent fraud and to get a closer look at their finances, which help determine their suitability as a prospective tenant.