Tenant screening services run credit reports, background, and eviction checks to assess whether or not someone is financially qualified to rent an apartment. We looked at the most popular options and rising stars and decided to review Cozy, TransUnion SmartMove, and On-Site. These companies covered the range for landlords, property managers, and real estate agents in terms of pricing and features. Read on for our comparison and review of these three options, as well as our top recommendations.
For many landlords, tenant screening is just a piece of the puzzle when it comes to managing their rentals. For a complete property management solution, we recommend Rentalutions. They provide applicant screening, online lease signing, online rent payments, accounting, and more. Their property management software packages start at $0 per month.
Best Tenant Screening Service: Cozy
We chose Cozy as the best tenant screening service because they offer a report culled from data from all three credit reporting agencies, online rental applications, free ACH rent collection, property listing templates and a dedicated landlord advice resource.
Cozy vs. SmartMove vs. On-Site Comparison
Cozy

SmartMove

On-Site

Pricing: Credit Report/ Background Check

Learn More
Tenant Credit Report Only: $24.99

Tenant background check only: $24.99

Tenant credit report + background + eviction: $39.99
Quickcheck Tenant Screening (resident score + background check): $25

Quickcheck Plus Tenant Screening(Credit report + background + eviction check): $35
Tenant credit report + background + eviction check: $40
What's included in background check?

Learn More
Employment: No
Rental history: No
Evictions: Yes
Criminal: Yes
Employment: No
Rental history: No
Evictions: Yes
Criminal: Yes
Employment: No
Rental history: No
Evictions: Yes
Criminal: Yes
Who does credit/ background checks?

Learn More
TransUnion
Experian
Equifax
Checkr
TransUnion
TransUnion
Experian
Equifax


Online Rental Applications included?

Learn More
Yes
No
Yes
Unique features

Learn More
Property Listing Templates

Online rental Applications

Online ACH/ credit card rent payments/ collection

Landlordology - (Help and advice section for landlords)
None
Custom generated lease with E-Sign

Online rental applications
Sample Tenant Screening Report
Click here
N/A
Click here
www.Cozy.co
www.MySmartMove.com
www.On-Site.com
Best Tenant Screening Service: Cozy

We recommend Cozy because they offer Vantagescore reports, online rental applications, free ACH and credit card rental applications, free property listing templates with "apply now" buttons, and an in-depth landlord advice section called landlordology. Perfect for newer landlords.
Backed by Google Ventures, Cozy has been making waves in the tenant screening services space since they launched in 2012. Their service is especially attractive to millennials, many of whom are wary of giving personal information to multiple landlords.
Experian VantageScore
Experian VantageScore combines data from all three credit reporting agencies, TransUnion, Experian, and Equifax, for one combined credit report. While reports from the three agencies are getting more and more accurate and identical, querying all three can offer more peace of mind.
Online rental applications
Cozy also offers online rental applications. Since most millennial tenants expect to be able to do everything online, an online rental application is a very useful feature for small landlords. Even better, applicants can use the same online rental application for any landlord that accepts Cozy applications.
Free ACH rent collection
Perhaps the best feature of Cozy is their free online rent collection system. Landlords can sign up and accept electronic rent payments from their tenants. The service is 100% free for landlords, and only charges tenants 2.75% per transaction for debit or credit card payments, or nothing at all for ACH transfers. Landlords can even charge one time fees for utility payments, application fees, etc.
Property Listing Templates
Cozy also offers attractive, cleanly designed property listing templates that landlords, property managers and agents can use on craigslist and other sites that allow HTML in their listings. The templates include a call to action that encourages people to apply online using Cozy.
Landlordology
Cozy also offers an in-depth landlord resource section called Landlordology. This is a great resource for new and newer landlords who are looking for quick legal, marketing, or other advice on effectively running rental properties.
The are only two real downsides to Cozy. First, they are slightly more expensive than TransUnion's SmartMove, and second, they aren't quite yet the household name that TransUnion is.
Best Budget Tenant Screening Service: SmartMove

Since SmartMove is owned and co-branded with credit reporting agency TransUnion they offer something that no other tenant screening service can: name recognition. This can be extremely helpful in getting new renters (or guarantors) comfortable with handing over their personal information. Many newer landlords, property managers and boutique agencies don't yet have a brand that is known to be trustworthy. This can make getting people to apply a tricky process, especially in big cities where people are very leery of scams. I can't count the number of times I've had to field panicked 8:30 pm calls from guarantors looking for reassurance that we were a reputable company and not an identity theft ring. Even at a large company like ours with a ten year track record and exclusive contracts with dozens of luxury new developments, this was par for the course. For a new landlord in a small city the problem can be 10x worse.
SmartMove also comes in at $5 less than the other two services. Frankly, we think that ponying up the extra $5 for Cozy is a worthwhile investment, but if you're paying for the checks yourself to offer an incentive to get great tenants or only need basic services, then SmartMove might be right for you.
Best Tenant Screening Service for Larger Brokerages and Property Managers: On-Site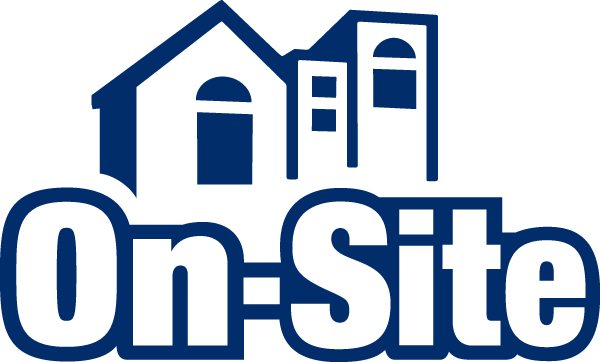 Although the electronic signature leases On-Site offers landlords with less than 100 units are great, they pale in comparison to the extra services Cozy offers small landlords. Where On-Site shines is in providing custom solutions for large new developments, property managers, and brokerages.
What Are Tenant Screening Services?
Tenant screening services offer landlords, property managers and other real estate professionals, credit check, credit reporting, and background searches in order to assess whether a prospective renter will be a good tenant. Here's a quick rundown on what tenant screening services do:
Run credit checks through 1 or all 3 credit reporting agencies
A credit report will tell a landlord in detail whether or not a prospective tenant pays their bills on time, as well as assess their debt to income ratio.
Run Criminal Background Checks
In addition to providing credit reports, tenant screening services will also check state, federal, and global criminal records to determine whether or not the prospective tenant has a criminal history. Sex offender registries and terror watchlists are very often included in criminal background checks.
Check Housing Court and Eviction History
Tenant screening services will also check housing court records to see if the prospective tenant has any evictions proceedings in their rental history.
Verify employment status and previous addresses
Some very thorough tenant screening services will verify employment and previous address history.
Are Tenant Screening Services Worth Paying for?
In my experience as a real estate agent in Manhattan, yes. Tenant screening services are well worth the nominal ($40 or less) cost. In many cases, when confronted with a credit and background check, prospective tenants with bad credit or criminal records will tell you before you even run their credit. Using one of the three services we tested, you can (and should) have the prospective tenant pay the fee. If they're good candidates, you can offer to reimburse them once they pass the screening.
In-Depth Comparison: Cozy vs SmartMove vs OnSite
Pricing
Due to increased competition in the space, the price for tenant screening services seems to have stabilized. Today, pretty much all screening companies charge somewhere in the neighborhood of $25 for a full credit report, $25 for a full background check, or around $40 for a combination credit report and background check. As market competition, the demand for tenant screening and and the digitization of public records all increase, we expect these prices to go down further in the future.
Here's how the three tenant screening companies stacked up for pricing:
The drawback here is that the Resident Score does not grant you access to a candidate's full credit report. They only offer their own assessment of a candidate's ability to pay rent on time based on their credit report. While this may be fine for some, many landlord's working in lower income neighborhoods or neighborhoods with very high vacancy rates may want to consider applicants with poor credit depending on their reason for having poor credit.
For example, a prospective tenant may have great income and one large unpaid medical bill, or other contested debts. In cases like this, viewing the entire credit report would be necessary to make a decision.
More importantly, many landlords might want to overlook credit issues as long as the applicant has no eviction history of landlord tenant actions. For them the QuickCheck Tenant Screening simply won't work as it doesn't offer eviction history.
For $10 more, SmartMove offers their QuickCheck Plus Tenant Screening which includes a full credit report rather than just the Resident Score, as well an eviction report. Considering evicting your tenant can cost upwards of $10,000 and take up to six months in areas with tenant friendly housing court systems, that extra $10 should be seen as a worthwhile investment.
What's included in a background check?
After assessing a candidate's credit worthiness, a background check is generally the next step in vetting a prospective tenant. There are two important reasons for this: First and foremost, people with criminal histories generally don't make very good tenants. Even if they pay their rent on time every month and don't sell your stove on craigslist, you may find yourself legally responsible for criminal acts, including drug dealing, that occur on your property.
Eviction history is another crucial factor in vetting prospective tenants. After renting hundreds of apartments in New York City, I've seen it all. Including people with six figure incomes, impeccable credit and a tendency to repeatedly sue their landlords in housing court. Save yourself the potential headache and spend the few extra dollars to run a background check that includes eviction history.
Who does credit/background checks?
While the three credit reporting agencies are essentially identical these days, some owners do have a preference. Here are the credit and background check providers for the three screening services.
Online Rental Applications included?
Working as a luxury rental agent in New York City, you would be surprised to learn just how many owners of five figure rental units insisted on blurry, poorly photocopied applications filled out and signed with bics rather than iPads.
Along with the rest of the world, small landlords and property managers today are (finally) entering the 21st century and taking advantage of online rental applications and electronic signatures. Pretty soon tenants are going to be demanding rather than requesting online applications and the ability to sign them with their mobile devices.
Unique features
Considering all three services charge very similar fees for very similar services, extra features might be enough to get some landlords to make the switch. Here's how the three companies stacked up in terms of unique features.
All Tenant Screening Services
Screening Service
Description
Pricing
RentScreener
Tenant screening service with online applications.
$39
Tenant Alert
Tenant screening service with multiple screening options.
$19—$44
Tenant Screening Report
Basic tenant screening service.
$24.95—$39.95
My Rental
Corelogic's tenant screening service that allows purchase of a la carte reports. Cheapest option.
$7.99—$34.99
Lease Runner
Lease Runner offers tenant screening, online applications, listing templates, and property management software.
$3 for online rent payments

$25 for digital lease

$10—$35 for credit/background checks
TVS
Basic tenant screening service that offers al la carte purchase of reports.
$8.95 for eviction search only

$33.90 for full credit report/background check
Rentprep
Tenant screening service that offers employment and address verification.
$18.95 basic screening

$34.95 full screening with employment verification
The Bottom Line
We chose Cozy as our number one tenant screening service because they offer the most services for small landlords, property managers and agents for a fair price.