6 Best Tenant Screening Services for Landlords
The best tenant screening services enable landlords and property managers to run reliable credit history, criminal background checks, employment and income verification, and eviction history at fair rates. These platforms help protect your investments while saving time, money, and energy while looking for the right tenants. Depending on state laws, landlords can charge tenants for the application and background check fees to cover the cost.
We reviewed dozens of platforms to arrive at the top six best tenant screening services based on screening features, pricing, ease of use, customer support, and online reviews:
Best Tenant Screening Services At a Glance
Tenant Screening Services

Tenant Screening Price

Free Plan

Mobile App

Customer Support

$15 per screening for landlords

or

$30 per screening for applicants

✕

✓

Phone, live chat, and email

Pricing varies per state

✓

✕

Phone, live chat, and email

$35 per application

✕

✓

Phone, live chat, and email

$29 per application

✕

✓

App is best for tenants

Phone and email

$55 per application

✓

✓

Phone, live chat, and email

$60 per complete application

✓

✕

Phone and email
Online tenant screening enables you to carefully filter applicants and find the best tenants faster through comprehensive credit history, eviction history, and criminal background reports. Take our quiz below to find the best tenant screening service for your rental business.

Which tenant screening service is right for you?
Buildium: Best Overall Tenant Screening Service
What We Like
All-in-one property management solution
Supports multiple listing platforms
Tenant screening fees are more affordable than others on this list
What's Missing
No free plan
Expensive subscription rates
Phone support available in more expensive subscriptions
Website chat support is handled by a chatbot instead of a live person
Why should you choose Buildium?
Buildium is highly recommended for landlords with multiple properties of up to 5,000 units (or more). As a tenant screening service, Buildium helps you get access to comprehensive credit, criminal, and eviction history reports. Its tenant screening services are relatively cheaper than similar providers, especially when shouldered by the landlord.
Buildium is our best overall screening service because of its comprehensive software features, affordable tenant screening reports, and all-in-one property management solution. Powered by TransUnion, a US credit reporting agency, landlords can access full credit, criminal, and eviction data to help them avoid tenant scams. You only need to make a request and set custom requirements, and Buildium will begin tenant credit and background checks for you.
Landlords have two screening options: basic and premium. Unlike basic tenant screening, the premium option allows for customized thresholds on recommendations, requires minimal applicant involvement, and delivers faster results. Both tenant screening plans include rental recommendations from TransUnion, a full credit report, identity verification, eviction history, and background check for renters.
Buildium will automatically send tenants a reminder to complete the rental application at the three-day mark and the seven-day mark after the process begins. If you're still considering your options, take advantage of Buildium's 14-day free trial, allowing you to experience the platform before committing to a subscription.
Additional Buildium Features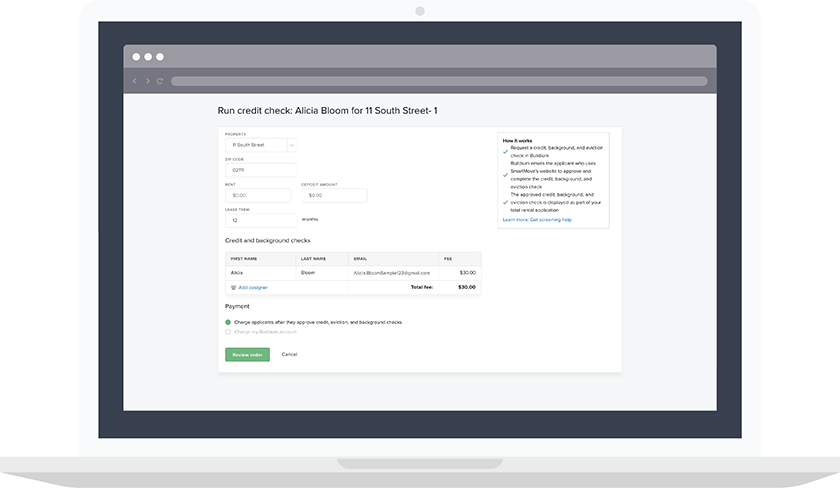 ---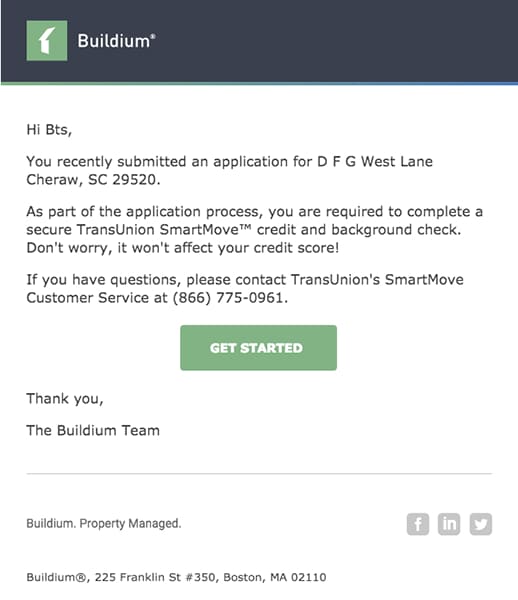 ---
Tenant screening criteria: set minimum credit score and other qualifying questions in the application form like pets, move-in dates, and deposits to easily filter qualified from unqualified applicants and stay aligned with landlord-tenant laws
Property management: includes several property management functions, such as accounting, maintenance, tasks, violations, resident and board member communications, and online portals
Marketing website: a do-it-yourself, free, fully integrated website for property managers, hosted by Buildium
eSignatures: manage all leasing processes online and get documents signed digitally
Performance and business analytics: receive insights into your residents' activities through the resident center and a detailed analysis of your business performance using key leasing metrics
Buildium Customer Feedback
Customers rated Buildium 4.5 out of 5 because of its robust platform and multiple tools available for property management. They also like the ability to switch between different properties in their portfolio. One client said the property management automation helped them save time and money. Landlords also praised Buildium's customer support for its professional assistance.
In less positive Buildium reviews, a client found the lease processing procedures in the basic plan complicated. Another client said it was difficult to set up the late fee charge and thought the settings for late fees were too limited. Buildium doesn't have a free plan, and its plans are more expensive than other software on this list. If you're managing a few properties and want to try a free property management service, we recommend Avail.
To learn more about this tenant screen service, check out our Buildium review.
Buildium Pricing
Buildium offers tiered subscription plans that include basic and premium resident screening services. In the basic tenant screening, landlords have the option to cover the cost of screening themselves or pass the cost on to the applicant. With basic tenant screening, landlords pay $15 per screening or $30 if paid by the applicant, whereas the premium screening is $18 per screening.
Aside from paying the tenant screening service fees, Buildium account holders also need to pay a monthly subscription. Check out its plan inclusions below:
Essential: starts at $50, paid monthly; this includes basic tenant screening, rental accounting, maintenance, tasks violation, ticket support, and online portals.
Growth: starts at $160, paid monthly; aside from features included in the Essential plan, users also get premium tenant screening, unlimited e-signatures, five free bank accounts, standard reports, performance, business analytics, and live phone support.
Premium: starts at $460, paid monthly; includes everything in the Growth plan, plus open API, Buildium Rewards, priority support, and a dedicated growth consultant.
Avail: Best Free Customizable Tenant Screening Service With Automated Reference Checks
What We Like
Option to pass on tenant screening fees to applicants
Comprehensive and customizable tenant screening reports
Applicant communication and message center available on the platform
Free subscription plan
What's Missing
No mobile app
Tenant screening fees may vary by location
Website chat support is handled by a chatbot instead of a live person
Why should you choose Avail?
Avail is best for small and mid-sized landlords looking for a free property management platform with affordable tenant screening services and automated reference checks. While tenant screening reports are not free, landlords can choose to pass on these fees to the applicant.
If you're looking for free property management software with customizable renter reports, we recommend Avail. It provides online tenant screening services, focusing on background and credit checks for landlords—whether you need a TransUnion report, national criminal history, prior eviction data, or a complete tenant background check. Landlords could also customize application settings and screening questions to make sure tenants qualify for all their requirements.
Another unique feature of Avail is its automated reference checks. Once prospects complete the online renter application form, Avail automatically contacts their previous landlords to see whether they paid their rent on time and took care of the rental property. The platform also enables landlords to conduct income verification and documentation to ensure prospects are able to pay the rent on time.
Unlike most service providers on this list, Avail has a free subscription plan where landlords can enjoy comprehensive property management features, such as syndicated listings, online rent collection, and maintenance tracking at no cost to them. It also helps landlords streamline their communication with existing tenants in one software.
Additional Avail Features
Rental listings: create one rental listing to post across multiple sites, such as Realtor.com and Trulia, with one click
Digital leases: access lawyer-reviewed, state-specific lease agreement templates, including all the necessary disclosures, attachments, and clauses
Online rent collection: allow tenants to pay rent online, schedule upcoming payments, issue late fees, track rental income, and get paid faster with Avail's FastPay
Maintenance tracking: track repairs with in-app messaging, photos, and automatic maintenance records
Rent price analysis: complete rental market trends and rent comps so you can set competitive rent prices
Avail Customer Feedback
Avail's subscribers praise the platform for its ease of use, affordable pricing, and superb customer support, giving it a 4.6 out of 5-star review. One user said that Avail made the background and rental credit check, as well as communicating with applicants, easy. One property manager enjoyed the syndication between all the websites when listing available units, which helped him find tenants faster.
While most reviews are positive, some experienced glitchy features, lags on the screen, and other technical issues. Avail doesn't currently have an app, which could be inconvenient for landlords who are always on the go. If you're looking for a property management app with a mobile tenant screening feature, check out RentRedi or Buildium.
Avail Pricing
Avail offers two subscription plans: unlimited free and unlimited plus. Both subscription plans include tenant screening services that you can purchase ala carte or as a bundled package. The price of each screening report varies depending on the state but may start from $30 each or $55 for bundled packages. Landlords can pay the fees themselves or pass them on to the applicant.
To see which Avail subscription plan is perfect for your business, check the table below:
Unlimited Free: free; includes syndicated listings, credit and criminal screening, state-specific leases, online rent payments, and maintenance tracking
Unlimited Plus: Starts at $7 per unit monthly; includes everything in the Unlimited Free plan plus next-day rent payments, waived ACH fees, custom applications and leases, clone and reuse custom lease agreement, and create a properties website
RentRedi: Excellent for Mobile Tenant Screening Process
What We Like
Auto-tenant screening feature
More affordable tenant screening service than other platforms
Multiple renewal subscription options
Free listings on Realtor.com and Doorsteps
What's Missing
No free trial and no free subscription plan
No tiered plans with ala carte features
No automated reference checks
Why should you choose RentRedi?
RentRedi is perfect for small to mid-sized landlords who are always on the go. With RentRedi's robust mobile app, you can easily send tenant screening requests and have the applicant approve the request on their phone.
RentRedi is perfect for landlords who want the convenience of mobile technology when screening applicants. Landlords can send requests, view screening reports, and accept applications directly on the mobile app—no need to log in and out on a web browser. As a tenant screening service, RentRedi provides full credit, criminal, and eviction reports. RentRedi also has an auto-tenant screening feature, which allows landlords to automatically receive a completed tenant screening report once a prospect submits an application.
To run a credit background check for tenants, RentRedi has partnered with TransUnion and uses ResidentScore, which predicts rental eviction risk 15% better than traditional credit scores. It also reviews over 370 million records from state and national databases to make sure you get a thorough criminal report. Additionally, RentRedi checks 27 million eviction records through a large eviction database subject to The Fair Credit Reporting Act (FCRA), which covers all 50 states.
RentRedi has other key features that allow you to automate your rental processes such as online rent collection and accounting, tenant prequalifications and applications, maintenance requests and coordination, listing syndications and advertising, and tenant and team communications. These features help landlords protect their real estate investments, filter the right applicants, and manage existing tenants.
Additional RentRedi Features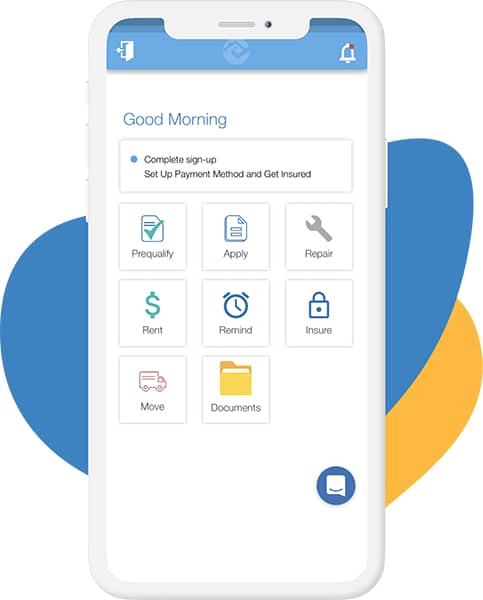 ---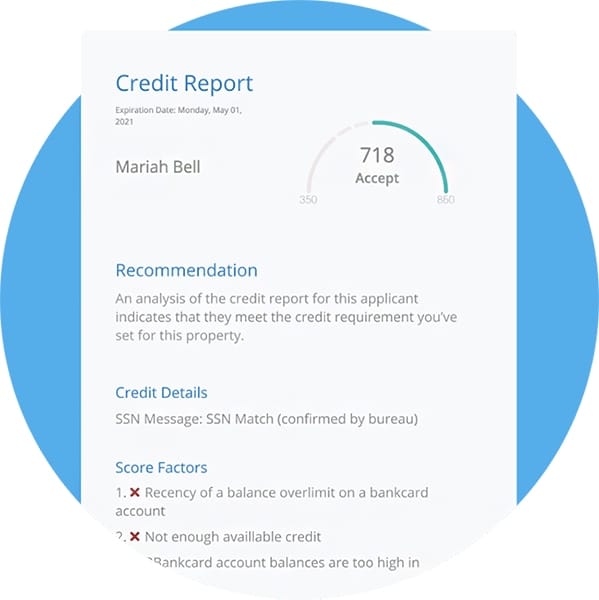 ---
Rent collection: tenants can send money via credit card, ACH, cash, and banking. Landlords receive payments within three to four business days and can export payments to spreadsheets or QuickBooks
Prequalifications and applications: set prequalification questions to immediately determine whether an applicant qualifies or not before scheduling a tour
Maintenance requests and coordination: outsource managing maintenance requests and get automatic maintenance status updates sent to the tenant
Listings and marketing: free Realtor and Doorsteps listing syndications using the RentRedi dashboard; add virtual tour options to property listings and have a free professionally designed marketing page to share on your websites and other marketing sites
RentRedi Customer Feedback
Customers enjoy using RentRedi because of its easy setup and responsive customer support. Landlords found the mobile app very convenient and user-friendly, especially the ability to properly screen applicants, collect rents, notify tenants, and respond to maintenance requests directly on their mobile phones. Because of these reasons, RentRedi received a 4.5 out of 5-star rating.
While most customers found RentRedi helpful and convenient, a few customers said they don't use some of the features included in their subscriptions. This is not cost-efficient since subscribers pay a flat monthly or annual fee. Some also experienced technical and update issues with the mobile app. If you're budget conscious and prefer to purchase ala carte features instead, check out LeaseRunner.
RentRedi Pricing
Landlords can enjoy RentRedi's property management features, including tenant screening, by paying a monthly subscription fee of as low as $9 monthly. Prospective tenants will also have to pay $35 for the rental background check.
Monthly subscription: Starts at $19.95 per month
Six-month subscription: Starts at $18 per month
Annual subscription: Starts at $9 per month
Apartments.com: Recommended for Free Auto-tenant Screening Feature & Shareable Reports
What We Like
All-in-one property management platform with an auto-tenant screening feature
Comprehensive tenant screening reports
Screening reports are shareable up to 10 participating landlords
What's Missing
No mobile app features available for property managers
Subscription plans and premium pricing are not disclosed on the website
No live chat support
Why should you choose Apartments.com?
Apartments.com is ideal for independent landlords looking for free tenant screening services and free rent collection software. Once prospective tenants apply for your rental property, they will be required to pay an application fee, covering their credit, eviction, and criminal reports.
If you need fast and easy access to tenant screening reports when an applicant clicks the "Apply" button on your listing, we recommend using Apartments.com. Once a renter applies to your listing, they must pay $29 to run their TransUnion credit, criminal, and eviction reports online. Another unique feature of Apartments.com is that it allows an applicant's screening report to be shared with other participating rentals on the site. The tenant's application can be used for up to ten (10) different listings and is valid within 30 days.
While the screening reports are free to the landlord, applicants need to pay for their reports once they apply for your property on Apartments.com. This reduces the financial burden on landlords. However, landlords have the option to pay the application fee if they prefer. The applicant's data are also securely stored online so landlords can access it wherever they are.
Apartments.com is also an all-in-one suite of property management tools that make the rental process paperless and more convenient for landlords and renters. Aside from screening tenants, Apartments.com allows you to list your property, receive applications, generate a lease, collect payments, manage residents, organize expenses, and track maintenance from anywhere with a reliable internet connection.
Additional Apartments.com Features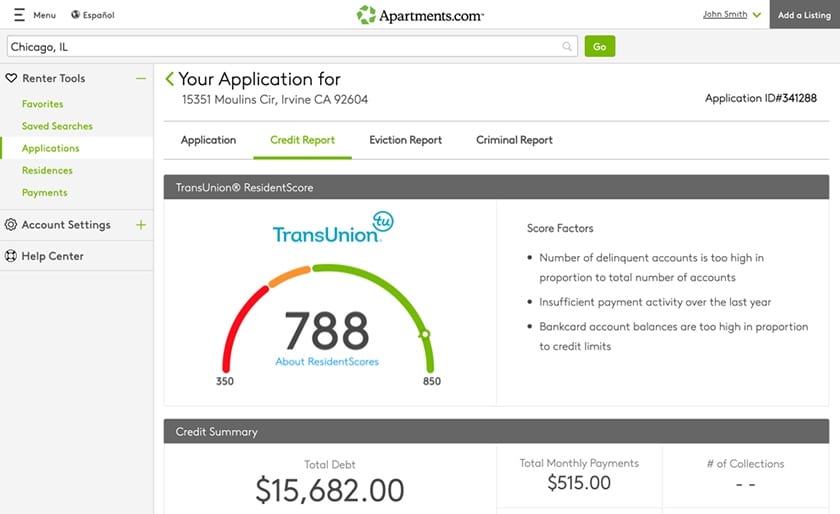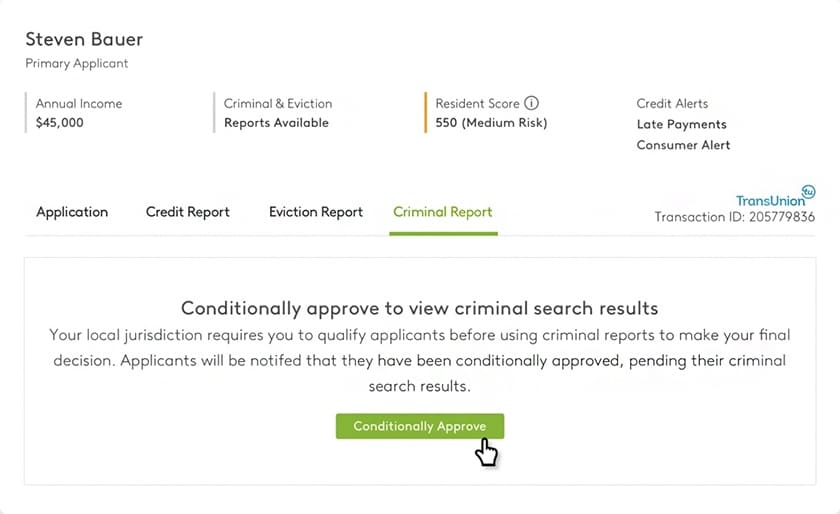 ---
Auto-tenant screening: get detailed renter information, including income-to-rent-ratio, employment status, household info, and rental history, once applicants submit their application through your Apartments.com listing
Property listings and virtual tours: list your properties on Apartment.com and conduct property tours online and from anywhere
Online lease agreements: creating state-compliant online lease agreements customized to your locale; both you and the tenants can sign the lease documents with an e-Signature and access documents online
Resident management: keep and access all of your tenants' relevant information securely in one centralized location; share documents with tenants online
Expense tracking: organize, track, and export your rental property expenses from anywhere to make tax preparation easier
Maintenance requests: receive and manage maintenance requests directly from tenants on your online dashboard
Apartments.com Customer Feedback
Apartments.com received mixed reviews, giving it an average 3.9 out of 5-star review. Loyal customers who have been using Apartments.com for several years love the platform for its rental advertising and online rental collection features. A landlord also appreciated that Apartments.com allows interested tenants and existing renters to communicate with them directly by sending messages and requests on the platform.
Some landlords complained of expensive premium rental advertising. A customer also found the platform's back-end "cumbersome to make corrections or changes to a listing." Furthermore, property managers are currently unable to utilize the mobile app, which means they have to log in to their accounts through a web browser to update and maintain listings. If you're looking for a free tenant screening service with a mobile app, check out RentRedi and TurboTenant.
Apartments.com Pricing
Apartments.com's tenant screening feature is free for landlords. Applicants, however, have to pay $29 (plus tax) for their application and screening reports. The application is reusable, and screening reports can be shared with up to ten (10) participating Apartments.com landlords for 30 days.
TurboTenant: Best Free Tenant Screening Services & Free Rental Advertising
What We Like
Free software version without trial limit
Comprehensive tenant screening reports
Past landlord references
Mobile app
What's Missing
No phone support available for free subscribers
Tenant application fee more expensive than other tenant screening services
Rental accounting feature available as an add-on service to any subscription plan
Why should you choose TurboTenant?
TurboTenant is great for independent landlords who need an easy-to-use and free software platform to manage their rental properties and find good applicants. Its free tenant screening feature provides you with complete credit, criminal, and eviction reports, as well as past landlord references. It also allows you to market your rental vacancies, receive online applications, accept rent payments, track expenses, and even manage maintenance requests for free.
For property managers looking for free property management software, TurboTenant gives you a complete snapshot of a prospective tenant's financial stability and credibility through a quick and easy tenant screening process at no cost to you. In partnership with TransUnion, landlords can run a comprehensive credit report that includes debt payment history, new loans, history of bankruptcies, and even late payments in their rental history.
TurboTenant also helps you gain insights into their previous rentals and landlords, as well as verify their income and employment. The software searches over millions of criminal records across the country, so you know if an applicant might pose any threat to your business and other tenants. Furthermore, landlords will get a detailed report of past evictions of a would-be renter.
Aside from tenant screening, TurboTenant helps landlords stay organized through its other property management features, including rental marketing, lease agreements, document management, rent collection, maintenance requests, and expense tracking. These features are free to use for landlords, with premium upgrades available.
Additional TurboTenant Features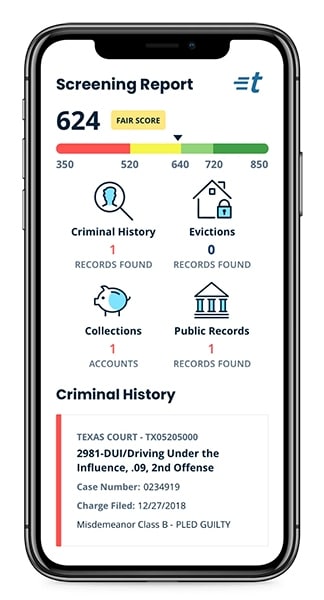 ---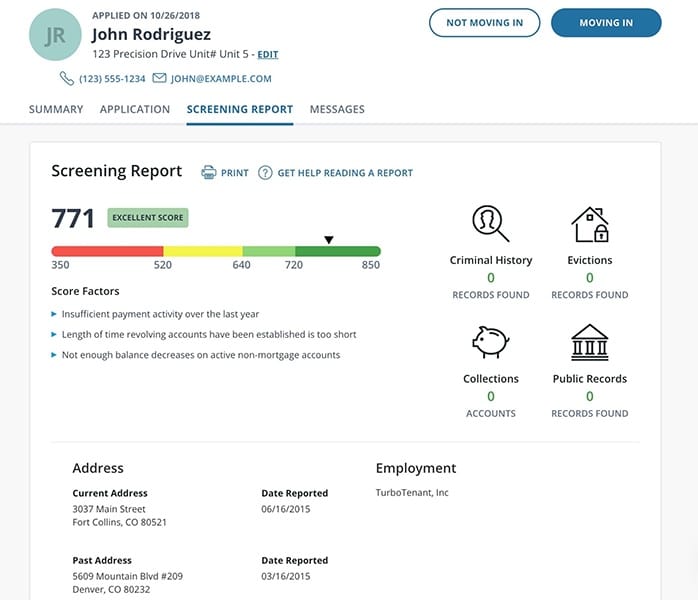 ---
Rental advertising: advertise properties for free on multiple rental listing websites like Realtor.com, ApartmentList, Rent.com, and Craigslist; create professional listing pages for your properties
Lease agreements: customize a state-specific online lease agreement crafted by local lawyers and expert landlords
Rent payments: securely collect rent online, connect your bank account, and set up automatic monthly charges and late fees
Maintenance requests: manage and keep track of tenant requests online
Expense tracking: organize and monitor your expenses in a purpose-built software and export them as a CSV file when filing taxes
TurboTenant Customer Feedback
TurboTenant's customers love the platform because of its free features with upgrade options and responsive support staff. Another customer loved its all-in-one property management solution that enables them to advertise their properties across multiple sites, communicate with potential tenants, pre-screen and screen applicants, and accept applications.
On the other hand, some customers complained of having issues with their accounts, like suddenly blocked or suspended accounts. Others also don't like the long period of time it takes for their tenants' rents to be deposited in their bank accounts. TurboTenant's screening fees can also be more expensive than others on this list. Because of these mixed reviews, TurboTenant received a 3.7 out of 5-star review. For more affordable options, check out Avail, Apartments.com, or LeaseRunner.
TurboTenant Pricing
Using TurboTenant's tenant screening feature is free for landlords, although tenants have to pay $55, which covers the application fee and tenant screening reports. You can choose to pay the fee yourself if you prefer or if you've already collected an application fee from the applicant. TurboTenant also has free and premium subscription plans that give you access to multiple property management features.
Free Plan: free; includes unlimited properties, rental advertising, lead management, applications and screening, automated reference checks, rent payment, expense tracking, maintenance requests, messaging, document management, chat support, and one connected bank account
Premium Plan: $4.92 monthly; includes everything in the Free Plan plus expedited rent payouts, connected bank accounts, state-specific lease agreements, lease addendums, e-signatures, and landlords forms pack
LeaseRunner: Best for Its Ala Carte Tenant Screening Reports
What We Like
Customizable tenant screening report
Free online rental application form
No monthly subscription fees
Mobile app
What's Missing
No bundled packages
No live chat support
Total cost for complete tenant screening reports is more expensive than other services
Why should you choose LeaseRunner?
LeaseRunner is ideal for landlords managing a few properties and who want to run individual tenant screening reports. For instance, if you only need a credit score report, you don't have to pay for criminal and eviction history records if you don't need them. Its ala carte features also enable landlords to automate certain property management processes like rent collection and digital lease with e-signatures.
For independent landlords managing a few rental properties, LeaseRunner is a practical choice because of its flexible pricing and ala carte tenant screening menu. LeaseRunner has no subscription and monthly fees. Instead, you can choose the type of service you want. This allows you to mix and match tenant screening reports based on your preference, local rental market, and ideal renter's profile, and pay only for what you really need. For example, you can request a criminal background check but not a credit check, or vice versa.
LeaseRunner has an extensive selection of screening services, including tenant criminal background, credit record, financial profile, and eviction history reports. It has advanced applicant record matching and compares over 36 million eviction records, 300 million credit records, 500 million criminal records, as well as credit, court, government, and bank data.
LeaseRunner also has other features that help landlords automate their rental processes. It offers free rental application form templates, paperless state-specific lease agreements with e-signatures, ACH (Automated Clearing House) online rent collection, and rental ad tools. The platform also has 5,400 bank integrations. What's more, LeaseRunner is fully optimized for mobile use and is compliant with Fair Housing Act making it a convenient and secure property management platform for small landlords.
Additional LeaseRunner Features
Applicant authorization: applicants can authorize the release of their credit, financial, eviction, and criminal records from their email and don't need to create a LeaseRunner account or go to the website.
Rental ads: post rental listings to multiple sites like Facebook, Twitter, and Craigslist and generate application buttons and links
Digital rental application: email the application link to tenants so they can apply online or via smartphone
Digital lease with e-signature: compile multiple documents and email them for e-signature
Online rent payment: collect rent and fees by bank debit through the Tenant Payment Center or autopay
LeaseRunner Customer Feedback
Landlords who use LeaseRunner like the platform for its inexpensive and easy-to-use features, giving it a 4.6 out of 5-star review. One customer even commented that it is "the easiest tenant application and screening process for landlords." Another praised the platform because it made listing, creating, and signing leases easy. A loyal customer of ten (10) years particularly liked that LeaseRunner allows tenants to accomplish an application for free and conduct the background and credit check separately if they decide to move forward.
While customers find the platform useful, one customer commented on LeaseRunner's "buggy" software. Another landlord complained of receiving incomplete information on an applicant's credit score and financial profile. Further, LeaseRunner does not offer packages, and the total cost of its complete tenant screening report can be more expensive than other tenant screening services. If you're an independent landlord with few properties, you can check Avail's monthly free and affordable subscription plans.
LeaseRunner Pricing
LeaseRunner can provide you with detailed tenant reports at competitive rates. Unlike other tenant screening services on this list, landlords can choose to only pay for individual background reports for $10. However, if you need complete tenant screening information, the costs would amount to $60, which is more expensive than other services. Below are the prices of each type of tenant screening report:
Credit report: $21
Criminal report: $16
Financial profile: $10
Eviction report: $13
How We Evaluated the Top Tenant Screening Services
To determine the best tenant screening services, we evaluated platforms based on features related to comprehensive and reliable background checks and identity verification. The pricing structures were also compared, so property managers and landlords know which service is right for their budget. We also reviewed each platform's ease of use and available customer support, which are essential to successfully screen tenants in the most efficient way possible.
Based on our evaluation, Buildium is the best tenant background check company that provides comprehensive tenant screening reports at more affordable rates than others. Landlords can easily run a renter's check, including credit history, criminal background, and eviction report, from anywhere with an internet connection. Buildium also provides an all-in-one property management solution with features like online rental listings and marketing, real estate accounting, rent collection, and maintenance requests.
Below are the criteria we used to determine the top tenant screening companies for landlords and property managers.
25%
Tenant Screening Features
25% of Overall Score
Based on various tenant screening features offered that help landlords and property managers evaluate prospects and obtain comprehensive and reliable credit, criminal, and eviction history reports.
20% of Overall Score
Pricing is based on the cost structure, ala carte options, and availability of online tenant screening services for landlords and tenants.
20% of Overall Score
This includes various property management features like listing syndication, rental advertising, rental property accounting, online payment collection, and maintenance requests.
10% of Overall Score
Evaluated based on platform usability. This was analyzed in terms of the expertise needed to set up an account, navigate the provider interface, run comprehensive tenant screenings, and view reports.
10% of Overall Score
Based on customer feedback for each platform, the functionalities that are most useful for property managers, and areas that need further improvement.
10% of Overall Score
Expertise in the field and firsthand experience with the providers allow us to evaluate the standout features, value for the money, and ease of use for rent payment service software.
5% of Overall Score
We looked into the convenience and attainability of customer service for technical support, onboarding, and training.
*Percentages of overall score