UCaaS vs CPaaS: Main Differences & When to Use Them
Unified communication as a service (UCaaS) centralizes business communications in one ready-made platform. A provider offering UCaaS integrates voice and video calling, email, chat, and messaging. On the other hand, the communications platform as a service (CPaaS) is designed to be added to existing business applications, making custom integrations quick and easy. Read our detailed UCaaS vs CPaaS comparison to learn more.
Based on our comparison, the best use cases for UCaaS vs CPaaS are:
UCaaS: Best for small to mid-sized businesses needing a ready-to-use communications platform
CPaaS: Ideal for companies with in-house tech experts looking to customize their network infrastructure
UCaaS vs CPaaS at a Glance
UCaaS

CPaaS

Best For

Teams needing a simple, integrated, and dependable platform to optimize communication and collaboration 

Companies with customer support teams responding to client concerns across multiple channels

Estimated Monthly Cost (per User)

Ranges from $15 to $45*

Ranges from $15 to $30**

Delivery Model

Plug and play

Custom development

Commonly Used By

Agents, staff, and team members

Developers

Implementation

Cloud-based

Cloud-based and programmable

Operator

Service provider

In-house IT or communications team

Key Features

Voice and video conferencing
Toll-free numbers
Auto-attendants
Call analytics
Team presence and unified messaging
Online faxing
Omnichannel support
Third-party application programming interface (API)

On-demand SIP (session initiation protocol) trunking
Outbound voice calls
Inbound call routing
WebRTC-based calling
Social media messaging, short message service (SMS) and multimedia messaging service (MMS)
Artificial intelligence (AI)

Scalability

✓

✓

Mobility

✓

✓

High Security

✓

✓

Ease of Use

Easy

Requires technical know-how

Learn More
*Prices vary depending on the provider, features, and the registered number of users.
**The cost of CPaaS platforms depends on the API selected. Many CPaaS providers offer pay-as-you-go or monthly user fee pricing models.
What Is UCaaS?
UCaaS is a unified communications (UC) platform that aligns multiple communication channels into a single communications hub. UC refers to various communication technologies like video conferencing, instant messaging, and team collaboration within a single platform. UCaaS provides a centralized platform for clients' communications and internal coordination that operates by subscription with little or no upfront fees.
How UCaaS Works
UCaaS refers to these cloud-based UC systems accessed as a subscription service via a third-party service provider. It starts with a service provider hosting, managing, and delivering communication solutions through the cloud. This eliminates the end user's need for an IT infrastructure or maintaining in-house IT staff. Using UCaaS solutions allows businesses to access various communication tools with minimal investment.
UCaaS is used by companies that want to utilize the cloud's flexibility and scalability—veering away from legacy components such as private branch exchange (PBX) systems. UCaaS providers use internet protocol telephony technology to support features, such as voice-over-internet-protocol (VoIP) calling, video conferencing, and online faxing. Most UCaaS systems allow your business phone numbers to be used through a smartphone, computer, or tablet.
What Is CPaaS?
CPaaS, or communications platform as a service, is a cloud-based delivery model focused on enriching customer communication channels. As a "PaaS" (platform as a service), it's used by businesses to build and deploy applications—without needing to manage any underlying infrastructure. It's a platform for businesses to use APIs from web developers and customize their communication systems.
How CPaaS Works
CPaaS vendors provide companies with a fully customizable communications infrastructure businesses use to build, run, and distribute their custom, front-facing software. Vendors offer APIs and a development environment that simplifies various communication capabilities into applications and services like voice, video, and messaging. CPaaS vendors offer customer support and documentation to help users deal with issues that may arise.
CPaaS vendors offer businesses programmable cloud-based solutions that developers use to integrate CPaaS features—like interactive voice response (IVR)—into their software. These platforms have everything developers need, including standard API, codes, and development kits for efficient integration. With this paid monthly subscription, companies do not have to create their own telecommunications infrastructure from the ground up.
UCaaS vs CPaaS: How Are They Different?
What is the difference between CPaaS and UCaaS? Both services are cloud-based solutions, but they differ regarding day-to-day functions. UCaaS consists of bundled products and solutions contained within a single platform. On the other hand, CPaaS allows companies to customize APIs based on their communication needs. Simply put, one is a ready-to-use platform, while the other is a blank slate.
UCaaS is a platform that unifies existing UC channels and tools, and is a solution that allows users can to new features as needed. UCaaS provides a consistent experience regardless of the device or user's location. On the other hand, CPaaS is the back-end communications platform allowing users to add APIs and customizations into customer-facing applications.
Best UCaaS & CPaaS Use Cases
When comparing CPaaS vs UCaaS, UCaaS is a ready-made communication software that provides users access to a suite of tools and channels, while CPaaS offers a customizable platform of APIs and tools for customer applications. As businesses rely on different modes of communication, the message and access to data often become fragmented. UCaaS and CPaaS help to streamline these communication tools for efficient business operations.
If your company is looking for a cloud-based UC solution, UCaaS offers VoIP solutions, including third-party integrations. UCaaS bridges the gap between businesses and communication tools, such as voice, video, and text. UC seamlessly combines essential communication and collaboration functions into a single platform.
UCaaS solutions are useful to businesses of all sizes, particularly small businesses looking for an all-in-one solution to improve team productivity. Inefficiencies in business processes, such as limited information access and conflicting platforms and software, impact productivity, customer experience, and revenues. UCaaS makes it easier for teams to work more closely through collaborative workspaces or messaging services that include team presence.
UCaaS is also an excellent choice for smaller teams that need to improve compliance and privacy. Maintaining data privacy is a high priority for any organization, but not all startups can afford a full security ecosystem. UCaaS vendors offer various protocols and security features for their software, such as secure data centers, data encryption, and access controls and management.
CPaaS is an excellent option for businesses with an existing cloud-based communication system. CPaaS aims to deliver tailored systems where you can select and design the best tools for your business. With CPaaS, you only use features you need and don't pay for a preset suite of features predetermined by the provider.
It allows companies that want to upgrade their communication stack with complete control. For example, rapidly changing companies with multiple IVR systems can code instructions for a single phone number rather than touching on all IVRs. CPaaS allows businesses to adjust their processes with minimal disruption and equipment investment.
CPaaS is a great fit for companies looking to expand their phone system to an omnichannel channel strategy for better customer outcomes and efficient operations. CPaaS provides a platform for designing front-facing applications that affect customer experience. It enables teams to facilitate seamless customer experiences regardless of the channel they use to contact you.
Benefits of UCaaS & CPaaS Solutions
Looking at CPaaS vs UCaaS, both solutions offer similar business benefits, including cost-effectiveness, flexibility, scalability, mobility, and custom solutions. Here are the major benefits of these two systems to help determine whether they fit your business.
UCaaS

CPaaS

Benefits

Minimal administrative responsibilities
Enhanced scalability and flexibility
Improved security
Easy to set up and operate
Supports remote work
Improves collaboration and productivity

Highly customizable
Savings on infrastructure and maintenance
Faster time to market for apps
Scalable
Includes developer support
Increased functionality
Cost-effective
Omnichannel capabilities
Easy integration
Internet-based communications technology is more affordable than traditional business phone systems, especially for unlimited domestic and international phone calls. UCaaS and CPaaS solutions are supplied by providers, with businesses only paying monthly subscriptions or pay-as-you-go pricing for services availed. Users do not need to maintain physical infrastructures or purchase major equipment.
---
Both these systems boost communication capabilities and allow businesses to add and remove features. Integrations expand communication platform functionality, whether by adding features or users. With users accessing the platform through the cloud, team members have increased mobility and can log on anytime from anywhere using compatible devices.
---
CPaaS and UCaaS solutions give businesses access to messaging and video conferencing tools for better productivity and work agility. With access to specialized technology and external legacy infrastructure on a subscription basis, these two systems enable companies to transform operations and accelerate competitiveness.
---
Disadvantages of UCaaS
UCaaS Drawbacks
Potential inoperability between existing hardware and UC software
Dependent on stable internet connections
Possible learning curve
UCaaS systems equip employees with a central communication hub for conferencing and team coordination. Tools like shared storage and team messaging allow employees to work closely and stay on top of office concerns. UCaaS facilitates real-time interaction even when part or all of the team is working remotely. Cloud solutions ensure everything is accessible through any device, and teams can message and share documents even when on the field.
However, UC systems require stable and reliable internet connections, a potential problem for remote teams with connectivity issues while out of the office. Depending on your selected UC system, some team members may need help adapting to UCaaS ecosystems.
Disadvantages of CPaaS
CPaaS Drawbacks
Needs a prebuilt application to function
Requires technical know-how
Possible latency issues when using multiple APIs
CPaaS aims to streamline and customize communication systems. A system tailored to your operations means faster deployment and greater scalability. CPaaS allows businesses to easily integrate communication features like social media messaging without altering the application's back-end infrastructure. It's an omnichannel communication approach that ensures your customers have a seamless experience.
However, to take advantage of CPaaS solutions, communication APIs lack a user interface (UI), so businesses must have their own interface for employees and customers. Not all small businesses have the technical know-how to meet this requirement. Further, the highly customizable nature of CPaaS means you'll need developers with API experience to navigate the platform. Too many APIs may slow your system down, resulting in lag.
Top UCaaS Service Providers
The best UCaaS providers offer simple, feature-rich solutions for office and hybrid working setups. Their services equip users with robust VoIP features to perform multiple tasks through a single communications interface.

RingCentral is a leading cloud-based phone system offering a comprehensive, scalable platform for voice calls, video meetings, text, fax, and instant messaging. It provides unlimited users, domestic calls and business texting, and integration with over 200 third-party applications. RingCentral's UCaaS solutions start at $32.99 per user, monthly for up to 20 users.
Check out our RingCentral review to learn more about its comprehensive UCaaS system with advanced call handling features.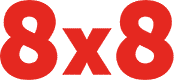 8×8 is a cloud communications platform featuring extensive UCaaS capabilities. In addition to UC features offered by most UC vendors, 8×8 has a high video conferencing participant capacity of up to 500 attendees. It includes unlimited voice calling to 14 countries and has mix-and-match plans to meet each unique communication requirement.
Learn more about how 8×8's cloud-based UC tools help small businesses improve their internal and external communications by reading our 8×8 review.

Nextiva is a VoIP business phone software that offers call management, voicemail, text, and video conferencing solutions. Its plans are best for businesses with high-traffic inbound call centers because all subscriptions come with toll-free minutes. As a UCaaS platform, its team collaboration app, CoSpace, allows remote teams to work closely with features such as audio and video calling, file sharing, and task management.
Find everything you need to know about Nextiva in our in-depth Nextiva review.
Top CPaaS Service Providers
Top CPaaS solutions support businesses by making it easy to integrate multiple communication channels via a robust selection of APIs. The best CPaaS platforms offer high-level encryption, access developer support, and real-time reporting and analytics. Based on our research, here are the top CPaaS providers offering competitive pricing, general features, and niche capabilities:

Twilio is a CPaaS solution offering text, voice, chat, video, and integration features to existing business apps. It has a wide range of programmable voice application programming interfaces (APIs) connecting the programs. Some of its APIs include chat, WhatsApp, email, and SIP trunking. Twilio offers pay-as-you-go pricing and solutions for customizing contact centers and intelligent bots.
Our Twilio review details the provider's pricing, features, and best-use cases, so you know what type of service to expect.

Vonage Business Communications is a cloud-based phone system with voice, messaging, and video features for businesses to engage customers and colleagues. Vonage is a recognized CPaaS fit for companies seeking a communications platform suited to their customers' needs. Vonage offers unlimited team messaging and calls within the United States, Canada, and Mexico, with a 99.999% uptime guarantee.

Bandwidth is a CPaaS vendor with its own network that can support high-volume communications across multiple channels. Its global communications network connects users to the public switched telephone networks (PSTN) in more than 60 countries. Bandwidth's voice API features conferencing, text-to-speech, and interactive voice control, while its messaging API includes SMS, group messaging, and MMS features.
Frequently Asked Questions (FAQs)
How big is the CPaaS market?
CPaaS solutions support improving customer communication and have risen in popularity over the last few years. The CPaaS market's value in 2022 was $12.5 billion and is expected to reach $29 billion by 2025.
Is UCaaS better than CPaaS?
When comparing CPaaS vs UCaaS, neither solution is better than the other. The decision on which is better depends on what your business needs. There is a difference between UCaaS and CPaaS. If you want an all-in-one communications solution that utilizes the cloud's mobility and scalability, you're better off with UCaaS. However, if your company wants to customize communication applications, try one of the recommended CPaaS providers.
Which is more secure, UCaaS or CPaaS?
A platform's security depends on your software provider's security protocols. Leading UCaaS and CPaaS providers like Nextiva, RingCentral, and Twilio use secure real-time transport protocol (SRTP), transport layer security (TLS), and end-to-end encryption measures to protect data transmission.
Bottom Line
In comparing UCaaS vs CPaaS, both cloud-based technologies are delivered through IP networks and work well with companies of all sizes. UCaaS tools bundle products and solutions across a single plug-and-play platform, while CPaaS allows companies to customize the system based on their specific needs. Determining the best platform depends on your company's needs and development capacity.
Familiarize yourself with UCaaS platforms by signing up for RingCentral's 14-day free trial. This leading UCaaS solution integrates phone services, video conferencing, and team messaging onto a single platform. Otherwise, check out CPaaS provider Twilio. It offers many APIs and software development kits for easy coding and system building.