Wave and Square are both small business-friendly software with built-in payment processing and invoicing tools. However, Wave is primarily an accounting software whereas Square is a point-of-sale (POS) system. So when comparing Wave vs Square, we look at the main functionality that each software provides.
We recommend:
Wave: Best for freelancers and contractors accepting payments via invoice
Square: Best for small merchants also needing a POS system
Wave vs Square Quick Comparison
Main Function

Monthly Fee

Accounting

Point of Sale

In-person Transaction Fee

$0

From $0

Online Transaction Fees

N/A

2.6% + 10 cents

Keyed-in Transaction Fee

From 2.9% + 60 cents

2.9% + 30 cents

Contract

N/A

3.5% + 15 cents

Average Payout

Month-to-month

Month-to-month

Mobile App

2 business days

Instant: Undisclosed fee

Next business day

Same-day: 1.75%

Integrations

Invoicing+Receipts

Invoicing

Point-of-Sale

Teams

Hardware

Limited

Good

Ease of Use

N/A

Proprietary card readers and POS terminals

Customer Service

Very good

Very good

Business hours live support
Guided setup
Email and chat support

Extended business hours
Extensive user knowledgebase

 

Pros
Built-in accounting software
Free advanced invoicing tools
Free mobile app for invoicing
Cons
Lacks in-person payment processing
Surcharge for AmEx transactions
Limited integrations
Wave is Best For
Freelancers/gig workers: Wave allows individuals to have multiple business profiles with a single account, and it has built-in accounting software to automatically prepare financial reports. There are no monthly fees or long-term contracts.
Professionals who collect payments via digital invoice: Wave offers advanced invoicing features at no extra monthly or transaction cost.
Merchants who don't need in-person payments: Wave only supports remote payment processing via payment links or invoices.

Pros
Built-in POS and website builder
No monthly account fees
Seamless omnichannel selling
Cons
Locked into Square ecosystem
Limited international scope
Reports of frozen funds
Square is Best For
Small businesses that require POS software: Square Payments is built-into Square's POS software and offers free features to start accepting payments in minutes.
Merchants looking for a free merchant account: Square offers zero monthly fees to access its POS software and payment processing feature. It also provides basic plans for ecommerce and invoicing tools.
Multichannel payment processing: Square allows merchants to accept credit card, digital, and ACH payments in-person, online, and from a virtual terminal.
Both Wave and Square are ideal for startups and small businesses with low-volume sales. Both also offer free invoicing tools and a payment processing service locked into each provider's system. However, Square as a payment processor is compatible with more business types while Wave is limited to merchants that only need invoicing and remote payment functionalities.
This glaring difference allowed Square payments to stand out, while Wave did not make it in our evaluation of the best online payment processors. That said, Wave offers better invoicing and recurring billing tools that are completely free, with features that Square and other top merchant processors would charge extra for.
Wave vs Square Pricing
Monthly Software Fee

$0

(Accounting)

$0–$69

(POS)

In-person Transaction Fee

N/A

2.6% + 10 cents

Online Transaction Fees

2.9% + 60 cents

2.9% + 30 cents

Keyed-in Transaction Fee

N/A

3.5% + 15 cents

Amex Surcharge

+0.5%

N/A

ACH Transaction Fee

1% ($1 minimum fee)

1% ($1 minimum fee)

Cross-border Fee

Chargeback Fee

$15 refundable

Waived up to $250/month

Instant Payout Fee

Not disclosed

1.75%

Hardware

N/A

From $0–$799

 
Our Expert Take: Square wins against Wave for pricing. Not only does Wave charge more for its fixed per-transaction fee (Wave's 60 cents vs Square's 30 cents), making it a more expensive choice as sales volume increases, but Wave also charges an extra 0.5% for Amex transactions. Limited payment method options also lost Wave some points in our evaluation.
Winner: Square
If you are a retailer, restaurant owner, or service-based professional on a budget that needs a POS system, then Square's free forever features can provide great value. You can practically launch your business and start selling without any upfront cost for POS software or payment processing with Square.
What you get with a Square Free Plan:
Basic POS software
Payment processor
Website builder with SEO tools
First magstripe credit card reader
Unlimited customizable invoice, estimates, and contracts
Mobile POS app
Employee time tracking
The cost to upgrade to Square's paid plan is from $29–$69 per month for POS software and from $10–$799 for hardware. Additional business management tools like advanced invoicing, recurring billing, and marketing start at $5.
When to Use Wave
Use Wave if you only need to accept payments via invoice or recurring billing and your business does not require you to have a physical location to entertain customers. Wave's mobile app-based invoice management service is a useful alternative if you are always on the go.
What you get with a Wave Free Plan:
Multiple business profiles
Unlimited accounting partners and collaborators
Full accounting tools
Mobile invoicing app
Payment processor
Full invoicing and recurring billing integrated with accounting
Ecommerce integrations
Upgrades to Wave's paid plans focus mostly on accounting features such as payroll management that starts at $20 to $40 per month and accounting consulting or coaching from $149 per month. Curiously, Wave's business software app is free unless you subscribe to it receipt image-capturing feature, which costs $8 per month.
Wave vs Square Invoicing
 

Monthly Fee

$0

$0–$20

Unlimited Invoicing

✓

✓

Recurring Billing

✓

Paid plan

Stored Card Payments

✓

✓

Invoice Customization

✓

Paid plan

Payment Methods

Credit/Debit card

ACH

Apple Pay

Stored card payments

Credit/Debit card

ACH

Gift cards

Buy Now, Pay Later

Stored card payments

Estimates and Subscriptions

✓

Subscriptions requires a paid plan

Integrated Bookkeeping

✓

Third party
Our Expert Take: Wave and Square offer similar basic and advanced invoicing features but Wave clearly stands out because the service is completely free. Bookkeeping is also automated with Wave. Square, however, provides better user interface and management, plus more payment method options and customized tipping.
Winner: Wave
Wave's advantage over Square (and most top merchant processors) is that it offers a completely free invoicing and recurring billing service. All the customization options you would look for—adding custom fields including tipping methods, creating estimates and multiple subscription plans, saving templates and invoices for recurring billing, and converting estimates into invoices are all included.
Square on the other hand, will charge you $20 monthly to get invoice customization and use recurring billing features. Along with free integrated bookkeeping, solo professionals and contractors can maximize their revenue with only credit card processing fees to worry about.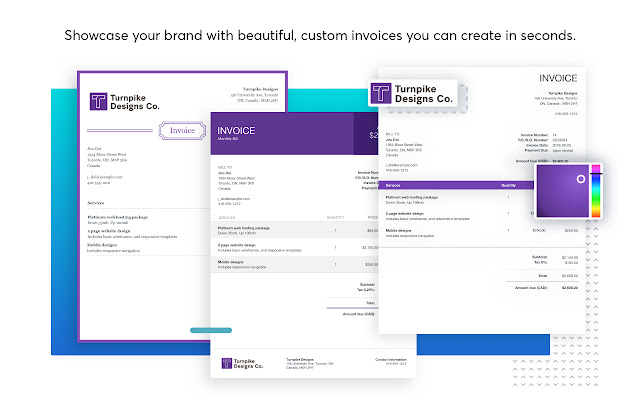 ---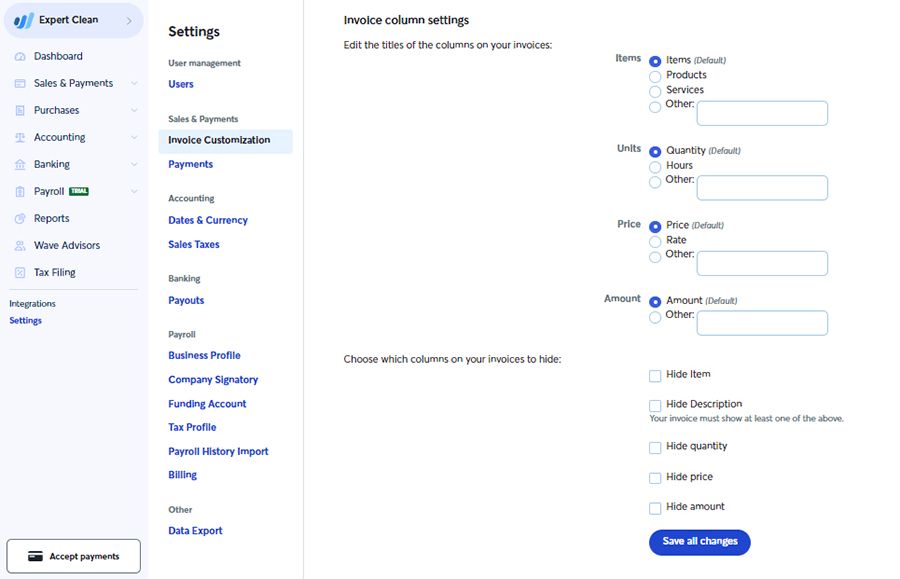 ---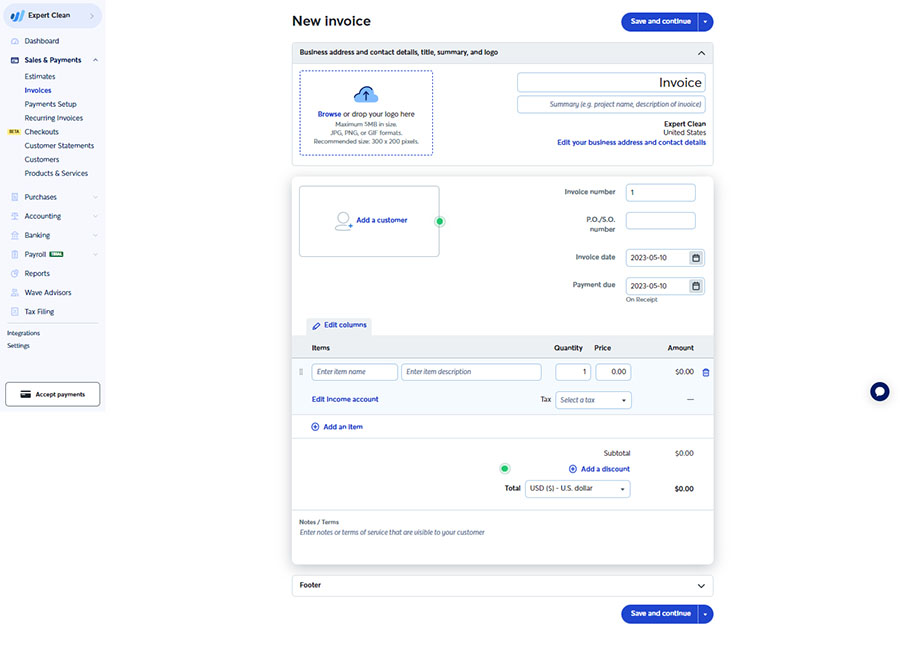 ---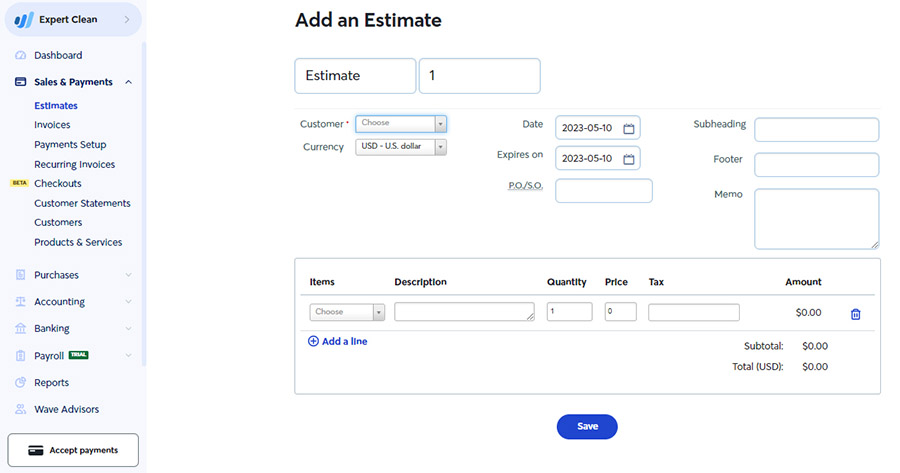 ---

---
When to Use Square
If you are a retailer or run a food-based business that requires invoicing (such as caterers) and /or shipping, then Square is the better option. While Wave does have a product management feature, it lacks customization tools retailers would need. Meanwhile, Square's invoicing custom fields include options like shipping, and they integrate with Square's more robust inventory feature. In addition to more payment methods, you can also create custom contracts for your subscription plans with Square.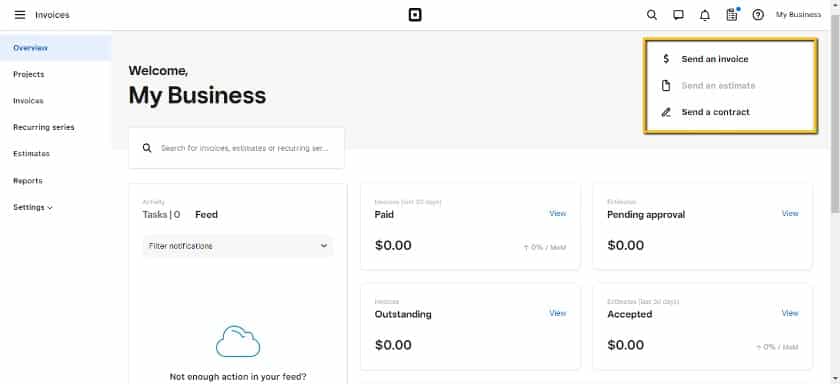 ---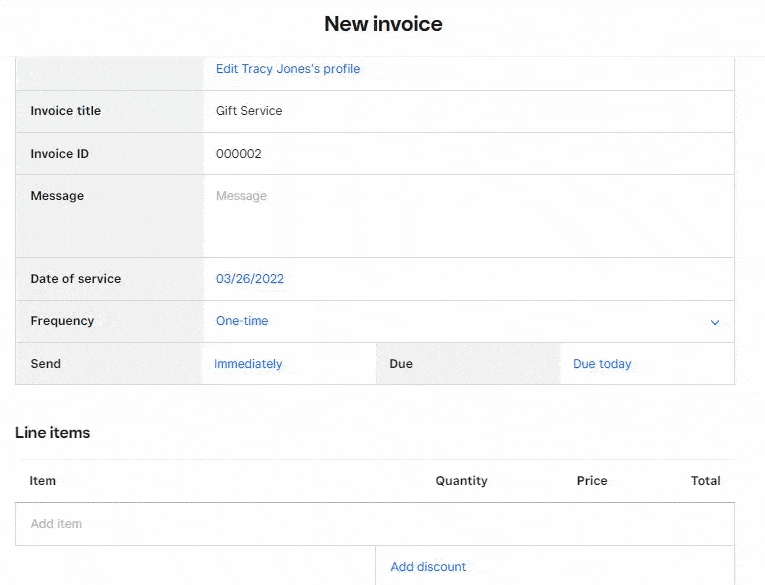 ---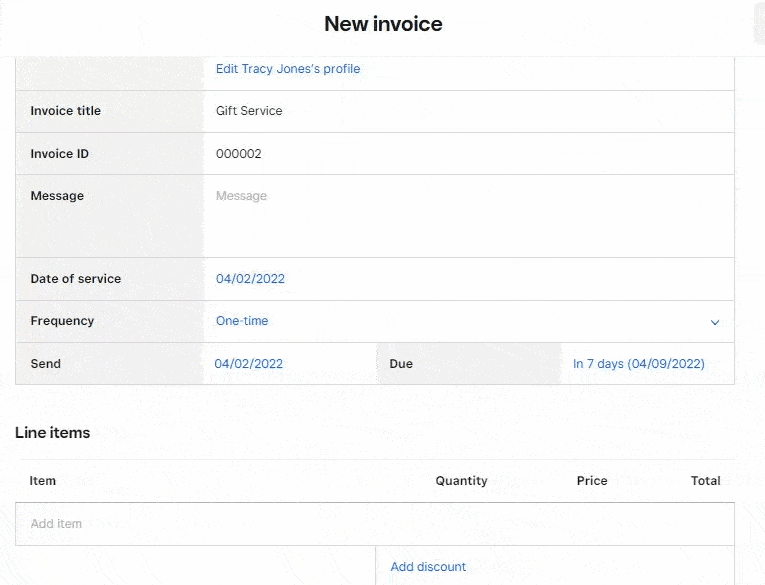 ---
Wave vs Square Payroll
Monthly Fee

$20 for self service state

$40 for tax service states

$0 for contractors

$35 if employing full-time staff

Per Full-time Employee

+$6

+$6

Per Contractor

+$6

$6/contractor

Payout Options

Bank

Bank

Check

CashApp

Remote Access

Employee Portal via Web

Mobile App

Connected Employee Employee Mobile App

Tax Forms

✓

✓

Multistate Payroll

✓

✓

Automatic Tax Filing

Higher plan

✓

 
Our Expert Take: With both Wave and Square charging a monthly fee to use its payroll management features, the decision came down to choosing which option offers better value for money. Square's ecosystem supports its payroll functions with other free services like team management and Cash App for instant payouts. Wave's payroll features, on the other hand, provide better support for both merchant and employee tax compliance and reporting.
Winner: Square
Square is clearly the more cost-effective solution for businesses that work with employees, whether full time or contractual. It has scheduling, as well as tips and commission tracking, which Wave does not have. Also unlike Wave, Square does not charge a monthly fee if you only have contractual hires. Square also offers more payout method options and provides merchants with a free mobile app to manage payroll tasks on the go.
Additional Square Payroll features:
Tip and commission tracking
Employee access to Benefits
Employee Pay on demand via Cash App
Employee shift scheduling w/ Square team management.
Team messaging via app
Worker's compensation insurance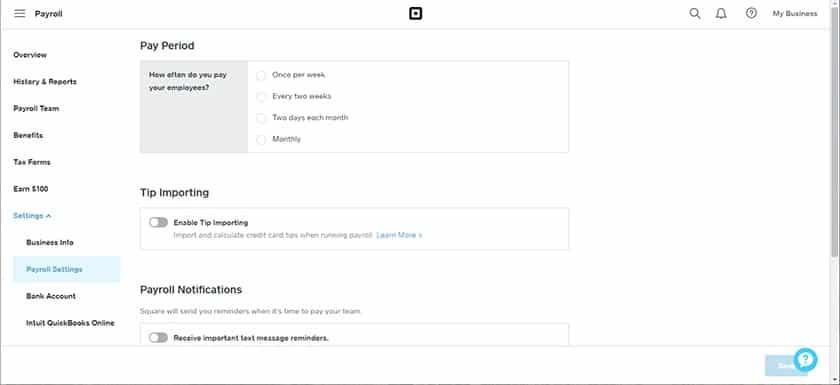 ---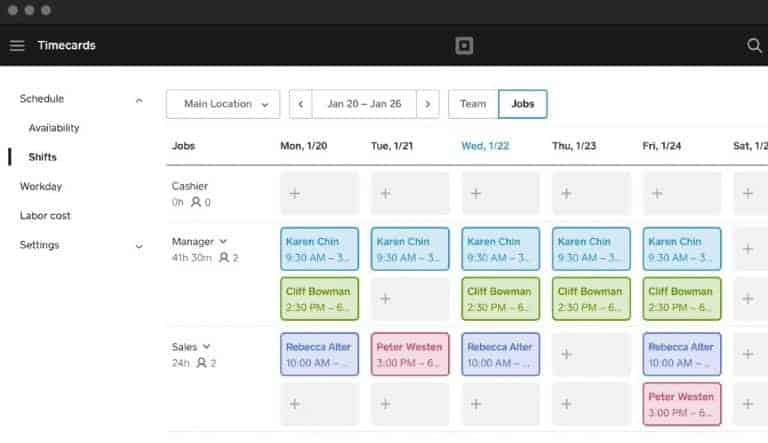 ---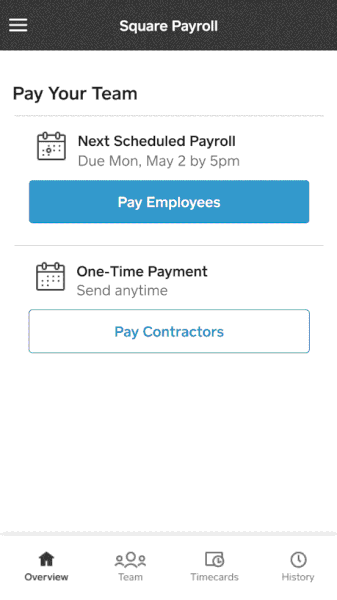 ---
When to Use Wave
WIth its own accounting integration, Wave stands out in terms of tax reporting and compliance. However, since these features are available at a higher plan ($40), it may not be encouraging for small merchants, considering Square also provides automated tax filing (Wave can do this only for 14 states) and payroll expert resources at no extra cost. This brings us back to our recommendation of Wave for solo professionals, gig workers, and contractors. Merchants can still access all of Wave's payroll features while paying only $20/month—considerably less than Square's monthly fee.
Additional Wave payroll features:
One-click payout
Automatic payroll journal entries
Workers' compensation insurance
Customizable payroll expense reporting
Priority customer support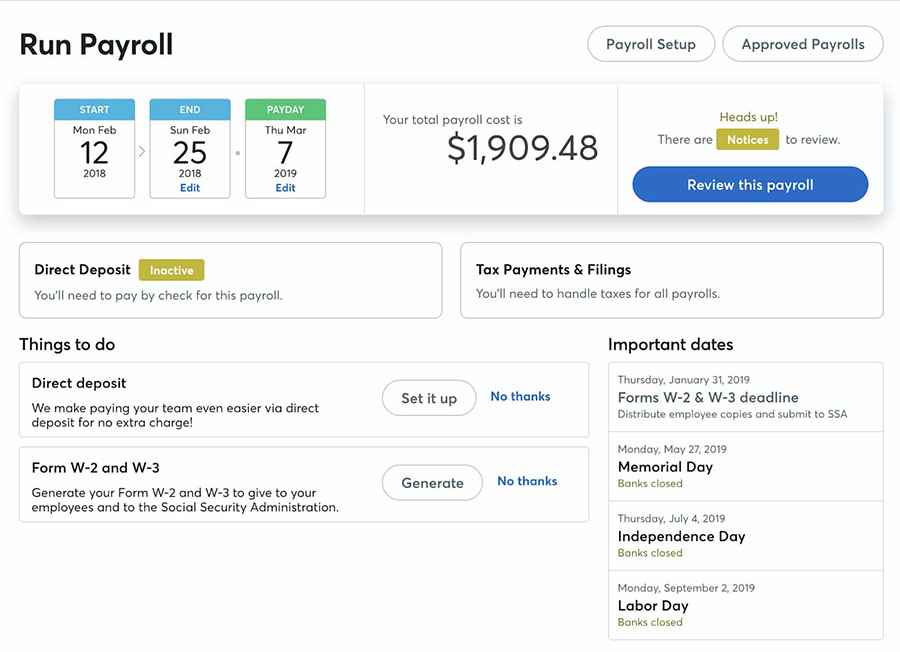 ---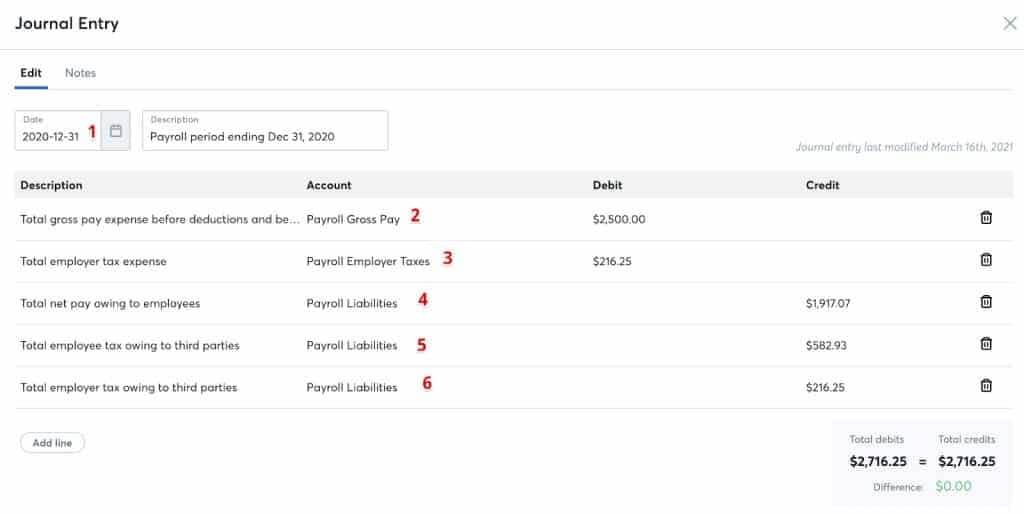 ---
Wave vs Square Reporting
Our Expert Take: After a closer evaluation of Wave and Square's reporting functionalities, the question becomes less about which is better, and more about which suits your business best. If you are looking for a reporting feature that takes the burden of consolidating and preparing financial statements away from an individual taxpayer's standpoint, then Wave is your best bet. However, if your focus is more on tracking your sales margin, inventory, and growing your business, then Square will suit you more.
When to Use Wave
Wave's reporting features are largely tied to its accounting service. This means that invoice records automatically update account receivables, payroll payouts create instant adjustments to expense and accruals, and product records reflect both services rendered and company supplies purchased. If you are a solo professional, having Wave's accounting integration removes the heavy, repetitive compliance tasks, leaving you more time to attend to clients.
When to Use Square
With Square, reporting is more segmented according to business type. So, while you can create multiple business profiles, Square does not have Wave's capability to create an aggregated report of your businesses. What Square can do, though, is provide you with omnichannel business reporting. Any adjustments to sales and inventory are automatically synced in one report regardless if you have more than one location, or if you sell on multiple platforms (in-store, online store, social media, mobile, etc.).
Square's sales reporting features are basic compared to other top merchant processors. In retail, for example, you only get sales data plus cost of goods sold, profit margin, and vendor sales if you upgrade to a Square Retail paid plan. On the other hand, you can use Square to generate smaller reports tracking cash, tips and commissions, and low-stock alerts.
Wave vs Square Integrations
Our Expert Take: Integrations play a key role in scalability. How long before a business outgrows a provider's services? While it offers unlimited invoicing, Wave's features will eventually fall behind when startups begin to look for features such as marketing, loyalty, and customer financing options to expand their customer base.
Winner: Square
Square offers a better range of integration options starting with its own suite of add on products. You will also find a diverse range of third-party integrations such as self-order kiosks and delivery management apps that will allow Square to scale with the business. Aside from its proprietary add-ons, Square also has an app marketplace for its software partners, giving it a clear lead against Wave both by numbers and a variety of integrations.
Square integration options:
Square POS software
Square Payments
Square Invoicing
Square Online
Square Payroll
Square Team Management
Square Marketing
Square Business Checking
Square Loyalty
Square Cash App
Afterpay (BNPL)
Third-party integrations from Square Marketplace
When to Use Wave
Wave, with its suite of financial services, is a popular choice among small nonprofits, hobbyists, startups, and solo professionals looking for more individualized accounting management software. It does have a few third-party integrations for project management and ecommerce.
Wave integration options:
Wave Payroll
Wave Invoicing
Wave Payments
Wave Money
Google Sheets
BlueCamroo
Ecommerce platforms (via Zapier)
Wave vs Square Ease of Use
Approval

Not required

Not required

Contract Length

Pay-as-you-go

Pay-as-you-go

Customization Options

Simple custom settings

Simple custom settings

Funding Speed

Developer API

Developer API

Chargeback Management

2 business days

Instant with fee

Next business day

Same-day with fee

Fraud Protection

By email

✓

Customer Support

56-bit TLS encryption
Tokenization
PCI Level 1
Layered third-party security and anti-fraud service providers

SSL/ TLS encryption
Tokenization
PCI Level 1
2-Step verification
Risk management dashboard

Language Supported

Business hours live support for paid plan
Guided setup
Email and chat support
Extensive knowledge base

Extended business hours live support
Extensive knowledge base
Video tutorials
Our Expert Take: It was close, but based on our comparison table, Square managed to pull ahead of Wave in terms of ease of use. Square offers better chargeback management features and more language options. Its live support is available for both free and paid plan users. I particularly like how Square provides merchants with the ability to customize their fraud restrictions. This is not to say that Wave is remiss in its security features. It's just that Square gives you better fine-tuning control so you won't miss out on valid sales.
Both Wave and Square are payment facilitators so merchants only need to sign up for an account but will not be subjected to an approval process. Once you have provided all the necessary information, you are free to start sending out invoices and accepting payments. However, the common downside for all merchants with payment facilitators is that they are more prone to account holds and frozen funds. Learn more about merchant accounts.
That said, payment facilitators are the most ideal for startups and small businesses because of simple pricing and often zero monthly fees. So in order to decide between Square vs Wave, we focus on getting the most out of features such as more control over chargeback and fraud management.
What Users Say About Wave Payments
Wave is more popular as an accounting and financial services platform but users all agree that the free advanced invoicing and payment processing are some of Wave's standout features. Other users find Wave a bit lacking primarily because it does not support in-person payments.
More user feedback:
Completely free invoicing platform
Helpful automated bookkeeping
Limited to local US merchants
Extra fees for payroll and tax filing
What Users Say About Square Payments
Square has already built itself a core client base that loves its all-in-one business management system. However, while there are so many available options for merchants to grow with Square, some merchants can still point out missing customization features even with the paid plans.
More user feedback:
One of the best all-in-one POS and payments platforms
Good value and reasonable fees
Some customizations require an upgrade to paid plan
Reports of frozen funds and account holds
How We Evaluated Wave vs Square
First hand experience is important in order to build a concrete comparison between two small business-friendly solutions like Wave and Square. I created demo merchant accounts for each and tested their payment options, customization settings, and other business management features such as product catalog, customer directory, invoicing, and integrations. Using the live platform also allowed me to evaluate the overall user experience.
Wave and Square are compared based on the following criteria:
Value for money: As both Wave and Square offer a free merchant account I wanted to know which payment processor offers more value with zero upfront cost. Fortunately, Wave and Square's forever-free plan offers unlimited invoicing and payment processing volume. The free features include customizations where Wave stood out for invoicing and recurring billing tools.
Pricing: Transaction fees comprise a majority of the cost of doing business for small and startup businesses. This is why I compared Wave and Square's online credit card processing rates. Square emerged as the cheapest with a lower fixed fee and no surcharge for Amex transactions.
Payment features: Here, I evaluated the available payment methods and payment options on Wave and Square. While Square won in variety and flexible options, Wave's invoicing and recurring billing tools stood out.
Business management features: I went through Wave and Square's business management functions and found that both providers have similar payroll features that I went into detailed comparison above. Square is the clear winner here, across all business management tools except for accounting.
Ease of use: I compared my overall user experience on Wave's and Square's platforms, from sign-up to testing its reporting tools. I also took a closer look at their integration options where Square really stood out. Finally, I wanted to find the latest user feedback to determine which of Wave's and Square's functions real-life users like the most, and which aspect of their service have recently improved (if any).
Wave vs Square Frequently Asked Questions (FAQs)
These are some of the most common questions we get about Wave vs Square.
The most significant difference between Square and Wave is their primary use. Square is, first of all, a POS system, among other things, that comes with a built-in payment processor. Wave, on the other hand, is more popular as an accounting platform with free invoicing and payment processing tools.
---
No, not directly. Although, you can integrate Square with Wave if you have a Zapier account.
---
Not entirely. Square does offer a free basic invoicing plan that comes with simple customizations. You will need to upgrade to a paid plan to access recurring billing, add custom fields, and access custom layouts. Project management functionality is also available in the paid plan.
---
Bottom Line
A closer look at Square vs Wave will show that there are more differences between the two providers than there are similarities. However, merchants who often compare Wave vs Square are likely trying to look for the best invoicing service. Wave definitely is the clear winner in this category for providing a full free advanced invoicing and recurring billing solution. However, if you are looking for more versatility and room to grow with the same payment processor, then Square is the best choice.