What Is a CRM Dashboard? A Guide for Sales Managers, With Examples
This article is part of a larger series on CRM.
A CRM dashboard provides a snapshot of your sales, activity, and revenue performance metrics in one place, which makes it easier to manage sales and evaluate team performance. A basic dashboard is typically included in customer relationship management (CRM) software, but you may have to upgrade to a higher-tiered plan to create custom dashboards.
How Dashboards Work
Dashboards consolidate data in a way that makes it easy to view critical information at a glance. For example, a CRM dashboard can display sales, rep activity, and revenue metrics in a single view. A CRM dashboard, like the one included in Pipedrive, which is a CRM designed for visualization of data, shows data from a wide range of sales, marketing, and business activities in easy-to-digest graphs and widgets.
Who Uses CRM Dashboards
CRM dashboards are used by a variety of sales team members, from the CEO to individual sales reps. Here are a few team members who benefit from using a CRM dashboard:
Sales managers and directors: View your entire team or organization's sales performance, opportunities, goals, and activities to ensure progress is being made. Make sure hot leads are being prioritized.
Account executives: A CRM dashboard is great for viewing an entire team's performance, but you can also filter out and focus on individual performance. Task management features can help reps manage the prospect lifecycle, track action items, and narrow down which leads most need follow-up.
Sales development reps: If you're tasked with prospecting or lead generation, a CRM dashboard is an excellent way to maximize your workflow quantitatively. It can help ensure you're hitting goals for the day, keeping up your sales activity, and following up with prospects.
CEOs: Business owners and CEOs can use CRMs to glean an overall view of forecasted sales revenue, sales performance, and key metrics.
Marketing managers: Members of the marketing team can use CRM dashboards to do things like view how engaging their email campaigns are and see which pieces of content are resonating with prospects.
CRM Dashboard Costs
Due to the variety of features that come with CRM software, such as mobile apps or robust visual pipelines, they all have different pricing structures. Most offer free trials or plans, starter plans suitable for small and mid-sized businesses, and enterprise plans for larger organizations.
To determine a ballpark cost for this feature, we looked at four CRM software options that excel in dashboard reporting, including Pipedrive, HubSpot, Salesforce, and Zoho CRM. Most starter plans are around $24 per user, per month. Professional plans average $172 per month, and Enterprise plans can be upward of $400 per month.
For small businesses and startups, free plans or starter plans may be an excellent option. For instance, Pipedrive's starter plan is $14.90 per user, per month, and its Advanced and Professional plans are $24.90 and $49.90 per user, per month, respectively.
CRM Dashboard Features
CRM dashboards can be used to view goals, progress, or tasks for an individual. They can also give a birds-eye view of sales performance for a team or an entire organization. CRM dashboards also help you manage the progress of sales deals, identify top prospects, track sales activities, and forecast revenue.
Deals & Opportunities
One of the significant differences between viewing deals and opportunities in a visual pipeline vs a CRM dashboard is the ability to view trends, totals, and performance. A standard visual pipeline shows deals in the various stages of a sales cycle, such as prospect, won, or lost.
In a CRM dashboard, you can control which sales performance metrics you want to view relative to deals and opportunities. For example, you can see the number of deals, view opportunities nearing a closing process, and see the entire team or individual activity in terms of prospect and customer contact, such as emails, phone calls, and meetings.
View Activities
If you are a salesperson with a quota to meet, you may benefit by using activity monitoring. Your dashboard shows how many opportunities there are, how many prospects you have contacted, and your revenue forecast.
You can also review your to-do list in many CRM dashboards. In businesses with a longer sales cycle, prospects often spend more time in each stage. It can be helpful to set up tasks so you don't forget to follow up with your sales leads promptly. In Zoho CRM, you can track activities of your choice in this visual dashboard:
Revenue Forecasting
It can be cumbersome to calculate revenue opportunities and sales projections manually. Revenue forecasting options are available in many CRM dashboards, eliminating the need for you to build complex reports to see how close you are to meeting monthly, quarterly, or annual sales goals.
Below is an example of a CRM dashboard from Salesforce that displays customized revenue data, including a win/loss report, top 10 deals won, a month-over-month sales forecast, and revenue potential by sales rep, which allows sales executives to view critical sales data in one central place.
CRM Dashboard Customization
CRM dashboards have default views, but most can be customized to fit the needs of your small business. With Pipedrive, you can filter by user, organization, month, quarter, deal size, deals won, and revenue forecasts.
Date Range
Sales goals are typically set monthly, quarterly, and annually. CRM dashboards can filter performance and activity according to standard or specific time periods. For example, in Pipedrive, you can view performance data by today, yesterday, last week, this week, this month, this quarter, or choose a custom date range.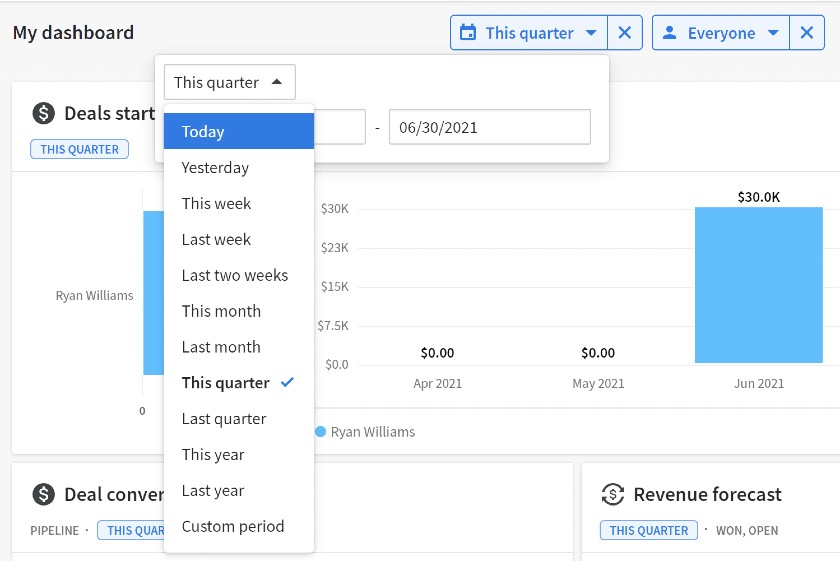 Goals
Many CRM dashboards allow you to dive deeper into goal performance than visual pipelines do. As a sales professional, you want to see your goals, where you are in meeting those goals, and to make sure you're staying on top of your deals.
As a sales manager or director, you likely want to see how your team is performing overall or as individuals relative to goals and quotas. You can view how many leads a salesperson has, what their revenue forecast is, and review activity such as how many phone calls or demos have been made.
Pipedrive allows you to customize your CRM dashboard so you can track goals by a variety of criteria:
Deals: View total number of deals in the pipeline, or see which deals are progressing or aren't moving forward. This is ideal for sales managers who may need to coach reps or assist in closing a deal.
Activity: See the activity of your team or an individual. Review the volume of calls, emails, meetings, or contacts overall or in a given time frame.
Forecast: Dive deep into the monetary value of open and won deals. You can also filter by individual or team to see who is driving the most revenue.
Reports
Dashboards often have in-depth CRM reporting features. Pipedrive offers quick, custom reporting based on various features. You can view the following:
Activities completed
Emails sent and received
Deals started, in progress, deal duration, deals won, and deals lost, including the reasons why
Revenue forecasting, products sold, and the average value of won deals
How to Set Up Your CRM Dashboard
These are the general steps on how to set up a CRM dashboard, using Pipedrive and HubSpot as examples. The steps will be somewhat similar regardless of the software you use.
1. Create a New Dashboard
Most CRM dashboards allow at least some level of customization. For instance, you can control which metrics you view, who has access, which teams or individuals to track, and the ability to filter by date range.
To start, select the option to create a new dashboard. When creating multiple dashboards, choose names for your dashboards that make them easy to identify to save time when you want to find them again in the future.
For example, you can create separate dashboards for sales representatives, teams, and overall performance metrics. It can be tempting to try and add every possible metric to one dashboard, but creating different dashboards can help you quickly identify important or actionable metrics.
To add a new dashboard in Pipedrive, go to the "Insights" section, located in the left-hand navigation.
With HubSpot, you can also create CRM dashboards quickly and efficiently. If you navigate to Reports and then Dashboards, you can create dashboards from various templates, including Sales, Marketing, Service, and CMS, to help you save time and organize sales data with premade dashboard templates, rather than creating them from scratch.
2. Decide What to Track
When you create a dashboard, choose the widgets or reporting blocks you most want to track. These blocks can be customized with the data essential to different roles, such as sales, marketing, finance, or business owners.
Your dashboards should focus on critical or actionable information and reporting without distracting you with extra data you don't need. For example, you can create separate dashboards to monitor deals, leads, and action steps so you or your team can work more efficiently and effectively.
In Pipedrive, you can turn widgets on or off by selecting the checkbox in the upper left corner. This lets you control which information is displayed on your dashboard and eliminates data you aren't interested in. For example, you may want to view revenue forecasts and deal stages, but aren't interested in the specific tasks or emails that your sales reps are engaged with.
In HubSpot CRM, you can customize your dashboard with information about things such as new marketing qualified leads, where deals are in the sales cycle, and leads originated by source, and toggle between views for different team members, such as marketing coordinators, CEO, and sales reps.
3. Group & Arrange Sections
As you set up your dashboard, you can group widgets and metrics according to how you want to visualize the data. For example, you may want to track the number of deals, the revenue forecast, and activity to see if your activity needs to be increased to drive more sales.
Pipedrive allows you to organize the layout of your dashboard using drag-and-drop widgets.
Bottom Line
CRM dashboards offer efficient ways to quickly view and monitor business opportunities and performance. They're particularly useful for sales directors, sales reps, support staff, executives, marketing team members, and finance professionals when pulling in leads for your team. Use customizable CRM dashboards to organize the data in your CRM to help you reach your business goals.