A CRM dashboard is a feature of most customer relationship management software that provides at-a-glance reporting on important sales activities and performance metrics. It helps sales professionals by providing a quick look at the health of their sales pipeline and an overview of the tasks and activities they need to focus on next.
Pipedrive is a CRM that makes it easy to build dashboards to quickly view your deals, sales activities, and upcoming tasks, letting you focus your time where it matters most. Pipedrive also includes a visual sales pipeline tool that makes it easy to manage leads and sales opportunities, with plans starting at $12 per month, per user. Visit Pipedrive today to start a 14-day free trial.
How CRM Dashboards Work
CRM dashboards work by collecting information from different parts of your database and presenting them in a graphic layout that gives you a high-level view of your sales process. Most allow you to configure the components that you want to view, including information about your sales pipeline, upcoming tasks and action items, recent activities, new leads and deals, and sales performance metrics.
Most CRMs use dashboards in addition to more traditional reporting as a way to provide an overview of the health of your sales pipeline, and to help you quickly assess areas of concern or action steps. Some also include multiple pre-designed dashboards to help you focus on different aspects of your sales process, or allow you to create versions of your own to dial in the data and CRM reporting that you consider most helpful.
Sales teams use CRM dashboards to provide important information about aspects of the sales process like where deals are at in your pipeline, which leads or deals require action, and how each team member is performing based on their goals. Some CRMs allow you to create multiple dashboards for managing a variety of different metrics and give you the ability to share these with your team members to give them the information they need to measure their performance.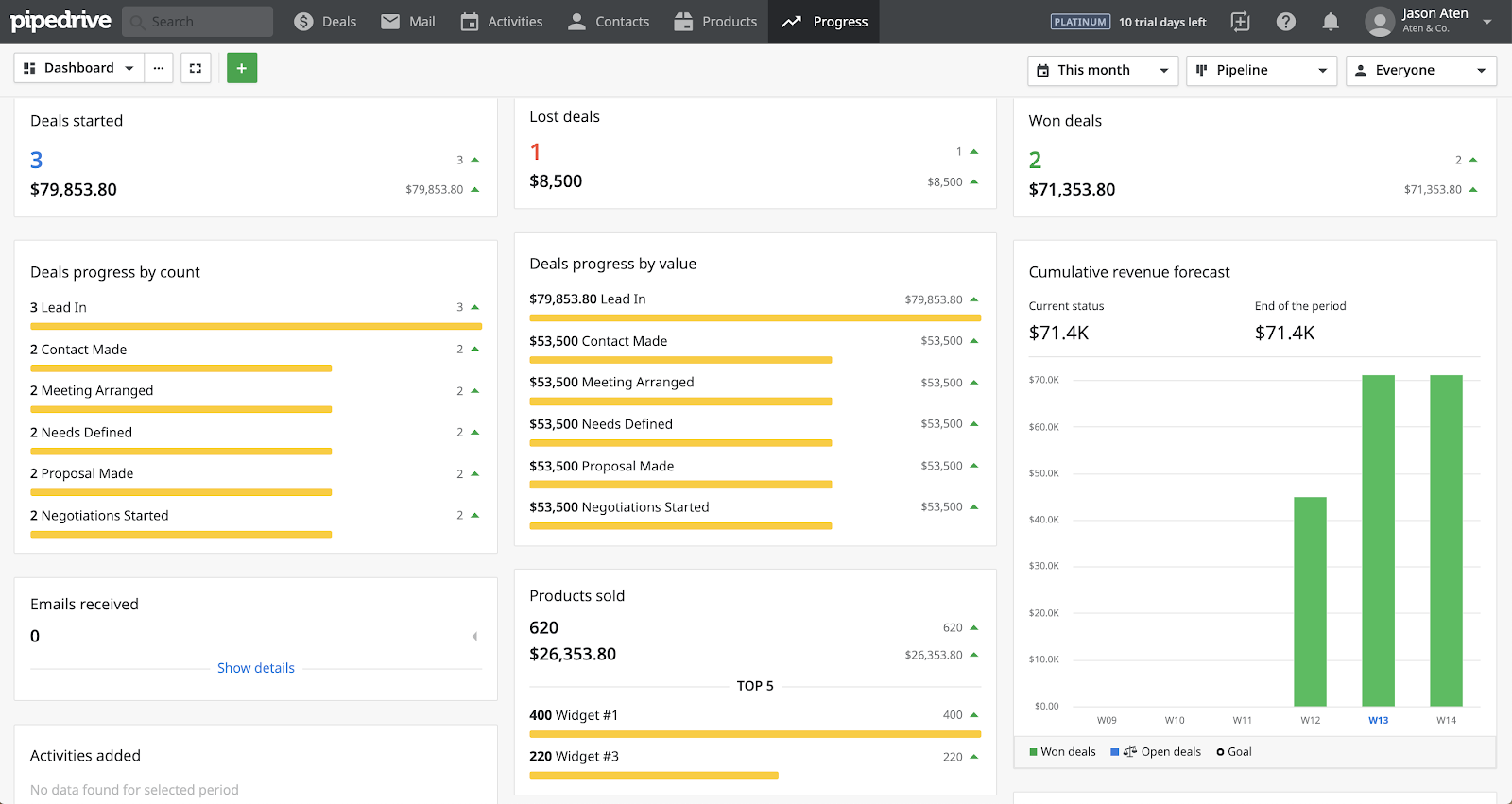 Who Uses CRM Dashboards
CRM dashboards provide helpful feedback for anyone who is involved in the sales process, from field sales reps to sales managers and executive-level sales leadership. Most CRM software allow you to configure dashboards to provide an at-a-glance view of the information you need so that you can make the best decisions about how to focus your efforts and sales activities.
A few of the roles that can improve their efficiency with CRM dashboards include:
Sales Managers: Use CRM dashboards to help get a high-level view of their team's performance and any issues that require their attention like bottlenecks in the sales pipeline, aging deals and leads, or team members that are trending behind their goals.
Sales Reps: CRM dashboards can provide a sales rep with a quick look at upcoming tasks, incoming leads and customer communications, and the status of current sales opportunities.
Sales Administrators: Having a birds-eye-view of how a sales team is performing can help sales administrators better plan and organize a team's efforts, including identifying top performing sales reps and accounts, and revenue forecasting.
Like any tool, CRM dashboards are meant to help make your job easier. In this case, they provide you with data that you can use to make better decisions about your sales process and activities. If you're not currently using a CRM that allows you to create sales dashboards, consider checking out an option like Pipedrive to see if using them can help you streamline your sales process and focus on the activities that will help you close more deals.
CRM Dashboard Costs
Since CRM dashboards are a feature of customer relationship management software, the cost is dependent on the software you choose. Small business CRMs range from free-forever plans with basic features, to $29 or $49 per month, per user, for comprehensive plans with advanced features and reporting. Most basic CRM tiers include the ability to configure at least one dashboard, while higher-tiered plans often allow users to create multiple dashboards.
CRM Tiered Pricing
| | Basic | Average | Advanced |
| --- | --- | --- | --- |
| Pricing (monthly) | ~$20 | ~$45 | ~$79 |
| Contact Management | ✔ | ✔ | ✔ |
| Lead Generation | ✔ | ✔ | ✔ |
| Deals | ✔ | ✔ | ✔ |
| Configurable Dashboards | ✔ | ✔ | ✔ |
| Multiple/Advanced Dashboards | | ✔ | ✔ |
| Mobile Apps | | ✔ | ✔ |
| Pipeline Customization | | ✔ | ✔ |
| Email Tracking | | ✔ | ✔ |
| Form Submissions | | ✔ | ✔ |
| Landing Pages | | | ✔ |
| Calling | | | ✔ |
| Advanced Reporting | | | ✔ |
It also takes some time to set up your CRM dashboard according to the components you want to monitor. Usually this would be considered an indirect cost, however, the time you save is far greater and results in a net overall gain to your sales organization. The increased productivity is worth far more than the few minutes it takes to get started.
CRM Dashboard Features
CRM dashboard features can be broken into two categories: overall functionality and specific components. We'll address both types and look at the types and format of information you can display in your dashboard, and look at how they help salespeople in the day-to-day management of sales opportunities.
Some of the common features of CRM dashboards include:
Configurable Layout
One of the most important features of CRM dashboards is that most of them give you at least some ability to configure the layout of your information. This allows you to place the information that is most important to you where you can find it most quickly. Many higher-end tiered plans give you the option to create multiple dashboard layouts, making it easy to focus on and switch between activity reporting, task management, or your sales pipeline.
Graphical Display
Another valuable feature of dashboards is that information is presented in easy-to-understand graphical displays that often include colors, charts, and graphs. Most people more quickly process pictures and visuals like a simple bar graph or line chart, than a list of text or numbers. In addition, dashboards also often use color to help separate and identify positive and negative information like deals won or lost, aging leads or sales opportunities, and past-due tasks.
This type of reporting makes it easier to identify problem areas and is valuable to users who want to quickly view and process high-level data about their sales process. It also provides you with quick access to far more information within the CRM without having to navigate through menus, run reports, or search through hundreds of records.
Reporting Widgets
The core feature of a CRM dashboard are the various widgets that can be added to provide reporting on various types of data. While CRMs vary on the types of information you can add, there are generally five types of widgets that you can use to make up your dashboard layout.
Sales Pipeline
This type of widget gives you an at-a-glance view of your current sales pipeline. Often this includes a reflection of deals by pipeline stage, or aging leads and deals that require your attention. It might also include information about deals in progress, won, or lost, and the probability of closing your current pipeline volume.
Upcoming Tasks & Action Items
Task and action item widgets give you a quick look at what tasks you are responsible for, and when they are due. This is often represented as a list of things to do today, this week, or in the near future. The information for these action items can be tasks you've created for yourself or activities generated by the CRM based on workflow automations you've previously established based on triggers in your sales pipeline.
Using your CRM dashboard to show your upcoming action items helps you stay focused on the important things you need to do to keep your deals moving through your sales pipeline. It also helps you quickly evaluate how you spend your time and how you can be more efficient by prioritizing the most important sales activities.
Recent Activities
This type of widget gives you a snapshot of what's happening with your contacts and the deals you are responsible for. Often it will provide a list of activities in the form of a log that details what has happened and by whom. It also may include communications like recent incoming emails, or actions taken by a lead like when they visited your website and what pages they viewed.
New Leads & Deals
These can be presented in a graphical form as a representation of the value of new sales opportunities, or it can be a list of records that recently entered your sales process. Either way, it's designed to call your attention to new prospects and deals that require your attention so that you can act on them in a timely manner. This helps make sure that you engage with customers while they are most ready to consider purchasing your products and services.
Sales Performance Metrics
Performance metrics like goals, forecasting, and sales results are probably the most common type of dashboard widget used by salespeople. These are primarily graphical representations of revenue generated, expected revenue forecasts, or pipeline stages, and help you evaluate how well your sales activities are translating into what matters, sales.
Setting Up Your CRM Dashboard
We'll walk through the general steps to show you how to set up your CRM dashboard from scratch. We're using Pipedrive as an example, but the steps are similar regardless of which software you use. If you don't have a CRM yet, we highly recommend you take a look at one of the options included in this article.
1. Create a New Dashboard
Not every CRM allows you to create multiple dashboards. If that's the case for the one you currently use, you'll simply edit the existing dashboard to meet your needs. For CRMs that do, start by selecting the option to create a new dashboard. When creating multiple dashboards, you should choose names for your dashboards that make them easy to identify.
For example, you might choose to create dashboards for each of your sales reps or create separate dashboards to track tasks and performance metrics. In fact, one of the drawbacks to CRM dashboards is the temptation to cram all kinds of bells and whistles into one place simply because you can. Separate dashboards help you focus on one thing at a time.
To add a new dashboard in Pipedrive, you can go to the dashboard section, which is located under the Progress navigation tab, and select either the green "plus" icon, or "add dashboard" in the dropdown dashboard menu. This feature is not available in all plans, as the Gold and Silver plans do not allow for multiple dashboards, however, you can still modify the existing dashboard by selecting the edit tool next to the drop down.
2. Decide What to Track
When you create your dashboard, you'll have the option to choose the widgets, or reporting blocks, and arrange them according to the metrics and activities you want to track. Your dashboards should focus on the information and reporting that helps you take action, without distracting you with extra data that may be unhelpful. For example, you may create separate dashboards to monitor deals, leads, and action steps to help you focus throughout the day.
In Pipedrive you can turn widgets on or off by selecting the checkbox in the upper left corner. This lets you control which information is displayed on your dashboard and eliminates the data you aren't interested in. For example, if you're a sales manager, you may want to view revenue forecasts and deal stages, but aren't interested in the specific tasks or emails that your sales reps are engaged with so you might turn those widgets off.
3. Group & Arrange Sections
We recommend that as you set up your dashboards, you group widgets according to the specific type of data to make it easy to access and quickly process the information in front of you. For example, you might group information about deals and revenue forecasting in one area of the dashboard, with tasks and recent activities in another, helping separate in your mind what you're looking for.
This is especially helpful in CRMs that don't allow you to create multiple dashboards but do allow you to control the type and location of data presented. Eventually, your brain will become used to where to find the information you're looking for, but you can make the layout more helpful by grouping your data by subject, or by graph type.
CRM Dashboard Providers
There are a variety of CRM software providers that include the ability to configure dashboards. The one that will work best for your business depends on a range of factors including the size of your business, the complexity of your sales process, and whether you sell products or services or both. We've included a few here to help you find one that fits your sales organization. Be sure to also check out our guide to the best small business CRMs.
Here are a few of the most popular small business CRMs that feature easy-to-use dashboards:
Pipedrive
Who it's for: Small businesses that sell both products and services and are looking for a pipeline-driven sales process and a clean and simple user interface.
What it costs: $12.50 – $49 per month, per user.
Pipedrive is a small business CRM that is designed around a highly visual sales pipeline and includes a highly visual sales dashboard. Pipedrive also includes product catalogs, email tracking, and individual and team sales goals, making it easy to move deals through your sales process. It is best for businesses that need basic CRM dashboards, that are looking to manage contacts and sales opportunities through an interactive sales pipeline.
Freshworks CRM
Who it's for: Small businesses that want a flexible software tool to manage leads and sales opportunities with affordable tiered plans, including a free-forever plan with unlimited contacts.
What it costs: Free – $79 per month, per user.
Freshworks CRM is a flexible CRM that includes contact and lead management, as well as customizable dashboards for advanced control over your reporting at-a-glance starting at $12 per month per user. Freshworks CRM also includes advanced lead assignment, automated workflows, and mass emails, making it a comprehensive choice for B2B sales teams that want highly-customizable CRM software with easy-to-configurable dashboards.
Salesforce Essentials
Who it's for: Fully-featured CRM for small businesses and enterprises with advanced automation, reporting, and lead assignment rules, as well as customer service features built in.
What it costs: $25 per month, per user (up to 10 users)/$75 per month, per user.
Salesforce Essentials is a comprehensive CRM multiple preset and configurable dashboard. It includes both sales and service features including contact management, automated workflows, deal pipelines, and customer support ticketing for $25 per month, per user. It is also highly customizable and features an extended network of integrations with many of the software tools used by small businesses.
Pros & Cons of CRM Dashboards
CRM dashboards have clear benefits, but they also have a few important downsides that are worth discussing. However, the benefits of setting up and using dashboards as a way to quickly access information about what's happening in your sales pipeline overall is an important way to improve your efforts at nurturing leads, building customer relationships, and closing sales opportunities.
Pros of CRM Dashboards
The benefits of using CRM dashboards include:
Helping you stay focused: By providing a high-level visual representation of your overall sales performance, they can give you a quick view of areas that most require your attention.
Saving time: CRM dashboards let you quickly access performance information at a glance, and help you prioritize your sales activities with a list of action items, saving you time as you plan your day.
Real-time updates: Unlike features that require you to manually generate reports, your CRM dashboards automatically update data in real time, ensuring you always have the most current and accurate information at your fingertips.
Help you make better sales decisions: Which results in closing more deals when you're able to quickly assess and act on the health of your sales pipeline overall, and individual sales opportunities.
Cons of CRM Dashboards
A few of the negative aspects to consider include:
Overstimulation: Overly crowded dashboards can provide more information than is necessary to stay focused on your sales process. This can cause you to miss out on the important data you need to do your best work.
Measuring the wrong things: If you aren't careful, you can easily get sidetracked by the availability of information even if it's not the right information for making the best decisions.
Only a snapshot: CRM Dashboards should never be your only form of reporting since it's meant to give you a high-level snapshot of various aspects of your sales performance, instead they should always be used as a starting point.
Alternatives to CRM Dashboards
CRM dashboards are a helpful way to gauge the health of your sales pipeline and the effectiveness of your sales process, but they aren't the only way. The following aren't as much alternatives as they are additional tools that can help you be more effective in pursuing the best sales opportunities.
A few additional types of reporting that you should consider using include:
Manual Reporting
When you need deeper information about contacts, sales opportunities, or activities, most CRMs include libraries of reports that you can manually run to provide a more complete picture of various aspects of your sales process. For example, your CRM dashboard might provide you with a quick look at how many deals you won, where a manual report provides you with the details and next steps for each of those deals.
Scheduled Reports
In addition to manually generating reports, many CRMs will let you create a schedule to run reports you use frequently. You might create a schedule to run a report at the end of each week to evaluate your team's sales activities including calls made, new customer appointments, and deals started. While some of this information is available in a dashboard format, the scheduled report can deliver the details into your email inbox on a regular basis.
Frequently Asked Questions (FAQs)
Are CRM dashboards available on mobile apps?
Most of the time, CRM mobile apps include a modified version of a dashboard that includes upcoming tasks and appointments, as well as top-line sales pipeline performance numbers. Generally, mobile CRM dashboards aren't configurable like their browser-based versions, but instead, are optimized to provide the most helpful information on the go.
Can I share my CRM dashboard?
The answer depends on the software you are using. CRMs like Freshworks CRM or Salesforce Essentials allow sales admin users to actually create dashboards and assign permissions to control who has access to each. This can be helpful in managing a team as you can create a dashboard for each team member and assign it each accordingly.
Do CRM dashboards cost extra?
Dashboards are a feature of CRMs and aren't generally considered an add-on. That said, base-level plans and free-forever plans often include limitations on how you can configure your CRM dashboard. Some don't allow you to create multiple dashboards on lower-priced plans. In that regard, it would be the case that plans that include the most robust CRM dashboard functionality do tend to cost more.
Bottom Line
CRM dashboards can save you time and effort as you organize and prioritize your action steps to make the most of your sales process. Creating multiple dashboards based on the different aspects of your sales pipeline and activities can help you remain focused on the information and tasks that will help you ultimately win more deals and generate more profitable sales revenue.
If you're looking to get started using CRM dashboards, Pipedrive is a highly intuitive sales management tool with easy-to-use dashboards, and a highly visual sales pipeline tool that helps you move more deals through your sales process. Pipedrive plans start at $12.50 per month, per user, and they offer a 14-day free trial of any plan. Visit Pipedrive to get started today.