Sales quotas are sales performance targets that incentivize salespeople and work to increase company revenue and profitability or maximize a specific activity. Sales quotas are typically tied to sales volume, costs, profit, or specific business function. Effective quotas are ones in which 80 percent of your sales staff—on average—should be able to meet.
Regardless of the sales quota you choose, your sales team could reach it more efficiently with the help of a CRM, like Salesforce Essentials. It equips sales teams with the tools they need to hit their quota by pulling relevant data from email, calendar, and other support channels — giving your team a holistic view of both current and potential customers. Salesforce Essentials also lets you monitor the progress of your sales team to assess and evaluate their performance, both in the office and on-the-go. Try it free today.
The six steps needed to set an effective sales quota include:
1. Choose a Quota That Aligns with Your Business
There are four main types of sales quotas, each with different numbers used to measure sales performance, which include volume, cost, profit, and activity quotas. Each is right for a specific type of business goal: volume tracks sales units or revenue, cost measures expenses like time, profit uses profitability, and activity is the count of specific actions.
The type of quota you select will be used to set your baseline, calculate your quota value, and is how performance will be measured. This is why it's important to choose the one that most closely aligns with your company initiatives. For example, if sales volume isn't important, then don't choose a volume quota. Conversely, if you want your sales team to maximize company profitability, choose a profit quota.
Types of Sales Quotas & Who They're Right For
| Sales Quota Type | Best for |
| --- | --- |
| Volume-Based Sales Quota | (Most Common) Small businesses that want to focus on topline revenue growth. |
| Profit-Based Sales Quota | Businesses serving multiple market segments with a wide range of product or service offerings. |
| Activity-Based Sales Quota | Businesses with multiple consumer touch points, long sales cycles, and indirect sales roles. |
| Cost-Based Sales Quota | (Least Common) Businesses that want to explicitly focus on controlling expenses. |
Volume-Based Sales Quota
A volume-based sales quota is measured based on the number of units sold or the total revenue generated for a given period. This motivates a salesperson to sell as many units as possible and is best suited for businesses with short sales cycles and fixed pricing. It is one of the easiest quotas to manage as it can be measured using sales or inventory reports found in accounting software programs like QuickBooks.
For example, a business that might use a volume-based sales quota would be a retailer or niche manufacturer selling novelty baseball bats. The novelty bat manufacturer may have several different versions of the same product that vary only in color or team logo. In this sales quota example, the company measures the performance of individual salespeople based on the number of units that are sold because there is little difference between product offerings.
Profit-Based Sales Quota
A profit-based sales quota is measured based on company profits, making both selling units as well as controlling costs important. Companies using a profit-based quota benefit from increased sales productivity as staff are incentivized to focus their efforts on closing deals with the greatest value. This type is best for businesses serving multiple market segments or unique territories, as it provides a way to measure performance equally where there is variation.
For example, two salespeople at the same company sell switches. One salesperson sells to the medical device industry, which has low volumes but high prices. The other sells to the consumer electronics industry, which has large volumes but lower prices. Therefore, a volume-based quota would not be a fair comparison. Instead, the sales manager measures performance based on the amount of profit each person earns for the company.
Activity-Based Sales Quota
An activity-based sales quota is based on a salesperson or sales team achieving a quantifiable activity, such as making a number of phone calls or attending a set number of meetings. This type is measured by an activity log such as a call sheet or trip report. This is beneficial for indirect sales groups or teams with several people contributing to a single sale. It is also best for industries with long lead development cycles and little to no inventory.
For example, a company may employ a telemarketer or inside sales professional responsible for setting appointments. This person may not have a direct impact on whether a sale was closed, but does still play a role as he or she was responsible for the original qualification of the lead. In this sales quota example, the inside sales professional's performance would be measured by the number of appointments set while someone else would be responsible for closing the deal.
Cost-Based Sales Quota
A cost-based sales quota measures a team member's ability to reduce costs per deal—such as time invested—rather than focusing on revenue. Businesses benefit from this type as it increases staff efficiency, therefore improving company profitability. As a result, a cost-based quota is best suited for service organizations where sales or profitability are dependent on factors such as time to close a deal or resources spent consulting on a project.
For example, an HVAC service company sends technicians out into the field. Performance is tracked by average time spent diagnosing a problem, which is an overhead cost, rather than their ability to sell equipment or repair service. A volume or profit-based sales quota would not work in this same situation because the technician doesn't have direct control over revenue. However, he/she can affect the amount of time and therefore the overall cost per house visit.
Combination Strategy
A combination strategy is when a manager sets more than one quota type for individuals on his or her team, such as setting a volume-based quota and another number for an activity-based quota. A manager does this to ensure team members are focused on both quality as well as quantity in their individual approach to sales.
For example, a sales manager at a company selling software as a service may expect his or her salespeople to make a minimum number of sales calls. However, the manager also wants to ensure that his or her staff aren't simply making calls for the sake of making calls. In addition to the activity quota, he or she sets a profit-based quota for the salesperson's average deal.
"Sales reps are in a competitive role. I'm a big believer in destination sales. Without a sales quota, there is no destination. We use sales quotas for revenue, volume, and profit. By applying a better sales quota model to the sales function, we've achieved positive growth year-over-year with over 210 new clients with a recurring revenue stream." – George Schildge, CEO, Matrix Marketing Group
Give your sales team the tools they need to focus on quality engagement that leads to more sales with Salesforce Essentials. It displays relevant contact information and notes on one easy-to-read dashboard, so that your sales team is always prepared for any client interaction. You can also gauge performance and see how your team progresses towards their quota. Get a free trial here.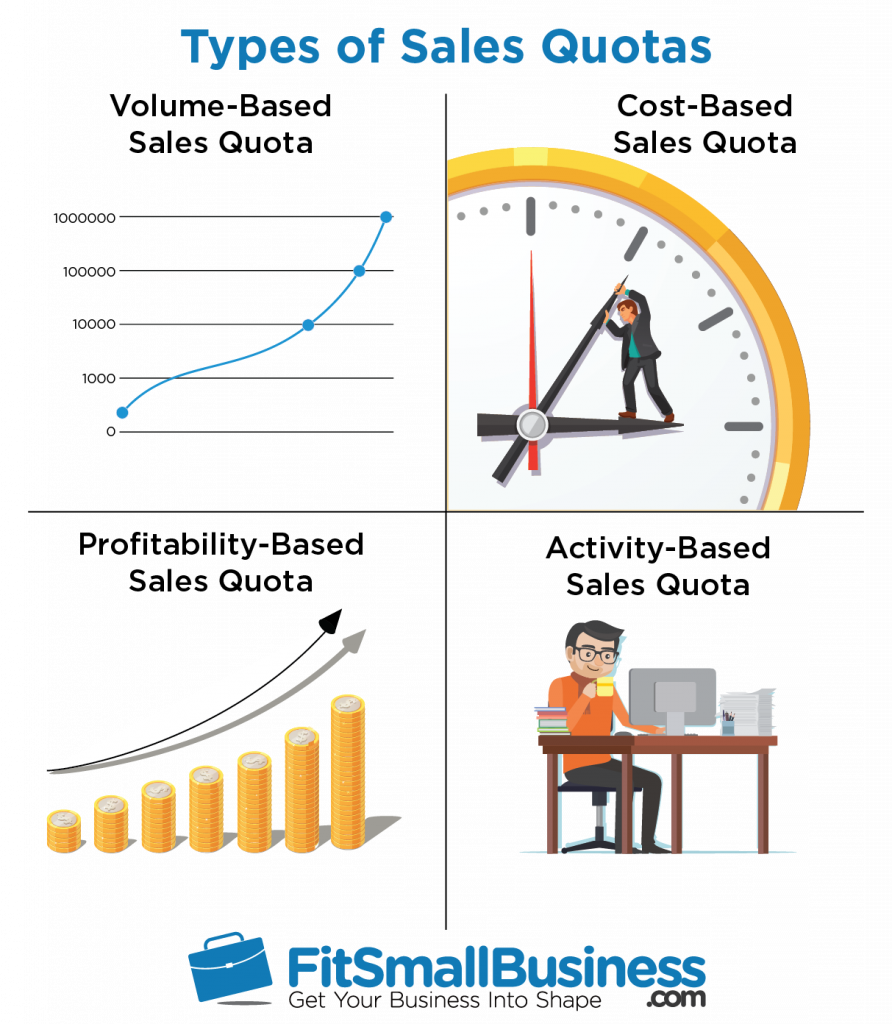 2. Consider Your Target Review Period
The review period is the length of time by which sales performance will be measured. A short review period, such as weekly or monthly, provides the sales manager with an opportunity to quickly address and correct performance shortcomings. However, a longer review period, such as a quarter-long or annual review, is better for staff motivation and morale as it gives them an opportunity to make up missed numbers before they impact incentives or compensation.
The most common review period is a quarterly review, where you meet with your sales staff every three months and discuss their predetermined sales quota and their performance against that quota. However, your specific business function will largely determine your review period. For example, if you're a retailer with high sales volumes, a monthly review might be good, while a semi- or annual review period might be better for B2B sales with long sales cycles.
3. Establish Your Team's Performance Baseline
A performance baseline is a measure of past performance based on your type of sales quota by reviewing past history, accounting for seasonality, and adjusting for market influences. This step is important because the baseline acts as average performance and will serve as a benchmark for setting your ultimate sales quota, which is usually a specific percentage of the baseline you establish.
If you are just starting out, launching new products or services, or do not wish to use prior performance as an indicator of success, you may choose to use your sales forecast in lieu of an historical performance baseline. Still, it's always better to use real past data whenever possible as a benchmark.
Regardless, you can establish your performance by doing the following:
Review Past History
If past history exists, look back on the last 12 to 24 months of sales data to establish your performance baseline. Using the target review period as a guide, summarize the total performance by sales volume, profit, cost, or related sales activities that took place over the same periods in the past.
For example, if you're tying your sales quota to quarterly sales volume, you would take the entire sales volume over the past 12 to 24 months and add it together, then divide by four for 12 months of data or eight for 24 months of data to arrive at your average quarterly sales volume over the past 12 or 24 months.
Examples of tools you could use to review past history include:
Sales Reports for volume-based performance quotas
Margin Reports or P/L statements for profit-based performance quotas
Activity logs such as trip reports, call reports, or the count of leads added to the pipeline for activity-based performance quotas
A P/L statement, service logs, or expense reports can be used to establish cost-based performance quotas
Example of How to Review Past History
Beth, the sales manager in charge of a boutique offering high-end attire, wants to set a sales quota for her team. She knows sales cycles are quick and that her salespeople are not responsible for either the original purchase costs or the product's pricing.
Beth determines that each of her salespeople should have a monthly sales quota tied to top-line revenue, based on the characteristics of her business (quick sales cycles) and her team's responsibilities (limited influence). She reviews the boutique's sales report from the previous year. The boutique had total sales of $68,000 and an average of 2.5 salespeople any given month.
Beth might then expect an individual's baseline metric to be the total number of sales divided by the average number of salespeople employed, or $27,200 per salesperson per year or $2,266.67 each month. However, a sales manager should not stop here when calculating the performance baseline.
Account for Seasonality
Seasonality is the recurring spikes or dips in sales a business experiences year over year. For example, retailers might have large spikes in sales during the fourth quarter that should be accounted for as you set sales quotas from one period to the next. You account for seasonality by adjusting your review period, establishing a different sales quota number for each review period, or combining both strategies.
The reason for this is you need to set realistic sales quota. If you expect your sales to double in the fourth quarter, your sales quota should reflect that expectation when comparing quotas from quarter to quarter.
Example of How to Account for Seasonality
Continuing with the high-end boutique example, Beth's sales report shows a spring spike in sales during her area's prom and wedding season and another before the holidays. She expects the same seasons will result in a spike next year. Beth decides to adjust her review period. She will evaluate her team's sales performance against their quota once a quarter. She also decides to set a different sales quota target for each quarter.
She refers to the boutique's sales report. She divides the total sales per each quarter by the average number of sales staff during the same period, which fluctuates from one quarter to the next.
Beth's team's average baseline for performance, adjusted for seasonality, is:
Q1: $6,000.00 per salesperson measured at the end of the quarter
Q2: $8,000.00 per salesperson measured at the end of the quarter
Q3: $3,857.14 per salesperson measured at the end of the quarter
Q4: $8,625.00 per salesperson measured at the end of the quarter
Had she not adjusted for seasonality, the total baseline in terms of revenue for the year would have been $27,000 per salesperson. After adjusting for seasonality, Beth learns the more realistic baseline to measure future performance and the success of her quota is closer to $26,000. Further, rather than setting a monthly goal equal to $2,250 ($27,000/12), or $6,750 a quarter, she can set more realistic quarterly sales quotas.
However, while Beth's updated performance baseline is more realistic, having included seasonality, it is still missing one more component.
Adjust for Market Influences
Market influences are events or changes in buying habits that cannot be tied to seasonality, like a newly launched product line or a component shortage. In order for your baseline to be an accurate benchmark for average performance, these factors need to be included. Adjust your baseline for market influences by adding in things like forecasted sales from new lines or subtracting out sales related to discontinued or jeopardized products or services.
Example of How to Adjust for Market Influences
The boutique is bringing on a new designer line. Beth adds the new line's sales forecast to her existing performance baseline. Her performance baseline now is:
Q1: $7,500.00 per salesperson measured at the end of the quarter
Q2: $9,000.00 per salesperson measured at the end of the quarter
Q3: $5,571.43 per salesperson measured at the end of the quarter
Q4: $9,750.00 per salesperson measured at the end of the quarter
4. Calculate Your Sales Quota per Review Period
To calculate your sales quota, you typically take your baseline metric and adjust it for desired or expected growth. For example, if you are using a volume-based sales quota, you can calculate the ideal sales quota by dividing your forecasted sales target by the number of salespeople. If you have a profit-based quota, you can look at profitability over the last 12 to 24 months and then multiply it by a fixed growth rate to arrive at your quarterly profit quota.
Typically, sales quotas that are within five percent of the baseline metrics you established are considered achievable quotas. Further, realistic sales quotas that also incentivize maximum performance are usually ones that are 80 percent achievable. Of course, your team can improve by more than five percent with additional investment, streamlining processes, or general business growth, but this five percent figure is a good starting point to assess how realistic your quota might be.
Example of How to Calculate Your Sales Quota per Review Period
Beth's boutique had $68,000 in total sales last year. In order to achieve her long-term sales goals, Beth would like to achieve $80,000 with the same 2.5 salespeople next year. In an ideal world, she calculates each salesperson would need to sell a total of $32,000 for the year, or $8,000 per quarter in order to achieve sales goal.
However, Beth also knows her business is seasonal and had already decided she will assign different sales quotas to her salespeople by quarter. Taking last year's road construction out of the equation, past history tells her that she should expect 17 percent of her sales to be in Q1, 35 percent of her sales to be in Q2, 15 percent of her sales to be in Q3, and 33 percent of her sales in Q4.
Therefore, her ideal sales quota per performance review period is:
Q1: $6,800.00 per salesperson measured at the end of the quarter
Q2: $9,333.33 per salesperson measured at the end of the quarter
Q3: $5,142.86 per salesperson measured at the end of the quarter
Q4: $9,900.00 per salesperson measured at the end of the quarter
5. Verify That Your Sales Quota Is Achievable
After you set your sales quota based on desired or expected growth, you need to verify that it's realistic and achievable by comparing it to your baseline. An effective sales quota is typically one that is achievable by 80 percent of your team and within five percent of your baseline metric. The performance baseline will help you evaluate whether or not a calculated ideal quota is realistic by comparing the two values and determining if the difference between the two is achievable based on your business.
Again, this is more of a qualitative assessment and by no means are the 80 percent and five percent figures hard and fast rules. Instead, they are good rules of thumb to check your thinking. However, it's not uncommon for companies to grow at rates far above five percent, and if you are one of those companies, your sales quotas should reflect that growth.
Example of How to Verify That Your Sales Quota is Achievable
Review Period

Baseline Performance
Per Quarter

Ideal
Performance
Per Quarter

Difference

Q1

$7,500.00

$6,800.00

-$700.00 (-9%)

Q2

$9,000.00

$9,333.33

$333.33 (4%)

Q3

$5,571.43

$5,142.86

-$428.57 (-8%)

Q4

$9,750.00

$9,900.00

$150.00 (2%)
Based on this comparison, Beth is confident that her ideal performance quota is in alignment with realistic expectations for performance. For simplicity's sake, Beth rounds her ideal performance quota to whole values, using the baseline instead of the ideal if the baseline was higher, and assigns her team the following sales quota:
Q1: $6,800.00 per salesperson measured at the end of the quarter
Q2: $9,300.00 per salesperson measured at the end of the quarter
Q3: $5,500.00 per salesperson measured at the end of the quarter
Q4: $9,900.00 per salesperson measured at the end of the quarter
6. Communicate Performance Expectations
A sales quota does not benefit anyone if a salesperson doesn't know he or she has one. After a manager sets the quota, he or she should share what the amount is, but also how the quota was determined and when and how it will be measured. He or she should then explain any bonuses or incentives the sales team might expect to earn for meeting or exceeding their quota.
The best method to communicate a sales quota and its value is with a face-to-face meeting. This allows salespeople the chance to ask questions and gives the sales manager the opportunity to better explain the reasoning behind the sales quota as well as its value to the organization.
What to Do After You Set Your Sales Quota
Once a quota has been set, the sales manager needs to regularly measure performance and communicate results in order to ensure that the team is demonstrating desired behavior. This ensures productivity is maximized and sustained over time and employees are continuously incentivized.
You should do the following after setting your sales quota:
Measure Ongoing Performance
How a sales quota is measured depends on the individual business, but must use the same type of data as used to set the quota. Results should be tallied in a spreadsheet or displayed in a dashboard report out of a CRM program. The sales manager should then compare recent performance against the previous measurement. Although this does require administrative overhead, when done properly, the benefits to the organization can exceed the costs.
"[Quotas] give you a standard to measure against. I was once working with a SaaS Startup that was having a hard time figuring out when it was the proper time to let someone go. I sat in on at least five different board meetings where we were trying to decide the fate of one individual, and the issue was that they had no way to measure his performance. Once we came up with a strategy, things improved for everyone." – Dwayne Vera, Problem Solver | Speaker
In addition to sales reports, sales managers may look to use the following additional tools to help measure sales quota metrics:
Activity Logs – This can be as simple as providing telemarketers with a sheet of paper with the request that they tally up calls made each day and turn in their results
Trip Reports – A sales manager may gauge performance on the quality or number of trip reports submitted by a salesperson
Pipeline Reports – A sales manager may ask salespeople enter leads and other opportunities into a central database, such as a CRM
Communicate Ongoing Performance
A sales manager should always communicate ongoing performance with his or her team to ensure there are no surprises at the end of the year. While a private face-to-face meeting is always best for when the sales manager needs to discuss negative performance requiring immediate corrective action, a sales manager can choose to report on performance using a number of methods.
Methods to communicate ongoing performance include:
Individual meetings – The sales manager may schedule regular meetings to sit down with each of their salespeople and provide feedback related to performance.
Dashboards – Some software programs provide sales managers with the ability to display real-time performance in easy-to-digest visual aids such as graphs on salespeople's computer screens.
Pay stubs – A sales owner may choose to display whether or not a salesperson is on track to meet their sales quota as part of a note on their pay stub or a report that accompanies a commission check.
Detailed report cards – Just like back in school, salespeople are given grades with their performance along with any sales manager commentary.
Public rankings – The sales manager may publish a list of their salespeople in terms of their sales quota performance and how they compare against other salespeople in the organization. Please note, however, that public displays of individual performance may result in lower morale, and may also promote questionable ethical behaviors.
No matter how you choose to communicate performance, it should be done with clear intention, include accurate and up-to-date information, and communicated consistently. Use a CRM like Salesforce Essentials that displays relevant information on an easy-to-read dashboard, so that you can efficiently give quality feedback to your team. Try it free today.
How to Evaluate the Effectiveness of Your Sales Quota
A sales quota should always support larger company sale goal initiatives. Look at the sales report and compare company success against the sales team's individual success. If the company is growing in terms of revenue, but sales team members are consistently missing their sales quota, or if more than 80 percent of a sales team is regularly meeting their sales quota but the business isn't growing, the sales quota is not effective or is otherwise not in alignment with the company's sales goal.
If this occurs, the sales manager might consider returning to Step 1 and selecting a different sales quota altogether, which might have a greater impact on sales results.
Sales Quotas vs. Sales Goals
A sales goal is an organization's long-term initiative, while a sales quota is a tactic used to achieve a sales goal and is used as an indicator of individual performance. For example, if you have a company revenue goal, you might set a sales quota of 50 sales per month so the company achieves that goal.
Frequently Asked Questions (FAQs)
Why Is Past Performance Important to Consider When Setting My Team's Sales Quota?
According to the Harvard Business Review, only 30 percent of salespeople achieve their sales quota when the numbers are based only on a company sales growth goal. The study found that salespeople were much more likely to hit their numbers when they saw their quota as being based on reality or past performance. Therefore, the best strategy for setting a sales quota involved a review of prior history while still aiming for future growth.
What If I Set My Team's Quota Too High?
A quota that is set too high will demotivate a sales team. If a sales team does not believe they are in a position to achieve their goal, they will not spend additional effort trying to meet it. They may also hold back on closing promising deals in one reporting period in order to improve their chances of meeting their metric in the next.
What If I Set My Team's Quota Too Low?
A quota that is set too low loses its value. If a sales member regularly meets their metric without effort, the metric will be taken for granted, or simply forgotten. Without challenge, the sales member may also lose interest in their job, which results in a decrease in morale as well as staff turnover.
What If My Team Suddenly Stops Performing?
If a sales quota suddenly stops being met by 80 percent or more of the sales team, chances are the quota is either no longer relevant as it is currently defined or it is being influenced by an unanticipated factor in the marketplace (such as a new competitor). If this occurs, it is the sales manager's responsibility to revisit the sales quota as well as the performance baseline and determine if the metric is still realistic and achievable.
How Do I Hit My Sales Quota?
Sales professionals looking to hit their sales quotas can do so by regularly examining the content of their pipeline. By focusing on opportunities with the highest chance for success and following up on older leads before they grow stale, they can maximize their sales efficiency. When in front of customers, active listening for pain points helps build additional value.
Bottom Line
Sales quotas are metrics set by sales managers that help to establish performance expectations within sales teams, reinforce company values, and support a business' longer-term sales growth goals. Effective sales quotas are tied to sales volume, cost, profit, or activity, are realistic, achievable with effort, and are regularly measured.
By using Salesforce Essentials for your CRM, you'll have the tools to easily and accurately monitor the performance of your sales team and their quotas. Click here to try it for free.