Recruitment management is the process of recruiting and selecting employees. It includes activities like placing job ads to find people, reviewing application forms, and scheduling interviews. A recruitment management system often adds automation―standardizing, simplifying, and speeding up the recruitment and selection process. Fortunately, some recruitment management software tools have free plans for small businesses.
Indeed provides an online job board that manages your entire recruitment and selection process―from posting job ads to sending offer letters. It's free to post a job on Indeed―and you'll get a career page as well as a company branding page. Claim your free Indeed account and get $50 in Sponsorship credit that can be used to advertise your open jobs.
How the Recruitment & Selection Process Works
The recruitment and selection process is not complex. It can be boiled down to five kinds of tasks that cover the basic recruiting process. It starts by advertising your open job to get qualified job seekers to apply. You then gather and screen applications, schedule interviews with the candidates that appear to be the best match, and ultimately choose which person to hire. Each of these activities may have subtasks depending on your specific hiring needs.
The activities within a typical recruitment management process include:
Find people: Most businesses post open jobs using an online job board. Others ask current employees for referrals and some post signs. Here are tips on how to hire employees.
Screen applicants: Once you receive application forms and resumes, it's time to screen them. Some recruiting apps will do this for you. Otherwise, it's a manual task in which you look at each applicant's form and resume―searching for most qualified people.
Interview candidates: Typically, you'll schedule one or more interviews with those whose qualifications best match the job. Here's an article on how to interview someone.
Verify their background (optional): Some businesses conduct background checks, request candidates to complete prescreening assessments, or check prior employer references before choosing who to hire. Others check applicants' social media profiles.
Make a job offer: Once you and the candidate agree to a pay rate and start date, the hiring process can begin. Here's how to write a job offer.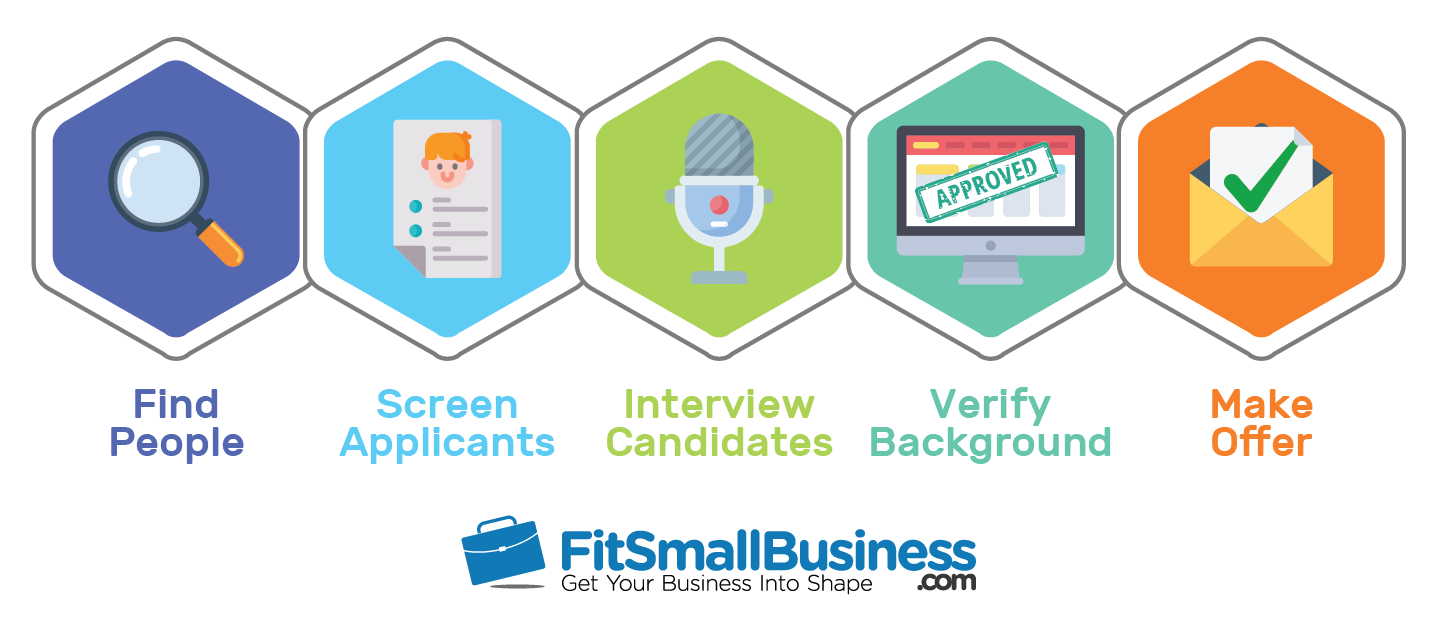 Who a Recruitment Management System Is Right For
Having a standardized system for recruitment management is best for any business that wants to ensure they hire top talent. A recruitment management system maximizes your chance of filling each job role quickly and ensures that candidates are treated fairly, reducing the risk that you'll be sued for unfair hiring practices.
Here are the kinds of businesses that may want to invest in a recruitment management system:
Business owner hiring their first employee: To ensure you create a legally defensible hiring process, it's not a bad idea to use software that manages recruitment, including advertising the job, reviewing applicant's forms, and interviewing top candidates.
Businesses with 15 or more employees: Once you grow past 15 employees, many antidiscrimination laws come in to play, making it crucial to document your hiring decisions and train managers on your recruiting and selection process.
Companies that grow past 50 full-time employees (FTEs): Business that have 50 or more FTEs (or equivalent), need to offer health insurance benefits to any employee they hire―that information on benefits programs available can be spelled out in your recruiting process.
Enterprises with 100 or more employees: The United States Equal Employment Opportunity Commission (EEOC) requires that businesses share data on the demographics of employees they hire, such as race, gender, and disability status.
Firms doing business in states with restrictive workforce laws: If your business is in a state with complex labor laws (like California), you may want to use a recruitment management system to avoid any kind of compliance violation―from the job ad you post to the salary you provide in your job offer.
Companies that have been penalized for unfair hiring practices: Once you're on the radar of federal or state employment or workforce enforcement, you're likely to be audited. That's when it's best to document your entire recruitment management system from end-to-end or implement recruiting software.
Because antidiscrimination laws at the state and local level are often more inclusive and affect even the smallest of employers. It's a good idea to create a repeatable recruitment management process for how you recruit, select, and hire employees. Having a recruitment management system to track the process becomes more important when a business begins to scale in size, as some labor laws kick in once an employer reaches a certain number of employees, such as 15, 50, or 100.
Many recruitment software tools, like Indeed, can help you build out a sound recruitment and selection process, regardless of whether you do all the hiring yourself or delegate that task to HR or management staff. Indeed offers an end-to-end recruitment and selection process with free job postings and more. Sign up for Indeed by posting your first job online.
What a Recruitment Management Software System Costs
Recruitment management system software can run from free to thousands of dollars a year. What typically drives the cost is the number of recruiters you have―the number of user accounts you'll need―as well as the size of your business in terms of how many employees work for your company.
Some recruiting tools charge based on the number of jobs you post at any one time. Since smaller businesses may have only one person managing recruiting, they may be able to get by with a free recruiting software program, like Indeed, or a manual spreadsheet and paper-based recruitment management system.
Here are various costs to consider when setting up your recruiting process:
Documents: The foundation of any recruiting process starts with a job ad. That's typically based on a job description. You'll also need a job application form and other standard communications. Creating those documents costs little―other than your time.
HR compliance: Having an HR consultant or legal service review your documents―ads, offers, or compensation plan―for legal compliance may cost between $40 to $300 per form.
Storage: Application forms, interview notes, and hiring documents must be retained for one year―up the three years if you're a federal contractor. You'll need to keep them in secure file cabinets, or online. The cost is minimal.
Interview space: You may need physical space like an office to conduct interviews. Some businesses host video interviews. If you have to rent space, it may cost a few hundred dollars a day. Or, you can sign up for virtual or shared office space for $300 to $800 per month. Prices in urban areas tend to be higher, which is consistent with local real estate costs.
Software to post jobs: Printing a sign to paste on your window costs little. But if you post a job ad online, you may end up paying for advertising starting at a $5 per day minimum. Of course, there are free job boards, like Indeed, to help you get the word out.
Software to track applicants: Once applications start flowing in, you'll need to keep track. Who is qualified? Who's been interviewed? How did they stack up? Many small companies start out tracking applicant data on a spreadsheet, only to migrate to recruiting software once the number of applicants, open jobs, and interviewers become unmanageable. Applicant tracking software (ATS) runs from free to thousands of dollars a year.
All the costs involved in a recruitment management system can be offset by revenues generated when you hire top-performing talent. Also, using a standardized process gives the job seeker a positive first experience with your firm. That aids retention and reduces employee turnover, providing measurable cost savings for your small business. In other words, it's best to think of your recruitment management system as an investment.
Recruitment & Selection Process Software & Providers
Those looking to outsource or automate the recruitment and selection process will find many options, from free and paid job boards to full-blown applicant tracking systems (ATSs). To address the text messaging preferences of millennials and recent college grads, some recruitment apps provide an interview scheduling bot to chat with job seekers on behalf of your firm.
Here are some of the most common recruitment and selection options we recommend for small businesses.
1. Job Boards
Free and paid job boards help you get the word out about your job opening. Some, like The Ladders, target management level job seekers, while others, like Snag, target hourly workers. Many offer free job postings while sites like ZipRecruiter require you to sign up for a monthly paid subscription. We recommend starting out with a job board like Indeed, that lets you post your open jobs for free.
With Indeed, job postings cost nothing. You can also choose to "Sponsor" (advertise) any job you post for as little as $5 per day if your free job ad doesn't bring in enough applicants. Indeed also gives you a free company page to share your employment brand and a free career page to post your jobs online. Claim your $50 in sponsorship credit by posting an open job on Indeed.
2. Free Applicant Tracking Systems
An ATS manages your open jobs and the candidates that have applied to each. An ATS contains a searchable database containing application forms and resumes. Most free ATS software will upload, store, and parse resumes too. Many interface with common human resources (HR) software as well to make onboarding easier once you choose your top candidate.
If you're looking for hourly workers and want free employee scheduling and timekeeping software, consider signing up for Homebase. Homebase has recently added a job posting and recruiting app to help small businesses, like brick and mortar retail stores and restaurants, staff their open shifts. Homebase is free for unlimited employees working in one physical location. Sign up to start scheduling your employees for free.
3. HR Software
Some HR software contains applicant tracking features. Most will allow you to store job descriptions and hiring information. Some offer salary management features to ensure you're paying new hires fairly. Many integrate with job boards and recruitment management software to streamline your hiring process and reduce duplicate data entry.
4. Staffing Firms & Professional Recruiters
While it's more common for larger enterprise firms to engage professional recruiters, which charge a finder's fee of 30% or more of a new hire's salary; local staffing firms; and temporary (temp) agencies are good options for smaller businesses. They cost more than hiring a person off the street―about 30% more―but they do the advertising, candidate screening, interviewing, and selection for you.
Working with a staffing firm can reduce your risk of making a bad hire. You get to work with a qualified person as a temp employee and, if you like their work, you can choose to hire that person permanently.
5. HR Manager or HR Recruiter
Hiring a part or full-time recruiter works for fast-growing businesses, as well as companies with 15 to 50 or more employees, as the increase in the number of employees you have adds to your labor law compliance needs. In the long run, hiring your own recruiting team may be cheaper than working with a paid employment agency while giving you full control of your recruitment and selection process.
Plus, HR managers and recruiters typically have HR certification, which helps your business avoid hiring mistakes and fines. Hiring a full-time HR recruiter as an employee costs about $50,000 per year. An HR manager is typically paid $10,000 to $20,000 per year more than that.
To obtain low-cost HR consulting services, consider partnering with Bambee. Their experts can answer your HR-related staffing questions and provide feedback on your processes and documents to ensure they're labor-law compliant. Bambee's monthly unlimited consulting services start at $99 per month. Contact Bambee for an overview of their services.
Features of a Recruitment Management System
Whether you automate your recruitment and selection process or not, most recruitment management systems do the same basic things. A recruitment management system helps you find people to apply to your job. It includes a process to gather, review, and compare resumes. It stores data on your chosen and non-selected candidates for future reference.
If you're looking to document your process, consider how you'll manage each of these areas. If you end up purchasing recruitment management software to do it for you, this list of features and questions to ask will help to ensure the software you employ supports your staffing process.
Here are the standard features to look for when implementing recruitment management.
Job Sourcing Support Tools
How will you find job seekers? Will you post job ads on a free job board like Indeed, share your job opening on social media or put up a help wanted sign on the front window of your business? Does the software post jobs to the job boards you use? Does it provide you with a career page you can add to your business website to help job seekers find your open job roles?
Electronic Employment Application
Will you require job seekers to complete a job application form? Will you expect them to submit a resume and cover letter? Are there any prescreening questions you'll want to ask them to ensure they're qualified? Does the software accommodate your application process by gathering the information you'd want to know about those who apply?
Job Applicant Screening
You can look at all applicant documents manually and highlight matching qualifications. However, recruiting software does much of this work for you, using artificial intelligence (AI) to scan resume data. Plus, it stores the documents and any candidate feedback electronically. You may also want to contact references or run a background check depending on the job role. Will you need recruitment management software to store those results?
Interview Tools
You may want to talk to each candidate via phone, video, or in-person to assess their skills and determine whether they have the minimum qualifications for the job. Interviewing is an art. Check out our article on How to Interview Someone in 5 Steps. If you're using an ATS, it will likely manage your interview schedule and provide a place to document the interviewers' feedback online, saving you from having to gather and compare everyone's interview notes on paper.
HR & Payroll Integration
Does the software interface with your HR or payroll system for new hire documents like W-4s tax forms, I-9 documentation, and direct deposit? Does your recruitment management system provide offer letters and make onboarding easy? Can the data pass from one software to another without requiring you to re-input the candidates' data upon hire?
Pros & Cons of a Recruitment Management System
When weighing whether or not to implement a recruitment and selection process, the benefits are many. Typically, adding software like an ATS to automate that process will ensure you don't miss any steps, help your business ensure fair hiring practices, and store all your recruiting documentation as required by law.
Pros of a Recruitment Management System
Here are the many benefits of implementing a standardized recruitment and hiring process:
Professionalism: You'll interact, schedule, and communicate with job seekers consistently―giving them a positive first impression―from the job ad to interview.
Employment brand: Your employment brand will benefit from having a company-hosted career page that job candidates can use to learn about and apply to open jobs.
Better and faster hires: Because candidates can apply faster online than, say, through a newspaper ad, and you can screen application forms electronically, your open job may not sit vacant as long. Collaborating with your hiring team―often via an online dashboard―is likely to result in better hiring decisions, as well.
Documentation: Using recruitment management system software, you'll have applicant, interview, and new hire data at your fingertips electronically.
Labor law compliance: Recruitment management software often includes compliance checks. For example, if you post a job ad looking for a "strong man," that ad may be flagged as "discriminatory" by the software, and you'd be urged to change the wording.
Decision tools: Recruitment management systems also provide reporting metrics, such as hiring demographics―number of males vs females―and time-to-hire, that can help you fine-tune your recruiting process over time.
Cons of a Recruitment Management System
The downsides of implementing a recruitment management system are:
Standardization: Once you decide how you want to set up your recruiting and hiring process, you'll need to document it; set up files like job descriptions, applications, rejected candidates, hires; and ensure your managers follow your process steps consistently.
Training: Training is required of anyone involved in the recruiting process to ensure your employment application forms, interview questions, selection process, and offer letters all comply with federal and state labor laws.
Data & file management: Confidential data is often found on employment applications. Therefore, your recruitment management system like paper files, spreadsheet listing which candidates were rejected and why needs to be both accurate and secure.
Cost: If you purchase job ads or sign up for an ATS software subscription, you'll pay somewhere between $5 to $200 per hire. However, not following a standard recruitment management process could cost you tens of thousands of dollars in unfair hiring practices fines.
Using a free job posting site, like Indeed, that provides you with a free ATS is the best option for a small business needing to hire a few people each month. You can post jobs for free, share the link on your internet or social media site, view resumes online, and manage online communications with your candidates all from one easy-to-use dashboard. Sign up for Indeed for free (first-time users) and you'll get $50 in free sponsorship credit.
Alternatives to a Recruitment Management System
If processes and systems aren't something you are comfortable with, don't worry. There are alternatives to creating a full-blown recruitment management system for your small business. Some of these alternatives may cost more than doing it yourself. Others may expose you to tax risks if not managed properly, such as misclassifying employees as independent contractors.
Here are alternatives to implementing a recruiting and selection process.
Outsource Hiring Altogether
Some small businesses outsource all their hiring. They use a recruiter (headhunter) instead. However, there's a cost to using this approach. An outsourced recruiter will calculate a percentage of each hire's first-year salary (30% or more) as the fee for placing a candidate with your firm. The good news is that they don't usually require full payment upfront. Rather, they bill a portion upon hire, with the rest due at the end of the first six months or year to ensure the candidate works out.
Hire Temp to Perm
If you like to try before you buy, temp to perm is a great option to staff your small business. You work with a staffing agency to identify the skills and experience needed. They, in turn, find and interview candidates for you and bill you for any time the selected employee works for you. If you like the temp's work, you can hire that person permanently. Again, you must pay the staffing firm a finder's fee of about 30%.
Work With Freelancers
If the job that you need doing qualifies as a 1099 nonemployee contract worker, you may be able to avoid hiring an employee altogether. Most freelance websites provide a rating system so that you know what each worker can do and how well they've performed for other companies. Freelancer contractors negotiate their own rates and manage their own tax filings. You'd most likely need to process payment through your accounting software and then send them a 1099-MISC at year-end.
Upwork provides an online directory of freelancers worldwide. You can search for contract workers by experience and skills to find just the right person to hire as a gig worker. There's no cost to search, but you'll pay a small fee for the service provided in addition to any hourly rate or project payment that you and the contract worker agree upon. Find your first freelancer on Upwork.
Partner With a Virtual Assistant Company
A virtual assistant (VA) company is like a temporary staffing firm in that employees are hired and paid by the VA firm―not you. What's different is that virtual assistants rarely work on-site at your location. Instead, they work remote. Many VA companies are offshore, meaning they may be able to provide you with workers at well below U.S. pay rates.
Some VA firms assign a dedicated worker to your account, and others do the tasks you want to be done, such as build a website, translate documents, answer customer service calls, by delegating those activities to whichever worker is available.
Frequently Asked Questions (FAQs) About Recruitment & Hiring
Those new to recruitment may have questions about the entire process or want to understand what to do once they've selected a final choice candidate to hire as an employee.
What is the process of hiring an employee?
The process of hiring an employee starts once you select your final candidate, and they have agreed to work for you. At that point, you'll need to provide them a start date, set them up in your payroll system, and provide orientation and training. HR folks refer to this as onboarding.
What are the stages of recruitment?
There are five to seven common steps within the employee recruitment process, depending on what you want to label each task and how you want to group them. To keep it simple, we've identified five simple steps:
Post a job to find employees: Some refer to this as "sourcing applicants"
Receive and review applications: You will want to screen cover letters and resumes too to determine which job seekers appear to be the most qualified
Conduct interviews: This helps you determine which candidates are the best fit
Verify candidate backgrounds: This step is optional based on your business needs
Write a job offer: Once you've found the person you want to hire, offer them the job
What are some other methods of recruitment?
You might consider using social media, asking existing employees for referrals, or paying to view people's resumes on a job board. You can even reach out to passive candidates to see if they're interested in interviewing for your open position. We've written a full article with tips on how other small business owners find employees.
What is RMS software?
RMS is an acronym used to describe software that manages the employee recruitment process. RMS stands for recruitment management system or recruitment management software. Other more common names for RMS software include recruiting software, recruitment software, staffing software, recruiting or recruitment apps, ATS, and job boards.
How can my recruitment process be controlled?
Using recruiting software, you can typically set up rules, such as requiring an HR manager to approve certain steps within your process―who is selected vs not―or requiring all applicants to provide a fully completed application form with no blanks. You can also set up a policy that mandates job seekers apply through your online ATS software so that your recruiting process isn't undermined by a manager choosing to hire their best friend instead of other more qualified candidates.
How can I make my recruitment process more effective?
There are three ways to improve your recruitment process. One is to map out each step and determine what tasks are taking the longest and why. Is it finding applicants? Is finding time to interview them slowing up your process? Also, you'll want to gather input from managers to see how new hires are working out. A third way is to ask recent hires for feedback.
High productivity and low turnover generally indicate that your recruitment process is bringing in quality candidates. HR analytics offers recruiting metrics you may want to monitor to fine-tune your recruitment and selection process. The ability to track and evaluate your recruiting process end to end is why many growing firms end up investing in recruiting software.
Bottom Line
Having a recruitment management system not only speeds up your hiring process but ensures you treat applicants fairly throughout the entire recruitment and selection process. If you choose to use software to manage that process (an RMS or ATS), you'll find it reduces your paperwork, makes your screening and interviewing process easier, and stores all candidate data, which is important should you ever be subject to an audit or lawsuit.
Indeed provides small business owners and their recruiters with an end-to-end recruitment management system. It posts jobs, lets you sponsor them to increase your reach, and allows you to search resumes from more than 100 million online job seekers. Plus, you can set up and manage your entire recruitment and selection process online. Sign up today to get your company profile, ATS, and online job postings―all for free.